October 15-22, 2016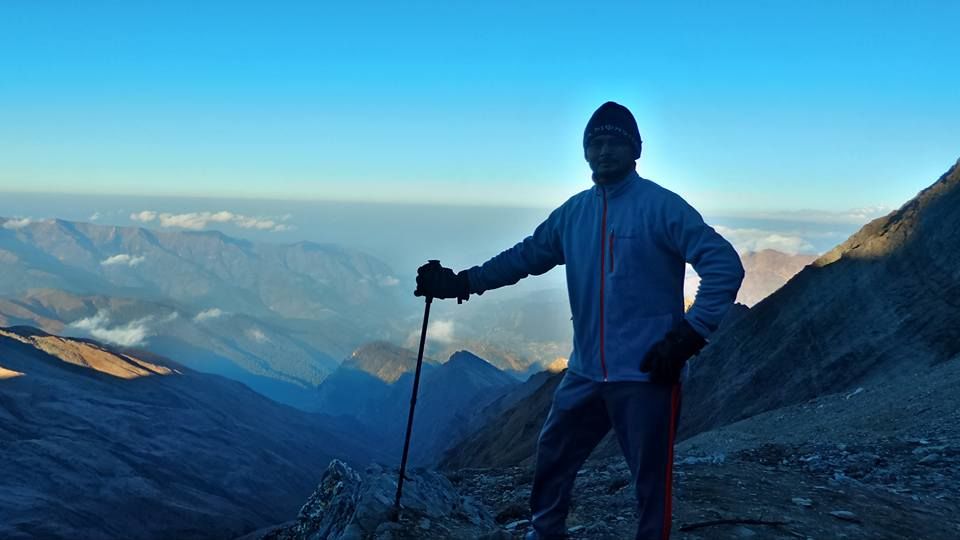 Every person wants to live high up in the mountains, but the thrill and happiness of climbing it is what essentially matters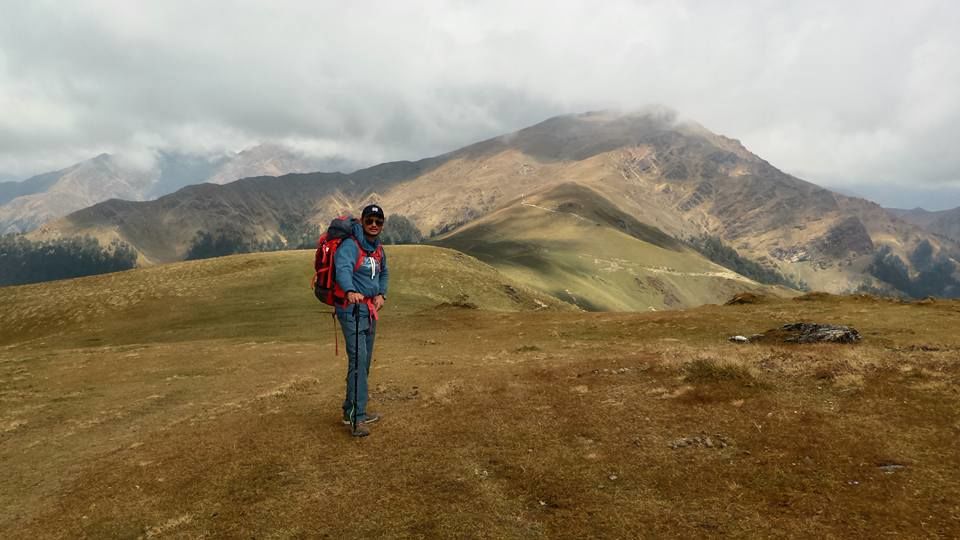 Have you ever wondered what it'd be like to view Mother Nature from an altitude of ~16,000 ft amidst snow-capped peaks and a rocky trail? Sitting for decades in the lap of Mt. Trishul (~7,200 meters), this trek is the perfect destination for adventure enthusiasts and avid trekkers. Roopkund is to treks what David Beckham is to football. The mesmerizing surroundings coupled with lush green "bugyals" and winding paths will leave you craving for more. This trek is located in the Garhwal region of Uttarakhand and represents the true Himalayan beauty. Also referred to as the "mystery or skeleton lake" by explorers, this trek is a combination of spectacular mountain views, alpine camps, and small villages clustered between oak and rhododendron forests.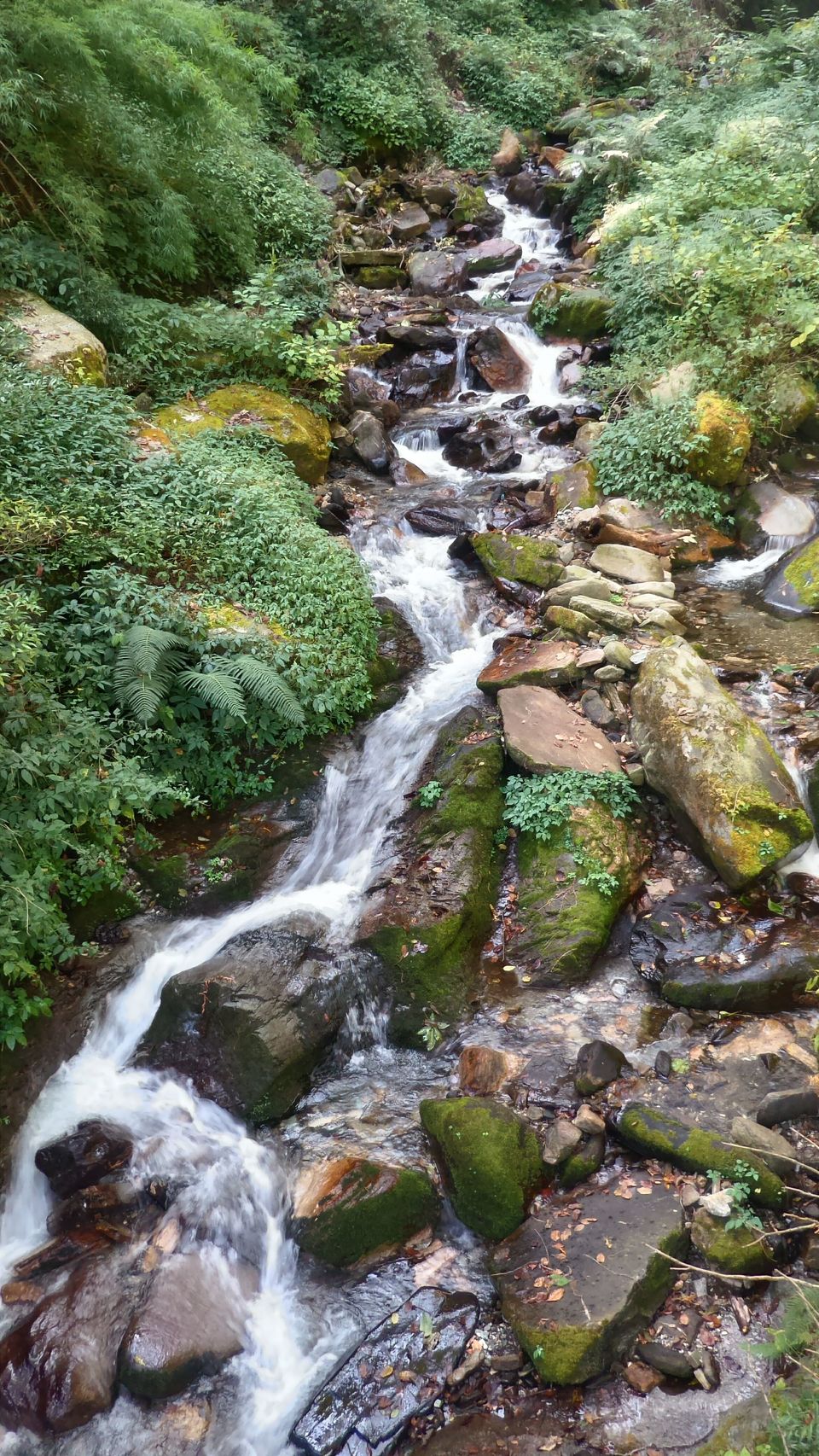 I had my heart set when I climbed Goechala earlier this year that I would make it to the Roopkund summit, but little did I know the experience that I'll have here, which has definitely left a lasting impression in my life. My friend decided to join me on this adventure and we had everything organized by my established travel partners (if I may say so), Renok Adventures.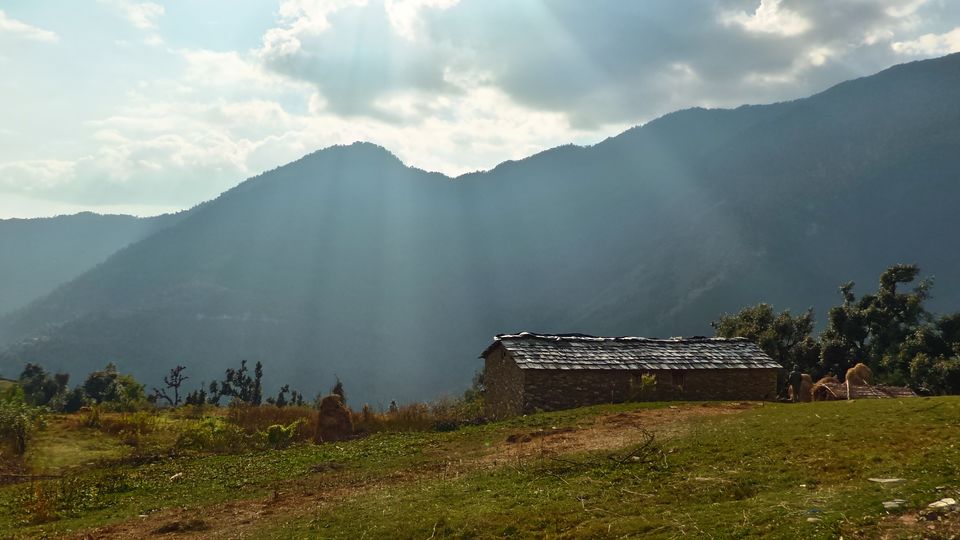 Day 1: Kathgodam to Lohajung - the drive that started it all: For those who curse the Indian Railways for delays when they most need to reach their destinations on time, hold your horses because the Kathgodam Express certainly departed an hour late from New Delhi, but managed to reach Kathgodam 5 minutes before the actual arrival time. My friend refused to believe me when I woke her up saying we have arrived at our destination; she asked me to shut up and stop kidding. As an afterthought, I should have left her and hopped off the train with my rucksack. I'm quite sure she would have realized that where we had to be after the train reached the depot. Anyways, she decided to get up and quickly set things. The next thing we knew, we were in the AC sitting room, which I have to admit is by far the cleanest and most hygienic waiting rooms that I have seen to date. What was more surprising was the fact that Kathgodam isn't even listed as a primary railway junction in India; however, I reconciled myself by accepting that this was the first stop for all travelers entering the Garhwal district of Uttarakhand. After freshening up and having a cup of tea, I decided to wander around a bit to get used to the climate. It was cool (just the way I like it) and the junction was soon empty with only a few people waiting for the next train (perhaps). We contacted our driver and followed up with the third person who was supposed to be part of our group. He (Col. Hemant Kapoor as we got to know later) updated us that his train was running a couple of hours behind schedule and he would be reaching Kathgodam around 10:00 AM. That meant my friend and I had to wait for approximately 4 h until our car journey to Lohajung actually begins.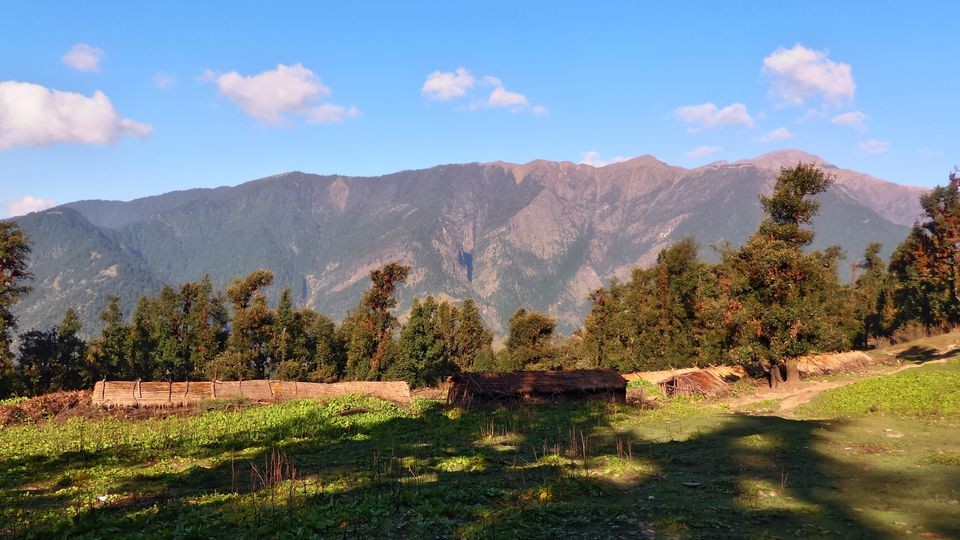 Meanwhile, our driver arrived at the railway station and informed us that there were two others who were supposed to travel with us to Lohajung. So, basically 5 of us could comfortably cushion ourselves in the Innova; the comfort level however was something to consider deeply (heavy sigh!). We left for Lohajung around 10:30 AM and stopped for lunch at the Mystic Mountain hotel in Kausani around 1:30 PM. Needless to say, we were starving and the food menu was equally tempting. We ended up ordering typical mountain dishes, including bhatti ki sabzi and roti. Somehow, I have come to terms with this fact about myself that I end up eating more that the usual at high altitudes, possibly because of my high metabolic rate. Nonetheless, the food was amazing and still has the tendency to stimulate my taste buds as I come to think of it. The remainder of the journey included another pit stop for chai and pakodas and few rocky and winding patches, and we finally arrived at our Panchayat Lodge at Lohajung around 7:30 PM. Our rooms were ready and we were asked to freshen up and prepare ourselves for dinner at a nearby hotel. Our main guide, Dinesh, laid down the basic and essential fundamentals of mountaineering and details of the trek, as is the norm for all Himalayan treks. We resigned to our rooms post dinner, excited and looking forward to the next day's proceedings.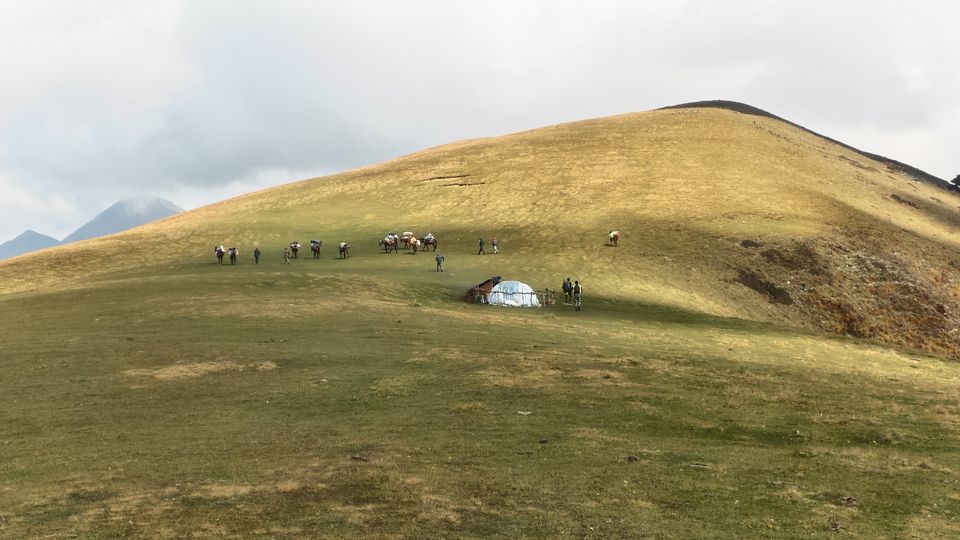 Day 2: Lohajung to Didna Village - a simple, yet picturesque hike: The sun seemed overjoyed this morning as it rose amidst snow-capped peaks in the distance giving us the feeling that the day was going to be perfect for trekking. After hogging some delicious aloo parathas for breakfast, we started our hike towards Didna village (~ 8 km). Today's trek wasn't difficult at all as the Lord Curzon trail guided us gracefully through narrow patches with vegetation on either side and eventually parted ways after approximately 4 km. We then followed the other route towards Didna through a sparse forest with oak and rhododendron trees. We reached Didna around 12:30 PM and were treated to a glass of rhododendron juice, which was so refreshing that I couldn't resist another glass. Didna had its own charm; a small yet developing village that runs on solar energy and inhabits people who are so kind and generous that one might simply want to stay back and enjoy the hospitality for weeks and possibly years. It was encouraging to see that the Uttarakhand government was also taking appropriate measures to better the conditions of this village and expand its horizon by building more homestays. Our homestay was simple and had the basic amenities, and as always, the food was simply amazing. We took a stroll around the village and enjoyed the serenity as the sun went down and the weather got slightly colder. What ensued was a bowl of hot soup and dinner after which we resigned to our huts and looked forward to the next day.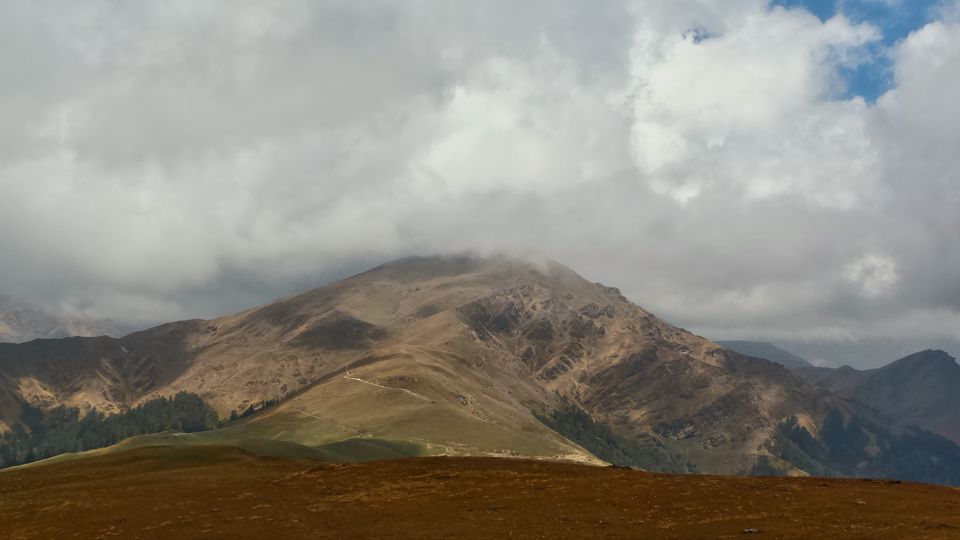 Day 3: Of bugyals and mesmerizing scenery - Didna to Bedni: Today's trek was bound to be a long one through jungles and past two of the biggest bugyals in the region (Ali and Bedni) to reach out next campsite at Bedni (11,700 ft). Although I was aware of the mountain term "bugyal" meaning lush, green meadows owing to my earlier treks this year in Goechala and Kashmir, it is always a treat to walk past such meadows and enjoy watching the towering snow-capped peaks in the distance. Moreover, a bowl of hot Maggi with black tea makes the journey even more worthwhile as we fend off the cold. Ali Bugyal had everything that a trekker could ask for, and the group ended up clicking a lot more pictures than intended before continuing the journey towards Bedni Bugyal.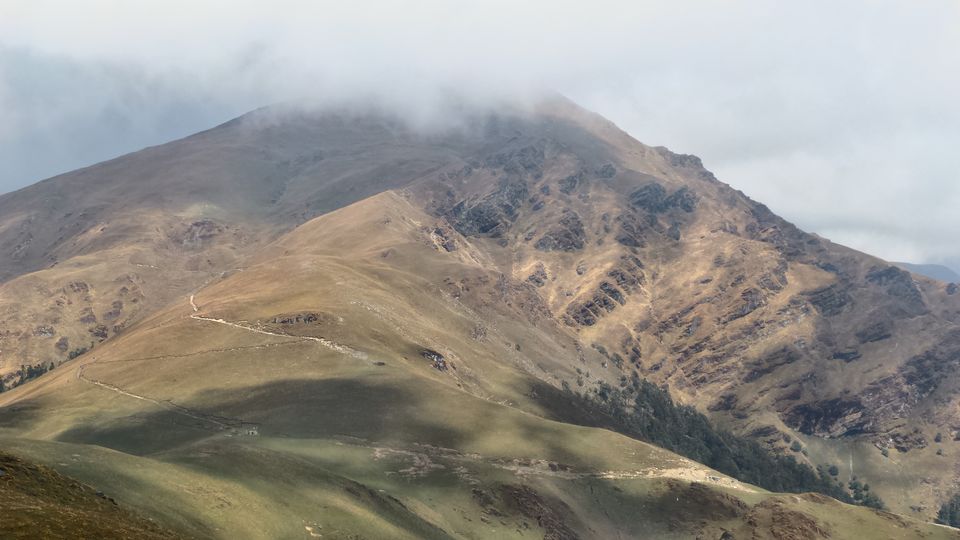 As we walked past these Bugyals, the scenic charm compelled me to hum a romantic tune to set the mood and get lost in the surroundings. The best part was SILENCE! I had the golden opportunity to spend time with the light breeze and a few birds chirping in the distance, which made me feel like I'm on a different planet altogether. No joke or exaggeration, but fellow trekkers who have experienced this joy will concur with my feelings at this juncture. Before we knew it, we arrived at our next campsite at Bedni, and oh! What a site it was! Mt. Trishul wasn't clearly visible owing to cloud cover, but I was disheartened as I knew the Gods would be gracious enough to give us that opportunity soon. Till then, we were supposed to get acclimatized to the current state of things and relax for the rest of the day. It was around 2:00 PM when we reached Bedni, and after a cup of hot tea and lunch, we freshened up and headed towards one edge of the bugyal to get a glimpse of the valley. My friend and I spent some time chit-chatting here; the other groups had their campsites behind where we were sitting. One individual even sat beside us and started meditating, but hey! I ain't complaining because that my friend seemed like one of the coolest places to do so. We had an early dinner and cuddled into our sleeping bags where we were mentally preparing for the following day.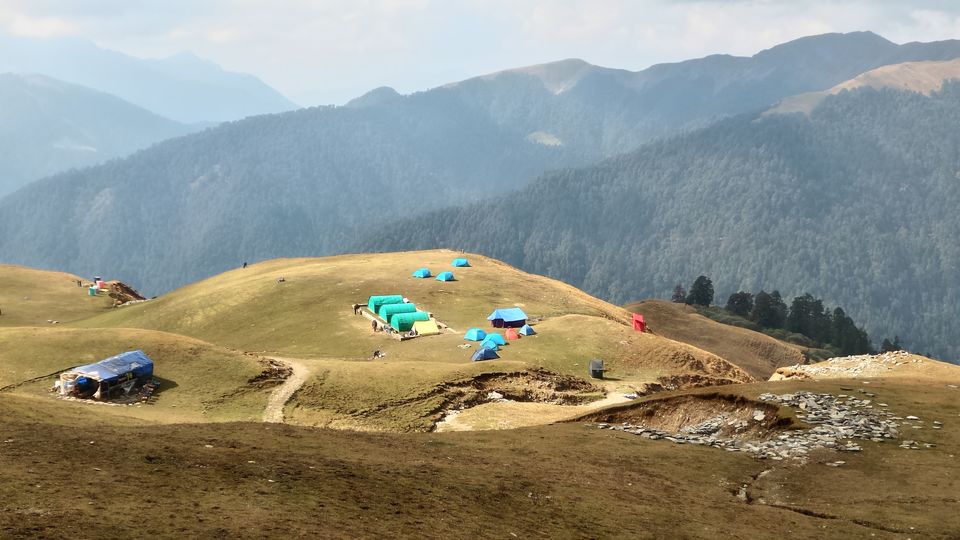 Day 4: The longest day where we exceeded the trekking distance - Bedni to Bhagwabasa (Roopkund base): So, I had a quick chat with our guide on the previous day if we could bypass Ghora Lotani and directly camp at Bhagwabasa, the Roopkund base. The group was doing well in terms of timing and speed by reaching the camping destinations on time, and we were confident that we would be able to cover the next 11 km comfortably. The guide agreed and so did the other team members. So, we were mentally and physically prepared for our next challenge of getting to the Roopkund base (and hoping to complete the trek a day earlier). This morning had something exciting in store for us. As the sun rose amidst snow-clad peaks, Mt. Trishul appeared in the limelight. Words fail to describe what I witnessed as the peak became visible. I knew we'll have a better view once we reach closer, but definitely couldn't ignore the fact that the refreshing view made my day and prepared me for the better. After treating ourselves to a sumptuous breakfast, we set out towards Bhagwabasa. Just a few 100 meters into it, we saw the perfect reflection of the peaks in Bedni lake (small, yet clear blue), following which our ascend began.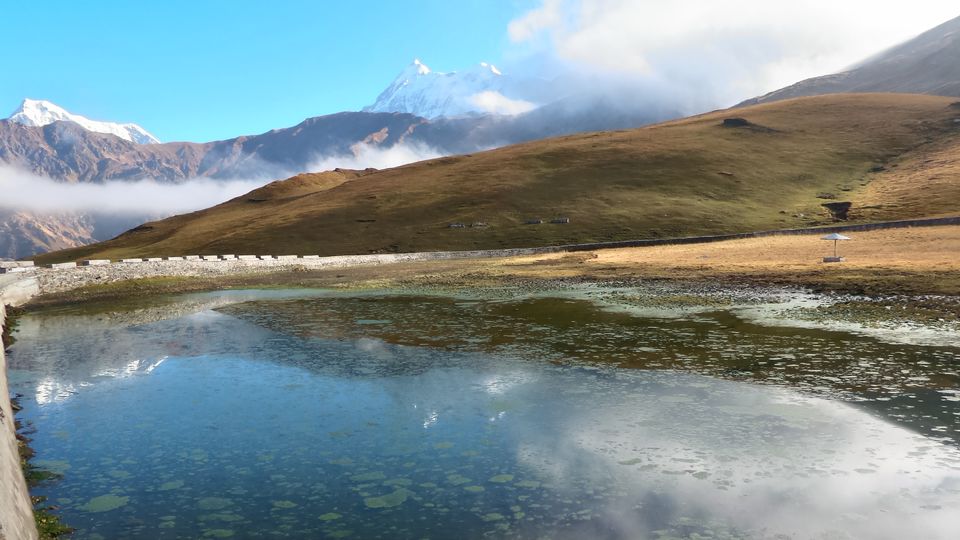 The advantages of trekking in smaller groups is that you get to spend time with yourself while advancing and gaining altitude - there is no soul harping on your head and constantly talking and expending more energy than desired; you get to focus on your next stride and take considerable time in pacing yourself. You can take a break a regular intervals, breathe in the fresh mountain air while sipping on water to stay hydrated. This, of course, keeping in mind that the other members aren't miles away and despite your pace, you would be able to catch up with them soon. It's all about connecting with Nature (if I was to summarize it in a few words). We crossed Ghora Lotani and another village (Pathar Nachni) in between (where we actually supposed to camp if we were sticking to the original itinerary). We halted for a cup of tea and then started our ascend towards Bhagwabasa via Kaluvinayak (a small mandir with Ganpati ji possibly greeting fellow travelers and wishing them good luck for the summit). This was a 3-4 km ascend on a rocky terrain, and was slightly more taxing owing to rising altitude and winding paths. The trail after Kaluvinayak was normal and 30-45 minutes later, we were at the base camp. This place had no greenery as the camps were set up on stones. Mule dung covered the softer portions of the terrain and perhaps contributed majorly to the perfumed breeze around us. The rest of the evening was spent in exploring the surroundings and getting to know the other trekkers who were camping there. We were advised to sleep early as plans of leaving for the summit was around 4:00 AM the following morning.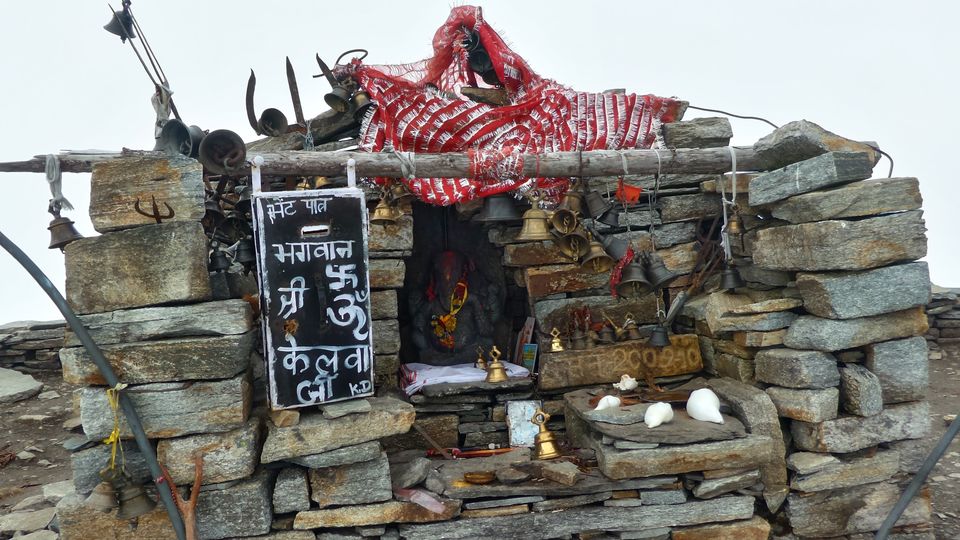 Day 5: D-day: The Roopkund Summit: Arrangements were in place from 3:30 AM onwards to ensure that people are wide awake and get prepared for the real ascend that we were eagerly waiting for. We left around 4:30 AM with head- and hand-torches; however, the moonlight was so strong that the trail was crystal clear all along. As with any other trek, the summit ascend is challenging, yet exciting, particularly when the altitude is significantly high. It took us a couple of hours to reach the summit and there we were gazing at the peaks in the distance while the sun rose above them, contributing a golden gleam that can only be experienced live. The air gets colder and a sudden feeling of numbness overcomes you, which is why it is best to walk around and generate heat. People experiencing headaches or nausea should try their best to descend faster to avoid any serious consequences. Unfortunately, the once-alive Roopkund lake was all dried up and all that was left of it was a pebbled (and somewhat dingy) puddle. It would however be covered with snow if this trek is done during the summer months of May-July. My headache had increased by this time and I chose not to cover the last 200 meters to reach Junargali, from where you get a 360 degree view of the region. No regrets though as my mission had been accomplished and the idea of climbing mountains is to enjoy each and every moment of your climb and feel proud of your achievement, which certainly cannot come at the cost of your health or putting one's life in jeopardy. After spending 30 minutes or so at the summit, I decided to descend to our campsite for breakfast and prepare for our next journey towards Bedni. Apart from the snow-clad peaks (which definitely leaves you speechless), one gets to come closer to Mt. Trishul and practically be overshadowed by its presence.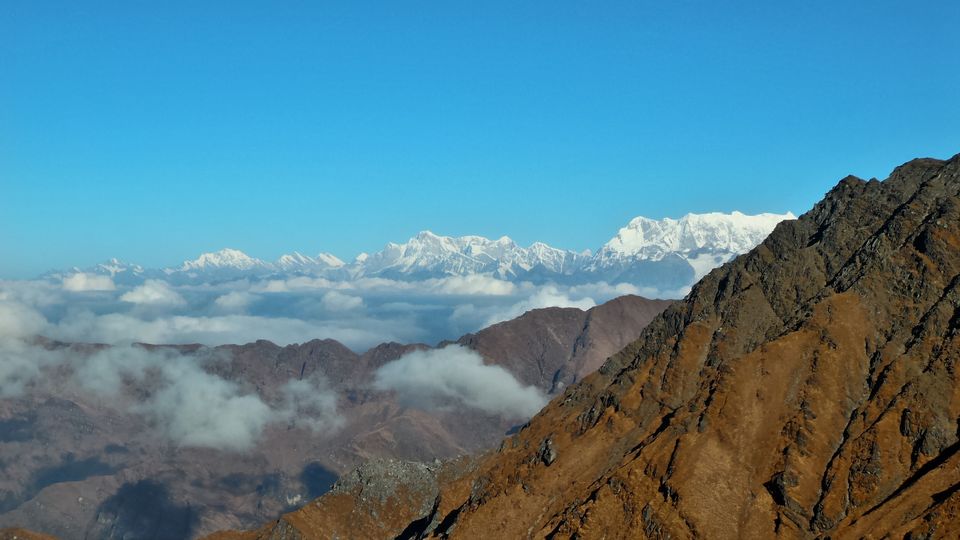 We left for Bedni around 11:00 AM and made it there by 3:30 PM. After resting for an hour, a few of us decided to play cricket at that altitude to warm ourselves and build an appetite. Some might even call it a reason for rejoicing after having completed the summit successfully. So, our guide (hero of the match) carved a log of wood into a bat (with sharp edges that one had to be careful of) and another group member was carrying a hard tennis ball. We got into the groove and there we were playing the sport of the country at an altitude of 12,000 ft. One of the cooks managed to find himself covered in mud (and possibly mule shit) as he tried to field the ball and prevent it from going down the valley; dangerous, but true commitment to the game. He rightly decided to immediately change his clothes and get back to cooking for the group, while the rest of us continued to play until twilight.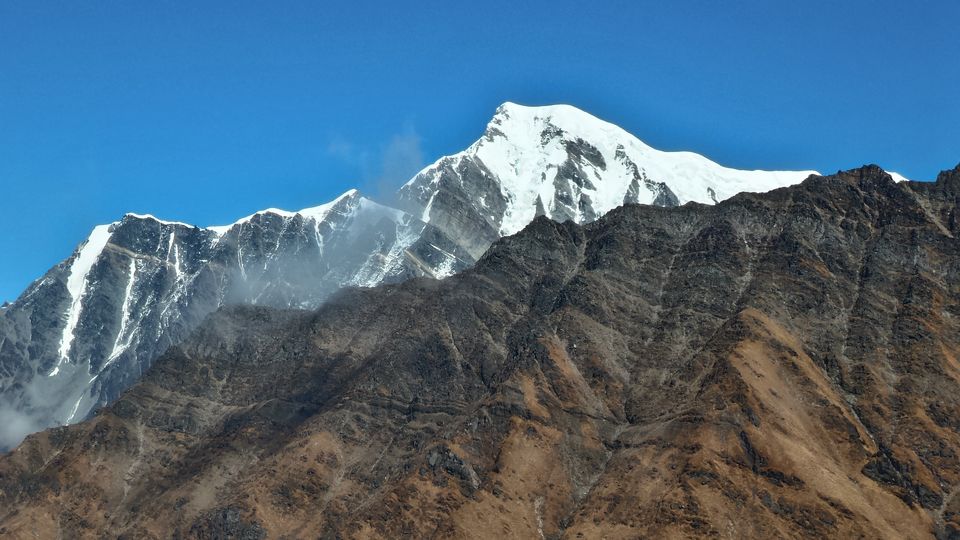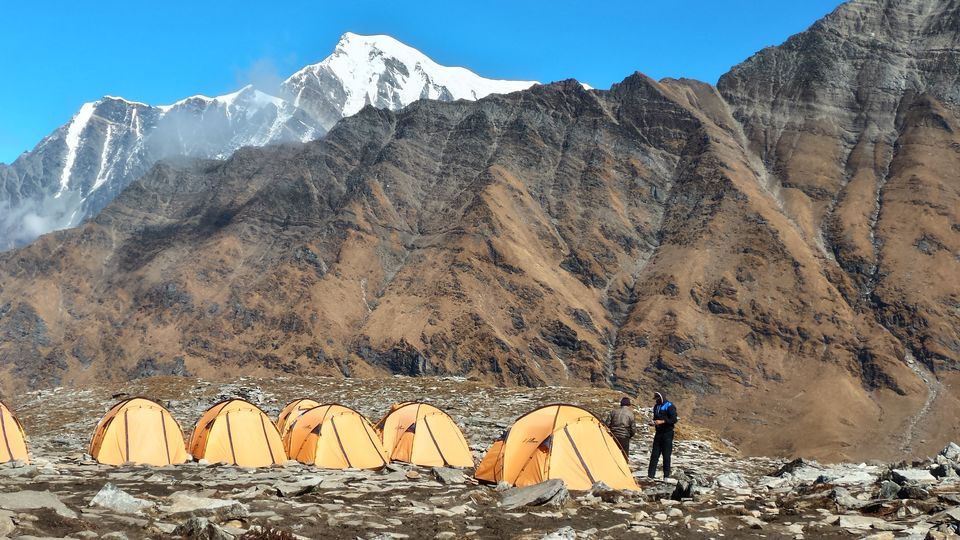 Day 6: The final descent - Bedni to Lohajung via Wan: As our journey was coming to an end, there were mixed emotions among us as we descended through coniferous forests and crossed the Wan village where our ride was waiting. The best part about this descend was to cross the river Neel Ganga whose waters were so clear that one wouldn't want to go further without a dip. Unfortunately, I'm the other kind who would rather stay on land and soak in the scenery instead of jumping right in. Wan is approximately 13 km by road from Lohajung and some trekkers even tend to start their trek from here. We got the chance to do this circuit trek and not return via the same route. So, we got the best of both worlds as we heard that trekkers who begin from Wan need not necessarily cross the Bugyals to reach Lohajung, possibly because of the slightly tough terrain on that end. I feel for these folks as the walk through the Bugyals is not to be missed if you've signed up for this adventure.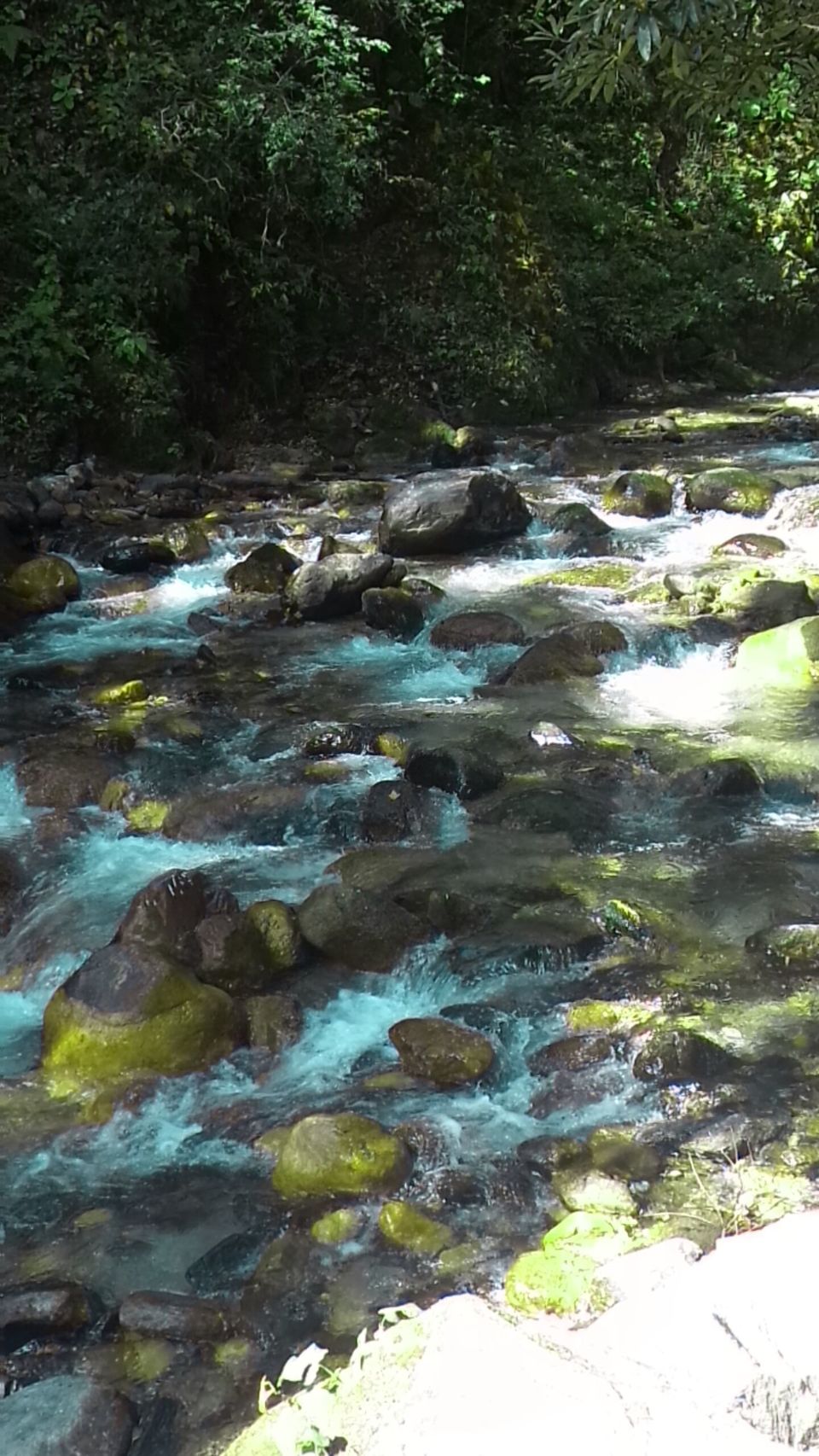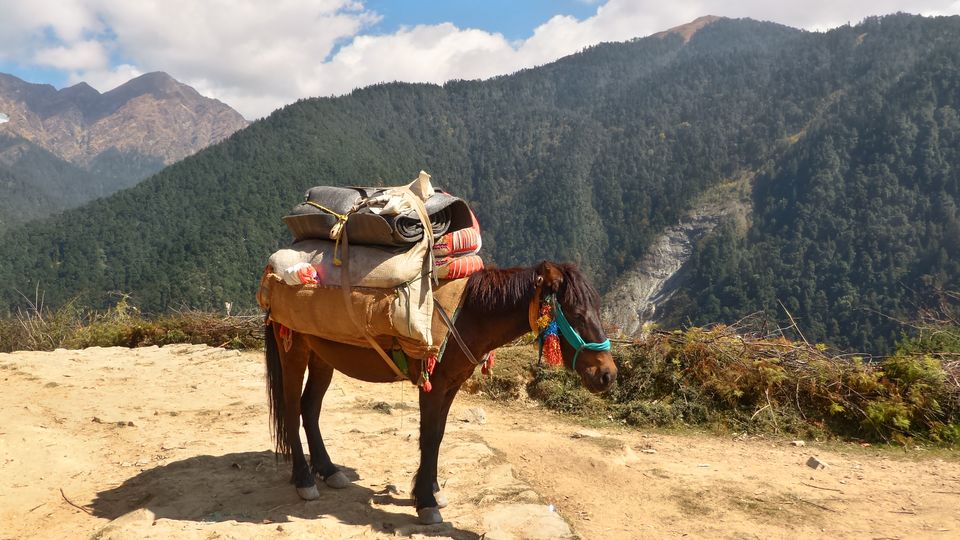 Looking back at this eventful week makes me want to go back for another adventure. That's the beauty of the mountains - you cannot get enough of it and are always hungry for more. As I plan my next adventure, all you adventure freaks out there should definitely give Roopkund a try (if you haven't already) as I'm sure you won't be disappointed. Every trek and route has its own charm and will make you crave for more. I'd like to take this opportunity to thank Renok Adventures once again for organizing this trek and ensuring that all arrangements cater to our needs.
So, here's me signing off for now until next time. Hope to see some of you fellow enthusiasts in the mountains someday. Till then stay fit, be healthy, and gear up and plan your next adventure.