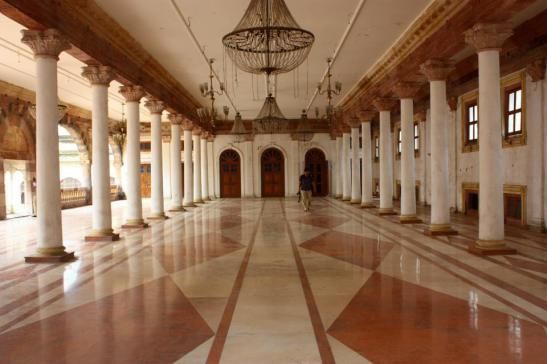 My trip to Mandu started on a bad note, thanks to Jet Airways. The flight I was supposed to catch to Indore at 6 am was cancelled without notice and I was told the next flight would only leave at 2pm. It took me an hour of waiting at the airport lounge to decide I was not cut out for spending the next 8 hours in that confined place. I decided to head home, cook myself a lovely brunch of sausages and mash. My trip companions, Tapo and Tanny had already reached Indore as scheduled, despite Air India, and while waiting for me, they decided to check out the city attractions, Rajwada or the Royal Palace of the Holkars and surrounding temples, with their cameras. The city of Indore was built by the Holkars of Maharashtra, family of the brave Ahilyabai Holkar, and hence, this city has a strong Maharashtrian influence on its architecture, food and demographics.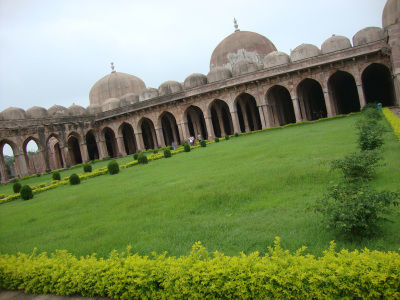 I landed up at 3 in the afternoon, the boys sweeping me off from the airport and heading straight off to Ujjain without wasting a single minute. Ujjain is called the city of temples, and although none of us were religious at all, we love old stone temples for their archaic architecture and associated stories. I think we visited just one temple, the Mahakaleshwar temple, which was quite a bit of walk and we did not stop at most places within the temple, did not pay a dime, until we hit upon the Prasad counter where they were selling panjiri laddoos made with pure ghee that could be sniffed from a mile away. Satiated with laddoos, Tapo and me spent some quiet individual 'me' time on the ghaat of the Shipra, while Tanny clicked away unsuspecting traditionally attired locals from a safe distance with his newly acquired lens that has a decent zoom that allows him to click pictures for his 'roving eye' album on facebook without the risk of actually getting beaten up by his subjects. And thanks to this lens, we did not have to dummy pose for his shots - Man, what a relief for our conscience!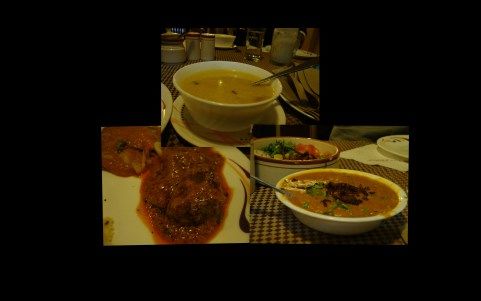 It was Chaand raat, the night before Eid, and I had still not had the Haleem I had promised myself. Luckily for me, the boys had planned a Muslim dinner at Nafees which was highly recommended by their friends. The decor was very much like how a sophisticated Mughlai family restaurant usually is, comfortable lounge seating with elaborate upholstery, etched mirrors on the walls and bright yellow lights. Our expectations of the food were as high as our hunger that evening, and while the guddi Ka shorba (mutton clear soup) and haleem were pretty good, the nalli korma was just about ok in terms of taste. Post dinner, we had to find an auto to head back to our hotel. We got into this massively overdecorated auto with a crown of sorts on the top of it, mirrored and tussled interiors, and a purdah-nasheen meter covered in a yellow rexine veil (with just the meter strip barely visible) - all this for a non-functional meter. The auto drove us dangerously fast on the wrong side of the road with Tapo holding on to the side-bar chanting 'O Ma, O Ma, O Ma'.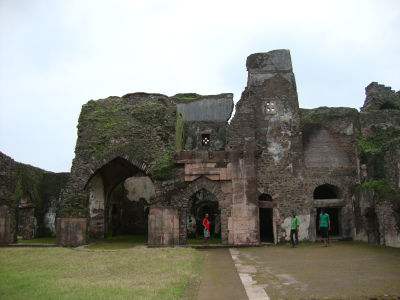 The next morning, we left for Mandu, our primary target destination for this trip. The drive to Mandu, like the one to Ujjain, was beautiful with smooth wide roads, and as Tapo put it, green meadows, pleasant weather, and high tension wires all of which made him nostalgic (We have both spent substantial parts of our childhood in the State). We glared at him at the last point though, they have been interfering in our pictures through the trip. But seriously though, the lush green meadows had come alive in the monsoons and the swaying blades of the crop leaves did make a spectacular sight as we drove past them - moreso because there were acres of acres of them in all directions, for as far as we could see. Mandu took us about 2 hours to reach, and the moment one enters the fort city, one sees magnificent ruins on both sides of the road - the ones that kind of transport you to another era altogether. A huge building was labelled 'Dara Shah's shop', clearly this man owned a shopping mall in those times. Roopmati's palace grounds were way too crowded, we having landed up on a Sunday which was also Eid.
Jahaaz Mahal has always been my favourite spot in Mandu, despite the crowd, there was enough space for us to individually get lost until we wanted to be found. We discovered one such lone balcony which overlooked a vast swampy water body - an adjacent but much ruined section of the palace stood lodged in the swamp, reflecting upon its past days of glory, in the waters it stood. But our lonesome moments were shortlived, thanks to our Sunday crowd. It was kinda weird we realised our local tourists have a tendency to look up to outsiders to show them the 'best spots' in their own town. Wherever we went, a cacophonic herd followed. In this trip, several such spots that were earlier ignored by tourists, have now been immortalised and popularised by us - the scantily clothed English speaking big camera-lugging tourists- into future popular picnic spots. Testing the loyalty of the herd, we even did this lets-marvel-at-arbit-things-at-random-spots thing and sadly, it worked every time.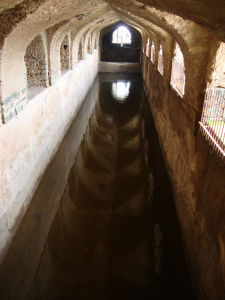 Back in Indore, it was time for us to explore food places in the city. We first headed to Chhappan Dukaan which is a short street lined with shops selling sweets, namkeens and fast food. A quick tasting later, we gathered the primary food delights were Batla kachori (a round deep fried kachori which was made of potato stuffed with dry fruits), Matar kachori (with peas), Mutton Banjo (a cross between a burger and wada pav), Shikanji (unlike Delhi, here it means a milk based drink with shrikhand and dry fruits), Sabudana wada and sabudana khichdi (here they make it really spicy, mixed it up like Bhel Puri and top it with farsaan).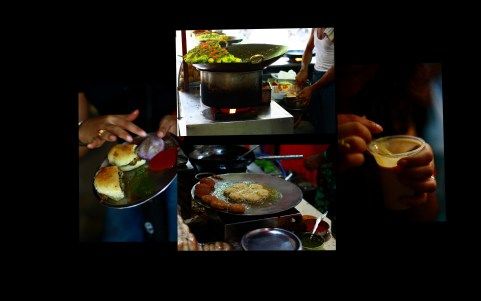 Satiated but still wanting to explore more, we headed to Saraafa - jewellery market by the day that came alive into a food heaven by the night. After incessant gobbling of Bhutte ka kees (cooked grated sweet corn topped with a dash of lime, grated coconut and chopped coriander leaves and a spice mix powder), Rabri, Joshi's dahi wada (undoubtedly the biggest and tastiest stuffed dahi wada I have ever had), we could only ogle and marvel at the enormous malpuas, gulaab jamuns and imartis being prepared fresh. One thing that amazed us was that this market bustled with people till way past midnight, and autos plied at that hour, making it perfectly safe for people to commute even at that hour. If this is not 'rocking night life', what is? Midnight pubs accessible to the upper crust? Loud discotheques? Speeding BMWs ? If the common man cannot enjoy himself safely on the streets of a city, it is hardly worth gloating about the nightlife in a city. By those standards, Indore scores home.
On our last day in Indore, as happens on all our quick trips, we had a long list of things to buy and very little time. After an elaborate poha jalebi and assorted kachori breakfast, we shopped and fussed over Maheshwari and Chanderi sarees - which, since we were from Kolkata - failed to impress us much, but we still bought them as souvenirs. Tapo first bought a south cotton saree and then splurged on an expensive Kosa saree, under peer pressure, since me and Tanny had finished our shopping in about 15 mins already while Tapo hung around trying to 'like' a saree. Being a Sunday, the museums were closed, but we drove around the majestic gates of Lal Baag Palace (which is now a museum) which enticed us enough to puppyface and smoothtalk and bribe our way into the vast premises, stroll across the beautiful gardens and click pictures of the Palace - especially interesting of which was the very European facade.
Quick travel tips:
Monsoons are the best time to visit if you wish to enjoy the greenery and beautiful weather
For the sabudana khichdi and poha, try the ones from the street carts, much tastier.
Chappan Dukaan and Sarafa are not to be missed if you love your food.
If you wish to stay in Mandu, book ahead.
Preferably avoid visiting Mandu on a holiday. It gets too crowded and the forts are extremely pretty sans the noisy crowd.
Get around the city in Indore, it has some nice old buildings built by the Holkar clan. The Rajwada, the Krishnapura Chhatri (royal tomb), Lal Baag Palace, Central Museum, etc
Strange and funny tip, but I like shopping for clothes in non-metros, even in branded chain stores, one finds much more variety and options in the reasonably priced sections, probably because of their customer profiles. Works for me. So if you have time, kill it.