Life is beautiful and more like an adventure if one has friends in different parts of the country; simply because one can visit friends and at the same time get an opportunity to explore many places in short span of time that too with like-minded company. Something like this happened, when I decided to meet Shivani whom I met during a workshop one and an half years ago. The plan was made instantly and I packed my bags for a quick trip to Indore knowing little about what was in store for me for the next two days.
I arrived in Bhopal at about 6 in the evening and then took a chartered bus from ISBT to Indore at about 7 pm. It takes about 3-4 hours to reach Indore city, however due to some issues bus started at 7.45 pm, because of which I reached Indore at 12pm (the dropping point for most of the buses is near Radisson Hotel). I was so glad and relieved to see Shivani waiting for me there :-)
Since I was hungry she took me to "Chappan", 2-3 shops were open even at midnight!! I was fortunate to grab 'hotdog' which had aloo tikki sandwiched inside a bun, spiced up with chutney, followed by hot coffee. I had never tasted this amazing coffee ever in my life.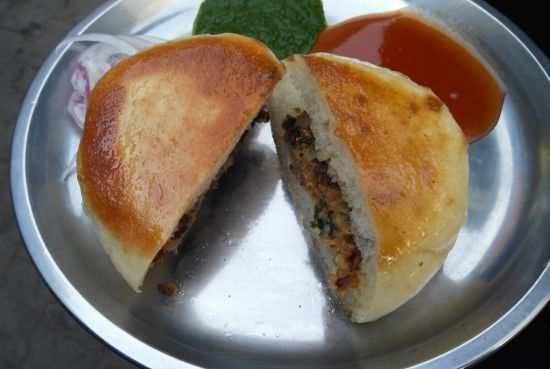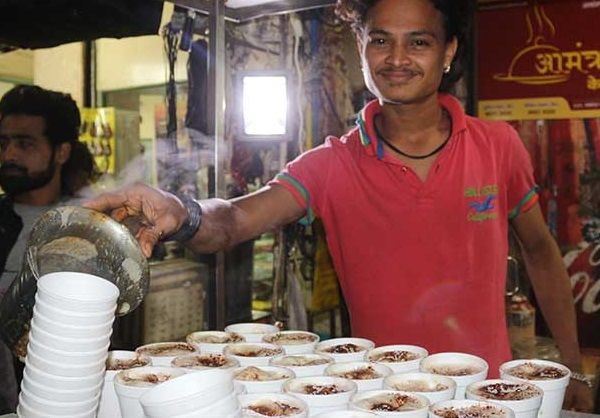 "Chappan" is like Kuber Ka Khazana (if you replace money with food). This market stretch has 56 shops with insane variety, lip smacking, delicious and irresistible street food which opens up at about 6 am and is open till late night. So if you love food, Chappan is heaven placed in the heart of Indore, one can find food from all over India- Khopra pattis, Paani Puri, Rolls, Garadu, Momos, Kachori, Poha, Manchurian- Noodles, Sandwiches, Hot coffee, cold coffee- you name a street food and it's here.
Next morning, we went to have the Indore's famous breakfast "Poha- Jalebi" at Mausa restaurant on the airport road. Interestingly, you can get 'Poha Jalebi' anywhere in the city and it would just taste yum :-)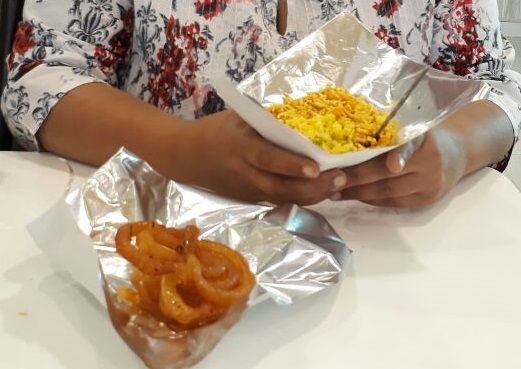 While going back we stopped at a sweet shop to have Lassi- it was thick, pista shade, full of cream and had an added taste of srikhand.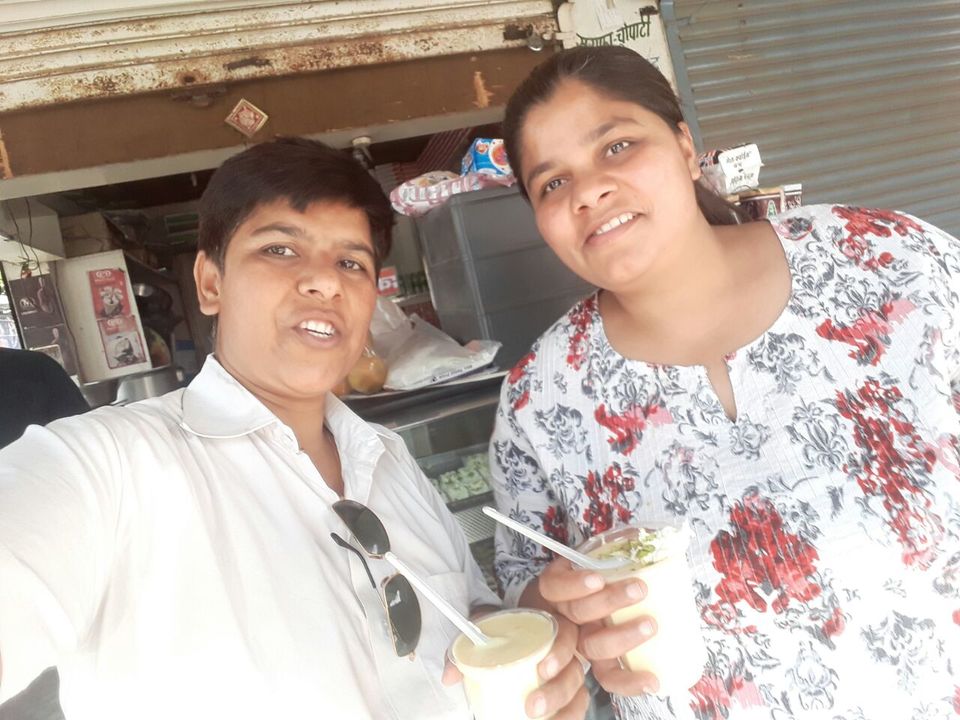 We spent few hours talking about our work and life in general in the home, since it was quite hot outside. And then a beautiful surprise comes in the form of road trip to Ujjain- the city of Baba Mahakal. After 2 hours of happy drive, we were welcomed by the "Grandeur" called Ujjain. It seemed that practically all roads lead to "Mahakaleshwar" temple.
With overpowering and overwhelming historical, religious, spiritual, mythological and political background, Ujjain inspite of being chaotic brings endearing peace.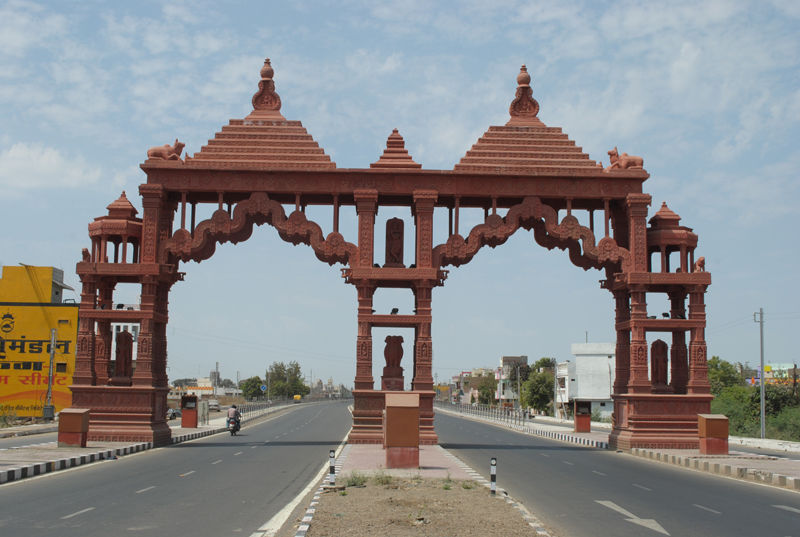 We parked our car at the parking area near the Dharmshala and took peda as prasadam to be offered at the Mahakaleshwar Temple
Mahakaleshwar Temple is a famous shrine that comprises one of the twelve major Jyotirlingas of Lord Shiva. Accredited as the sacred abode of Lord Shiva, Mahakaleshwar Temple is located on the banks of Rudra Sagar Lake. Lord Shiva is the presiding deity of time and eternally resides in the form of lingam (phallic form) at Ujjain. This Jyotirlinga is said to be 'swayambhu' that is self-manifested that obtained its 'Shakti' (power) from within itself, unlike other lingams that were established ritually by chanting 'mantra'.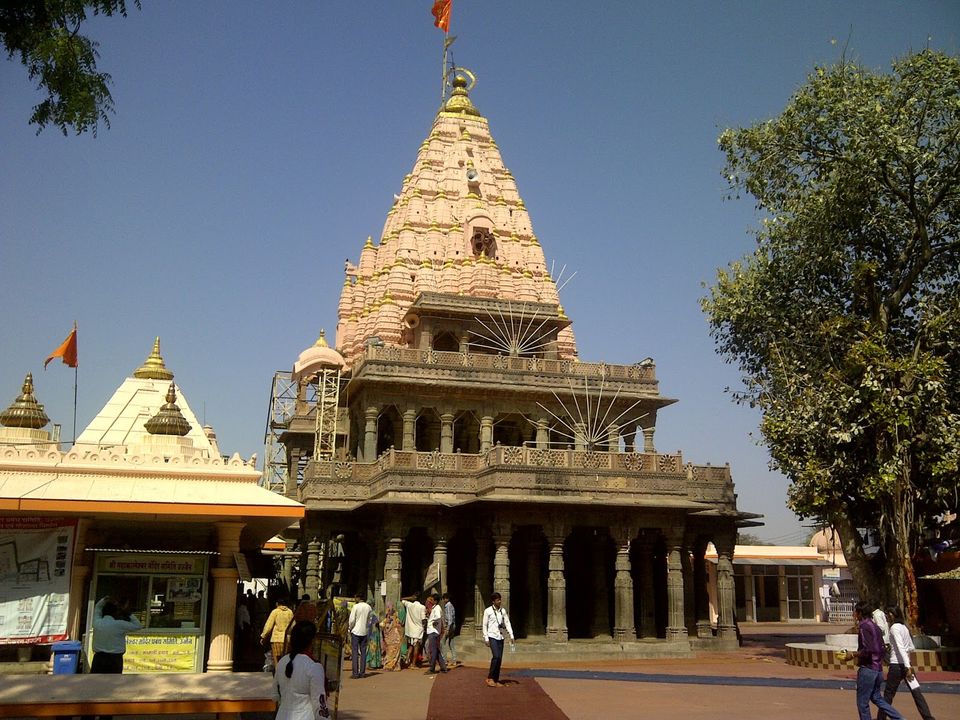 Mahakaleshwar is recognized as 'Dakshinamurti', since the image of the lord faces the southern direction. This is another exclusive feature that is traceable only in Mahakaleshwar. In the sanctum, the idol of Omkareshwar (another form of Lord Shiva) is placed above the shrine of Mahakaleshwar. The site is adorned by the images of Lord Ganesh, Parvati and Kartikay, placed in the west, north and east direction respectively. In the south, there is an image of Nandi The third storey comprises an idol of Nagchandreshwar (another form of Lord Shiva), but its 'darshan' are available only on the day of Nagpanchami.
It seemed that we have come at a favorable time, there was no festival around and also it was about 6 in the evening, so the pujaris were engaging in shringar of the Baba Mahakal, there was a manageable rush, hence we were able to reach "garbgrah" where shivling is placed. I would be lying if I say that I had words to explain how I felt when I saw the shringar happening in front of my eyes, it was ardnarishwar (half man and half woman) shringar- I stood still fascinated and mesmerized at what I was witnessing at that moment. It seemed all the noises of the prayer going around me, about the people saying chants, or the guards continuously helping the people to move ahead just became silent, an unforgettable part of peace found its way to my heart. While moving out, we sat in the stadium like space just in front the 'garbgrah' for some time to absorb the moment :-)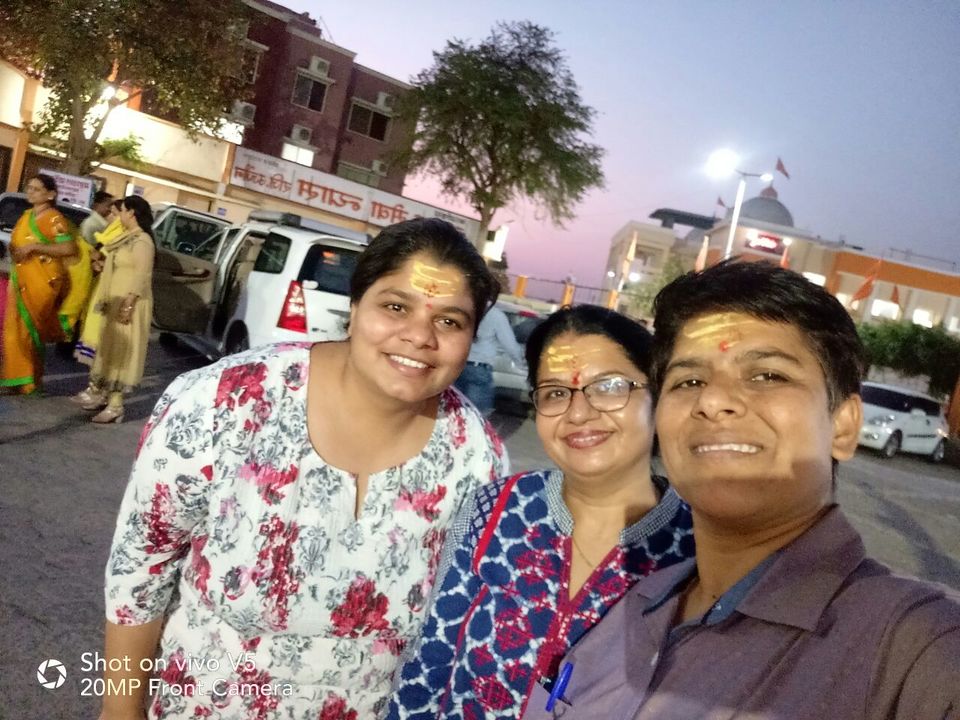 Though we couldn't see Bhasm aarti, it is something that one shouldn't miss while visiting Mahakaleshwar.
Bhasm Aarti, one of the essential yet awesome rituals of this temple is a symbolic representation of Death and Life. This strange tradition involves adorning the idol with ashes from the burning burial ground is a mark of respect to the Destroyer of the universe, Lord Shiva. The Bhasm-Aarti is the foremost ritual conducted every day at the temple, which is to wake the God Shiva up, perform "Shringar" and offer the first aarti. The aarti begins only when fresh ash is brought in. While those who have seen the original aarti (which was performed till about 15years ago) maintain that it was a different experience which can't be recreated, the present aarti is also a grand experience, something which is worth getting up at 3AM for!! But caution, men need to wear dhotis if they want to enter into sanctum and girls need to wear sari for the Bhasm Aarti.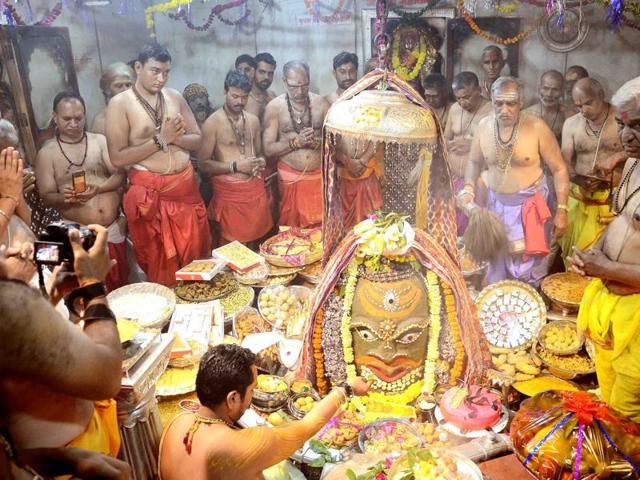 The temple has beautiful state of art architecture and it takes quite a while to move out of those picturesque settings. The sun had already set, cool breeze made our car ride back to Indore even more amazing. We had all the mythological discussion dominating our conversations, which included the story of King Vikramaditya and betal stories, how the Mahakal is the ultimate king of Ujjain and no king has ever spent the night in the city, and those who did, pay for the consequence be it with their lives or with their kingdom prominent examples being - Morarji Desai's government collapsed the very next day he stayed a night in Ujjain after darshan, YS Yediyurappa had to resign within 20 days as CM of Karnataka after he stayed night in Ujjain, and many more.
We went back home, rested for a while and I didn't know that something incredibly magical awaited me :-) I am talking about Sarafa Bazar, the street which is largely an area for selling jewellery and does business of crores throughout the day, magically transforms into a food paradise.
"Ye dekhiye" as we were walking close to one of the shop, this voice attracted my attention. Faintly I could see a man sitting in one of the shop crowded with people, some video shooting some clicking the pictures. That's how I saw Joshi ji for the first time, it is said and I believe that eating dahiwada here is not just about the taste, but it's also about the experience of watching the founder Ram Chandra Joshi's son Om Prakash Joshi make the dahiwadas. He flips the dahiwada with the curd without spilling a drop. After pouring curd in the bowl, he sprinkles five spices using just one finger without allowing them to mix together. There is so much demand of his dahiwadas that they get over before 9 pm. And trust me this dahiwada you can't just miss, it's a perfect blend of wada mixed with perfect sweet and sour curd with exact spices, this super mouthwatering delicacy that just melts in your mouth. Simply Delicious :-)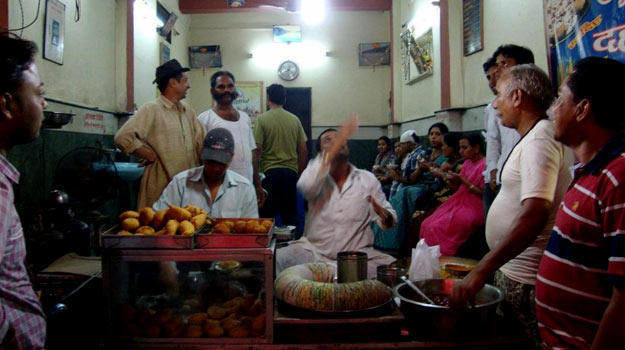 The next thing that we gorged on was Bhutte ki kees - this seasonal speciality made of white corn, grated and cooked with milk and spices until it acquires the texture of a moist upma was mind blowing.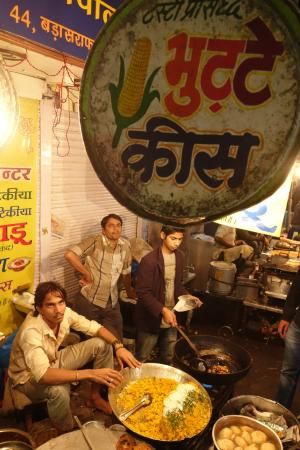 We went ahead and had what is famously called as Saawariya ki sabudana khichdi: Yummy and unique, Om Prakash Vyas has his own style of making the sabudana khichdi- and this does has flavor of Indore (sweet and teekha).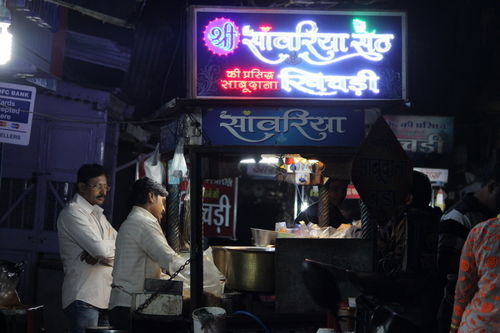 We then decided to fulfill our sweet tooth's demand- which included Malpua, gulab jamun, rabri and Indori shikanji (not that cool drink which is offered in summers but it is made of milk and dry fruits with just a hint of tanginess from the mattha (buttermilk), and has a dewy sweetness to it).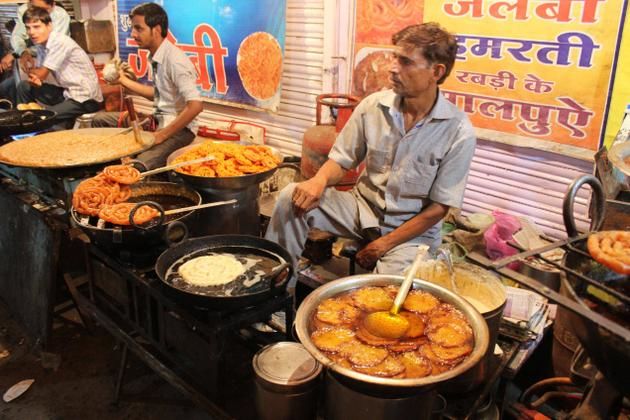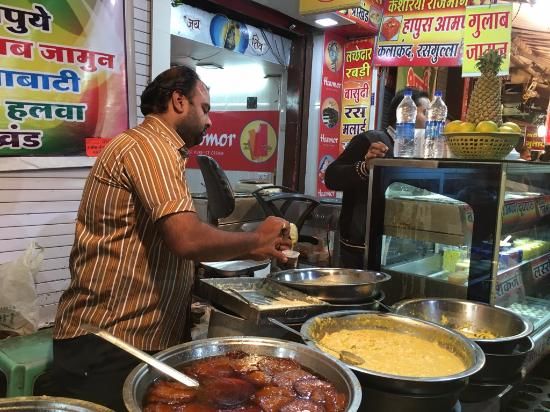 Our stomachs were very happy, fulfilled and contend :-) though one need few days to try and explore lot many delicacies available in this night food paradise!! Shivani told me that this street food market opens after 8 and continues till midnight.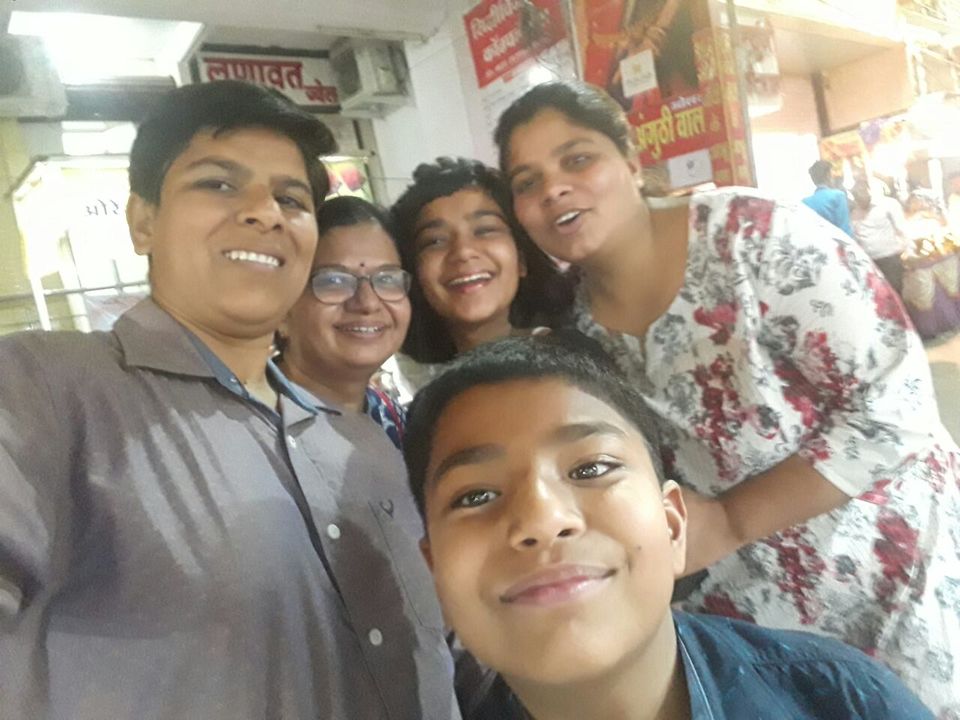 Apart from the food, what enticed me the most was that here serving and sharing of food was more important than churning money out of it, they love having conversations despite the hustle and bustle around and also humble enough to take the feedback – giving an example that I didn't really like dokhla served with curd and chutney, the shopkeeper quickly noticed and asked me. He explained me everything and served me with a Dhokla without curd, I was left amazed :-)

While Ujjain helped me get close to my spiritual self, Indore welcomed me with all richness of the food, conversations, humbleness and honest human emotions.