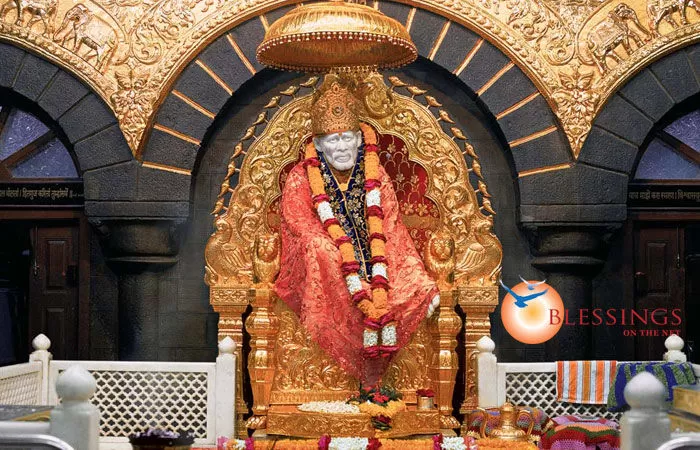 SHIRDI and SHANI SINGHNAPUR
Shirdi, a non-descript village in Maharashtra's Ahmednagar District would have gone unnoticed but for Saibaba, the Fakir whose origin is a mystery yet. Alive till 1918, Baba literally sanctified the place with his saintly powers. Devoid of affiliation to a specific community, He was FOR Humanity, the gist and the universal aspects all religions preach on earth. It is this unique and saintly quality that made him a household name throughout. Bestowed with a divine power, Saibaba was the sole attribute to the village gaining global recognition of notable magnitude. His innumerable followers are spread over not only within but outside India too.
Though I had visited the place once (1993), my desire for a second trip fruitioned this January. Equipped with bag & baggage a week ahead of departure, my family curiously awaited the day of leave. Being from Mysore, road or rail journey for us would be hell of an experience, what with almost 27+ hours journey for one-way. Further, we all had leave-coordination-issue among each family member; so we opted for air travel, to save on time. Leaving Mysore by road after dinner, we reached Bengaluru Kempegowda International Airport, caught an early morning flight from there and landed at the nearest air point Lohegaon (Pune) by 7.30. Then headed straight to the divine destination by road. Enroute, we halted a while at Ranjangaon, a small place on the way, known for a Swayambhu (self-imposed) Ganesh Mandir, for a quick darshan, continued the drive and touched Shirdi by 12.
After morning ablutions at the pre-booked Karnataka Bhavan (choultry-like mansion with several individual rooms & attached bathrooms with AC facility too), left for Dwarakamai, the mosque-turned-temple of Baba, where he dwelt all his life, hardly a kilometer away from the Hotel. Mobile phones and chappals are the two inevitable things one has to part before entering a religious place. Locating the place meant to deposit them, is in itself a big task. The day being a Govt.holiday, heavy crowd welcomed us, but somehow found the place, threw them there and joined the Darshan queue, saw Dwarakamayi, then lined-up in the next one to enter the Samadi Mandir, surrendered the online-bought special tickets and came out fully contended, by 4.30 pm. Even a one-minute Darshan makes us to forget the toils and troubles we face to reach the place. People with no paid-darshan tickets or who have no time to pass through the regular process for a closer view, can go for Mukh Darshan where they are allowed to pass through a moving queue to see God from a distance. Chavadi, a small platform nearby with a rugged roof is yet another place He frequented during evenings, to meet the devotees. I wondered how the place got transformed from a calm, quiet, tranquil and typical Indian village back in the early 1990s, to a buzzing spot almost 25 years later. Hanuman Mandir. Shiv Mandir and Ganesh Mandir are other places all located in the same vicinity that can be covered in an hour. In a small enclosure situated therein - said to be the place where Abdul Baba, a staunch devotee of Baba lived - a Moulvi hits your head with peacock feather as if to bless – a rare feat indeed. Other places nearby are a water-well from where Baba used to draw water and the neem tree under which he used to pray. Lendi Garden adjacent to Dwarakamayi mandir which Baba personally developed to grow medicinal plants, is one more attraction here. Dixit Wada Museum is yet another place where tourists and devotees throng to see the various things used by Saibaba, preserved for posterity.
Khandoba temple (Khandoba is emancipation of Lord Ishwar, one among the Trinity, whom Maharashtrians worship the most) is yet another place half a kilometer away which is worth a visit. This is the place where Saibaba is said to have first appeared in Shirdi.
I feel on a normal day, with lesser crowd, one can cover all these places well within a day.
I am obliged to say that the Arya Vysya Karnataka Bhavan Trust owns couple of Lodge like buildings, where devotees, especially from Karnataka, are provided spacious rooms with or w/out AC for family stay at a very nominal rent inclusive of free and sumptuous vegetarian breakfast, lunch and dinner at specified timings, as a part of their service to Baba devotees. But advance booking is a must, otherwise one may go without accommodation. Better therefore plan your trip well in advance to avoid disappointment. I learn that several Andhra Trusts too exist, catering to devotees of that state. Of course there are umpteen other private lodges and hotels also but they may pinch your pocket.
Our next destination was Shani SInghnapur, the abode of one among the 9 Grahas i.e. Shani Bhagwan, a la Thiru Nallar in Pondicherry. Around 50 km drive from Shirdi amidst sugarcane fields, takes one to Shani Singhnapur. On the way, we noticed a peculiar sugarcane juice-extractor. Unlike the manual or motor-driven pressers, it is bullock-driven. The wonder was, the moment shop keeper inserts a bundle of sugarcane between two wooden presses, as if automatic, the bullock keeps moving, not waiting for a stick-pat on the back, nor a verbal order by the owner for the move. Juice pours down the tube to the vessel kept beneath. My son got curious to see the process and we did halt, captured it on video, gulped the tasty juice and then reached Singhnapur. The place is known to have door-free homes/shops. I mean all buildings and homes are sans doors. The belief is that no one dares to steal anything, for, they believe Shani Bhagwan never leaves offenders/ thieves unpunished. On the contrary - I am told by my taxi driver - that the locals swindle the tourists by forcing to park vehicles at their parking slots only charging exorbitant fee, and also inducing them to buy pooja items from their shops. Looks like even Shani Bhagwan have no control over these swindlers. The sanctum sanctorum here is in the open, with no roof on the top. Oil is made to recycle over the deity all through. Half a day seems enough to have darshan here.
Once out, we found our way back to the Lohegaon airport (Pune) to board the return flight to Bengaluru.
N.DEVARAJAN, MYSORE