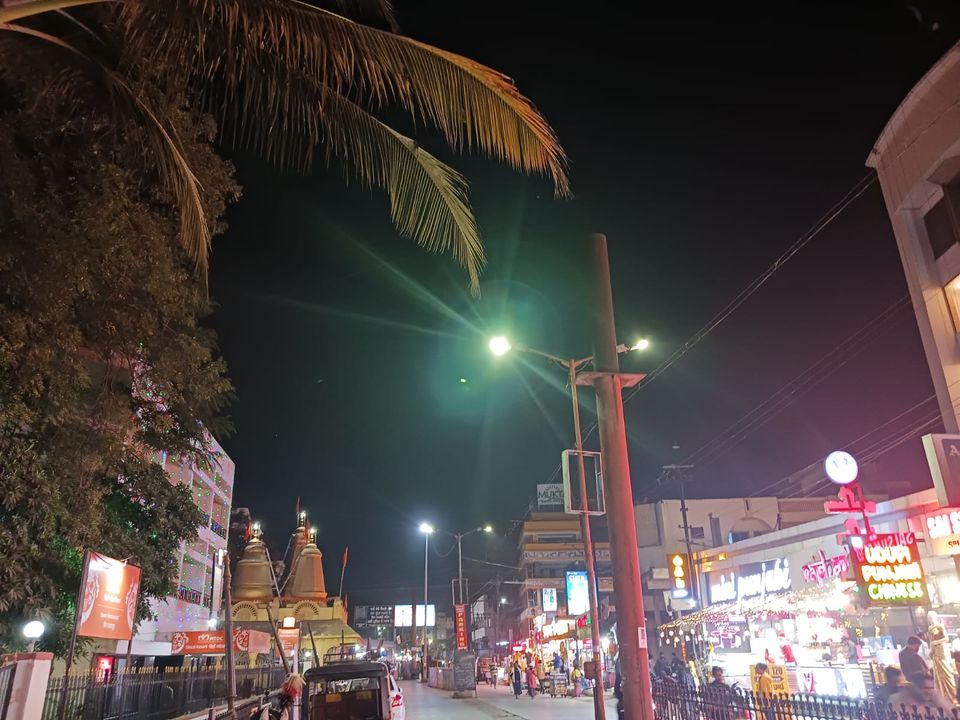 Shirdi
The next destination from Nashik was Shirdi. Shirdi is one of the most beautiful places in the world. It took nearly 2 hours 30 minutes by Car from Nashik. We rented a car from the Hotel Triton where we stayed for 2 days and visited major places in Nashik. The drive was smooth. We started around 9AM and reached Shirdi around 11.30AM. We booked our Darshan Tickets via online and that was very convenient. We also pre booked our rooms in Hotel Sai Krishna Kutir (098813 25991)which is 1KM from the temple premises. It was a good, budget stay for the family and the owner was highly professional, kind and the hospitality was great. I would recommend this hotel for anyone looking for a pleasant stay, not a luxurious one though. But you will be content and happy.
There are numerous hotels around the temple and are reasonably decent. Mobile phones are not allowed inside the temple premises and so it is important to carry printouts of tickets along with you. There are shops near the mobile counter where you can take these.
The temple town was slightly crowded and most of the crowd was for free darshan. As we had tickets we proceeded towards the mentioned gate. There are numerous shops from which you can buy turbans, flowers etc but the temple isn't accepting offering post covid. Maybe you can get it, give it to the priest and he may just touch baba and return it back.
The temple premises were as clean as crystal. Thank you fellow dwellers for being cautious of littering which is to be appreciated. The queue moved Swiftly and we were in from Baba. That is such a divine sight that I would never forget in my life. I had goosebumps as I crossed past him to the exit. The darshan was for only a few seconds but the peace that it radiated is still felt as I think about that moment I saw him. What a great moment it was!
We then went out to Chavadi and Duni and felt so much of Baba. We were able to sit for sometime and do some mediation to get absorbed in his vibes. And then we thronged shopping across the colourful streets. You have all the decorative items, porcelain idols of deities, of course a lot of Peda which were mouth watering and as you ate one you wanted more of it. We experienced a happy crowd as we roamed all over the temple town avenues. And we came back to the room and had a quick refresh and then proceeded to Sani Singapur which is 72 kms away from Shirdi and the hotel staff was so pleasant to help us in the process, and arrange things, answer our queries.
Shani Shingapur
Another beautiful place in Maharashtra. We had to travel 72 Kms via paddy fields for a certain distance and then via Sugarcane fields. Happa! This is the only time I have seen lakhs of Sugarcanes transported at a stretch in tractors, bullock carts. Massive sight! There are numerous sugarcane juice shops which give fresh sugarcane juices with the help of Bulls to extract the juices manually instead of machineries. Beautiful place amidst the sugarcane fields. We stopped by and had lots of sugarcane juices, chilling on the swing nearby. This Shani Shingnapur is known for righteousness. This place is unique as the houses, shops did not have doors previously which now have doors but without locks. This place is the kingdom of Shani Dev. People cannot steal and leave the place easily. It is believed that Shani Dev will punish them before leaving his kingdom.
Even the ATMs, Banks had no doors previously. Now there are doors without locks to avoid the nuisance of stray animals. The whole control of the town is taken care of by just a single deity who takes the form of a single stone in the open ground. A stone stands still and is the powerful Shani Dev. People who had visited 5-6 years back say that it was just a stone and people walked in and walked out in minutes earlier, now it has grown. The temple has now proper mandaps, facilities to offer Oil to Shani Dev, ticket counter to execute the same.
People also sell other offerings outside the temple premises like iron, sesame seeds for Shani Dev to protect and pacify him during the Shade Shani or the Shani Maha Dasa. But the oil offering could be trusted much more than the other as they are genuine inside the temple premises. To climb on the mandap and to offer the oil, it costs 500 INR per head.
The day we went was crowded and some Puja was on. We waited for an hour to perform the rituals. It was adventurous and equally spiritual as the floors were slippery and the place vibed positively.
We had our cab waiting. For the whole trip, including the return trip, it cost 1800 from Shirdi. We came back to Shirdi to have our dinner, enjoying the night view of Shirdi, exploring play area in the streets of Shirdi before retiring to sleep in chilling weather.