A trekking expedition to Shiv Ganga- a good start to my new year indeed. I am not a frequent trekker and do not maintain a travelogue, yet I thought of making a novice effort at penning down by first ever trekking experience. I googled a few blog posts on Shivgange. The research which should have been done before starting on the trek was done by me later only for the simple reason that I did not want to write any wrong facts in my post. I hope that the people who read my post would forgive me for the missed out nuances in my expedition which would never occur in the case of a seasoned travel blogger. I enjoyed immensely and I thought of sharing my experiences in my blog. My first stride into 2015 was a healthy start considering the fact that I started my new year by burning out my excess calories.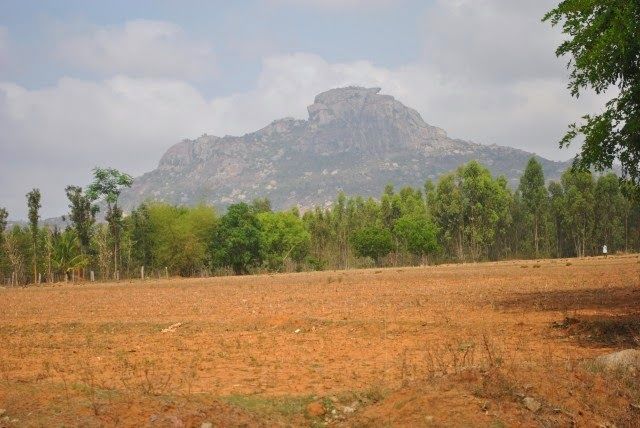 The expedition was planned well in advance but I became a part of it, quite impulsively. I was not supposed to be a part of this hiking trip.
We had planned that we would start off at the crack of dawn and make it to the peak well in time to watch the sunrise at 6.45 a.m. Unfortunately the morning of 1st Jan, 2015 started with a persistent drizzle. A cursory glance from my balcony made me realize that it had rained the entire night. We were a little disappointed since a rain meant that we might not be able to climb uphill and watch the sunrise. Undeterred by the rain we decided to make an effort atleast and drive till Shivganga with the hope that the drizzle would have stopped by then. Dawn of 1st Jan is never the same as the dawn of any other normal day. A lot more traffic could be seen on the Bangalore roads. People were returning home after the late night new year eve celebrations.
We made a brief halt in a roadside punjabi dhaba. It was a typical dhaba with a few trucks parked near it, the charpoy with a wooden stool placed in the middle, the hand pump, a few hen roaming around and a few stray dogs. A young sardar lad was rubbing a generous lather and having a fine bath under the hand pump. The cook, a young lad of about 16-17 years had a strange accent. The young guy was a bengali guy who had travelled this far in search of livelihood. We had yummy alooo paranthas generously covered with oodles of melting butter and tea. After a sumptous breakfast we started off again. GPRS failed us and we had to resort to the traditional method of finding our way out till Neelamangala, we asked people on the roadside for directions. After a drive of about more than an hour we finally could glimpse the peak of Shivganga. We were stopped by a few guys and were asked to pay 30 rupees for using the road that led to the Shivganga. We were not really convinced by their reasoning but thought better not to waste time in an argument and paid them.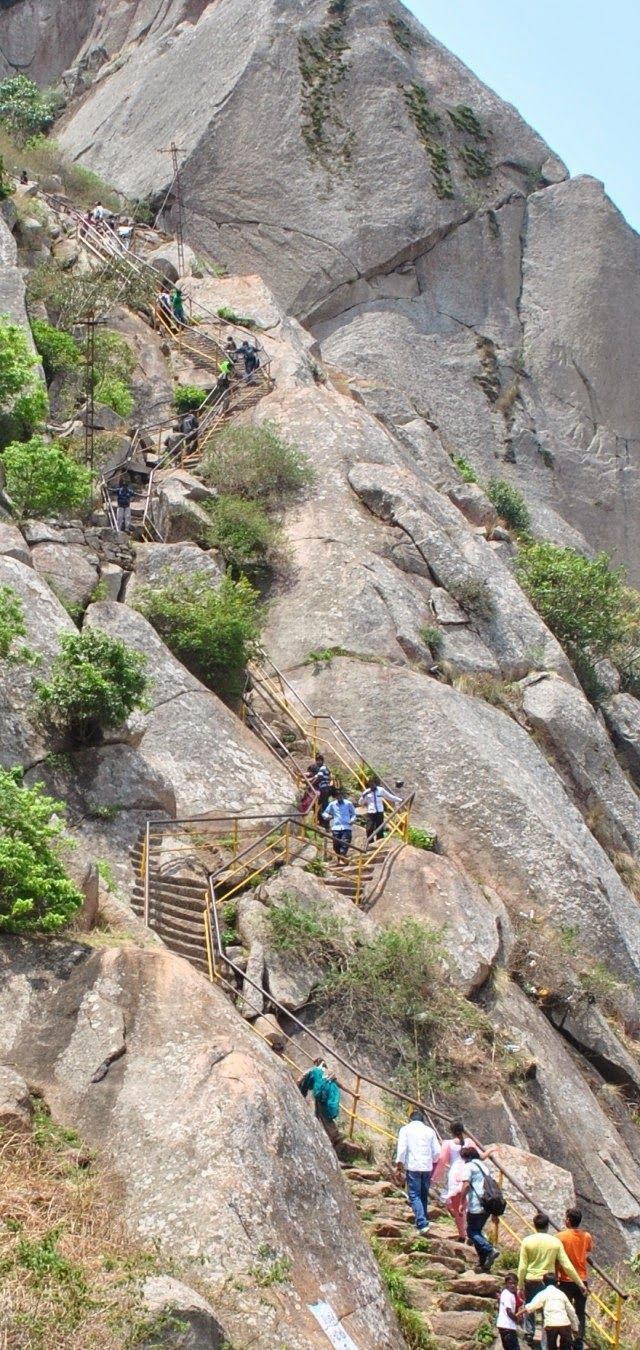 The starting point of the trek was a Shiva temple. The preliminary research preceding the trek was done by my fellow trekkers. I had joined impulsively and so did not have much prior knowledge about the place. Shivganga also known as Shivgange or Shivagange betta is a hillock located 60 kms from Bangalore. It is said that the hillock looks like a shivlinga from a particular angle. It is the crossroad where earnest Shiva devotees and adventurous trekkers meet. Shivganga is also famed as 'Kashi of the South'. Shivgange has several Shiva temples like Veerabhadreshwara, Olakala teertha, Patalagange and Nandi. The Olakala Teertha is a small hole. An interesting story about the Olakala Teertha is that one can put his hand inside the hole and if he feels water then it signifies that he has done good deeds.The hills is Shivganga are Ashtalingas (8 Shivlingas) namely Gangadhareshwara,Shantheshwara,Revana Siddheshwara,Swarnambha,Omkareshwara,Kumbheshwara, Muddu Veereshwara,Someshwara. The climb uphill was difficult for me , a beginner with no prior trekking experience. Iron railings existed for the greater part of the trek, which made the ascent a little easier than otherwise. Steps had been made in the hill which again made the clambering comparatively less cumbersome. I was quite awed by the fact that Shiv devotees were climbing the hill barefoot unlike us. A few devotees were old people and I was abashed by the fact that these people were finding the climb easy whereas I was panting. This made me resolve that I really needed to boost my fitness. It was not an easy climb. We were panting and totally breathless. My heart was drumming, throat was parched dry and I felt nauseatic. We frequently stopped for rest and on being goaded by others we would again resume our climb uphill. We drank the last drop from our water bottles and finally had no water left. Small shops and eateries had been built at various levels in the hills. Lemon juice, water melon juice, cold drinks, badam milk, water bottles , fruit salad and a lot more was being sold. We stopped to have lemon juice to quench our thirst. We told the old woman to prepare the juice with the water we were carrying since we were not very sure whether the water she would use would be pure. Climbers rested at intervals near such small shops. Our eyes were fixed at the peak, we were very clear about our intention, we had to make it to the peak. I was especially adamant about it since last year during my trekking to Edakkal caves , Wayanad, I could not cover the last lap and could not reach the peak. This time I wanted to make it till the top. Suprisingly most people were not finding the climb too difficult. I wondered whether the devotion of the Shiva devotees enthused them with extra energy. We Indians are religious and our passion for religion makes us do unbelievable things. I remembered an old bengali adage very similar in meaning to the proverb 'Where there is a will there is a way", it says that if a crippled is strong willed, even he can climb mountains( 'Pongu o giri longhon kore'). I was humbled when I actually saw a polio struck man climbing the hill. He had already covered half the distance. Once again in life I realized that we are so fortunate and yet we grumble for many trivial things, a cramp or a bruise in the leg.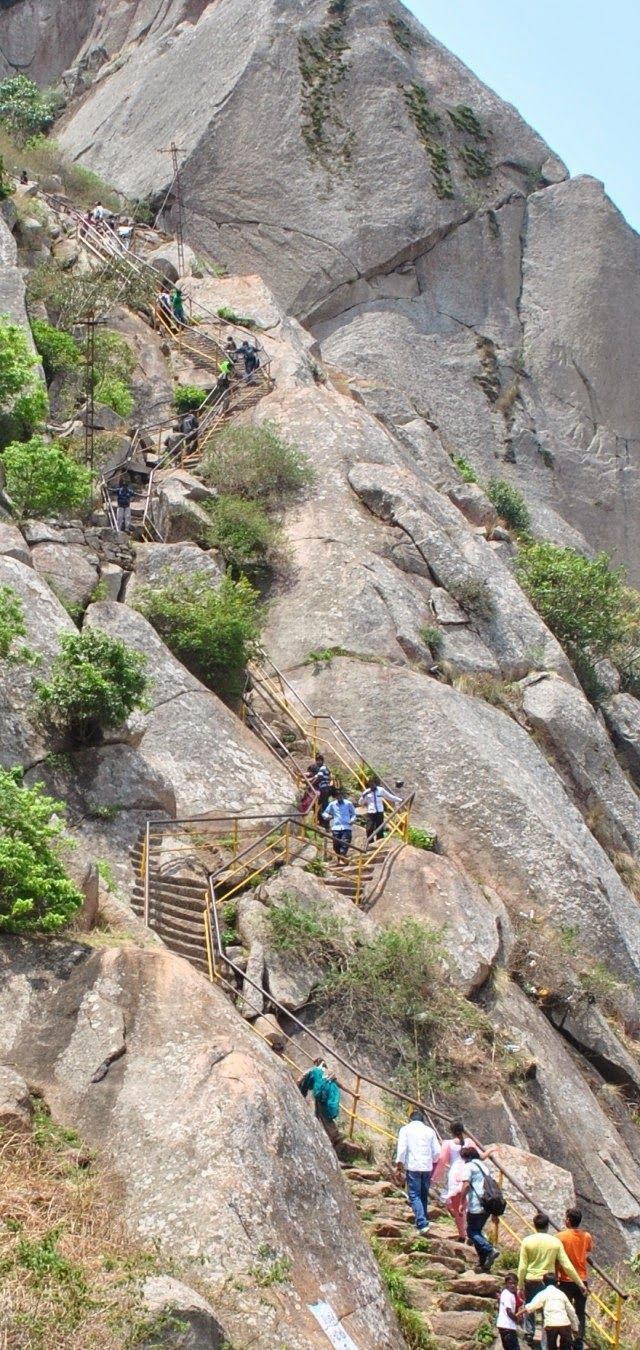 We found rogues in the form of monkeys at various levels of our climb uphill. These miscreants stole whatever they could from the climbers, flowers, coconuts, water bottles and so on. One naughty monkey grabbed a water bottle, made a small hole at the bottom and started sucking water from it. In the midway we beholded a huge Shiva Parvathi statue. As we progressed towards the peak, the hill became steeper. On reaching the top we saw queen Shanthala's suicide point. The Gavigangadhareshwara Temple is also situated at the peak of the hills and the Nandi statue. Devotees crowded around the Nandi statue to offer their prayers. The Shivgange hills has two gaint Nandi statues. We were simply mesmerized by the picturesque scenic beauty from the top. We could view a pond ('Pushkarini') from the top. A cool breeze on our sweaty forehead had a soothing effect. It was a sunny and yet breezy winter afternoon. A trek in the summers would have been much more tiring although we were already sweating profusely.
After a brief rest we started our descent. I realized that moving downhill is much more challenging than climbing uphill. One tends to pant and become breathless while climbing uphill but while climbing down one tends to slip and fall and its risky. Twice I hit my left knee against a rock and almost twisted my ankle. If the iron railings were not there I might have slipped and fallen. My legs felt wobbly and was shaking uncontrollably. I found the climbing down much more difficult than the climbing up. People who frequently go for such trekking trips might not face as much difficulty as I faced, a beginner and a non trekker. On reaching the foothills, we had very sweet tender coconut which immediately washed away our fatigue of the day. We felt energised and happy..a good start to the new year indeed.