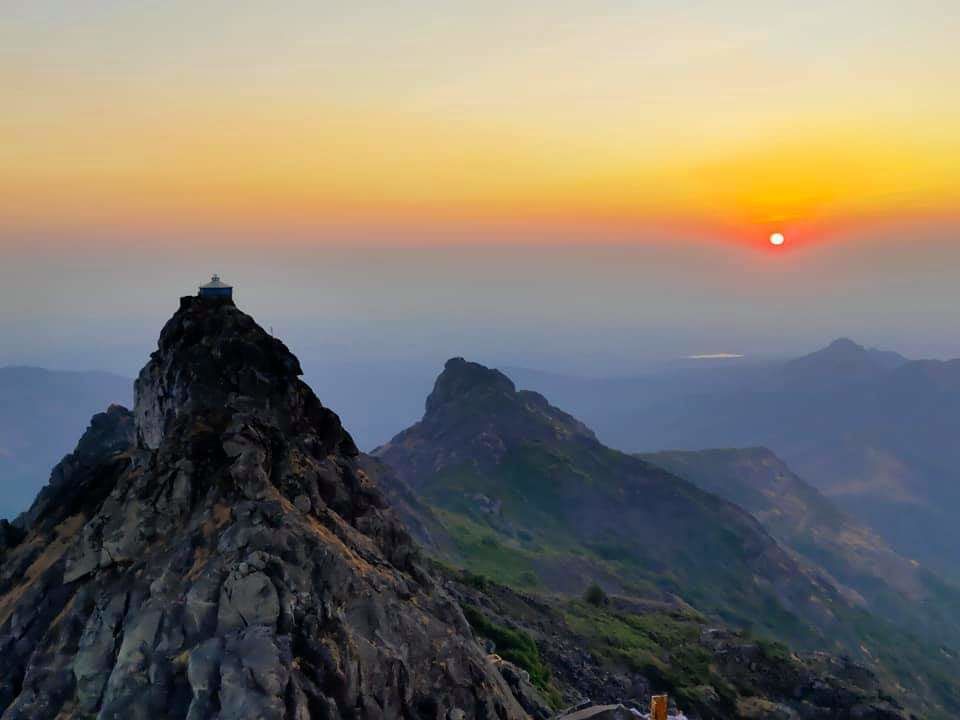 I love challenges, coupled with fun. Ever since I had heard about how the pilgrimage of Mt Girnar is an extreme test of physical and mental endurance, I longed to visit this highly revered holy place in the midst of Junagadh in Gujarat. After a couple of unsuccessful plans cancelled at the last minute, we finally took to the road to Junagadh in the mid of February, a prompt weekend plan with friends finally executed. We were two couples, travelling from Jamnagar, and getting to Junagadh was a three-hour comfortable ride. It would take around six hours from Ahmedabad/Gandhinagar, still remaining accessible as a weekend getaway.
We could see Mt Girnar from far away, as we approached the city. The pilgrimage of Mt Girnar holds utmost religious and spiritual importance for the people of India. It is visited by thousands of devotees all-round the year. Older than the Himalayas, Girnar's first impression leaves you with a sense of awe, but also intimidated. If you haven't done it before, I'm sure the first sight of it will leave you thinking- 'How am I going to climb that?' One needs to climb 10,000 steps carved out in the mountain to reach the summit.
We reached Junagadh at sundown. As we entered the city, we saw a lot of festive preparations going on. The city was preparing for its biggest festival of the year- Mahashivratri. One week from then, the streets of Junagadh would be flooded by hundreds of thousands of devotees from all over the country.
We had planned our short night stay at a friend's place, a little far off from the Girnar Taleti. Having kept our luggage there, we set out to visit the Taleti and the famous Bhavnath temple and Damodar Kund.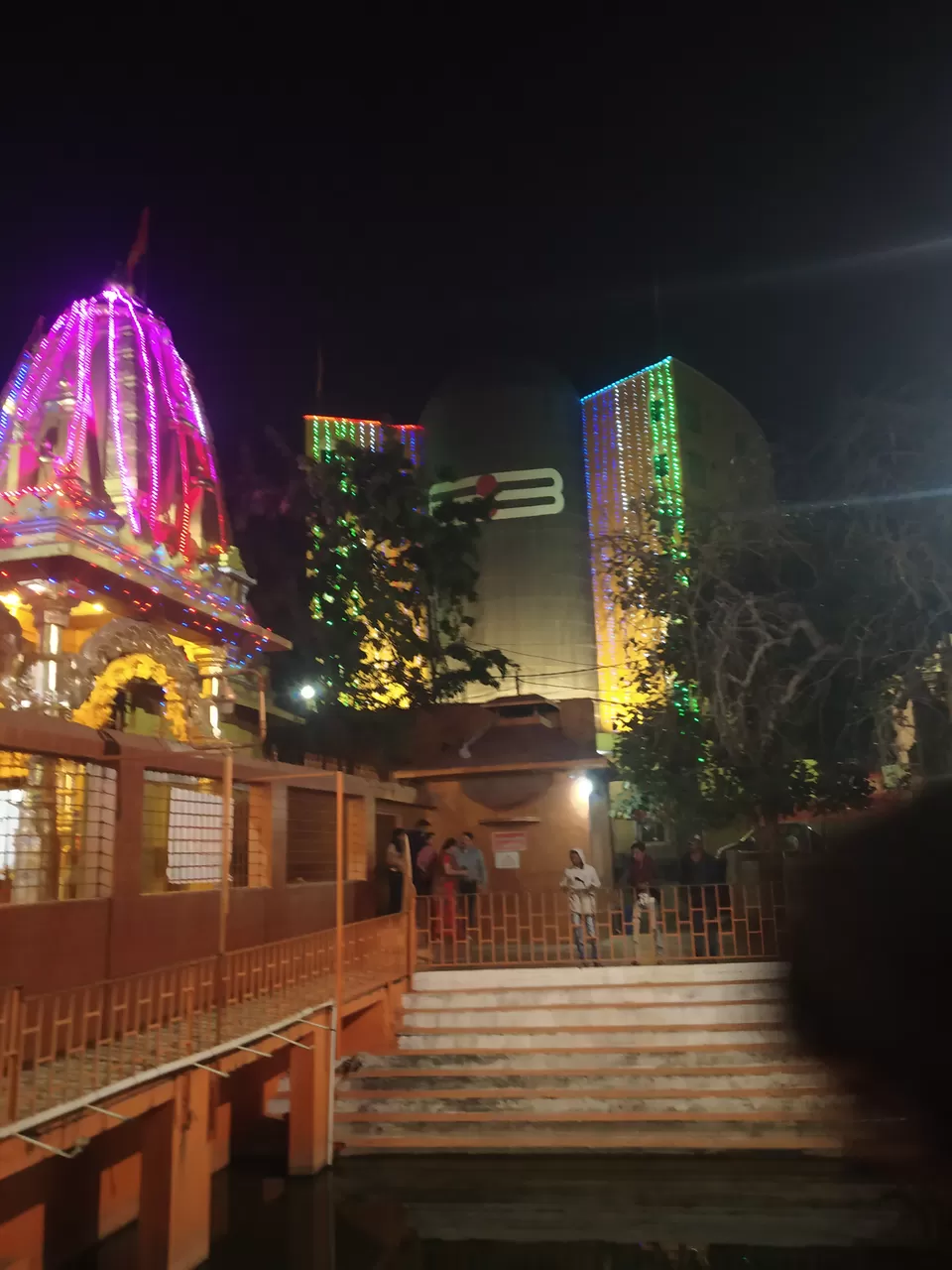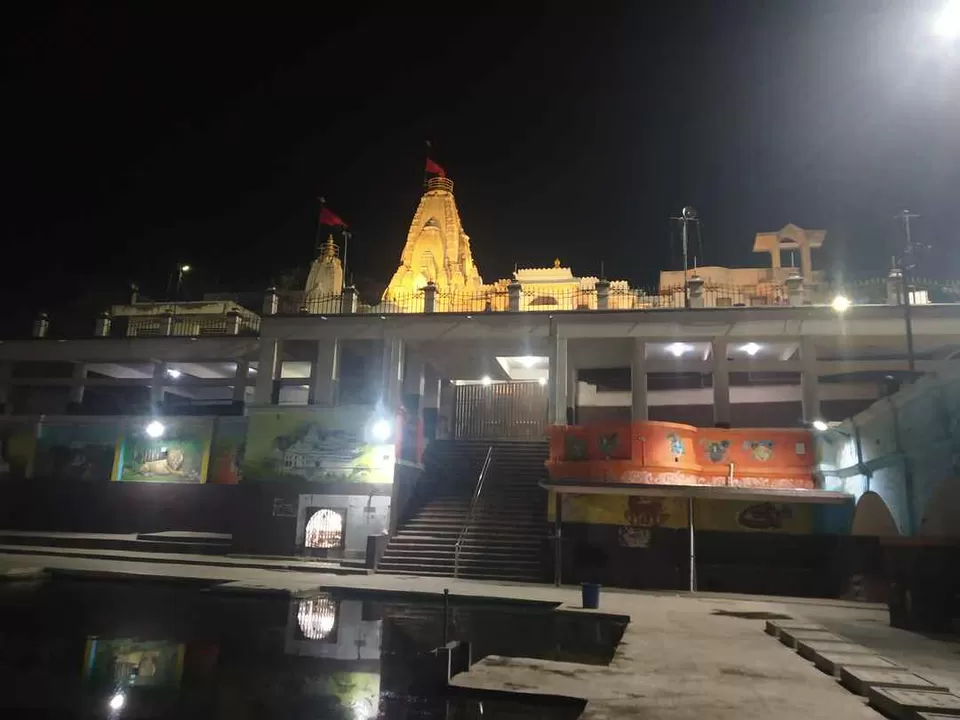 Girnar Taleti, literally meaning "Foothills of Girnar", has lots of small temples, dharmshalas for lodging, local restaurants that serve local Gujarati cuisine as well as a local market. We first visited the popular Bhavnath Mahadev temple, an ancient temple of Lord Shiva. Having spent some time there and after a brief walk through the local market, we went on to visit the Damodar Kund. With close resemblance to a stepwell, it finds its place in some of the prabhatiyas (morning prayers) of Bhaktkavi (poet) Narsinh Mehta. Several devotees take a dip here to attain 'moksha', and it is also where hundreds of Aghori babas (ash-claden naked sadhus) take a plunge on Mahashivratri, astonishingly, not to be seen again until next year. We had light dinner before going back to our stay, and called it a day.
Our day began early at 3:00 am, and as advised by our local host, we avoided having breakfast. Carrying nothing except our phones and some cash, we drove to the foothills. It was a cold winter morning, but we avoided wearing sweaters as it would add to our weight. We were pretty sure the trek would soon warm us up! Having rented bamboo sticks to help with the climb and a flashlight from a local stall, we began the ascent.
There were hundreds of devotees making the climb, and the continuous chants of 'Jay Girnari' filled us with much needed vigour. Ten thousand steps might sound surmountable especially when you're young and fit, but only 500 steps later, our bodies started showing signs of fatigue. Approximately every 200 steps, we had to catch our breaths. But when I saw hundreds of pilgrims, half of them easily above 60 years of age, making their ascent slowly and steadily, I realized that this was not a test of physical endurance, but that of mental grit. When I saw an old lady, who was continuously singing morning prayers while climbing faster than people half her age, stopping only to motivate her fellow devotees, I could not help but wonder at the miraculous power of faith and mental conviction.
Water and refreshments were not an issue, as there are numerous stalls to be found along the way. Keeping ourselves hydrated, we kept climbing further. Nearly 2000 steps above the foothills, we were in for a spectacular view, that made us realize how high we had already come. It was still dark, and we could see the city below, similar to the view of a city from a flight. The promise of even better views as we climbed, and a strong cool breeze that continuously washed our tiredness away had us back on the path upwards. It certainly helps when you have good company, to keep your mind off your physical fatigue. Thanks to our friends, we had the best companionship.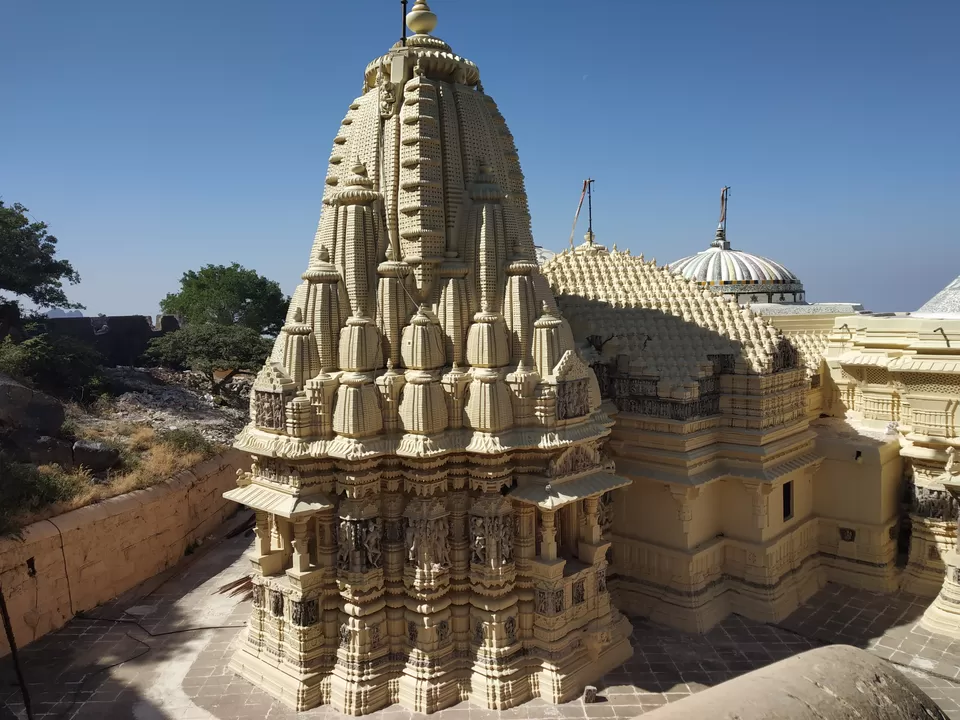 We reached the first of our destinations, the Neminaath Jain Derasar, at approximately 4000 steps. It is a complex yet beautiful structure with intricate carvings. It is a highly revered pilgrimage site for Jains, the place where the twenty second Teerthankar Neminaath attained Nirvana. Having visited the temple, we relaxed for a few minutes but realizing we were not even halfway to the summit, started our ascent again.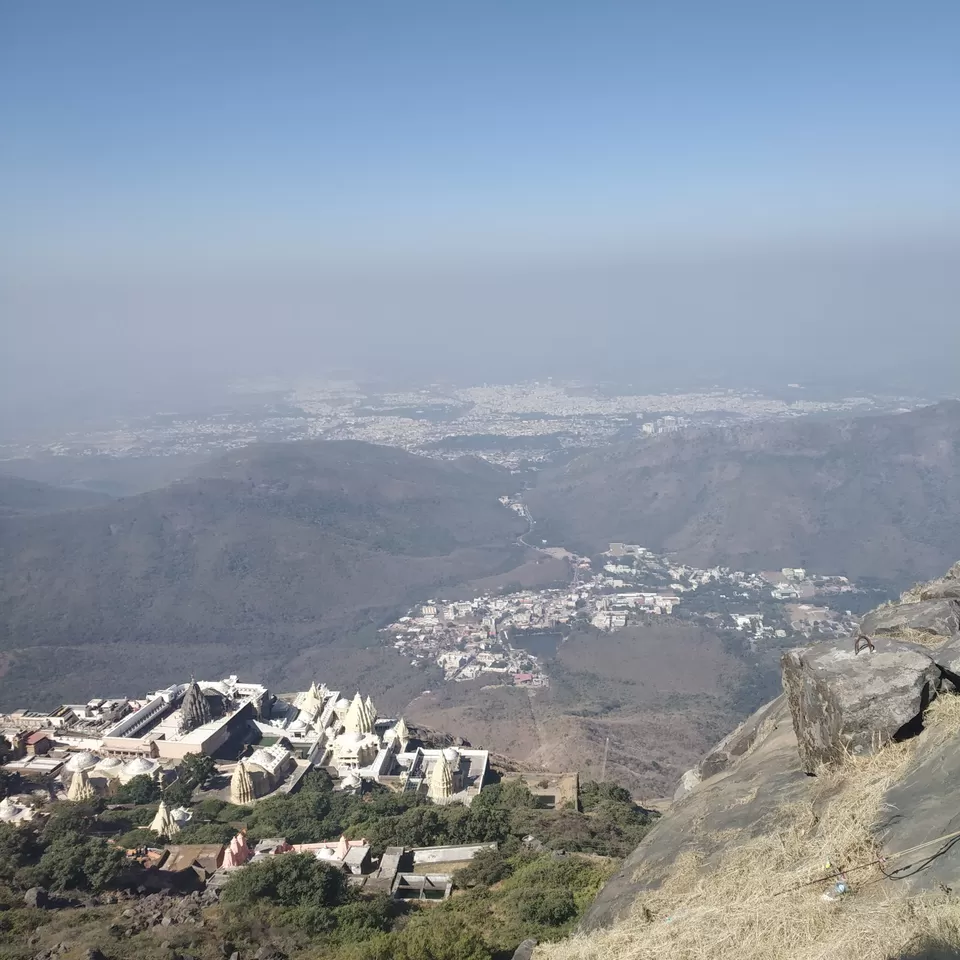 By this time, the rising sun had started painting the sky with its red and purple hues. Since we were on the west side of the mountain, and nowhere close to the summit, we couldn't get a direct view of the sunrise. Those who have seen it (by reaching the summit before sunrise-you would have to start soon after midnight) say it's a view not to be missed. With your body warmed up, the climb, though it gets steeper, becomes easier as you keep going.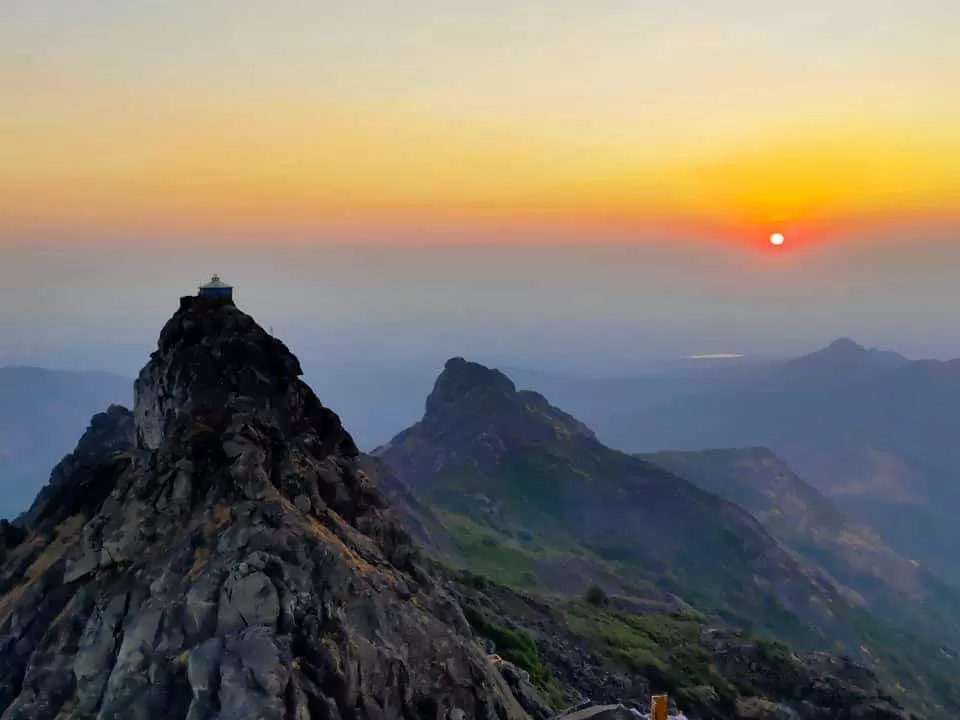 We reached our next stop, the Ambaji temple, just in time for the "Aarti" at 8. Perched at the summit of Mt Girnar, it is the end point for majority of the pilgrims. After paying our respects at the temple, we had our breakfast here- bhajiyas and tea.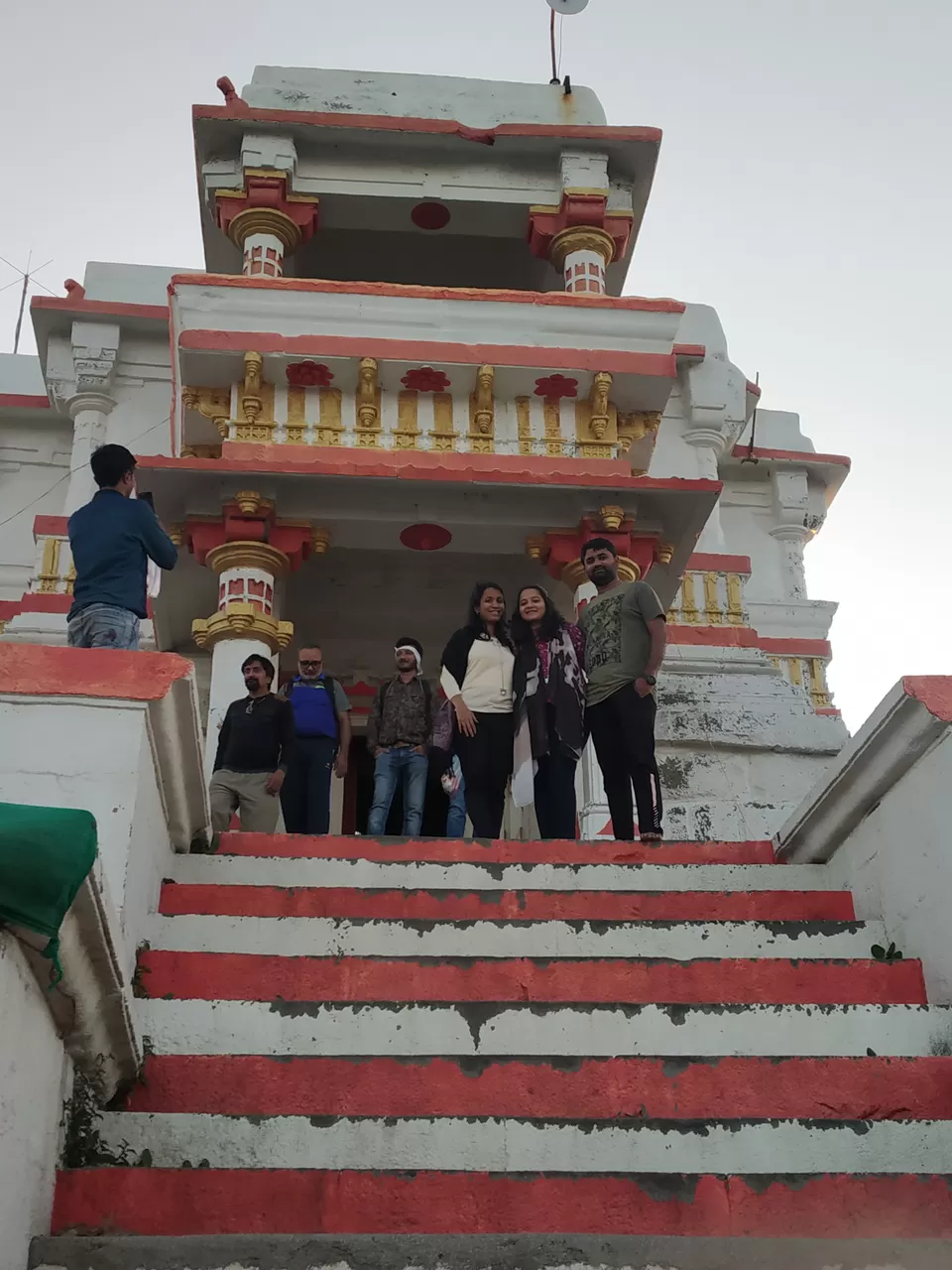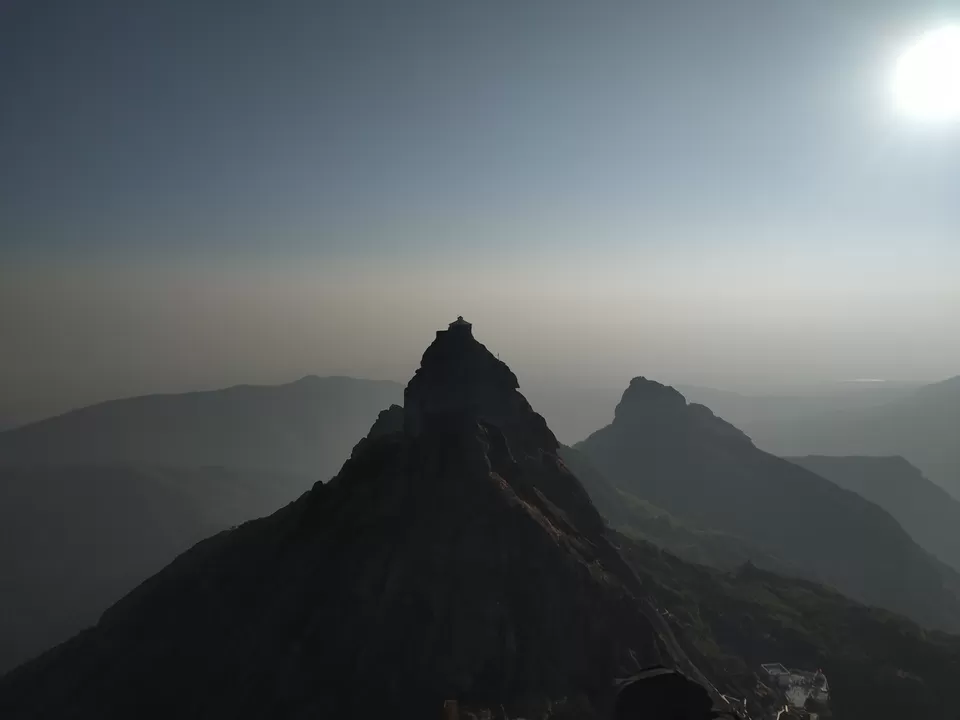 From here, we could see our final destination- the shrine of Lord Duttatreya perched on the peak of the adjacent mountain. To reach there, one has to climb several hundred stairs down, walk on the path between the two mountains, and then climb the next mountain. As difficult as it may sound, it is also the most rewarding part of the entire trek. The most beautiful part of the journey is the bridging path between the two hills. Surrounded on all four sides by mesmerizing views that leave you speechless, it is also a photographer's paradise. Our bodies were close to their physical limit, but our spirits were high, as we climbed the final steps to reach the temple of Lord Duttatreya. Here at the peak, we found ourselves immersed in the perfect blend of a spiritual and tranquil atmosphere. Having paid our respect at the temple, just spacious enough to accommodate 2-3 devotees at a time, we took a break to cherish the extraordinary feat that we had achieved. It was around 9:30 and we were at our final destination. Done and dusted.
After getting down from the Ambaji mountain an hour ago which we had managed to do easily, we were unanimously sure that the downhill trek would be much faster and easier. We were never more wrong. Since the route of return is the same, the ascent back from Duttatreya mountain to the Ambaji mountain before one starts descending back, is probably the toughest part of the trek. To add to our woes, we were already out of cash, and there is hardly any place on the entire path where you can find drinking water for free. With the sun getting harsher with each passing hour, the downward trek caught us tired and dehydrated. What we thought would take us an hour, took us three long hours. We finally reached the foothills at around 1 pm.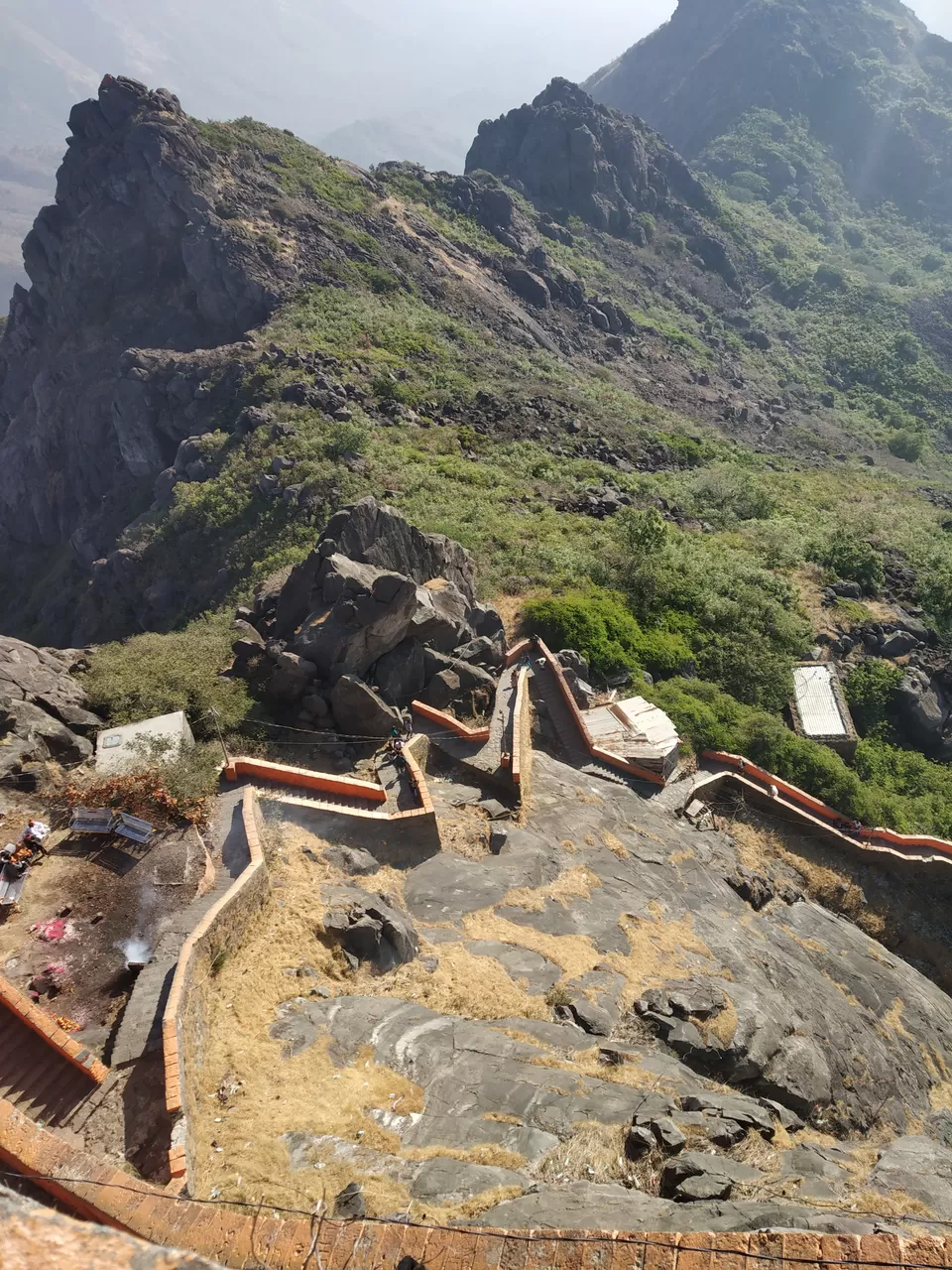 The first thing we did was quenching our thirst with sugarcane juice. Though completely exhausted, I was very sure that this sense of accomplishment would linger on for days to come. As I glimpsed for the last time at the Mount Girnar, I realized that somewhere between the foothills and the summit, I had found the answer to the mystery of my longing for this trip.
Suggestions for those planning to visit Mt. Girnar:
• Plan the trek preferably in winter.
• Carry sufficient cash- at least a thousand per person.
• Do not carry any unnecessary weight- you can buy all the refreshments you need. Stock up at Ambaji if you're going further to the Duttatreya temple, as there are no stalls after Ambaji.
• Bamboo sticks will definitely help you, especially in the latter part of your trek.
• Start as early as possible- preferably before sunrise.
Some interesting facts:
• If one cannot climb, one can still take the pilgrimage on a "Doli"- similar to a palanquin, lifted by locals. However, it is very expensive.
• Every year, the local body organizes a competition- "Girnar spardha" where young boys and girls race to the Ambaji summit and back. They complete the entire trek (that takes 4-5 hours) in less than 45 minutes!