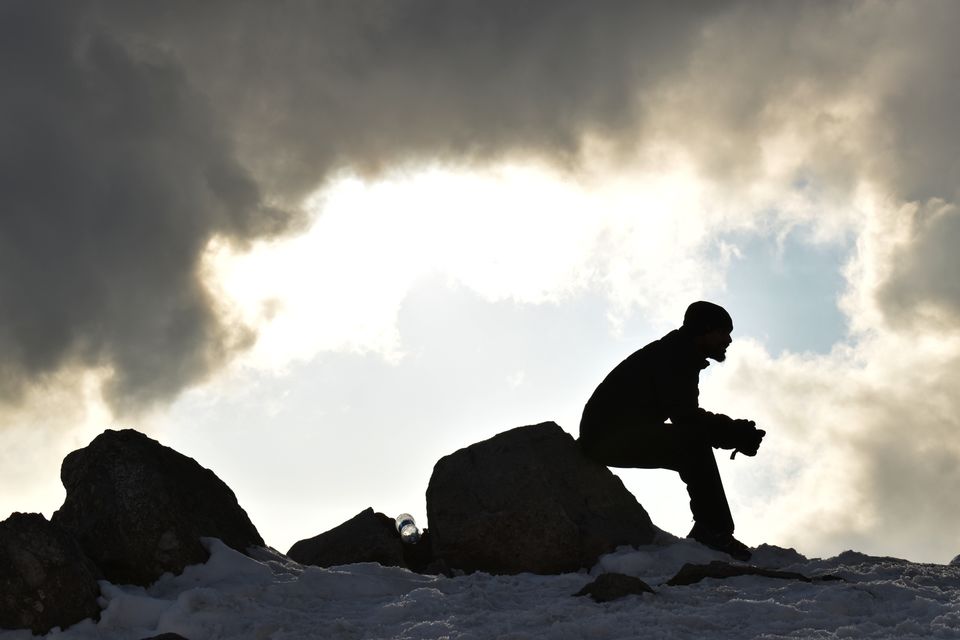 Before you move ahead check out this short video I made about the experience : https://www.youtube.com/watch?v=t1aI3kDkK_M
After a fight with my parents and my own doubts I finally backpacked solo for the first time ever. This was right before Christmas last year around 19th December 2017. I knew the experience would be different and after all that had just been going on around me I needed the escape. I had been to Mcleodganj before once with my parents and once with my friends but I barely ever felt the true essence of the place mainly because of the tight schedule and friends dragging their concerns in the middle of my plans. I took the cheapest bus I could find from Delhi and somehow after surviving the cold night in the bus I reached Dharamshala around 6 in the morning and straightway took the next local bus to Mcleodganj . Obviously as soon as I saw the Dhauladhar ranges with sun just rising up , it's beauty bewitched me. I just could not wait to start exploring the place and charged myself up with a cup of irish coffee and cheese sandwich at the snow lion restaurant.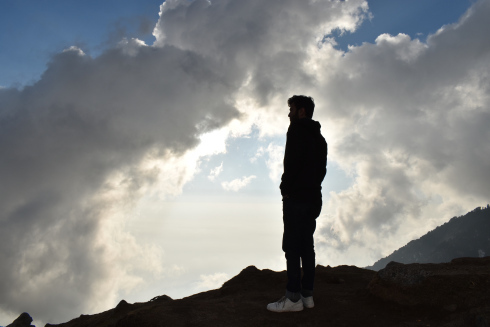 The next fifteen minutes or so after my breakfast I was totally confused what to start with , where to go , whom to talk to ! To my dismay , I felt a bit lost and confused . I just decided to start with the Norbulingka institute and the main monastery. Traveling solo with no pre-decided itinerary makes it perfect for you to explore the place with no limitations and doing exactly what you want in that moment. So I ended up walking down the streets of Mcleodganj visitng the monastery and then the Tibetan museum followed by the Norbulingka institute . The Tibet museum exhibits the artifacts and stories of war and atrocities of Chinese in Tibet. I got to experience a very different culture as compared to my previous expeditions.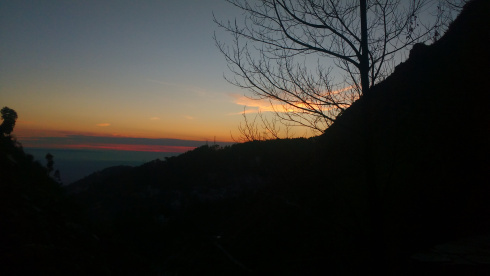 Sometimes I would just sit along the road and click pictures or look at people going about their lives. To be honest I had never felt such amount of independence and it moved me . I could'nt stop thinking how things would be if this is how i lived for the rest of my life. Well maybe someday I will ! Around the time of lunch I decided to walk down to Bhagsunag . It took me about an hour to reach bhagsunag waterfalls via first visiting the temple. For those who don't know me that well, you will almost never see me walking without my earphones on and dancing to my playlist whilst walking. So I end up taking longer to reach places than I usually would . Anyway, as soon as I reached the waterfall I ordered a cup of maggie and sat by the waterfalls trying to decide if I should go in or not . So even though there were clear signs of 'No Swimming' I jumped into that icy cold water because why not? You don't get this chance everyday now do you? And soon enough a group of 5 Sardars joined me in the pool. We sat there chatting for an hour or so and then trekked up to Shiva Cafe.
Shiva cafe is a quaint little place and totally lives up to the hype , although the food isn't as delicious as I expected it to be. I shared a bottle of beer with the group before they left for their bus back to Amritsar. I was quite done with the place so I found a comfortable spot in their balcony and filled my diary and clicked a few pictures till sunset .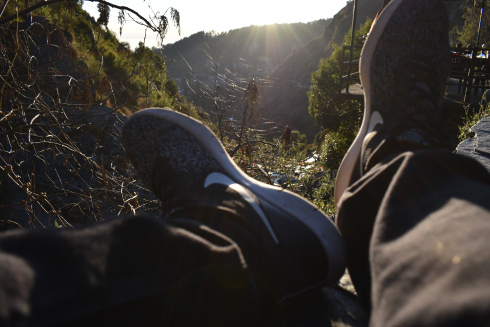 Even though I did not want to leave I was forced to because the managers at shiva cafe could not find a spot for me to spend the night up there. I quickly hiked back down to bhagsu and took an auto to Dharamkot.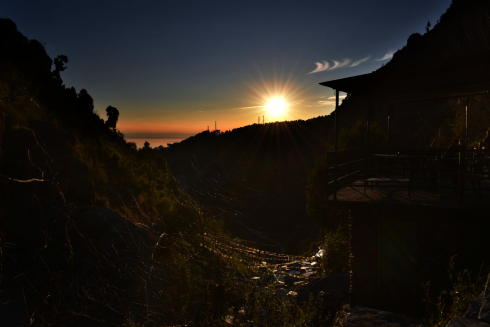 I had checked about a backpackers hostel named The Zostel, which is situated in Dharamkot before coming to bhagsu so I took off straight to the place but since it was already completely booked I decided to spend the night at The Bunker Hostel which is almost next to The Zostel (Backpacker Hostels). It is run by Ashish and his team who are doing a great job .Both of these places are based on a great idea promoting the backpacker culture, so you get to live in a dorm with 3 bunker beds spending the night with 5 people who most probably are traveling by themselves just like you and are probably not from the same country.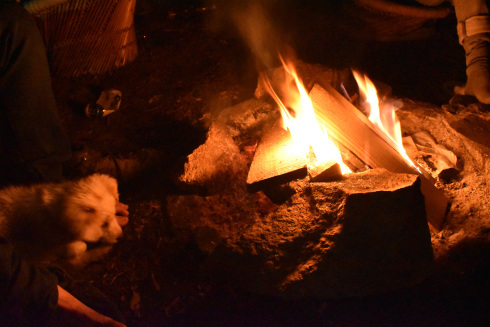 So I ended up spending the night around the bonfire smoking hash with a group of Germans , an Argentinean traveler based in the US and the owners of the place; sharing stories, ideas , music and culture from different parts of the world. Trust me I listened to German Rap songs for at least 2 hours even though I could not understand much of it I enjoyed the music and then the Germans explaining parts of the songs. One of these guys had a puppy with him whom he found in Manali and named her Malana because he could not visit Malana before coming to Dharamkot, she kept me busy for the rest of the night. Oh and also I learned a few German traditional drinking games which are super fun , contact me if you want to know more about those !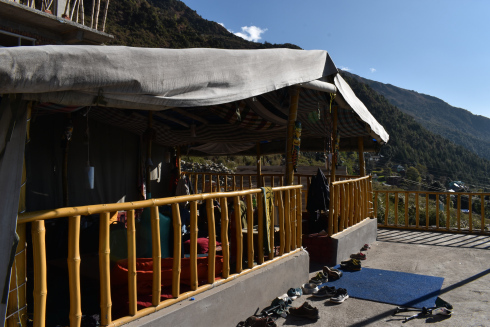 The next day I woke up pretty late and went straight for brunch in The bunkers cafeteria. The place was so nicely set up that I ended spending about 4-5 hours reading "The subtle art of not giving a fuck" and sipping on coffee which was absolutely great. In the evening I checked out because I was not sure if I would be back to stay the night here or find a new home for the night , nevertheless I just left out trekked my way to gallu from The bunker which was about a km straight up the hill going through a jungle.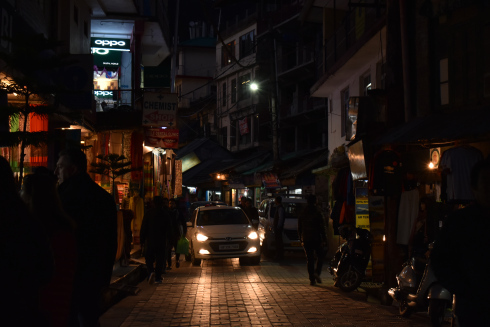 Later I hiked back down till Mcleodganj while clicking a few shots and an unsuccessful attempt at making a dance video . I spent the rest of my evening snacking a pizza at Jimmy's Italian Kitchen while reading my book and wondering how well I had spent the day. It was just one of those moments when I feel content , which I rarely ever do ! BTW Jimmy's Italian kitchen is a bit over hyped. The ambiance is good and you get a great view if you take a seat next to there huge windows but the food is average.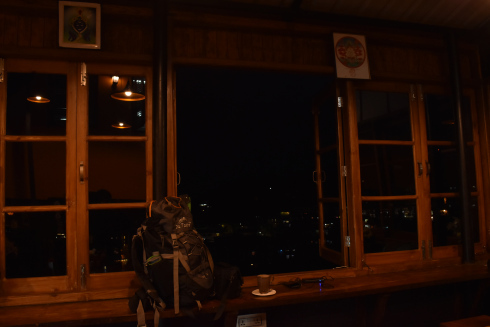 Now it was time to find an abode for the night and I head back to The Bunker , the environment of that place pulled right back and there was spending the night once again with those guys around the bonfire and this time I met a group of 4 students from Amity who were planning to trek to Triund in the morning so I decided to join them and I could probably guide them as well with all the experience I have had before. The thing was that Triund was closed till 2 days ago due to heavy snow and it was just reopened for the public but 30% of the hike was totally covered in snow and everyone had their doubts about hiking with that kind of a risk . There was no way I was going to let this chance go so we decided to take off around 8 in the morning next day .
And guess what no-fucking-body woke up before 10 and it seemed we would have to cancel the plan but somehow I convinced those guys to trek with me and guaranteed that I could help in any kind of circumstances . So we started the hike from bunker to Gallu and then upto Triund at around 11 in the morning. These students were not as fit as they seemed to be and I literally had to push them sometimes to just climb for 10-15 minutes and then take rest for 5.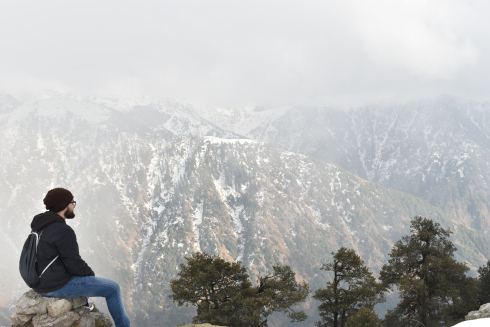 Next came the snow, we were struggling to trek up the hill and the people coming down were just sliding their way till the turns. While everyone coming down from Triund kept telling us that we were late and should turn around , we kept pushing each other . None of us was willing to hike all this way up just to return without reaching the top. So we kept climbing while somehow managing not to slip away to our death. We reached Triund around 4pm taking about 5 hours which I am pretty sure we could have done in 4 without the snow and in 3 if I was hiking up by myself. And of course we couldn't hide that excitement , I actually kind of felt proud of myself . It was almost as if I had lead a group to a trek (Just Kidding !) . We sat there for about an hour munching on maggie and getting warmed up even though our legs being about a foot inside snow. As usual I was spending most of the time clicking pictures of the mountains that were playing hide and seek with me with the help of those dark clouds right in front of us.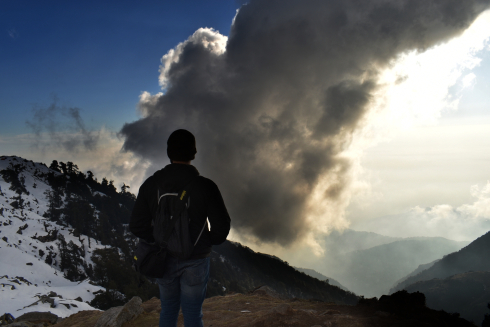 It was around 5 that we decided to hike back down and cover the snowy part of the trek before sunset and that we did. But then around halfway ie. the view point we sat for about half an hour listening to music , watching the sun set and then star gazing into the night sky and the city lights. I wished some of my friends were here and could see this with me , they would have loved it and that seemed like a signal to head back . Actually I was almost out of money so I did not have other options . Booked my bus for the same night as soon as I started getting signal on my phone and by the next morning I was back in Delhi.
Going solo was one of the best decisions I have ever made and there is so much of the place that I have not explored yet . I know I'll be back pretty soon . It was tough coming back to the mundaneness of my college life but at least I was carrying memories that I couldn't wait to share .