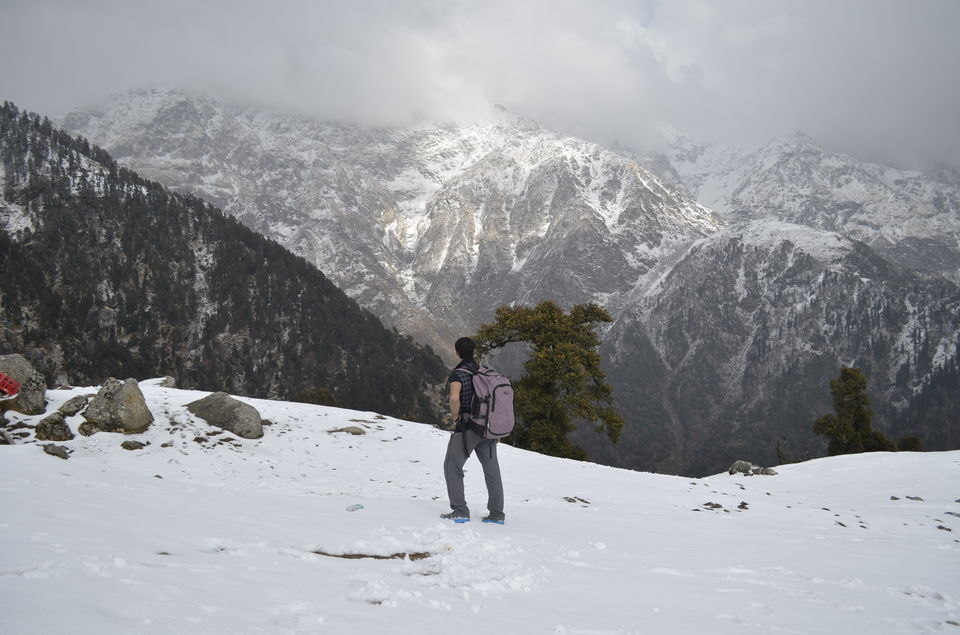 Most of the people rush to the hill stations in summers to avoid the scorching sun and its heat. The weather which they experience in the mountains even in the peak summer months makes it look like paradise but what people often fail to realize is that if these places are so blissful in summers, how ravishing are they going to be in winters. There were multiple reasons for us to trek Triund in the month of January. First and foremost was we wanted to experience snowfall and have a sight of the peak covered in snow. This was dependent on the weather for quite some extent but the off season helped the odds. Second reason was, we didn't want to rush to any famous hill station at peak time and be just part of the crowd. We wanted to explore and enjoy the serenity of the place minus the population.
All these reasons made us plan a trek to Triund in the month of January. The dates were decided and tickets booked for the travel. As for accommodation, we preferred going there and inquiring the locals about it rather than booking it even before reaching there. As it turns out we met a British girl who has been staying in McLeodganj for over a month and knew more than the locals themselves. She helped us to find the accommodation.
We booked an HPTC Volvo bus about a week in advance as we knew their tickets are sold quite early as compared to other Volvo operators. These buses are equipped with all the facilities which you desire and they make your ride as comfortable as possible. Our motive was to take a late night Volvo which will drop us at McLeodganj early morning and we could go to Triund directly after reaching there. Our backpacks had minimal stuff and weighed not more than 10 kg because they were also going to be a part of our hike.
The next day early morning our bus reached McLeodganj and we started off on our journey to Bhagsu Nag. Bhagsu Nag is a small temple which also houses a 20 m tall waterfall and is a marvel to look at. When we went there, because of the winter season, the falls were almost dried up and our major focus was on the cafe which was near that waterfalls. We had our breakfast there and rested for some time before starting our journey for Triund. Since we were all in for the odd methods, we asked the cafe operator if there is a different trail to reach Triund. He showed us a different path which was more or less a very steep climb directly up the hill. Excited, we started our journey. The cafe operator warned us that his people just came from a scouting trip of the peak and they warned of fresh snow on the ground there. The thing with snow is, if it's fresh you can still find some grip but if the sun comes up and the snow starts melting, it becomes super slippery. We took his warning under consideration and started our hike.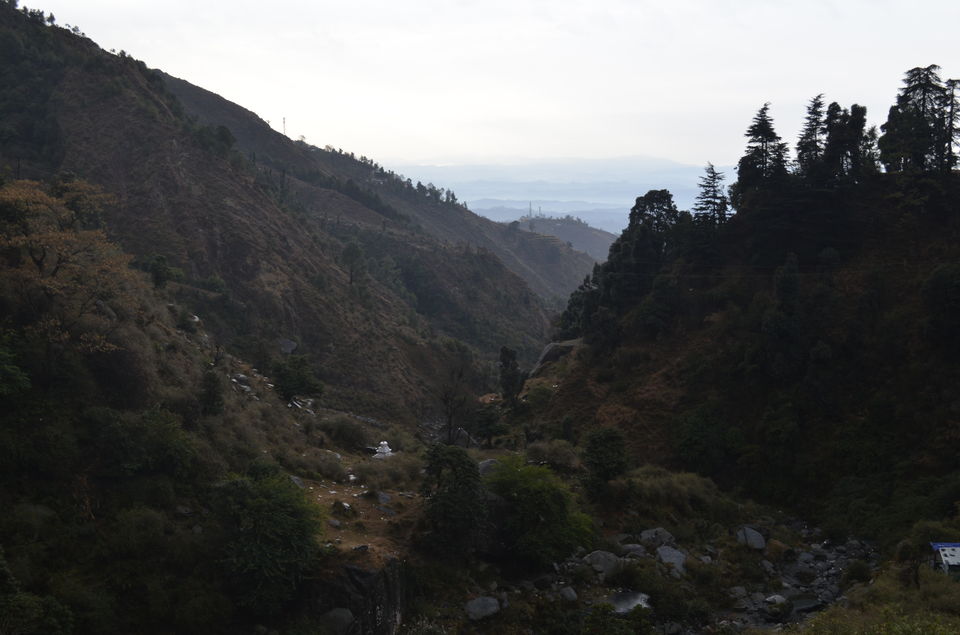 From here on, we were hiking directly up the hill without any trail and just going wherever there was a path. After climbing for a good half hour we met a dog on the way. This pupper was our guide for the rest of the hike. After another half hour of hike in the jungle, we thought we were lost for good and should head back. The time was 11 AM. After that we decided to put a hard stop to this adventure at 12 PM and head back the direction we came from. Luckily in the next half hour a faint trail started showing up which we continued to follow. This trail eventually joined the main Triund hike trail which gave us a sigh of relief.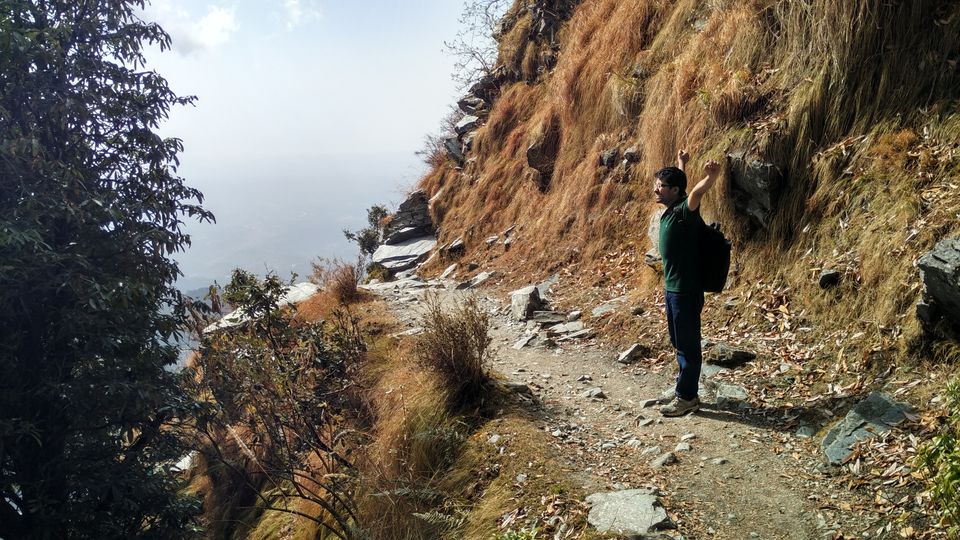 Finally in about 20 minutes we reached Triund. The sights were something which make for fancy wallpapers. We were awestruck for almost 5 minutes looking at the vastness of the Dhauladar mountain range directly in front of us and the beauty of the place where we were currently standing. The whole area was carpeted in a thick blanket of snow. Since this was all fresh snow, we were the first ones to walk over it and feeling of fresh snow crunching underneath you gives an excitement which is just impossible to express in words.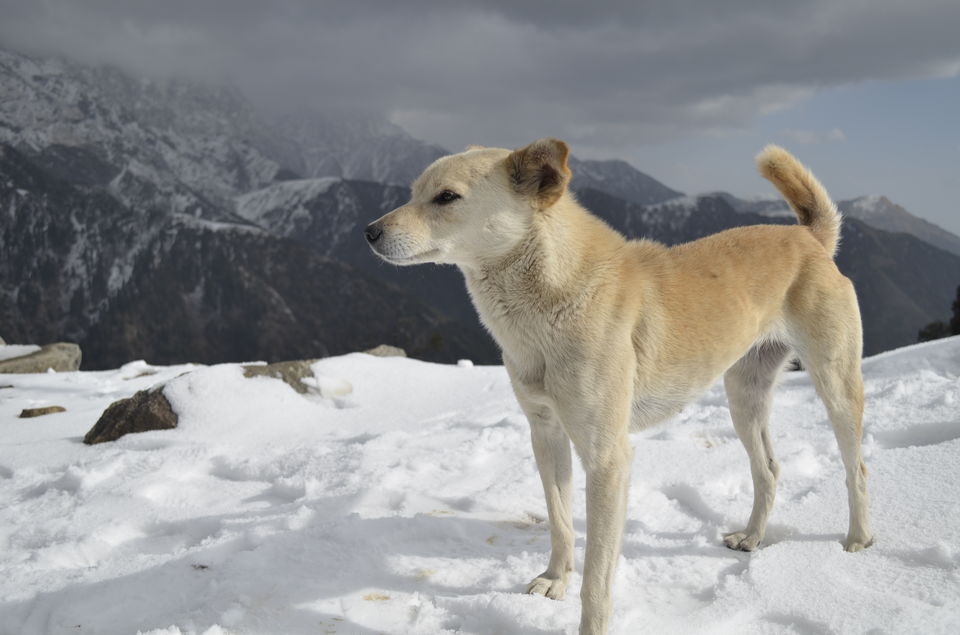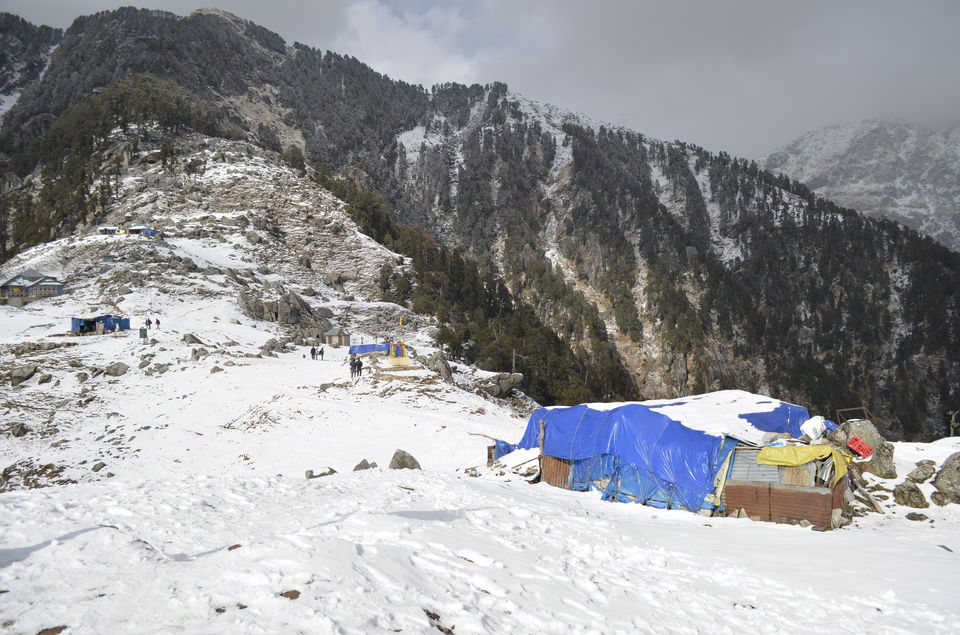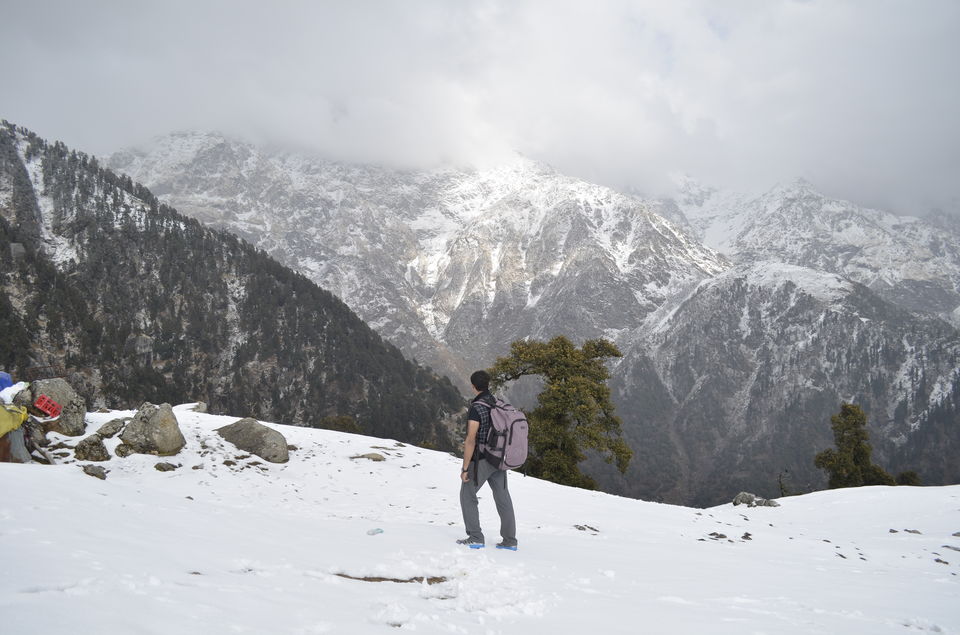 The next morning we all woke up pretty early and were able to see the yellow rising sun casting it's golden glow on the top of snow clad peaks. By far it's one of the best mornings I have ever experienced. After getting ready, we started for the markets again in search of a nice brunch place. Emily knew most of the nice places to eat around the area and even took us to a traditional Tibetan hotel where we tried Thukpa. Thukpa is a traditional Tibetan dish which comprises of a vegetable/chicken soup with noodles. The noodles are a little different from the regular ones and they are served with chopsticks.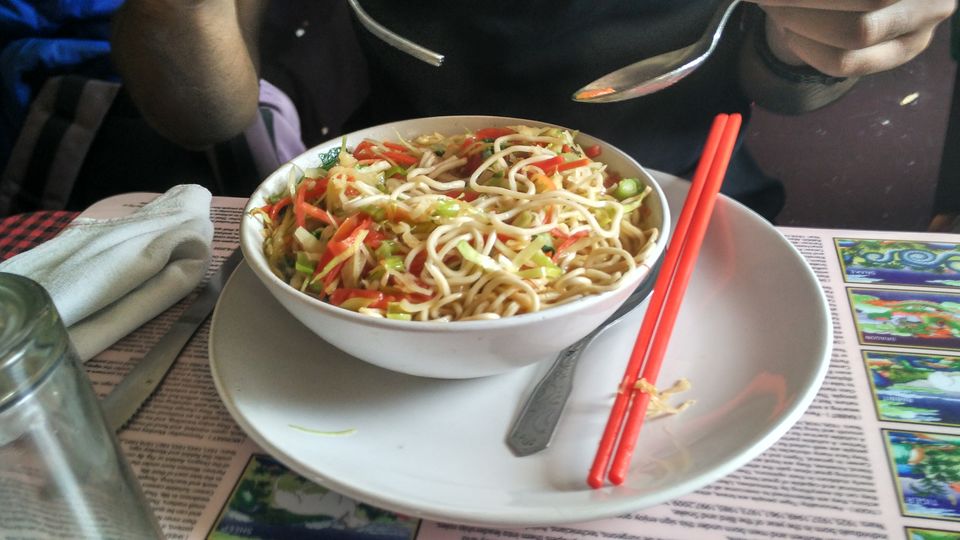 Looking back at the path we took, we realized that the steep climb saved us a good one hour hike on the proper trail because instead of going around the hill and climbing we were going straight up and finally merged with the trail when it came back around the hill. All through that rough steep climb, both my friends were cursing me most of the time as this going off track was more or less my idea. But well luckily it rewarded us with saving one hour trekking on the well trodden path.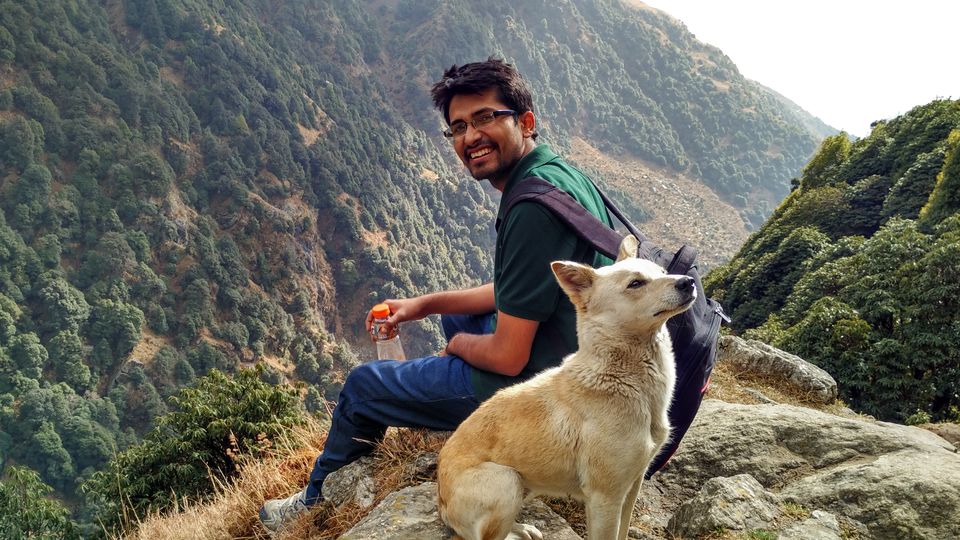 After merging with the main trail, we took some rest for 5-10 minutes and found a small side shop from where we restocked our water and Gatorade supplies. We had bought about 8 snickers per person from Delhi itself because we knew there could be times when we might need a surge of energy and chocolate just served that purpose.
After about 30 minutes of trek we came across the famous moon cafe which is pretty close to the peak. From here, it's hardly a 30 minute hike to the top. Just after this cafe the sky was engulfed by the clouds and within no time it started snowing. That was the first time in my life that I experienced snowfall. Let alone the snowfall, that was the first time I saw snow. The sight of snowfall at such low altitude just cleared all the exhaustion which we had from the hike. After this we were just excited to reach the peak and enjoy the views from there. After about another 10 minutes of hike, patches of snow started appearing on the trail. Since it was my first encounter with snow, a lot of puns were due on part of my friends and they took full advantage of it.
We were amazed and ecstatic to see that one of the small cafe was still open in the middle of snow and such cold weather. The beauty of this place was all around us. We looked 360 degrees around us and found amazing views at each point. The best scenery was directly in front of us, the Dhauladar range covered in a blanket of snow and a thick cloud engulfing it's peak. This peak is where you'll have to go if you plan on going for Inderhara pass. Excited by the sights we asked around about Inderhara pass but as it turns out a few shepherd came from there and told the tale of 6ft fresh snow in the areas near the pass. We already got lucky once in trying the steep climb and we definitely didn't want to push our luck that far. So we just sat there for quite some time admiring the natural beauty of the place.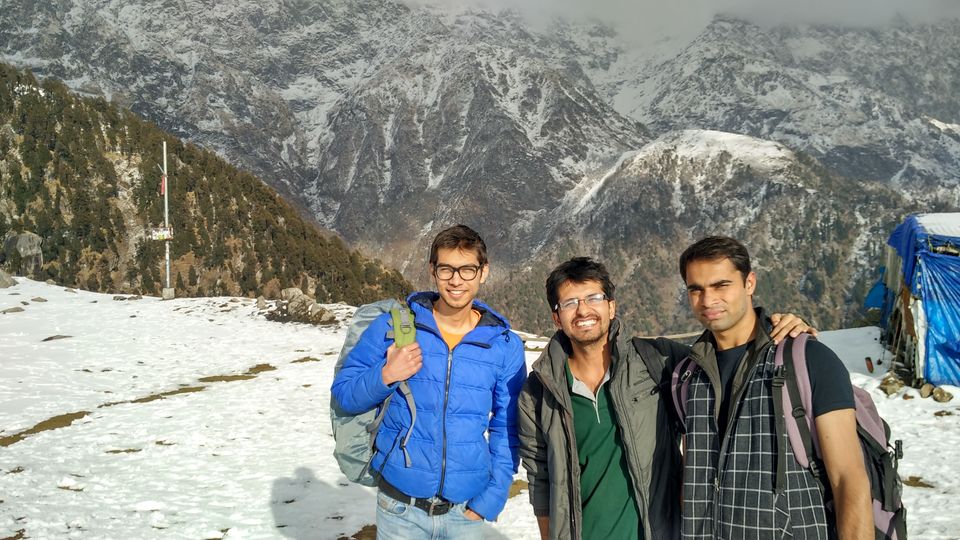 This is where our guide pupper wandered off and started playing with Emily. She fed her a little and that is when we realized that the pupper's loyalty didn't lie with us. It lied with food. We immediately got her some biscuits and the pupper was ours again. And that is how we met Emily. We started talking to her and then she told that she came to this hike as a morning walk. The locals had told her that it's snowing in Triund so she just came here jogging. We were a little surprised how casual it was for her. We had to plan for a week before coming off to here and for her, it was a morning walk! Later she told us that she was on an expedition to discover all the nooks and corners of India while interning as a nurse here in Dharamshala. The amount of knowledge she had about the places she had visited was amazing.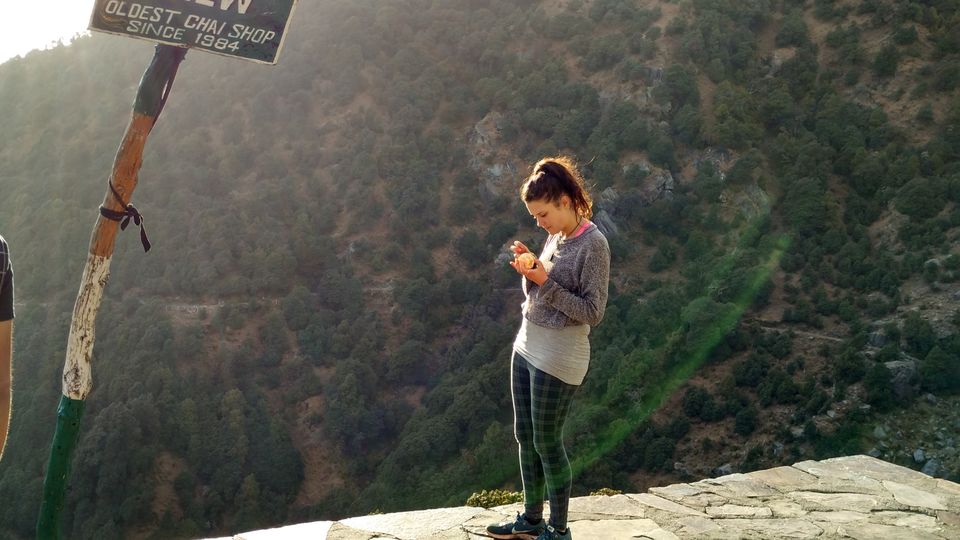 Just imagine the expression on our faces when a Britisher suggested us a nice cozy place to stay the night in McLeodganj and that too in a budget. After chatting a little and admiring the beauty of Dhauladar from up close, we started our journey back to McLeodganj. Getting down was relatively easy and we came down pretty quickly. After reaching back, first thing we did was reach the lounge which Emily suggested, get a room and freshen up. After this we started our tour of the market in the nearby area.
After this we went to some local temples and roamed around the market areas. By 5 PM we had explored most of the city and checked out of the lounge to catch our bus back to Delhi at 6. Despite knowing Emily for just one day, we were a little sad on parting ways. That's when we realized, travelers know no religion, caste, color or language. They just travel and make relations wherever they go. They just enjoy in the moment and live their lives to the fullest. And that's what makes their personalities so vibrant.
How to reach:
There are a lot of buses which can take you till McLeodganj but if possible, plan in advance and book your tickets through HPTC. They have the best service in the whole state.
After reaching McLeodganj, you need to head towards Bhagsu Nag waterfalls. Locals can direct you to that place. Google might also serve the purpose.
For Triund, there is a trail which starts from the temple. Just follow the trail and it'll lead you to the top. In case you feel you are not on the right track, ask the locals. They know the area and can guide you in the best way.
Things to carry:
It's a 3 day trip at minimum so you need to pack accordingly. Winters are a little severe so pack an extra layer of thermals for the nights.