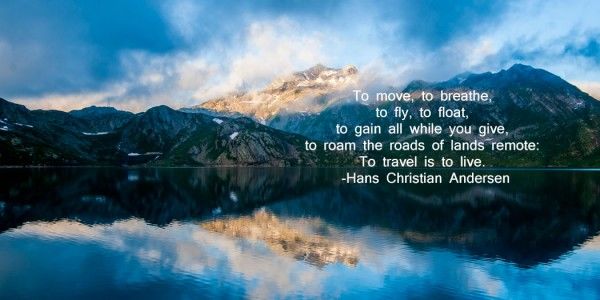 LETS START THE STORY...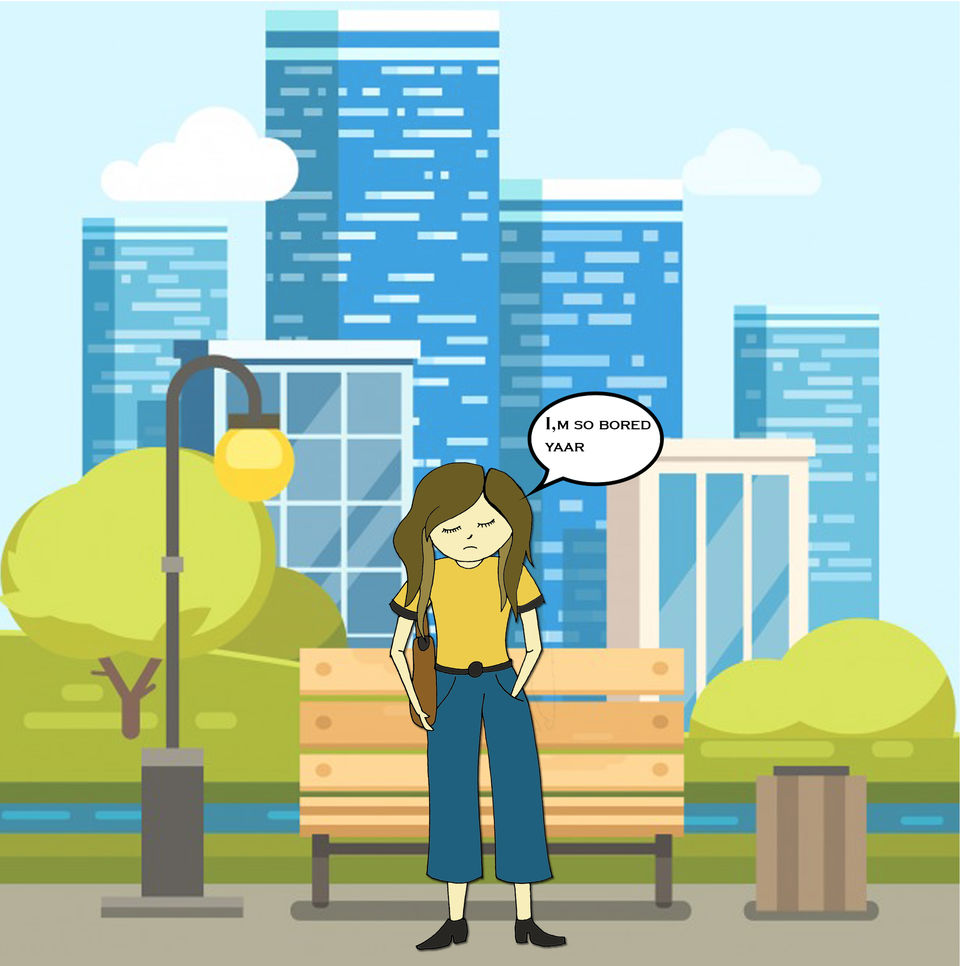 Bored from the daily routine this 9 to 5 job and this hustle and bustle of the city a quick and the memorable vacation is really a BIG NECESSITY. So by taking a break from my daily routine, I planned to travel somewhere away from the city a place where nature is at its fullest and peace is the music.
It has always been in my wish list to visit KASHMIR so what could be a better time than now to visit this eternally beautiful place and give a best-ever treat to myself...so I packed my bags and headed towards the DREAM PARADISE-KASHMIR...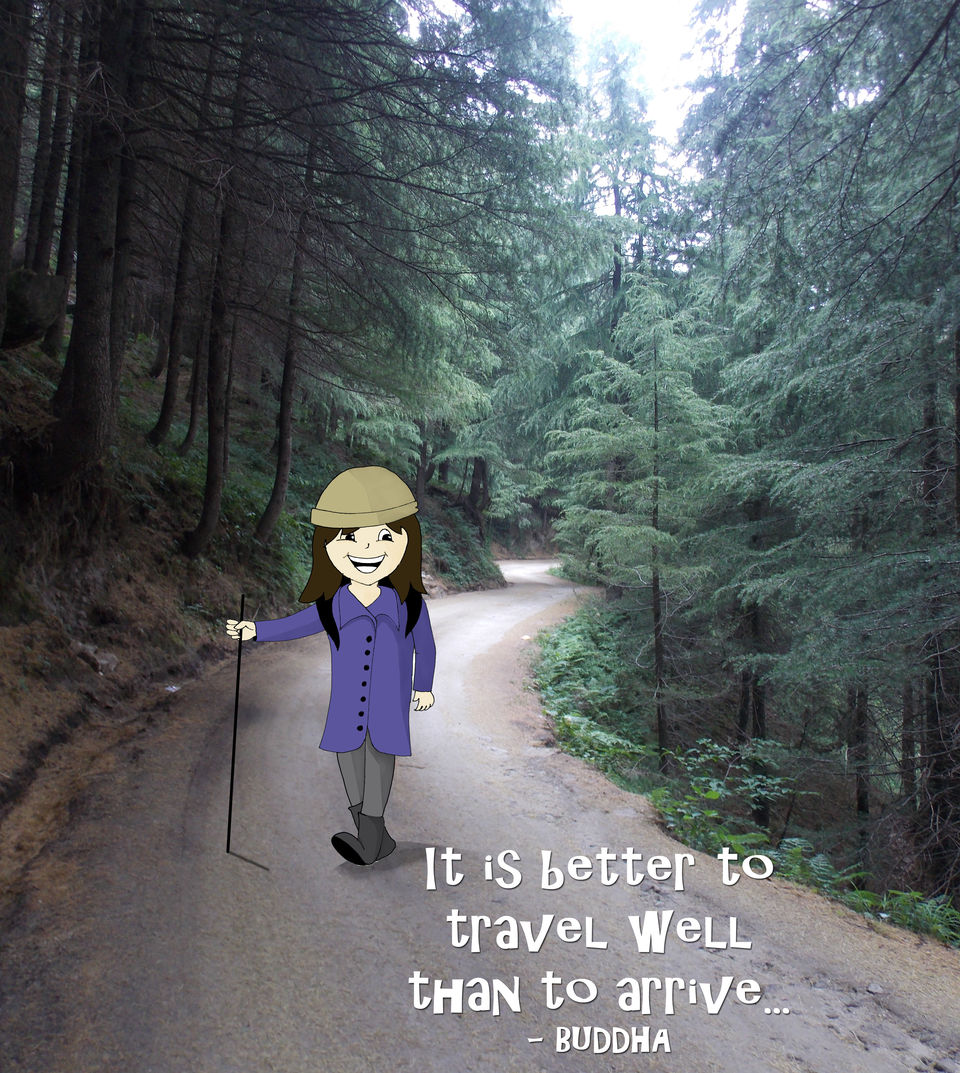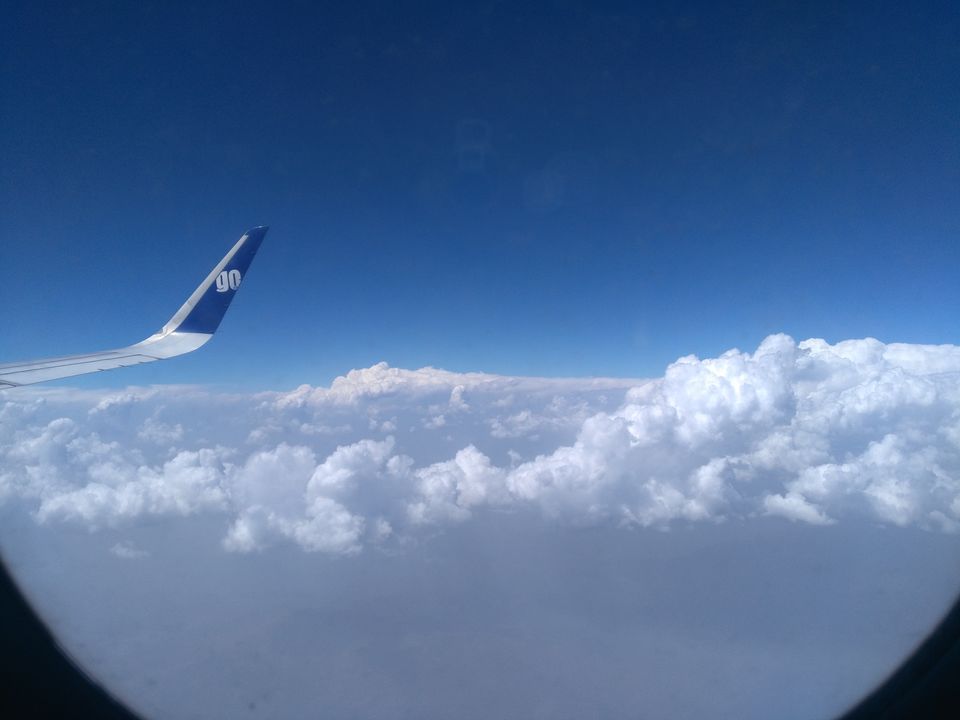 "Yaadain kuch ziyada gheri hain us jaga ki
khete hai sab usse jannat duniya ki" - farha rizwan...
If there is paradise on earth it is at Kashmir is what I have always heard from everyone who has visited Kashmir... the experience that makes everyone a storyteller.
I had heard many stories about the beauty of Kashmir about its culture and people, the artwork of Kashmir...and, of course, the food (Its the most important part of my travel...hahaha) and this doubled my excitement level to visit Kashmir...and what could be the better time another summer to escape from the city heat and travel to cold and beautiful place....
To me, it always seemed like a utopian, distant land that only existed in fairy tales. Nevertheless, it was a land that I wished to explore...So on 15th of may I took a flight from Mumbai to Srinagar in the morning and was just about to land my destination and you know what I just couldn't believe my eyes the first word has I saw Kashmir from high up in the sky was just a big wow with a big smile on my face...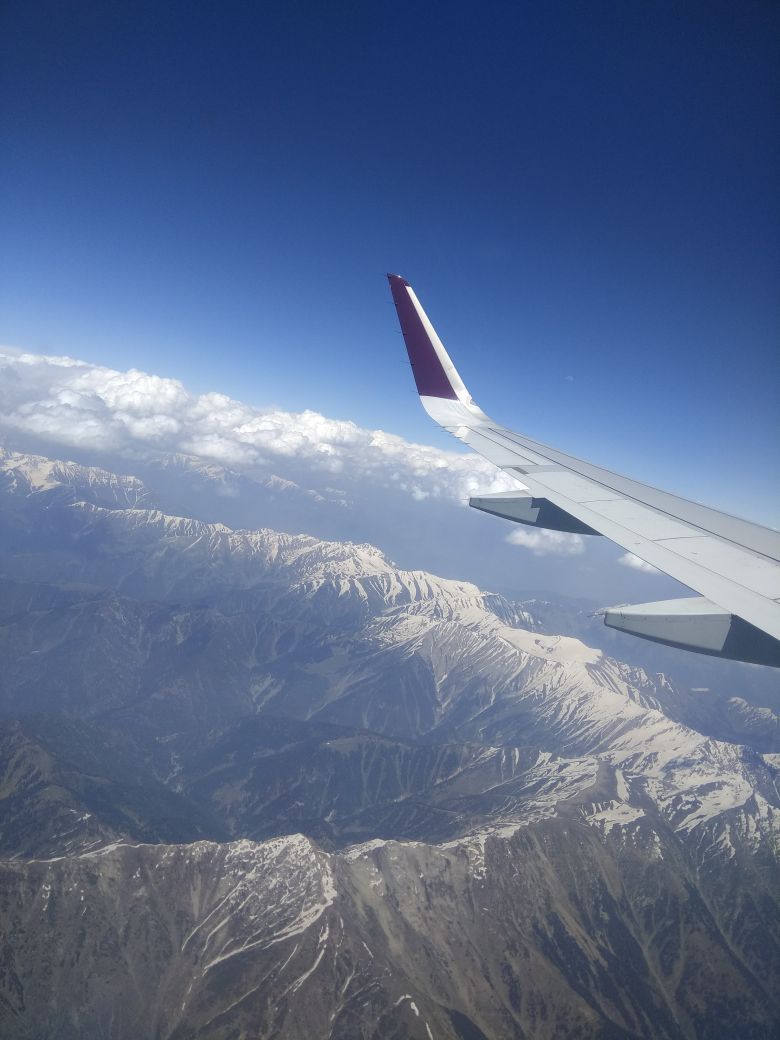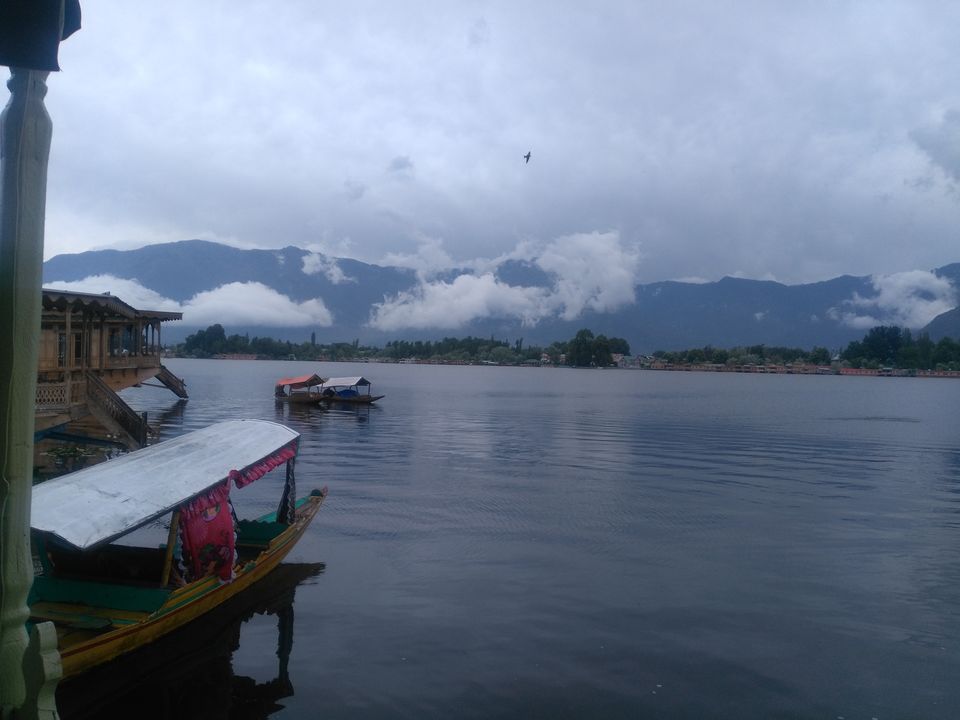 DAY 1 : STAY AT BOAT HOUSE @ NAAGIN LAKE, SRINAGAR
So day 1 was just a leisure day so after landing to the airport my driver Dada came to pick me up outside the airport and with a welcoming tone he welcomed me -" aapka humare Kashmir mai sagwat hai!". Really Kashmir was not just beautiful because of its natural beauty but even the people over there had a beautiful heart which actually made it a paradise...
So from the airport, I was heading to my boathouse. for three days I was going to stay at a boathouse at the naagin lake. The driver dropped us at the start point of the naagin lake from where the boathouse manager had sent a sikhara to pick me up and take me to my boat house...The sikhara was just amazing a small boat which had beautiful color and wooden carvings. So seating at our sikhara I was sailing towards my boat house enjoying the pleasing surrounding. People who rode my sikhara where really soft-spoken and sweet they started talking with me as in where do I live? what do I do?. They even told me about places I should visit what is the culture of this place... how did Kashmir get its name (i will really talk about it later in this blog as its really the most interesting part)...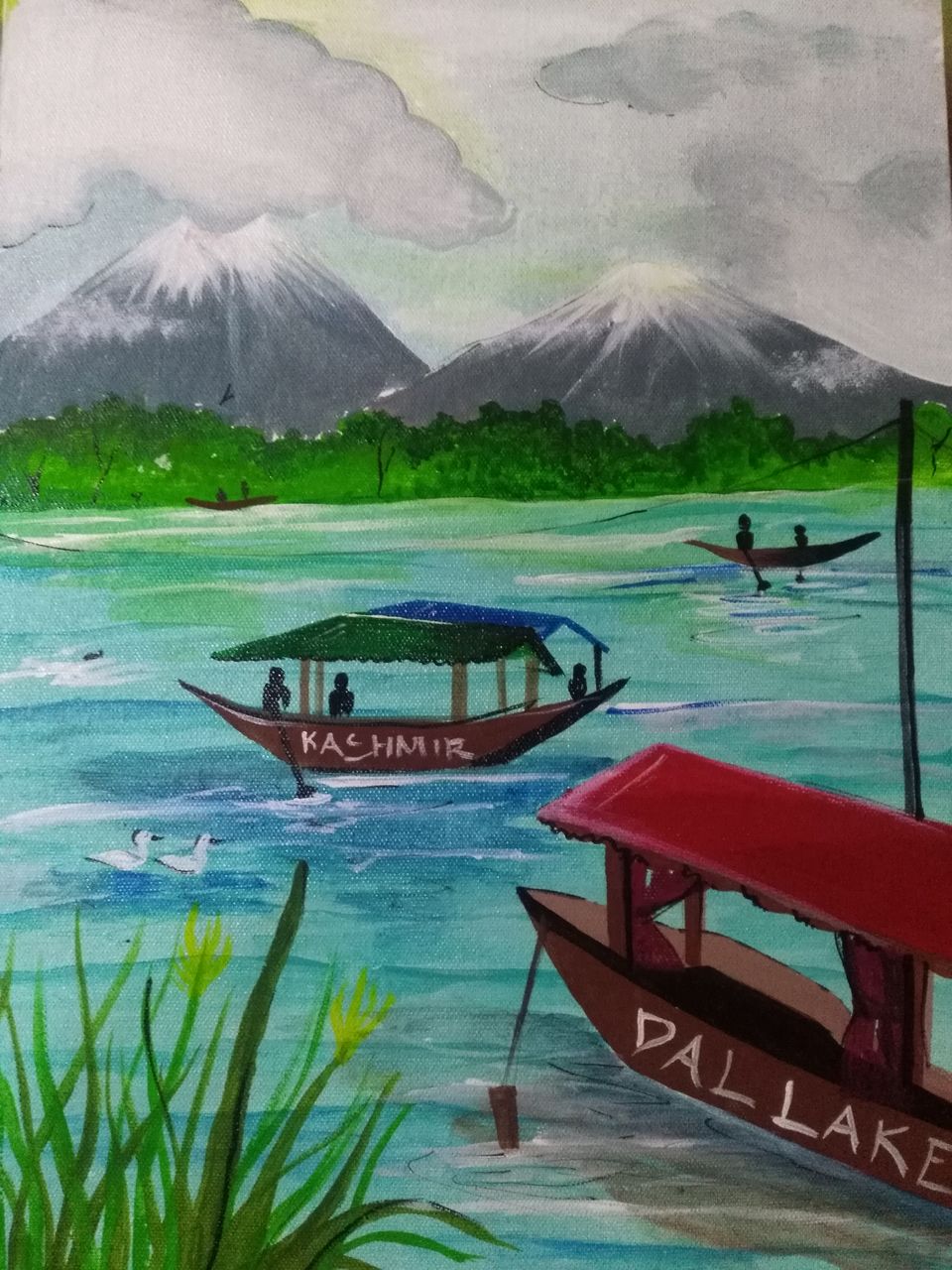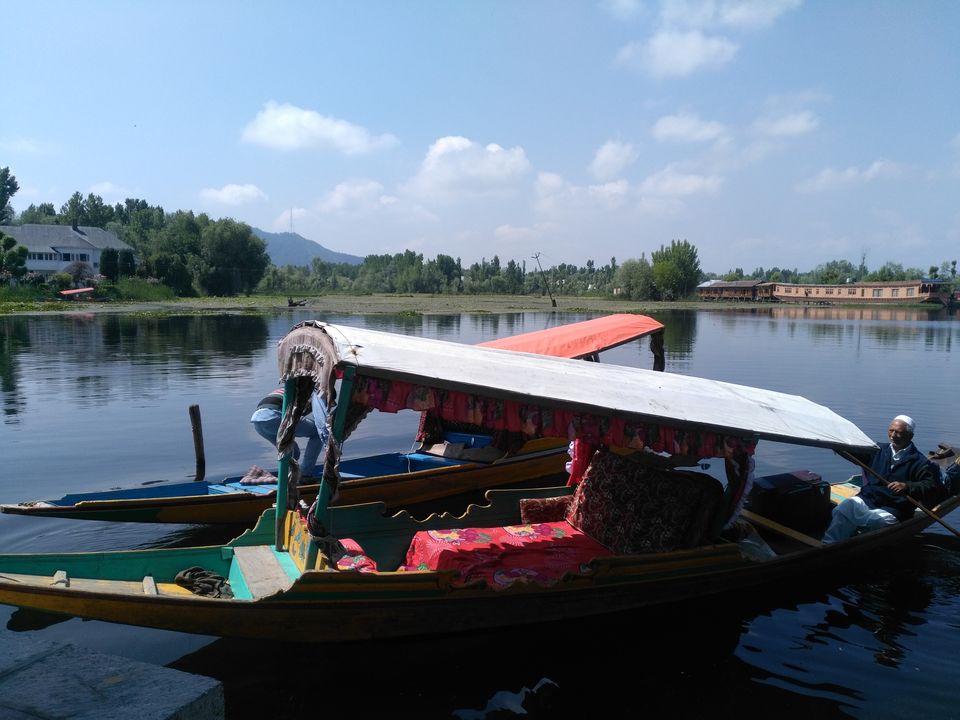 The boathouse was just amazing and beautiful...the experience of staying surrounded by water and the peace and silence was just breathtaking. All negative thoughts running in my mind was just drained away and my mind was just freshening up seeing this the surrounded environment with a cup of kawa in my balcony...enjoying each and every scene. The vivid colors of sikhara emerging out from the smoky midst...the reflection of mountains on the clear water...the Lilly pond appearing out of nowhere...the sikhara sailing out to sell flowers...it was like some scenes of movies running in front of my eyes and just could help but feel happy and excited...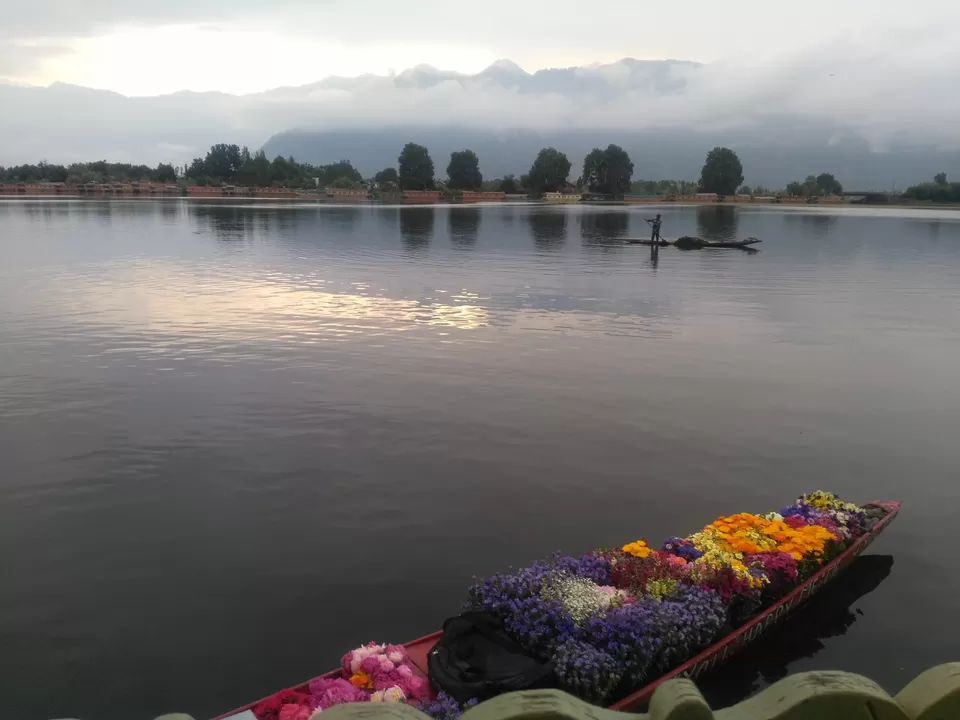 THE STORY BEHIND THE NAME...KASHMIR...
Kashmir in Sanskrit means land desiccated from the water. It is made up of two words 'Ka' meaning water and 'shimeera' implying desiccate. As per mythological tales in Hindu scriptures, it was the revered Sage Kashyap who drained an erstwhile lake to carve a place like Kashmir.
There are many tales, folklore, and stories that essay the forming of this beautiful and blessed destination that we know as Kashmir.
DAY 2: EXPLORING ZERO DEGREE POINT AT SONAMARG
So the new morning has arrived and with new morning starts a new page in our story...with positive thoughts and strength...this morning was just an amazing morning in my life...with a bag full of excitement I headed towards making a new story...A JOURNEY FROM SRINAGAR TO ZERO DEGREE POINT, SONAMARG...
During ancient times, Sonmarg was known as a gateway on the Silk Road, connecting Kashmir with Gulf countries and China, through Gilgit. The name 'Sonmarg' has been derived from the words 'sona' and 'marg', which literally means 'meadow of gold'. The beautiful yellow flowers which bloom in the spring and wraps the valley floor gave the place its name.
Sonmarg was 2 hours away from Srinagar and journey worth doing it. The Scenery from Srinagar to Sonamarg was just amazing. I just couldn't get my eyes off from the scenery landscape...the fragrance of the soil and color flowers and snow-capped mountains.
So I finally reached Sonamarg from where I had to take a local car to reach the zero-degree point. This road also heads towards Leh-Ladakh. It is also known has Zojila pass at an altitude of 11649 ft. One can see the lush green landscape of the Kashmir Valley which slowly changes to rugged and barren landscapes as one moves forward towards the Ladakhi territories. Sonamarg also acts as a base camp for trekkers to Ladakh and is controlled by the Indian army which controls considerable parts of Kashmir.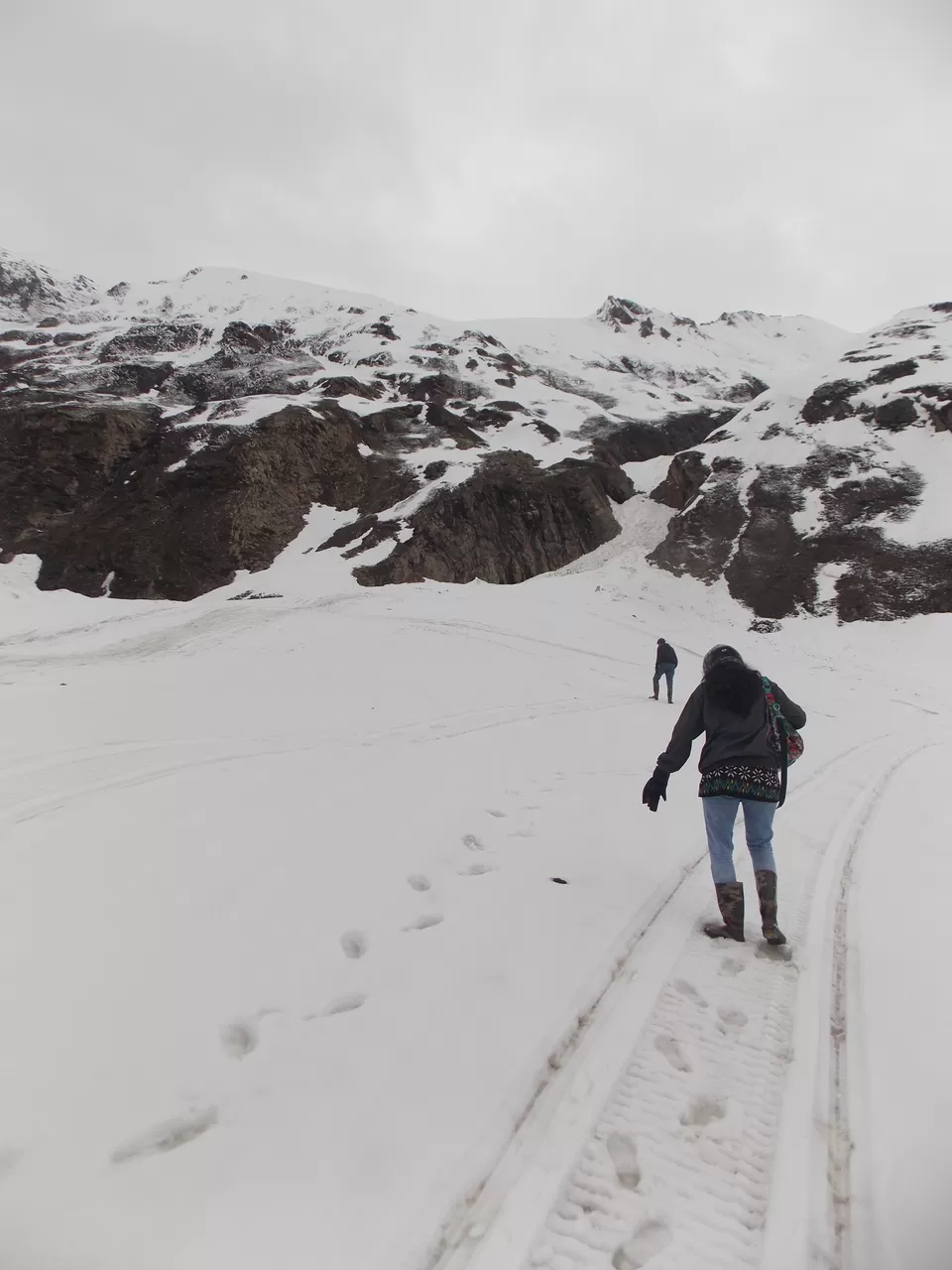 The place was the just too beautiful there were no settlements around it seemed as if I was in heaven a place covered in a white blanket with a cold breeze running it was just to the next level of beauty...I was just taken aback by seeing the beauty of this place.
Actually I had visited Darjeeling when I was small and I was really excited about playing with snow but I couldn't get snow and that disappointed me a lot so before visiting this place I was really in looking forward towards experiencing the snow but since it was may the exception was really low...par woh khete hai na agar kisi cheez ko dil se chaho toh puri kaynaat usse tumse milane ki koshish mein lag jaati hai...hahaha...
I didn't the only experience and played with snow but also experience my first ever snowfall which was just amazing... I just dance like a mad person. The scene of that place just replayed in my mind again and again...yupieee my first ever snowfall just can't explain my feelings...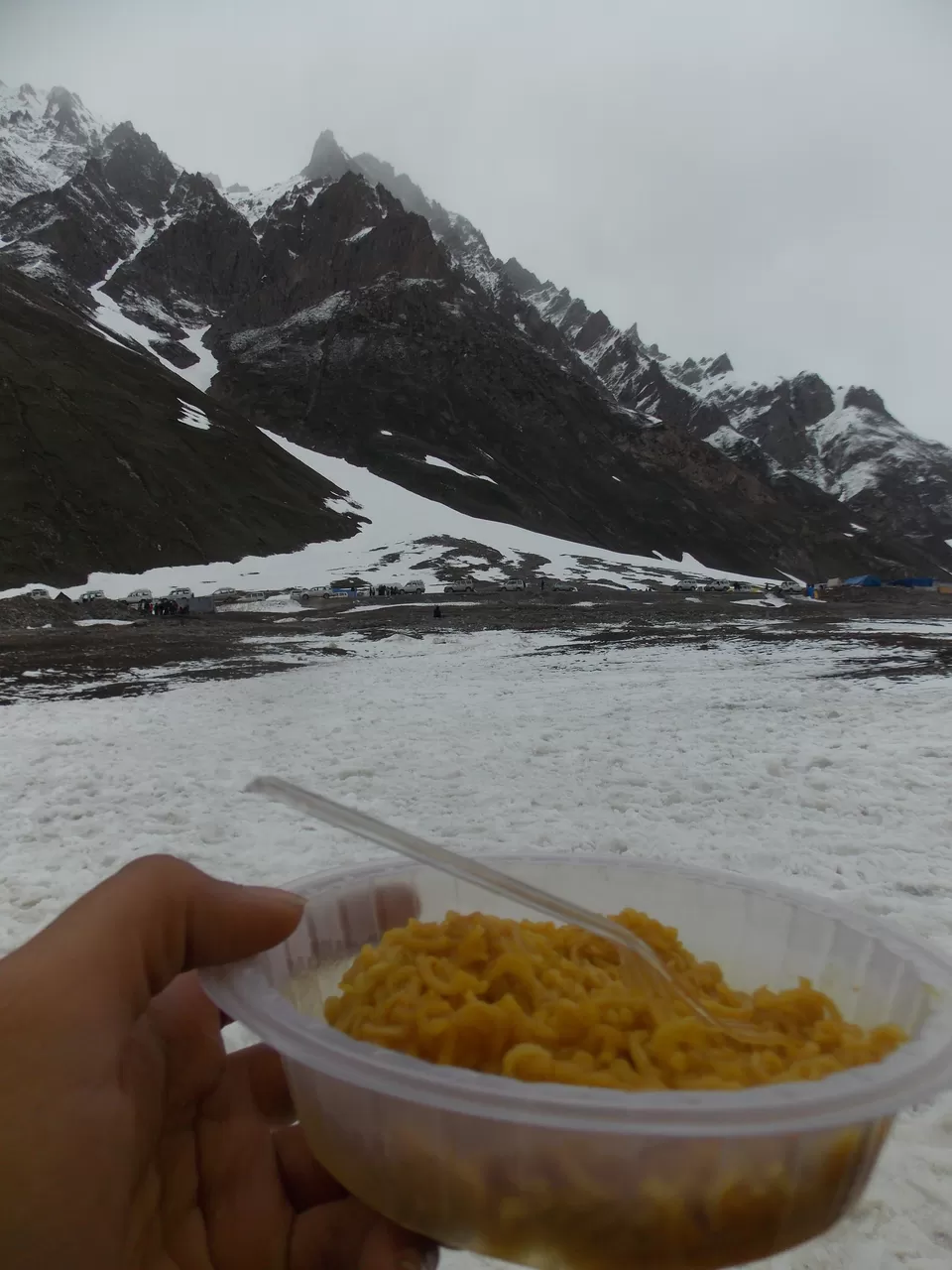 My drive bhaiya was really fast and furious...speeding this car in the curve and dangerous roads of mountains...it seemed as if I was a contestant of khataro Ke Khiladi and I was given out some challenge...so finally I completed my challenge and reached the base point safely...hahaha...and with a lot of adventure and pagal panti and beautiful memories I return back to srinagar...but what picture abhi baki hai mere dost...
I landed at khayam chowk. A smell of roasted meat from the cinders delights the air inside the narrow market. I ended my day with a yummy and mouthwatering food.
DAY 3: EXPLORING PAHALGAM WITH MY FRIEND ARJUN...
So it has already been 2 days staying at this beautiful place Kashmir... and now it is day 3 and I am all set ready to experience Pahalgam...a small town beside the Lidder river at Anantnag district. The local people referred to it as the "Valley of Shepherds".
So my journey started right from the road journey from Srinagar to Pahalgam and the journey was really amazing and eye pleasing. On my, to Pahalgam, I came across many places like keshar farms and I halted my car at a shop selling keshar and many Kashmiri products like badam, Kashmiri Mirch, and Kesar honey and many more and I shopped it all for my home. Then we also came across apple farm but there were no apples are grown in this season...
So finally I reached Pahalgam it was really a beautiful town surrounded by trees and lidder river running through it at an altitude of 7200 feet which made it more picturesque.
So there I met my new friend Arjun...He was really adorable and my rest journey of exploring Pahalgam was with my friend Arjun...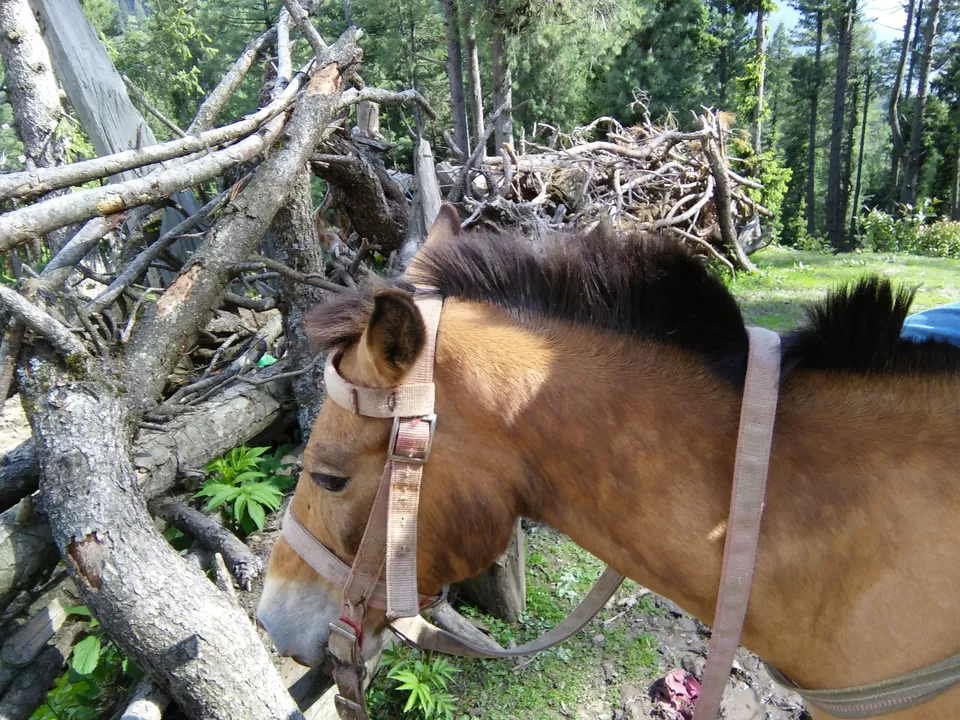 So my journey at Pahalgam was with my friend Arjun along with his friend Karan. Their friendship was so deep that Arjun use to always follow Karan and never get ahead of him or never get apart from him...really a true and cute example of friendship...without even speaking a word they communicate through the language of love and friendship...
There many places to explore around Pahalgam like:
1. Club Park: Club Park is one of the oldest parks in Pahalgam. It is crowded, specifically on weekends. The garden blends perfectly with its surrounding hills and river running nearby and looks more like a naturally created garden.
2. Aru Village: Aru village is around 12 km from Pahalgam. Taxis are available from Pahalgam on a shared basis. It is a beautiful village, visited by far lesser tourists and is more peaceful than Pahalgam.
3. Lidder Valley: Lidder valley is a popular camping site. It is around 12 km from Pahalgam and 12 km from the nearest motor accessible village, Aru.
4. Trout fishing at Lidder River: If you want to indulge in some fishing, there is no better place than Pahalgam.
5. Rafting at Lidder River: River rafting is one popular sport here. Some people just come here to indulge in the sport. The white frothing water makes it more enticing.
6. Jamia Masjid Mosque: The green roof mosque just near the main bazaar (market) with its beautiful design is a major attraction. The location of the mosque also adds another dimension to its aura. The Lidder River below and the mountain as the backdrop make it a peaceful place to worship.
7. Gauri Shankar Temple: This temple is one of the oldest temples in Pahalgam. The Amarnath Yatra also begins here. The temple is small but much revered by the Hindus.
8. Zoo: Around 1 km from Pahalgam town, wildlife lovers can see different species of deer, leopard, and bear at the zoo.
9. Betaab Valley: Betaab Valley is 15 km from Pahalgam town and is one of the most beautiful valleys around Pahalgam. The valley is famed as a setting for a popular Bollywood film, Betaab.
10. Amarnath Cave: Amarnath is a famous cave where myth and beliefs meet. It is believed that Lord Shiva is seated in the cave.
DAY 4 & 5 : GULMARG...
So with an amazing day at Sonamarg and Pahalgam now I m heading towards my other destination i.e. GULMARG. Gulmarg is also known as a winter destination for skiers nested at a height of 9000 ft and it is a resort town fit for the kings. In fact, it was king Yusuf Shah Chuk, ruler of Kashmir and a contemporary of the Mughal emperor Akbar who changed its name from Gaurimarg to Gulmarg, naming it after a flower... truly a place justifies it name the land surrounded by flowers and snow-capped mountains.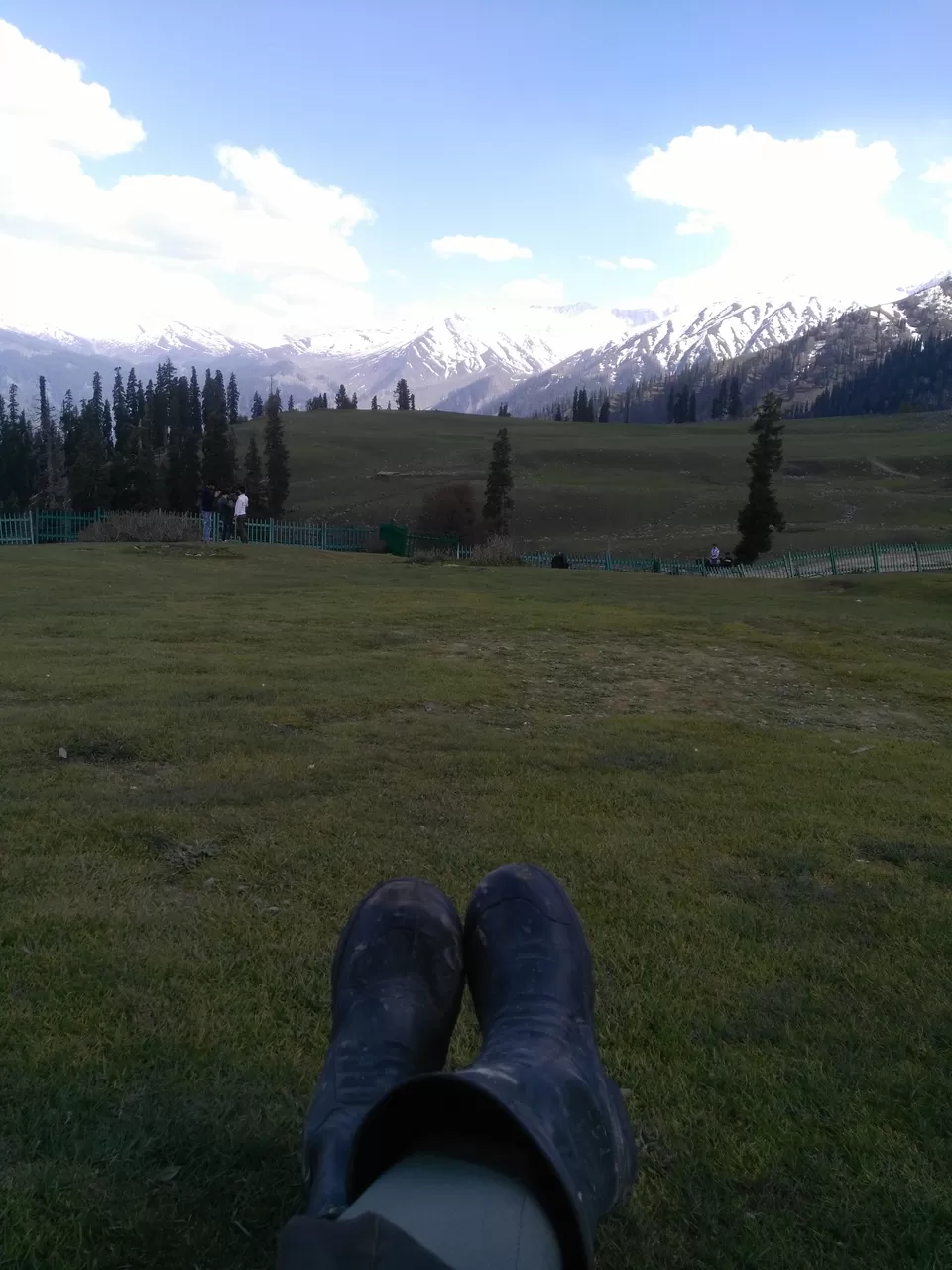 So there are three ways you could reach the 1st phase and 2nd phase of Gulmarg i.e through pony ride or if you are bit adventurous you can also opt out for ATV rides...its really amazing...or else you can also opt for trekking...and last but the best and most opted out option is through gandola...one of the most dos in Gulmarg...Gondolas usually go to both the phase 1 and 2...But due to some technical issues during my visit the phase one of gondola ride was shut down. So I opted for a pony ride to phase 1 after which I would go to phase 2 through gondola...Due to rains, previous night trekking wasn't possible. Gondola ride treats you some eye-popping breathless views of snow-capped mountains.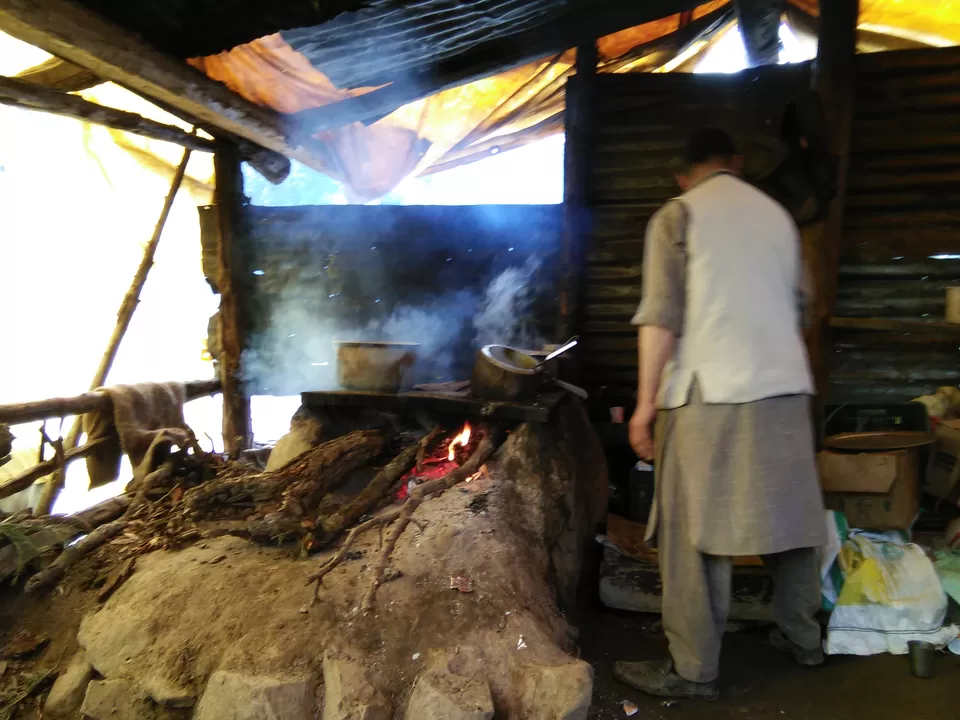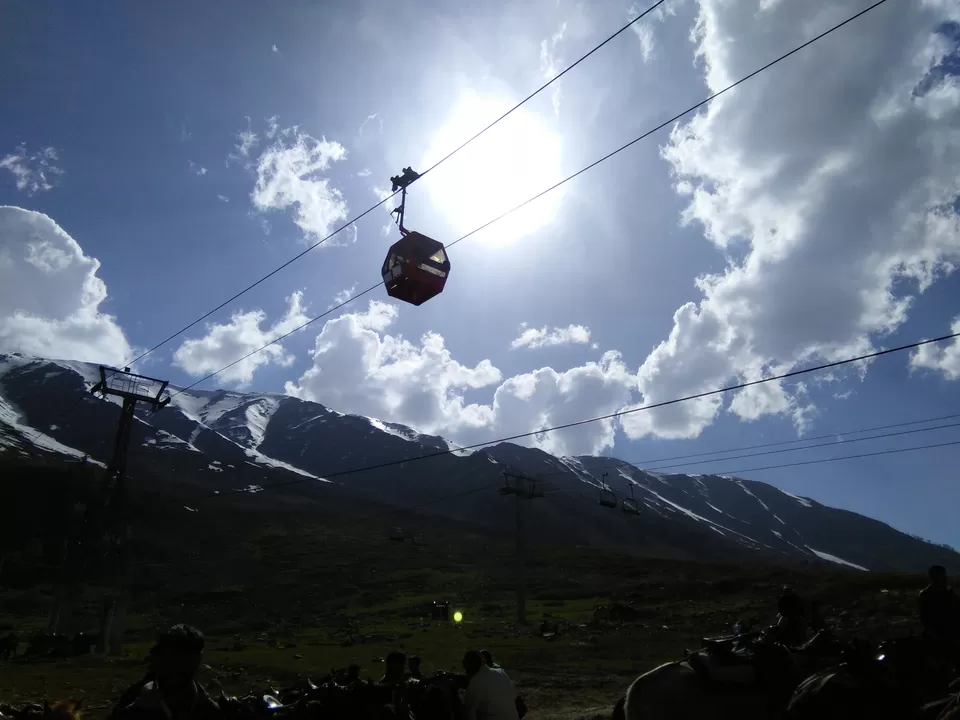 Phase 2 @ Gulmarg...
It was really cool out there at phase 2 but the scene was something I couldn't get over it was really like a dreamland. The surrounding environment was filled with giggle and laughter of people filled with rejoice.
I return back to base camp with a bag full of memories and happiness... I just couldn't stop smiling as if I achieve something really great. So I was going to stay there that night and spent my day enjoying the environment and the landscape views and the peace of happiness...
DAY 6: EXPLORING SRINAGAR...
So after having a yummy breakfast at my hotel, I headed towards another beautiful day. Today I was going to explore Srinagar. Following are the places I explored at Srinagar...
LEISURE RIDE AT DAL LAKE: Dal lake was a really big lake surrounded by villages and support system of Kashmir. I started my ride exploring dal lake in a beautiful and colorful Sikhara. Vivid colors of Sikharas where floating around me surrounded by beautiful boat houses and scenery of mountains around...which reflected on the water...
There was the whole village of 500 people that live on the water. So like we have our own vehicles parked at our home these people had boats parked around there home...even basic groceries shops where surrounded by water and the locals use to travel by there boats to travel or to buy and products for there home. So our Sikhara uncle was telling us that, "Yaha ke Bache bh phele tairana aur nav chalana sikhate hai". I was really amazed by seeing the floating vegetables farms and floating markets... I was in just love with the place and so I guess our bollyood was has there many shooting take place here from 90s famous song bhumaro to jab tak hai jaan and bhaijan race 3 etc. movies where shoot here... everyone was a fan of this place and so am I...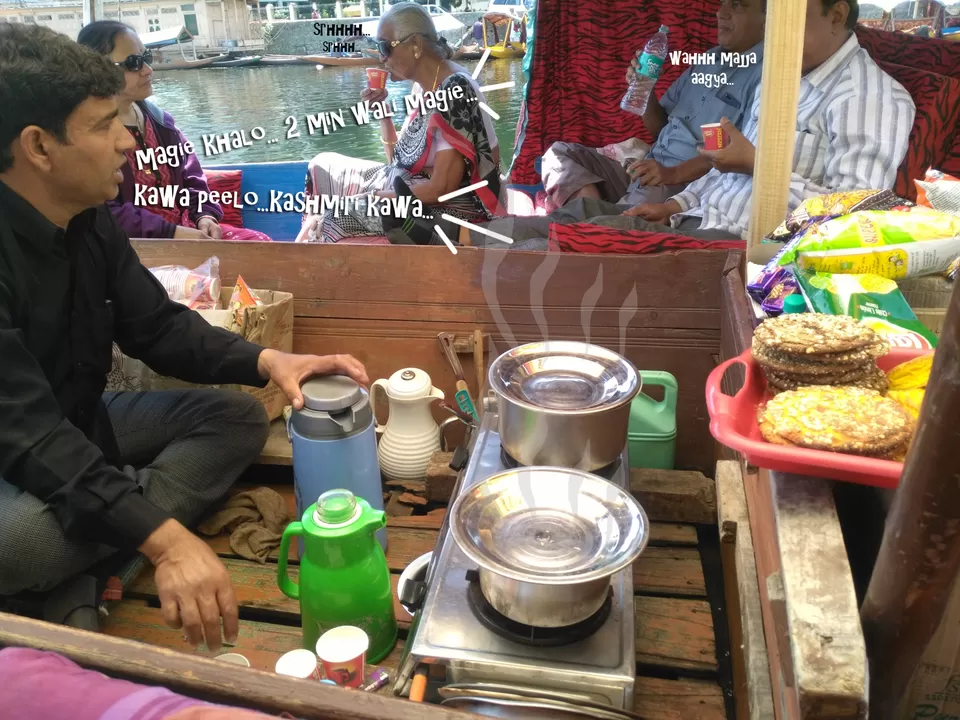 Look what! maggie on the boat...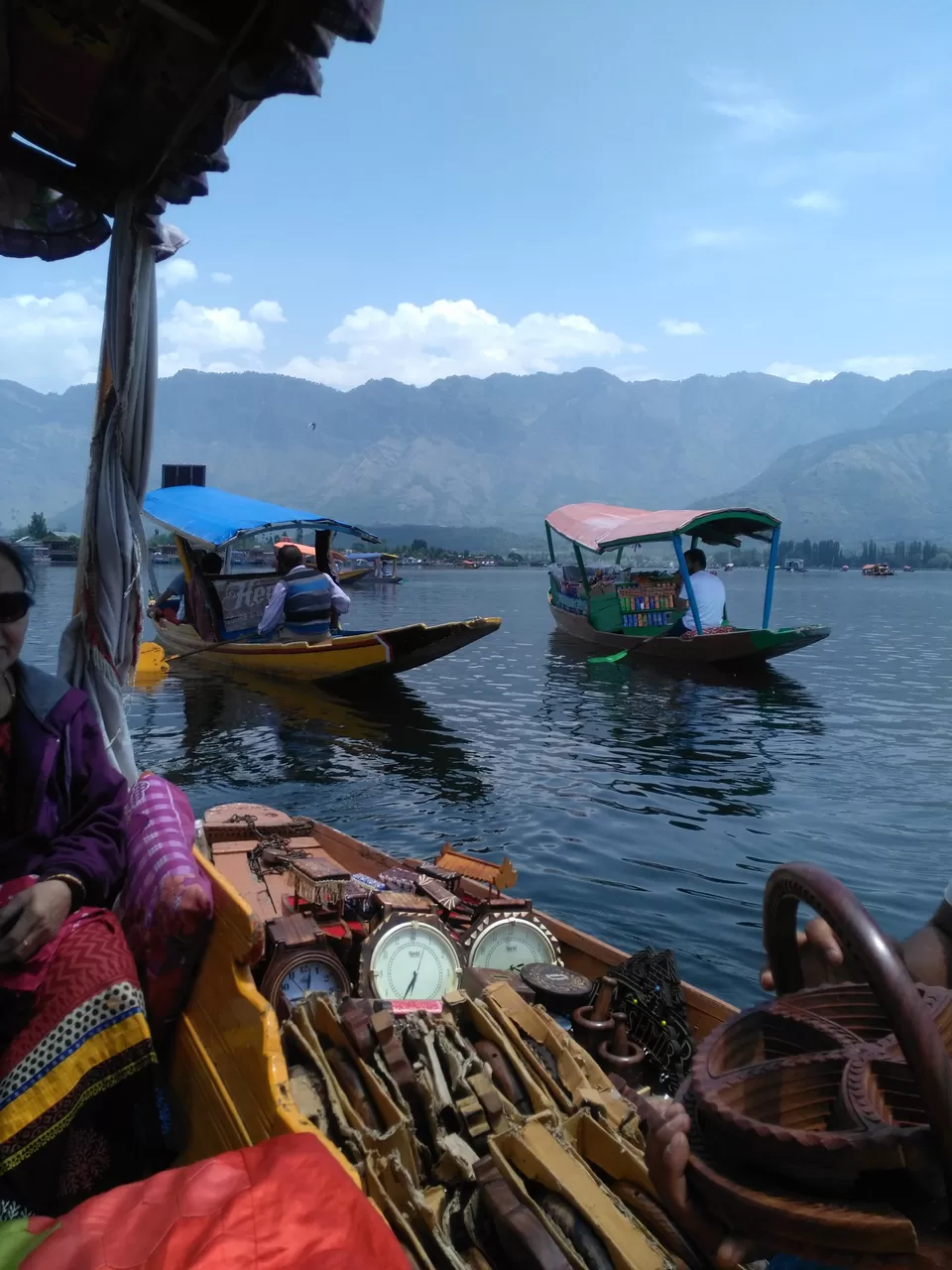 So after an amazing Sikhara ride at Dal lake and enjoying the floating market I explored many places like char chinar, Shankar aacharya temple, Harjat bal darga, Lal chowk, Kheer Bhawani, Mughal garden, chashme sahi and Shalimar garden.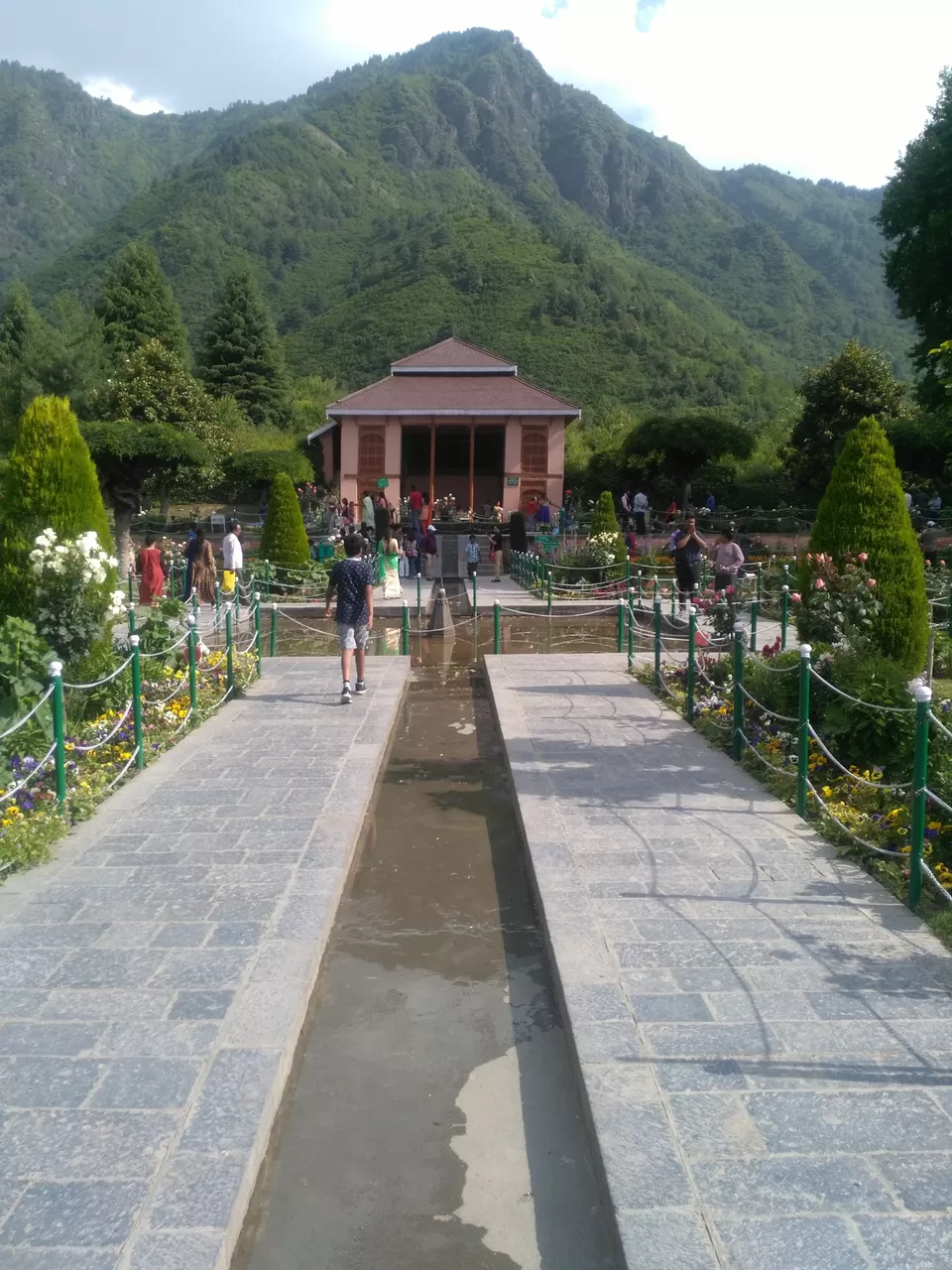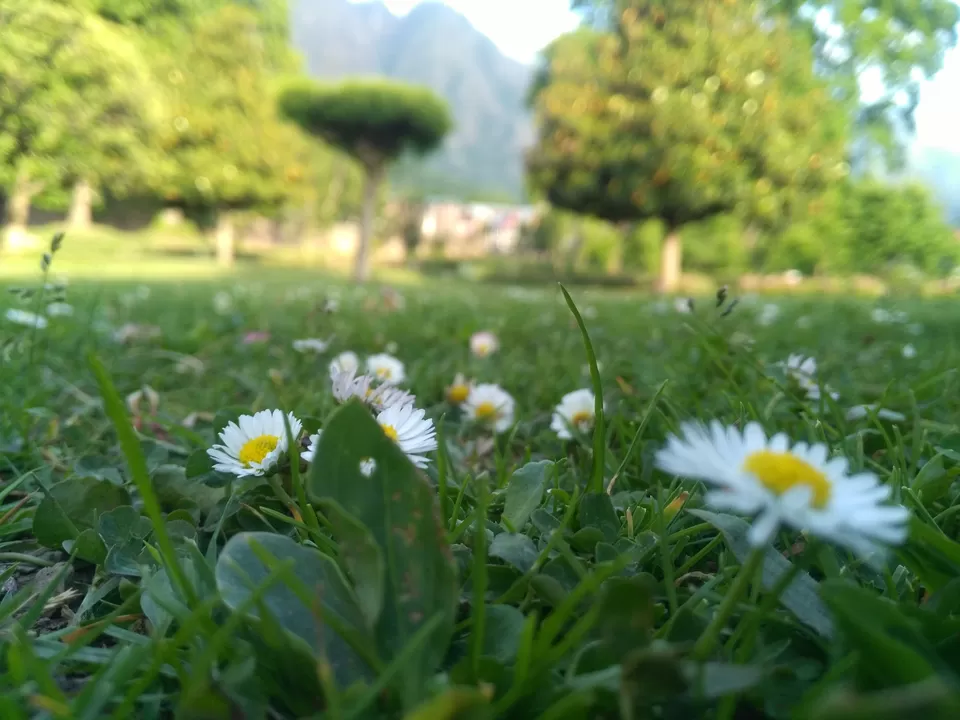 Kashmir was just amazing whether It would be my stay at boat house or a road trip in Kashmir to different places...or some khatro ke khiladi at zero degree point at Sonamarg....or a Gondola ride at Gulmarg...or a horse ride at Pahalgam every was just amazing...
There are certain moments when you travel When the mind is emptied of all its negative thoughts and feel the presence of positivity. When you just want to enjoy every moment as a treat to your eyes, mind, heart, and ears...
I could just keep on telling about my experience on Kashmir and the article will be kept on going and be going....so was this place truly magical...
I would end my blog with a poem written by me on Kashmir which expresses my feelings on Kashmir...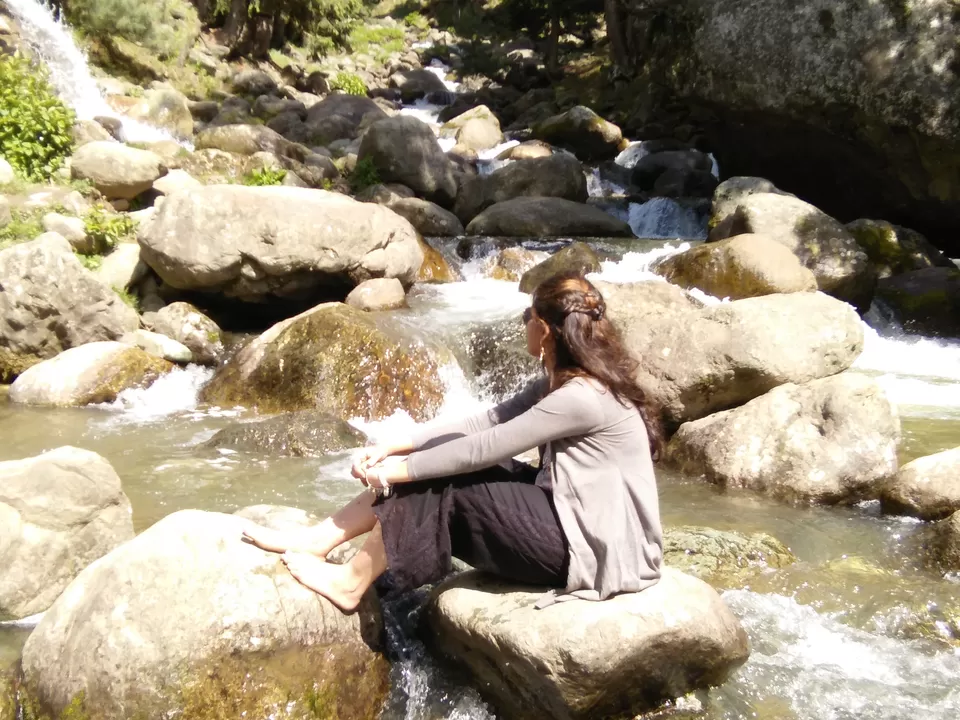 Was it a vision or a fading dream?...
Oh! My wonderful Kashmir…
Each Indian's Kashmir…
You're not just a part of India,
You reside in the heart of India…
Oh! My wonderful Kashmir…
Each Indian's Kashmir…
You're not just a mere place,
You're a heavenly experience…
The land of lakes, and clear streams.
With mighty snow-capped mountains and magnificent trees.
Where the air is cold and water is sweet…
Where flower blooms with joy and colorful birds sing in happiness…
Where even a sound of silence is a beautiful piece of music…
Oh! My wonderful Kashmir…
Each Indian's Kashmir…
Where men are strong, and women vie with the soil in fruitfulness
Where culture is supreme and the heart is full of love and pride…
Oh! My wonderful Kashmir…
Each Indian's Kashmir…
My mind floats in the small colorful boats,
in the Dal lake's willowy waterways…
As if God has poured its vivid colors…
I could not help but feel overwhelmed…
I could watch this scenes over and over again,
And replay it in my mind's eye.
Oh! My wonderful Kashmir…
Each Indian's Kashmir…
You are not just treasured in my camera,
you're in treasured in corner of my heart…
With tears in my eyes and face full of rejoice…
Oh! My lovely Kashmir…
I will surely come back…
Taking with me the breathtaking memories…
A glimpse of heaven revealed…
Oh! My wonderful Kashmir…
This is my Kashmir my heavenly Kashmir…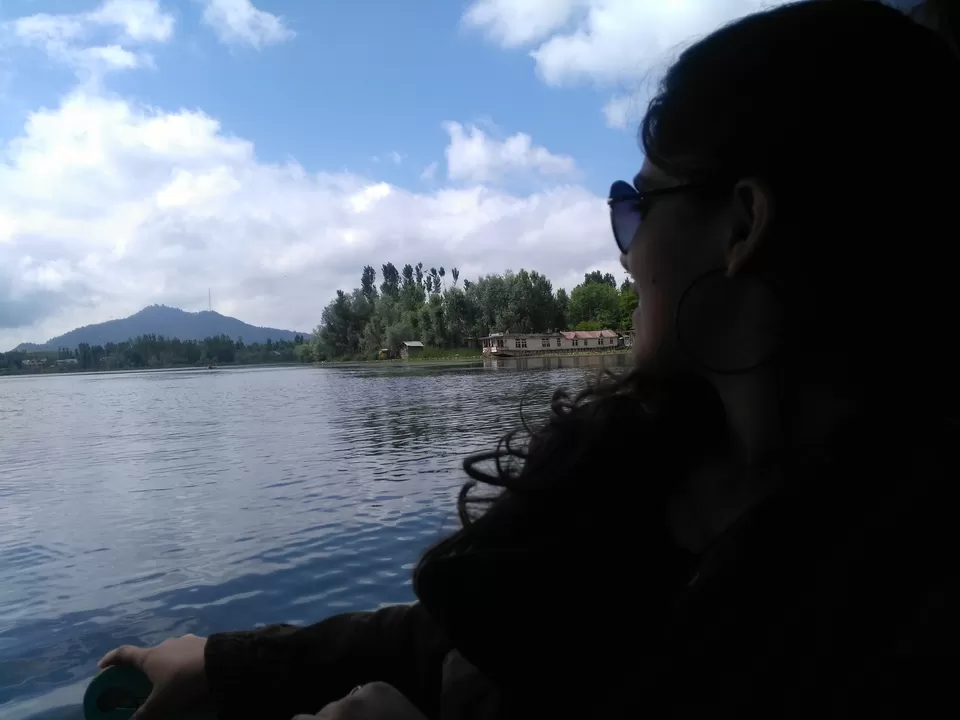 Before heading for my journey I had a lot of questions in my mind why is Kashmir called heaven on earth what makes Kashmir so special and different??? With this question, my excitement for visiting Kashmir and experience this place was really high…and the day I reached Kashmir there was a big smile on my face. I could not help but feel overwhelmed… I was absolutely amazed just enjoying every moment of my journey to Kashmir…
My Eight days at Kashmir was just amazing....it is rightly said don't wait for moments to happen just make it and so do I made my moments and lived the experience called KASHMIR...
Kashmir is both fragile and beautiful and it is a must for awake a musaafir inside you and experience a paradise....so guys add Kashmir in your next holiday plan and do share with me your experience or any story which you can never forget...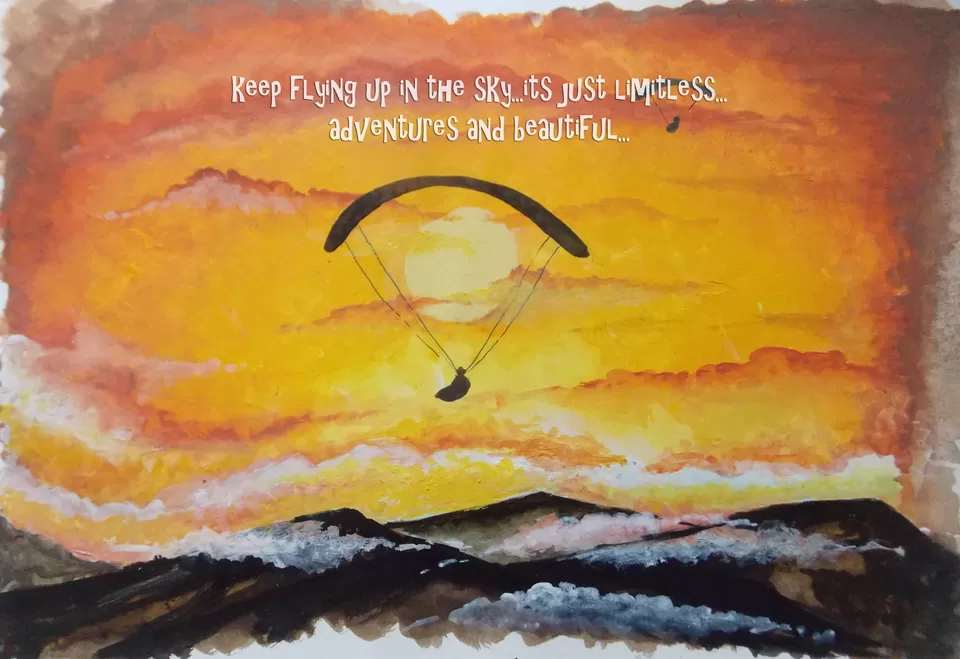 So please do share, comment and follow my journey and take part in my musaafiri...i will keep on sharing a new experience with you...