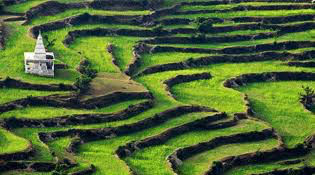 The west of India is famous for many hill stations. 
MAHABHALESHWAR
- It is an evergreen forest situated on the Western ghats range. Mahabhaleshwar is the source of River Krishna. This place is famous for natural view point. To reach Mahabhaleshwar, one has to fly to Pune and from there take a car up the hill. Best time to visit Mahabhleshwar is summer, and all around the year.
Point of interest
1) Venna Lake - This laMe was constructed in the year 1842. This lake is 2km away from the main city. The lake is surrounded by nature and trees all over. This lake is famous, for joggers and walkers.
2) Elephants Head Point - It is a beautiful place which looks like an elephant head. This place joins the Western ghats. The valley looks beautiful and amazing.
3) Wax Museum - An amazing Museum that has show pieces made out of wax. Celebrities statues are made out of wax. This museum is also famous for candles. 
4) Pratapgradh Fort - A place that has great piece of Maratha history. This fort was where Shivaji defeated Afzjal Khan. There is a nice garden built inside the Fort. Speculator views are Konkan coast is visible from the Fort. 
5) On Wheelz - It is an amusement park that offers unlimited ride packages.
SHOPPING
Famous things to buy 
1) Buying fresh fruits, jams, jellies and marmalades
2)Strawberries and raspberries are very famous
3) Honey is made fresh, from bee farms.
4) Kolhapuri footwear, shawls, crochet dresses are famous.
Famous shops
Imperial stores -They are situated at Masjid road, this place is famous for many things.
Famous shopping streets
1) Town Bazaar - Situated at town bazaar this place is called all in one shopping.
2) Mapro Garden - situated at Panchgani-Mahabhaleshwar road, this place is famous for many berries, jams and juices.
CUISINE
Marathi cuisine are famous all through Mahabhlaeshwar. Yummy mulberries and corn are found all through the streets. Fresh corns are roasted boiled and made as Corn Pattice. Vada Pav is available plenty. Chilies are the most, famous local sweet. Batata vada another famous local food is famous all through Mahabhaleshwar. Indian, continental, Chinese food are available all through Mahabhaleshwar.
Famous Restrunants -
1) Meghdoot Restrunant - spicy and mouth watering food, from Indian,Chinese, Mughalai the food should be tasty. 
2) The Grapevine restrunant - This hotel serves, Thai and Parsi cuisines. Garlic toast and chicken dishes are famous. A well stocked bar adds to the great ambience of the restrunant. 
3) Saafali Restruant - A famous hotel for non-veg lovers, situated at ST bus stand giving Panaromic view of Mahabhaleshwar hills. Fish and chicken dishes are famous here.
4) Little Italy - situated next to Lake view road, this hotel offers mouth watering Italian cuisine and pizza tops the list. Sauce pasta, chocolate bomb and vanilla ice cream are famous here. Th ambience invites cool air.
5) Temptation - Located at Mahabhaleshwar, Panchgani road, this hotel offers Chinese food. A small game park is set and the coolness takes over the entire ambience.
Best hotels to stay
1) Pratap Heritage - situated at valley view road, this hotel has laid back room an outdoor pool and very relaxed restrunant.
2) Hotel Dreamland - Situated at ST stand, this hotel offers good forest few and very tasty food.
3) Fountain village - with fined rooms, offering free breakfast, this hotel has great views from rooms. 
PANCHGANI - This hill existed from 1980. Indias best plant species are from Panchgani. This place is nestled among five hills in Sahaydri ranged. Krishna river lows nearby. Panchganis is also a famous location spot for many movies. It is a famous hangout for many honeymoon couples. The best time to visit his place is during summer.
Point of interest
1) Table land - It is a second longest mountain plateau in Asia. It is famous for laterite rocks.
2)Mapro Garden - It is situated on the Panchgani Mahabhaleshwar road. A complete place that starts with juiced and ends with fresh cooked pizza.
3) Devils Kitchen - This cave has history during Mahabharata time that Pandavas stayed here.
4) Parsi point - The Panaromic view of Krishna valley and Dham dam is visualised. 
5) Sydney Point - The view of Krishna valley and forest village associated is visible.
SHOPPING 
Panchgani is very famous for fresh yummy berries. Leather products and handicrafts are famous. Fruit items and bakery products are famous. Marmalades fruits drinks, squashes are very famous. 
Shopping areas
1) Shivaji circle - They sell more of leather goods here.
2) Buddha ka Bazaar - It is called Wednesday bazaar.
3) Mapro Garden - Gheir products are famous. 
Famous shops
Mapro shops, Starberry Den Handicraft Shops at The Shivaji Circle, Fresh fruits and Vegetables shops at Bazaar road are places one can shop.
CUISINE - Maharastra cuisine are very popular. Ghati masala a home made masala dish is popular. The strawberries top the list of cuisine in Panchgani. Strawberry ice cream are sold like hot cakes. Vanilla icecream with chocolate sauce topping is mouth watering. Vada Pav, smoke oven cooked pizzas and panipuris are very popular. Dal and Kadhi at the all through the cuisine. Bakery products are freshly prepared and one bite gives you the life time taste.
Famous Restrunants 
1) Purohit Lunch Home - situated near Kundiba Shinde Mart Gujarathi thali, and veg tallish are famous.
2) Lucky Restrunant - It is a famous Irani restruanant that has famous Bakery products are friends. 
3) Jaffer Bhai - Situated at Artham nagar, breakfast and lunch a famous here. Full authentic, Gujarathi food is served here.
4) Rasoi by Food Ville - situated at Artham Nagar, breakfast and lunch are famous here. Full authentic Gujarathi food is served here.
5) Den Dine - Having food in a cave ambience is the speciality of hotel.
Come summer, many start travelling. Mahabhaleshwar and Panchgani offer you best places to enjoy and rejuvanate your souls. Happy travelling.