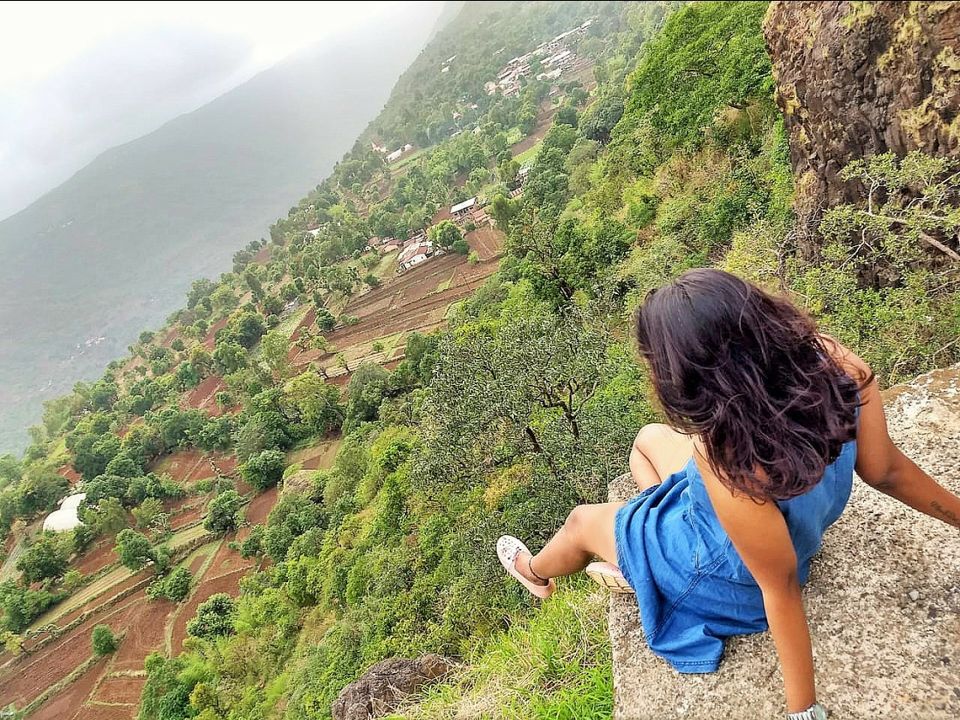 It's just the arrival of monsoon in Mumbai, "D" best time to pack a trip to Panchgani-Mahableshwar. If you are travelling for the first time go ahead and give a short visit to this place anywhere in the month of June (Just in case you don't want to get drenched in heavy rains), just because we got pleasant weather in Panchgani-Mahableshwar. It was drizzling and the weather was breezy and foggy, that helped us a lot to sojourn as much points as possible in one day.
Our journey began from Mumbai at 11.00 in the night and we reached Panchgani at 6.00 in the morning. Further we planned to rent a vehicle in Panchgani to explore the land of strawberries and scenic beauties.
Since our check in time was 10.30 am, we opted to visit Parsi point which was hardly 10 mints by taxi, which costed us 100 rupees from Panchgani bus stop (we still haven't rented a vehicle yet!) after a hour long discussion and bargaining (which we Mumbaikar are good at) with the Taxi wala, he gave offer to cover 15 points in Mahableshwar and 4 points in Panchgani for 2k rupees (that was really poking my pocket).
We kept him on hold and went forward to explore Parsi point, which was absolutely panoramic and picturesque. A great place to click amazing landscape pictures, since it was early morning and no one was around, we had the privilege to click pictures at our preferred spots with no unwanted people in the background, it was peace. A must visit in Panchgani.
After having breakfast, we headed towards our home stay in Bhilar village (Panchgani), which was in the remote area. It was not that difficult to find it, but not good for travelling late night. We were welcomed by their dog Poopy and Meherdad (Host) and we freshened up and settled in our rooms.
I must tell you guys this village people are awesome and very helpful, you can just take a lift from any local person on your way and they will drop you at the nearest spot to reach your destination, also bombard you with travel tips to explore the area.
It's very difficult to rent a vehicle in Panchgani, specially two wheeler. Finally and luckily (it wasn't that easy) we got a scooty on rent for 900 Rupees for whole day which was quite a good deal in Panchgani. On day 1 we just explored the local market and had a chat with our host.
Next early morning, we bumped on our scooty and started our journey from Panchgani to mahableshwar. The road was absolute scenic and top of that, awesome weather with cold winds blowing through my hair.
In half an hour starting from Bhilar village we reached Kate's point, outside Panchgani, on the way to Mahableshwar, again a scenic point with pleasant view, you see a huge rock overlooking the Krishna valley – that is Kate's point. Clicked some pictures and headed further.
Within 15-20 mints we reached Venna Lake. Tourists can enjoy a boat ride over the lake or a horse ride next to the lake.
Now in Mahableshwar all points are almost 10-15 mints (by car/bike) away from each other.
Then we reached Lodwick point Within 15 mints. There is a huge statue of Lord Lodwick situated on the site. Elephant's Head is walking distance from Lodwick Point. No vehicles are allowed here. The place is breezy and has a good view. In foggy weather, it's absolutely mesmerizing.
Further, we headed towards Mahableshwar market in search of food, as we were hungry and it was almost 2.00 in the noon. Since I am a hard-core non-vegetarian, we were looking for some authentic non-veg food but there were more of veg restaurants around, still we found one non veg restaurant, but it was quite expensive. Never mind… "Chicken …chicken hota hai…"
Pratapgadh fort is about 25-30 kms away from the market. So if you are planning to cover Pratapgadh fort as well then start little early in the morning.
Now we are on our way back to Panchgani, where in between don't forget to visit Mapro garden. They have food court serving some awesome strawberry ice creams, pizzas, burgers and all snacky items. They have their own shopping area where you will get all types of Mapro products. Guess what?? They have counters to try on the delicious fruit crushes, milkshakes, chocolates in case you want to buy some, and definitely you will!! Coz I did!! So you have lot to fill in your tummies. P.S. keep your lunch light…
From there we started to explore Panchgani, compared to Mahableshwar, Panchgani has very less scenic points to visit, but worth a visit.
We reached table land, it is the longest mountain plateau in the whole of Asia. You can enjoy a panoramic and unobstructed view of the sunrise and sunset from here and witness the skies burst into a myriad of colors. They offer you horse riding and will show you each and every point on that plateau. It may cost around 200 rupees per person.
After a long tiring day we headed to our home stay it was dark almost 8.pm and there are no street lights in that village and the place where we stayed is completely isolated, we were quite apprehensive to ride our scooty back there. It was kind of adventure for us.
Feast time!!! Our host cooked us chicken lasagna… Yummy (350 rupees per person), it was worth a treat "saari thakan dur ho gyi…" with our filled tummies we almost crashed on our bed and took a return bus in the next morning to Mumbai…
Points to remember:
- Stay at hotel nearest to points in Panchgani/mahableshwar.
- Start early in the morning to cover maximum points.
- Difficult to rent a vehicle, suggest you to take your own vehicle if you are planning for budget trip.
- Visit parsi point in Panchgani
- Table land for horse riding
- Venna lake for boating
- Mapro garden for delicious strawberry ice-cream.
- Lodwick point for beautiful view
- Pratapgadh fort
Costs and contacts:
Vigneshwar AC sleeper bus Rs 700/- per person, clean, comfortable seats, 5 ratings. Booked on redbus.com
Scooty rent Rs. 900/-
Homestay: la Maison B&B, Rs 1800 per night 1 room. Booked on airbnb.
Petrol : Rs 250/- , for scooty we rented.
Food: Rs 2000/- , 2 nights, 2 people.