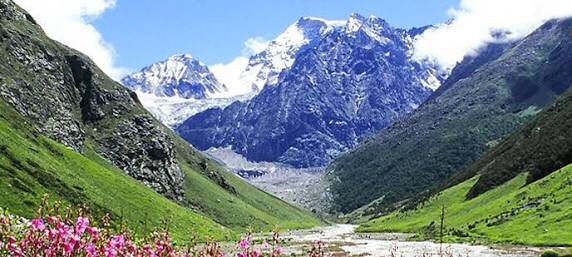 OOTY
It is called udhagamandalam and situated 80km away from Coimbatore. By air one has to reach Coimbatore and from their take a train or bus or car up the hills. Ooty is a famous honeymoon destination. The best time to visit Ooty is during summer season.

POINT OF INTERESTS
1) Doddabetta peak - It is at an altitude of 2,623m and 10kms away from Ooty. A Panaromic view of plains of Coimbatore, Rose gardens are famous in this peak.
2) Ooty Lake -It is a L shape 2.75kms long lake. A place for boating. 
3) Avanlanche Lake -This lake was formed during a massive landslide. So it is named Avalanche lake. Trekking and camping are popular around this lake.
4) Nilgiri Mountain Railway -It is a 46km long railway line that travels through tunnels bridges, forest from Mettupalayam to Ooty.
5) Mudumalai Wildlife Sanctuary - a tiger reserve that is a sanctuary for animals, like barking deer, wild boar, tiger, elephants. Theppakadu is famous for safari, elephant safari and trekking.
SHOPPING IN OOTY
A) Things to buy in Ooty
1) Organic cheese -They are mostly home made with milk from cow jerseys and Helstein.
2) Homemade chocolates -made out of truffles,fudges and marshmallows are very famous. 
3) Tea-Dust, leaf, black, green tea in Masala, jasmine flavour are famous. 
4) spices, aromatic oils and local handicrafts are very famous.
B) Famous shops in Ooty
Green shop, e stores and Taj Bakers are very famous shops which sell unique items.
C) Famous shopping market areas.
Municipal market, co-operative supermarket, Bazaar roads are famous areas to shop.
OOTY CUISINE
It includes both vegetarian and non-vegetarian. Bread, cookies, cakes, tarts, buns,brownies and pies are popular in Ooty. Varkey is famous all through Ooty. Chicken, mutton and fish are famous non-vegetarian dishes. Sambhar is popular all thorough Ooty.
Popular restraunants in Ooty
1) Earls Secret -It is situated at Havelock road, located 10km away from the city. It is a Victorian bungalow, set as a hotel, that has great atmosphere and service. The vegetarian cuisine is mouth watering.
2) Place to Bee -situated at club road, thand non-vegetarian cuisine that completes with mouth watering coffee. The wood fired pizzas are famous here.
3) Cocopods-it is situated on west bury Mysore Road. This place is famous for home made chocolates, muffins, pastries and unique flavour coffee.
4) Dhaba express -It is situated at Coonoor road. This place offers yummy North Indian food and non-vegetarian food. Situated opposite to Ooty lake the freshness combined along with he fresh food served, makes the place very famous. 
KODAIKANAL
It is called the Princess of Hill stations. Kodai means summer, while kanal means a place to see. Kodaikanal also means an umbrella that shades the whole place. Palpitations tribal people are the main residents of Kodaikanal. It is very famous for very rich flora. Madurai and Tiruchi are the nearby airports. By train from Madurai people reach Kodai road and then on take a bus up the hill. The best time to visit this place is in summer.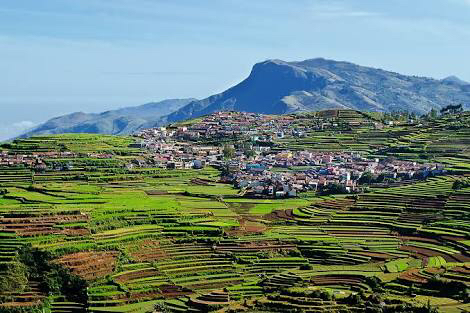 POINT OF INTERESTS
1) Bryant park - a 20 acre botanical garden with 325 variety trees, and 740 variety roses. Bodhisatva tree adds to the religious significance of the park.
2) Green valley View - it gives a Panaromic view of the Vaigai dam and Madurai plains.
3) Pillar Rocks -they are 12km high that show the view of public garden.
4) Dolphin nose -It is a flat rock that is in Dolphin nose shape, giving breathtaking views. 
5) Kurunji Andavar Murugan temple -a famous temple of Lord Murugan, who is offered the famous flower Kurunji that blooms once in 12 years. 
SHOPPING IN KODAIKANAL
A) Famous things to buy in Kodaikanal
1) Pottery - besides mud pota, crockery and artifacts are sold here.
2) Chocolates - Homemade and factory made chocolates are found all round the town. 
3) Spices -a major lure, spices that have medicinal value are sold.
4) Herbal and Ayrvedic oils - They are freshly prepared with lot of medicinal and herb values. 
5) Brown breads, jams, peanut butter and muffins are famous. Shawls, jewellery, brass, leather items are also famous. 
B) Famous shops
1) Khadhi emporium - they sell high quality handloom products
2) Econut - energy food, molasses, herbal drinks, natural perfumes are famous.
3) Corsock- Different variety handicrafts are sold.
C) Shopping streets
Anna Salai, bazaar road, Tibetian shop Center, Kurunji mini supermarket road.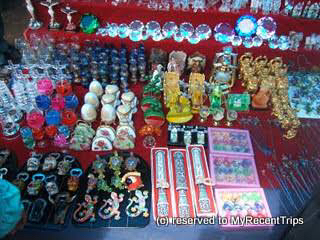 KODAIKANAL CUISINE
Besides abundance beauty and destinations Kodaikanal cuisine is very famous that every traveller love to take their bites. Lip smacking vegetarian and non vegetarian food are offered. Besides, Indian cuisine, Chinese and Tibetan cuisine are famous. Noodle soup and momos the cuisine list in Kodaikanal. Fried momos, chicken pot pie and Thukpa are famous street food a traveller shouldn't miss.
Famous restrunants 
1) Astoria restrunant - Authentic vegetarian items are served. Parrotta and kurma are famous her. Situated near Anna Salai bus stand this hotel has a good Panaromic view of the hills.
2) Cloud street - authentic Italian food are served her. It is situated opposite to Government Tourist office which gives a full view of the mountains. Pizzas are famous her. 
3) Royal Tibet - situated at Poet Tygaraja road, this restrunant is famous for noodle soup, beef and chicken. Momos are mouth watering and very famous in this hotel.
4) Nias Treat - situated at seven road junction, this place is a famous snack bar. Burgers and coffee are famous here.
5) Altaf cafe - situated at Vattanakal this place offers Middle East and Italian food. It has a full view of Dolphin nose and Echo point. 
Ooty and Kodaikanal are one of th famous hill stations many travellers shouldn't miss visitng. A place to visit and rejuvanate ones own self.