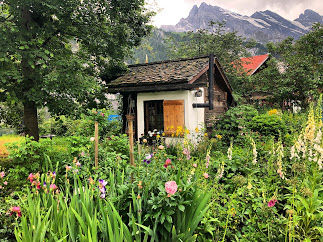 This July I was supposed to head to Kenya with my family but somehow that didn't work out (my sister didn't get her passport on time because of the cyclone Fani. See how it's all linked?) and I ended up going to Switzerland instead. Whatta luck! :D
Switzerland had been a far off dream of mine, up until I saw the roundtrip ticket fare from Bombay to Geneva to be 25000 INR. I mean, that seemed too good to be true. I didn't think twice and just booked the tickets impulsively. (To read more about the amazing deal click here!!)
So, over the next few months, I got my Visa ready, booked hostels, and noted the places I definitely wanted to go to. (Although maximum credit to my mausi/aunt for finding the most wonderful and offbeat places, I loved them!)
My flight was scheduled at 4.45 PM from the Chhatrapati Shivaji International Airport in Bombay. It was my first tormenting experience with the infamous Bombay rains. I left my cousin's place in Navi Mumbai at around 10.30-11 AM amidst heavy rainfall, so much so that even the Uber driver said that Kurla is completely waterlogged and he doesn't think we can make it on time to the airport. Umm, dear flight, raincheck?
But probably my stars were alright, cause I somehow made it to the airport with ample time in hand. I checked in and even got a window seat on the flight, which was an Airbus 737-800 (Not Max, thankfully) and gave myself a pat and silent cheer. Here is beginsssssssss!
Geneva
The immigration queue was so long, it was annoying. Then I couldn't connect to wifi cause apparently you need a pass from a vending machine which is inside the airport, after clearing immigration, so I couldn't contact my family who was supposed to pick me up (while waiting in the queue with a lot of time to kill). Thus ensuring I wait another hour at the airport. Yay!
But the good thing is there is a free hotel drop service in Airport shuttle from Geneva airport. It's a good idea to take that as it'd probably save you a lot of time.
Stay: Geneva Hostel
Free public transport if you stay in a hostel!
The hostel is very chic, located a few mins walk away from the Geneva lake. The complimentary breakfast was decent with a variety of tea, coffee, cereals, bread, jams, meat, and fruits.
It cost me 2700 INR per night.
Free Public Transport - I think this is the best part about staying in a Swiss hostel, you get a transport pass which allows you free rides on public transport which includes bus, train, and tram. What more does one want?!
Cailler Chocolate Factory
Located on the outskirts of Geneva, this chocolate factory is owned by Nestle. One has to pay an entry fee of 15 CHF (roughly 1100 INR or 15 USD) and then there's a 45 mins factory tour at the end of which you get to eat ALL YOU CAN EAT CHOCOLATES!!
Yes, unlimited swiss chocolates in hundreds of variations for you, no kidding.
The tour starts with a walk through the history of Cailler chocolates, then you get to see, taste, smell the ingredients used and learn about the entire process of how the chocolates are made. Also, you can see how the robot does a magnificent job of sorting the good chocolates from the bad.
There's a huge shop too from where you can buy freshly made chocolates and other souvenirs.
Chillon Castle
A truly stunning castle, beside the crystal clear water of Lake Geneva. it was made at this strategic location to block invasion by the German, French, and Italians.
For an entry fee, one can enter the castle and look around.
Geneva Lake
If you stroll one complete round around the lake then you'd walk through 2 different countries - Switzerland and France.
Also on weekends, you can see people chilling by the lake, playing cards, having picnics, eating ice creams, etc.
There are some street vendors too selling souvenirs and handicrafts.
Zermatt-Matterhorn
This car-free ski resort is a summer bonanza. The Matterhorn plays hide and seek with as you meander through the streets, offering magical glimpses during dawn and dusk.
5-Seewag hiking trail
So I was really excited for this 5 lake trail hike which lets you observe the Matterhorn ( that looks a bit like a witches hat ) from various perspectives. The 5 lake trail starts from Sunnega and goes through 5 lakes, 3 of which magically reflect the Matterhorn.
The names of the 5 lakes sound like fairy tale names - Stellisee, Grindjisee, Grünsee, Moosjisee, and Leisee. This is the 3rd one and you can swim in this one.
We started the day by taking a funicular (my first time ever. It's like a stairway train. Each platform is horizontal so that when the train ascends it's still flat (Unlike a roller coaster). Then we took a cable car to Sunnega from where the hike started. It was a 9.5km hike and is supposed to take 2.5hrs if you go at a stretch. But we took close to 6 hours cause it was so beautiful you can't just not stop. The weather was sunny but it wasn't unpleasant. However, towards the end of the trip, we didn't have any water, food and the temperature had risen a few notches so it got pretty bad. Interestingly, the entire trail is downhill except for the last part which is a tiring ascent. Bah! But we made it through. So yayayyyyyy!
Milano(Italy)
We took a detour to Italy on our way to Lugano as we wanted to check out the famous cathedral and glutton on some pizza in its motherland.
The Duomo Di Milano aka Milan Cathedral was majestic. The intricate carvings, the huge open space in the front with thousands of pigeons (oh! we got pooped on in Italy) and relaxing vibes were a delight to experience.
Don't forget to gorge on some luscious Italian Gelato and some handmade wood-fire oven pizza to add to the 5th sin of gluttony ;)
Lugano-Lavertezzo
Lavertezzzoooo! Seems like the perfect name (Just like pizzzzaaa) for this place with its stunningly clear emerald water and a lovely bridge which functions as a great point for diving/jumping down.
I dipped my feet into the water --- and that was enough for me to decide that I'm not going to jump into this FREEZING water. No way!
But then there was this fleeting thought, when else can I be so crazy?! And that was it.
I remember the exact moment I felt this glacial water (quite literally) engulf me as I dived, all my senses zipped onto one single goal - swim to the shore. Also, I think that was the moment I quite realized what hypothermia means. I think this was the coldest water I have swam in and that's saying something given that I've swum in the North Pacific Ocean in the winter. Brrrrr.
Much later, when my body had got a wee bit accustomed to the cold that I realized how pristine the water is and how utterly rejuvenated it made me feel. And honestly, I'm glad I decided to be crazy!
Furka Pass-Rhone Glacier
Ever played NFS with super bendy roads? Well, imagine that in real life. That is Furka pass for you. Said to be one of its kind of driving experience, through majestic mountains, breathtaking waterfall, and trailblazing tunnels.
On the top of this epic ride awaits the Rhone Glacier. You can see the glacier right from where it begins. Just be sure to reach it before 6pm cause that's the closing time (and 7pm in summer!). But you need to reach at least 45 mins before the closing time to be allowed entry to this impressive glacier.
Aare Gorge, Interkirtchen
The moment you think you can't be surprised, Switzerland will throw another one at you. I'd never seen a gorge this big and this close before, so boy! I was stunned. We entered from the east end (turns out if you stay in Interkitchen, a tiny village near this gorge you get discount on the entry tickets. Oh we stayed at this beautiful little cottage called Alpen Rose) and walked for 45 mins along this gorgeous glacial river to the west end. Watching Bernoulli's principle in action as the glacial water rapidly cuts through the gorge, extremely narrow at places and leisurely wide at others. Definitely, a MUST visit place!
Here's a pro tip for you so that you can save a lot of time — You can start from the east or west end. Say if you park your car on the east, then first take the train (included in the entry ticket) to the west end. Then walk back (explore, chill, basically take your own time) to the east end. Cause if you don't do this and choose to walk first to the other side then you might have to wait an hour or more for the train to arrive and take you all the way back to the other end. This might hamper your future travel plans like we missed the Rhone Glacier.
Lucern
An old, charming city. The main downtown area around the lucern station is vehicle free and hence you will see hundreds of cycles parked around. Also, this is where you will find all the primary attractions including the famous Chapel bridge. Take a walk through this bridge which is beautifully decorated with exquisite flowers all through, allowing you to take an aromatic and relaxing walk (if you manage to avoid the crowded times).
Then walk through the downtown alleys which are home to some splendid medieval architecture, and walk back across the Spreuer bridge (Do check out the ancient water canal system. It's kind of awesome!). There are wooden sitting areas on this bridge that just allows you to sit and soak in the entire vibe of the place. Don't hesitate and sit, observe.
There are a lot of museums here in case history and nature interest you and you've some time to kill (I'd rather just sit on the Spruer bridge).
In this world of fast forward (where we even watch lecture videos in 2X), with no time to spare, I believe that all we sometimes need is a pause.