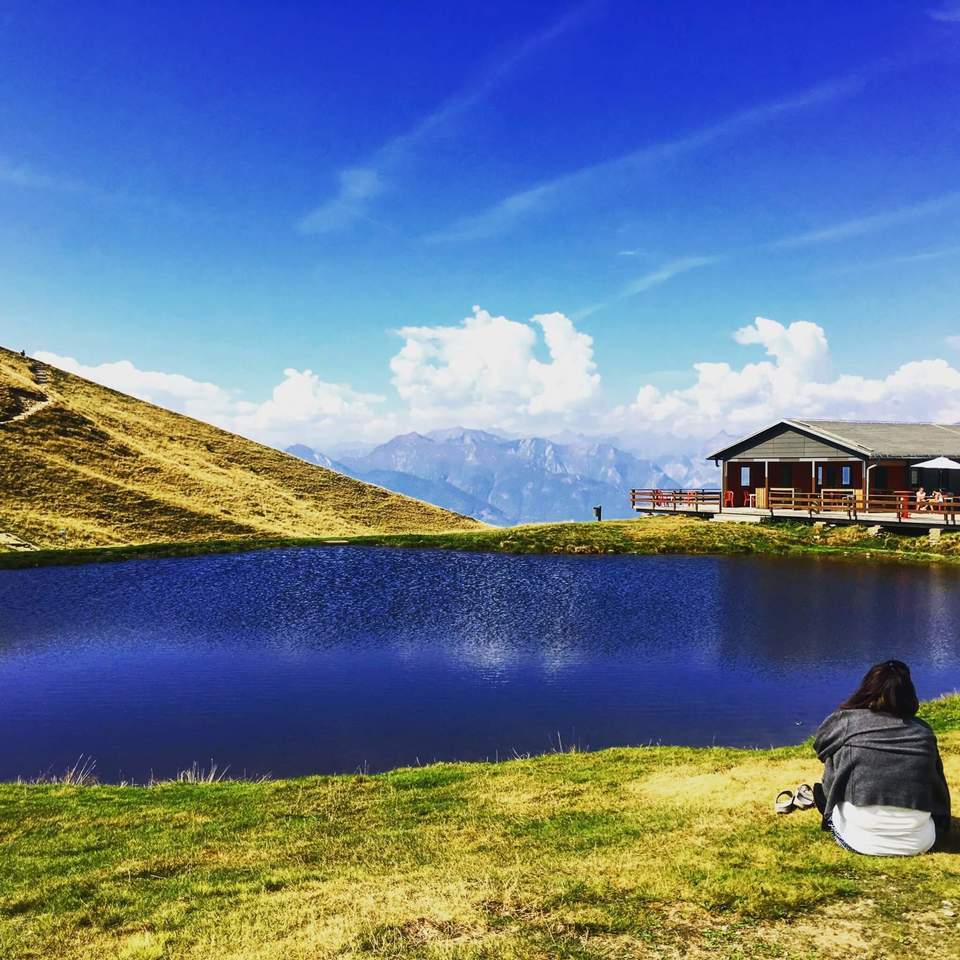 Switzerland, one of the most beautiful countries in the world, is often high on every traveller's wishlist. With about 60% of the country covered with mountains, 1500 lakes , nearly 5000 cable cars, inclines and ski lifts, and about 65,000 kms of waymarked trails, it is certainly also a hiker's paradise. Whether you prefer short,scenic hikes lasting 2 hours or long hikes spanning several days, you have a multitude of options to choose from.
What to pack for your hiking trip
Before setting off on your hike, make sure you are equipped with a pair of good hiking boots, a map of your hiking trail or an offline map on your phone (such as the Swiss Hike App), a light jacket that can be used incase it gets colder in the mountains (even in the summer), sunscreen, atleast 1 liter of water, eatables, a first aid kit, sunglasses or hat (as desired) , a portable charger for your phone.
Here are 5 Swiss hiking trails for you, to help you plan your next trip :
1. Monte Tamaro to Monte Lema
Hiking duration ~ 5 hr 30 min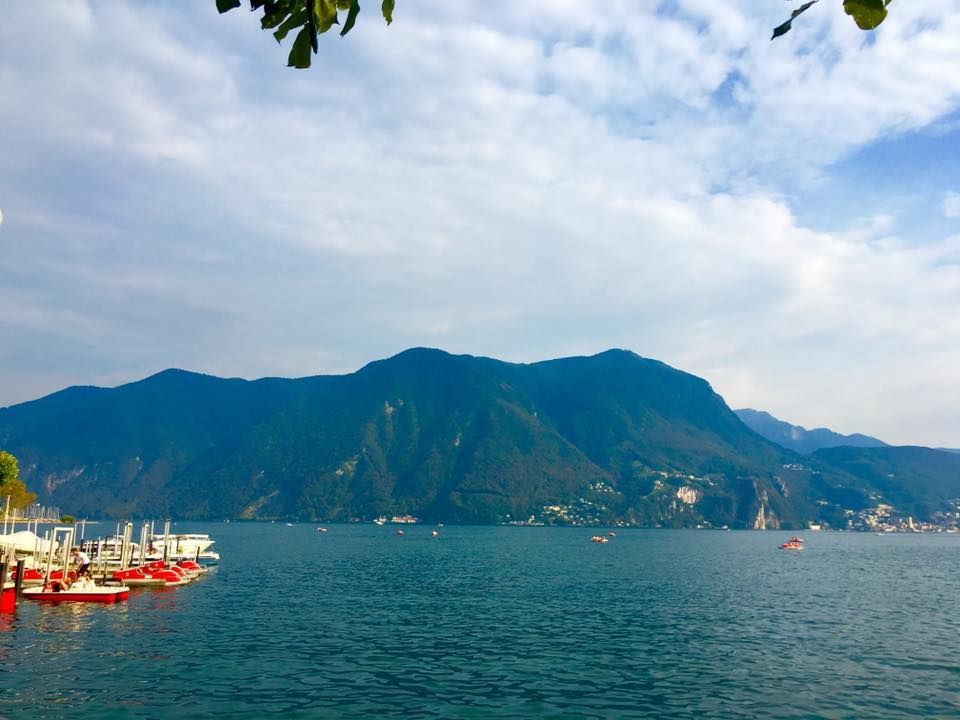 Close to the Swiss-Italian borders, the Ticino region offers some panaromic views, hiking trails and adventure activities. One such option is to go up Monte Tamaro, the 1962-metre high mountain, and walk over to Monte Lema, or vice-versa. With the Lake Lugano one one side and Lake Maggiore on the other, picturesque views are guaranteed. The hike can get challenging, especially during two major climbs. But, there might be the possibility of bypassing them and taking an easier route.
How to get there
Take the train to Bellinzona and change to Rivera. Walk towards the cable car station and go up to Alpe Foppa. You can begin hiking up to Monte Tamaro and further on from there. Alternatively, you can begin your hike at Monte Lema by taking the cable car from Miglieglia.
Alternative hike
Hiking duration ~ 2 hours
If you are looking for a shorter hike while still being able to enjoy the beauty of the lakes, you can simply hike up to Monte Tamaro from Alpe Foppa and return to the same point, eventually taking the cable car back to Rivera.
Activities:
Besides hiking, there are other cultural and adventure activities you can enjoy while at Alpe Foppa. For instance, visiting the Chiesa di Santa Maria degli Angeli - a church known for its architecture, is one option. Kids can spend time at the adventure park and others can go zip-lining ,take a roller coaster ride or simply enjoy spending time at the restaurant,overlooking the mountains.
You have the possibility to stay in a mountain hut on Monte Tamaro, should you desire to hike for two days in the region.
2. Jaunbach Gorge : Charmey to Gruyères
Hiking duration ~ 3 hours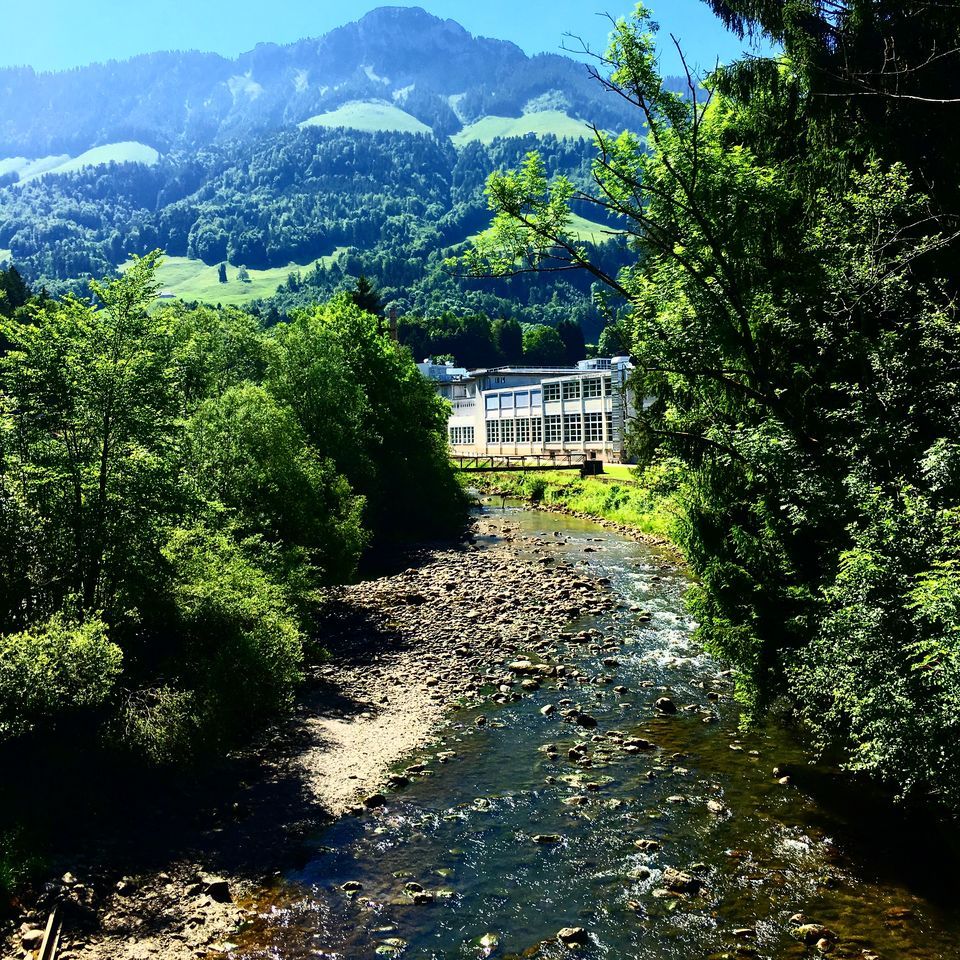 For a day full of varied adventure, Gruyère might be one of the best options. You can start off your hike from the mountain village of Charmey, cross the Lake Montsalvens, walk over the Jaunbach gorge and end it in the old town of Gruyère, famous for its cheese. The hike itself is not that challenging and you will be greeted by several wooden bridges, waterfalls, tunnels and scenic views along the trail.
You can also just explore a part of the trail for a shorter hike - such as from Broc to Jaunbach Gorge and back in an hour , or another such variation.
How to get there
You can either take the train to Charmey or alternatively get off at Broc-Fabrique or Gruyère, depending on your plan. You would have to take the same route for each of these destinations - via Fribourg and Bulle.
Activities
Once in the Gruyère region, you can indulge in a lot of activities. From visiting the 13th-century Gruyère Castle, churches and monasteries to visiting a Cheese Factory in the town , the Cailler Chocolate Factory in Broc or exploring the fascinating art work of HR Giger , you can take your pick and plan your day accordingly.
3. Gemmi Pass : The classic trail
Leukerbad - Gemmi pass - Daubensee - Schwarenbach - Spittelmatte - Sunnbüel
Hiking duration~ 4 hours
This mountain pass, located in the Valais region of Switzerland, lies about 2350 metres above sea level and connects Leukerbad to Kandersteg, both picture-perfect locations.
Sherlock Holmes fans might remember this pass in association with the story 'The Final Problem', when the protagonists crossed it to eventually meet Professor Moriarty at the Riechenbach Falls.
You will start your hike at Leukerbad, climb up the long and steep trail in the direction of the Gemmi Pass, from where you can enjoy the views of the DaubenSee. You can then go down to reach the Spittelmatte plateau and climb again to reach the Sunnbüel cable car station. If you like, you can proceed towards Kandersteg taking a cable car and then a bus to spend time at the enchanting Lake Oeschinen.
How to get there
Take the train to Leuk and then get a bus to reach Leukerbad.
Activities
Leukerbad is known for its thermal baths. So, you can certainly consider indulging in wellness if you visit this region. You also have the option to take a cable car from Leukerbad to Gemmi Pass or to DaubenSee.
4. Zermatt Lakes Trail
Hiking duration ~ 2.5 hours
Matterhorn might be the most famous peak amongst the 40 mountain peaks in Zermatt, owing to its depiction on the 'Toblerone' chocolate. The region also has 5 lakes, which makes for a panaromic hiking trail. You can either choose to cross all 5 lakes : Stellisee, Grindjisee, Grünsee, Moosjisee and Leisee or cover a part of the trail. The starting point of the hike would be Blauherd, which is a great view point amidst the Zermatt mountains and you might even get to see some marmots (large squirrels) while hiking. Swimmers can choose to stop for a dip in the Lake Grünsee or Leisee.
How to get there
To get to Blauherd, you would first have to take the train to Zermatt and then a funicular railway, followed by a chair lift.
Activities
Zermatt is a popular ski resort in the winter. But at other times, you can choose to go mountain biking, visit glaciers, take the cable car up to Matterhorn and visit the highest glacier palace, or choose of the many other hiking trails, including some themed-ones. Zermatt also hosts some festivals in the summer, such as the Swiss Food Festival, Folklore Festival and trail running in August.
5. Lavaux Vineyards
Hiking duration ~ 2- 3 hours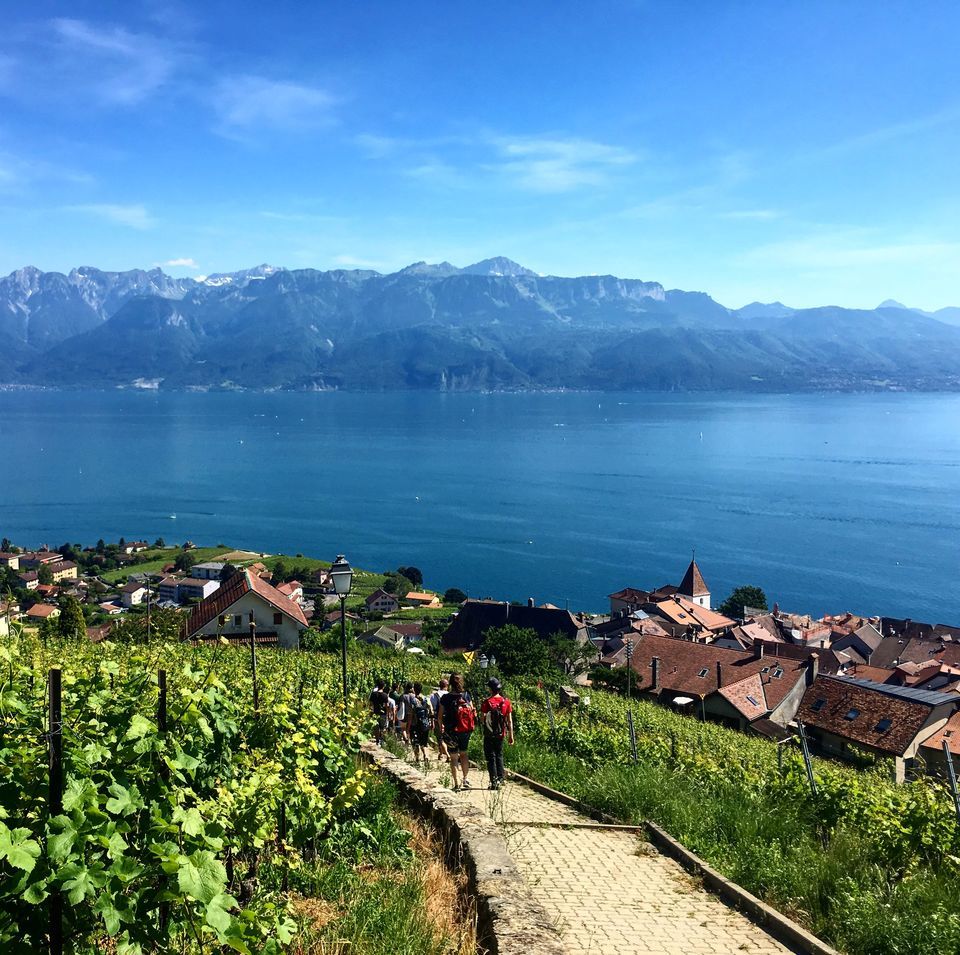 Vineyards in Switzerland might not be very popular outside the country, but the Lavaux region along Lake Geneva, a UNESCO World Heritage Site, makes for a spectacular hiking trail while adding elements of history and gastronomy at the same time. The vineyards in Lavaux , spanning over 900 hectares of land, date back to the 11th century. This region produces about 1160 litres of white wine and 900 litres of red wine every year, most of which is consumed within Switzerland itself.
During your hike, you will cross wine terraces, wine cellars, old churches while having panaromic view points over Lake Geneva. Make sure you have some eatables with you, especially if you are there on a Sunday, as many traditional wine cellars and cafes might be shut.
You can choose to hike for 2 hours from Lutry to Epesses or alternatively, walk from St.Saphorin to Lutry in about 3 hours.
How to get there
Take the train to St.Saphorin or Lutry, located near Lausanne. You can also get off at Grandvaux instead and visit the vineyards there, hiking further on.
Activities
Venture into a wine cellar to sample some of the local wines or visit a wine grower's home to learn more about the wine making process. You can look out for the 'Lavaux Express' (similar to a toy train), that runs across the region from Lutry through Cully.
Get more suggestions on where Swiss people recommend going for skiing or vacationing in Switzerland.
Check out europediaries.com for Europe travel, culture and food stories.
Frequent searches leading to this page:-
How much does it cost for a Europe trip from India?, Which is the cheapest country to visit from India?, Which is the cheapest foreign tour from India?, Which is the cheapest destination in Europe from India?