Is it any wonder that Wordsworth went into raptures over a field of golden daffodils? Granted, when it was forced on you in school, you might have wished he hadn't, or perhaps that he'd been satisfied with just looking at the dancing field of daffodils (or for the worst among us that he'd choked on it instead). Now that you're free from the arduous analysis inflicted on you by cruel teachers, you could follow some of the best valley of flowers in India to truly understand how incredible wild flowers can be. But do us a favour and don't write poems about them that will disgruntle future generations of hapless students!
Here is a list of the spectacular valley of flowers in India and the interesting tips you need to know about them. Read on and re-discover your love for nature.
That's quite the name to live up to, and in this instance, you'd be happy to know it does. Set in the Himalayas, in the state of Uttarakhand (India), the Valley of Flowers is part of the Nanda Devi Biosphere Reserve, one of UNESCO's World Network of Biosphere Reserves. What that means to us laypeople is that it's got more flowers (at least 520 alpine varieties according to the experts) than you could possibly take in, and then quite a bit more. You can combine a trip to the Valley of Flowers with a stop at Hemkund, one of the most picturesque Gurudwaras in the world. Nanda Devi National Park, to the east of the valley, also has endangered species of animals, including the snow leopard.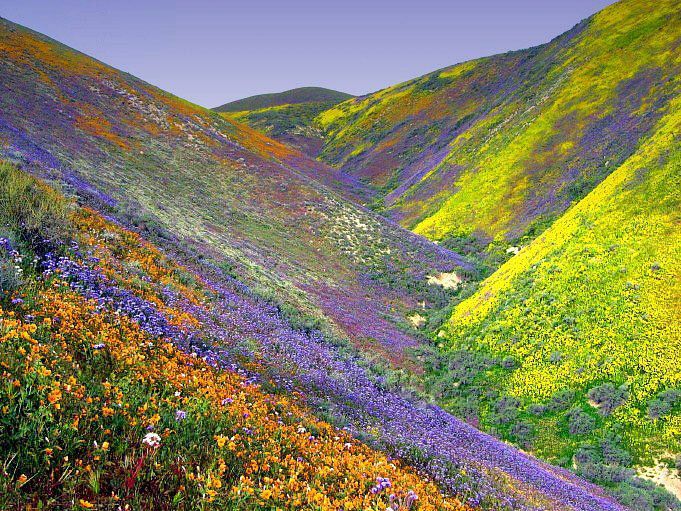 Via
What you need to know: That kind of reward doesn't come without effort; the effort in this case is a 17-kilometre trek from a small place called Gobindghat, which is about an hour away from Joshimath, the closest town. You trek about 14 km to Ghangaria, where you can stay overnight. Go three more kilometres to find a colourful and incredibly fragrant holy grail of flowers of every hue imaginable, and a few more your imagination will discover. The best time to go is right after the monsoons, between August and September next year. You need a permit from the Forest Department, at Ghangaria, which most organised treks will arrange for you. It's valid for three days.
Flower Valley of the Western Ghats, India
The Western Ghats, in a brave attempt to not be outdone by the Himalayas, has a valley of flowers of its own in Maharashtra. While it might not be as vast an impressive as the Valley of Flowers, it's still spellbinding. Different flowers bloom and close through the day onKaas Plateau, which means that what you see in the morning is not what you see around sunset.  Adjust your expectations, though – you're more likely to find vast numbers of small flowers rather than a few spectacular, big, individual blooms. Kaasa, the flower from which the plateau gets its name, is the most common. It is a UNESCO World Heritage Site. Kaas Lake, towards the south of the plateau, is another attraction close by, as are the Vajrai and Thoseghar waterfalls, if you'd like to make a real day of it.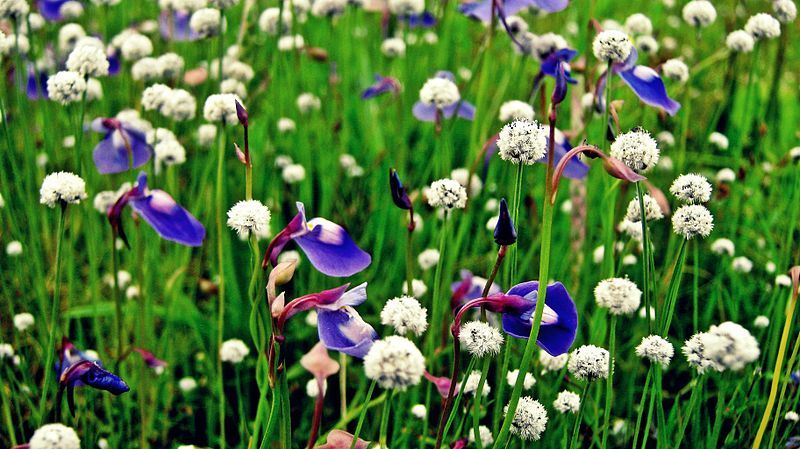 Via
What you need to know: August to September is the best time to follow the flowers to Kaas Plateau. Kaas Plateau is about 125 km from Pune and 280 km from Mumbai. It's a part of the Sahyadri Range and about 22 km from the nearest town, Satara. The most direct way to get to Kaas is through Satara and it is possible to drive all the way to the valley if you don't feel like hiking it. Once you get there, you'll find flower trails to follow. You need to pack raincoats and good trekking shoes on a trek here because monsoon showers leave parts of the trail quite slippery.
Flower Trails in the Northeast, India
There are loads of trekking options in the northeast, and you will find plenty of gorgeous flower-filled valleys and mountain sides along most of these treks, but there are two places in the northeast that are especially stunning for their flowers: Yumthang Valley in north Sikkim and Dzukou Valley in Nagaland.
Yumthang Valley is right at the treeline, which means that it isn't just a field of flowers; you see a mingling of the deep greens of the trees with the brightly colourful flowers, the most eye-catching of which are the rhododendrons. There are also smaller flowers like primroses, cobra lilies and so on, but the rhododendrons are the stars of the show.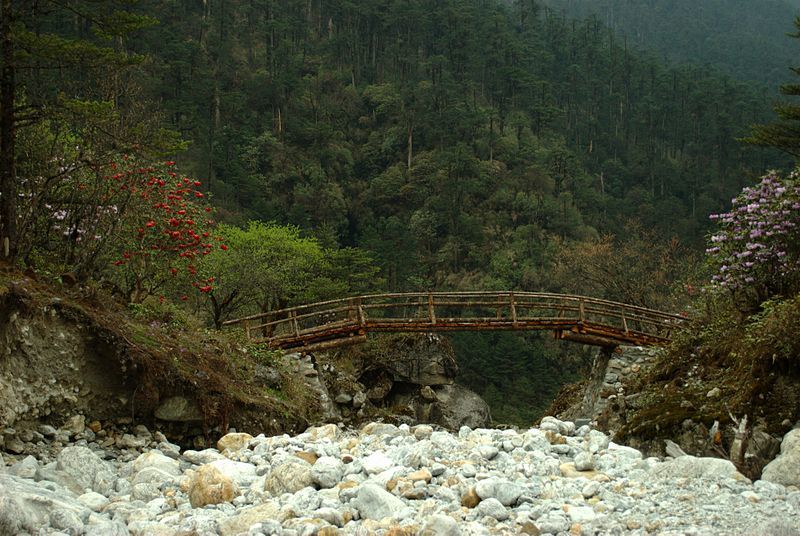 Via
What you need to know: It will be bone-chillingly cold in the winter, so you will want to go when the weather is milder. The best time is spring, because the rhododendrons put on their best show by May. The closest airport is Bagdogra, from where you can take a shared cab to Gangtok; there, you can get a permit to go to Yumthang Valley. There are shared one-night and two-night trips to Yumthang Valley from Gangtok. Once you reach the valley, go on the rhododendron trail. Remember that this is close to the Indo-China border, so follow all instructions. Don't forget to pack a warm sweater and a pair of gloves!
Dzukou Valley is one of the best trekking trails of the country, and one of the most popular in the northeast. The bamboo brush, the different kinds of lilies of many colours, aconitums, euphorbias and of course, rhododendrons, make an unforgettable sight. Add the little streams winding through them and you have a vision that you won't need any photos to help you remember forever.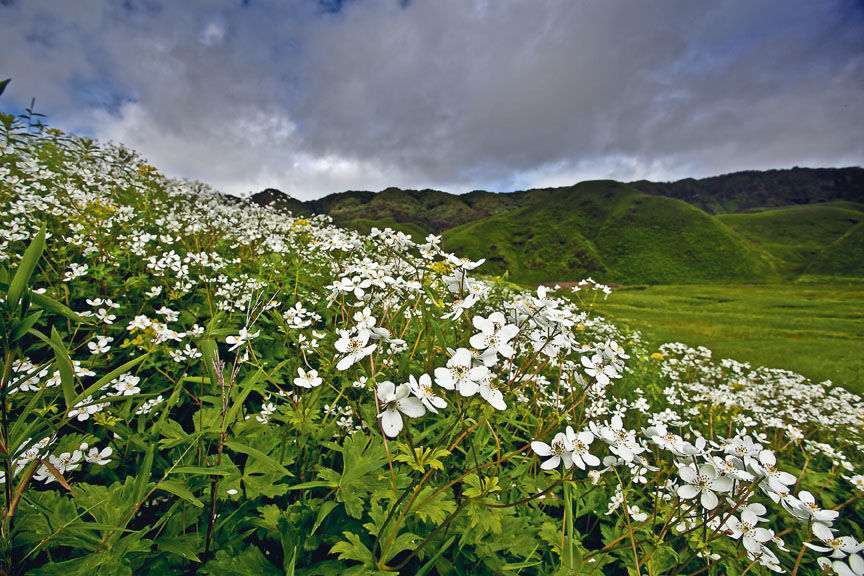 Via
What you need to know: The closest airport and railway station are both in Dimapur, from where you can hire a taxi to go to Dzukou Valley, but you will still have a few hours' trek at the end of the cab ride to get to the valley itself. Around the monsoons is the best time for a visit, with June and September in particular being highly recommended. There are guesthouses near the valley, so overnight trips are quite possible.
If you're wondering if we don't have flower trails in South India, we've got something more remarkable. South India has one of the most extraordinary flowering phenomena of our country or perhaps best flowers of India.
In Munnar, Kerala, there is a flower called Neelakurinji which blooms only once in 12 years. But the one time it does bloom, the hillsides are covered in them, turning the area into lovely rolling vistas of blue instead of the habitual green. The next flowering of Neelakurinji is expected in 2018, so you have plenty of time to plan this one. At the moment, the closest airport is Cochin and the closest railway stations are Aluva and Angamali, each over 100 km from Munnar. But a lot could happen in three years and a few months, so it could be more easily accessible when it's time for the hills of Munnar to turn blue next.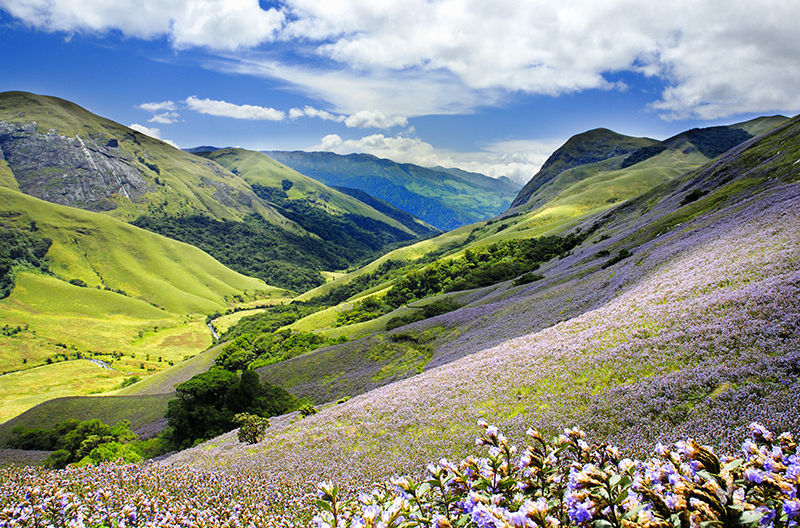 Via
Pack your luggage and take an adventurous trip to these blooming valley of flowers in India.