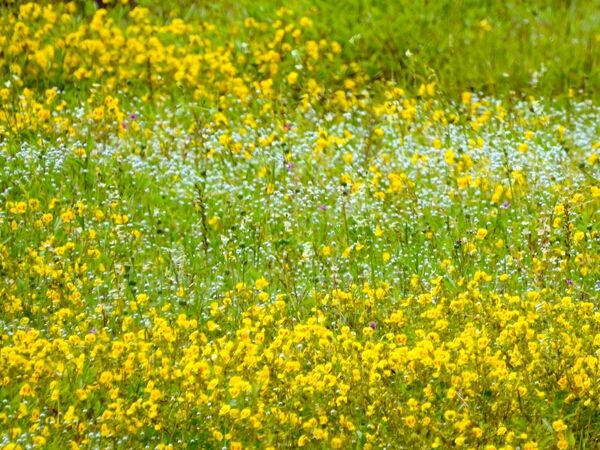 Kaas Plateau!!!  is unbelivabley beautiful. Visit to Kaas plateau was pending in my travel to do list from last few years and fortunataly i managed to 9visit this majestic beautiful place in this september.It is a heaven for nature lovers and great place to click amazing photos with the huge variety of flowers. This place is also known as Maharashtra's valley of flowers.
About Kaas Plateau:            
 The Kaas Plateau is situated in Sahyadri Ghat ranges close to Satara city of Maharashtra. The name Kaas originates from Kaasa tree (Elaeocarpus glandulosus). The leaves of the tree turn red from green as it matures during the month of March. The area of plateau is approximately 1,000 hectare.This place has more than 850 different species of flowers and plants which blooms throughout the year.                   
This UNESCO world heritage is carpet of vivid colours of flowers that are in full bloom during the month of August and September. These flowers bloom on their own and stay for about 2–3 weeks depending on the monsoon and other weather factors.
The road trip
Along with the 15 companions,we headed to kaas, which is a seven hours journey from mumbai.Amazing journey through satara-kaas road,One side you will have the hills and on the other valley.we reached kaas pathar around 5 am.rested till sunrise.post breakfast moved towarda valley of flowers. Exploring kaas pathar The only way to explore the plateau is on foot. Our guide has shown us various varities of flowers like sita's tear,jambhali manjiri,kavala-mickey mouse flower,kumudini-type of white lotus( we walked around one hour in search this flower and it was worththe whole lake waz covered with thhousands of kumudini).we got engrossed in knowing,learning and clicking the pictures of all varied species of flowers.For a layman it is difficult to indentify most of the flowers.apart from numerous varities of wlid flowers (some of which are endemic to kaas pathar only)this boidiversity site is also shelters many insects,birds, reptiles,amphibians and varied  species of butterfly.
It was great experiencw to stand in the midst of wild flowers -ranging from pink to purple to yellow colurs,the entire region is covered with tiny wild flowers as far as your eyes can see. There are patches what we can see layers of different colours on the pathar making it look like a rainbow of flowers on earth.
Food and stay
One cannot enjoy 100% if local food viz. Bhakari and sukha chiken(made on chulla)or bharli vangi is missed.There are only handful hotels and homestsys you can choose from.
Things to do around
kaas Thosegar waterfall,kaas lake,bamnoli ferry ride,sajjangad fort, chalkewadi windmill and This beautiful images will make you want to pack your bags right away. Sent from Samsung Mobile