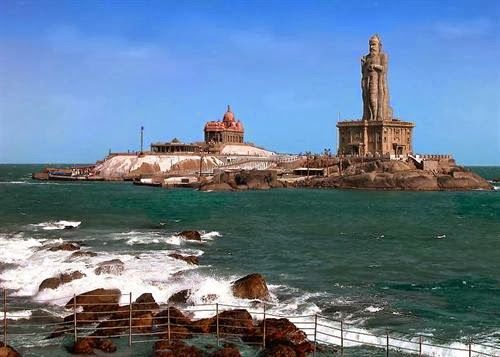 Surrounded by Majestic hills and the plains bordered by colorful seas-shores, fringed with coconut trees and paddy fields, few elevated patches of red cliffs with undulating valleys and plains. Among the mountainous terrain and the seacoast so closely inter-woven with the Temples, churches and other edifices, lies the town of Kanyakumari in the state of Tamil Nadu.

Kanyakumari, also known as Cape Comorin is mainly a pilgrim center due to the presence of the temple dedicated to Goddess Kanyakumari. Apart from its importance as a pilgrim spot the scenic beaches are the major tourist attraction. Some of the popular attractions are Kumari Amman temple, Vivekananda Rock Memorial, Tiruvalluvar, Statue,Gandhi Memorial and Udayagiri Fort.
Vivekananda Memorial is one of the major attractions. It is said that Swami Vivekananda sat here in deep meditation. The memorial was built with a combination of traditional and contemporary architectural styles. Near the Vivekananda Memorial stands a magnificent statue of Tiruvalluvar, the first century BC Tamil poet. He is often considered as one of the greatest classics of Tamil literature.
Souvenirs and handicrafts articles from seashells and palm leaf are the main attraction to buy from. Decorative items made of wood; jute and bamboo are a good purchase at cheap rates. The town being to beaches means that the temperature remains pleasant throughout the year. Therefore tourists can travel any time except for the rainy season, which is from June to August. The best time to travel would be from October to March. There are numerous hotels with good facilities well within the budget of tourists.
Kanyakumari is well connected by air, rail and bus to major parts of the country. The nearest airport is situated at Trivandrum about 80 kms away. From there direct services are available to Bangalore, Mumbai, Cochin and Delhi.