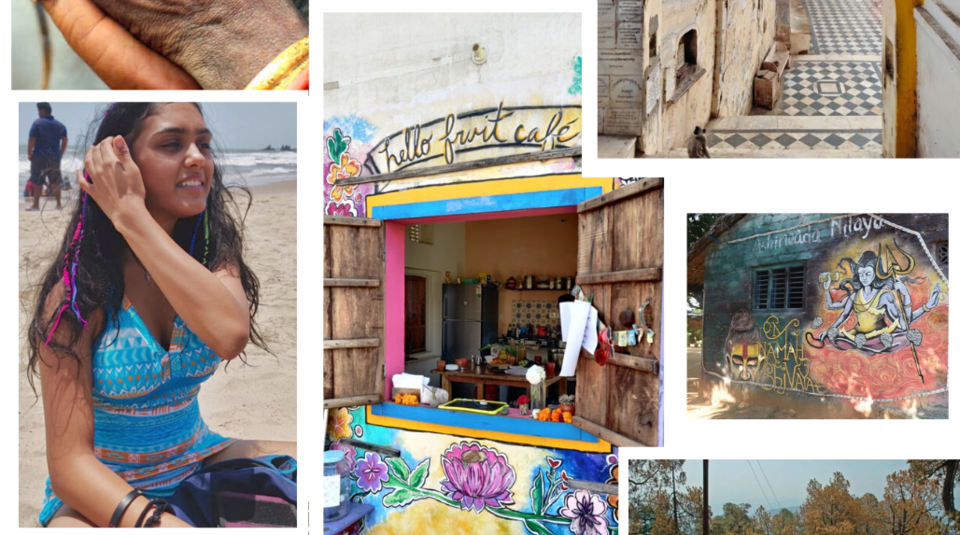 This article is an extract from my blog. Please do visit my blog Ftrouble for more travel stories, travel itineraries and facts. You can also get in touch with me at : surabhikeerthi@gmail.com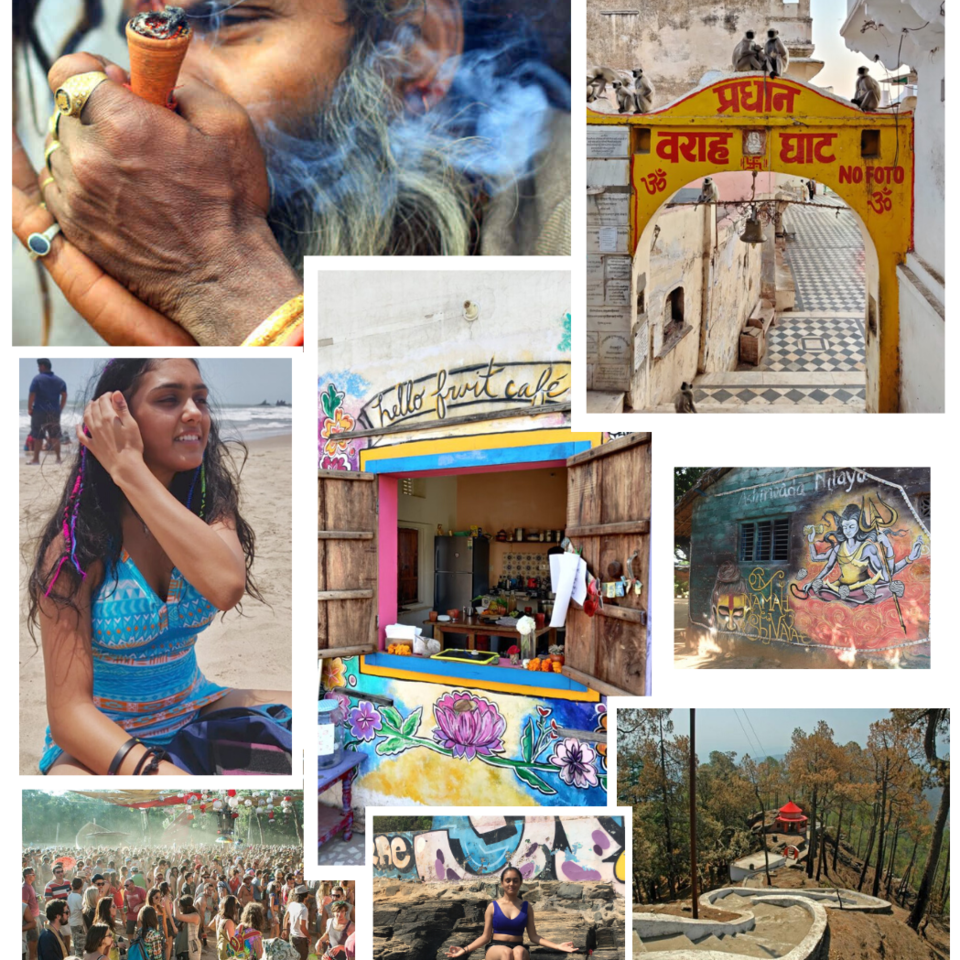 The Hippie movement might have remained in the 60's but the people have not. Little did we know that their happy free - spirited trail would end up in India. The small unexplored, tranquil and quaint towns of India are the most sought-after spots for these pot-smoking, vibrant and peace-seeking nomads called Hippies from all over the world.
This Hippie influence has been present in India for many years now, and the motive has still remained rigid. They are celebrating, exploring, learning in their own pace, in their own terms and 'tripping' on the life they have chosen. And all against the norms of the society. It is one of the cultures all of us should try and embrace for a while.
In this post of mine, I am listing down the top 5 Hippie places that I cannot wait to visit. If you are looking to get away from your daily routines and try your hand at being free-spirited you might want to visit these places. They offer you a pleasant location, a beautiful weather and some great herbs.
The places I have listed are also under green zones, and is absolutely safe to travel post corona.
1. Hampi, Karnataka - The city of ruins
This city of architectural ruins and vast landscapes has two different stories. Don't get fooled by the heritage sites, temples and monumental beauty of this place. There is another side, a complete opposite to the touristy history destination the place seems to be. While most of the tourists tend to remain to the south of Tungabhadra river, some prefer the other side which is a haven for a rich, chill and hippy vibe. Upon reaching Hampi, you can get to the island by catching a small boat strictly between 9 AM - 5 PM or choose to ride for 45 kms from Hospet.
The Hampi Island or Virapapur Gadde is also called the Hippie Island. Just as much as the beauty of the ancient monuments, remains of the Vijayanagara kingdom and carved temples will awestruck you, this small hidden part of Hampi Island will leave you forever wanting more. It is a gorgeous setting with murals in every corner giving out happy vibes. This rocky land has everything you can possibly ask for. You can find hippies dancing around to psychedelic music, any sort of drinks or smokes and a no-crowd environment. A perfect spot for relaxing amidst the nature, vibrant cafes offering delicious meals and Bob Marley in the background, this sure is a place I and probably you would love to visit.
2. Malana, Himachal Pradesh - Valley of Cannabis
This is known as the city with the best hash in the world and the people in this city have some secrets they are keeping from the rest of us. This place grows the most fine weed in India. Malana is famous for 'Malana cream' - a high purity hash. This Malana cream can cost 2.5 to 3 Lakhs INR, so a pretty expensive product from a place so secluded. Like in the rest of India, Malana cream is banned and not legal. But this does not stop them from selling it.
To know the mysteries of Malana and what makes this place and the people living here so peculiar please visit Ftrouble. I have listed down 6 mysteries and interesting facts of this place which will leave you spell bounded.
3. Kasol, Himachal Pradesh - Mini Israel of India
No list of Hippie places is complete without mentioning our own mini version of Israel , Kasol. This small village sits in the Parvati valley of Himachal Pradesh and is nestled in the vibrant greenery of dense forests. There are some great cafes on the hills to sit back, chill and enjoy a view of the snow-capped mountains. Whether you are a solo traveler or with a gang of your own, you can turn any place alive by engaging in some music and dancing your heart out. The place offers an abundant amount of good quality herbs grown in the local regions to bare the cold winters or beat off the hot summers.
Kasol is also a very famous trekking paradise. There are trekking trails to Sar Pass, Pin Parbati Pass and many more. The place is inhabited by a very large number of Israel people, and hence got the name of Mini Israel of India. The diversity is so concentrated that you can see signboards in Hebrew - Israel's official language. There are also plenty of street food stalls serving up delicious Israeli food. The flea markets in Kasol are famous for selling semi precious stones and other souvenirs.
There is also a small village called Tosh in close proximity to Kasol. To learn more about why this place is called a 'Hidden Gem' and to get a glimpse of the party scene at Tosh, please visit Ftrouble.
4. Pushkar, Rajasthan - A City Raw and Untouched
The city has endless temples and hundreds of ghats. The only temple dedicated to Lord Brahma is in Pushkar. And you might want to visit these for all the hippie sins you are going to commit later on. It has threefold mountains in the background, a clear sight of the desert and getting stoned by a sitting in front of the lake with chanting of mantras as background music makes it one of a kind. Pushkar also hosts the best International Holi party in India during March. It is considered the best trance party with people from all over the world coming to lose their mind on good herbs and music. The famous Pushkar Camel festival is held during November for the purpose of Camel trading. It is a colorful sight with a blend of Hippie-ness and authenticity.

To read more about the true Hippie-ness of Pushkar, the Israeli Neighborhood, their rules and an Chabad - an exclusive place for Israelis, please visit Ftrouble.
Pushkar is famous for Jewelry making. You can find foreigners coming for the sole purpose of buying semi-precious stones and to learn the art of Jewelry making. The place is very religious and hence alcohol and meat is prohibited. But the variety of Bhaang, Chillums, Hash and streets full of fast food stalls serving delicious Falafels will fill up that void unknowingly. Pushkar is very famous for Vegan food. The town is so small you can cover it in an hour on foot. If you get a little away from the main streets, it becomes super quiet. All the traffic noises, the horns, the vehicles, everything fades away and you can find yourself in peace. Pushkar is a paradise for people wanting to relax and I definitely have to visit it.
5. Almora, Uttarakhand - A Spiritual - Hippie Ridge
Almora is one of the popular hill stations in India, at an elevation of 5400 ft. above sea level approximately. Kasar Devi is located in Almora and the locals call it by the name 'Hippie Hill'. Almora is a much cleaner and peaceful spot than Kasol. This ridge of Hippie Hill is called as 'Crank's Ridge'. For people looking to score here, there are a lot of places supplying the necessary stuff. Not to forget, Nainital grows very good quality weed and it is just 60 kms away from Almora. So you can expect a lot of people in possession of what you are looking for. In search of peace, spiritual development and a bucket full of fun? Well Almora must be an option you want to consider.

6. Gokarna - A must visit if you haven't already
The one place I have gone 3 times to and I do not think I will get bored of it anytime soon is Gokarna. Some sort of a newly found hub for Hippies from all across and beach lovers. It is a Hindu pilgrimage center but these spiritual souls are not restricted just to devotion. The calm beaches transform into a an amazing nightlife you cannot resist. If you have music to play and some stuff to score, Gokarna will take care of the rest.

Gokarna suddenly became the place Hippies wanted to settle for a while because of its simple beaches and how perfectly it is secluded. Another reason for Gokarna being newly recognized as a Hippie's paradise is because Goa is very commercialized and flooded with people all times of the year. If you have music to play and some stuff to score, Gokarna will take care of the rest. The calm beaches transform into a an amazing nightlife you cannot resist.
If you wish to know more about every beach in Gokarna, the stays, the food, the party scene and places to visit in and around Gokarna, I have a dedicated blog post for it. You can visit the page on my blog through here : Gokarna Blog Post - Ftrouble.
If you want a brief list of a bunch of other Hippie places in India, please visit Hippie Places to Visit in India - Ftrouble. Or if you want to know more details about the places I have mentioned here, feel free to get in touch with me through surabhikeerthi@gmail.com
Thank you, I hope you enjoyed this space!