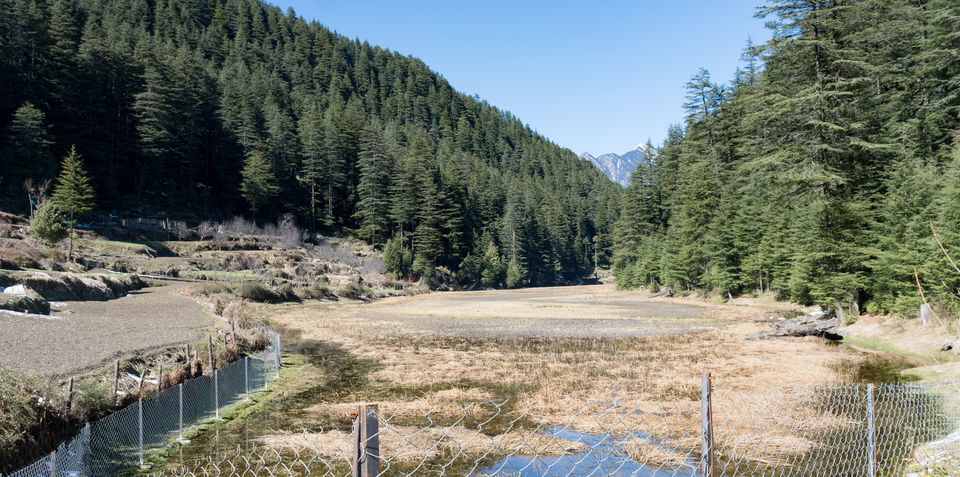 As our team of 6 i.e., Rituraj Kundu (Bumba), Biswa Roy (Biswa), Raju Adhikary, Surojeet Bera, Sandipan and Anamika Banerjee started our Trip from Kolkata and reached Delhi early in the morning by train. We checked into a Hotel near Paharganj just to get refreshed and feed ourselves as we have to start our onward journey to Aut by Volvo bus from ISBT Kashmiri Gate around 6:30 P.M. in the evening. (P.S. It is always better to check out early from hotel to reach ISBT in time, as we were stuck in nasty traffic and reached Kasmiri Gate just in time, which was really scary.) Finally we boarded our HPTDC bus (Fare Rs.1600/- and 'Aut' is on the way to Manali) for a long 9-10 hours journey to reach our destination.
The roads were bumpy in few places, otherwise the journey was comfortable. We reached AUT around 4 A.M. (Do get off after crossing the AUT tunnel) in the morning. Construction works were going on, the area looked dirty and the whole place was deserted, dark and all of us were shivering due to cold for sudden drop of massive temperature. We were all wearing 3 layers of proper protection (Base Body warmer, Mid Fleece jacket with a Top Feather Jacket all from Quechua) to protect us from the cold but the chilly weather was just unbearable. We found a Shop, which was open near the bus stand located below the main highway (tough to find in that sort of darkness), which literally saved us by serving Hot coffee and Maggi. We were carrying Old Monk Rum with us in our backpack, we unpacked it inside the shop and mixed some Rum with HOT water and had it to get rid of the chill. The shop owner helped us to get a local taxi which charged Rs.1300/-to drop us in the Forest Rest House, Ropa in Sainj Valley. We have booked our rooms well in advance with The Great Himalayan National Park. It took us around 1 hour and 30 mins to reach the Forest Rest House, Ropa. The property is really beautiful in the lap of nature with big rooms and comfortable bed with basic amenities like Room heaters and Geysers, etc. The cook cum manager Govindji was really nice and friendly. He cooked us very tasty foods but you need to order before hand so he can purchase raw materials from the local market which usually closes within 4 P.M. Our TL RiturajDa is pro at making bonfire (it was also a life saver as the temperature dropped to -8 degrees along with gushing wind) which really gave us warmth after the sun set. We all collected woods and dried branches (Anamika was specialist getting the dried branches of trees, which were really effective for lighting up the bonfire) during the evening, it was a fun affair. We relaxed sitting beside the bonfire enjoying the heat, Surojeet sang beautiful songs, drinking Rum with Egg Bhajji and salad under the star studded sky surrounded by mountains. Few snaps of the day attached below.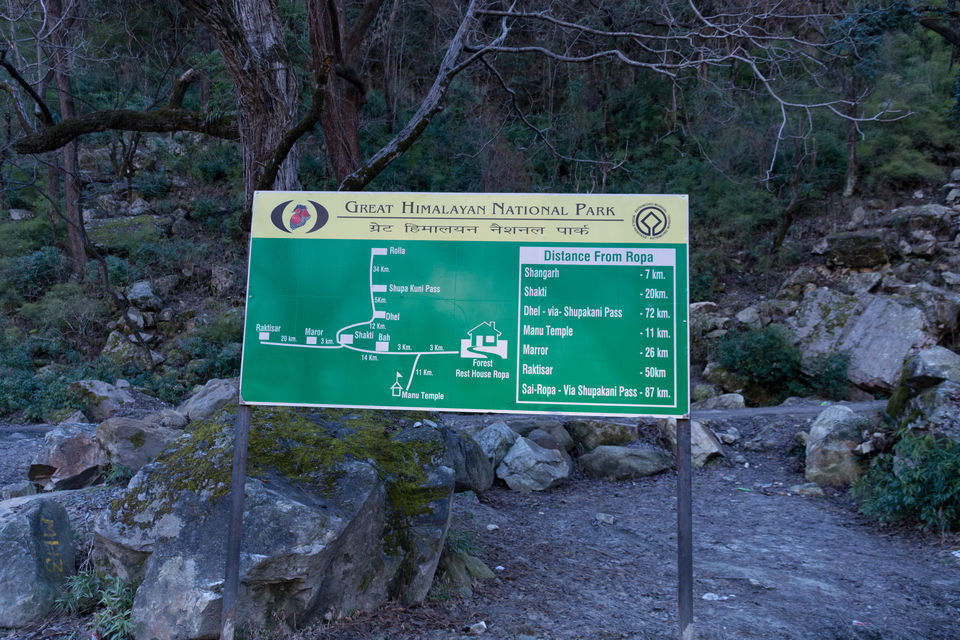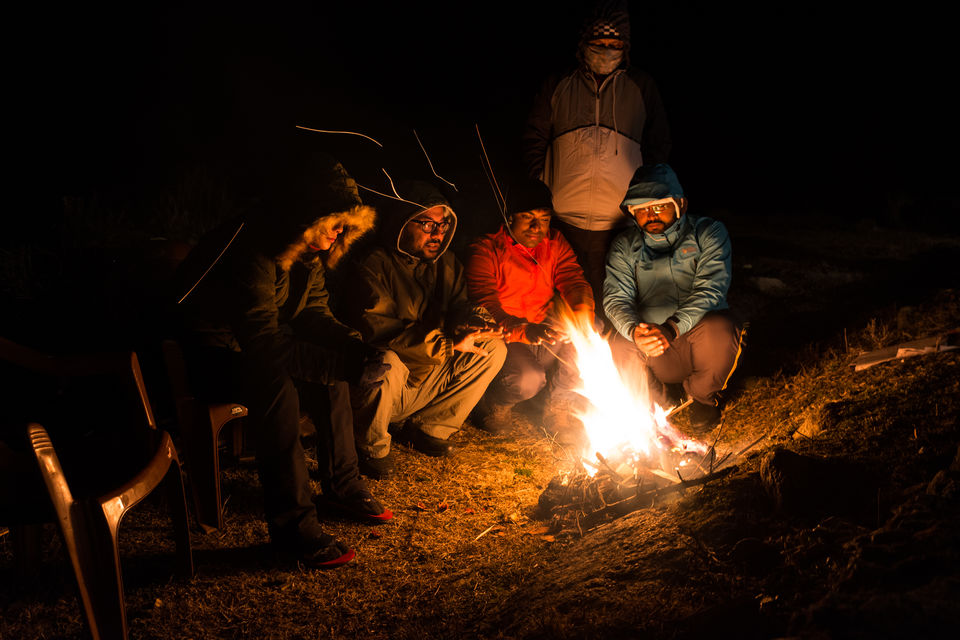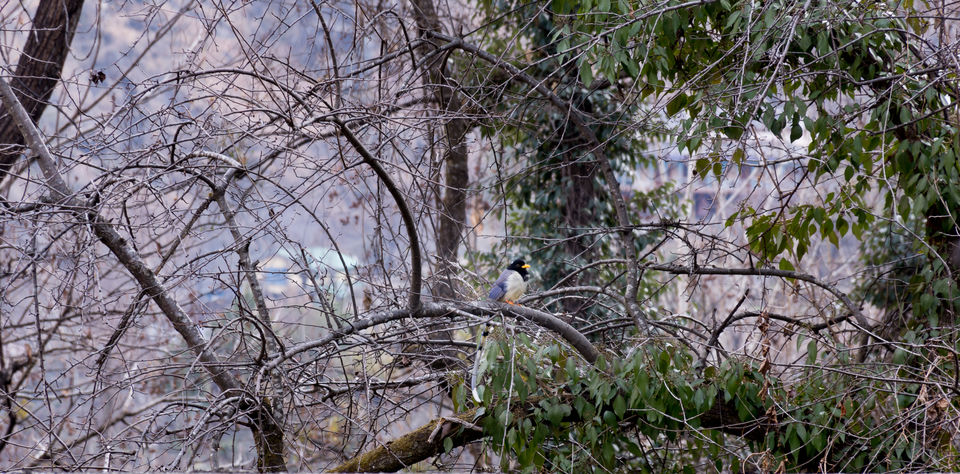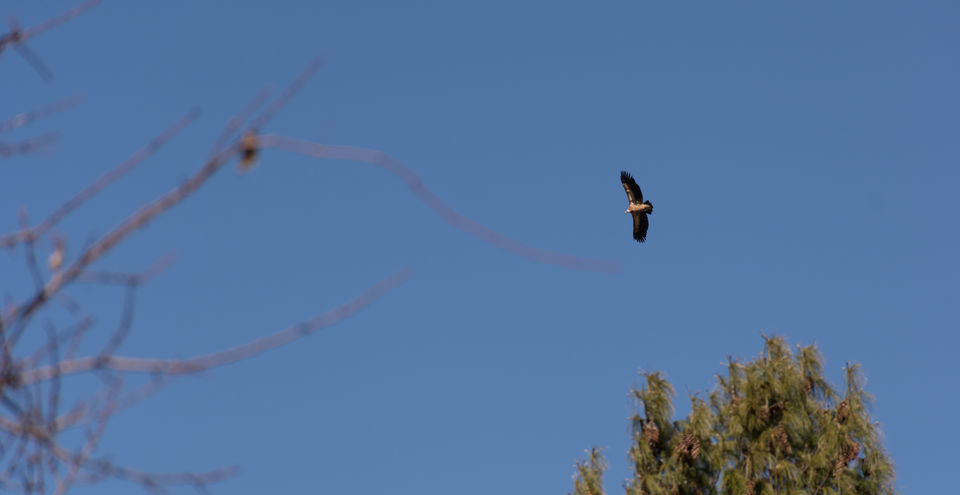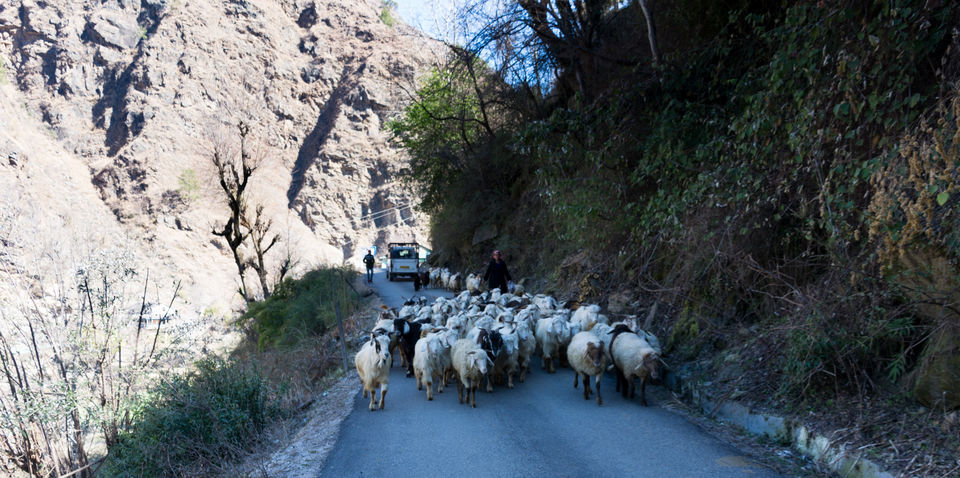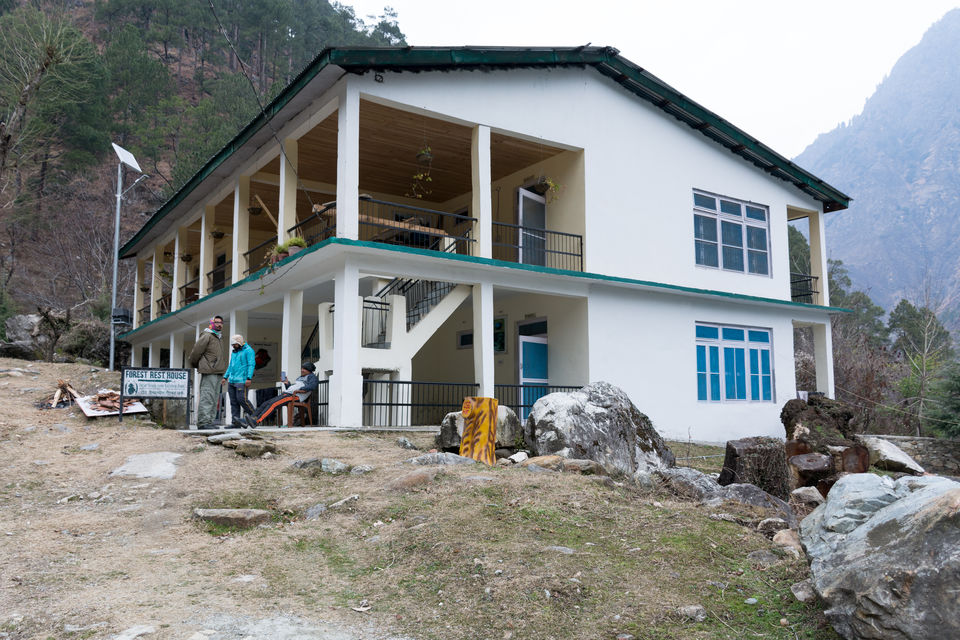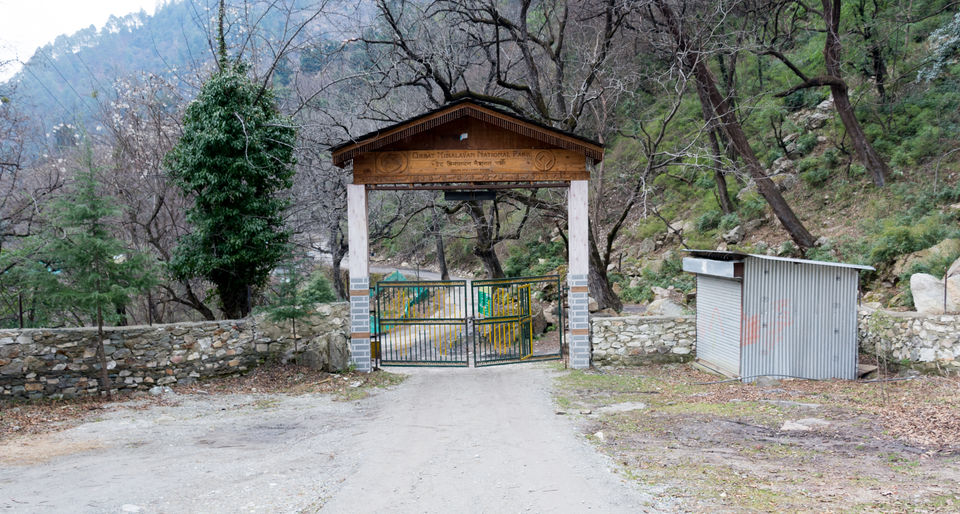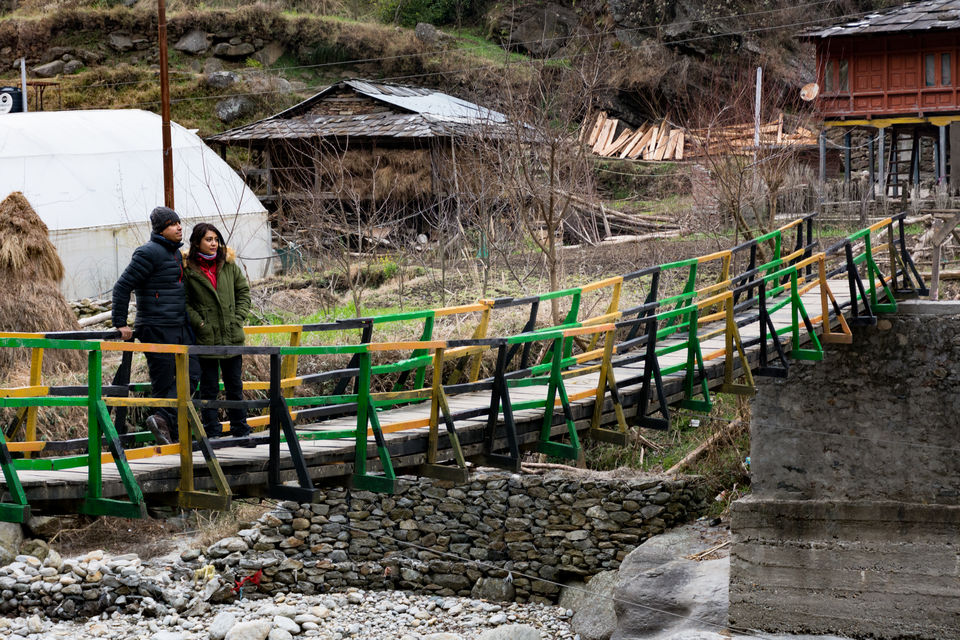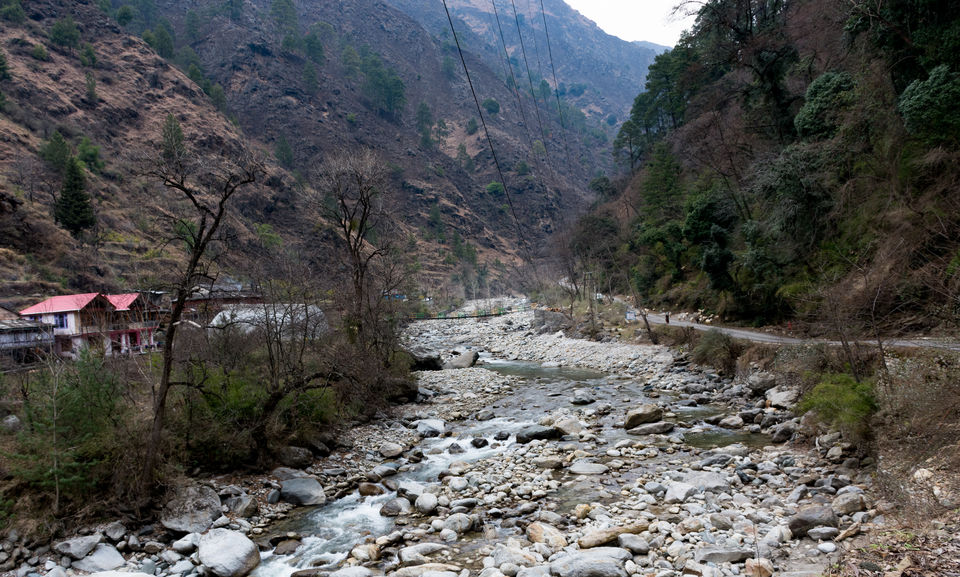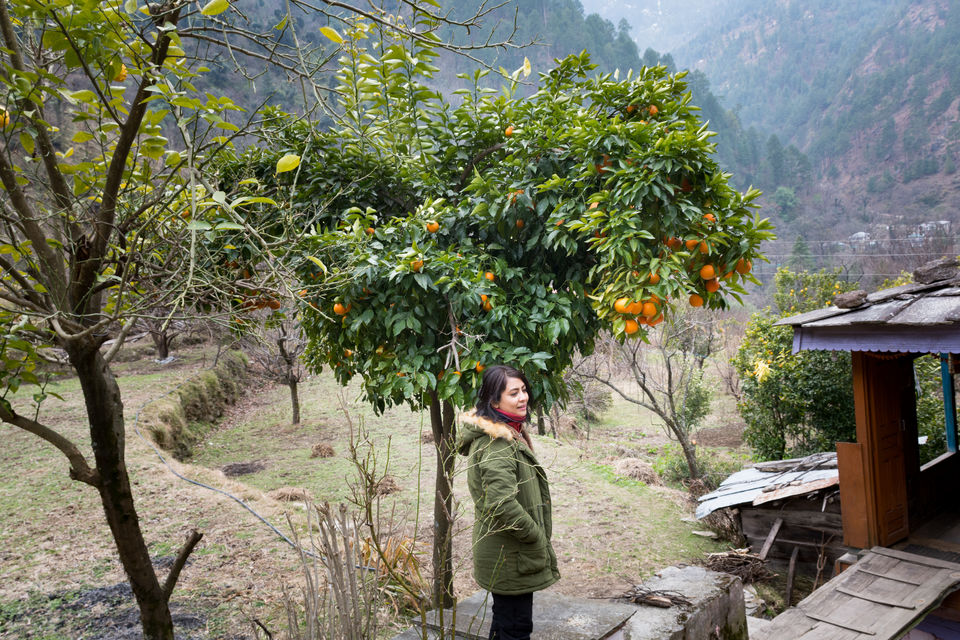 Today we woke up early in the morning and we were greeted by the perfect strong Black coffee made by Rajuda. We loaded our small-medium sized backpacks (for day hiking) with Hot water, coffee, cheese, dry cakes and dry fruits as it was a day long (11 kms) hiking. We finished our light breakfast and without any guide we started our journey through the Great Himalayan National Park, which is also a UNESCO World Heritage site to Pundrik Rishi Lake. It is a very sacred lake for the natives. The trail takes you through semi dense forests with big Pine & Oak trees and you can spot different species of flora and faunas (in seasons) and Birds. After few kms of hiking when the trail opens out of the forest, you get excellent bird eye views of the Sinj Valley and mighty ranges surrounding the region. Took some beautiful landscape photographs and kept on going but at one point where two roads were going upward but at different directions created a bit of confusion. Luckily we met a local coming down from one of the road who told us to go straight and we were saved from walking extra few more miles from taking wrong turn. After 2-3 kms of hike again same problem aroused but again we were lucky to met a woman with her kids who showed us an alternate shortcut to reach the Village passing between the apple orchards on the way to reach our destination. This shortcut was very stiff but the views from there was breathtaking. We found a nice spot to relax and enjoy the panoramic view of mountains with a cup of coffee, cheese and dry fruits, which really boosted our energy level. When we reached the top after climbing few stairs we can see the village and apple orchards everywhere. Few stretches of the road where thin layers of ice formed from melted ice were really slippery. Carefully we crossed these stretches and entered the meadow. We were welcomed by the Magnificent view of meadows surrounded by mountains. The view here is so refreshing that we all got our energy back. By the side of the meadow there lies a school and one of the teacher were off duty at that time. He came along and took us to the Pundrik Rishi Lake through a dense Pine forest which is located just opposite the meadows. The site of the lake is very spectacle as the water is underneath grassy marsh and it is protected with barb wire so one can enter. We met a very cute furry dog named Jumbo who kept following us the whole time. It was time to bid adieu to this picturesque place. The bonfire became a ritual for every evening before we call it a night.
PS. Jumbo followed my wife all the way from Pundrik lake to GHNP rest house and stayed back .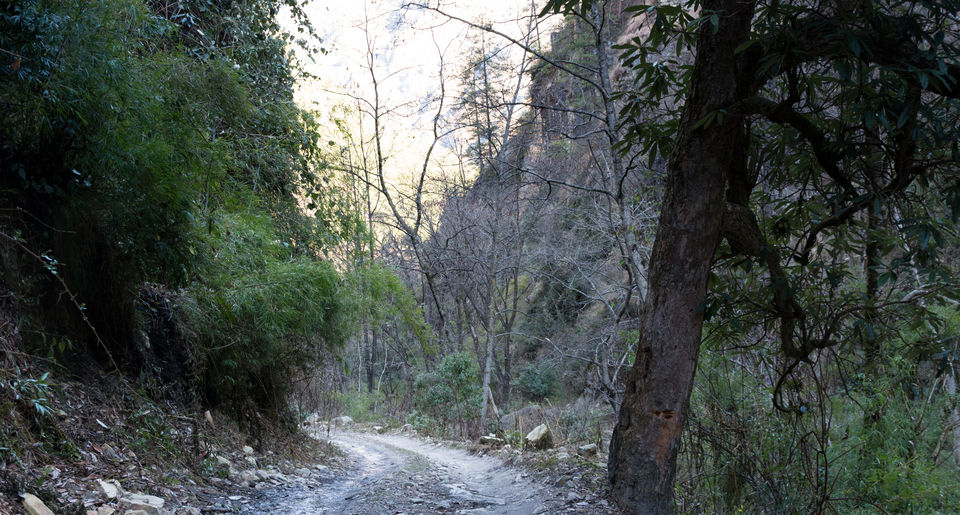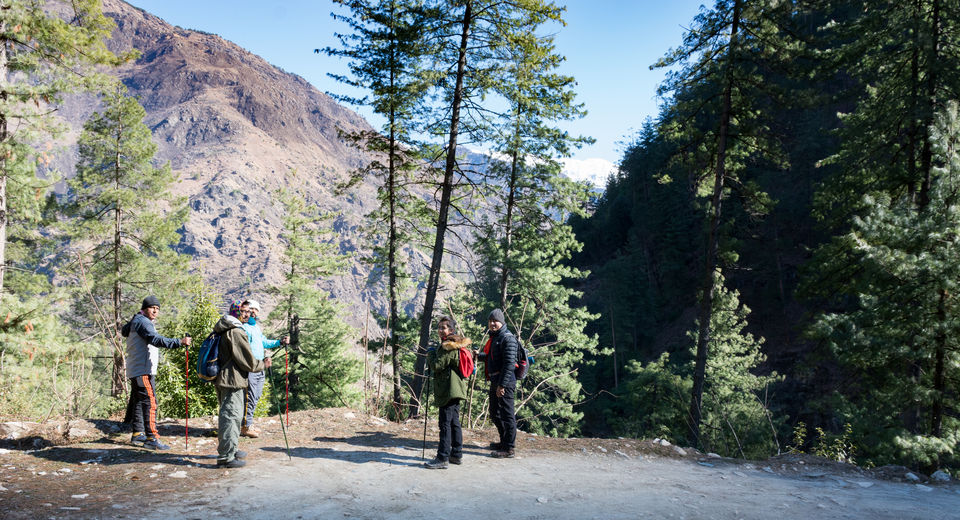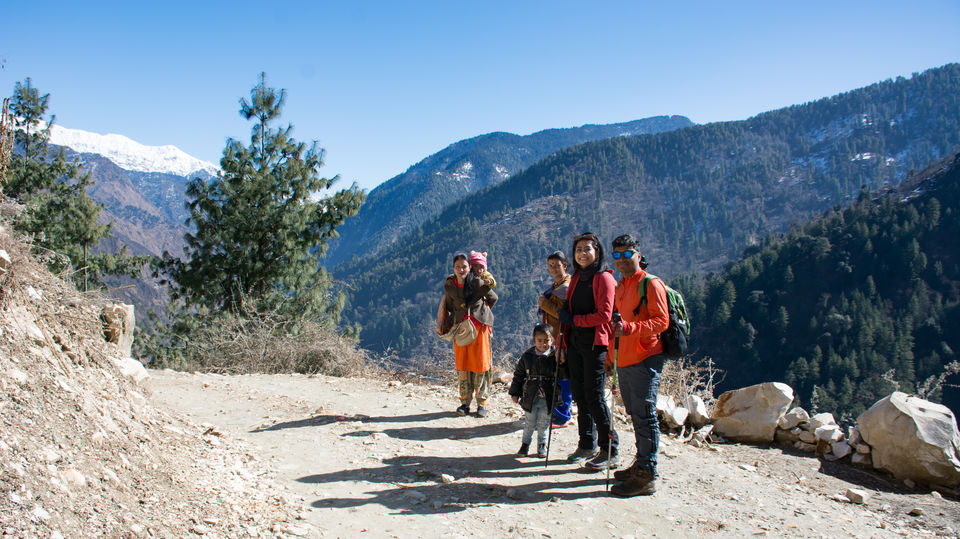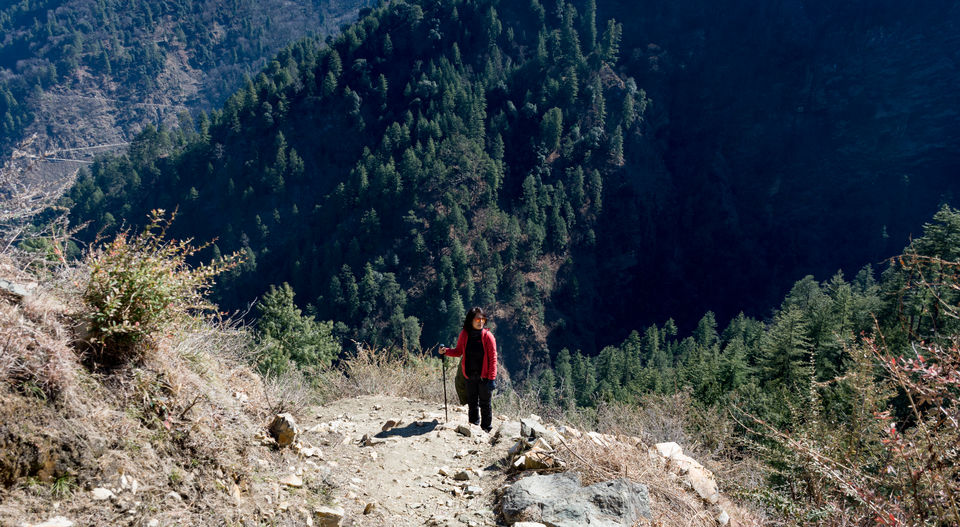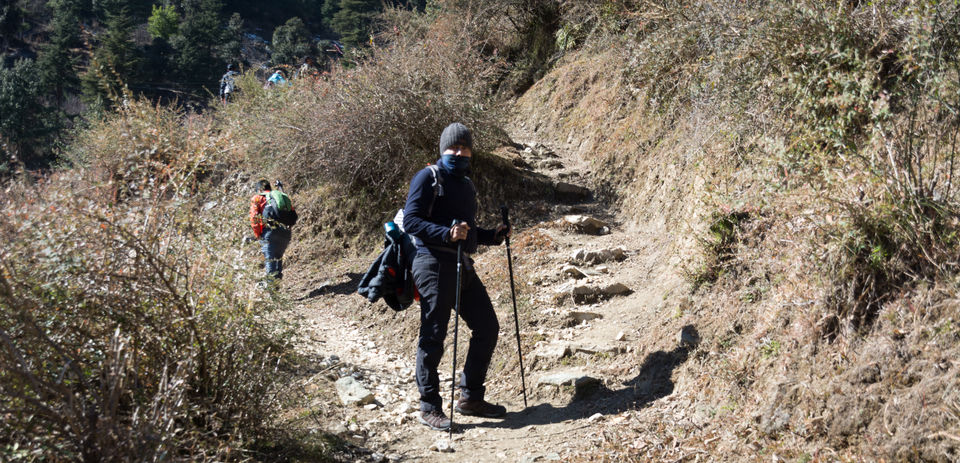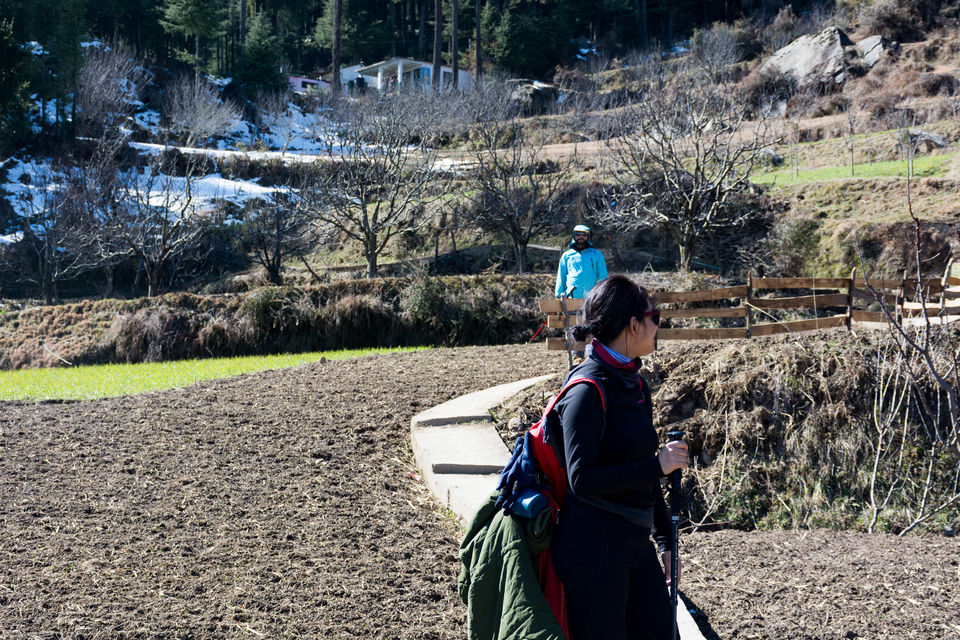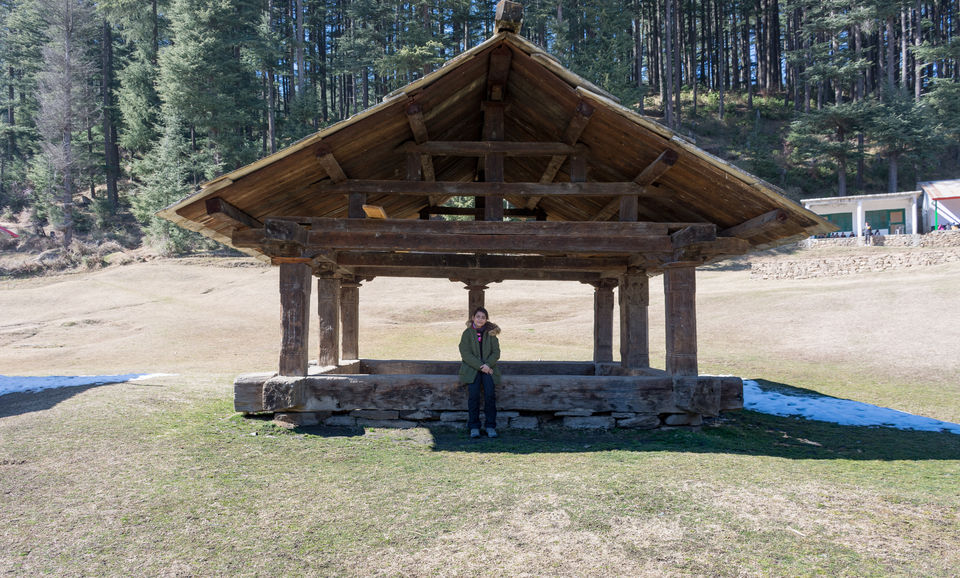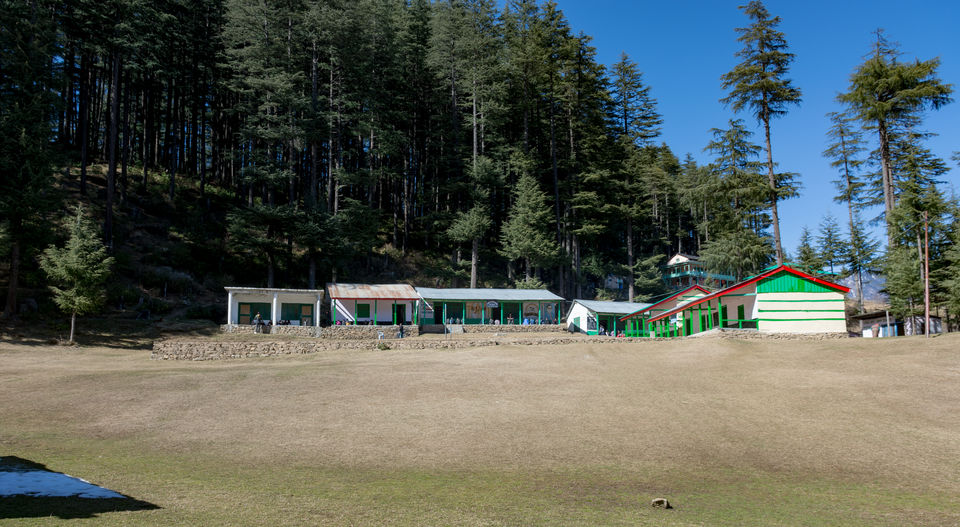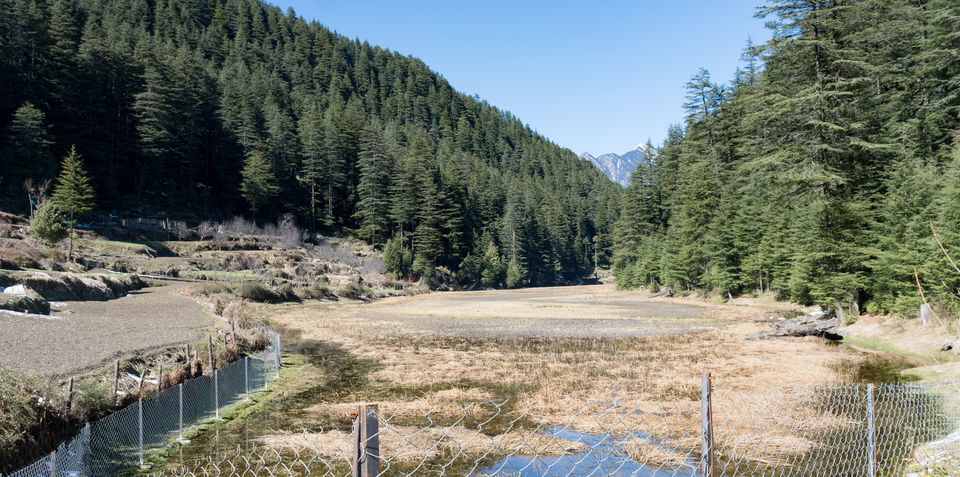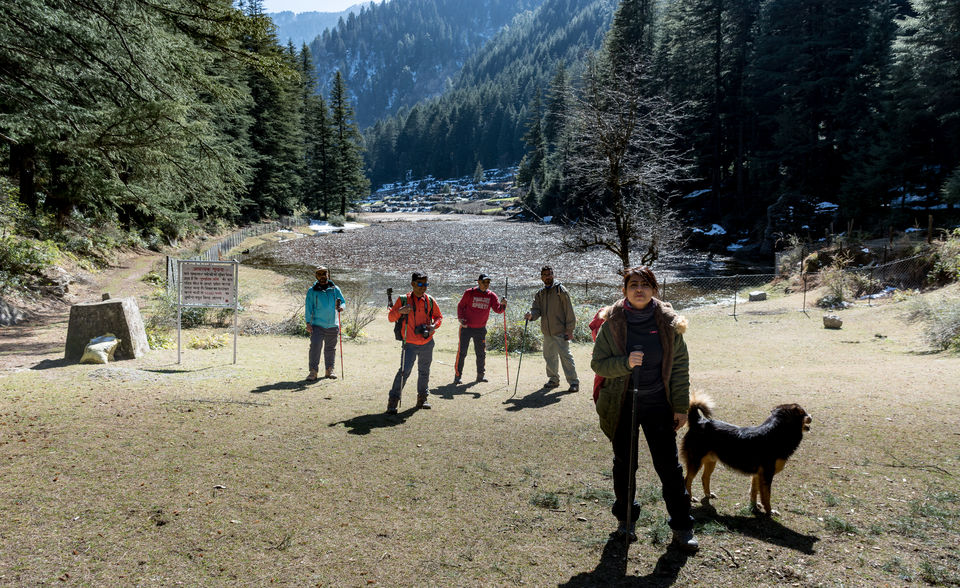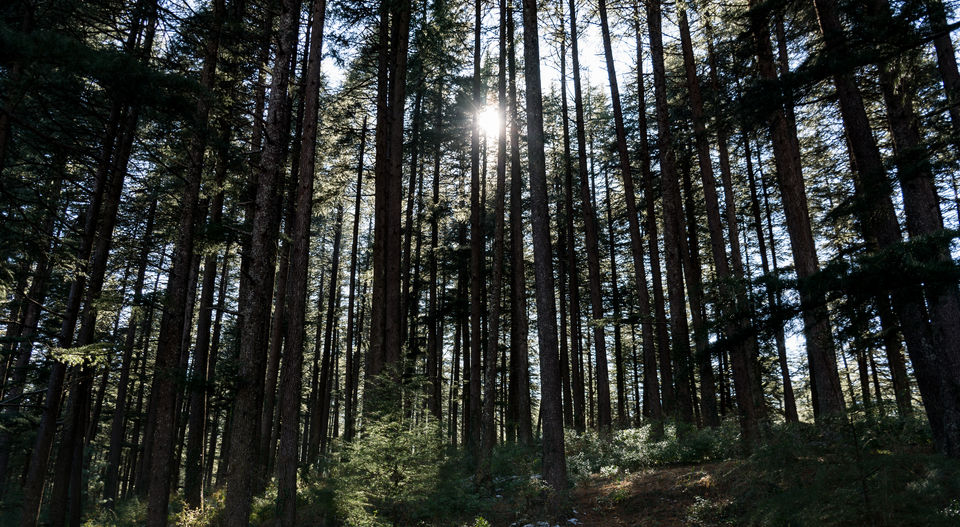 Today we decided to head towards Manu Temple in Sainj Valley which is around 12 kms from our forest rest house. We planned for hiking to the temple but Govindji (manager) warned us the full stretch of road is kaccha so muddy and dirty in this time. So we dropped the plan of hiking instead booked a Jeep to reach the temple (Rs.1400/-). Indeed the road was muddy it could have easily ruined our shoes and bottoms completely. The unmetalled road was full of potholes, so a continuous bumpy ride till we reached. The car dropped us at a point from where we started climbing. This trail was covered in snow, a bit tricky and stiff. It took around 15-20 mins to reach Manu Temple. It is actually a ridge and has a wonderful panoramic 360 degree view due to its elevation. The temple looks like a pagoda with a multi-tier design, which is unique. Though entering inside the temple is barred. A glimpse of the magical meadow of Shangchul Mahadev at Shangarh was visible from cliff side of the ridge. A nice shelter is built behind the temple where we settled and had our packed lunch with coffee and chilled for an hour or two and started our return journey back to FRH, Ropa. We checked into our rest house and called a local driver who will take us to Shangarh the next morning. Govindji gave us the number of manager who was in charge of FRH, Shangarh. As it is located in a very remote place, it is better to confirm over phone before heading to FRH Shangarh.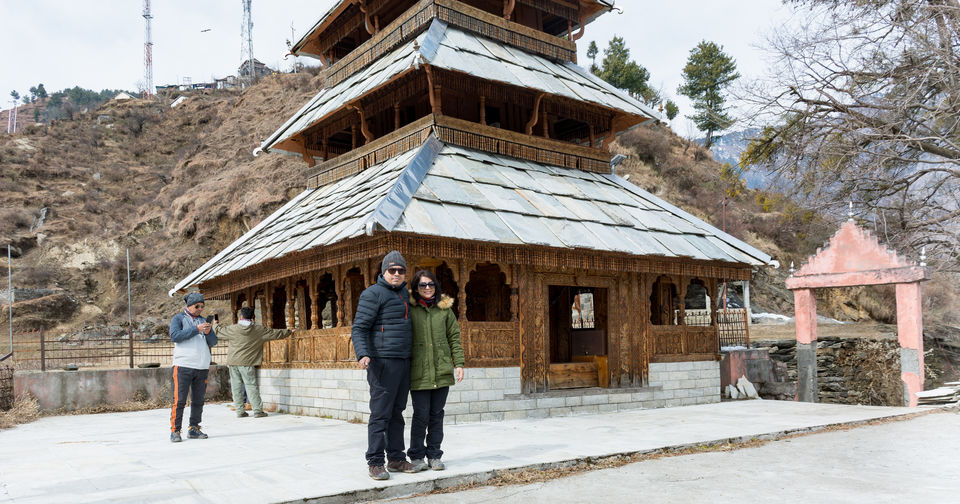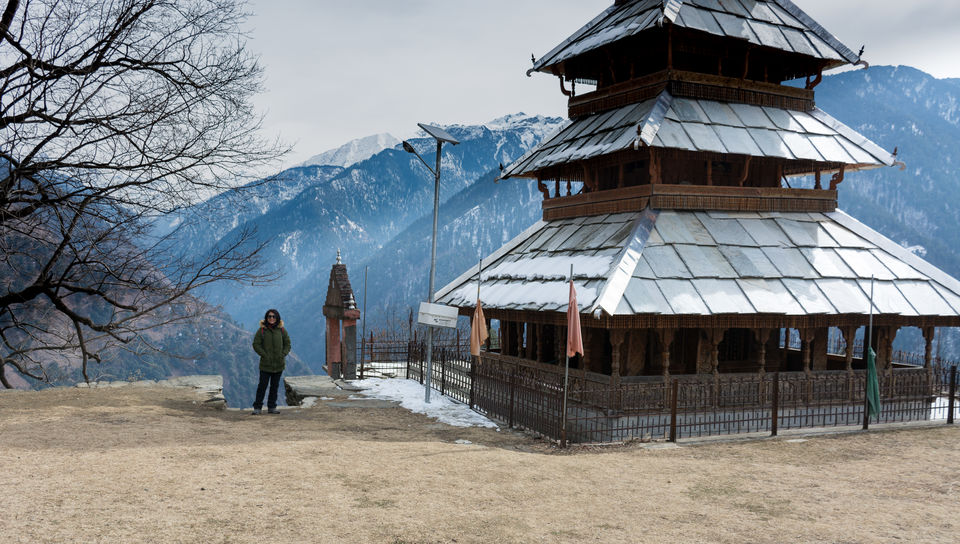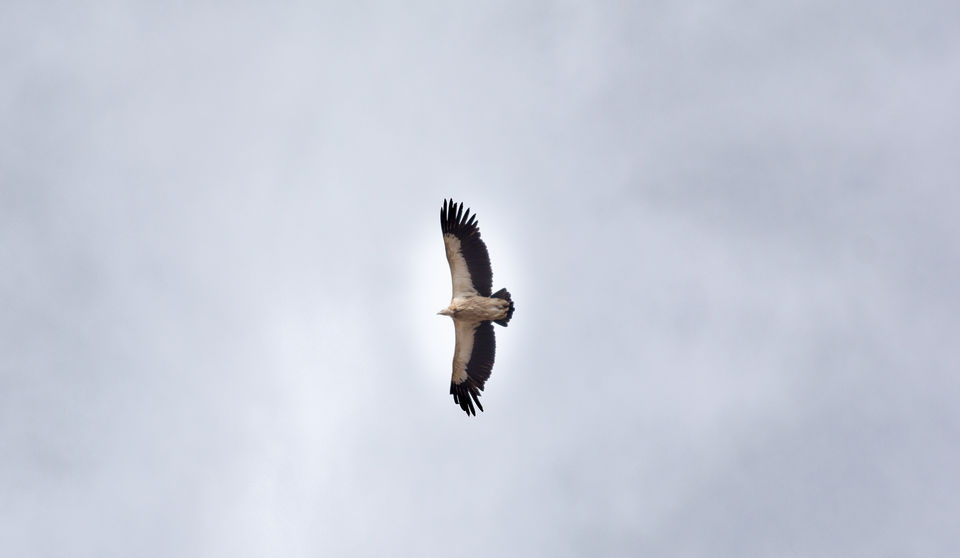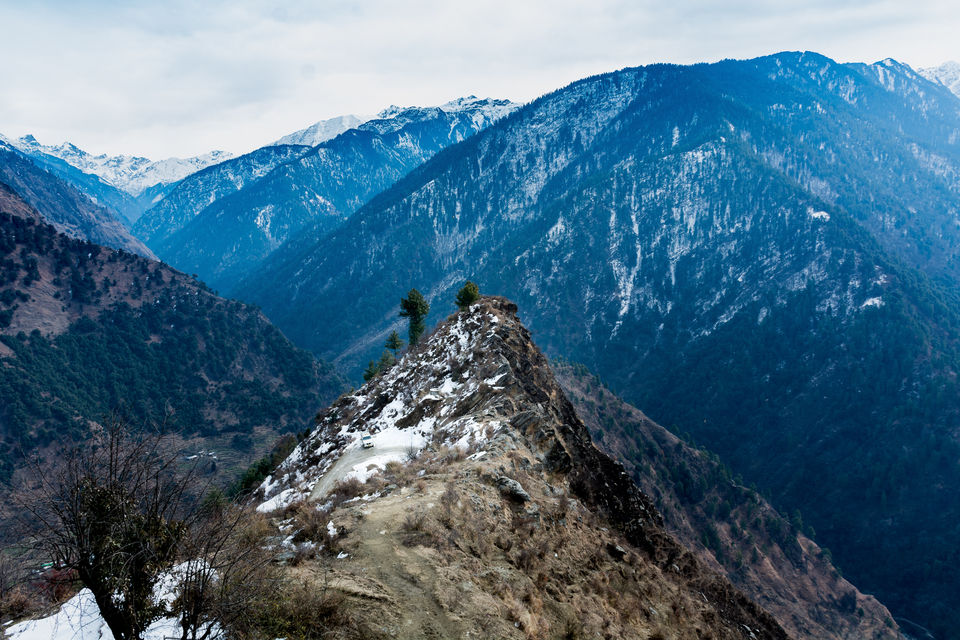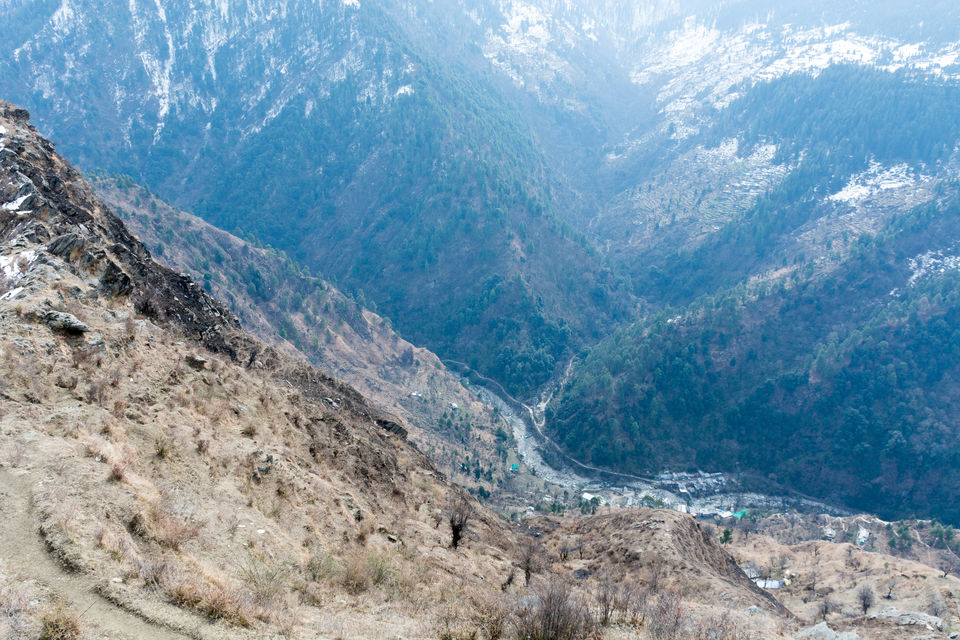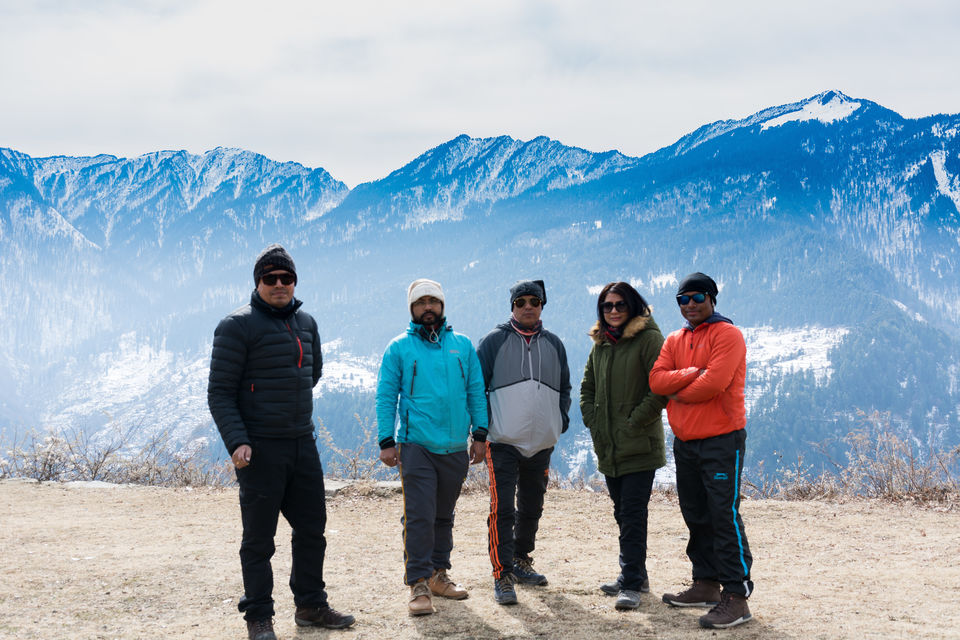 PS. Please check my next blog where I have tried to give you every details possible for travelling to Shangarh. Thank You.