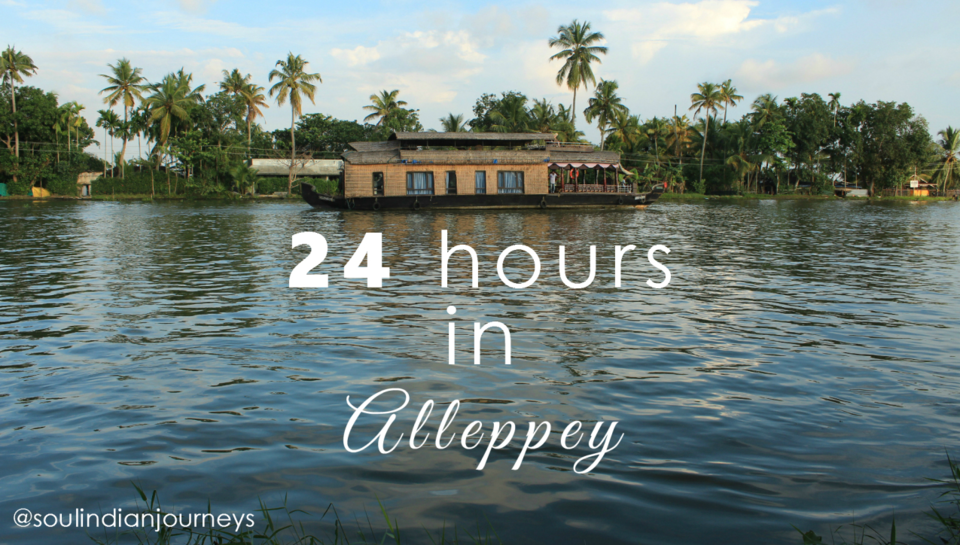 A soothing blend of unlimited backwaters, quiet villages, lush landscapes, breathtaking blue virgin beaches and finger licking local food, it's easy to be overwhelmed when you're in India's very own "Venice of the East"…Soul Indian Journey helps you plan 24 hours in Alleppey.
Officially known as "Allaphuzha", this city is said to be the oldest planned city in the region. It has a delightful mix of turquoise beaches, lush green backwaters, colourful villages located amidst the backwaters, canals, lagoons and fish farms; hence giving it the tagline" Venice of the East" .
Essential info:
Alleppey is divided into North and South areas. North Alleppey is where the Vembnad Lake is situated and south Alleppey, also known as "Kuttanad" is where the backwaters and the innumerable tourist stays are located. The best time to visit Alleppey is in the winters, between November to February. If you want to explore Alleppey in the hot summer, make sure to carry cool cotton clothes and lots of sunscreen.
Interesting Trivia:
Alleppey is an ancient city known to have had trade relations with ancient Greece and Rome in B.C. and middle Ages!
Getting into town:
The closest international airport to Alleppey is Cochin (located a mere 78km away). You can also enter Alleppey via local buses (which is what we did)/car/train/bike or just cycle your way through the lush backwaters across the tiny roadways between Cochin and Alleppey.
Things you can do in 24 hours:
MORNING
6-30am : Visit the Ambalaphuzha SriKrishna Temple:
For a glimpse into the culture and religion that the locals follow, you can visit their local temple. While its famous all over India for its Payasam (a daily offering of deliciously sweet milk porridge), you can also enjoy intricate paintings of Lord Vishnu while you are there.
9-30am: A 2-3 hour Kuttanad/ Backwaters ride:
Going to Alleppey and not enjoying a backwater canoe ride is as sinful as going to Egypt and not visiting the Pyramids! Take 2-3 hours out of your schedule and enjoy a peaceful ride amidst the tiny canals of Kuttanad. Watch in delight how time slips back in slow motion in this lush green jewel of Kerala. On the way you will get to see beautiful villages with locals doing their daily tasks such as fishing, farming and washing clothes. If there was a "perfect" time to indulge in yoga or get lost in your dream world, here it is!
AFTERNOON
12-30pm: A quick lunch at one of the local restaurants
EARLY EVENING
3-00pm : Visit the Coir industry:
On the way to Marari beach, you can visit any of the coir making workshops and learn how they procure, make and sell coir.
4-30pm to dusk: Visit the unexplored Marari beach
A short ride away from the town, is the breathtaking palm fringed Marari beach. You can either hire a rickshaw or tuk-tuk to take you to Marari or take your own car along. Being away from the town centre, very few tourist come here. Which is why you can enjoy complete solitude without a soul to disturb you. Make sure to enjoy the freshly sold coconut water while you are there.
PS: If you are lucky, you will get to see the red crabs right on the beach shore like we did
NEXT MORNING
6-30 am: Explore the enchanting Krishnapuram Palace:
Located just an hour and half away from the main town, here it where you should head if you love Architecture and intricacy. Built way back in the 18th Century, this massive palace cum museum is made of wood and stone. The architectural highlights of this palace include a courtyard, gabled roofs, thick-framed doors, narrow corridors and stairways, dormer windows and low roofs. It has been built in a way that people can enjoy natural air conditioning effect whilst sitting inside. Definitely a must see!
OR
Enjoy an early morning relaxing Ayurveda body massage:
If you not keen on going out and exploring other stuff and want to have a perfect ending to your Alleppey sojourn, then try the world famous Ayurvedic body massage at Keraleeyam or similar institutes.
Where to stay:
If you want to enjoy Alleppey in luxury, you must stay either at any of the high end Houseboats there or any of the resorts located by the backwaters or Marari beach. But if you are keen to live with locals, then we suggest you stay at any homestay. Homestay rates start from Rs800 –Rs2000 depending on the luxury offered and proximity to town and hotel rates start from Rs1000 onwards.
PS: Please be careful when choosing homestay (as many of them have become commercial minded and hence losing the authentic charm of a homestay). Contact us for help in choosing the best accommodation and package for Alleppey.
Read: Offbeat reasons to revisit Kochi
Where/ what to eat:
Banana/ Tapioca chips from any roadside stalls
Local seafood delicacies in Thaff restaurant (we loved their Biryani and fish thali)
You can try Alleppey fish curry/ Varutharacha Kozhi curry/ Karimeen fry
How many of you have been to Alleppey? What are your experiences, we would love to know.
Book our Kerala package to experience Kerala as travelers, not just tourists!
© All content, text and photos on this blog are copyrighted by Soul Indian Journeys and may not be used without explicit permission .