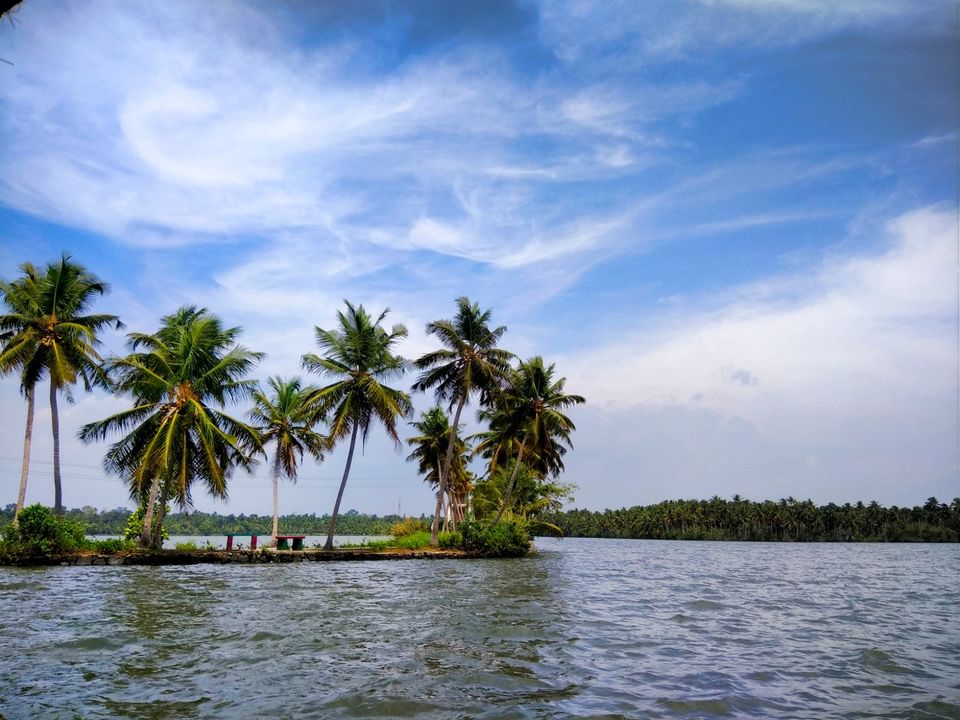 19th April 2019 was Good Friday. Coupled with 22nd April 2019 as Easter Monday, it made for a long weekend for me and so I had planned to pay God's Own Country, Kerala, a visit during this weekend, a month in advance.
My mom and I boarded Vistara's early morning flight from Delhi to Cochin/Kochi, departing at 6 am and landed at Cochin International Airport earlier than the scheduled time of 9 am.
Pleasant weather (it had rained heavily the day before) greeted us in the to be smart city, wiping away our worries of a hot, sweaty trip.
A friend and her mom picked us up from the airport in a private cab and we were soon on the way to the first spot on our bucket list: Athirapilly Falls.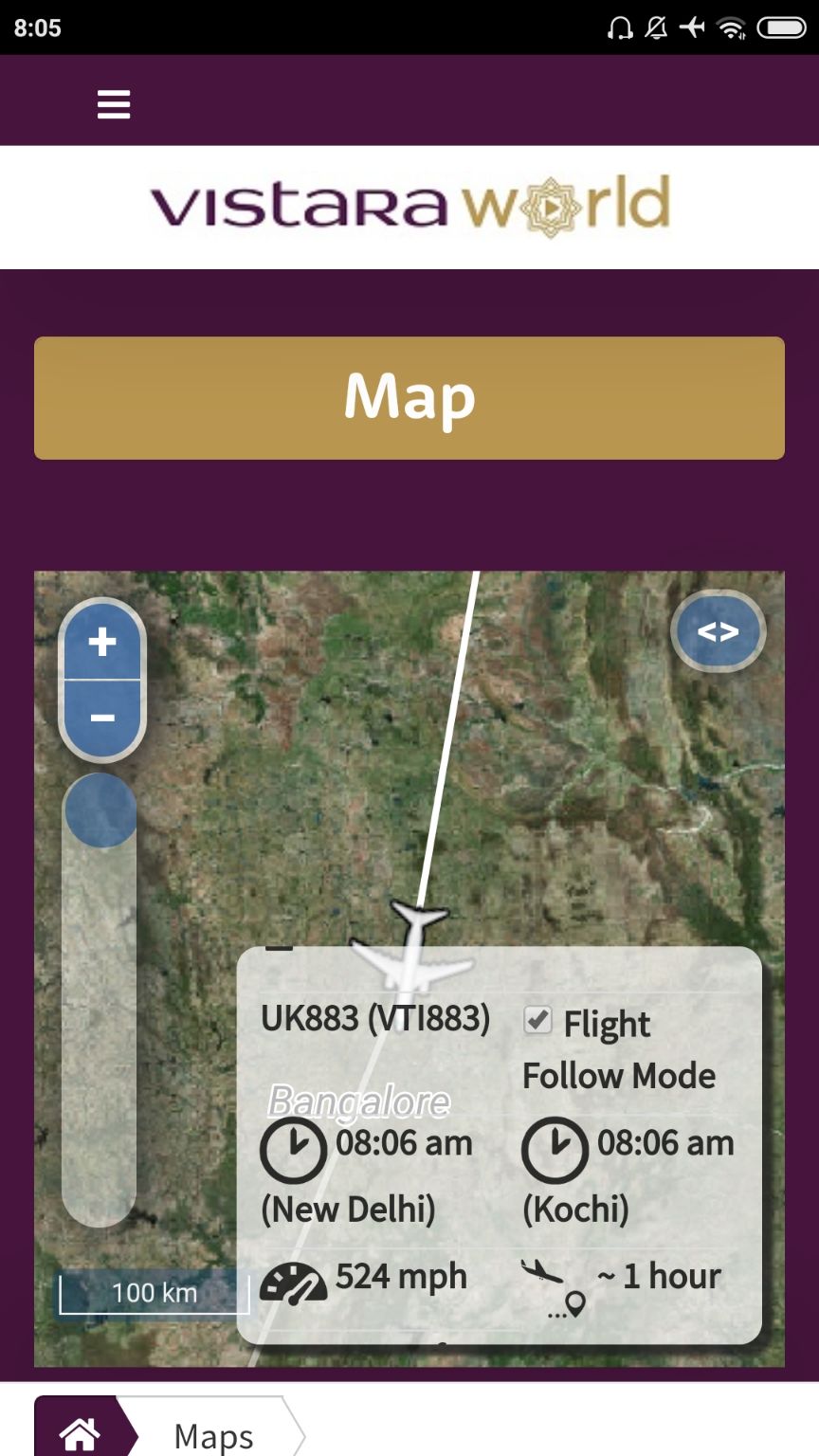 Athirapilly Waterfalls are about 50km from the Cochin Airport and it took us about 1 hour 20 minutes to drive through the pleasant, slightly winding country roads. Also known as India's Niagara Falls due to the sheer width and volume of water, the Falls are a sight to behold in the monsoons.
The vehicles can drive upto only a certain point, after which one has to walk ie trek downwards to reach the bottom of the falls, where the most spectacular view awaits.
The best time to visit the Falls is between (8am) to evening (6pm) due to it being a forest zone.
An entry ticket of INR 40 will grant an Indian adult entry to the Falls, which are an ecozone. Hence plastic, including plastic bottles, is prohibited.
The trek was steep and strenuous. By now the sun had begun to blaze and humidity, a trademark feature of Kerala's summer, was at its peak. There were a lot of monkeys as well. It is advisable not to carry food or food packets in your hands as they might get snatched!
After 10 minutes of huffing and puffing, we reached the bottom of the Falls to this magnificent view. Needless to say, every step of the trek was worth it.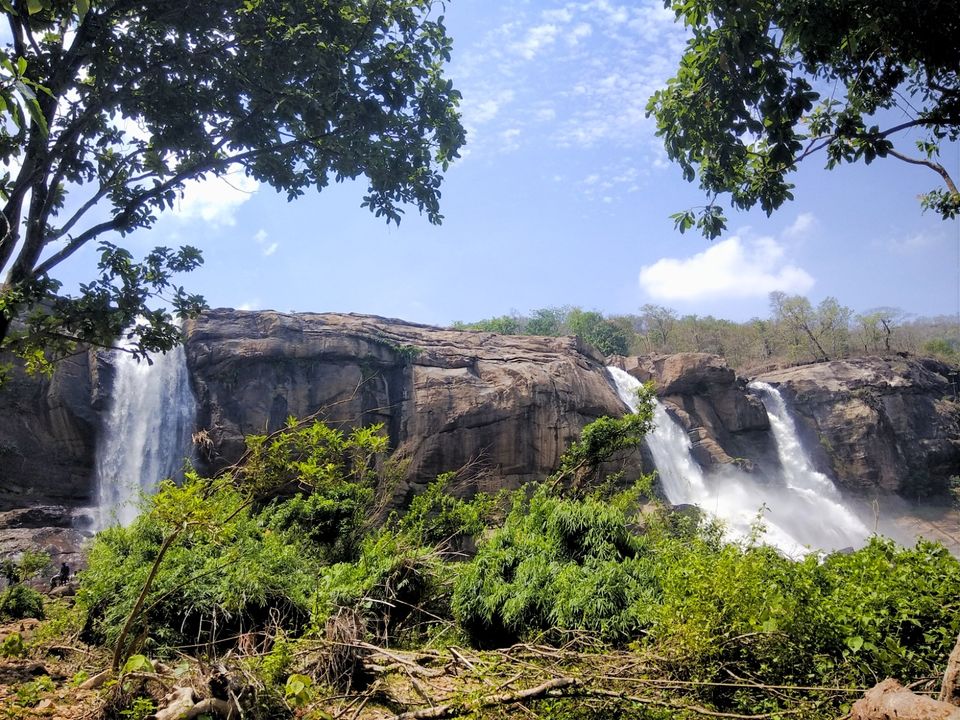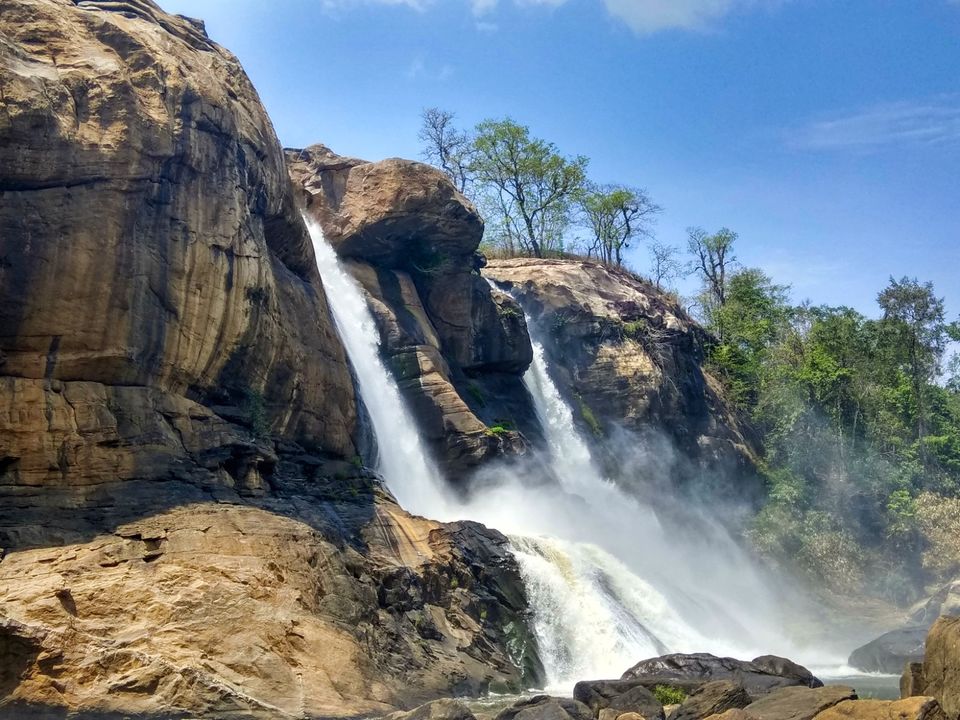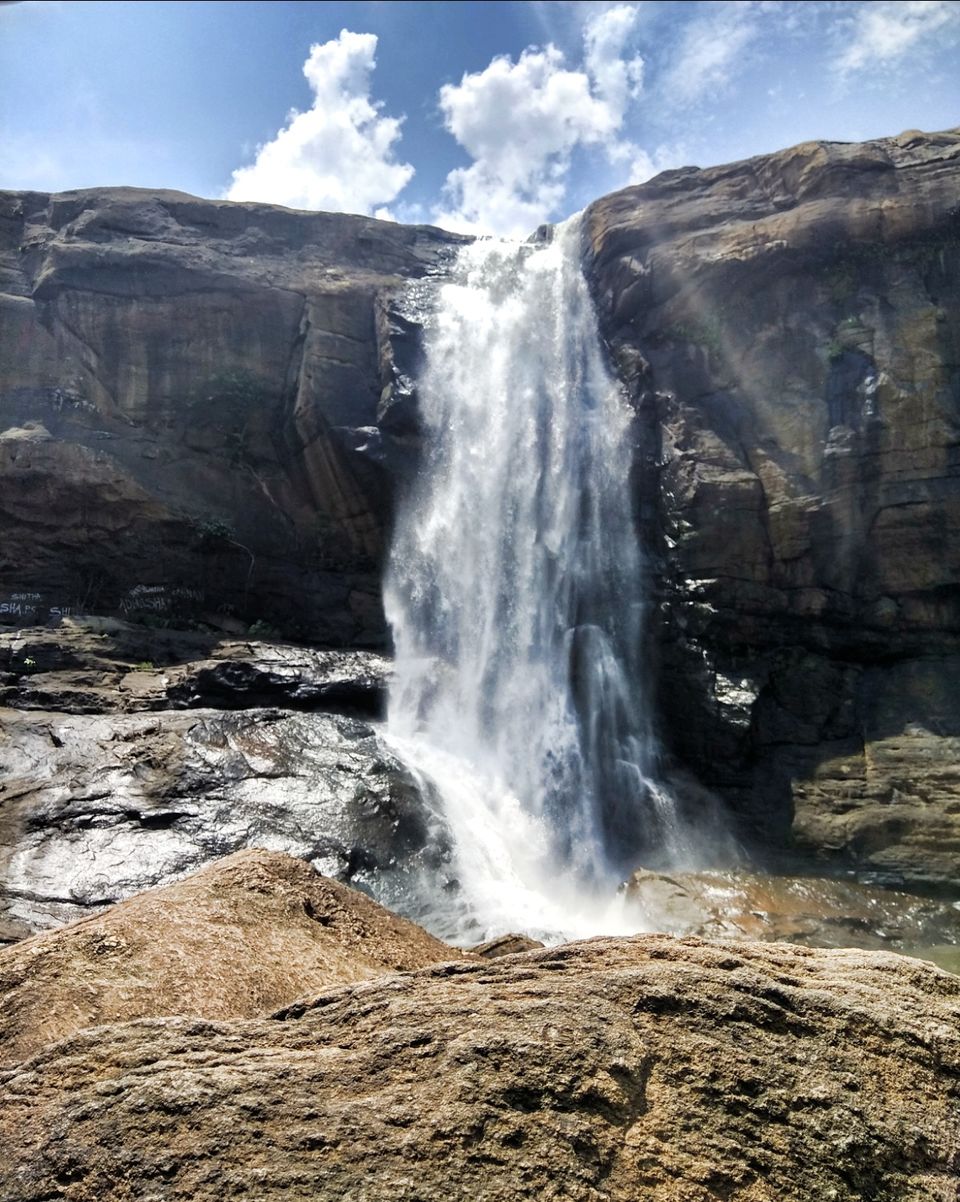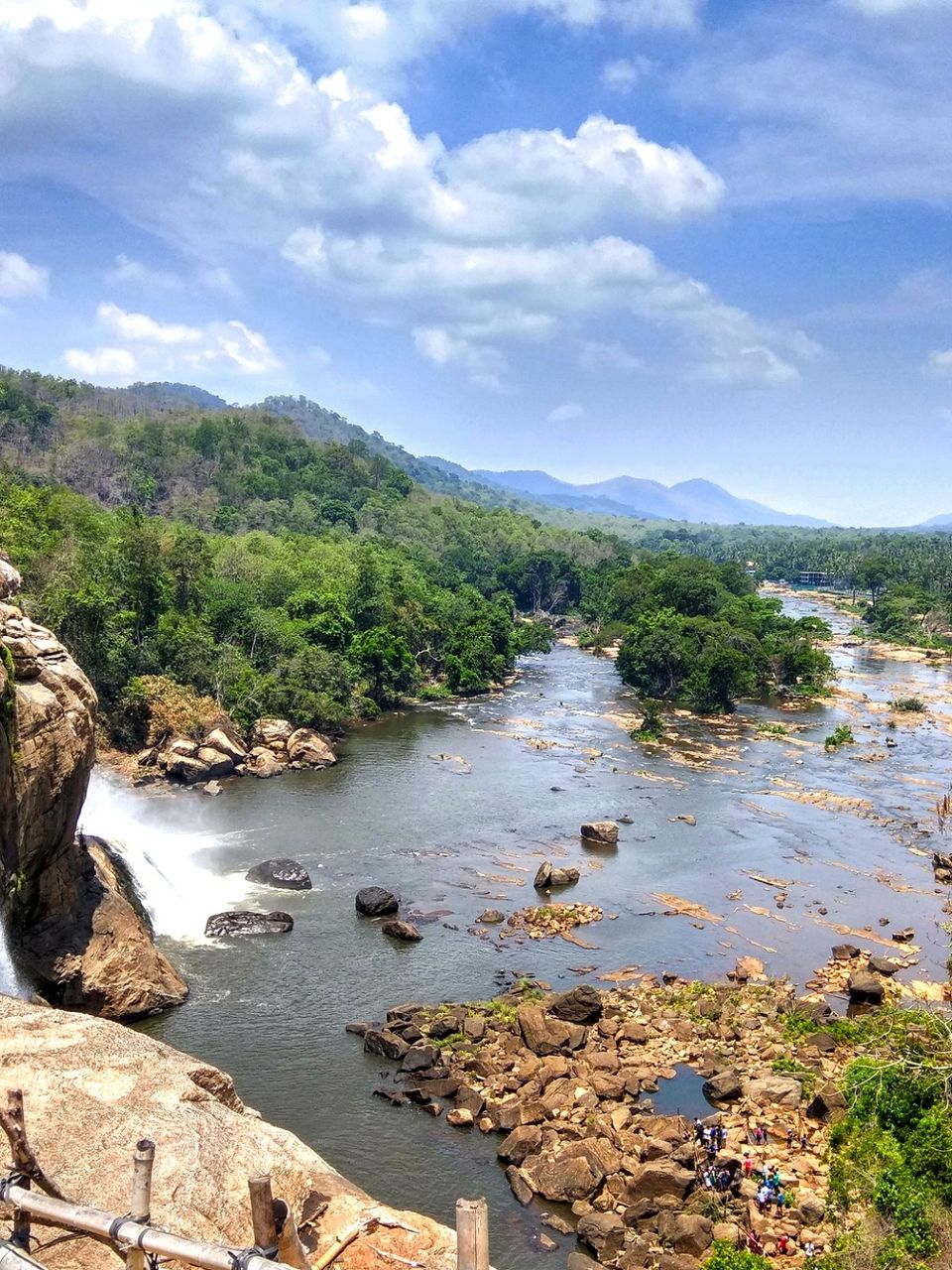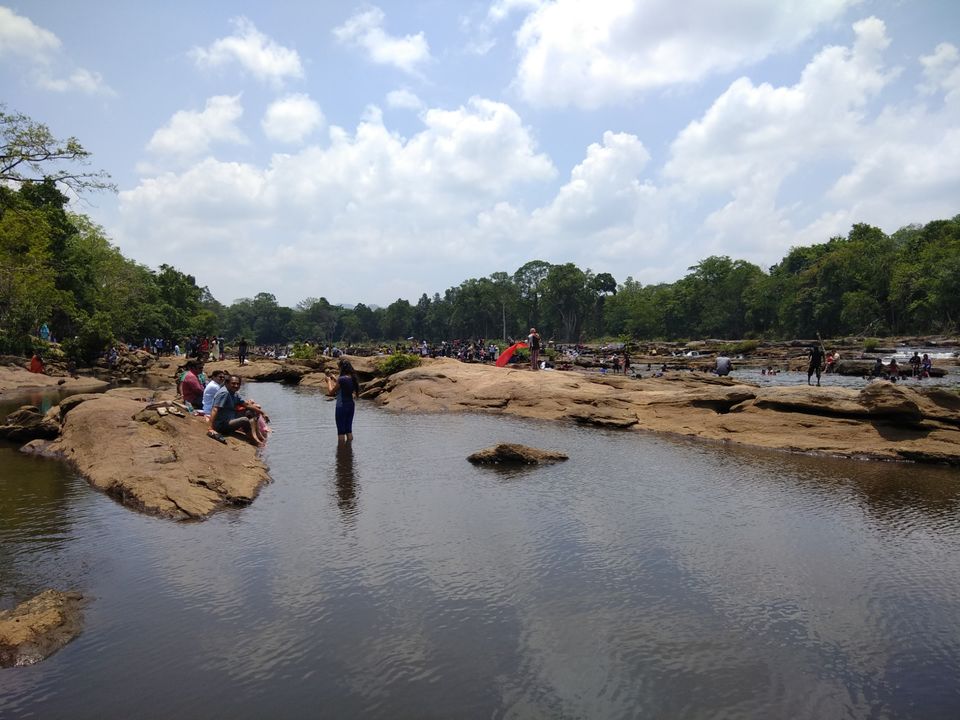 We spent a good two hours at the falls, dipping our feet in water, getting pictures and talking. We then proceeded towards our second stop, the beautiful Portuguese island of Fort Kochi, situated about 100km from the falls.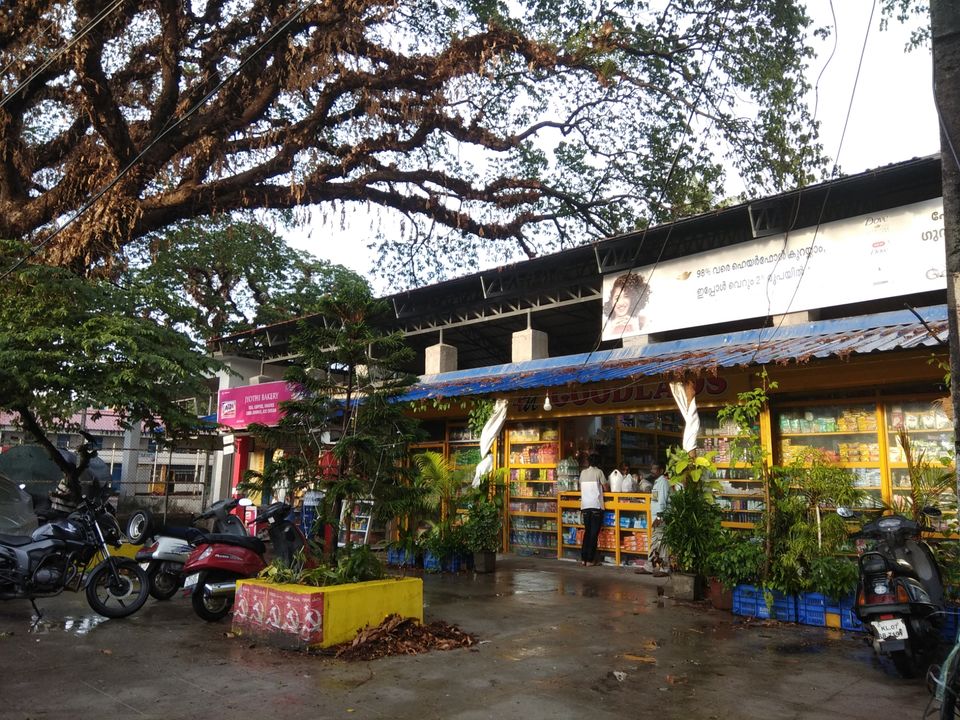 Here, we stopped at our homestay (Lavender Homestay; you'll find a lot of such homestays in a line, one after the other near the Fort Kochi bus terminal.) We chose it for its central location, from where major attractions like the St Francis Church, the Jewish Synagogue, the Dutch Palace and the Indo-Portuguese Museum were at a walking distance.
However, everything was shut on the occasion of Good Friday and we decided to head to the Chinese Fishing Nets and the Fort Kochi beach. We hired an autorickshaw for 50 bucks and he showed us the sites, and waited for us till we were through.
The Chinese Fishing Nets are a good location for sunset photography and represent the traditional manner of fishing for the fishermen here in the backwaters of Kerala. Directly on the Arabian Sea, we also glimpsed a cruise ship passing by. Per locals, cruise ships from all over the world dock at Kochi quite regularly and we came across one called the Europa.
After spending about 10 minutes here, collecting sea shells and watching the waves, we made our way to the Fort Kochi beach for a breathtaking, solid sunset.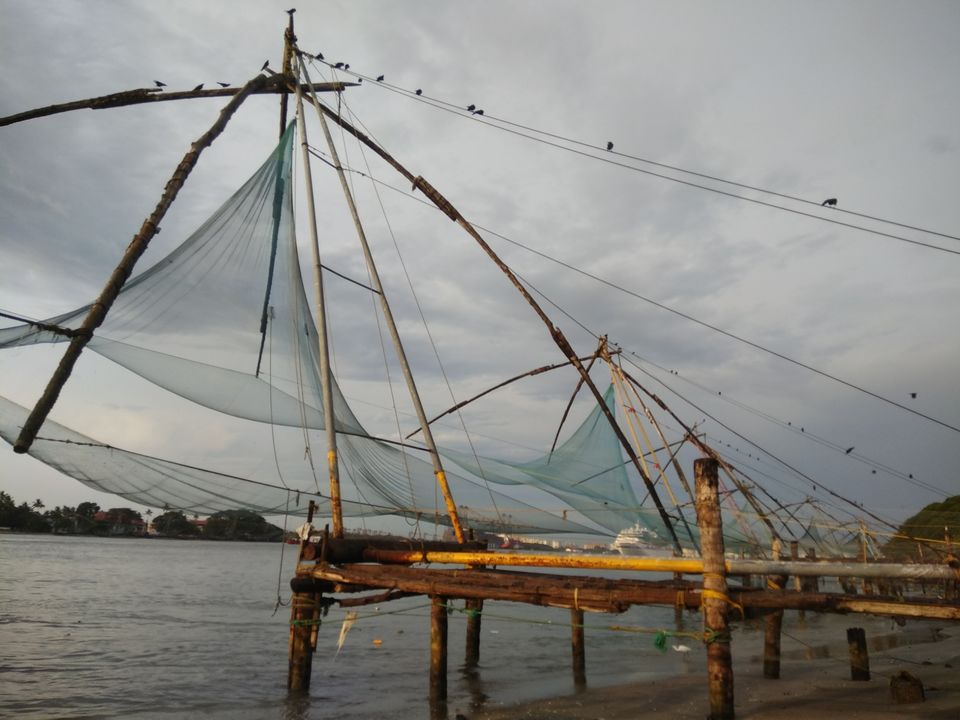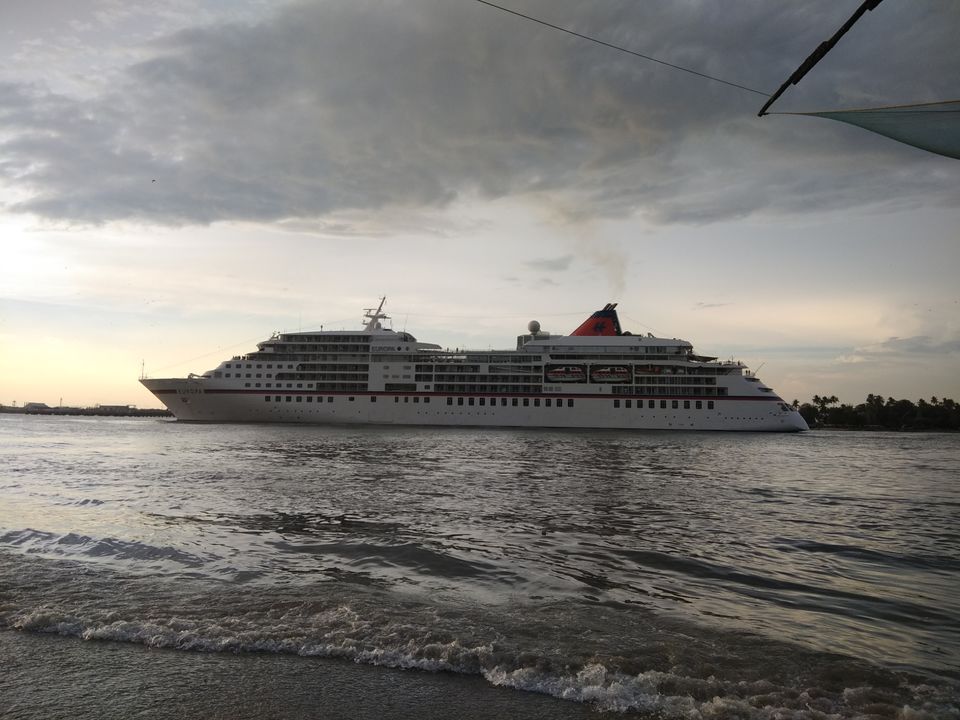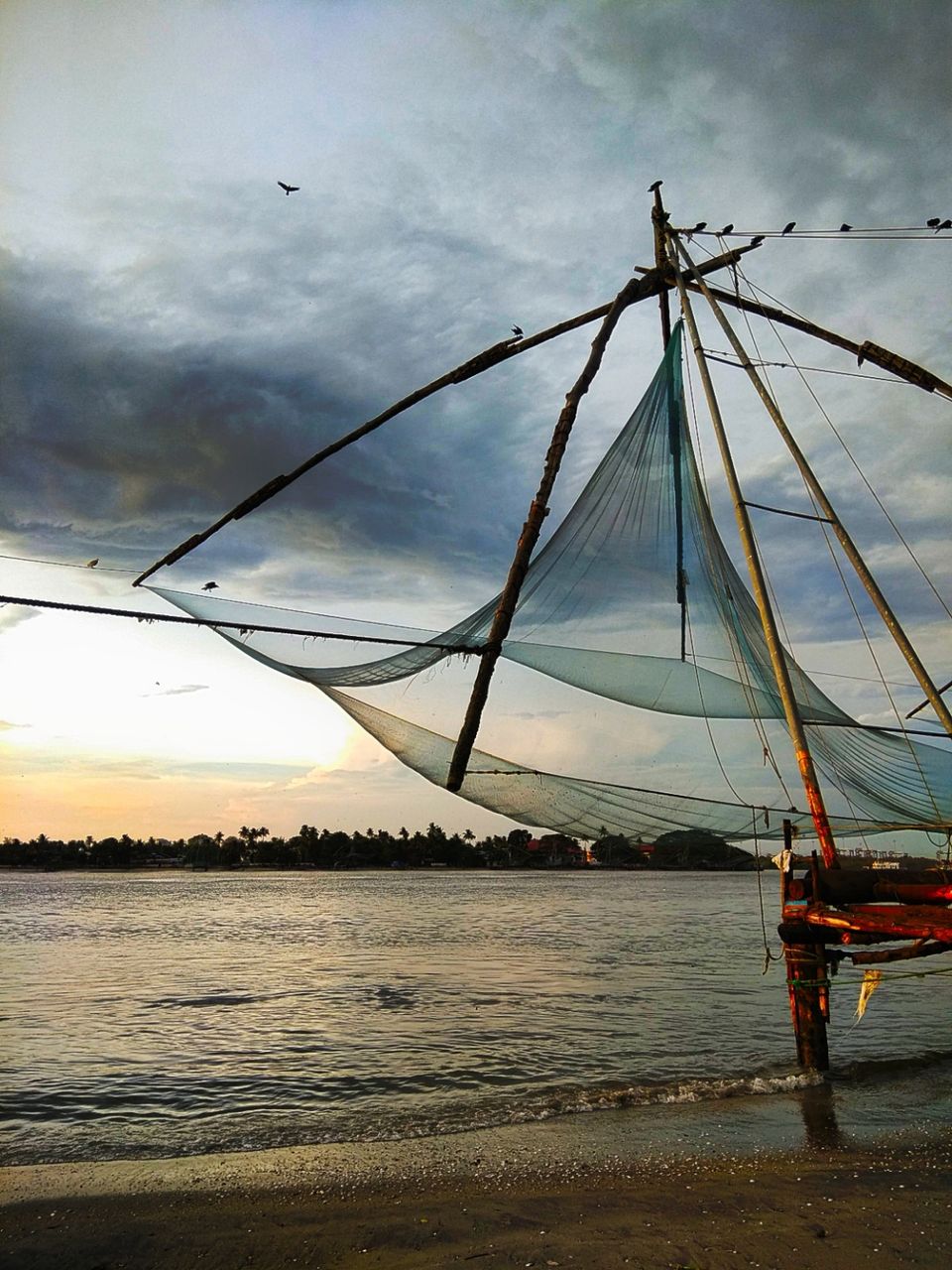 Even though locals recommend the Cherai Beach for a true blue beach experience, we couldn't fit it into our itinerary and decided to settle for the small stretch of sand, called the Fort Kochi beach instead.
And boy! It was one of the best decisions we ever made. I won't say more, just the sunset pictures should be enough. I stood in the waves for more than an hour, watching the sky turn from red to orange to pink to sky blue to turquoise to black and never tiring.
There is a promenade at the beach, where you can walk. And a few cafes serving fresh catch, and ice cream stalls as well. At the Elphinstone Road and Lily Road, you'll find a number of restaurants serving all sorts of cuisine for your taste buds from North Indian to South Indian, from vegetarian to non vegetarian, and more.
That was all for day 1. We went back to our room after that and prepared ourselves for the next day, for the upcoming backwaters tour.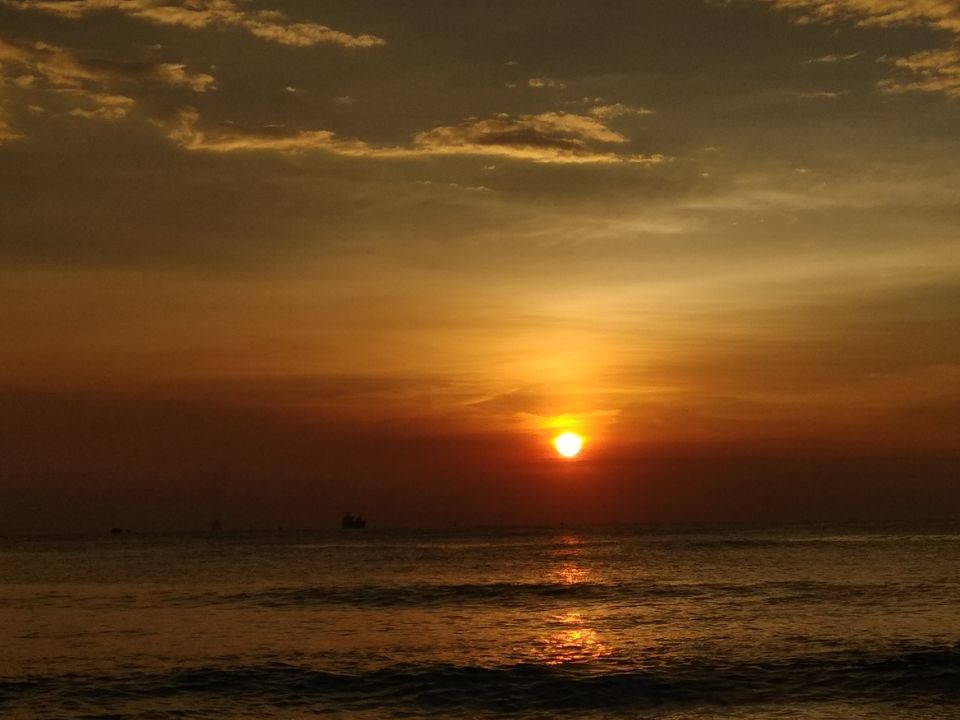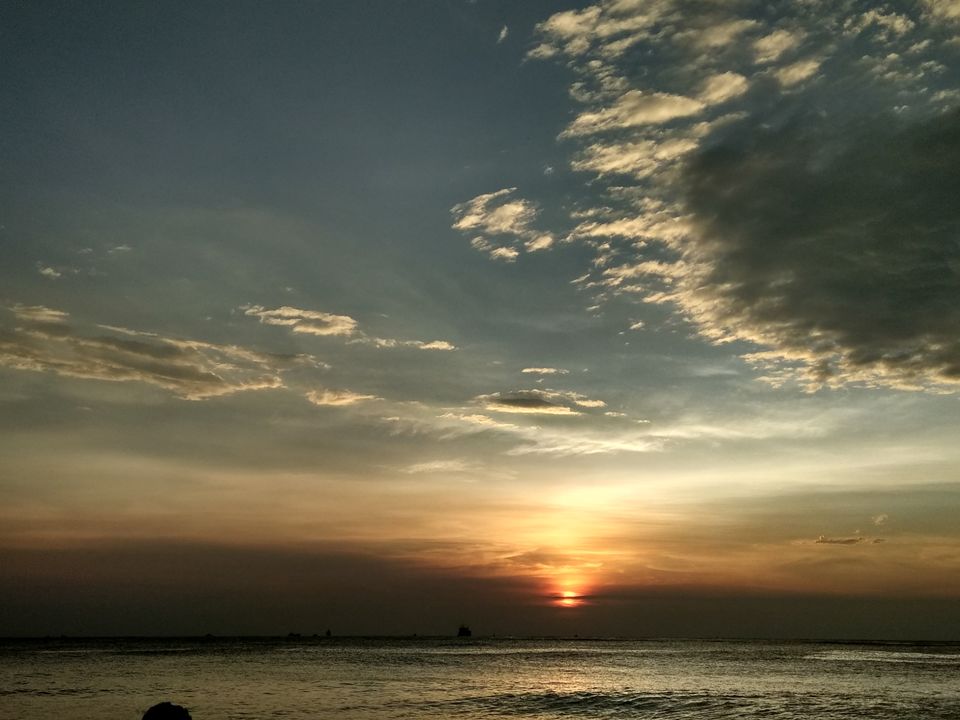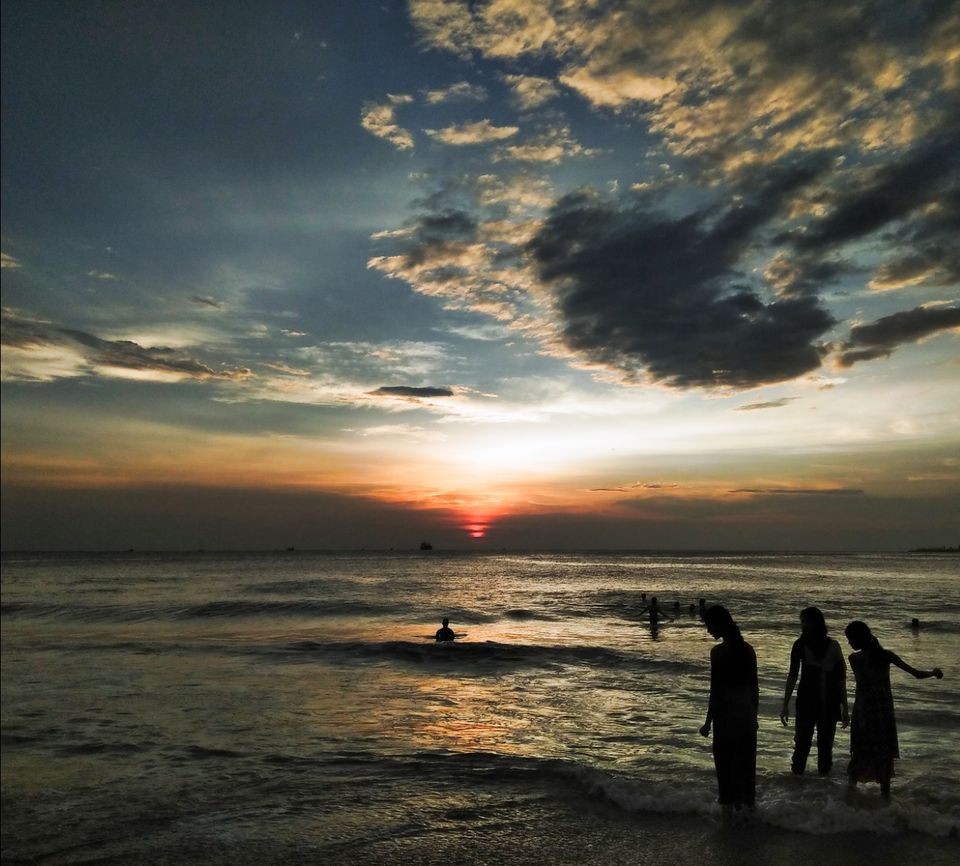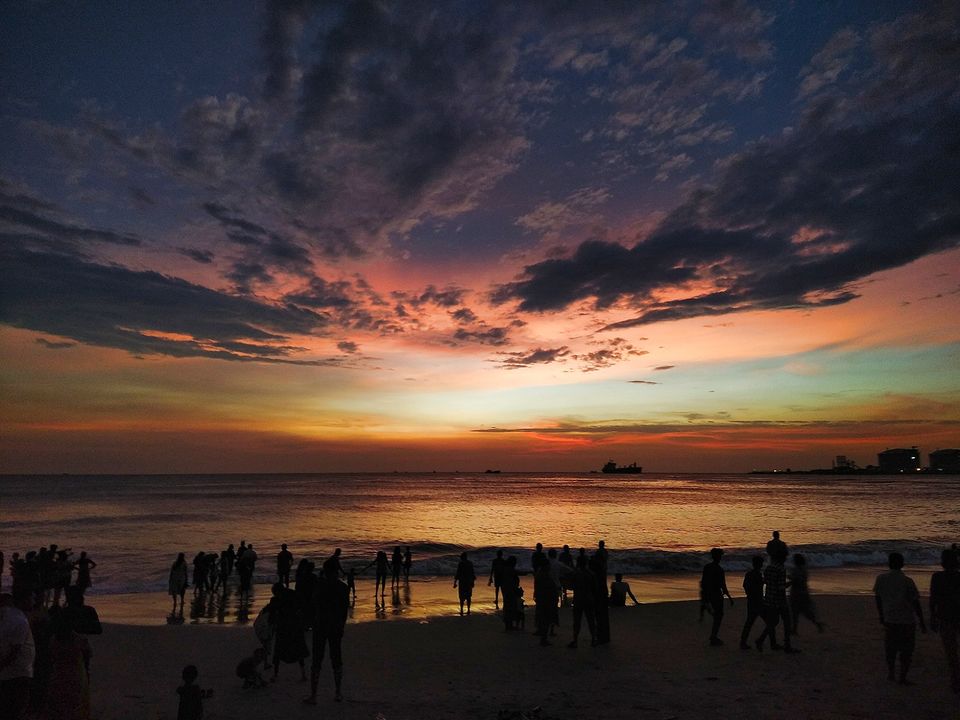 Our second day started with a walk through the colourful, European style streets of Fort Kochi and we chanced upon the famed St Francis Church, also called the Vasco de Gama church, where the body of the sailor Vasco de Gama was initially buried before his son took his remains back to Portugal. The Church was still closed so we couldn't venture inside.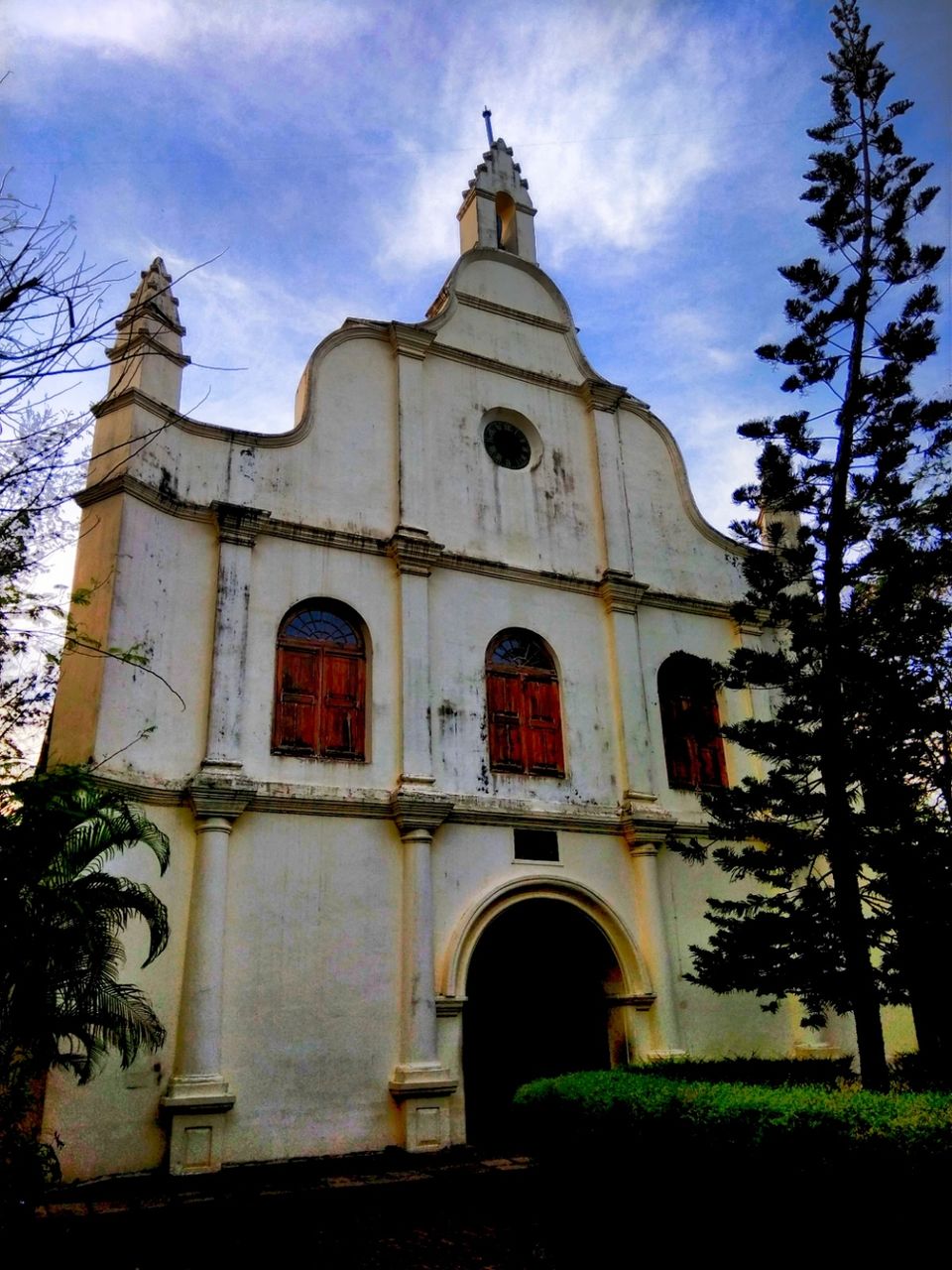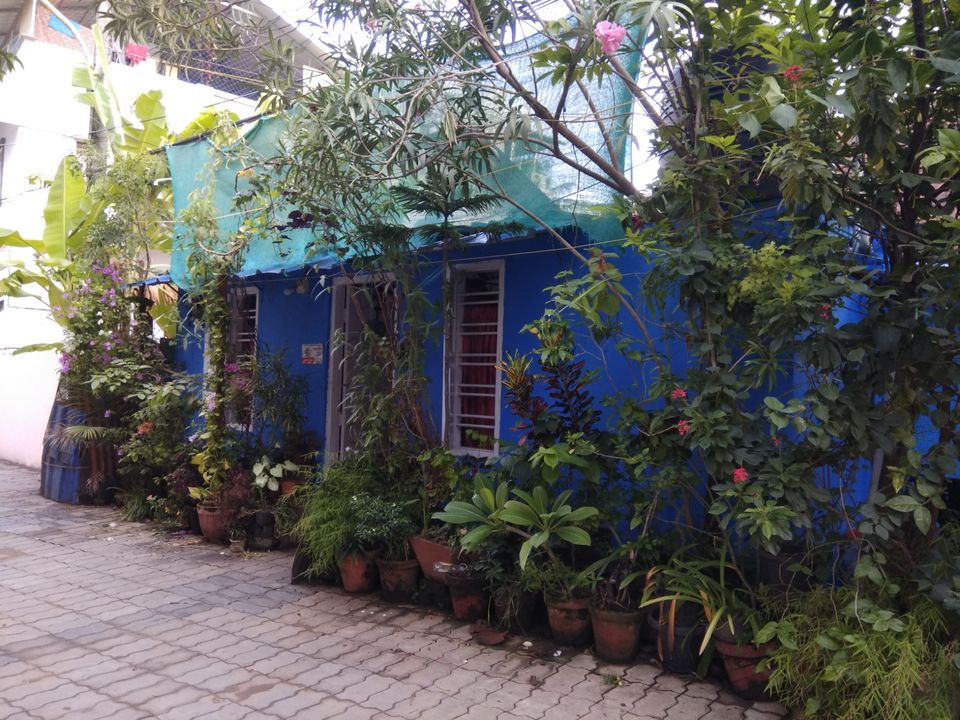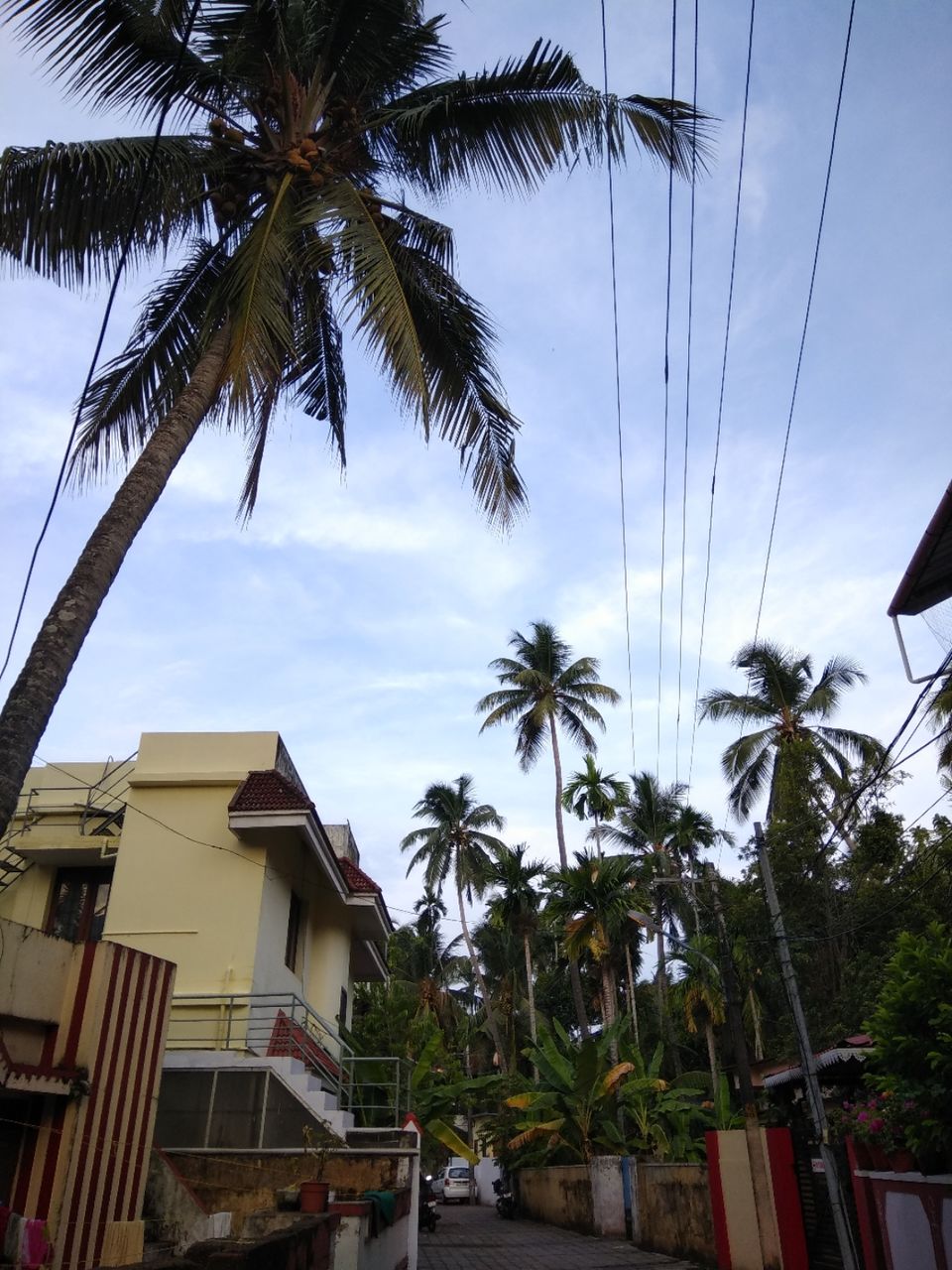 After the walk, we had a delicious breakfast of omelette and bread followed by tea. We checked out of the room and waited for our pickup to the Backwaters.
Our homestay had arranged a 7 hour House Boat backwater cruise with traditional Kerala Lunch (through the operator named Destination Holidays) at the backwaters of Vypin, a small village-town located about 50 km before Alleppey, near Kottayam.
It cost us INR 1000 per person for the whole tour plus lunch, while the usual charges at Alleppey begin at about INR 500 per hour excluding lunch.
After about a one and a half hour ride in the Traveller through the towns of Fort Kochi, and crossing Ernakulam, we reached the spot and were escorted to our non mechanised houseboat. Our guide was a local, Thambi, who explained things to us and guided us in English.
We also saw the manufacturing of coir from dried coconut husk, the processing of clamshells into lime and came face to face with the "suicide fruit", a fruit deceptively similar to mangoes, that goes by the biological name of Cerbera odollam and results in death if ingested by humans. All the industries were village industries. And the villages were remote villages, not connected by roads, but only by canals and boats. It was a surreal experience to have traditional Kerala food, called Saapad, on one of the biggest mangrove islands in India, surrounded by happy little kids for whom we tourists were like fascinating oddities.
The unforgettable tour ended around 3.30 pm after which we were transported back to our rooms, and in our case to a relative's place from where we headed out to another trip, to the Tamil city of Coimbatore.
But that is a story for another time!
I hope you enjoyed reading about our sojourn in Kerala and also that I've convinced you to seek your God, the way I found a little bit of mine, in God's own country.