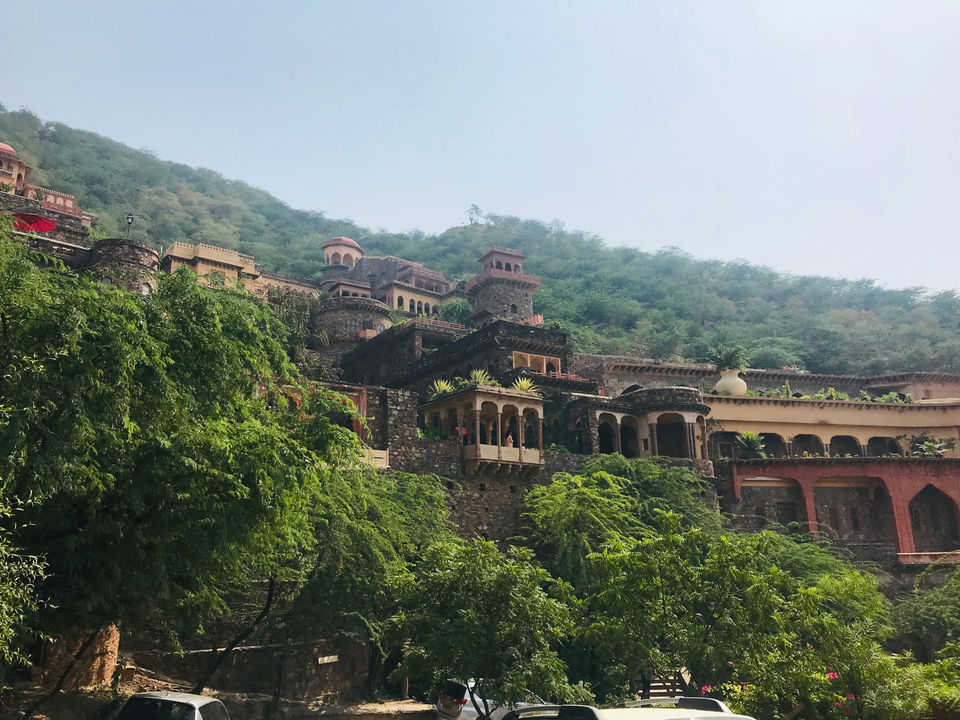 Sometimes you are just highly confused about everything going on in your life, you imagine being part of a circus, running around things that which are not even relevant to you. It has been some time that I have not travelled with my partner, and in the middle of all the fuss around, we decided to spend his birthday with just two of us. As he is not much of a history lover, somehow I managed to convince him for Neemrana. As we were already planned to travel Goa, the coming month we wanted a quick weekend gate away.
Well, Neemrana is around 120 odd km from Delhi on Jaipur Highway. It's an industrial place where Japanese companies have their own township. We were astonished to see a full Japanese city in India.
The best part about the town is the famous Neemrana Fort. The magnificent 15th century fort has now been restructured to act as an upscale resort without compromising on the traditional architecture. This fort palace is quite expensive as it rooms ranges from 11000 to 30000. While there are other budget options located in the town as well.
The main attraction at the fort is the larger than life lunch buffet and zip-lining. Though we found it too expensive as the cost for the entry and lunch buffet was Rs.2000 and the other option was entry and zip-lining was for Rs.2400.
We just had a tour at of the fort without opting for any of the options. The parking at the fort is free and it is absolutely at the owner's risk. You can even take a ride at their vintage car with an addition of an extra amount. Camel ride gives you a full view of the fort at 300rs per person.
It was getting quite hot at the fort, so we headed to our hotel Ramada Neemrana which is about 20 kms from Fort. I must say it's one of the best property to stay if you are looking for a leisure weekend. We were welcomed with a drink and then we headed to our room. Dinner by the pool was one of the major attraction. It accompanied by a cultural folk dance. The morning breakfast served us with various delicacies. Neemrana was an easy, quick and fun affair. The room was an executive suit and it costs around 5000 and we had our booking through make my trip. The service of the staff was slow but the beautiful property compensated for it.
It is definitely recommended to have your own vehicle for a one day trip from Delhi to Neemrana. Please do book online tickets for entry to Neemrana fort. It's way cheaper online.
There are other places to visit as well such as Bala quila, silsirah lake but if you are only looking for leisure, my suggestion is to just see the fort and enjoy your day at a good hotel.