Now, from the beginning.
We left Gurgaon at 11:30AM.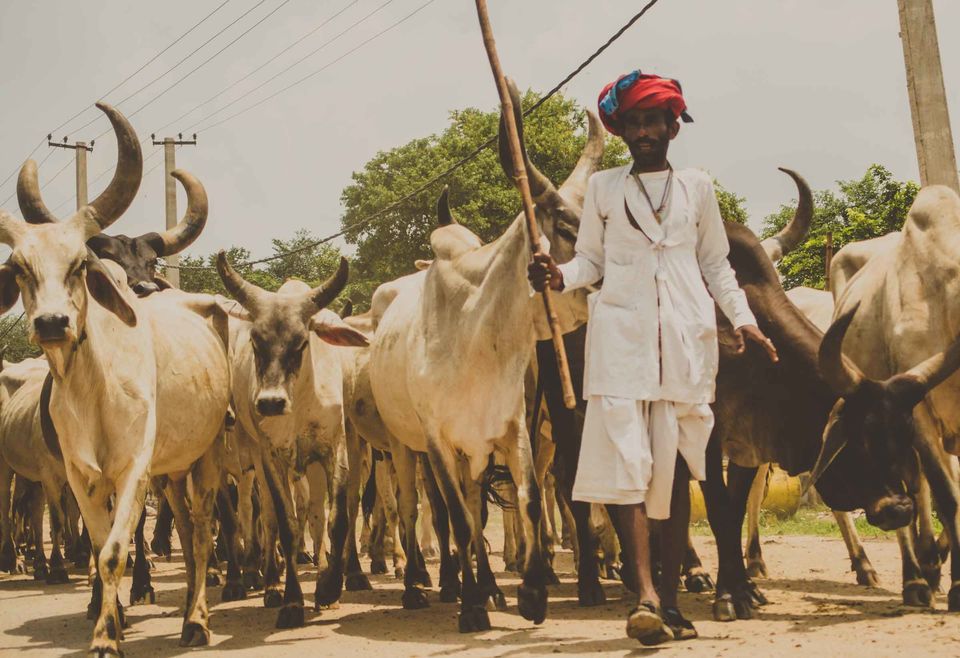 Around 30/45 minutes in, we were still on the highway, and got to see this happy man, with all his cows. He was really great and even posed for this picture. The cows were scary and one almost knocked me down, because cows just don't give a shit.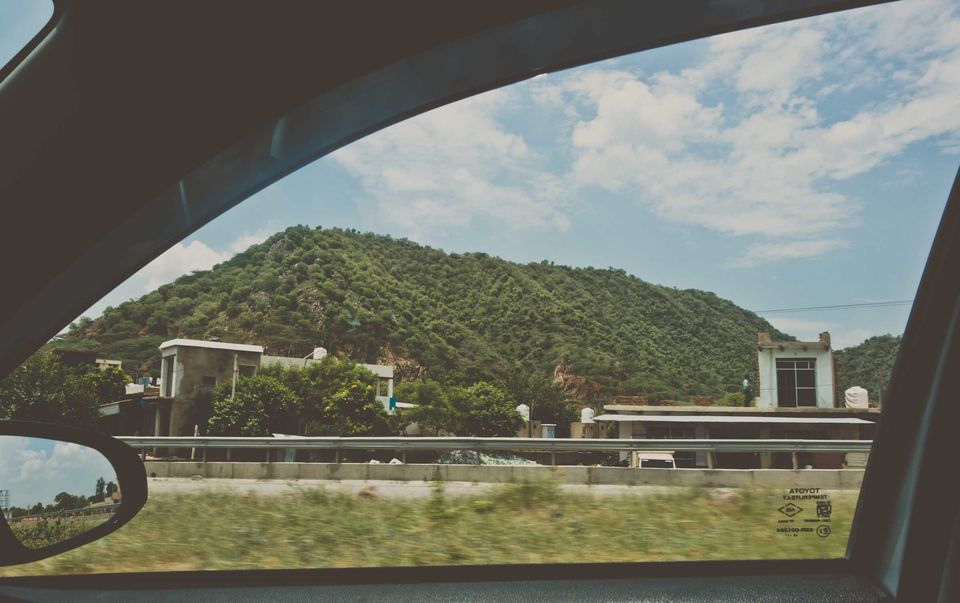 An hour and a half later we were quite close to Neemrana Fort. We could see hills on either side of the road. Armed with a bag of chips, we hurried on towards the fort.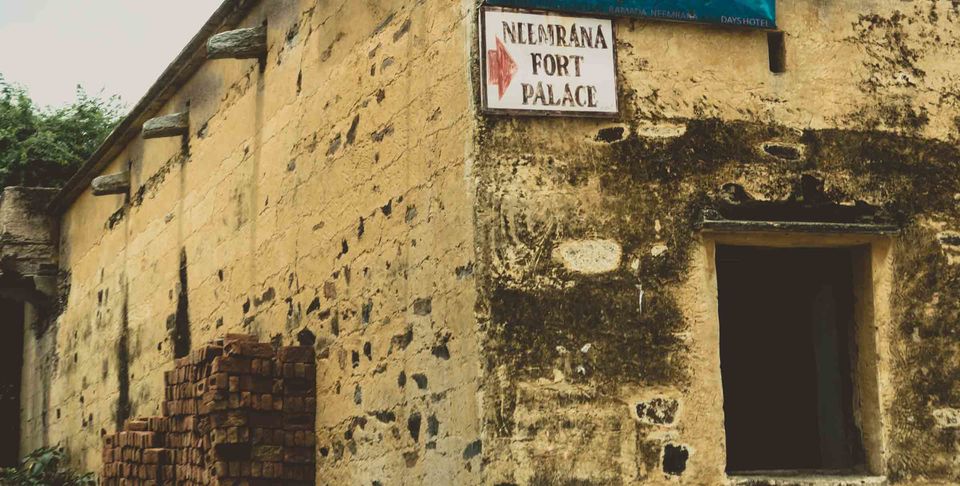 After getting off the highway, and entering the Neemrana Fort area, we could see signs like these guiding us towards the Fort-Palace.
Google Maps can be trusted only 99% of the journey, but it always manages to let you down right at then end, when you need it the most!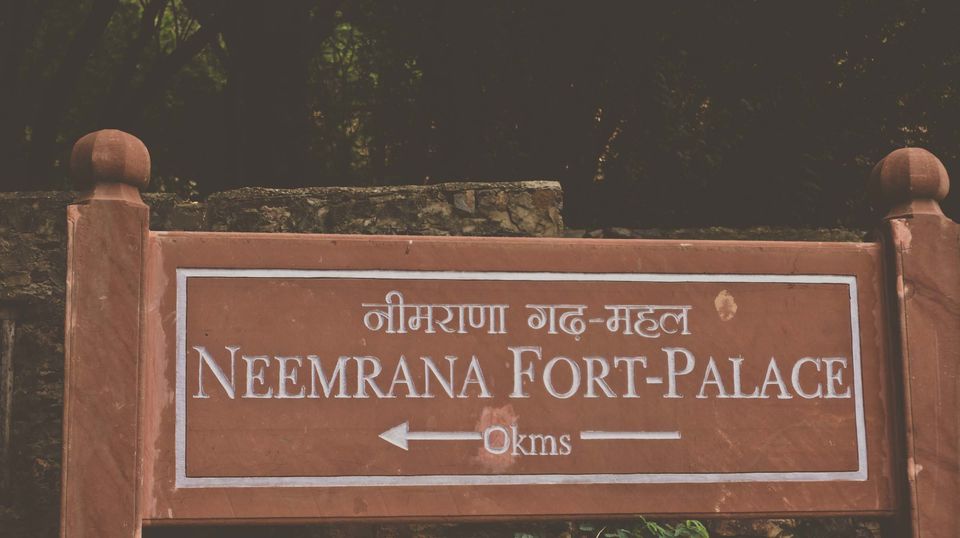 After stalling the car twice, while negotiating narrow lanes, we managed to see this sign.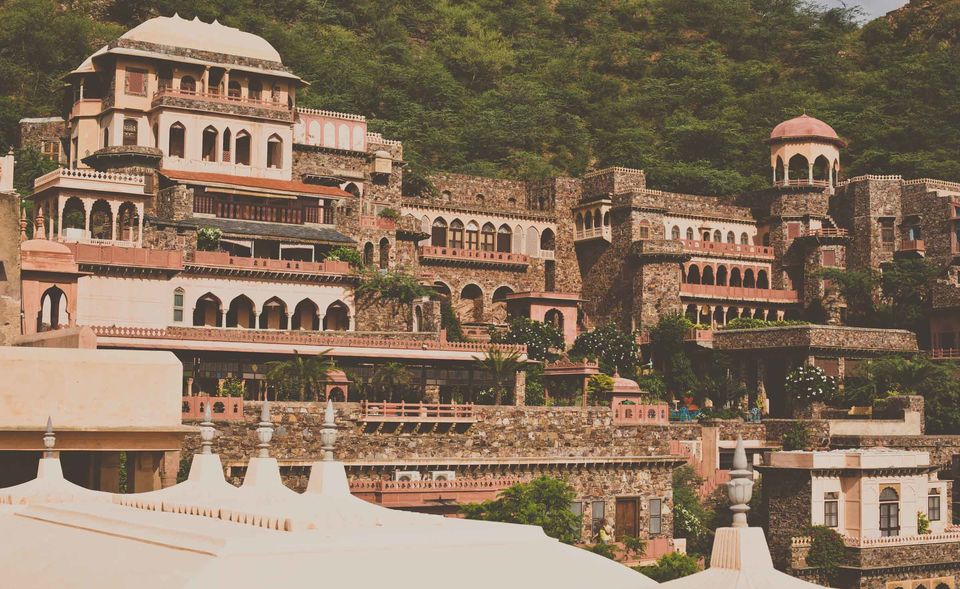 And behold, there stood the Neemrana Fort Palace, in all its glory.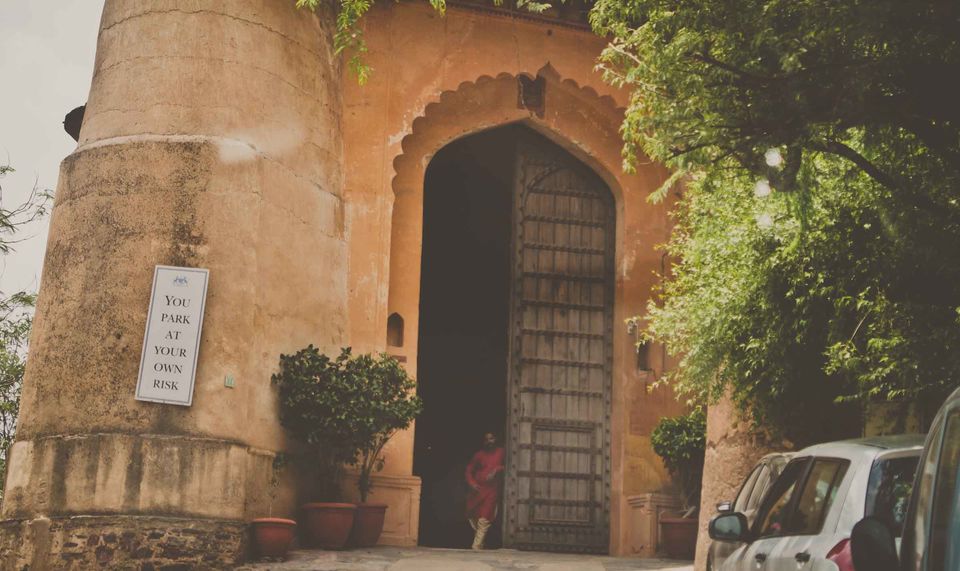 After parking our car, we made our way into the hotel towards the reception through this grand entrance.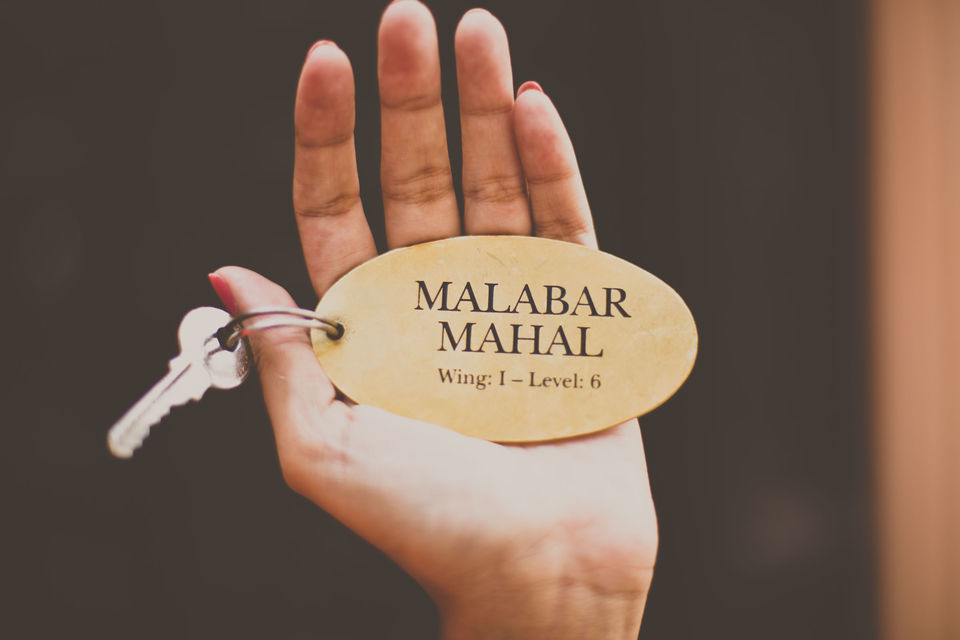 We received the keys to our elegantly named room, 'Malabar Mahal.'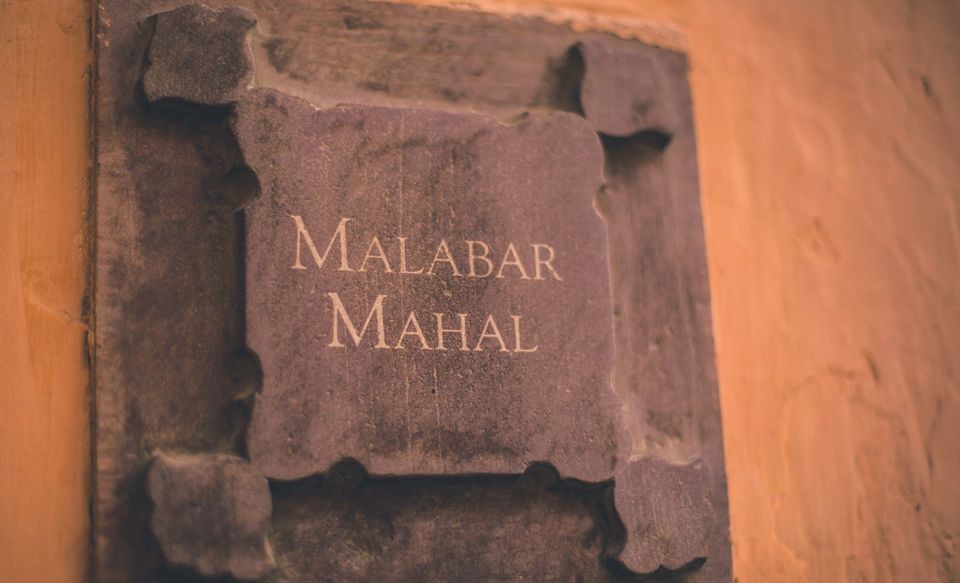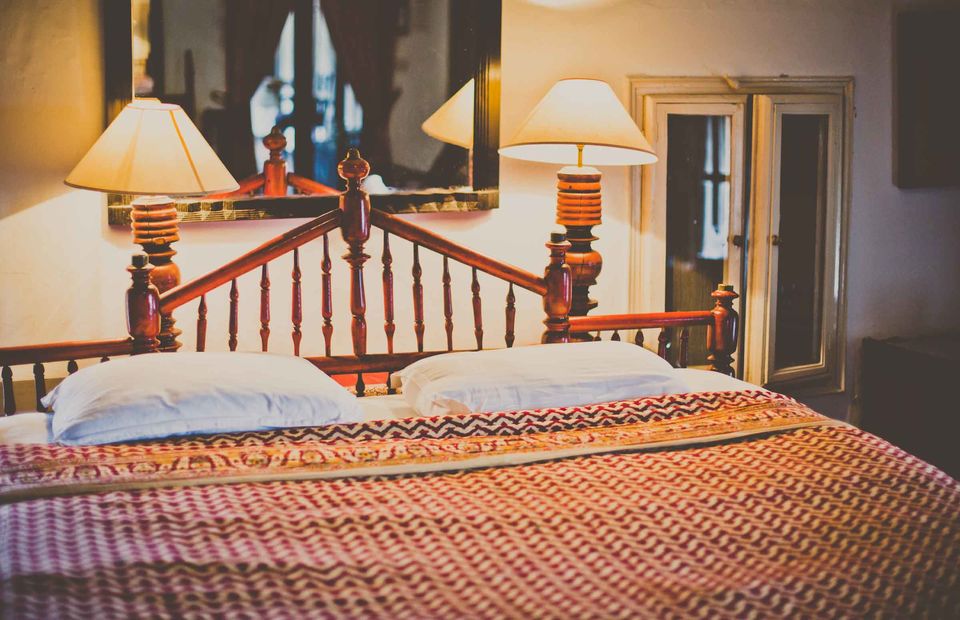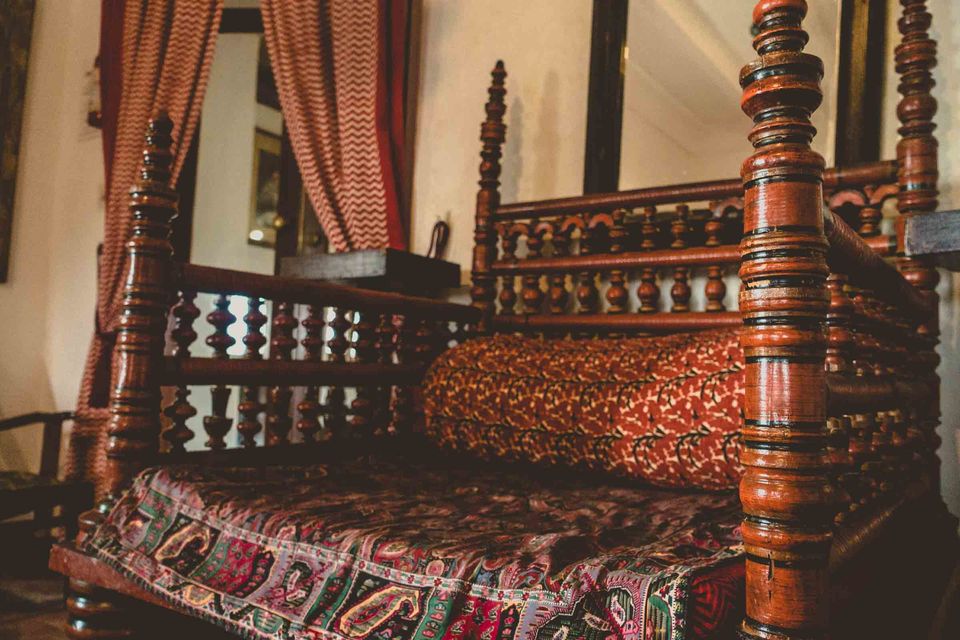 We even got our very own royal Rajasthani chair.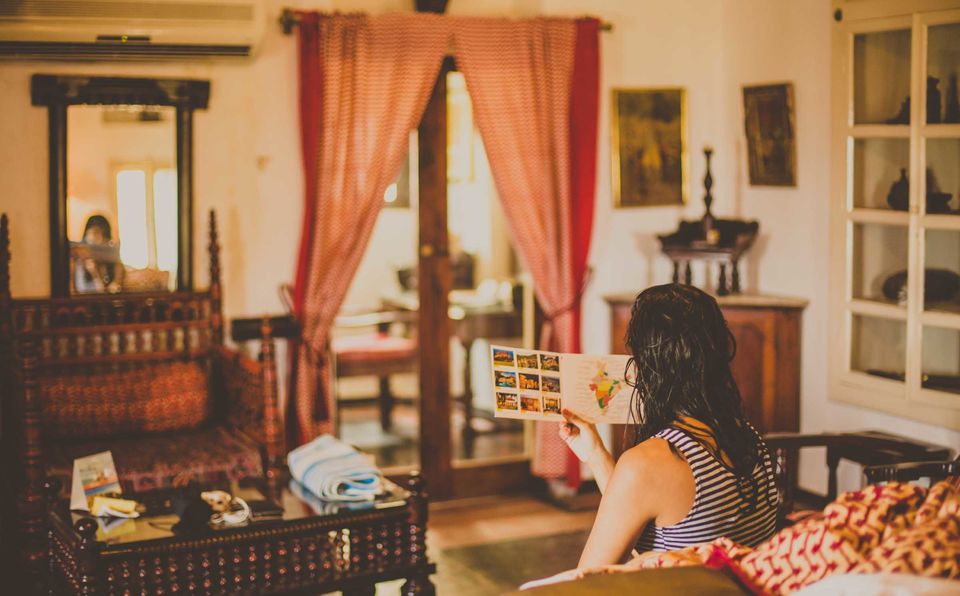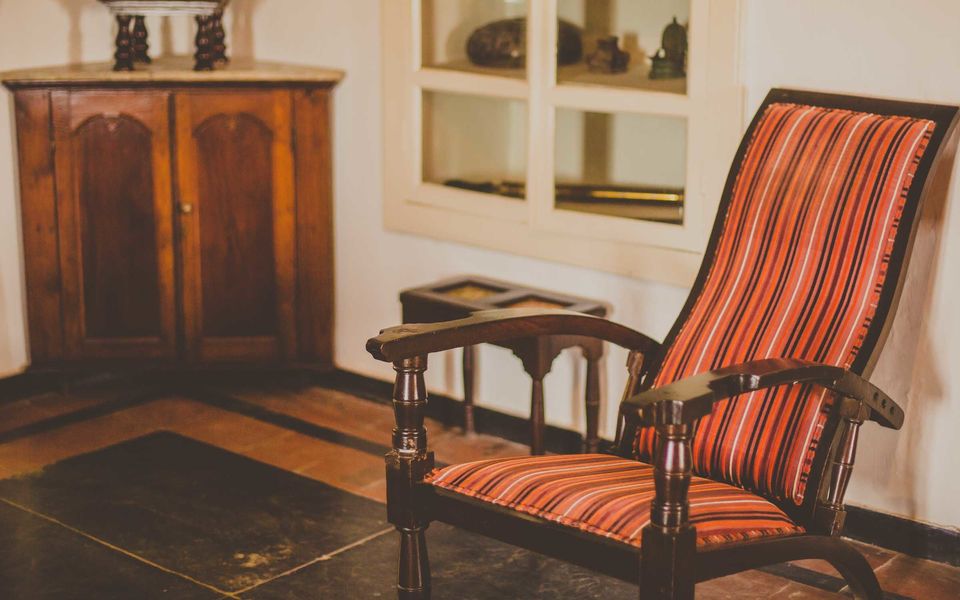 Our room was beautiful and absolutely amazing.
The room had a passage that led to the bathroom.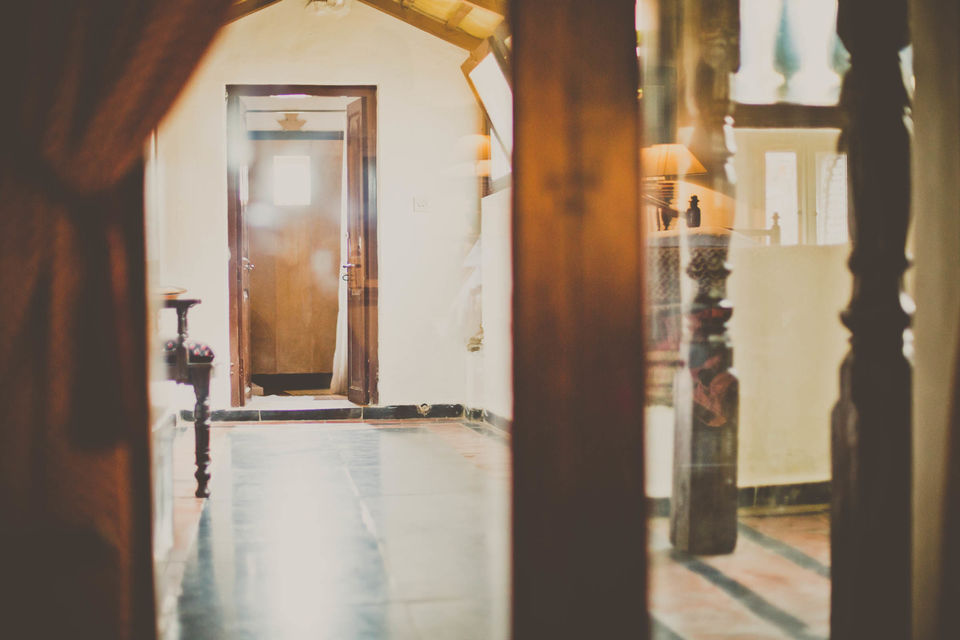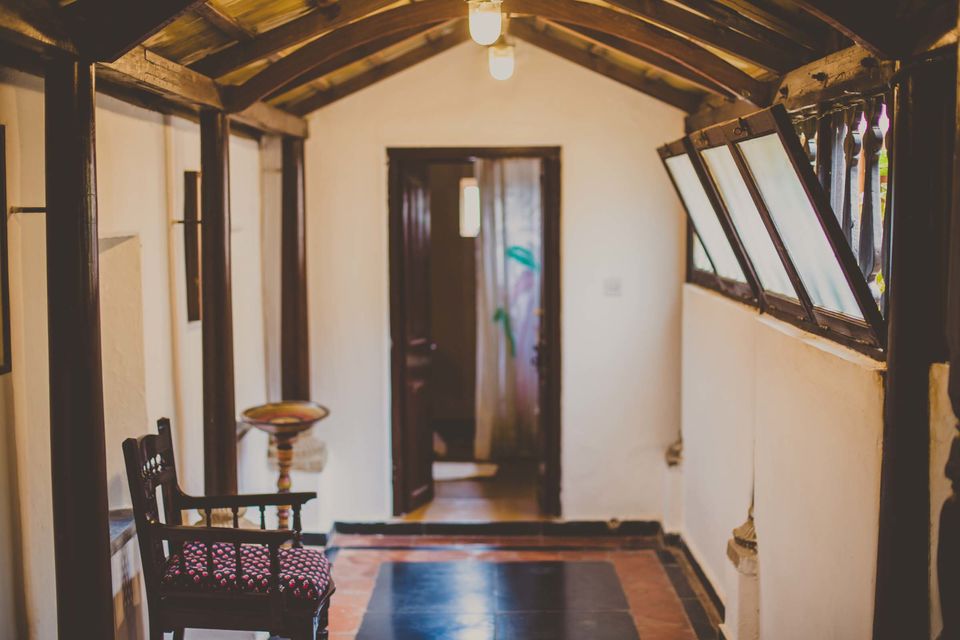 That was the bathroom at the end; the windows on the right illuminated the passage quite wonderfully.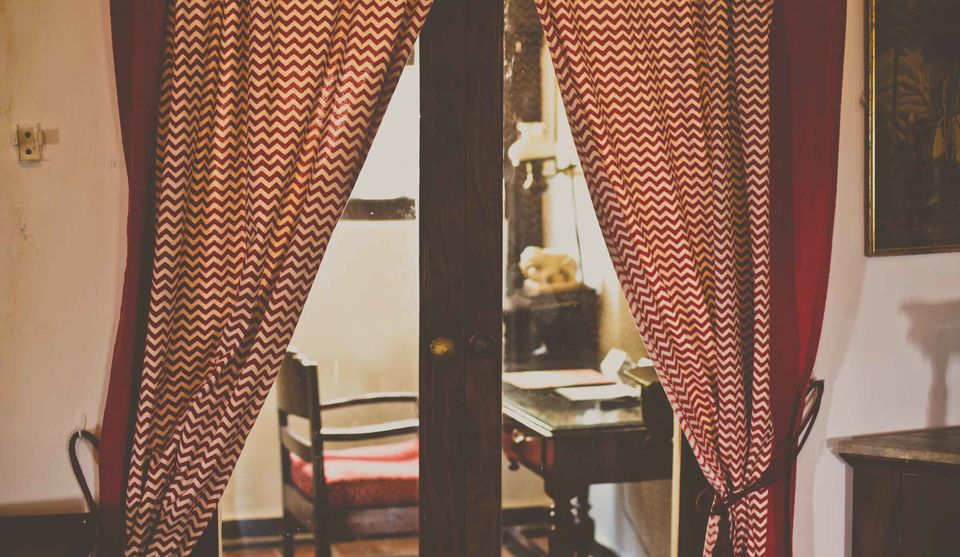 If you haven't realised yet, the room was fancy. And what do all fancy rooms have?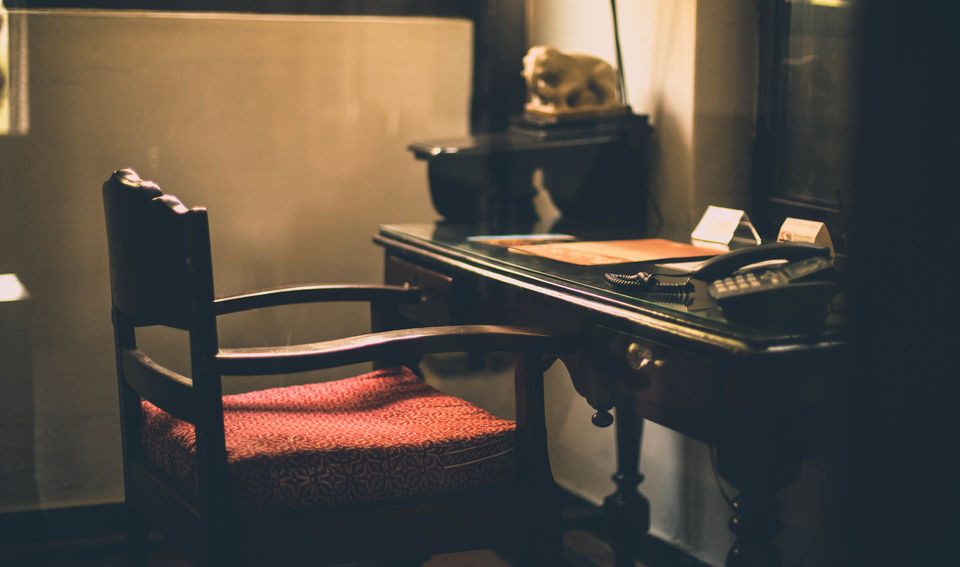 A study, with fancy marble elephants on either side of the desk.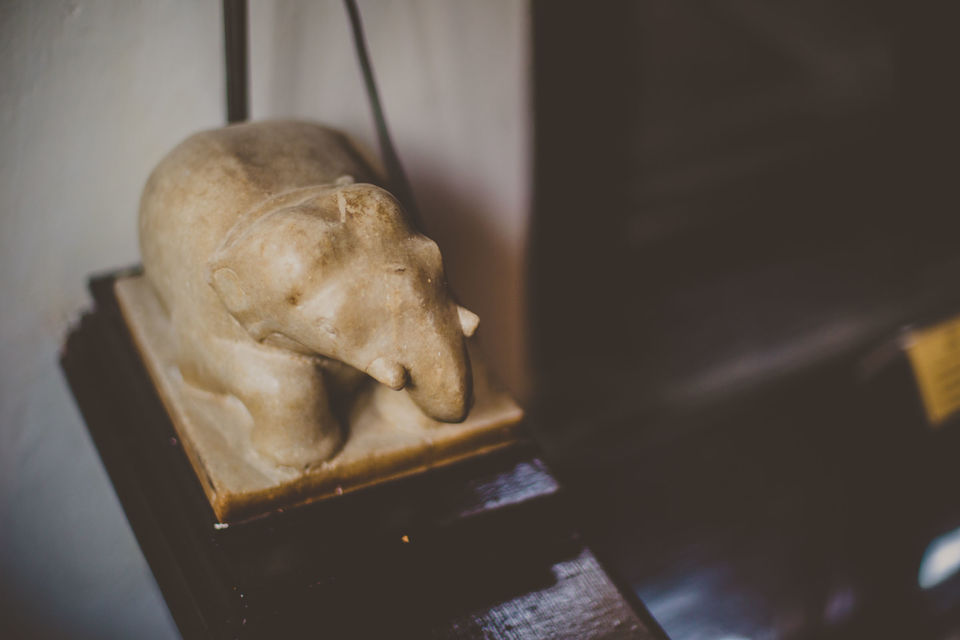 The view was brilliant. Down below we could see the town and the little houses.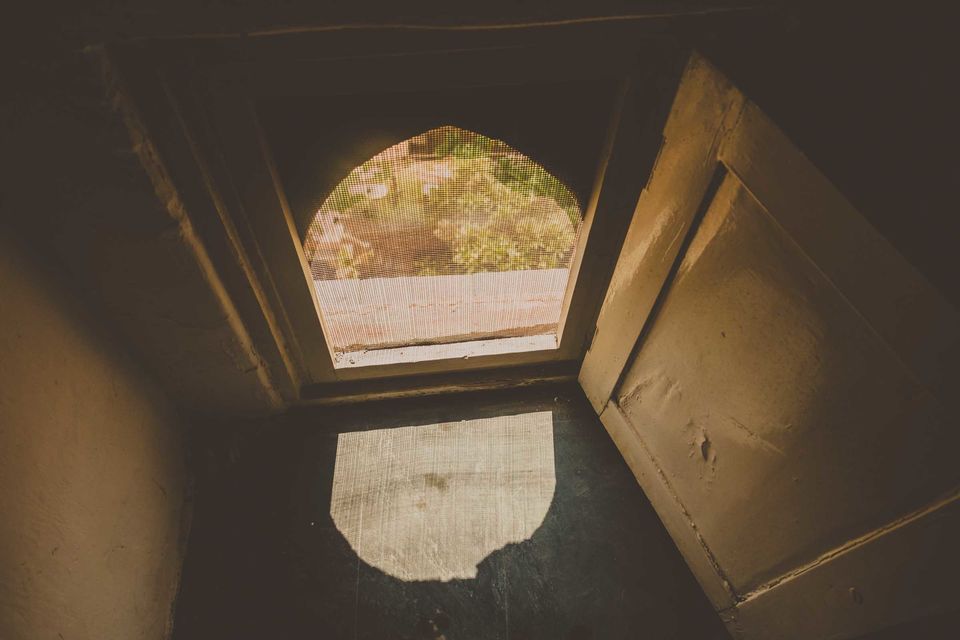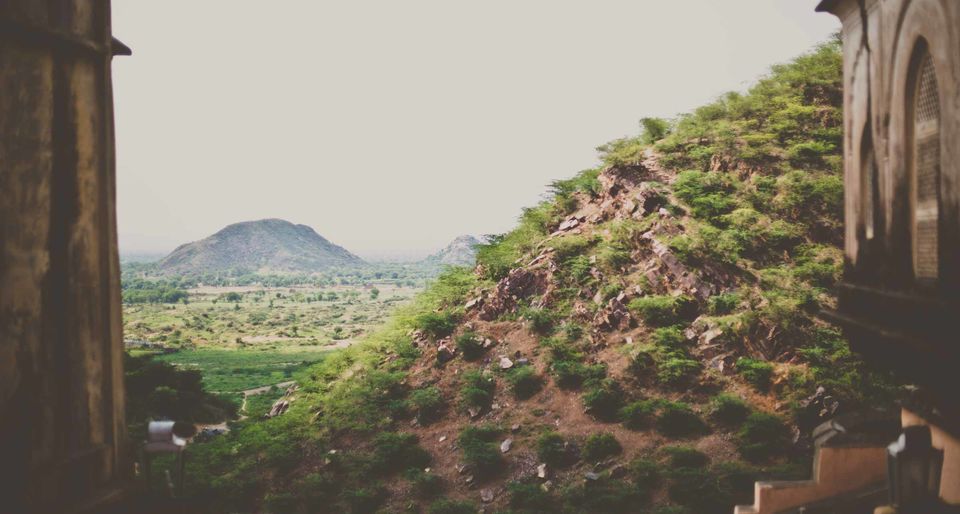 As we stepped out of our room, this was the view. Breathtaking! To be honest, it made me wonder why I had read about Neemrana Fort so often but never actually made the journey.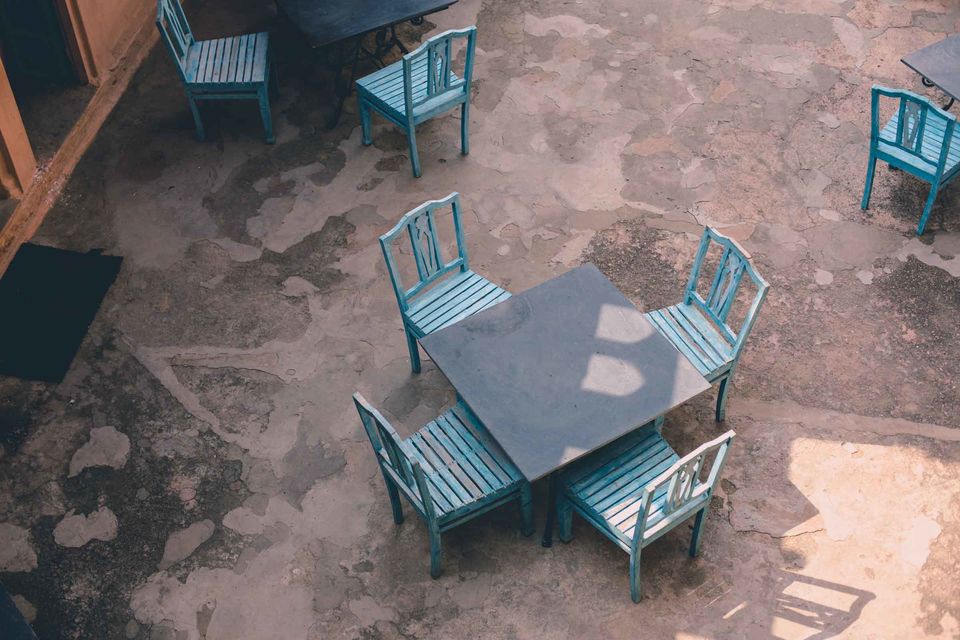 Below our room was a sitting area for food. With the bar nearby.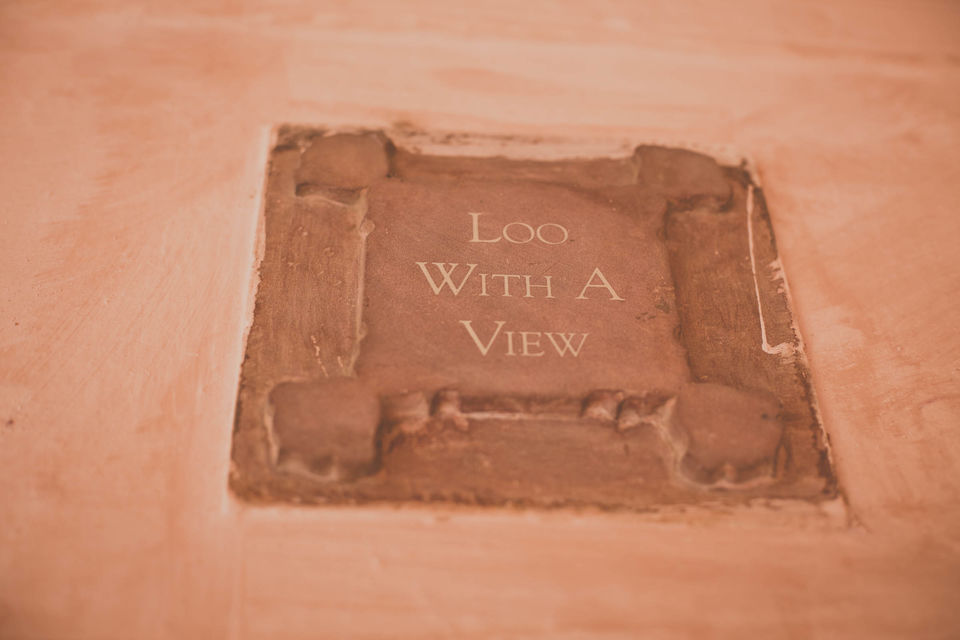 Perhaps one of the most interesting things that we found at Neemrana was the 'Loo with a View.'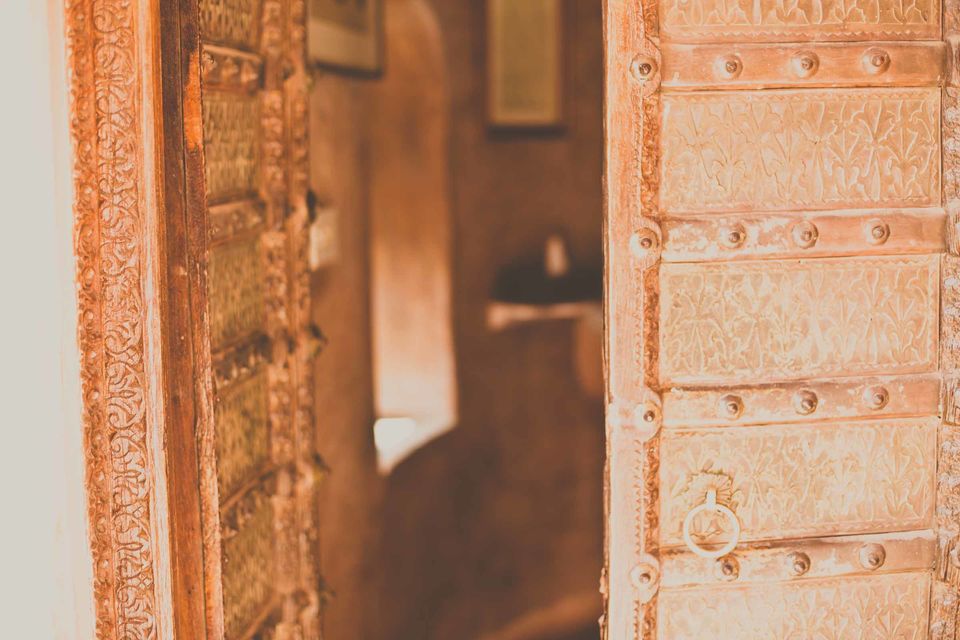 It was literally a loo,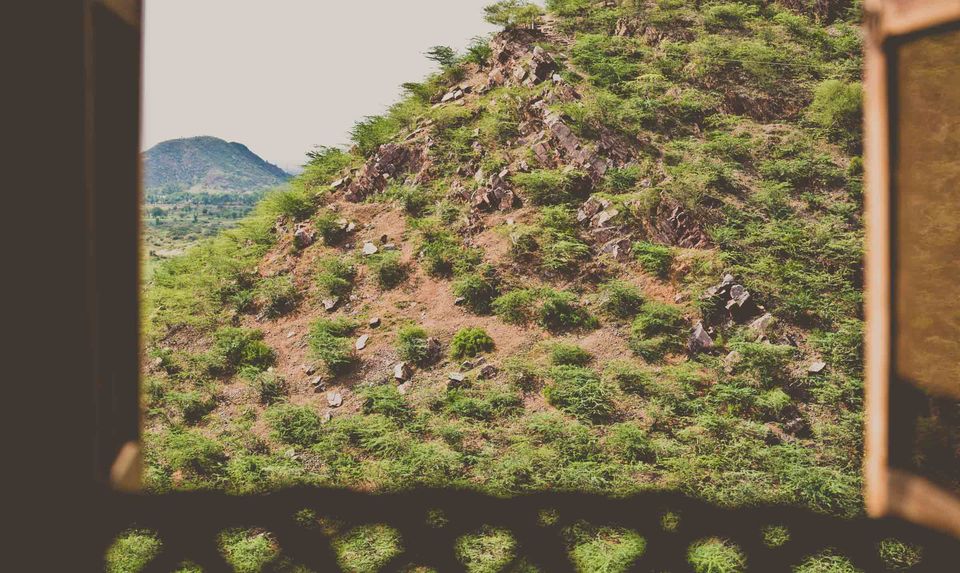 with this view.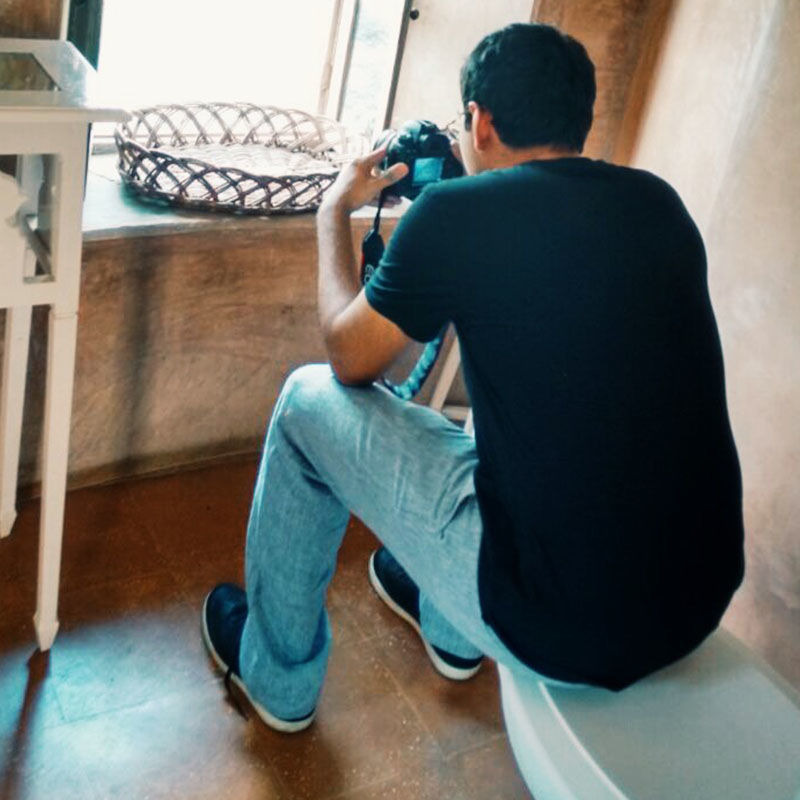 That's me taking a picture. Don't worry I'm not using the loo here.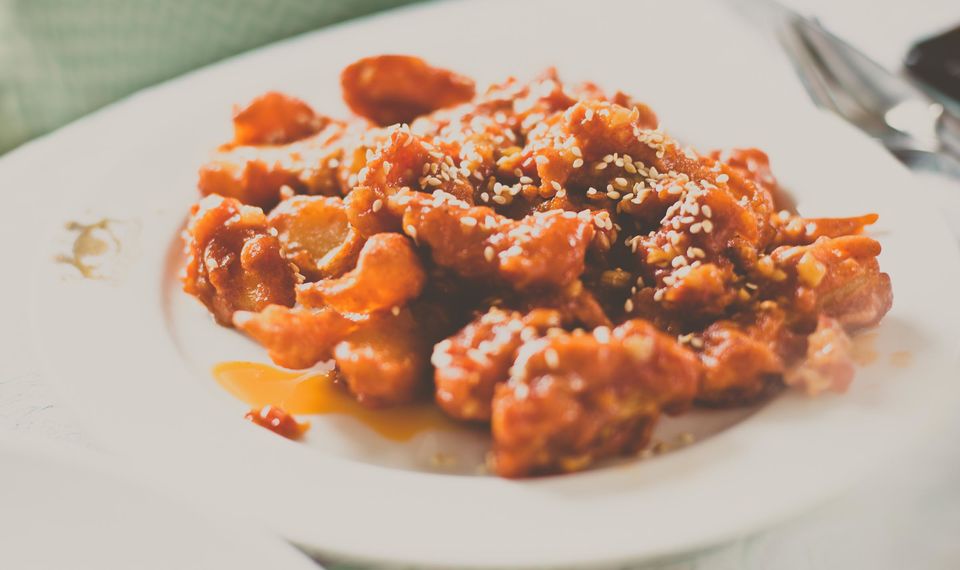 We'd missed lunch, but luckily Hawa Mahal served us snacks. One plate of chili potatoes.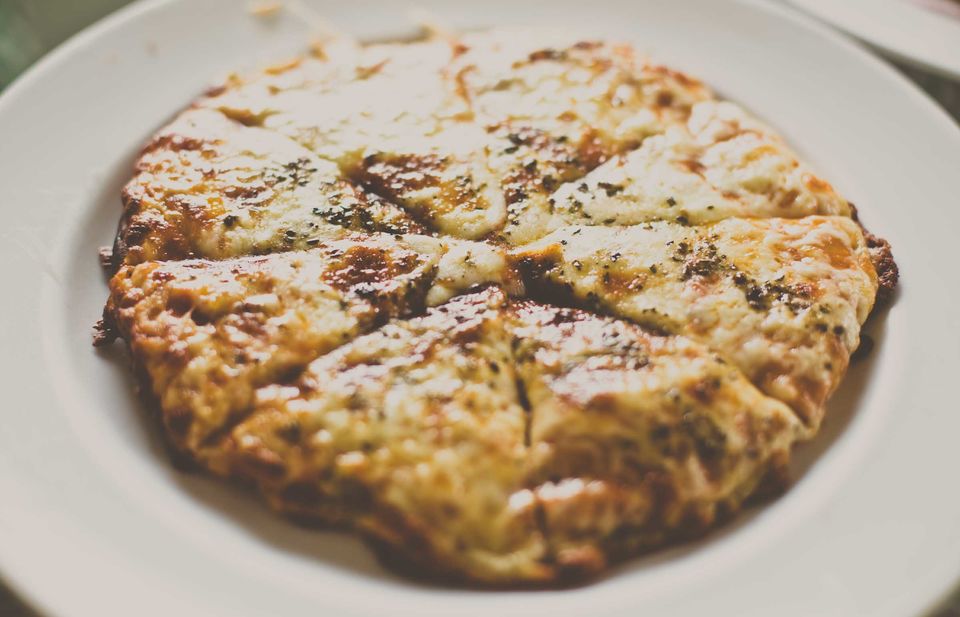 A simple cheese pizza.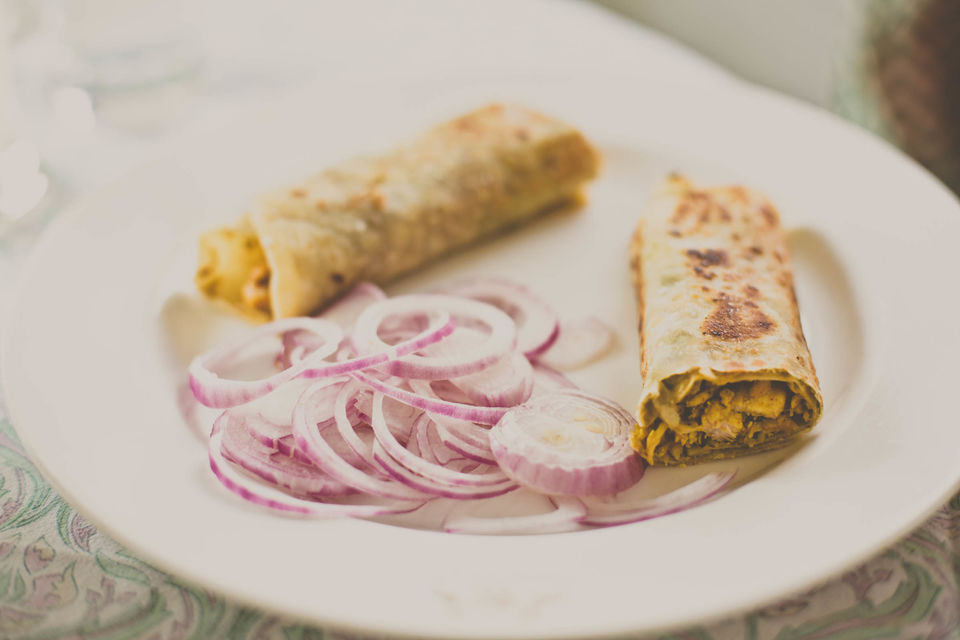 And a roll.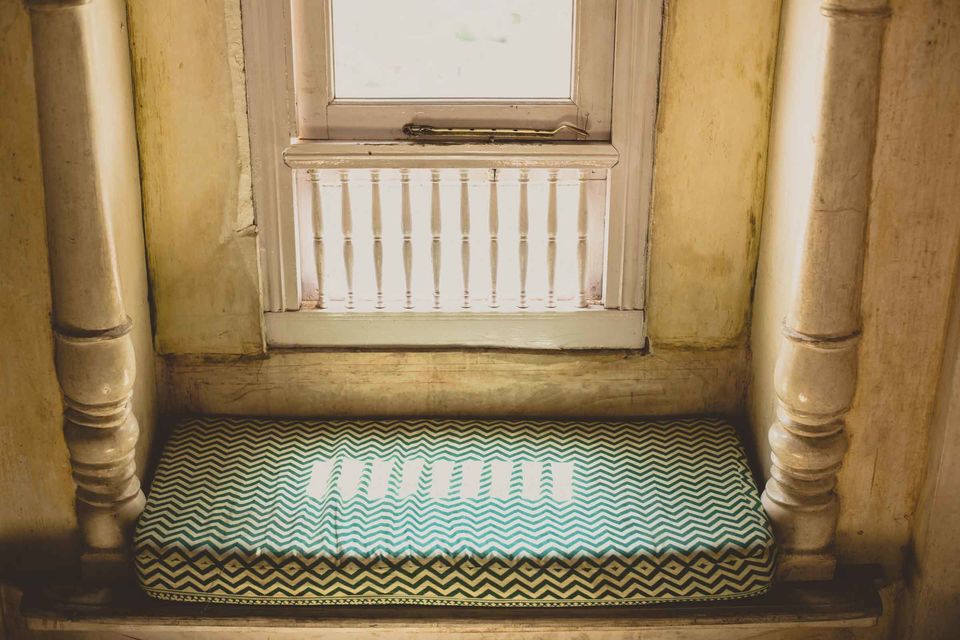 Every window at Neemrana Fort offers a view, wether you are eating, sleeping or taking a sh*t.
Neemrana is perfect! You can feel the history.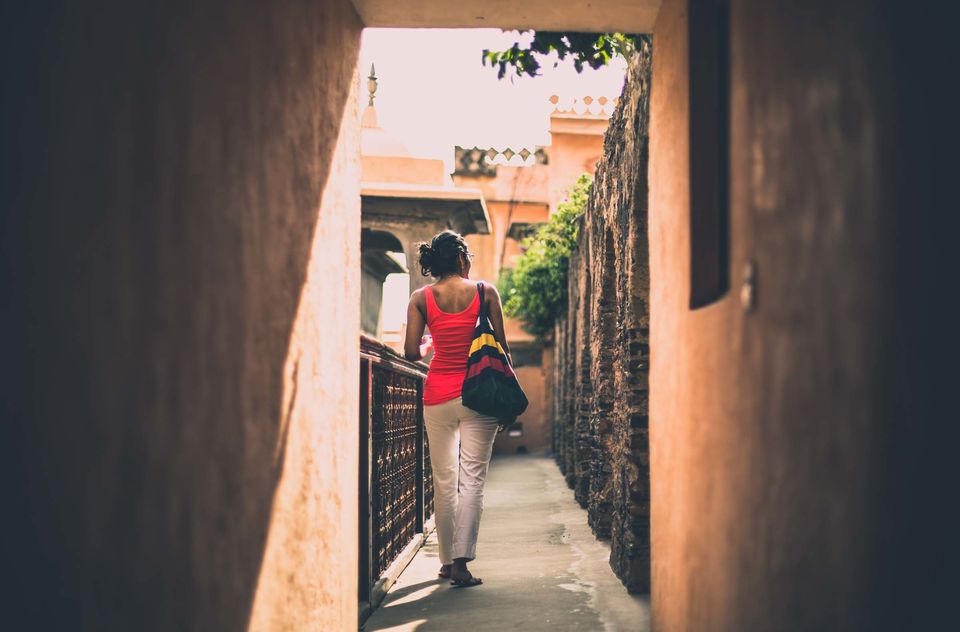 We took a walk post snack time. Wherever we walked we'd come across narrow passages, courtyards and terraces.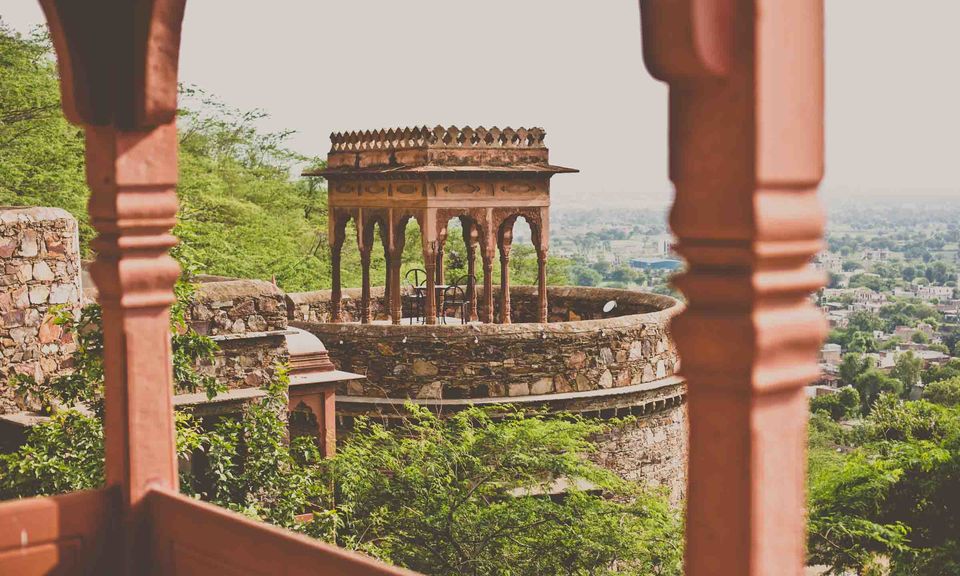 The Neemrana Palace is peppered with places to sit and lounge. Each offering it's own view of the palace and surrounding lands.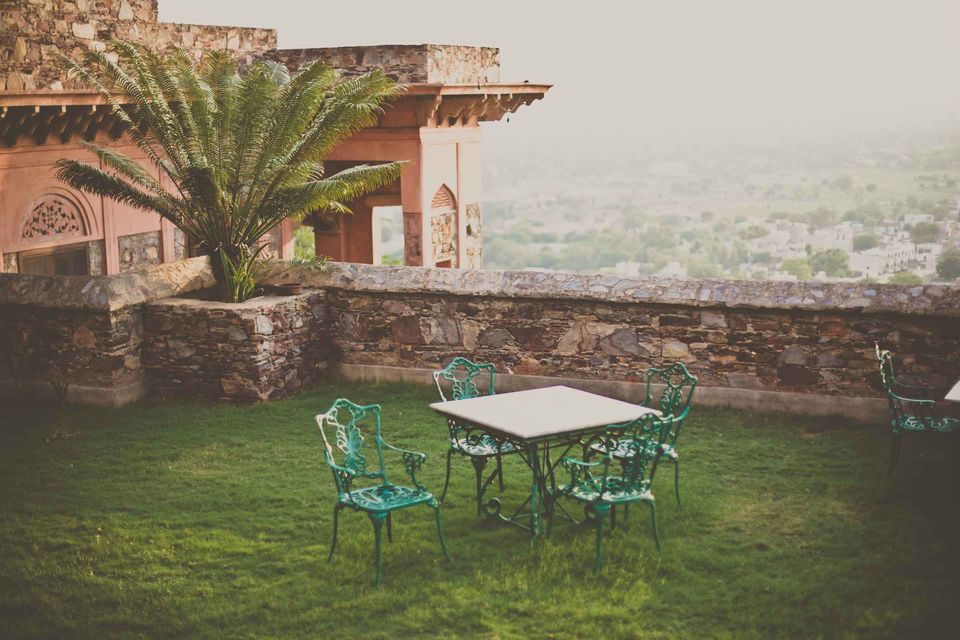 They grow grass on some terraces and levels, perfect for a bare-foot walk.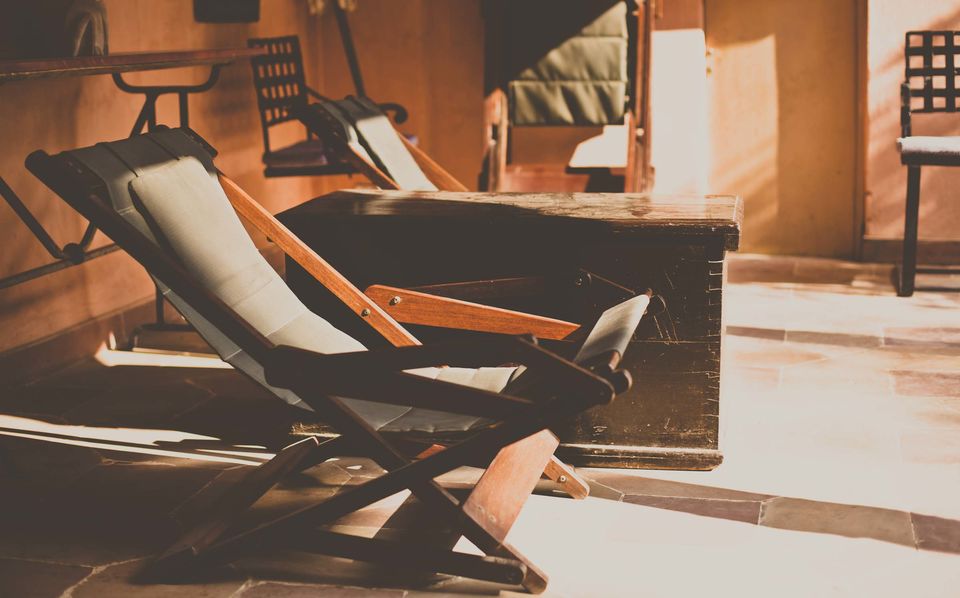 Beside the pools are recliners that invite you to sit and nap. With the light and weather being as perfect as it was, we dragged ourselves to swim.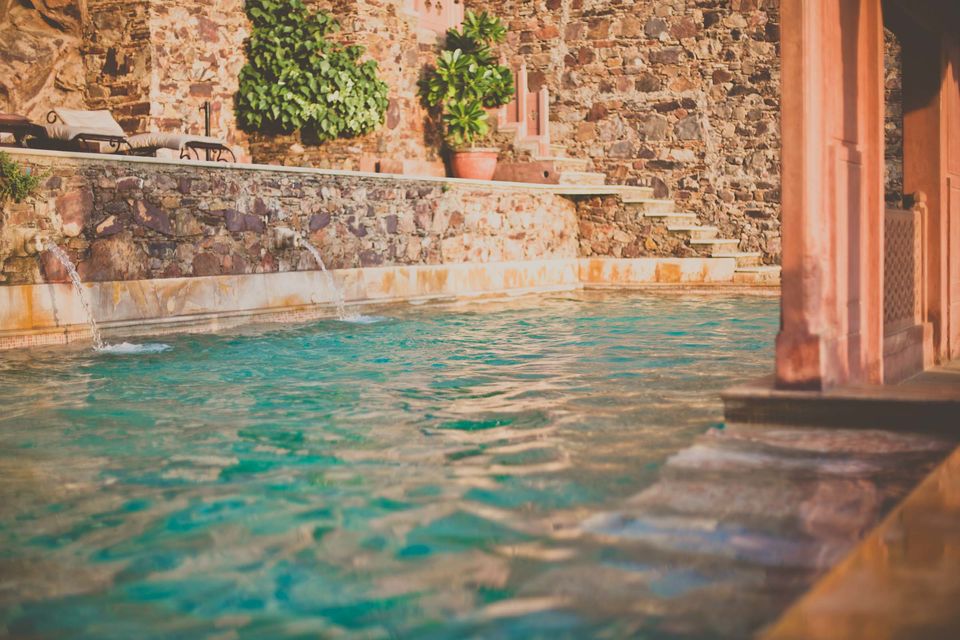 Neemrana Palace has two pools, one for adults and one for kids.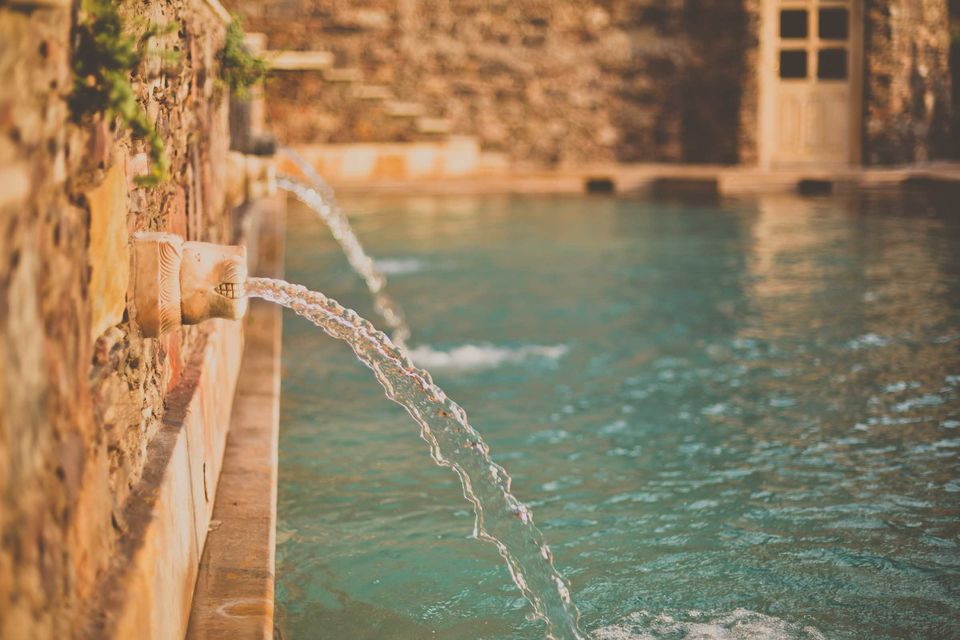 We didn't have time to go to the spa so we stood under these for a few minutes and got a therapeutic shoulder massage.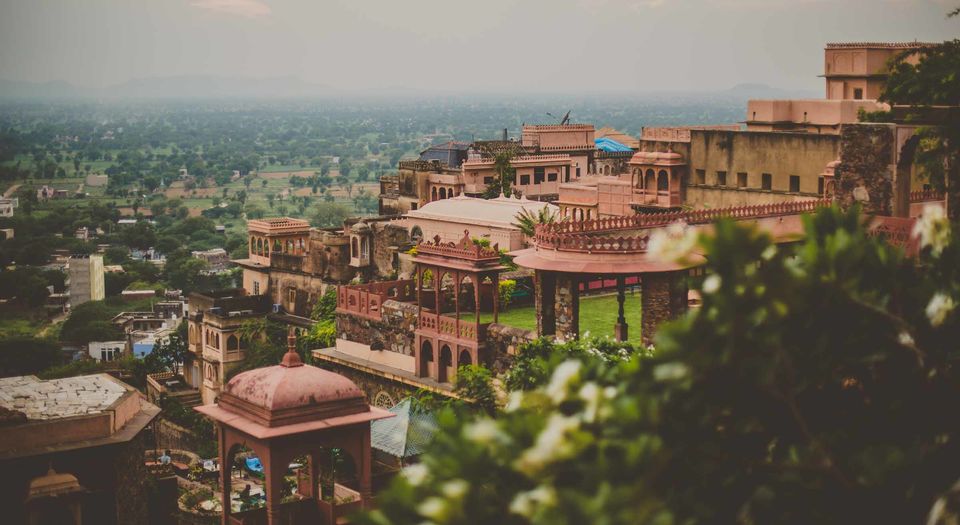 We thought the Neemrana Fort looked perfect when the sun was out. But as the sun set, we were blown away. This picture was taken from beside the pool.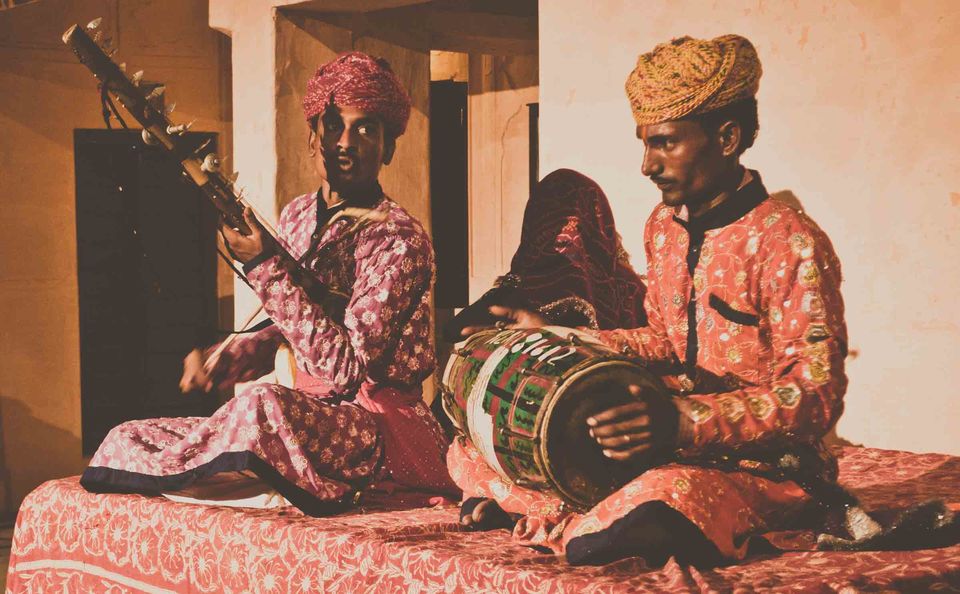 In the evenings, they always have some activity, and that day, some local artisans were treating us to their music.
Before dinner, we went exploring through the (scary looking) narrow paths and staircases.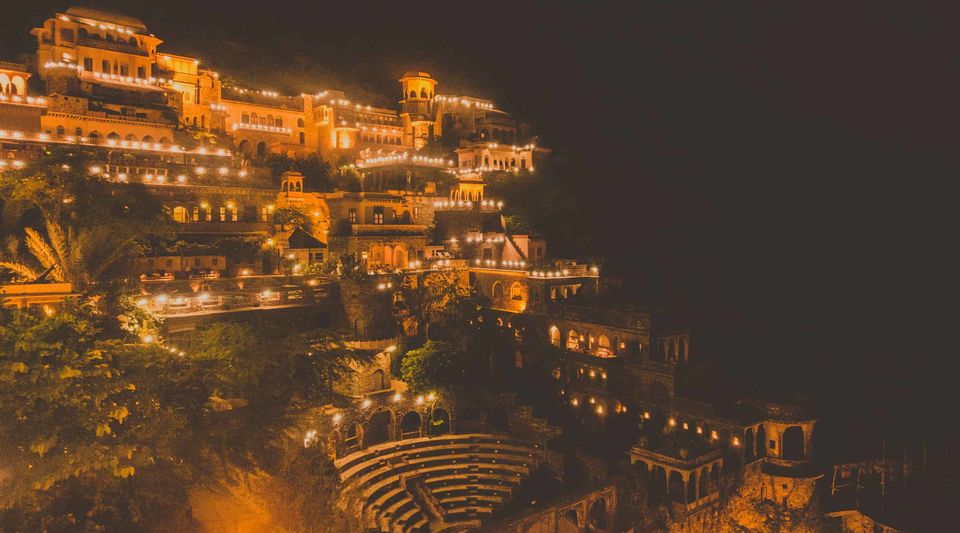 After being lost in a maze, for a good half hour, our persistence to carry on was rewarded with this spectacular view of the fort.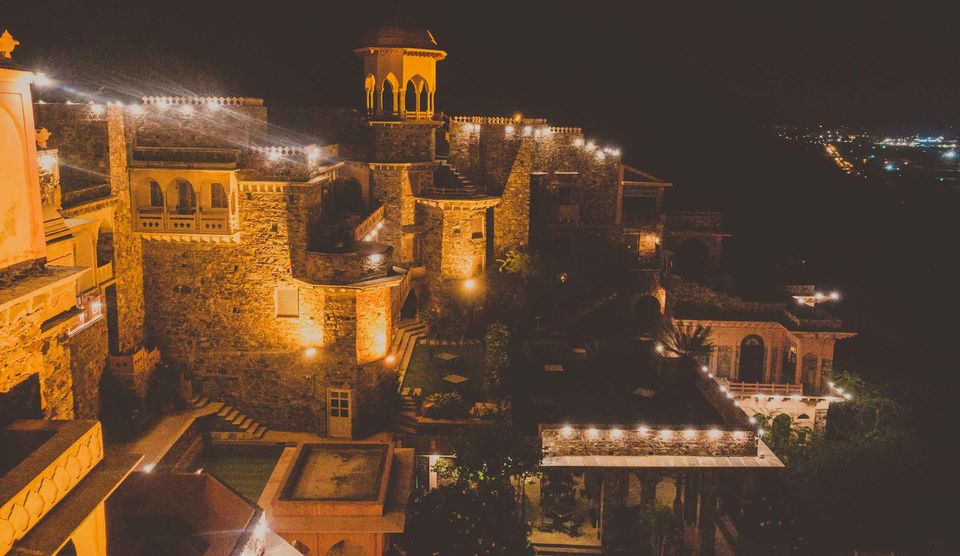 Getting to the top floor was crazy. We were startled by a monkey hanging off the balcony.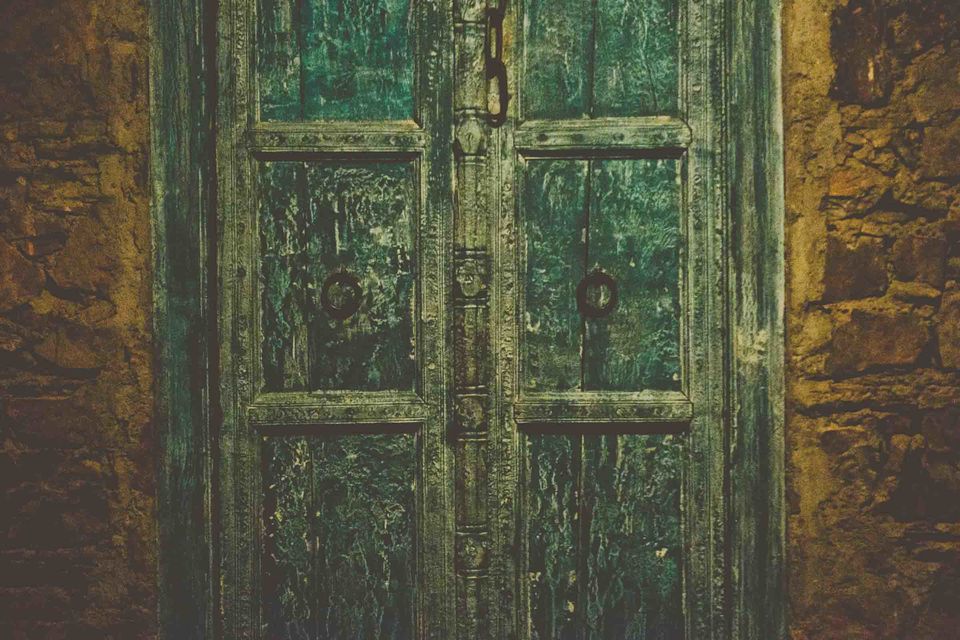 Seeing doors like this made us wonder if the place was haunted. But we were told it wasn't :(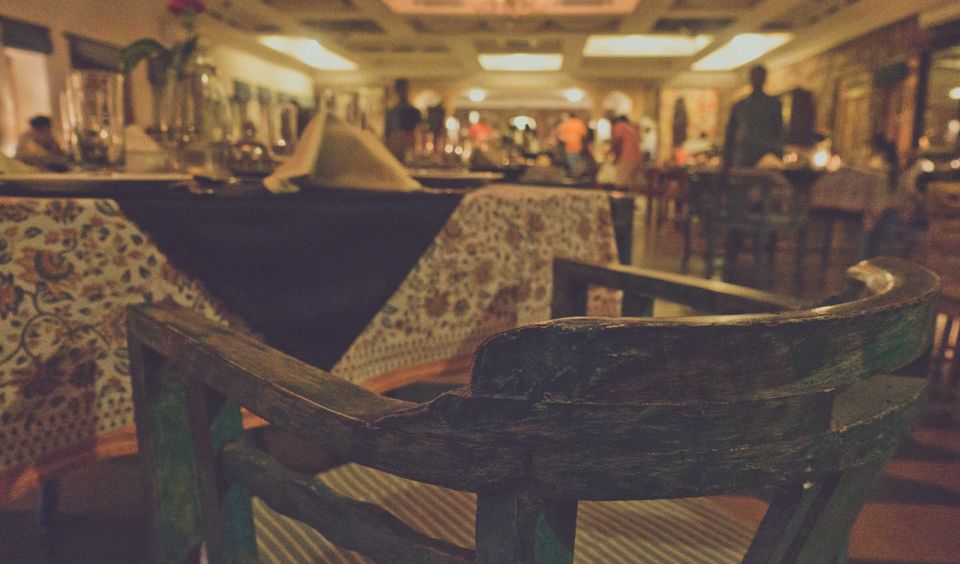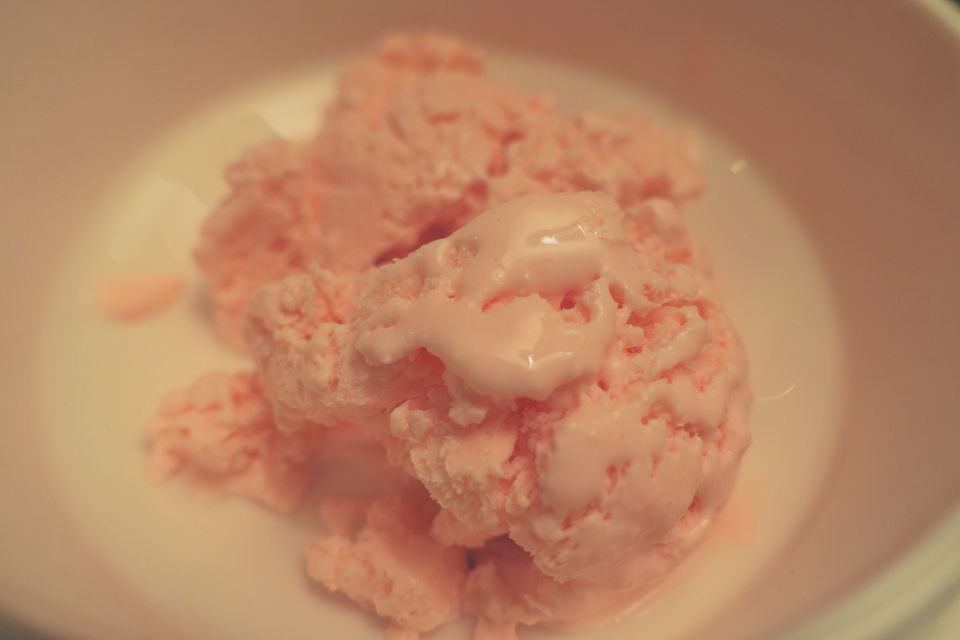 The homemade strawberry ice-cream was just brilliant!
The next morning we had breakfast which included cakes.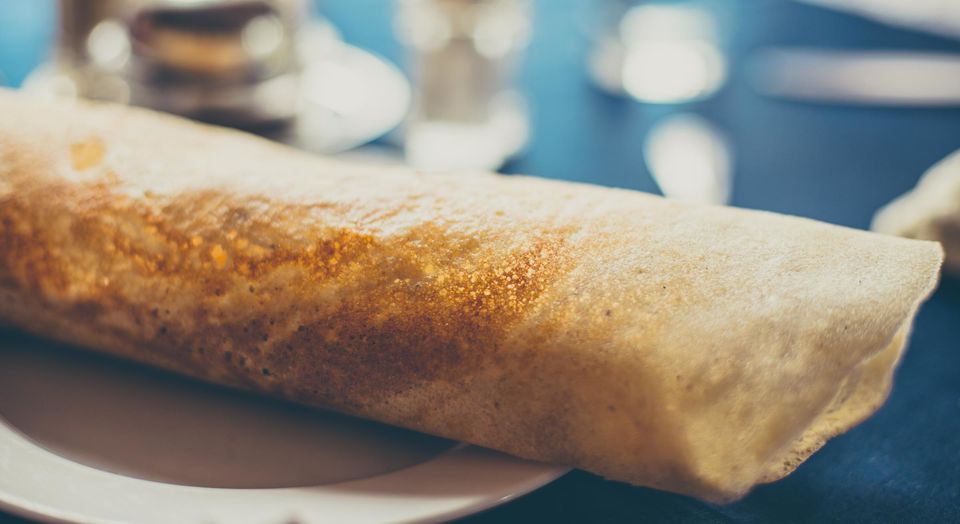 And of course, the dosa early morning gave us a good kick.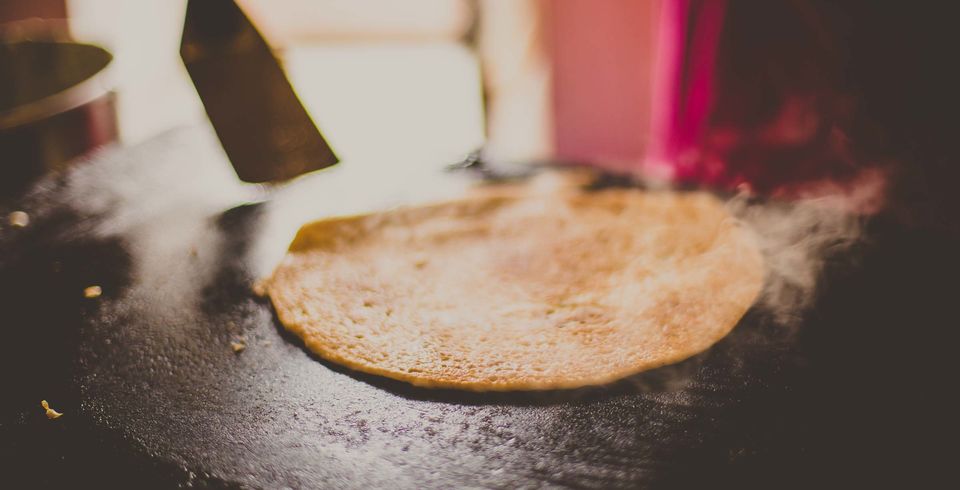 Got a quick picture while the chef was making dosas.
Eggs not scrambled.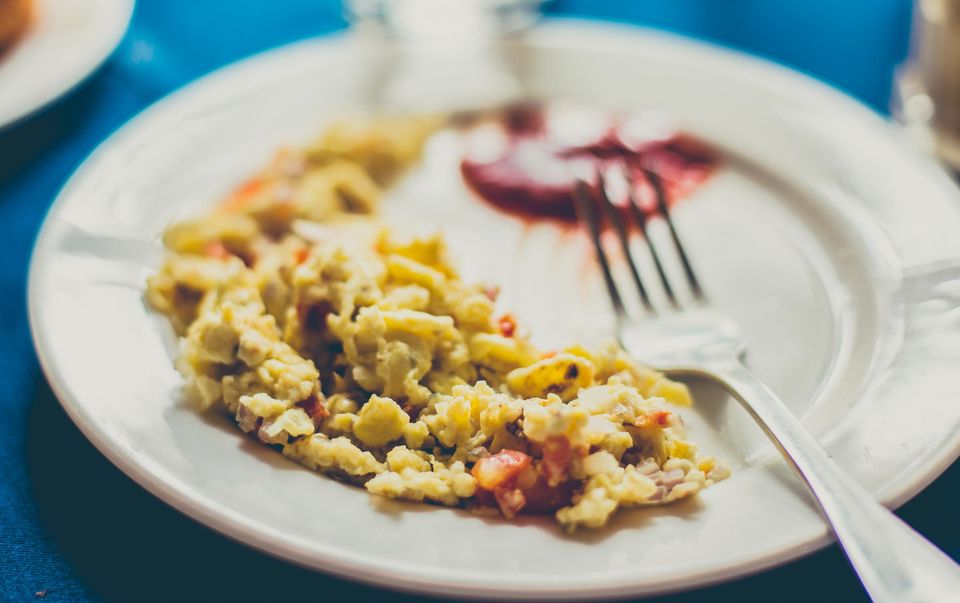 Eggs scrambled. Somehow they made everything look its very best, including the food.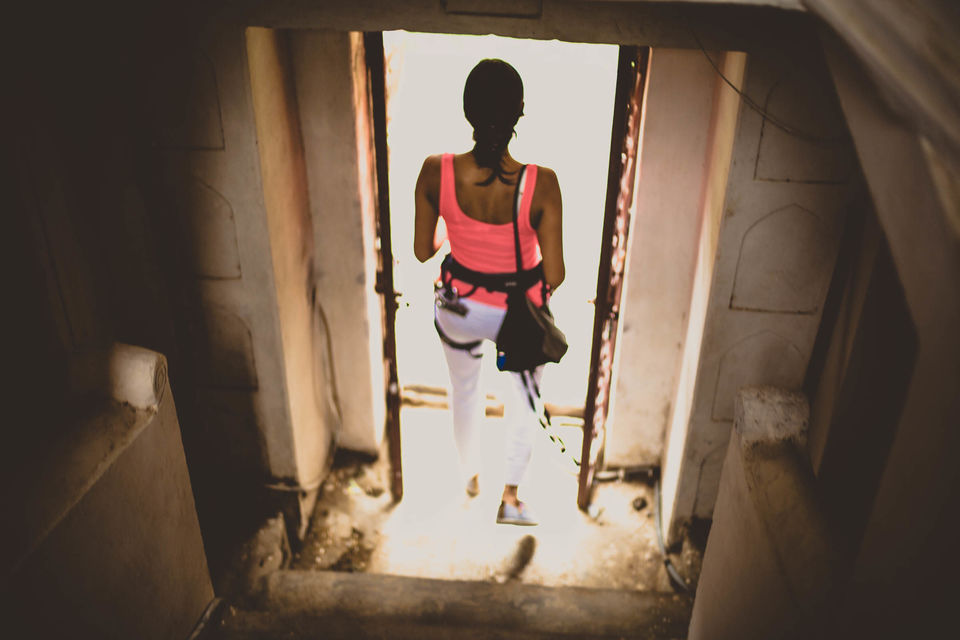 As soon as breakfast ended, we headed off to zip-line, above and across the palace.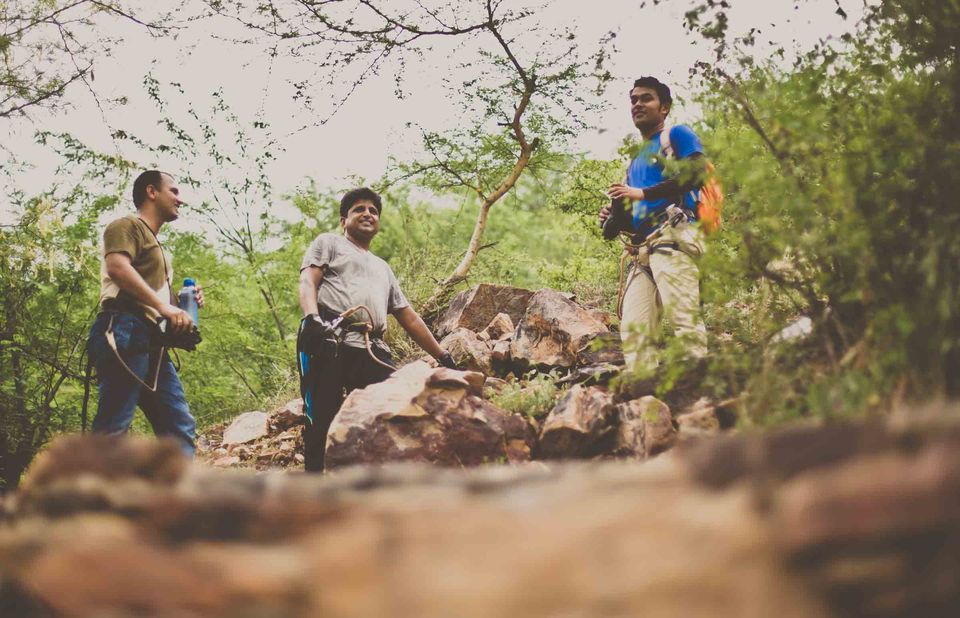 After a grueling climb up the hill, we were joined by two others who were going to zip line with us. The guy in the blue T-shirt was our guide.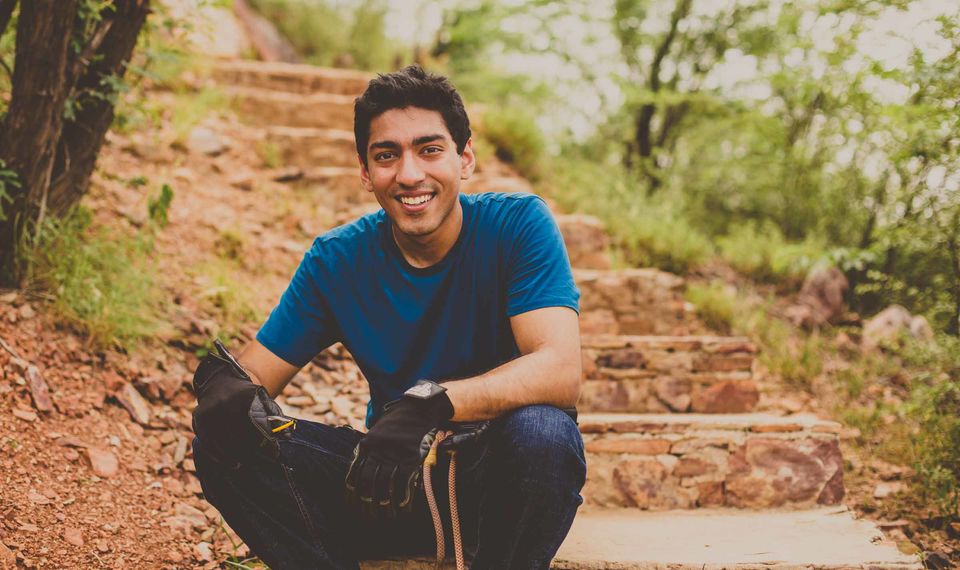 That's me, all sweaty from the climb!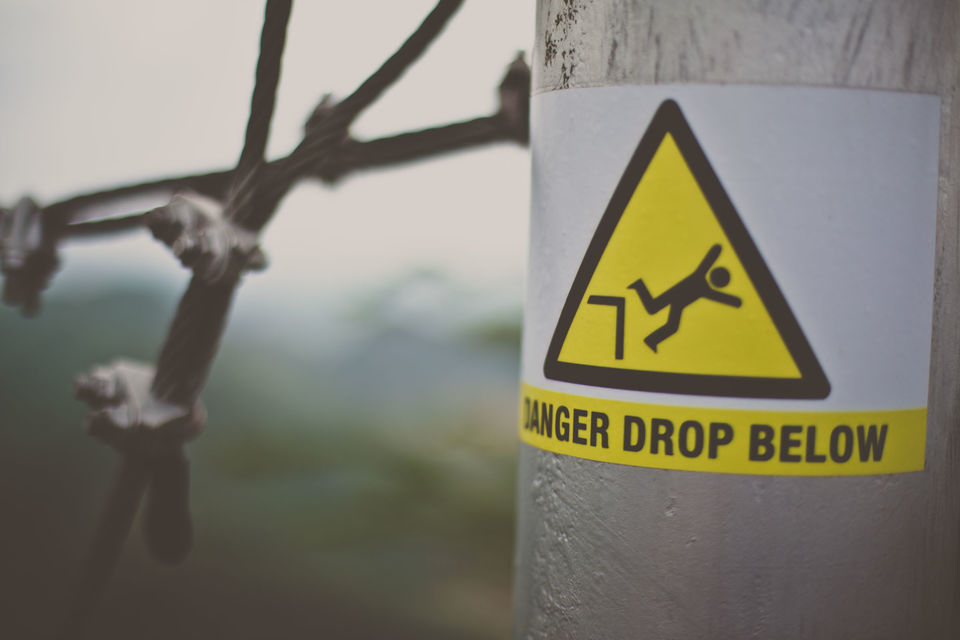 We were greeted by signs like this at the top, which was hilarious! After a quick training session we began zipping!
We were taught how to position our hands and legs and how to brake in case we were going too fast.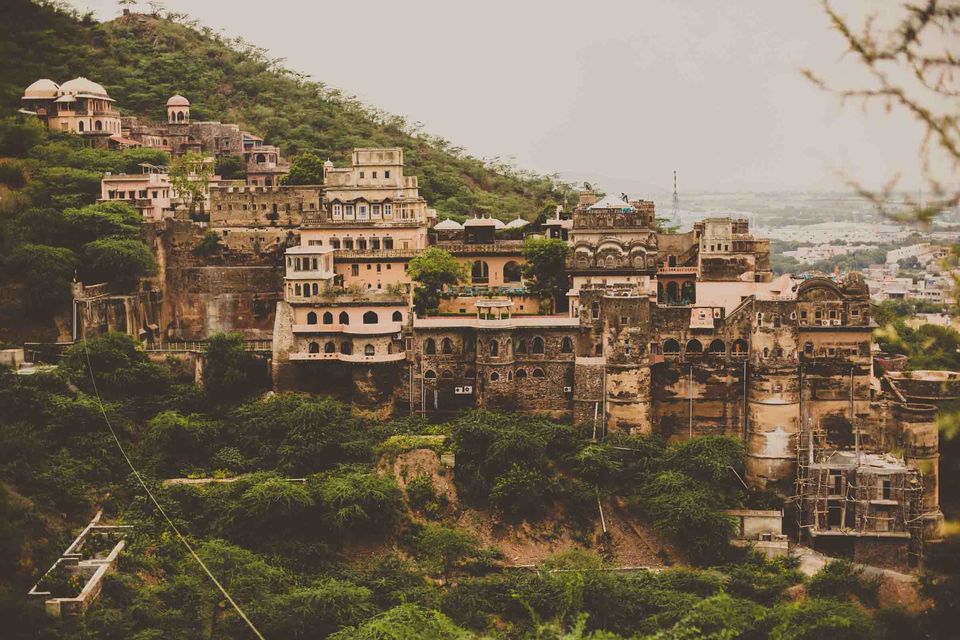 Seeing the fort's full size like this made me promise myself, to come and stay again.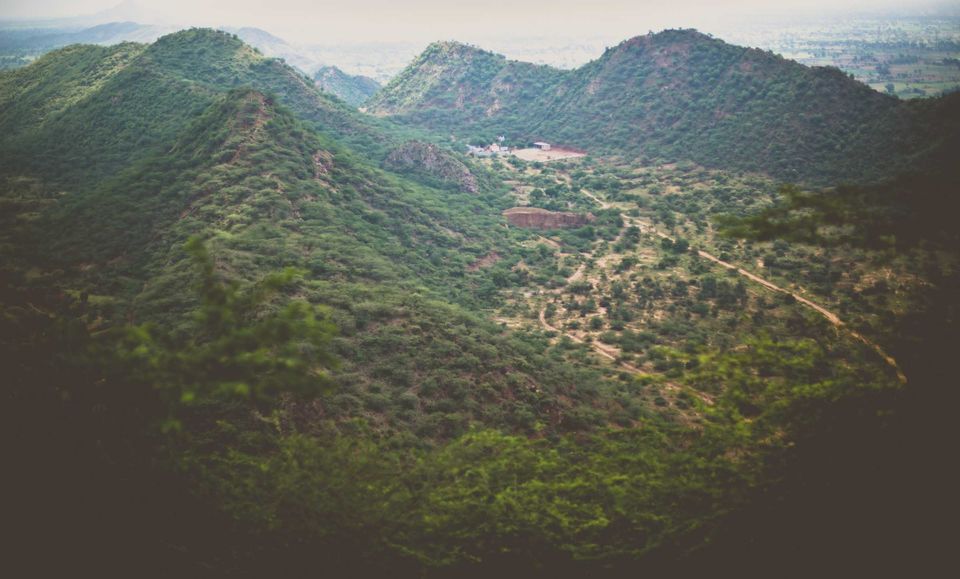 The view from the top. Surprised it's so close to Delhi?
Once we finished, we got back to our room, packed and had to check out. Unfortunately, our stay had ended.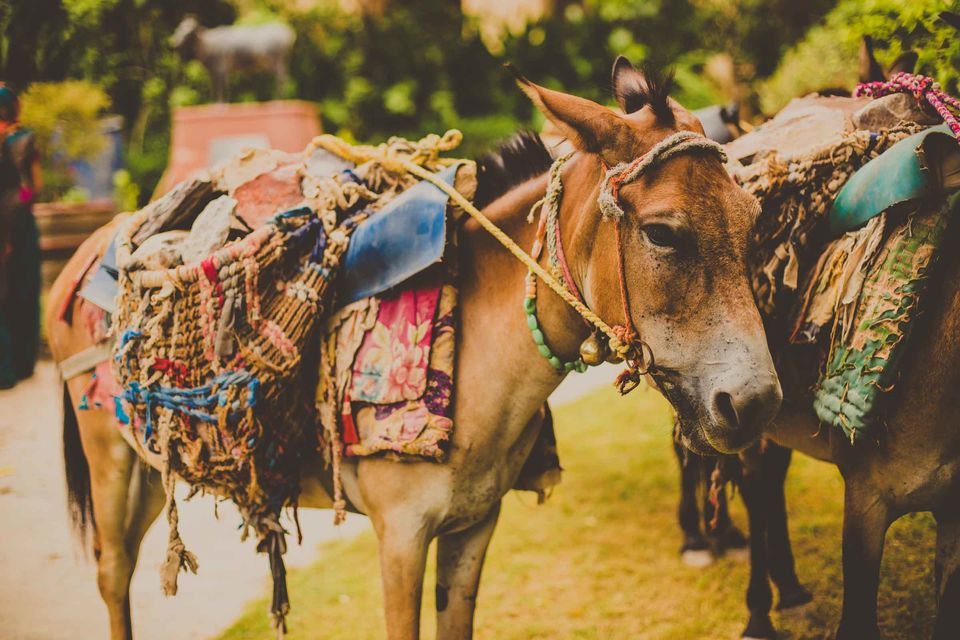 On the way out I said goodbye to the local donkeys and got into the car.
I'd like to conclude that Neemrana Fort Palace is wonderful. It's a perfect romantic getaway and even if you aren't in the mood for romance it's still worth a visit with friends and family. A little less that two hours from Delhi makes it one of the top places that your must visit if you have just a day or two to spare.
Go, trust me, just go!
If you enjoyed reading this, do take a second to share this trip!
You may also want to check out my other trips on Neemrana Fort Palace, Tijara Fort Palace or the Hill Fort Kesroli.