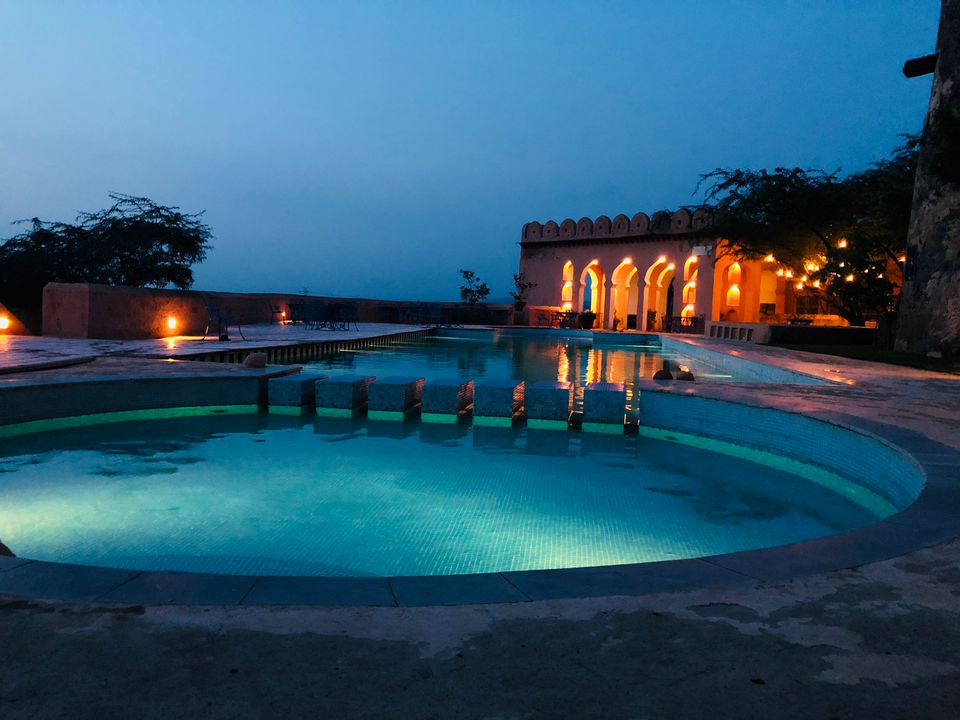 https://instagram.com/mytinyatlas_?r=nametag
Escape the chaos of the city with just a small drive to the Hill Fort Kesroli from Delhi!!
I know it's difficult at times to get away from the humdrum of daily life, but luckily Delhi has plenty of quick escapes, let me take you through one of them!
Hola! I recently visited this beautiful fort called Hill Fort of Kesroli. This fort is located in the midst of fields and at the heart of a village!
Journey to Hill Fort Kesroli
Before that, like me do you also love nature, forts, hilly areas and less crowded place with best of food and hospitality? Oh perfect, this is for you!!
And also, if you are someone who lives in Delhi NCR and wants to visit nearby places, then Hill Fort Kesroli is the place for your weekend getaway or a normal 2 days holiday. Trust me, this will be worth your money and time!
Background:
*The Hill Fort Kesroli is a 14th-century fort located in Alwar, Rajasthan, India. It is now a heritage hotel managed by Neemrana Hotels group and is known for its turrets, ramparts, and arched verandah and today considered as one of the best heritage hotels in India*
Distance from Delhi:
Approximately 165 Kms (4 hours)
How to reach?
The safest and easiest way to reach this property is your own car via NH 48 route!
Inclusions:
A Historic 700 year old property
Splendid 360-degree view of the hills and fields
Terrace Pool with sundeck and a spa
Local and International delicacies to relish
Lush green gardens
Historic rooms with a graceful decor
Indoor Games
The super courteous and helpful Staff
And the food they serve, uhff scrumptious!!
Expenses:
Hello? Petrol is on you, yeah!!
So, I booked my room almost 15 days before and at that time I got it in Rs.5400 for two (Heritage Romance Room) With complimentary breakfast and tea snacks.
For dinner, you will have to pay for buffet.
Well we also got a complimentary cake at our dinner since it was my friend's farewell!
Note: there are no options outside this property for anything. Literally nothing is available to eat since its situated in middle of the fields. So better take your own booze and snacks!
Tips: I usually visit such beautiful places during the weekdays since they are cheaper and are less crowded in week days. So must think once before you book it!
Before this, I had also stayed at Tijara fort palace, which was immensely beautiful.
With this I have realised that Neemrana Properties never fail to surprise you in any of the ways starting from a warm welcome to a heart warming goodbye. Nothing about the experiences here or any other fort is ordinary! And not to forget these places also host some super amazing Birthday parties, wedding occasions and many more celebrations!
Cherry on the cake:
Staying inside a fort in its original form was an unmatched surreal experience. Swimming alone, having chai near the perfect Sunset point,Gazing at stars in the middle of the night, sitting by the pool, enjoying the cool Rajasthan winter breeze was like being in a paradise!!
Overall, a super thrilling, satisfying and a relaxed trip from the hustle bustle of a city life. Hill For Kesroli is highly recommended for anything and anyone seeking a peaceful authentic Rajasthani time!