It is believed that some paintings have the capacity to send the wandering souls of the dead to heaven, whereas some believe that their paintings are infused with a luck factor. Most of the art forms have stories associated to them! Though there are numerous art and craft forms in India, listed below are some of the top spots to locate the Tribal Art Forms spread across India, if you are a culture fanatic-
1. MANJUSHA PAINTINGS
Prominent- Bihar
-Manjusha is believed to be the only art form in India that is displayed in series, each representing a story within it.
-This art form originated in Anga Pradesh (modern day Bihar), was prominent in a festival dedicated to the snake god that took place in the district Bhagalpur.
-This art flourished heartily during the British rule in India. However, it started fading away in the middle of the 20th century. Fortunately, the Bihar government is making an effort to revive this craft and patent it as Bhagalpur folk art.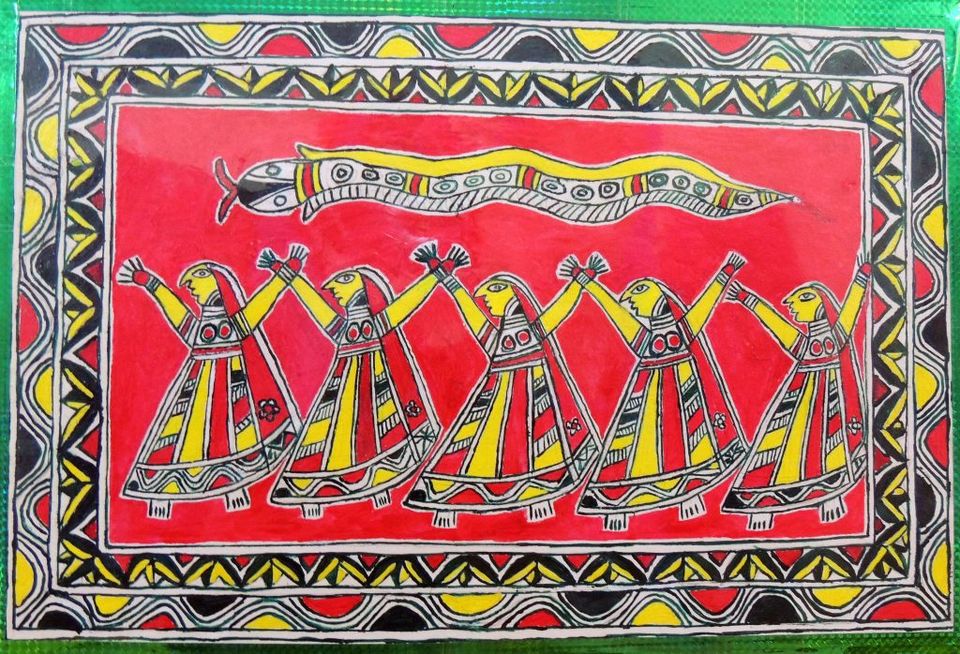 2. ROGAN PAINTINGS
Prominent- Kutch, Rajasthan
-Only 6 surviving people in India right now do the Rogan painting.
-The Khatri family living in the Kutch area of Rajasthan have been the practitioners of the art for seven generations, but they fear that this will be the last surviving generation for the Rogan painting as the future generation isn't patient or hardworking enough to take it up.
-This extraordinary form of art is executed on fabric with castor oil, paints and a 6-inch thin metal rod. The paintings are expensive and are generally purchased by foreigners.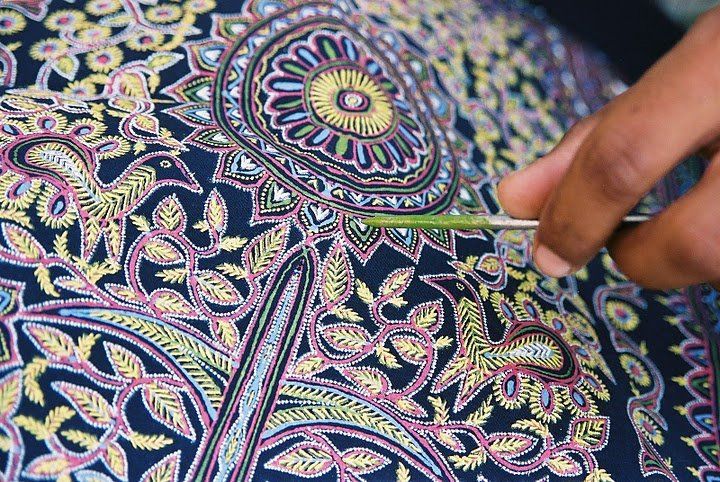 3. MITHILA PAINTINGS
Prominent- Bihar
-The Mithila painting is one of the living creative activities of the women of Bihar.
-It is a form of folk painting on paper, cloth, readymade garments, movable objects that is mainly done by the village women of Mithila.
-Originally it was a folk art, practiced by women of all castes and communities using natural and vegetable colors. Since it is practiced in only one village, and very few women make these paintings, we know that it's one of the dying traditions of India.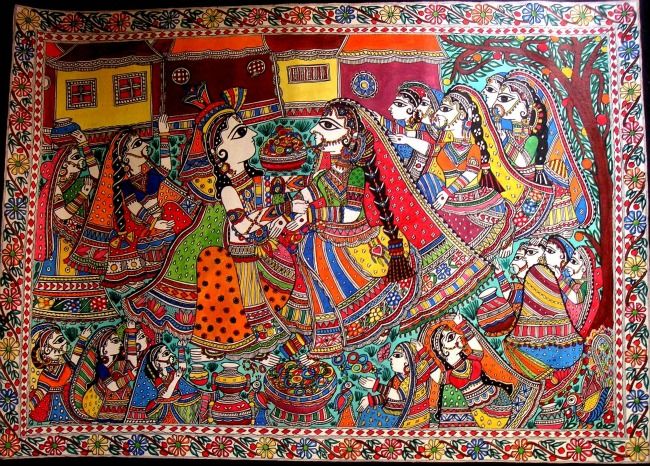 4. WARLI PAINTINGS
Prominent- Maharashtra
-Warli is the name of the largest tribe found on the northern outskirts of Mumbai, in Western India. Despite being in such close proximity of the largest metropolis in India, Warli tribesmen shun all influences of modern urbanization.
-Discovered in the early seventies, Warli art is the vivid expression of daily and social events of the Warli tribe of Maharashtra, used by them to embellish the walls of village houses. Women are mainly engaged in the creation of these paintings.
-Images of human beings and animals, along with scenes from daily life are created in a loose rhythmic pattern. They usually depict scenes of human figures engaged in activities like hunting, dancing, sowing and harvesting.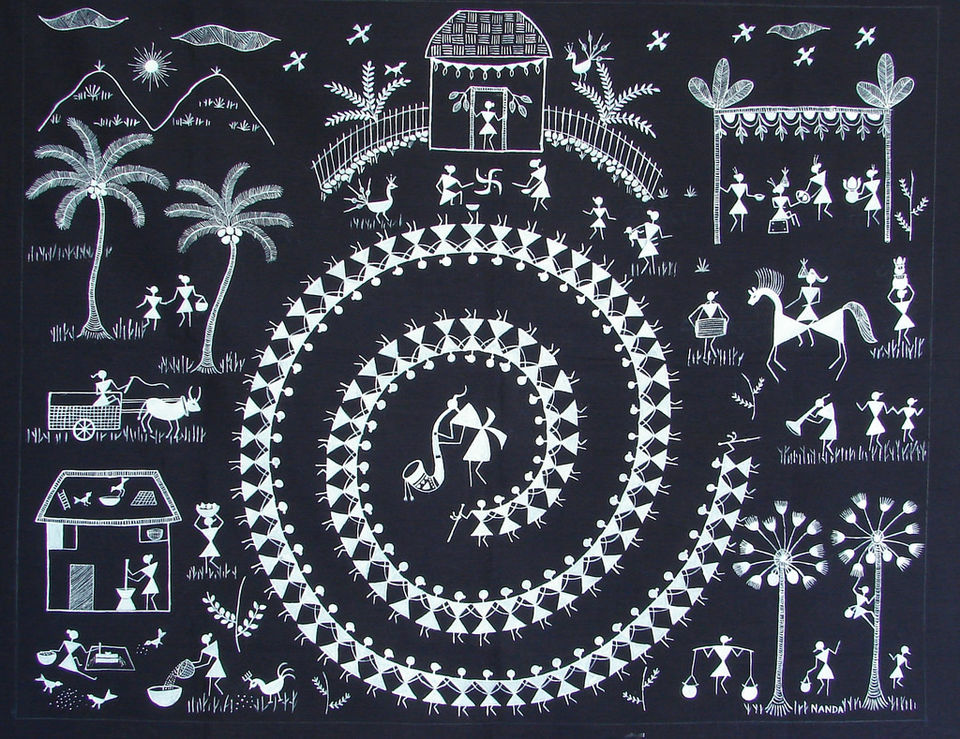 5. PHAD PAINTINGS
Prominent- Rajasthan
-Originating in Rajasthan, Phad is mainly a religious form of scroll painting depicting folk deities Pabuji or Devnarayan.
-The 30 or 15 feet-long canvas or cloth that it is painted on is called phad. Vegetable colors and a running narrative of the lives and heroic deeds of deities characterize these paintings.
-The Joshi families of Bhilwara, Shahpura in Bhilwara district of Rajasthan are widely known as the traditional artists of this folk art form for the last two centuries. Presently, Shree Lal Joshi, Nand Kishor Joshi, Prakash Joshi and Shanti Lal Joshi are the most noted artists of the phad painting, who are known for their innovations and creativity.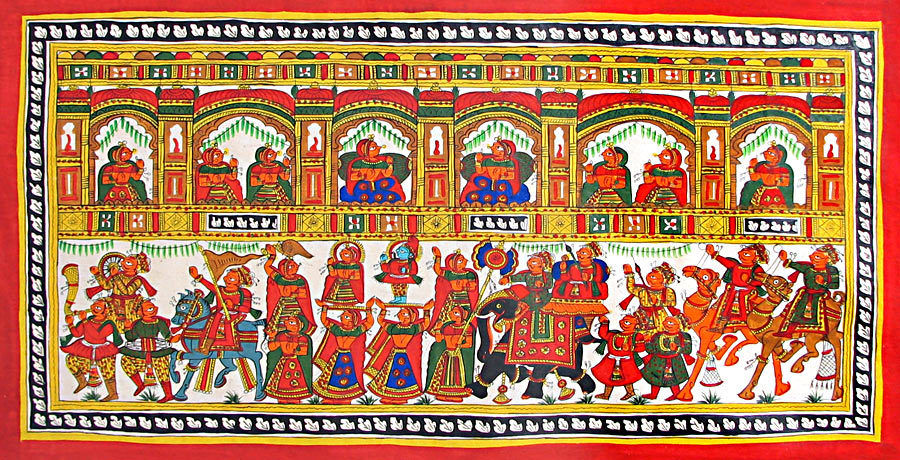 6. MYSORE AND TANJORE PAINTINGS
Prominent- Thanjavur, Tamil Nadu
-Mysore paintings are more subtle and done on paper, while the Tanjore works on cloth stretched over wood.
-'Religious paintings with a royal heritage' is the best definition for Thanjavur paintings, now better known as Tanjore paintings.
-Originating in Tanjavur about 300 km from Chennai, this form of art developed at the height of cultural evolvement achieved during the rule of mighty Chola Empire.
-An extraordinary visual amalgamation of both art and craft, Tanjore paintings mainly consist of themes on Hindu gods and goddesses, with figures of Lord Krishna in various poses and depicting various stages of his life being the favorite.
-The characteristics of the Tanjore paintings are their brilliant color schemes, decorative jewellery, use of precious (rubies & diamonds) and semi precious stones, cut glasses and remarkable gold leaf work.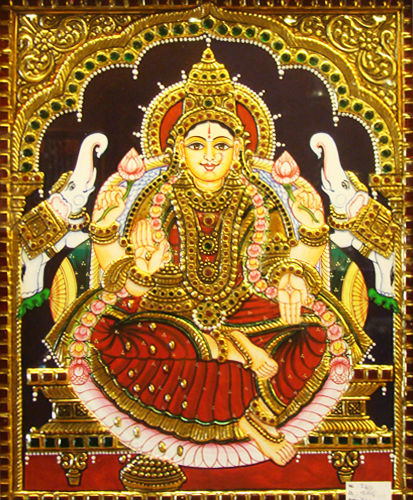 7. MADHUBANI PAINTINGS
Prominent- Bihar
-Madhubani painting, also referred to as Mithila Art (as it flourishes in the Mithila region of Bihar), is characterized by line drawings filled in by bright earthy colors, motifs and contrasts or patterns on freshly plastered or a mud wall.
-For commercial purposes, the work is now being done on paper, cloth, canvas etc. Cotton wrapped around a bamboo stick forms the brush. Black color is obtained by mixing soot with cow dung; yellow from turmeric or pollen or lime and the milk of banyan leaves; blue from indigo; red from the kusam flower juice or red sandalwood; green from the leaves of the wood apple tree; white from rice powder; orange from palasha flowers.
-Figures from nature & mythology are adapted to suit their style. The themes & designs widely painted are of Hindu deities such as Krishna, Rama, Siva, Durga, Lakshmi, Saraswati, Sun and Moon, Tulasi plant, court scenes, wedding scenes, social happenings etc. Floral, animal and bird motifs, geometrical designs are used to fill up all the gaps.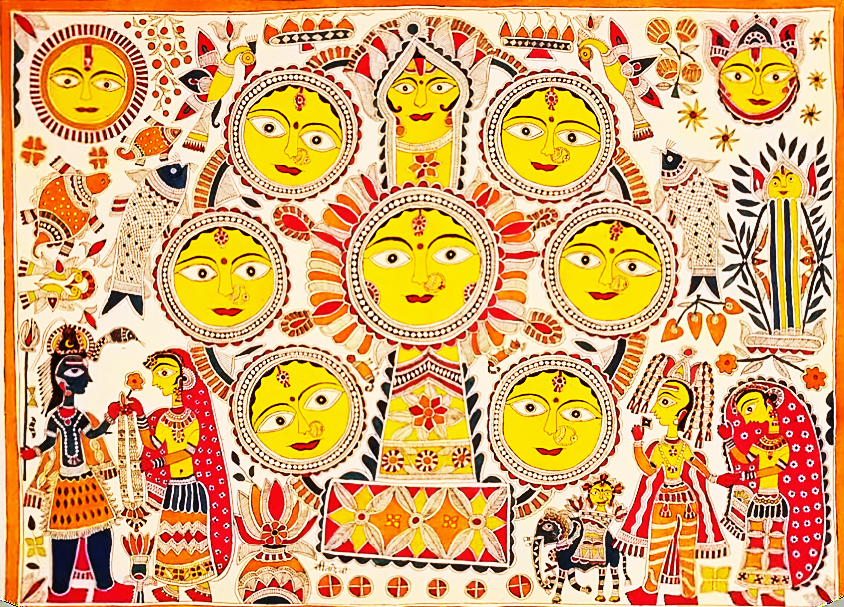 8. PATTACHITRA PAINTINGS
Prominent- Odisha
-One of the oldest and most popular art forms of Odisha, Pattachitra has evolved from the Sanskrit words patta, meaning canvas, and chitra, meaning picture.
-Pattachitra is thus a painting done on canvas with natural pigments, and is manifested by rich colorful application, creative motifs and designs, and portrayal of simple themes, mostly mythological in depiction. Nowadays it is also done on Tussar silk, palm leaves, wall hangings and showpieces!
-Popular themes represented through this art form are Thia Badhia - depiction of the temple of Jagannath; Krishna Lila - enactment of Jagannath as Lord Krishna displaying his powers as a child; Dasabatara Patti - the ten incarnations of Lord Vishnu; Panchamukhi - depiction of Lord Ganesh as a five-headed deity.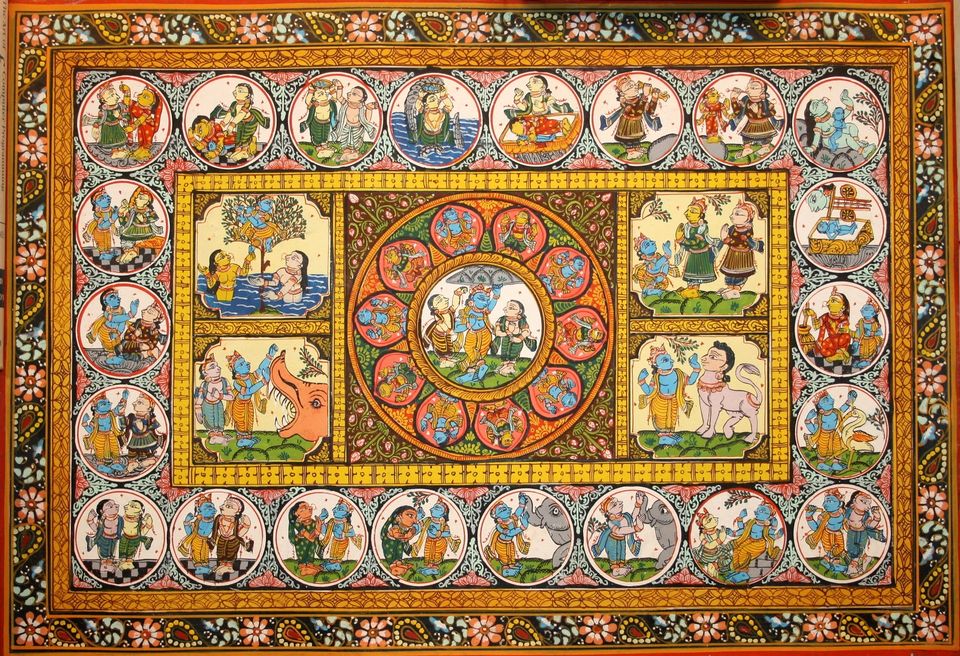 9. MINIATURE PAINTINGS
Prominent- Rajasthan
-The Mughals introduced the art of Miniature painting to the land of India and Humayun brought artists from Persia, who specialized in miniature painting.
-These paintings are done with utmost care and in minute details, with strong lines and bold colors set in harmonious patterns.
-The miniature artists use paper, ivory panels, wooden tablets, leather, marble, cloth and walls for their paintings. The colors are made from minerals and vegetables, precious stones, as well as pure silver and gold. The brushes are required to be very fine, and to get high-quality results; brushes even to this very day are made from hair of squirrels.
-Traditionally, the paintings are aristocratic, individualistic and strong in portraiture, where the plush court scenes and hunting expedition of royalty are depicted. Flowers and animals are also the recurrent images in the paintings.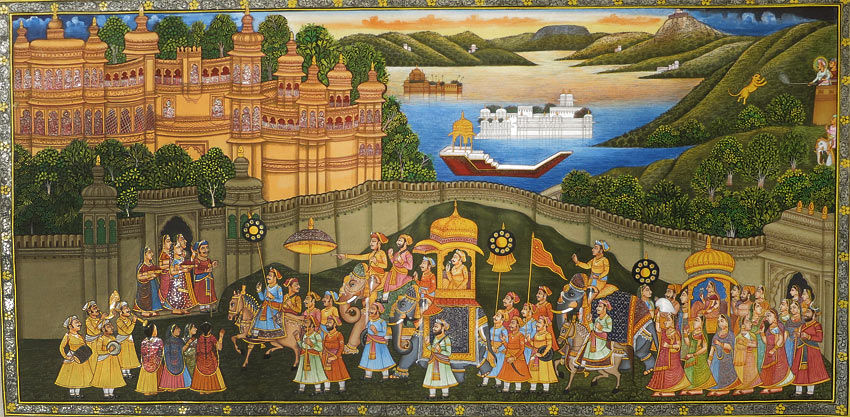 10. BANI THANI PAINTINGS
Prominent- Kishangarh, Rajasthan
-Bani Thani is a totally different style with highly exaggerated features like long necks, large, almond shaped eyes, and long fingers. This style of painting essentially depicts Radha and Krishna as divine lovers, and beautifully portrays their mystical love.
-Other themes of Bani Thani paintings include portraits, court scenes, dancing, hunting, music parties, nauka vihar (lovers travelling in a boat), Krishna Lila, Bhagavata Purana and various other festivals like Holi, Diwali, Durga puja, and Dussehra.
-Today, many artists continue to make miniature paintings on silk, ivory, cotton, and paper. However, with the passage of time, poster colors have replaced the natural colors.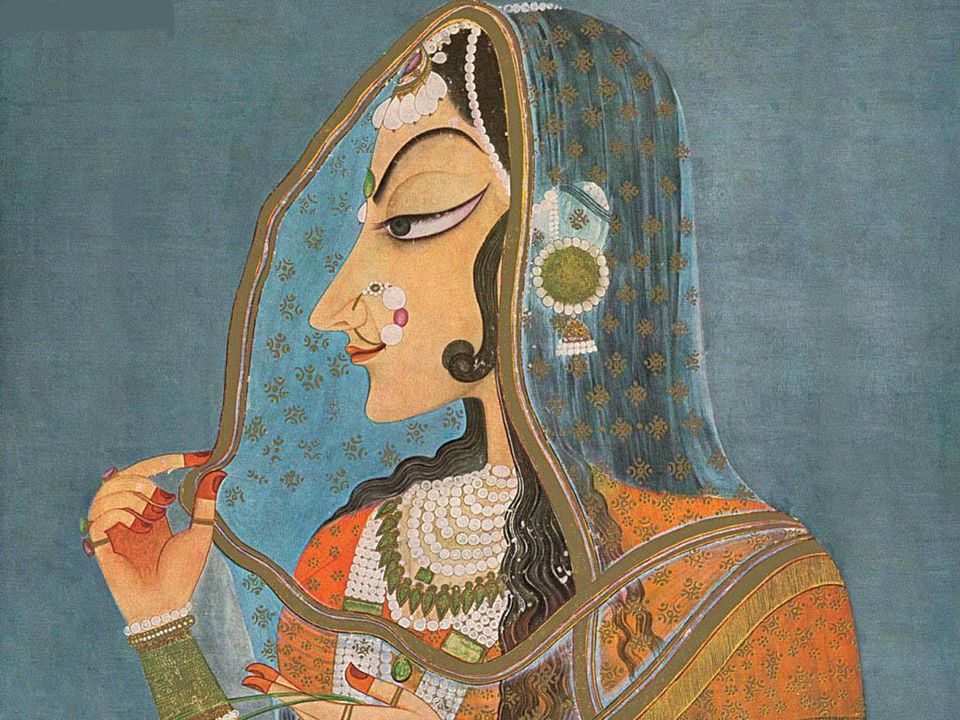 11. KALAM OR KALAMEZHUTHU
Prominent- Kerela
-Kalam is essentially a ritualistic art practiced in temples and sacred groves of Kerala where the representation of deities like Kali and Lord Ayyappa, are made on the floor.
-Kalamezhuthu is practiced using natural pigments and powders, usually in five colors. The drawing is done with bare hands without the use of tools. The figures drawn usually have an expression of anger or other emotions.
-The powders and pigments are all extracted from plants - rice powder for white, burnt husk for black, turmeric for yellow, a mixture of lime and turmeric for red and the leaves of certain trees for green. Lighted oil lamps placed at strategic positions brighten the colors.
-Ritual songs accompanied by a number of instruments (namely ilathalam, veekkan chenda, kuzhal, kombu and chenda) are sung in worship of the deity, on completion of the 'Kalam'.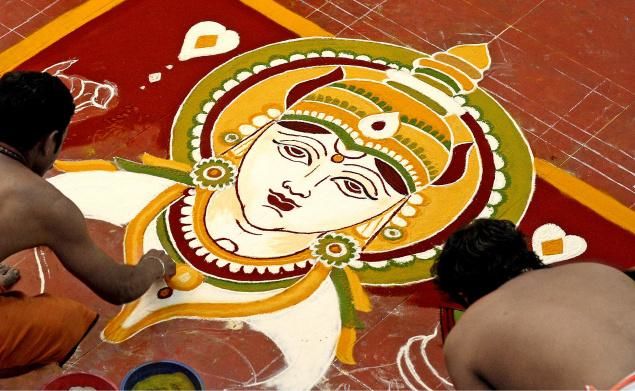 12. BENGAL PAT
Prominent- Bengal
-Paintings are made with dyes made from spices, earth, soot, etc. and reflect the life and times of the society and folklore. The traditional colors used in Bengal Pat are red, indigo, green, black and ochre.
-Bengal Pat has a very interesting angle to it. Some paintings depict spoofs on retrograde social practices, thus attempting to highlight them for change.
-This art form of Bengal developed hundreds of years back when roaming minstrels used to sing about incidents of the distant past and popular lore to villagers. Some of these artists started depicting these stories on cloth scrolls for preservation and beatification.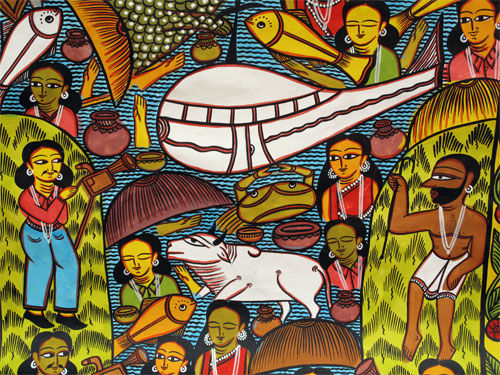 13. GOND ART
Prominent- Madhya Pradesh (Central India)
-This art has been inspired by the hills, streams and forests in which the Gond Tribe lives. Nature and social customs are depicted by the Gond artists with a series of dots and dashes intricately arranged into forms.
-Gond paintings are made on walls, ceilings and floors of village houses in honor of customs and festivals.
-The Gonds also believe that their paintings are infused with a luck factor. The paintings are a combination of earth tones and vibrant hues, which bring the canvas to life.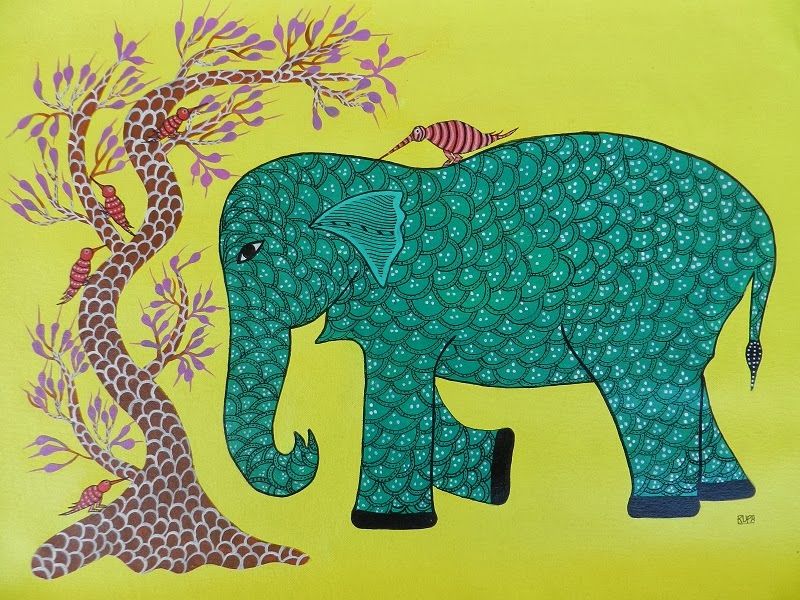 14. KALAMKARI
Prominent- Chennai and Hyderabad

-This style of painting has got its name from the method of craftsmanship – 'kalam' meaning pen and 'kari' meaning work.
-The artists use fine pens made of bamboo dipped in vegetable dyes to draw. Drawings are made up of fine lines and intricate designs.
-Some Kalamkari paintings also show touches of Persian influence in motifs and design.
-Kalamkari painting flourished during the Maratha rule and developed a style called the Karuppur. It's a work on fabric, which is enhanced with gold brocade for the royal families.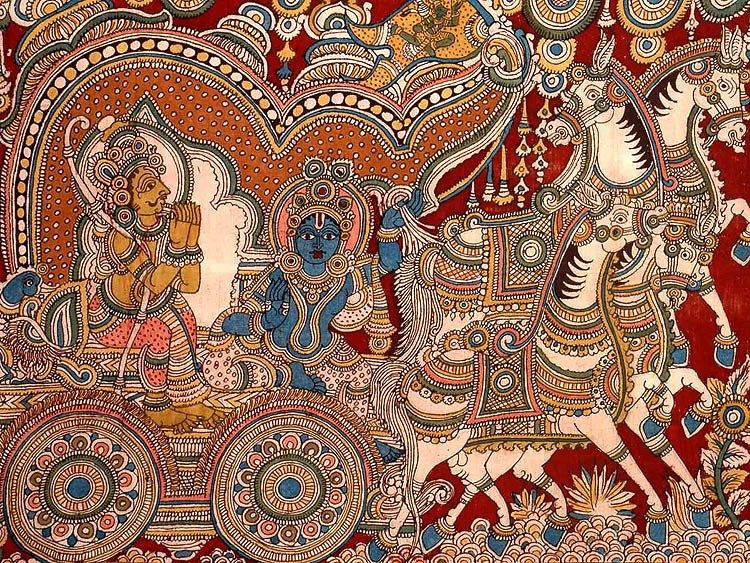 15. CHERIYAL SCROLLS
Prominent- Telangana
-The tradition of long scrolls and Kalamkari art influenced the Cheriyal scrolls, a much more stylised version of Nakashi art.
-Depicting puranas and epics, these 40-45 feet scrolls were an essential visual accompaniment as saints wandered around singing or narrating the epics. They resemble modern-day comic panels, with about 50 on each scroll.
-This dying art form is practiced by the Nakashi family only, where it has been passed down for many generations.
-They use primary colors and a vivid imagination, a stark contrast from the traditional rigor of Tanjore or Mysore paintings.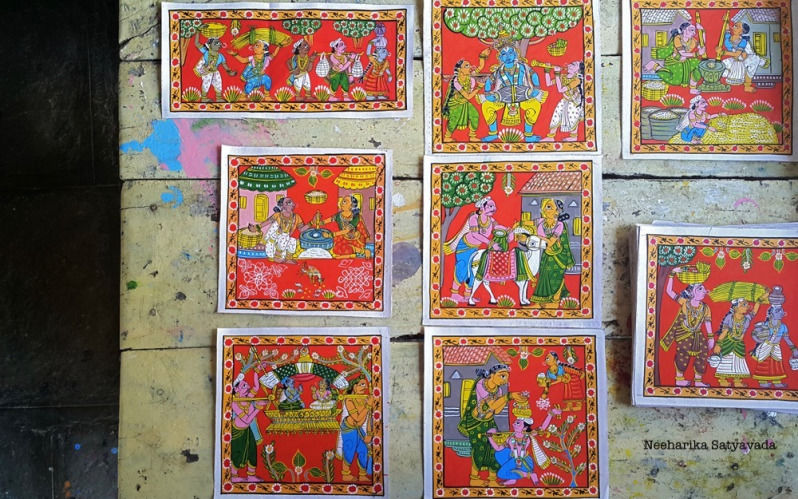 16. KALIGHAT PAINTINGS
Prominent- Bengal
-These paintings, on cloth and pattas, at first depicted Gods and Goddesses, but then took a turn towards social reform.
-With cheap paper and paint colors, squirrel hair brushes and color pigments, the art was characterized by flawless strokes, brushwork, and simple but bold drawings.
-It sought to raise awareness about social conditions in its viewers – rich zamindars were depicted drinking wine with women, while priests were shown with 'unchaste' women and police babus being sloppy.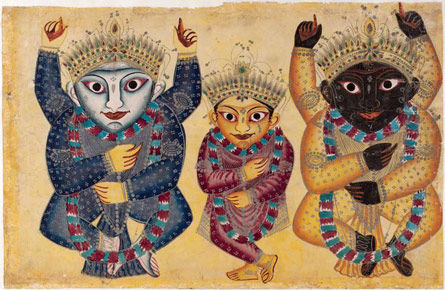 17. PITHORA PAINTINGS
Prominent- Gujarat and Madhya Pradesh
-Pithora is a highly ritualistic painting done on the walls by several tribes such as the Rathwas and Bhilalas and they believe that these paintings in their homes bring peace, prosperity and happiness.
-The rituals are performed either to thank God or for a wish or a boon to be granted. The Badwa or the head priest of the tribe is summoned and the problems are narrated. These problems can vary from dying cattle, to unwell children in the family. The concerned person is given a solution and is asked, by the Badwa, to perform the ritual and the painting. The presence of Pithora Baba is considered as a solution to all the problems!
-Things like fields, trees, farms, wildlife, birds, sun & moon are present in their relative positions in the map along with people and their ancestors.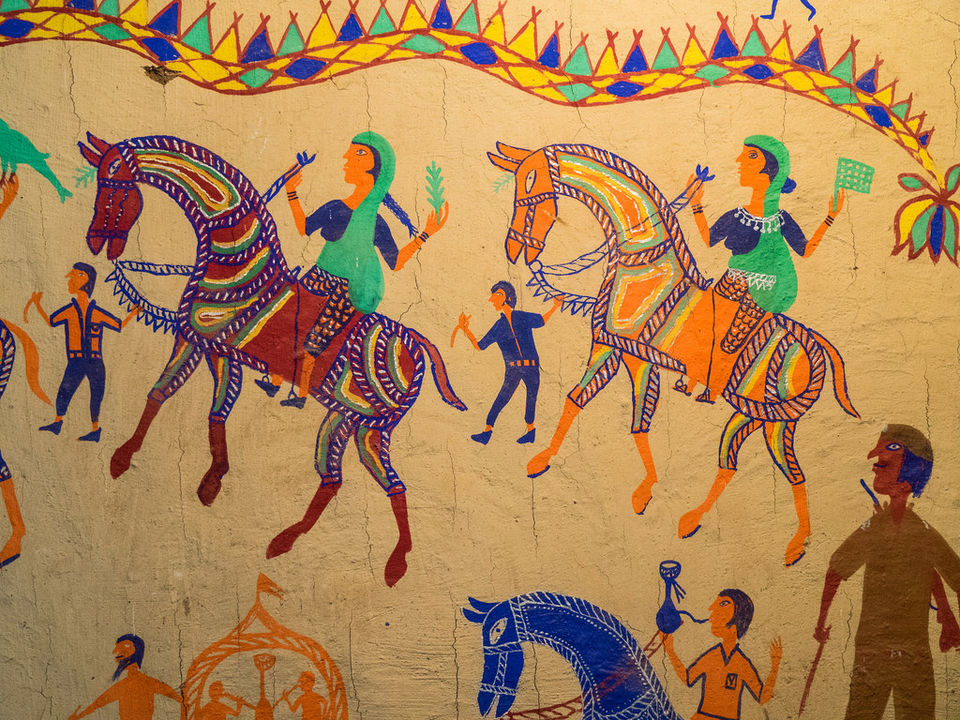 18. PAITKAR PAINTINGS
Prominent- Jharkand, West Bengal, Bihar, Orissa
-The Paitkar paintings are also popularly known as the scroll paintings of Jharkhand. They depict stories that are forms of Ramayana, Mahabharata or associated with other Hindu epics. They recount the story about the deeds of gods and goddesses, such as Shiva or Durga from Hindu mythology; or the local deities, such as the snake goddess Manasa.
-The Paitkar artists make the palm leaves as the base of the art and the brushes are made from the hair of squirrel and goat.
-The paintings that belong to this form have a common subject of what happens to human life after death. In Santhal tribe of Jharkhand, Jadu Patua or Paitkar painting is considered to have the capacity to send the wandering souls of the dead to heaven & thus, help to free them of pain.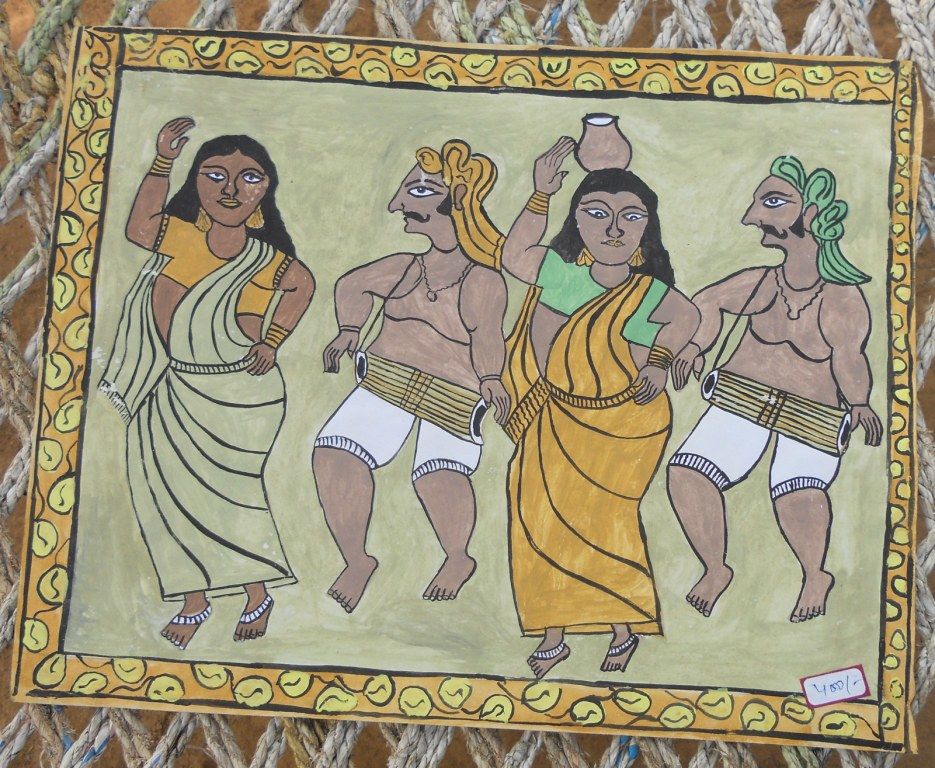 19. PICHWAI PAINTINGS
Prominent- Nathdwara, Rajasthan
-Pichhwai are intricate paintings that portray Lord Krishna. It is a very ancient form of art where Krishna is shown in different moods, body postures, and attire more commonly found on a cloth or paper.
-These artists mostly live in Chitron ki gali (Street of paintings) and Chitrakaron ka mohallah (colony of painters) and make a close community with constant interaction.
-Many times a Pichhwai painting is a group effort, where several skillful painters work together under the supervision of a master artist. It is miniature form of painting and creation on the piece of cloth, which hangs in the form of background to Srinathji's idol at Nathdwara Temple.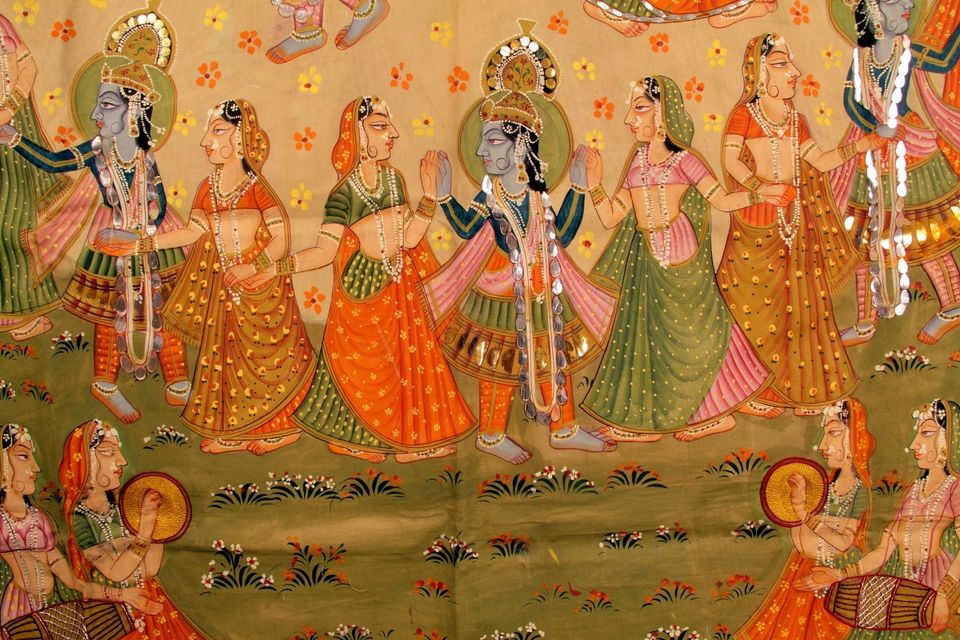 20. SAURA PAINTINGS
Prominent- Rayagada, Gajapati, and Koraput (Orissa)
-Saure paintings, also called ikons (ekons) draw upon tribal folklore and have ritualistic and religious importance for the Saura tribe. People, horses, elephants, the sun and the moon and the tree of life are recurring motifs in these ikons.
-Ekons use natural dyes and chromes derived from ground white stone, hued earth, and vermilion and mixtures of tamarind seed, flower and leaf extracts. For wall paintings, a brush is made from a bamboo split, black color is collected from soot generated out of lamps, sun-dried rice is crushed to from white powder.
-Ikons are worshipped during special religious & cultural occasions such as childbirth, harvest, marriage and the construction of a new house.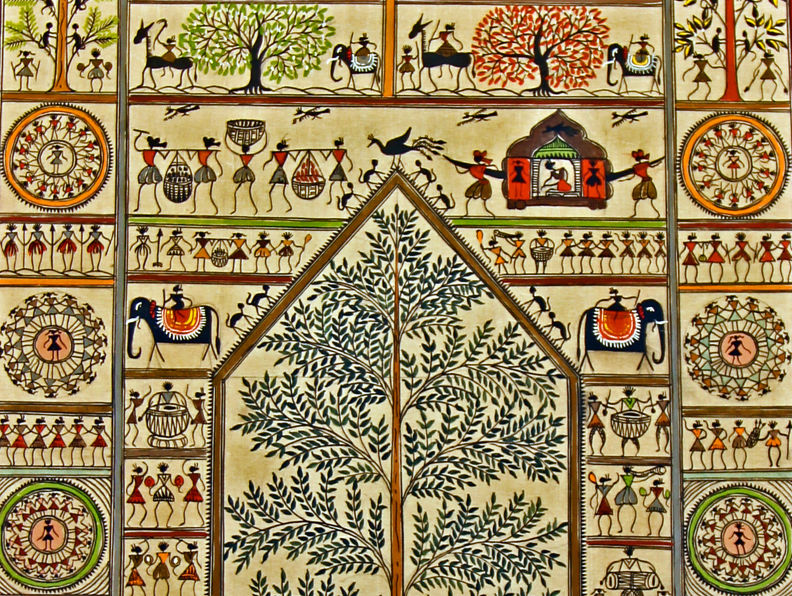 21. SANTHAL PAINTINGS
Prominent- Bihar, Orissa and West Bengal
-The Santhal Painitng is painted with free hand and reflects the perceptions of life.
-The stories are told in a series of clear-cut images. All color pigments are traditionally derived from natural sources.
-The main theme of Santhal paintings are usually spread over rituals and celebrations such as dance, harvest, merry making, family functions and of course many Hindu deities too. They are mostly done on a handmade paper with poster colors.

22. KHOVAR AND SOHRAI PAINTINGS
Prominent- Jharkand and West Bengal
-Khovar is the mural art form, which is being practiced by Tribal women artists during the marriage season from January to June.
-The term Khovar is a popular term for the painted rock art caves across India.
-Sohrai art form used to decorate the walls is usually monochromatic or extremely colorful. The tribals coat the wall with a layer of white mud, and while the layer is still wet, they scrape with their fingertips on it. The designs that they draw out may range from flowers and fruits to various other designs inspired from nature.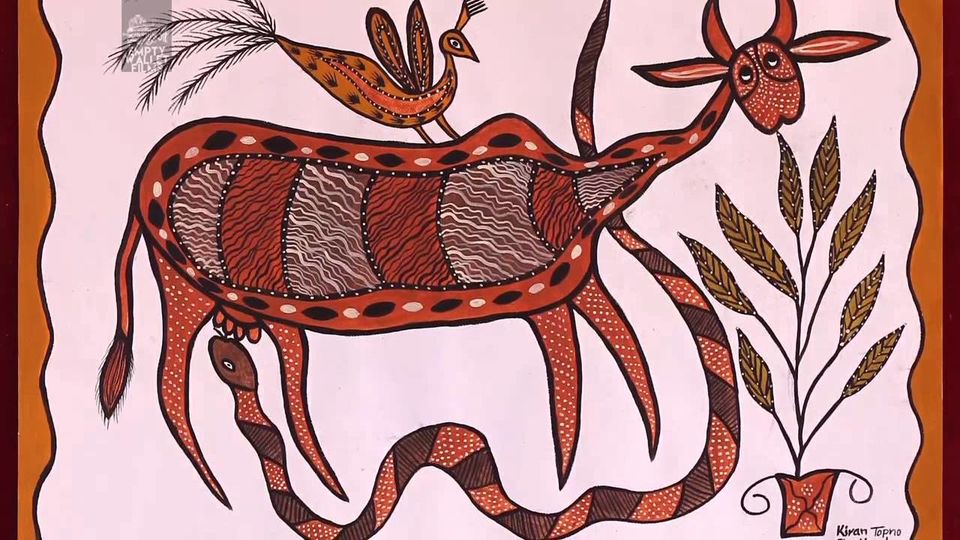 Frequent searches leading to this page:-
tribal art forms of india, tribal painting of india, tribal paintings in india, indian tribal art forms, tribal painting, tribal art forms of india