Amidst the lockdown, the empty streets bear witness to the most unprecedented situation the world is facing now. The past few weeks have made us realize the fickleness of life and emphasised the value of appreciating the smallest things in life.
To help families re-live their happiest moments, to enable millennial's to relive their most cherished childhood memories and to give the youngest generation a taste of the world that we grew up in, TV channels are resorting to re-telecasting some of their most iconic serials and shows.
One such show that probably all of us grew up seeing is the record-breaking serial Ramayana created by Shri Ramanand Sagar in 1987-88. This serial has garnered mass viewership throughout the world over the years and during this COVID-19 lockdown, it has helped family members reconnect and relive their happy moments.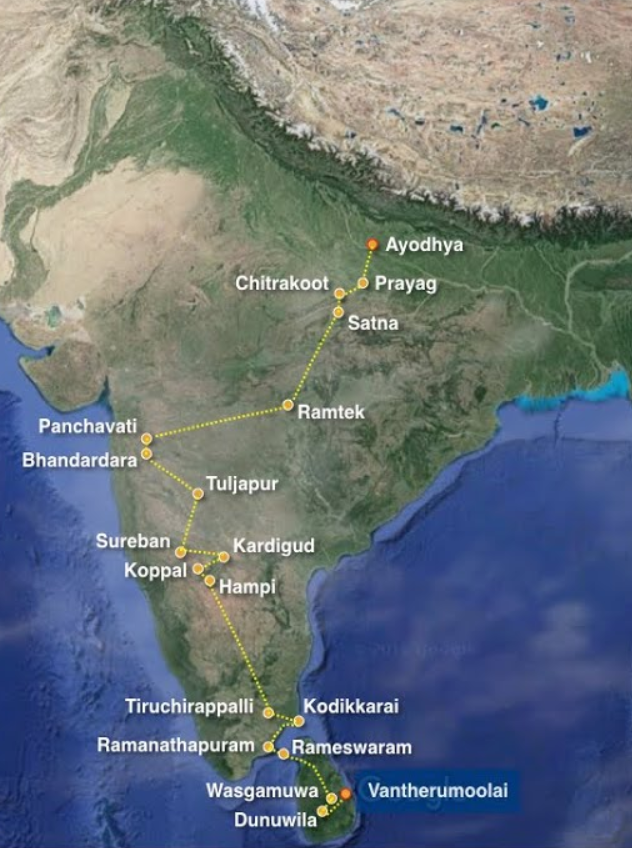 Besides being a historic story portraying the law-abiding ideal man and a great warrior in the form of Shri Ram and his brother Lakshman and the devoted, brave and righteous Sita Ma, this piece of literature is truly a treasure trove of sorts, in terms of the geographical, historical, cultural, scientific and astronomical information, it carries.
The journey of Shri Ram from Ayodhya to Lanka, through the forests of erstwhile India, is beautifully portrayed with vivid descriptions of the places he travelled through. From narrations of the night sky and the position of the different stars, to descriptions of the flora, fauna and landscape of this place, let us embark on a journey of Ramayana, through some of the places that were part of Lord Ram's vanavas . Alongside, let us also see a comparison of the places over the thousands of years and the significance that they hold till date, from a traveller's point of view.
So here is the journey from the capital of the Kosala empire, Ayodhya to Ravan's kingdom in Lanka, a trip through the past and present, and hopefully, soon we can all visit some of these historical sites with a purpose.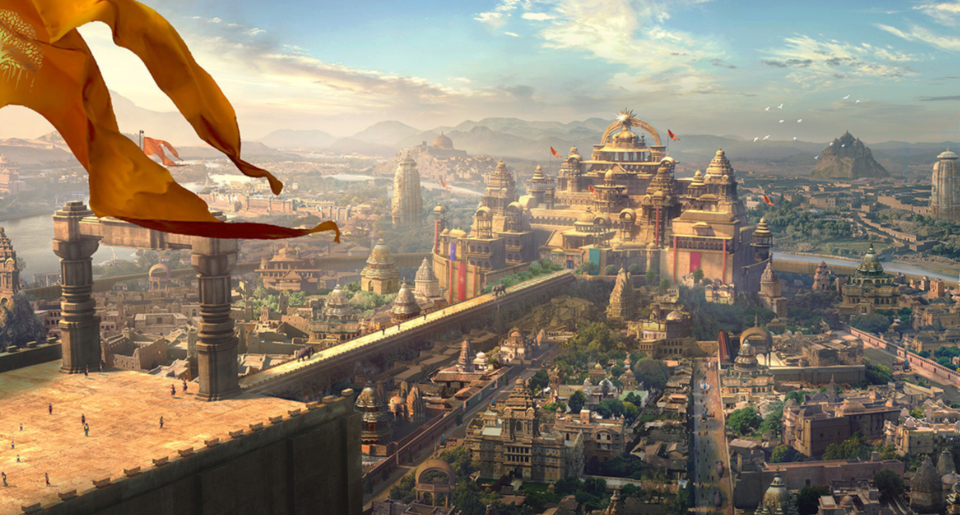 Ayodhya, the historic capital of Shri Ram and the Ikshvaku dynasty, is home to a plethora of temples dedicated to the four brothers, to Lord Hanuman and Ma Sita. Situated on the banks of Saryu nadi (river), it has several ghats. One thing to not miss out on is the evening aarti on the banks of the River Sarayu.
Believed to have been founded by Lord Manu, today it is visited for being Ramjanambhoomi and has thr Hanuman Garhi temple, Nageshwarnath Temple and Kanak Bhawan.
Dandakaranya forests is vast forested region comprising parts of Chattisgarh, Orissa, Andhra and Telanagana. In the past during Ramayana, it was also spread out in parts of Madhya Pradesh and Maharashtra and it is this part of the forest that Shri Ram, Ma Sita and Lakshman ji crossed on their way to Panchvati. Derived from the name "Dandak" and "Aranya" referring to "The Jungle (aranya) of Punishment (dandakas)", this place was a stronghold of the Rakshas clan, and part of Ravan's Lanka kingdom.
In today's time, Dandakaranya forests are mainly located in Bastar district Chattisgarh, thanks to all the development that has taken place and is home to several waterfalls like the famous horse-shoe shaped Chitrakoot falls. As a relic of the past several caves dot the landscape such as Kutumsar (Kanger Forest near Jagdalpur) and Kailash caves (Kutumsar). They have natural shivalinga formation. Other ancient caves of this region are the Dandak Cave, Karpan Cave, Kanger Cave and Devgiri Cave. Don't miss out on the Bhairamgarh Wildlife Sanctuary.
Ancient day Panchvati and modern Nashik, this is one of the most prominent places in the story of Ramayan for here Lord Ram spent most part of his exile. It was here that Lakshman cut Surpanakha's nose and Ravan kidnapped Ma Sita. The entire Aranya Kanda of the Ramayana is set in Panchavati, which was then a part of the Danakarayana Forests.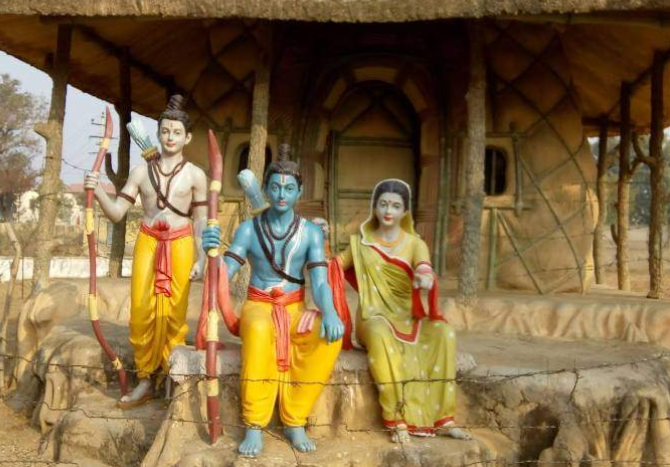 "Le Pakshi" or Lepakshi a tribute to "Jatayu", the gaint holy bird holy giant bird that tried to rescue Sita from Ravana's Vimana, fell after Ravan cut his wings. As narrated in the Lord Ram and Lakshman met a dying Jatayu who informed him of Sita's kidnap and was given a suitable cremation as he died in Ram's lap.
Situated in Andhra Pradesh, Lepakshi is today a famous tourist site for the galore of temples it is decorated with. A part of the art and culture loving Vijaynagar empire, it houses the Veerbhadra temple and believe it or not, this temple has a hanging pillar, whose mystery confounds all those that visit it. The place is known for mural paintings of the Vijayanagar kings along with age-old Kannada inscriptions on the walls.
Filled with mysteries, legends and tales, they say that "every stone has a story to tell here" and "every pillar has a connection with an epic". The Lepakshi temple is situated on a low rocky hill called Kurmasaila, strangely resembling a tortoise. Decorated with magnificence of the Vijayanagara style of architecture, some noteworthy places to visit are the 100-pillared Natya Mandapa with intricately carved pillars and exquisite sculptures, timeless and beauteous paintings on ceilings and colossus sculptures of monolithic Nandi and Nagalinga. Also, don't miss out shopping on the precious and intricately carved handicrafts of Lepakhi. Wood-work statues, Etikoppaka and Kondapalli toys, Kalamkari paintings, leather puppets, it has it all.
Though there is some dispute regarding where Jatayu exactly fell, as some claim it to have been in Chadayamangalam, Kollam Kerala, where the gigantic and magnificent bird sculpture has been made, nonetheless, this place has a unique charm and beauty.
Kishkindha or modern day Hampi, a UNESCO world heritage site and probably the most famous of all the Ramayan sites.
The southern most tip of India, Rameshwaram and Dhanushkodi is hauntingly picturesque and carries with it, one of the most speculated mysteries of the Ramayan, the secret behind Ram Setu or Adam's bridge. Dhanushkodi, now, an abandoned town in the southern most tip of Pamban island is the starting point of this 'setu'.

This is the place that the Ram Setu joined the Lanka kingdom. It was here that Lord Ram and his Vanar Sena set foot into Lanka. It is also the historical battleground of the Ram - Ravan war.
Today, Talaimannar is a beach town in Sri Lanka. It offer wonderful views of the bridge and a lighthouse. It can be reached by road from Mannar which links the island to the rest of the country through a causeway.
Ussangoda, is believed to have been set on fire by Hanuman after meeting Ma Sits in Ashok Vatika. Supposedly, it was used by Ravana to land his Pushpaka Vimana, a flying chariot. Around five such landing pads have been discovered in Sri Lanka. The soil in Ussangoda is very unusual. Varying beliefs range from a meteor crash to the ashes when Lanka was set on fire.
Today Ussangoda is a national park and designated archaeological site. It is a breeding place for southern sea turtles. It can be reached by road as it lies between Colombo and Kataragama.
The Hakgala Botanical Gardens is believed to be the ancient site of Ashok Vatika. Its name is derived from the abundance of Ashok trees, which till date thrive in the gardens. It was here that Ma Sita spent her time in Ravan's captivity. According to the epic, this area had a wide variety of fruit trees in the Ramayan era, which were consumed and destroyed by Lord Hanuman during his Lanka visit as a messenger of Lord Ram.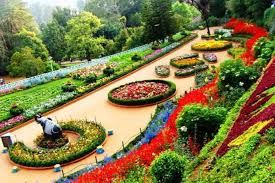 Moving south towards Chitrakoot, located in Madhya Pradesh, this place is identified with the Bharat Milap scene in the Ramayana and hence it hosts the Bharat Milap Mandir which is located on the Kamdagiri Hills, which when circumambulated (parikrama) is believed to liberate people from their sins. It also evidently houses the footprints of Lord Ram and Bharat.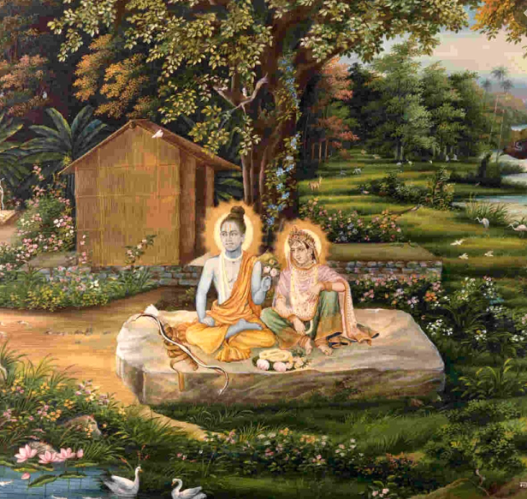 Prayagraj finds mention in numerous ancient scriptures for here lies the confluence of the three holy and large rivers of India, Ganga, Yamuna and the mythical/lost Saraswati. Around 45 km from here is Shringaverpur where Lord Ram crossed the river Ganges on his way to exile along with Sita and Lakshman. It was the ancient kingdom of Nishadraj who himself washed the feet of Lord Ram before crossing the holy river, Ganga.
Prayag has 6 notable ghats. The temple of Indeshwar Shiva , Tarkeshwar Kund, Tarkeshwar Shiva, Dasashwamedh Ghat, Lakshmi Tirtha, Mahadevi Tirtha, Urvashi Tirtha, Urvashi Kund, Som Tirtha are some other holy spots in Prayag. Prayag is also famous for it's 12 Madho temples. Prayag also identifies itself as one of the four places in India where the Kumbh Mela is held.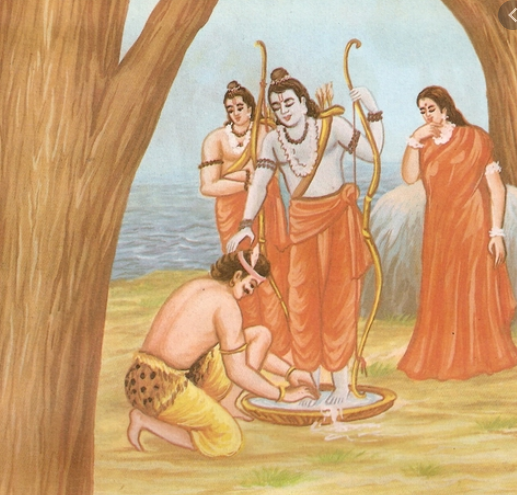 Banganga is a medieval water tank situated in Malabar Hills, Mumbai and is within the Walkeshwar Temple Complex. Legend has it that during his pursuit of Ravan, Lord Ram paused here for he was overcome with thirst and fatigue. To satiate his need Lakshman shot a 'Baan' (arrow) in the ground, and a gush of water poured out, creating a tributary of the Ganga. Hence, the name Banganga.
The ancient Shivling at Walkeshwar Temple is said to have been installed by Lord Ram himself, made up of sand and hence, the origin of the name Valuka Ishwar (idol made up of sand).
The tank was later on built in the 12th century by a minister in the Silhara dynasty and what is most unique is that the water of this tank is sweet, despite being very close to the salty Arabian Sea.
Then known to be a forested, serene and tranquil place and the abode of great sages such as Sages Atri Muni, Rishi Agastya and Sage Sharbhanga, it is here that Sita met Sati Anasuya. Her Aashram is enclosed amidst a dense forest located along the sacred river Mandakini. Every evening the Ram Ghat is magically transformed by the sight of lamps and lights glistening through the dark of the night.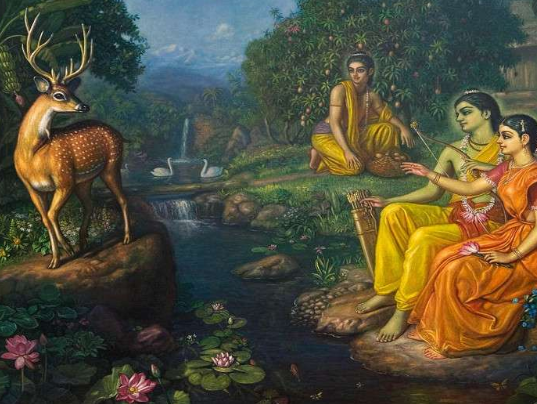 The ancient Sita Kund (bathing place), the Hanuman Dhara and Param Kutir build by Lakshmana with the original wooden structure being replaced by a domed shrine with a pillared veranda overlooking the Mandakini River, are some other historical places to pay a visit to. Sita ki Rasoi and Devi Anusuya Temple are other noteworthy places connected to the Ramayan.
It was called Panchvati in the past for the five "Vat Vrisksha" (banyan trees) it contained, while today Nasik derives its name from "Nasika" or "Nose" referring to Surpanakha.
Modern day Nasik is a holy city on the banks of the River Godavari, flocked by millions of devotees for the Kumbh Mela, occurring every 12 years. Sita Gupha situated near the five banyan trees in Panchavati is believed be to have been Sita's worship place to Lord Shiva, while an adjacent cave is widely accepted to be the location of Sita's kidnapping. One can also visit the Kala Ram Mandir, built of black stone, on the ancient site of the Kutir (cottage). There are numerous other temples in its vicinity.
Kishkindha was the kingdom of the "Vanara" king Bali and his brother Sugriva who were embroiled in a terrible feud. It was here Sugriva took shelter in the Matang Parvat, which today can be climbed to catch a bird's eye view of the rocky ruins. It is believed that Sita dropped some of her jewellery wrapped in a torn piece off her sari hoping that whoever finds it, can inform her husband that she was taken over this place by Ravan. The Sugriva gupha where the jewels were hidden and where Lord Ram met Sugriva still exists.
Close by, lies Anjani Parvat, the birthplace of Lord Hanuman. One can climb the Parvat for a visit to the historical temple and a spectacular view at sunrise/sunset.
Besides, this site was later became the capital of the Vijaynagar empire who built massive temples, palaces, markets, statues from the enormous boulders that dot the landscape. From the Virupaksha and stone chariot at Vitthala temple to the Hemakuta Hill temple and Kadalekalu Ganesh and from the Lotus Mahal to a not-to-missed-out-on Coracle ride on the Tungabhadra, Hampi is every traveller's delight.
Yes it is here, that the Ram setu was constructed to connect India with Sri Lanka, and the conundrum of the floating rocks still mystifies researchers. The floating rocks of Rameshwaram have different theories behind them, some believe that the rocks are similar to Pumice stones (they are similar but not Pumice stones), which basically have air bubbles trapped within lava as it solidified, making the rocks lighter than water. These rocks float in such a position or configuration where the potential energy is minimum, and hence, only one side of the rock can face the viewer as they float (even if you try to overturn it, it realigns).
One of the most significant Hindu pilgrimage sports and part of the char dham, Rameshwaram is one of the 12 Jyotirlingas of Lord Shiva housed in the Ramanathaswamy Temple which is a famous site for its ornate corridors, huge sculpted pillars and several water tanks. A chakra (wheel) here is believed to have an imprint of Lord Rama's feet. Gandamadana Parvatham is a hill with a scenic view of the island.
Carved out of Senthooram Stone (precious stone), the five faced Hanuman idol at the Panchamukhi Hanuman Temple is another important temple in Rameswaram . It depicts the five manifestations of Lord Hanuman.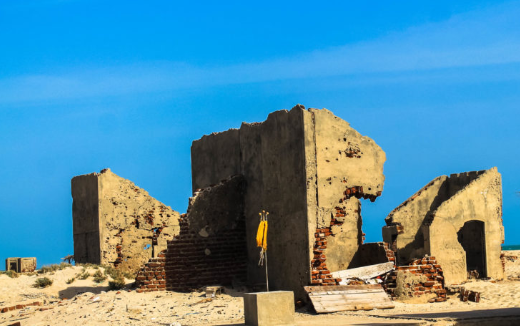 Untouched coastlines, endless beaches, Rameshwaram is a major hub for water-sport activities. Beaches such as the Kathadi North Beach have numerous adventure companies that offer paddle boarding, wind surfing, scuba diving and so much more. Heck! You can't miss out on all this in India and in pristine waters. Moving south-east lies the Gulf of Mannar Marine National Park, with a rich multitude of bio-diverse islands, coral reefs and forests.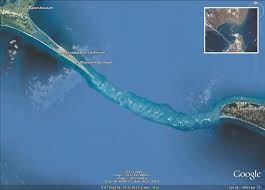 Rameshwaram is accessible by road or train. As the Rameshwaram Express heads down the Pamban bridge, built over sea, the view is surreal.
Now known as Ashokavanam, there is a temple named after Sita, Sita Amman Temple located in the village called Sita Eliya. The best way to reach is to by boarding a flight to Colombo and then driving/taking a cab to Nuwara Eliya, where it is situated.
The wealth of information that epics, puranas and vedas provide is something that needs to be revisited. Not only are their tales of kings and their tribes, but the vivid descriptions of the geography, botany and zoology of a place is like an overflowing bottle. Moreover they are our best moral and spiritual guide.
Think we missed out on something? Tell us about it in the comments below. Or write about it here on Tripoto and earn Tripoto Credits!
Sign Up now and get the latest travel updates from Tripoto straight to your inbox!