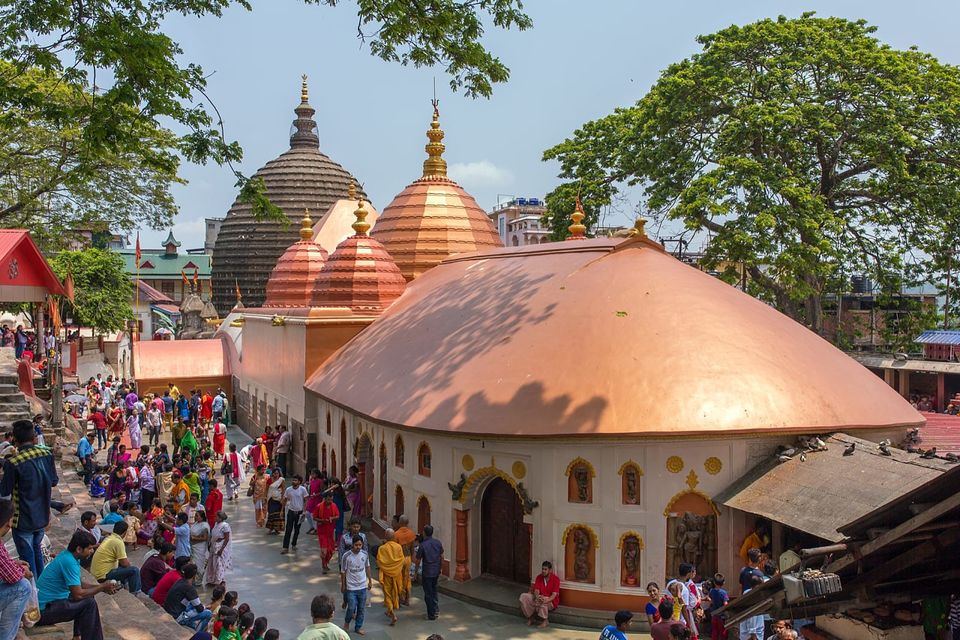 6 February 2018 i.e. two and a half months after returning from the northeast we were going back to the northeast. The motorcycle was standing there and did not know how much he was running. Although we wanted them to run it quite well, but we knew that in two and a half months this two and a half kilometers did not even go away. Machines are also like humans. If it does not work, then it will become lazy and later it will be difficult to work with them. Ever wondered about the battery, sometimes something. So brightness went away two days ago, so if necessary, change the battery or change the next wheel or take the service.
Bright went from the train. The train reached Guwahati late in 24 hours. Prior to this, Deepa had never taken such a long train journey alone. She got bored.
On February 6, I caught Jet Airways flights. And when the breakfast was being served to me in the sky, I understood that the journey is going to be very fun.
Brilliance bike runs very well. Since he does not have a license, so the bike does not run anywhere except Amroha-Moradabad. But today he brought a bike alone from Amerigog to Jalukbari. Looking at his stubbornness, I advised not to take any further bike from Jalukbari, as there is a close proximity to the airport that can be checked on that road. And also advised to keep a thousand rupees fifty rupees with you, so that if the license was not caught, the invoice could be cut. But after reaching Jalukbari, I sensed that he was standing near the traffic police vehicle, including motorcycles, and told the policemen.
Oh God! Do not know how much the invoice will be cut! The availability of free meals in the air indicated that the journey is going to be very pleasant, but here the equations of Amangal are visible.
I went to the house and was very happy to see me. Traffic police also We also commend our praises and our journey. Actually, Deepti came to Jalukbadi and was hesitant to stop by taking a bike anywhere on a busy intersection, so she went to the traffic police and demanded permission from her for a while.
The signs were really good. The police spoke with great intimacy and gave good wishes for further travel.
...
Stopped in a restaurant on the road side near a village. Tea was drinking. In this case there was a shop in Parachon and many women were running it. We said in Hindi - "two cups of tea."
We all had the attention of us, but the gestures came to our mind that no one understood our point of view. A girl came near We said this time in English - "To T."
He said something to an old lady in his very own language and went somewhere else. The old lady smiled at us and started taking out the pieces of meat from a bowl in a bowl. Before the meat and rice came to us, I went to the kitchen and pointed to the empty tea leaves and said that we should have tea. Then it is said in gestures that meat is not needed. The old lady made a few screams of laughter and a charming lady. Both laugh The meat was sprayed back and made tea.
We are vegetarian though, but are not disturbed by such kind of sentences. Sitting in a non-vegetarian eater, vegetarian diets also feel uneasy. Then this is Meghalaya. We can not find 'Pure Vaishno Restaurant' here.
...
Joawi is the headquarters of the Western Jaintia Hills district. It's a nice city. Went to a hotel It was a simple hotel. Mistress said in rent in Hindi - "seventeen hundred."
We had intentions of five hundred or more seven hundred and eight hundred. Seventeen hundred is too much. I thought that he would have said only seven hundred but due to the accent, I heard 'seventeen hundred'. Or they do not come in Hindi, and seeing us, trying to speak Hindi and accidentally saying 'seventeen' instead of 'seven'.
I asked twice and asked. Then asked in English - "Seven Hundred?"
"No, Seventeen Hand."
I turned back There is no doubt that this 'seventeen hundred' is just saying. If we used to bargain, how much would we do? Turning around, he showed them on the calculator - 1700 ...
I got out saying 'no, no'.
Went a little further and jooyi entered the crowd of the market. There was a large crowd. Long line of trains Police traffic control But no one hurts anybody And no one else.
The room of 1200 was once called 800. The hotel was supposed to stay here only, but Hindi knew well. First I thought, would be Rajasthani.
In fact, two and a half months ago we saw many Rajasthani businessmen in Assam and Arunachal. It seemed that even in the Meghalaya, Rajasthan businessmen would meet, but no one was found. Nor did Bihari, Bengali found.
Seeing Samosas, the tongue was concealed. We also gave the order, but the hotel was smart - "these are chicken samosas."
Our eyes were left open In the northeast, vegetarians have to be careful to eat and drink; we knew this; But it was not thought to be careful in eating samosas too.
New experience has happened.
Due to the crowds on the road outside, they could not leave the bike nor the parking was in the hotel. Its also got a much easier solution.
"There is a police station next door, stand there bike."
Today the first day in Meghalaya was ours. How many new experiences will be! Make the bike stand in the police station !!