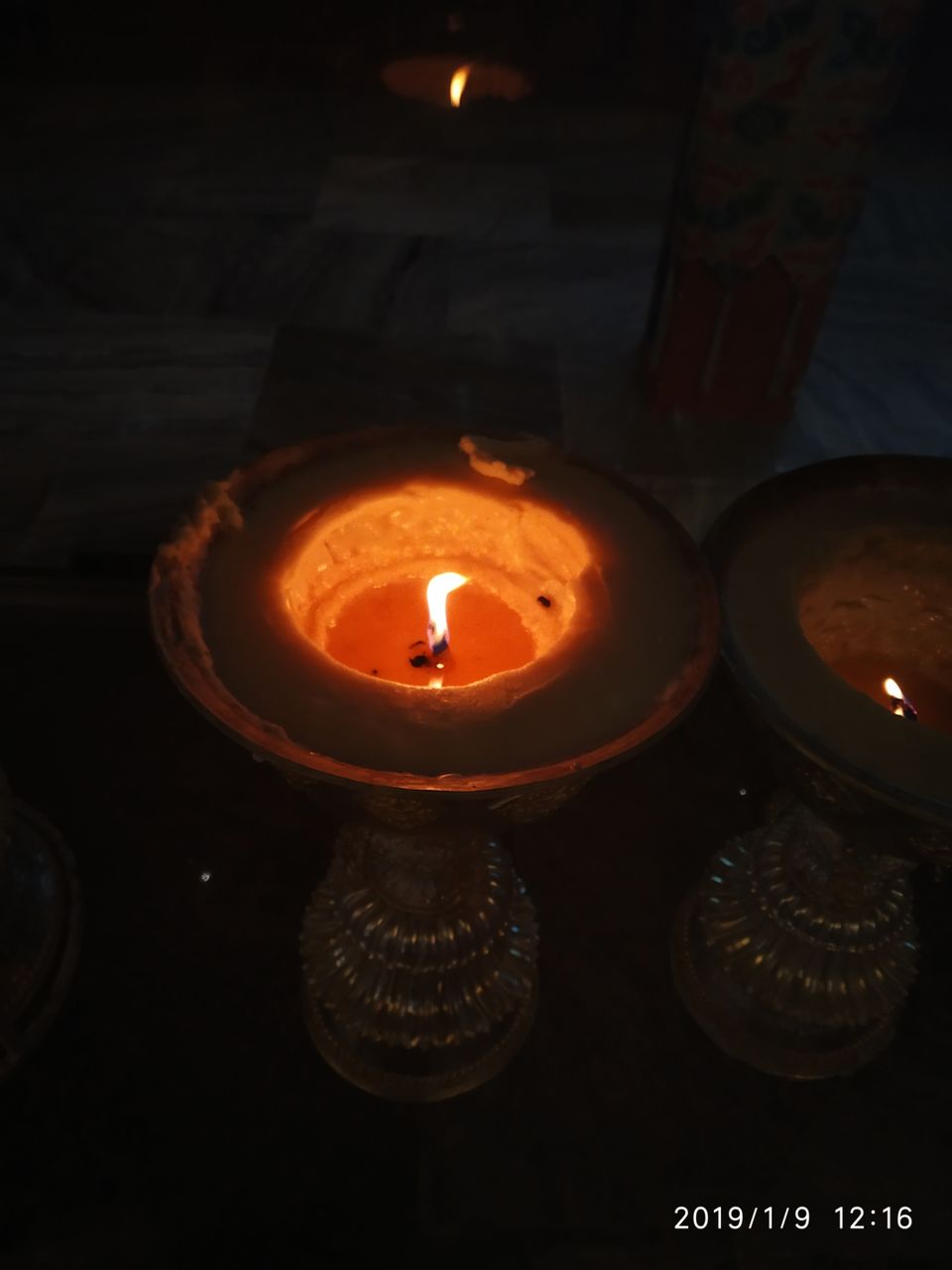 So, the most thrilling part of the journey started after Mysore….
After lunch, we headed to our next destination.
We went to Mysore bus station, but had no idea about where we had to go and which bus to take. We only knew that we were going to Bylakuppe (Tibetan Refugee). "Golden Temple" the most tourist attraction of that place. (Namdrolling nyingmapa gonpa)
Meanwhile we saw two lama in their red dresses (shantab and zango) . On seeing them we came to know that they are not a Ladakhi, but one thing was clear that they were also going to the byllakuppe.
We boarded the same bus they were in and asked for four tickets from the conductor and asked him to let us know when we reached byllakuppe.
The bus journey was of two hours, and we had some chips and coco-cola to make the bus journey more Bingo and Masaldar.
I put on my earphones and started playing the song, looking at the view outside my window, I wanted to sing Veer-Zara's song "Aisa Desh Hai Mera", because I could see my Bharat, that's what I love most about the road trips. After about two hours the bus stopped nearby, and the conductor was calling us ... We got down there and took an auto for the Golden Temple.Seeing those colorful flags (tarchokes) and lamas in red dress, I got a homely feeling there. We reached our destination Golden Temple in about 10 minutes, but it was closed at that time. We took a room near the temple where there was a small market.
We got fresh and rested for sometime and then we came out for the dinner. We were craving for some ladakhi or Tibetan dishes , coz it's been couple of month we were having only south indian dish. Auto wala told us to go to camp tangpo ( 1st camp) where we would get a good food. But it was 7 km from the Golden Temple, meanwhile when we got there, we were already late and almost all shops and restaurants were closed. Only two restaurants were opened there and they were also going to be closed.
When We asked them for a food , they said nothing is left, and if we want they will make but it will take about half an hour . We had been longing for this kind of food from a long. "इसलिए थोडा और इंतजार ही सही पर खाकर है जाएंगे. !!! There was no any other customer in the restaurant ,so restaurant was all ours. To make this dinner more memorable we decided to danced , Started from the Tenzin tsona song and end up with bollywood song.
Atlast food was on our table, Temok ,momos, fried rice and penzy. Food was delicious ,
We came back from camp tangpo and it was around 8:30 pm we had no plans to return to room.Rather we kept walking in the garden outside, feeding the dog, meditating, singing, screaming, laughing, giggling.
Finally to add some sweetness for the first day at byllakuppe and to end the day we ate some icecream of different flavours. It was already cold there and
" garmi Mae icecream khany ka wo maaza kaha,
Jo Mazaa thand mosam Mae tharthratii Hui khaney mae aati hy "
Then we came back to room to hit the sack.
.
.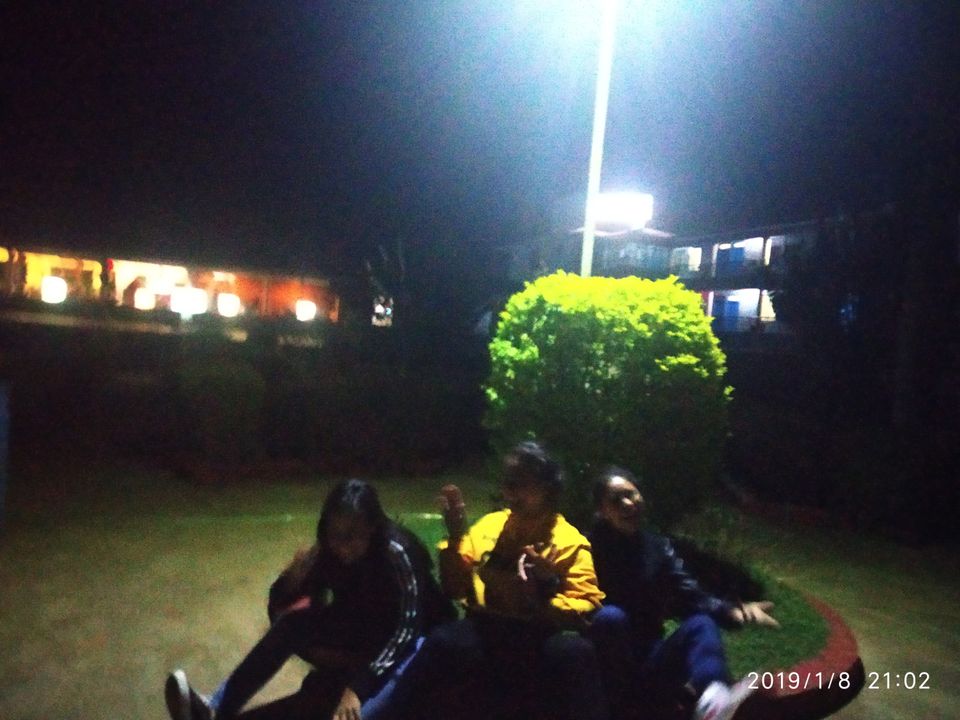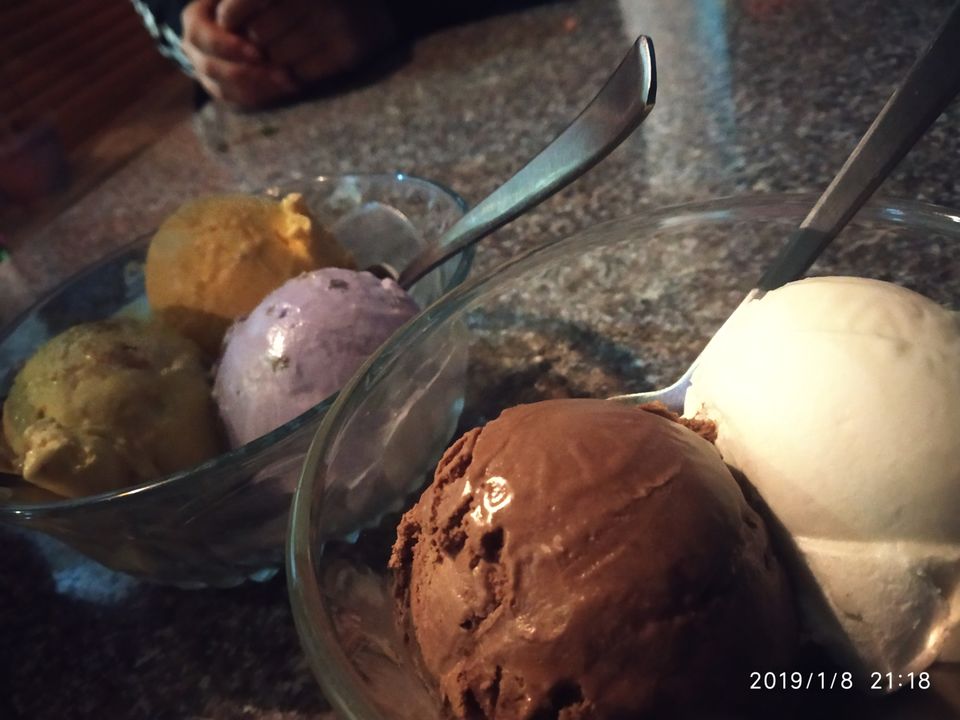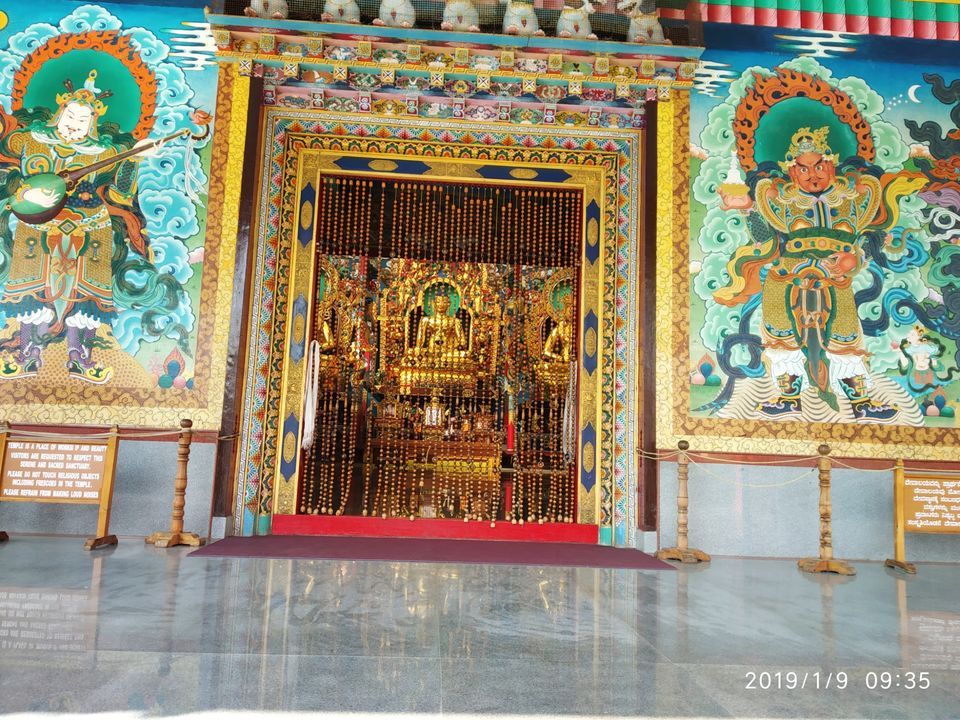 In the morning, my mind was half conscious and half unconscious, from far away I could hear the soothing mantra of "Om Mani Padme Hum"
I couldn't resist myself, I got up immediately and came outside the room. I saw the one most beautiful morning in front . If somebody ask , how do you wanna start your morning? Either my answer will be " sipping a hot tea at the top of mountain in a tent by watching the sunrise"
Or like this morning "with the smell of fresh morning sunshine with fresh air, people were going to spin the wheel (Mani), the Lama's were going in a queue .
I came back to the room and called my friend to come outside and see . After that we all got ready and we went to visit the temple. If someone is just fed up of city hustle and bustle, I would suggest you to visit here.We entered the temple, when I took off my shoes to enter the temple, I felt like I am leaving something out there. After coming out of the temple I came to know that, inside the temple my mind was free from all the ill, my mind was free from all the worries and stress, I could hear my inner being. There was peace all around. Many Buddhist monasteries were there and each had its own historical stories behind it.
Tashi lhunpo story will make you think twice and thrice , And this will make you ask how can a six year old boy be taken to jail and will not leave a single clue about him and his family. Tibetans and human rights groups are still campaigning for his release.[62]
We had our adventure part after noon, we went for a river rafting, completely soaked in water, everyone was laughing from there as we were screaming like a hell. We took an auto for the front or back journey. It was a place where there was not much traffic on the road, So we took an advantage of it and drove auto for the first time. Riding a three wheeler has its own fun on an open road.After that We went to camp tangpo Market, Wandered around and bought some Tibetan items and decided to go to the Golden Temple on foot.It was 7 km away, meanwhile we passed through a lake and at some distance the road was under repair, JCB and roller were all there so we thought why not take a selfie on the roller to make it even more memorable. Eventually we reached back to the hotel after having dinner. Everyone was tired but we had to plan for the next day. We checked for the bus to Trivandrum, but we found a bus route from Mangalore.
We had no choice but to book the bus. We booked the ticket and it was starting from Bangalore at 7:30 pm and the next morning we were reaching to Trivandrum.So we had one more day, we checked out places to visit in between Kushalnagar and Mangalore. So our plan was that, after breakfast in the morning we would headed towards Dubare Elephant Camp and then towards Madikeri Hill, after that we planned to take a bus to Mangalore at 2:30 pm.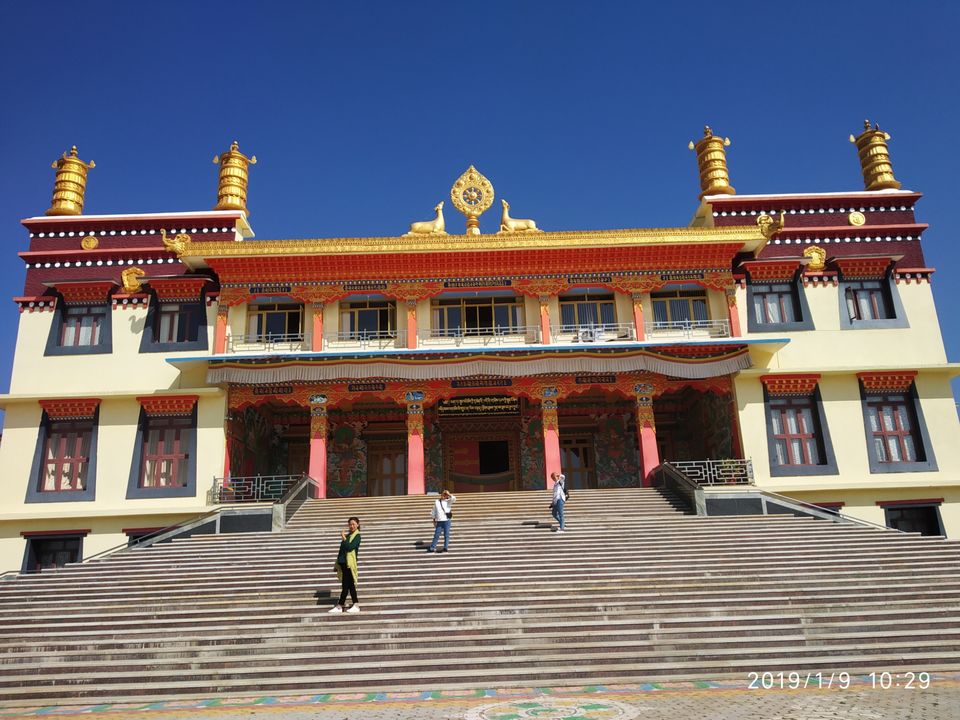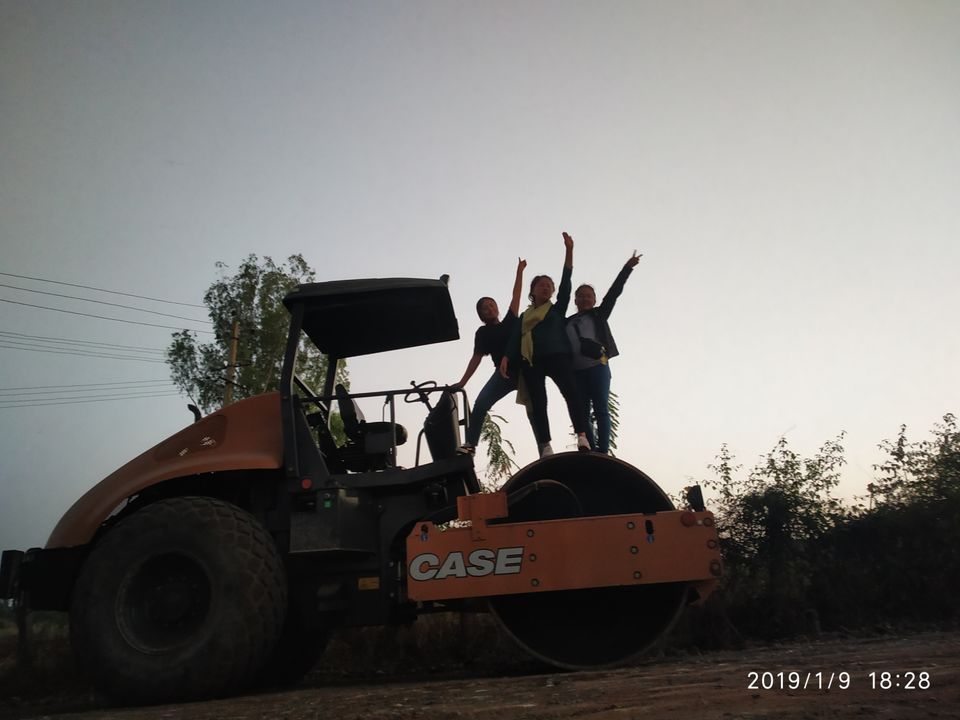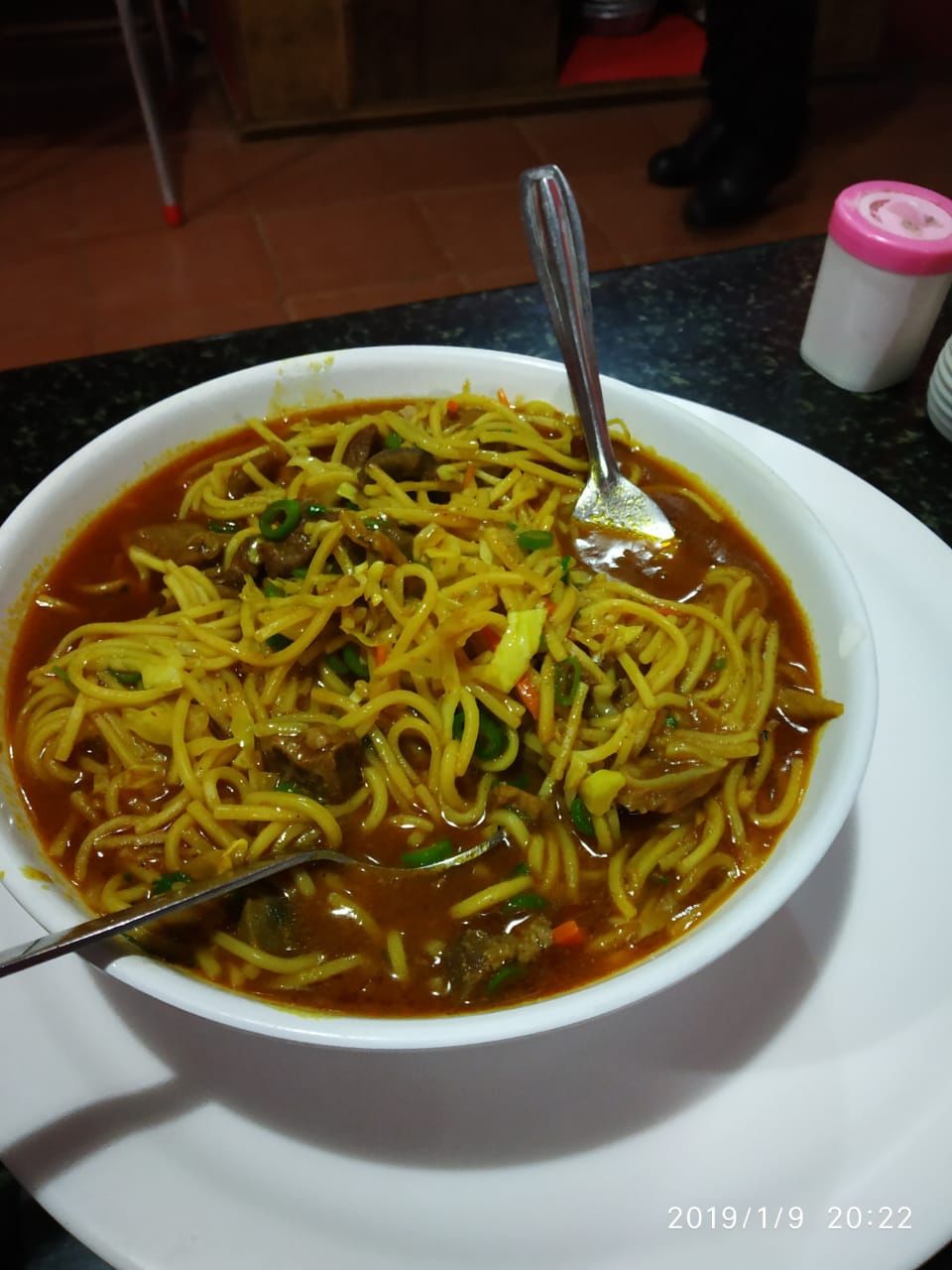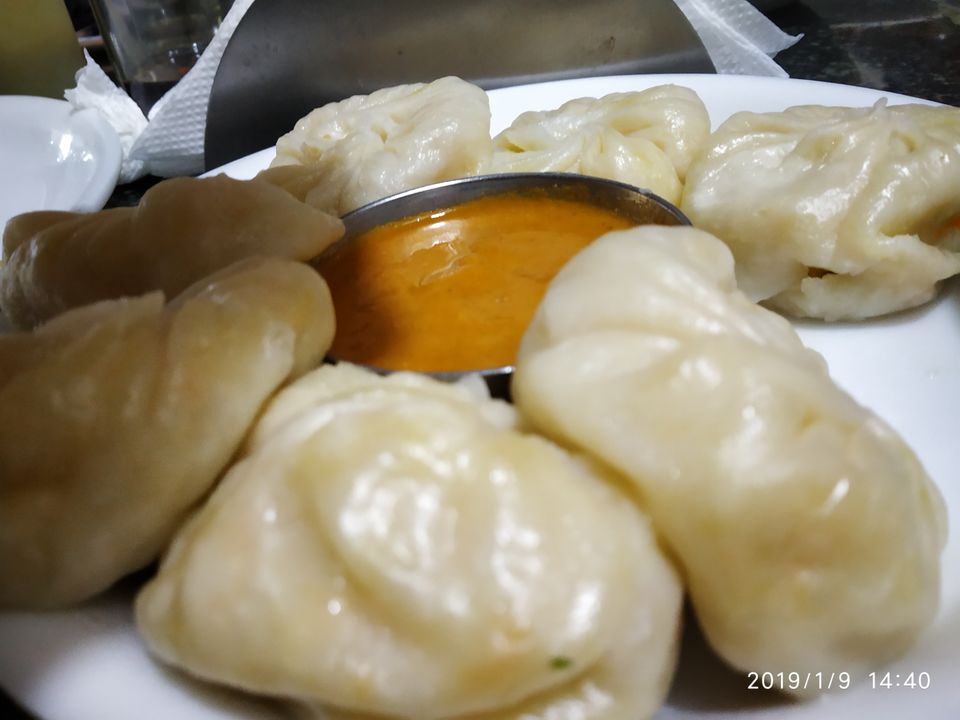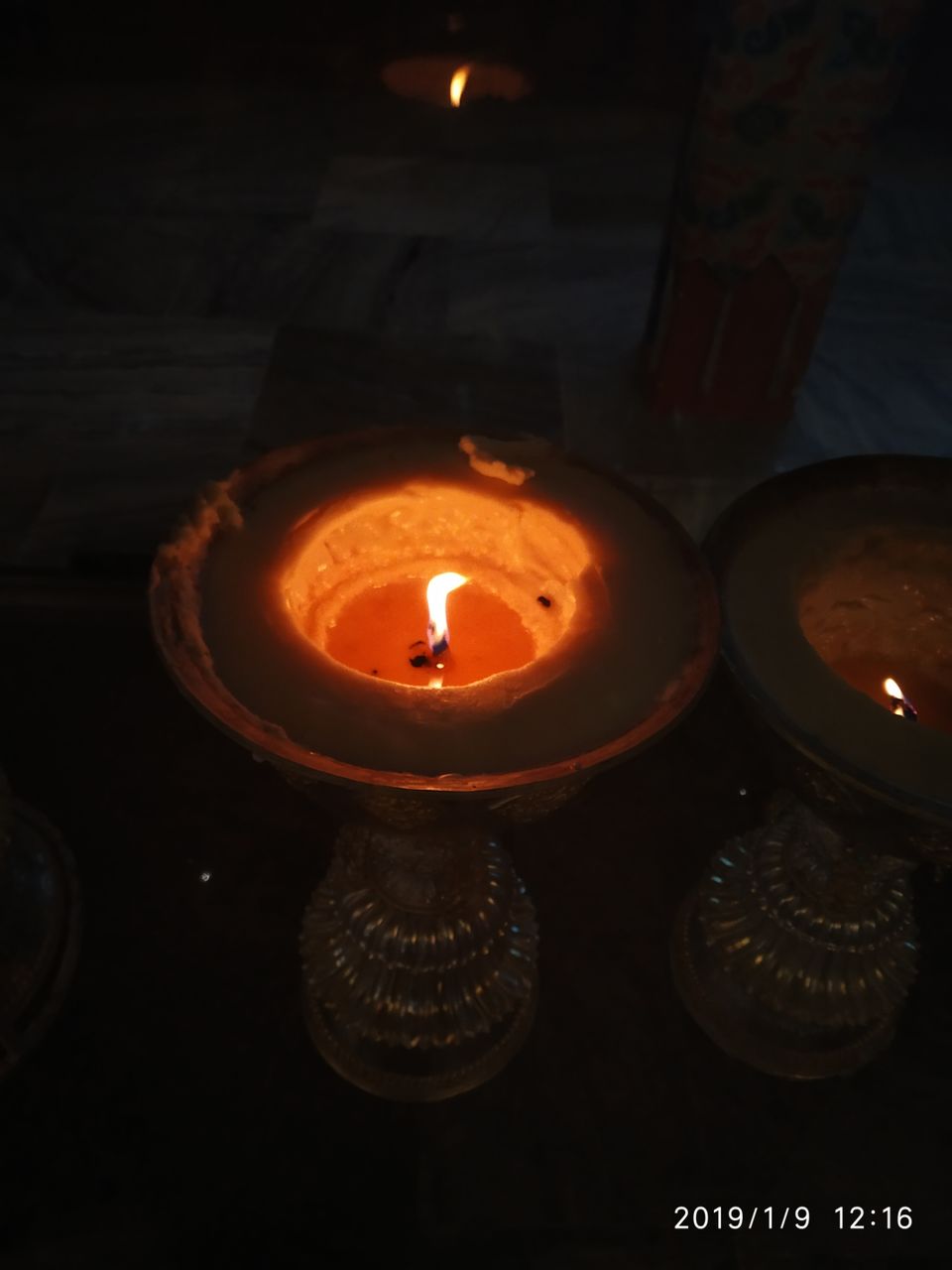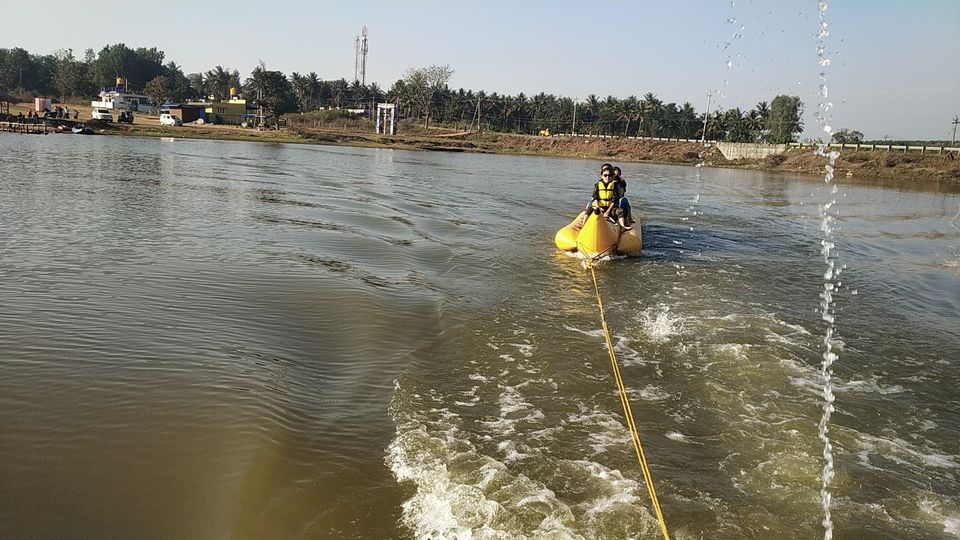 In the morning after breakfast we bought some chocolate and tea. These are two other things for which Coorg is known. So don't forget to taste it.
We headed to Dubaree elephant camp in an auto as per our plan. Two of my friends said that they had to take money from the ATM because they were running in cash.So we stopped at an ATM,
Meanwhile, a friend of mine and I talked to the auto driver about the buses we had to take to reach Mangalore and its timing.Then I thought it would be a little long continuous journey, so it would be better that I take some cash with me for security.
After that we came back to auto....
Challoo bhaiya ! Jaldii!!!
I sat on the edge of the seat and thought of taking my phone from my pocket, I found my pocket was empty, I checked the other side, I got my phone in the other but my purse was missing.
I yelled; rukoo bhaiya ,rukoo !! Ek min ruko!!!
He took the auto to the side and we looked everywhere but there was no trace of the purse, he said that I may have left it at the ATM.But i remember clearly, I put it in my pocket after coming out of the atm. So immediately he took us back to the same place and we checked there , but no!!! It was not there. We started asking every shopkeeper nearby but no sign was found.
Then auto wale uncle ka dimaag Chaala and he told us to go bank and request manager to show the CCTV footage. I wasn't sure if they would allow us to see the footage. All this things were first time for me and my friend also, So we did not know what to do in such a situation. With lots of thing running in our mind ,we went inside and my friend she asked the manager for the same. He asked us some questions ,I don't remember exactly what he asked but he agreed to show us footage. But lots of people were there on queue with their bank account book. So we had to wait till the last person , and it took so much time. After waiting for more than an hour he took us to computer room, but unfortunately only the camera inside the ATM was working , the other camera outside the ATM was out of function. We came outside the bank and sat there and thought what to do next. And luckily there was a shop having cctv and we asked for the footage from him, it was his goodness that he showed us the footage,
and he also suggested us to go police station and registered a complaint about it. Because in this era we cannot believe anyone. we had not ever been to police station, This was our first time and we were very excited rahter than sad. We met a lady constable and she asked us about our complaint , and she also served us water and was telling us to not to worry and inspector would come in a minute. After sometime inspector came and we told him about the incident , he told us to write a application and told to call the bank branch to block the ATM. When we called the bank branch , the lady was talking to us in malayalam and couldn't understand what we were saying and she cut the call. Inspector gave the request to one SI and told him to register the complaint. Meanwhile everyone was busy in their work and we got to see the jail , which we have seen only in movies and serial. It was already 2:00 pm and now we did not have time to go anywhere and thought to take a bus to Mangalore directly and if we got some time in Mangalore, would decide to explore there some.
We wanted to see ELEPHANT ,
But we saw CCTV FOOTAGE,
We wanted to go Madikeri hill station
But we reached police station,
I won't say that it ruined our plan but it made our trip more adventurous and unplanned. And we got to learned many things , yah it cost me my identity cards, ATM card, but it gave me a memories to cheerish for the lifetime.
Our bus to managlore reached station at 4pm and it was quite long wait. we boarded the bus and we sat on the front seats near the driver. There We met with one Kashmiri uncle and we talked about our journey. We told him that next we had bus from manglaore to tvm at 7:30. When conductor came to ask for the ticket , We asked him when the bus would reach Bangalore??
conductor said : after 8:00pm . And this few words were like dropping a nuclear bomb at Hiroshima to us. We asked him again , but his answer was same.
We try to talk to driver but our luck was so good that day , driver did not know a single hindi word. So we talked to him by doing actions. Lol!!! . And he was saying "after 8 ,after 8 " . We requested him to drive fast so that we reached there by 7:30 and he was showing with all his finger that it is not possible.
We were left with only choice, we called the bus agency, and we asked them to wait for us till 8. But that was kind of joke , isn't it. How could we expect that they will wait for us till 8:00. This did not work . So we had to look for another option. And bus driver was also trying his best to drop us as soon as fastly. it was best decision to sit in front seat, and we were also enjoying the full enthusiasm of western ghat.
humein toh samandaroon ne Bulaya thi
Lekin Dil Ko lehrey itni pasaand na aayi
Ki Dil bhi wahi py aa ky thaama
Jahaan pahadoon ki unchaayii thi
.
.
Next stop _
We decided to get down at next stop and change our bus boarding point to Kasaragod (Kerala).
We took taxi from sullia To Kasaragod ,it cost us bit more but was one most adventurous and memorable trip . The cab driver drove so fastly and we reached Kasaragod 1hr before the bus. We went to one restaurant and had our dinner there came outside for a night walk . After an hour bus reached we get into the bus.
2019 ka ekk masthh trip
Here we lost, we missed
But we gain , and got back so much memory to cheerish always. I am writing this after almost an one year , because the trip was of Jan 2k19 , but still all the memories are still Vivid, clear and transparent as glass.