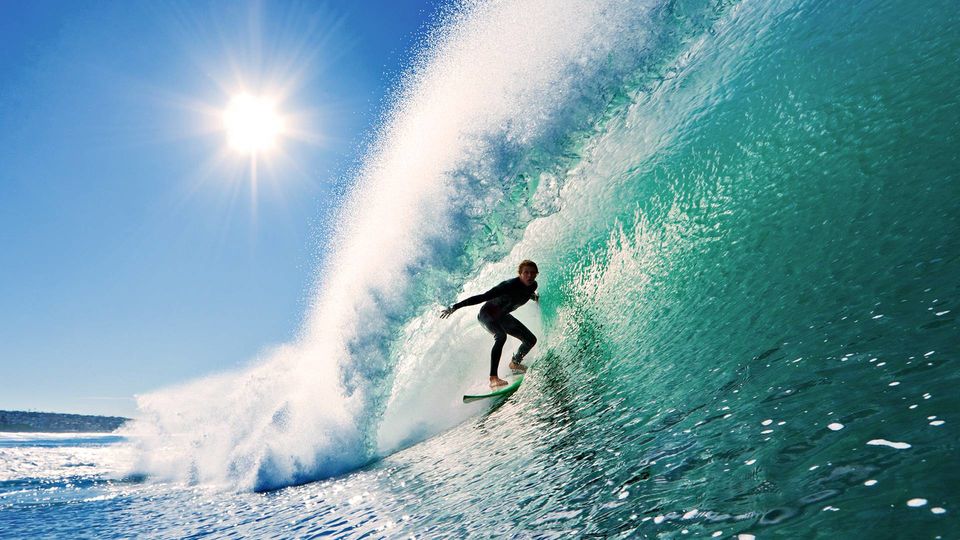 Water Surfing is an adventurous activity that people might be interested and would be wondering if they could be able to learn surfing in India. The answer to this would be definitely yes as India has a coastline of 7500kms and straight long beaches are also a dominant feature of the India coastline. Here you will find your usual beach break waves — closing out when it gets big but lots of fun on smaller days. Then here are the bays, coves, and points on the coast. Too many to count and most have never been surfed.
The first surf camp in India happened in 2011 at Chennai, Tamil Nadu, organized by Bay of Life in association with The Surfing federation of India marked the beginning of surfing as a popular, organized sport in the country.
Looking and exploring about the places and surf schools:
1. The Ashram Surf Retreat near Mangalore
Situated in the village of Mulki, about 30 kilometres from Mangalore, the Ashram Surf Retreat offers simple and comfortable non-A/C rooms, healthy vegetarian food and the beautiful setting of the Arabian sea on one side and the Shambhavi River on the other. Besides surfing and yoga lessons you can also kayak, wakeboard, paddleboard and snorkel at one of the nearby islands. The school is also involved with community projects in the area.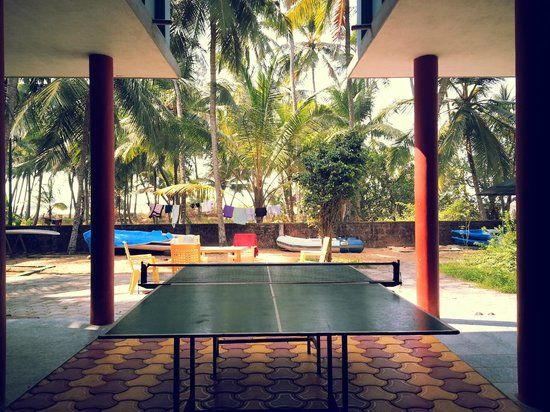 2. Covelong Point Surf School near Chennai
Covelong Point also has SUP boards, kayaks, bodyboards, windsurfing equipment and a Rip Curl store, and Barefoot Scuba Diving from Havelock in the Andamans has also recently opened shop here.
Surf Turf offers small but excellent and comfortable rooms, and a café with delicious, fresh seafood.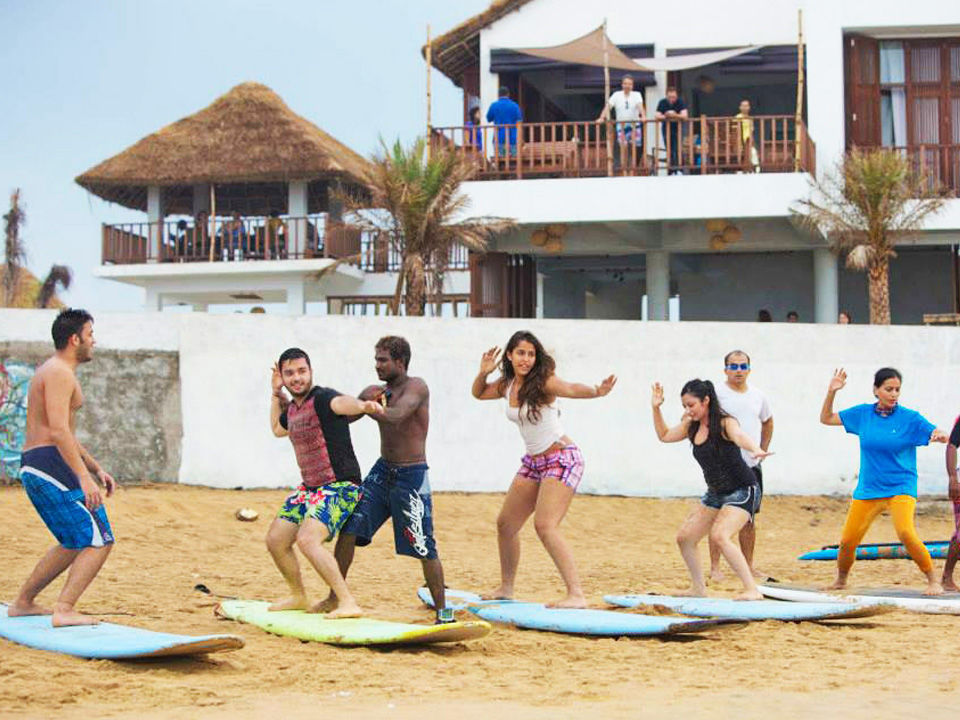 3.Banana Surf School at Ashwem Beach, north Goa
Surfing lessons start at approximately 4,500 INR for a two-hour session; there are also three-day and five-day courses.
For accommodation in Ashwem, check out our favourite boutique hotels in north Goa.
Website: http://goasurf.com/
5. Soul & Surf at Varkala, Kerala
In 2008, Ed and Sofie Templeton quit their jobs and moved to India to set up their surf school on 'a little patch of paradise' at Varkala in Kerala, a state known for its lush countryside but much less so for what are some of India's loveliest beaches.
Accommodation: Soul and Surf offers three types of rooms, Quite Nice, Nice, and Really Nice, the most basic costing around Rs. 3,000 per night, inclusive of breakfast and daily surf guides to the best spots.
Surf lessons start from approximately 2,200 INR
Yoga classes: start from approximately 600 INR per 1.5 hrs
Website: http://www.soulandsurf.com/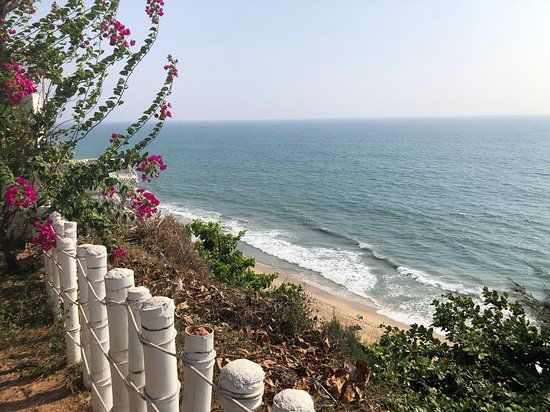 6.Andaman Islands
For all intermediate and advanced surfers, the immaculate Andaman Islands is your perfect destination. Most surfing spots in this area are only accessible by boats, meaning that crowds are hardly ever an issue. With some of the best waves in India, the Little Andaman Island, which is also the farthest inhabited island, gets hit by some seriously big waves from March through early May.
If you are just learning to surf, don't worry. There are plenty of spots for beginners too, and Surfing Little Andaman is the best surf school in the area. If you are looking for surf lessons, hiring surfboards, or simply need some information on the area, this is the place to go.
Website: https://www.surfingindia.net/little-andaman-island-surf-tour-package/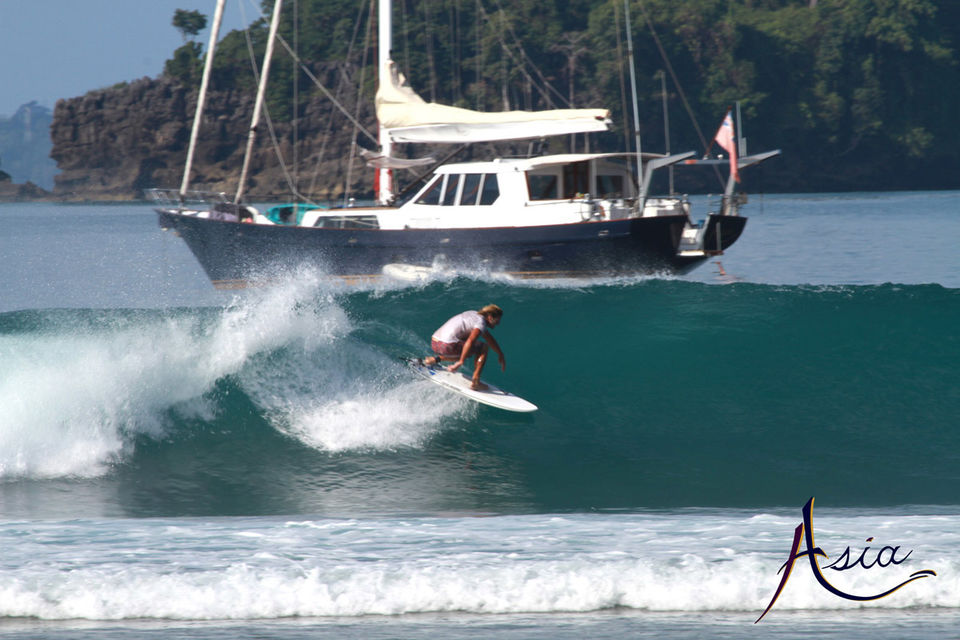 Accommodation: starts at 2,500 INR for single occupancy and 3,500 INR for double occupancy.
Surf lessons: 2,200 INR per day
Surf board rentals: 700 INR per day
Website: http://surfingindia.net/ashram-surf-retreat
Accommodation: starts at 2,500 INR + tax per night with a shared bathroom.
Surf lessons: 1,500 INR per lesson
Rentals: 500 INR
Website: http://www.covelongpoint.com/
4.Kallialay Surf School near Pondicherry
Kallialay is all about surfing, with a range of packages to choose from, starting with a single group-lesson at 1,000 INR, and going up to a 10-day course, which will have you catching waves on your own at 9,500 INR.
Website: http://www.surfschoolindia.com/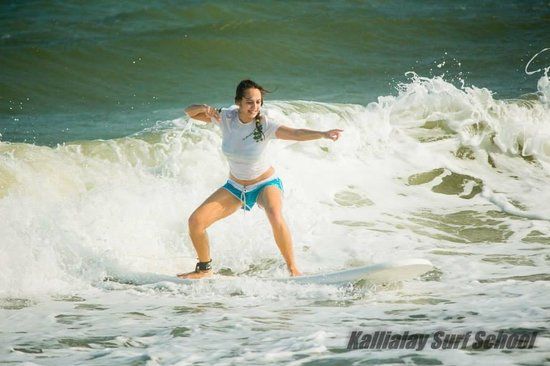 Some rules to be known for learning surfing.:
Right of Way
Don't Drop In
Do Not Throw Your Board
Do Not Dive Head First
Respect the Beach and the Ocean
There are surfing competitions held overall the world and one of the famous Surfers is Chris Burkard. Learn to surf and enjoy the sea. Get what waves has destined for you.