In the rear view mirror, he's watching the world pass by each day. A world full of stories where he stops by every single day at different pit stops, meets new people and pats the seat of his bullet lovingly before starting another day on the road. Dhruv Dholakia is On A Bullet Yatra around the country and 4 months into this journey covering 12 states, he is a joyous soul hunting for the best of stories at the destinations he has traversed.
Around 37,000 friends and followers eagerly await his next story from the road each day. After reading the countless soul-stirring stories by the traveller, this was my chance to know this guy on the bullet yatra, Dhruv Dholakia. On the road, heading next to the northeast India, here's my conversation with the biker himself.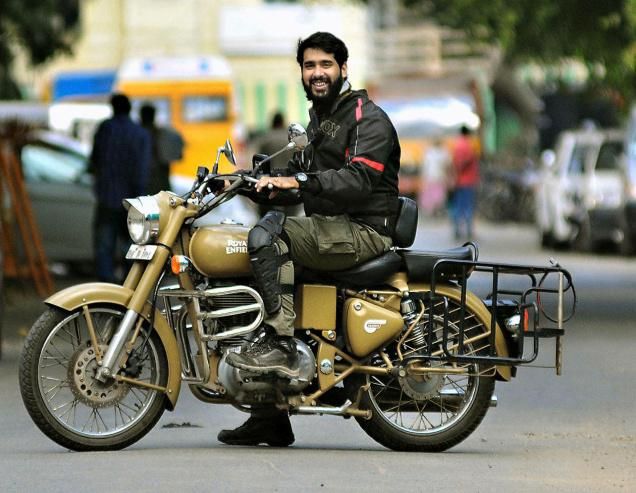 1. You've been 4 months into this journey. Tell us when and where did the Bullet Yatra start.
This Yatra began long before I actually hit the road. It began when the idea of this journey was born in my head while doing yoga about 1.5 years ago. Since then I have given everything I have to this journey: time, money and energy. Risked my life, career and relationships. The physical part of the journey began on 29th September from Mumbai. This was the day after Ganpati Visarjan. I took blessings from Lord Ganesh before starting this mammoth journey. There could not have been a more auspicious day.
So many people want to do this but cannot do it or are not capable to do it. Sometimes I feel that in my previous births I must have done some good deeds because of which this yatra has become possible. So maybe this Yatra began somewhere in one of my previous births.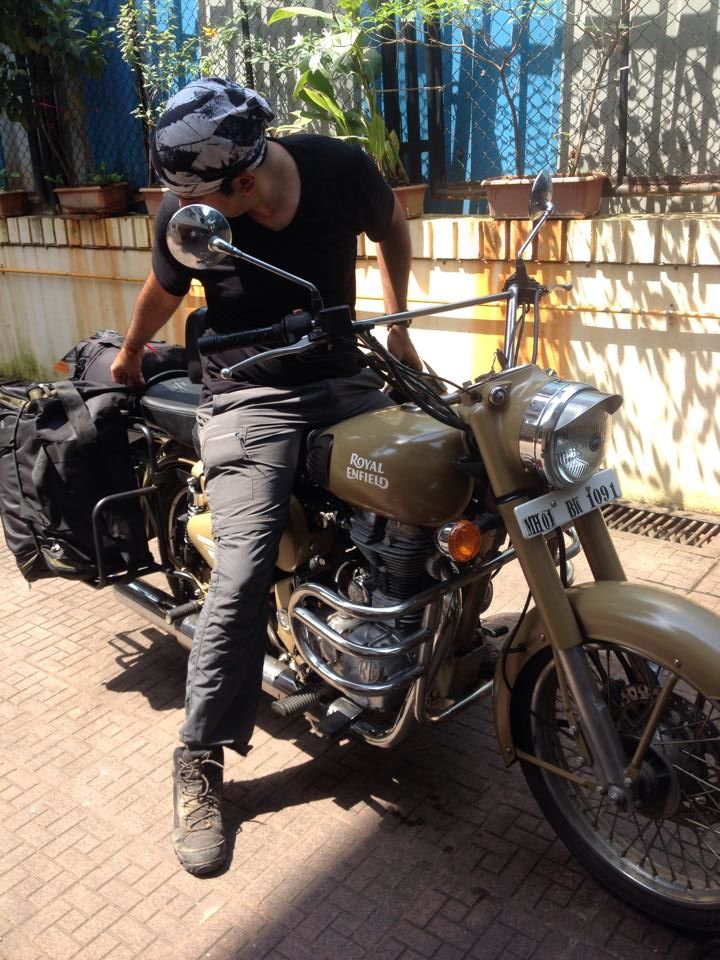 2. Where all has the 'yatra' taken you till now? Tell us about your favourite pit stops along the route.
So far in 4.5 months across 12 states, I have stayed at over 41 different places. So the list is a bit too long to mention. The states I have visited are Maharashtra, Goa, Karnataka, Kerala, Tamil Nadu, Andhra Pradesh, Telangana, Chattisgarh, Odisha, West Bengal, Bihar, Assam. I am going to stay in all 29 states of India.
Hampi is one of my favourite places. It was love at first sight. The place is such that the soul and the eye has never witnessed it before. The skill and intelligence required to build structures like these is so high that no where in the world you will see a place like this. A place where stones are telling a thousand stories through poetry. India used to be a rich country. The richest in the world. It may sound bull crap but it is true. Thousands of diamonds were used to decorate temples. It's not just about money. We were culturally advanced. Women were taught how to seduce men and at the same time how to hunt tigers. Such liberal people. Such cultural riches.
My most favourite place was a yoga ashram in Coimbatore. People have the wrong notions about yoga. Yoga is definitely not about being peaceful. Initially, I felt an increase in the activity in my head. Slowly as days turned into weeks, this turmoil was spiralling into something bigger. Soon yoga was blasting me within into pieces until there was no peace and no disturbance, a sense of calm beyond peace. This calmness is like the eye of a hurricane; the hurricane is blowing like crazy & in between, there is total stillness. The energy builds with alarming regularity. A deep stillness of silence is all encompassing in this hurricane like a yin yang. How can silence & hurricane co-exist? That is precisely the allure of yoga. Yoga is India's strength.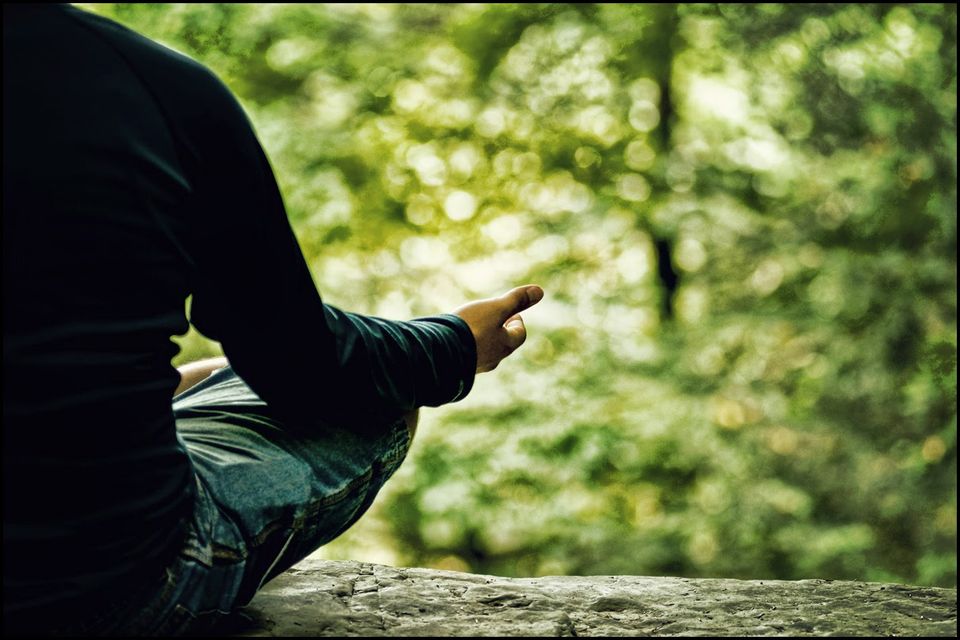 3. An important question is, what's there in your backpack. How do you pack for 14 month long trip?
I had to turn from a materialist to a minimalist. Every last gram and inch of space has to be accounted for and only the bare essentials can be taken along.
4 pair of clothes
2 pairs of socks
a thermal jacket
a feather jacket
a poncho to provide shelter from rains
a swiss knife
some motorcycle spare parts (tyre tubes, spark plugs, clutch cable, accelerator cable, fuses, chain link)
a bluetooth speaker
a toiletries pouch
a first aid kit with medicines for every common health problem
6 bungee cords to tie the bags to the motorcycle
xerox copies of important documents
a power bank for the mobile
a dslr camera
a miniature idol of Ganesha
Longer the journey, the lesser you can carry with you.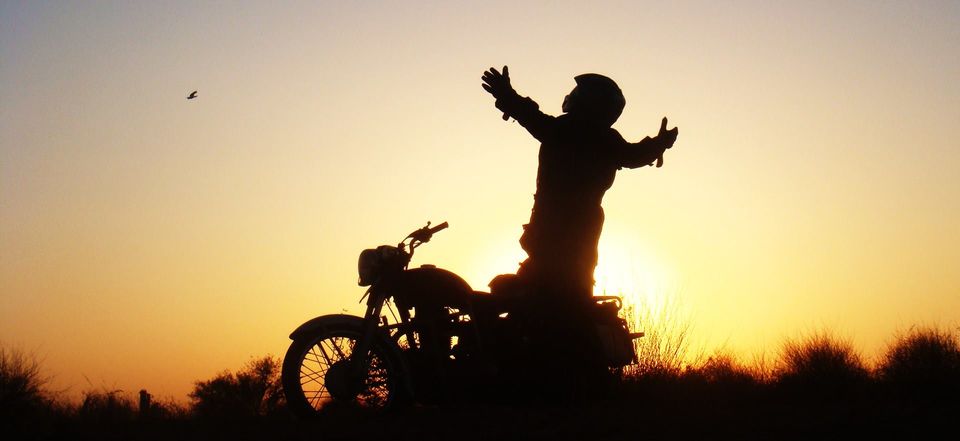 3. You have named your bike. Tell us about that.
Along the way I have visited so many religious places of different faiths. Why have one God when you can have many? The incredible freedom to choose your favourite god that you like or admire is no different from shopping for a product on Amazon dot com. Every temple, mosque, church, gurudwara, monastery, etc is inspired by a different god, saint or sect.
We have even made Sachin the god of Cricket; Amitabh Bachchan the god of Bollywood & Rajnikanth the god of Tollywood. Among Hindus the choice is at it's peak. There is a monkey god, elephant god, rat god, rain god, death god & even a god for sex. In reality there are as many gods as there are humans in India, you can make anyone your personal god. But for me personally, there is only one god of gods, Mahadev- Lord Shiva. I have enjoyed his stories so much that he is fast becoming my favourite god. Over the centuries, the craze for him has been so immense that even the vehicle of Shiva - Nandi the bull is worshiped.
In Mysore, there is a huge idol of Nandi near the Chamundeshwari temple. This Nandi stands over 15 feet high, and 24 feet long and around its neck are exquisite bells. I sat there for over an hour admiring the majestic bull. He is represented in a sitting posture with his left leg stretched out in front of him; he is still but always alert and ready to move. He must have been a fierce and tireless animal because after all he is Lord Shiva's ride. As a rider, I imagine how and where Nandi must have carried the Mahadev around; there is no place which would have been out of bounds. That's when I decided to name my Royal Enfield motorcycle 'Nandi'. The bull who can take me anywhere, anytime. He is a symbol of achieving the impossible and the secular nature of our country. We can worship a God from any religion. So much so that we can worship even animals.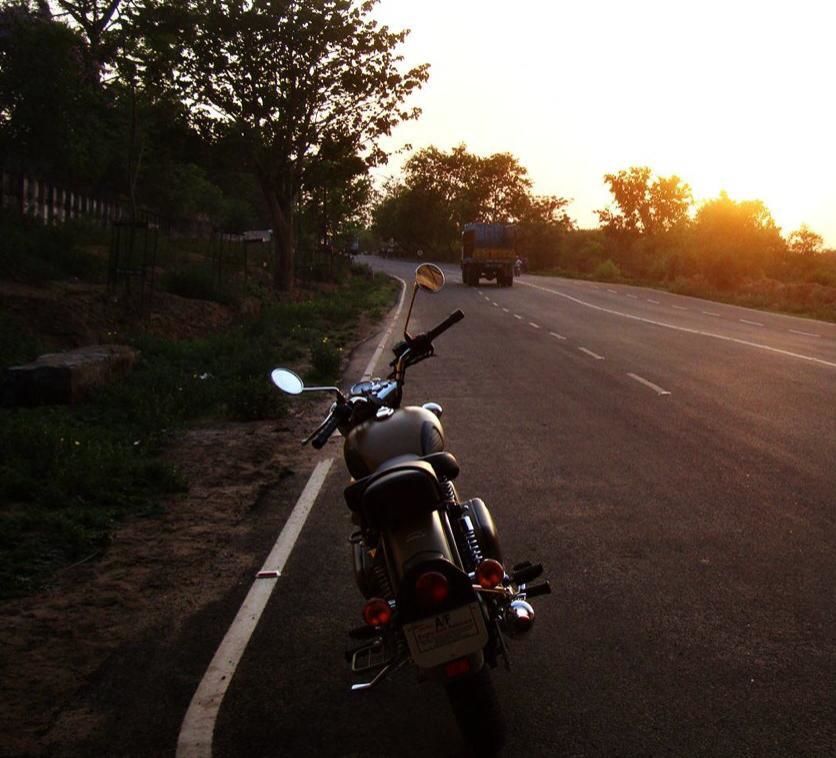 4. You bring to us fascinating stories from the places you travel to. What has been the one special story that truly moved you?
A wandering monk travelled from Kashmir to Kanyakumari. It took him 5 years. This was about 130 years ago. No public transport, nothing. In those days, railways were just introduced with few tracks laid out & used mostly by the government to carry goods. Only two legs & an entire country. He travelled light; his sole possessions were a pair of clothes, a water pot & his 2 favourite books. There was no money. So he ate whatever anyone offered him & walked across great distances. This guy was not an uneducated beggar. He had completed a Bachelor of Arts degree from Kolkata & had read vast amount western literature. His father was a well-known lawyer in the high court. His family had a high-class pedigree. Yet he left everything. Travelling across India to learn about the ancient wisdom from the eternal voices. During his travels he stayed with people of different religions, regions, class, etc. Basically anyone who offered a roof on his head & wanted to speak to him. He wanted just one thing- knowledge. With this knowledge he dreamt of building a strong nation, India, to re-emerge from poverty & superstition. Not knowing how he will achieve his dream, he just went all out with courage in his heart.
When he reached the shores of Kanyakumari, he saw two stones in the middle of the ocean. They were about half a kilometre away from the land mass. I must touch mother India's feet, he yearned. A boatman was there but he had no money to pay. He just dived into the water & swam across to a rock braving against the sharks. On that rock, he meditated for 3 days at a stretch. His name was Narendra, later on called Vivekananda.
I visited the Vivekananda Rock Memorial in Kanyakumari. A ferry took me across the shore with an orange life jacket around my neck & a ₹40 ticket in my hand.
Respect. From one wanderer to another. From an amateur to the Master. I dispatched my Namaskar to his soul. And to the eternal voices that inspired him.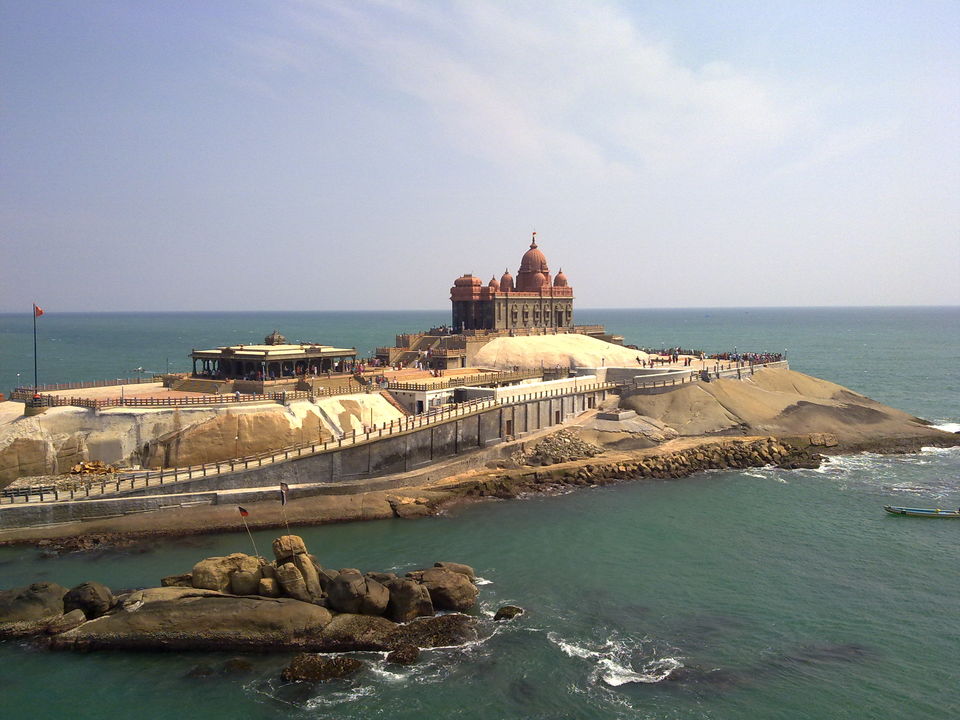 5. What are the pros and cons of long term solo travel?
There are no cons. Let's get that straight. It's all pros. Travelling is the best education you can get. A hundred times better than Harvard. There 7 billion people on this planet. 195 countries on 7 continents. We are stuck in an insignificant place, forced to make decisions about our future when we don't even know who we are. We know nothing. Prophet Mohammad once said "Don't tell me how educated you are, tell me how much you have travelled." The Mahabharata elaborates in 50 pages about the benefits of a yatra. Travel unites. Travel makes leaders. Every great person has undertaken at least 1 great journey.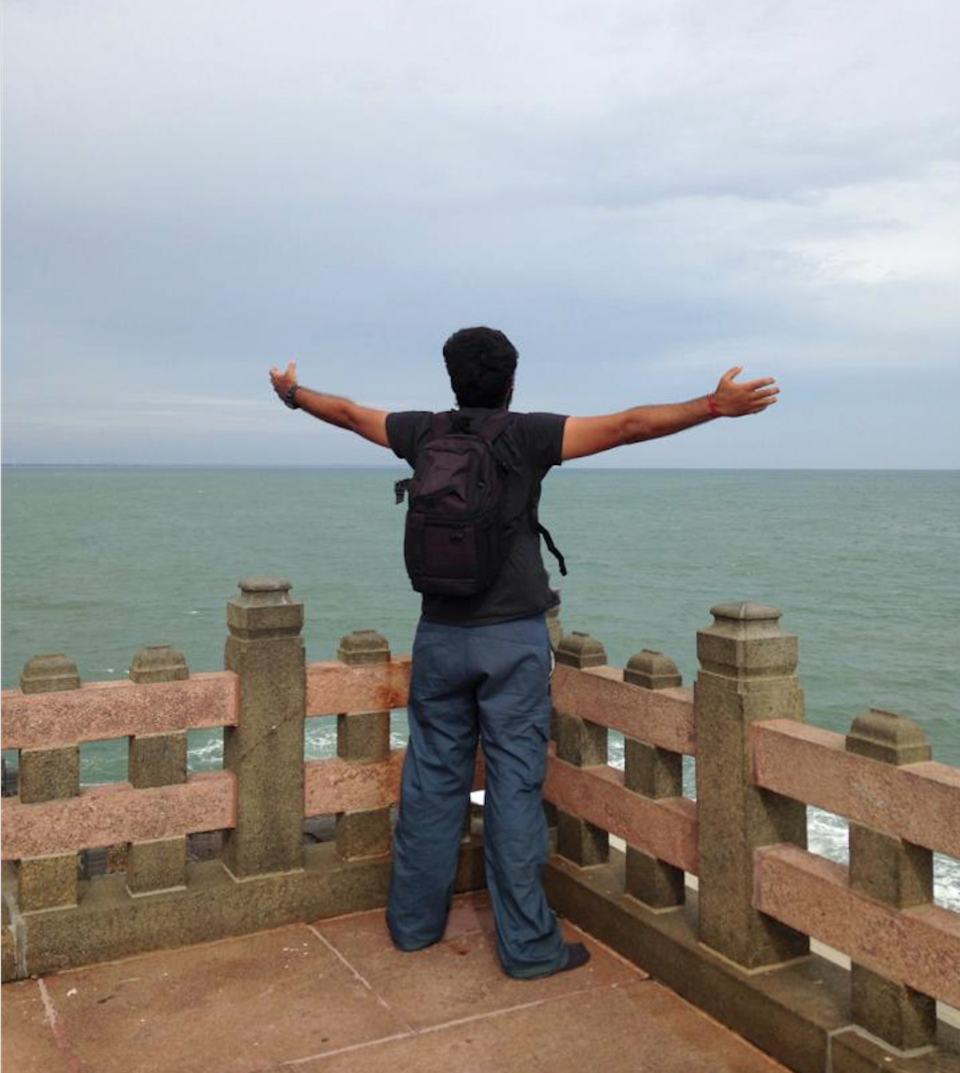 6. As an Indian man in your thirties, what made you choose an experimental life of travel instead of a corporate work life?
I used to plan my life. By the age 25, I should have done MBA. By 30, I should have this much bank balance. By 35, I should have so many kids. Then one fine day, all my planning fell apart like how sandcastles melt away in one small wave. Like how just one drop of water can destroy a piece of paper. I got divorced. I lost my job. I suffered a slip disc. Life is a delicate thing amidst countless factors that determine our existence. We are an insignificant individual in this vast cosmos. The planet earth is a speck of dust in the universe. The moment we realise these things, we will know how pathetic are efforts to control things. I realised the purpose of life is not to prepare for future but to live and live now. That's when I decided to experiment with my life. An experiment for only 14 months to give myself a chance and see where things go.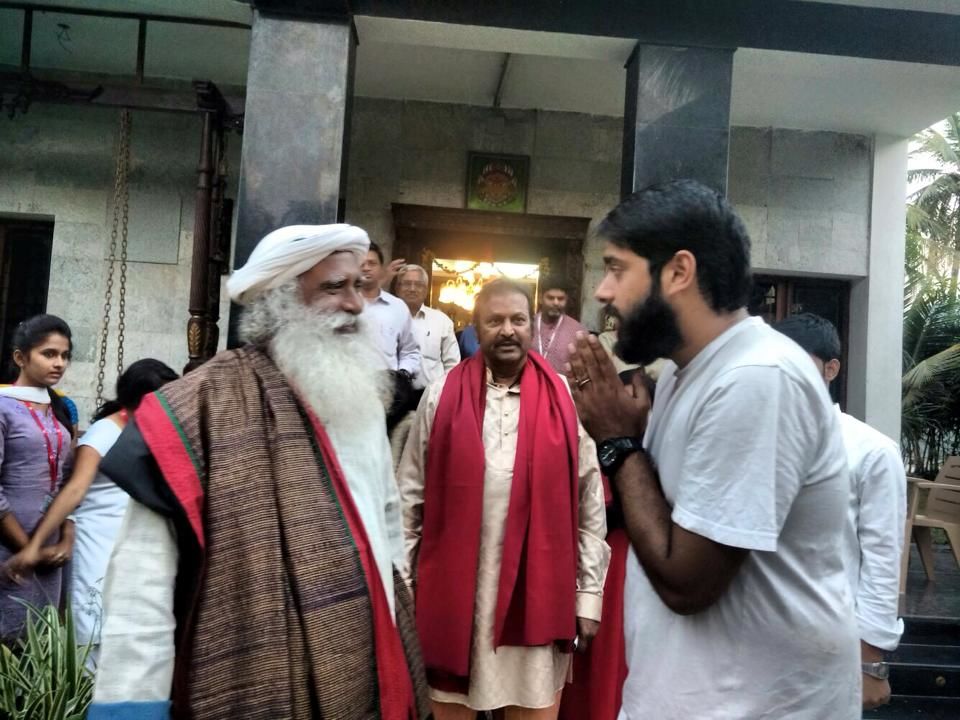 7. What is your secret of managing expenses of full time travel?
Rule no 1: Never hesitate to say yes when something is offered to you for free. Keep your ego aside. To accept something requires gracefulness.
Rule no 2: If nothing is offered free of cost then look for places to stay for free. I try to stay at friends place. Or relatives place. Or friends of relatives. Or relatives of friends. Anyone.
Rule no 3: If you can't stay for free then look for the cheapest place to stay in the guidebook. Then find a place cheaper than that. Try to look for hostels, temples, guesthouses, lodges, dharamshalas.
Rule no 4: You have to master the art of eating street food without falling sick. Eat where you see a lot of people already eating. Try to have fruits, eggs, tea or anything hot made in front of you. If you can see it being cooked then you can eat it. I have eaten in places where bottled water is more expensive than food. If you have to go to a restaurant once in a while then thalis are great value and nutritious.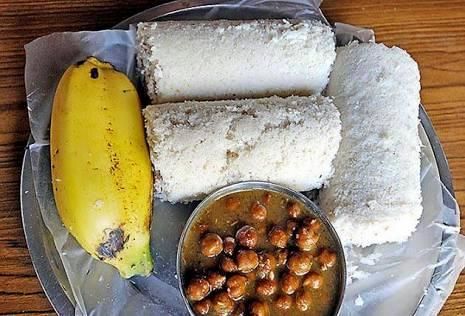 8. Where are you headed next?
The seven sister in the northeast. A wonderland for adventurers with some of the remotest places in India with exotic tribal people.
9. What would you like to say to people who wish to travel but don't.
Do you want to be like a chicken in a small cage all your life?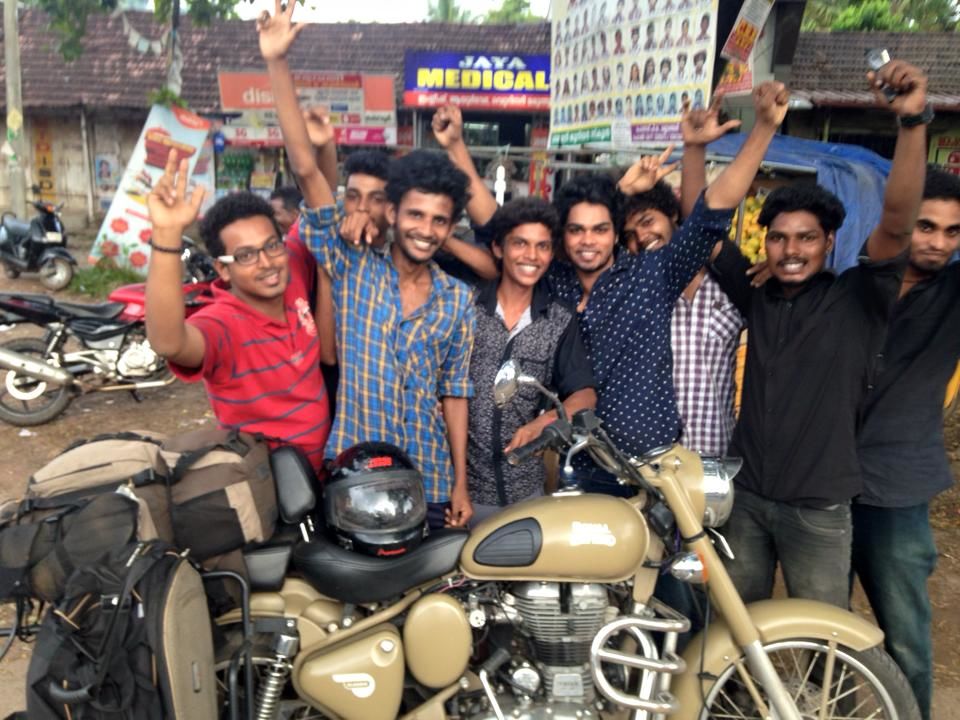 Dhruv is moving along the route as we read his overview on this special yatra. With thousands of stories awaiting him on the road ahead, he has a thousand reasons to carry on and make the best of his time on this journey.
If you have an incredible travel story to share, click here to tell it to the world.
Frequent Searches Leading To This Page:-
on a bullet yatra