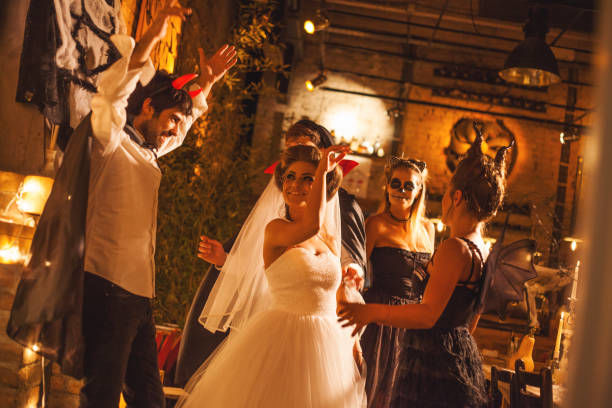 It's the freakiest time of year, so ghouls and girls get ready to scream our guts out, drink and dance away the nocturnal hours at these 'spooktacular' Halloween parties happening in your city.
1. Halloween Camp by the Pawna Lake
If you're a self-proclaimed daredevil, head out to the paranormal playing ground, set up your tents, amidst pumpkin lanterns and werewolf-howls. Camp by the backwaters of the Pawna lake, witness a spectacular sunset and the eerie dark clouds cover the moon.
About the Event: This event is organized by The Camp India on 27th-28th October located at Pawana dam which is surrounded by Tung, Tikona, Lohagad, and Visapur forts. You can directly drive to the campsite near Lonavala which is 50 km from Pune and 110 km from Mumbai.
Activities: One can overnight in the tents and gobble up lip-smacking barbeque starters. Once the night starts creeps in, the campers can start dressing up as monsters. They are even going to put up Halloween themed décor. You can burn up the dance floor to the beats of the Zombified DJ or snuggle up in your blankets around a campfire, sharing horror stories with fellow campers.
Cost: INR 2100 for an adult.
Inclusions: Evening welcome tea Snacks, unlimited dinner( veg/ non-veg) mineral Water, BBQ, tent stay (Includes complete Sleeping Gear Mats, Blankets, Pillows), next day morning tea breakfast.
2. Halloween Masquerade Party In Mumbai
Dare to Scare? The scariest monster here takes it all. This one is a spook-fest, right from its freakishly yummy Halloween menu to the monsters' masquerade party.
About the Event: Beyond- Wine and Dine in Mumbai is hosting a Halloween masquerade party on 31st October 8 pm on wards. You can book tickets to this scare fest here.
Activities: Directly dive into the lip-smacking treats or try your hand at some tricks, at the games of the dead. Don your creepiest best and win against the others of your clan in the best costume competition as well as the dance floor.
Cost: INR 1050 for kids and 2100 for adults.
Inclusions: Unlimited food and drinks (domestic liquor), DJ, games and prizes, spooky surprises.
3. Hell-o-Halloween Bash 18' - Chattarpur Farms, Delhi
A glow in the dark neon themed party is the place to be this Hallow's eve, where the pumpkin lanterns will gleam and the monsters will descend.
About the Event: This event is being held in Chhatarpur Farms, South Delhi and is powered by Travellers Point. Happening on the 27th of October, the party starts 6 pm onwards.

Activities: There's going to be a clash of the DJs where you can choose from the best of EDM & Trance music. And if you're too busy, prowling in the woods, sucking blood or creating potions, they have make-up artists at the venue to give you the most petrifying make-over ever! UV Halloween props and a selfie booth are the finishing touches to this perfectly planned bash. Plus, there are some crazy drinking games too.
Cost: Couples INR 2000, Male Stag INR 1500, Female Stag INR 500.
Inclusions: DJ performances, Halloween props, drinking games, make-up artists, a selfie booth, trance and EDM music.
This is a guest-list only party so make sure you reserve your tables already here.
4. Horror Movies Binge Night at Sunset Cinema, Delhi
How about watching some of the most acclaimed goose-bumps inducing horror movies with your partner or your gang under the open sky?
About the Event: Sunset Cinema Club in Delhi is having a horror movies marathon and it'll go on all weekend. They are going to be screening some of the best horror as well as horror-comedy movies from Friday 26th October to Sunday 28th October 7 pm onwards at an open-air setting.
Activities: Binge-watch all the paranormal movies from your bucket-list along with some delicious snacks and booze. If you're a faint-hearted person who scares easy, get along your gang to make jokes on the VFX. You can also carry a blanket along to fight the chills or snuggle under the starry sky.
Cost: INR 400 onwards per person.
Inclusions: Movie ticket, food, and drinks.
Book your tickets here.
5. Big Halloween Bollywood Party at The Sugar Factory, Bangalore.
Be it a zombie dulhan, a dead prince from the Mughal era or long-haired chudail, desi Bollywood is what gets them rolling. Find your groove at this Bollywood bash that is the redemption all our unsatisfied desi souls were looking for.
About the Event: The Sugar Factory (Le Meridian Hotel) in Central Bangalore is having Bollywood Music by DJ Angel for their Halloween Costume Party on Saturday, October 27th 8.30 pm on wards.

Activities: Get your Halloween costume game on point and dance the most dreaded night away to Bollywood and Punjabi music or simply gobble up some ghost-themed dishes. The party will go on till 1:00 am.
Cost: Couples register and get free entry till 9.30 pm. Girls can register and walk in free all night
Inclusions: Bollywood DJ Music, Halloween Props and décor.
6. Tales of Terror With Word Zoned at Bangalore.
If you are someone who prefers reading a book over partying, well this is the place to be. Listen on to these terrifying ghost stories that'll give you the creeps.
Stories that may haunt you for days, and unnerve you even more than the scariest of horror movies.
About the Event: WordZoned presents Tales of Terror, a storytelling open mic event where the story-tellers will narrate some petrifying ghost and haunting tales. The event is being held on Sat, 27 Oct 6:00 om- 8:00 pm at Atta Galatta, South Bangalore.
Activities: You can either find a seat among the audience and listen of to the spine-chilling narrations or be the story-teller! Recount your own set of ghost tales (fiction or non-fiction) and watch the audience horrified stare back at your wide-eyed.
Cost: The audience, as well as the story-teller pass, is for INR 149. You can register for the passes here.
Inclusions: A bloodcurdling assembly for the lovers of paranormal and horror stories. A special goody for the best storytellers is up for grabs.
Tip: Don't forget to carry a valid ID proof with you to all of the above events.
If you don't wanna end up in a pink bunny costume like Chandler this year, it's high time to start planning your costumes, nabbing fake blood and vampire fangs and even pick up some sugary treats while you're at it.
If you miss these parties, then beware the gory FOMO.