The minute the October starts to approach its end, all I can think about is 31st of October, Halloween Day.
There is something alluring about being scared out of your wits and that is what Halloween is all about. While the horror has been normalised now and turned into a more of a fun event with kids and adults trick or treating, we can't completely ignore the fact that this day is all about fear of the supernatural.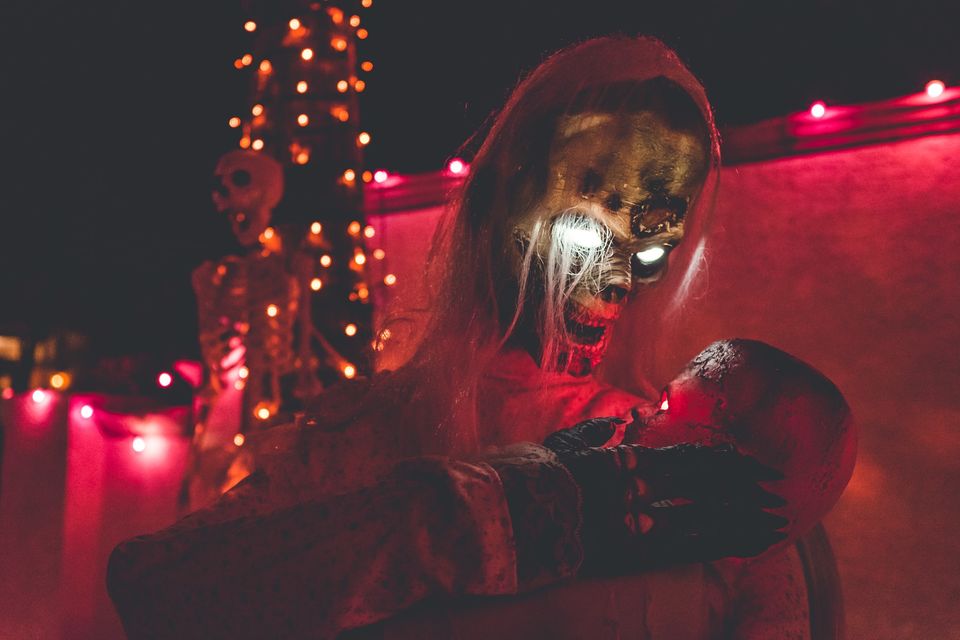 Do you love to give yourself a scare every once in a while? Or are you one of those brave hearts who don't get scared easily?
Well, whatever it may be, if you truly want to celebrate this Halloween with a bang then you need to find something kick-ass to do this year. And what better than to visit an actual haunted house which has spooky stories and incidents associated with it.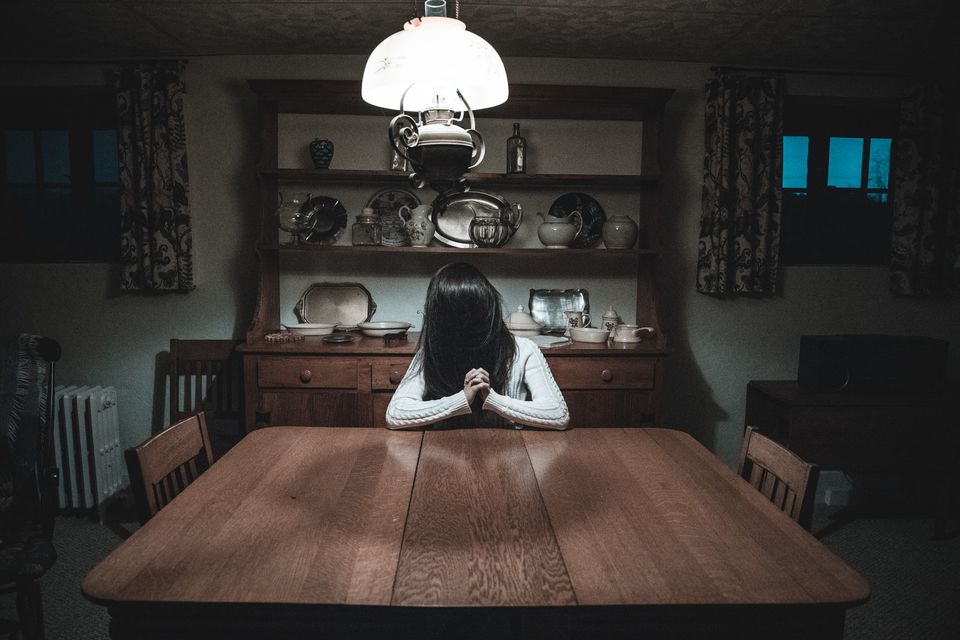 So here is a list of the few most spooky houses that you can go to this Halloween Day, if you dare!
Blackout haunted house
Location: New York/California
One of the most spookiest scary houses in the USA, Blackout Haunted House allows participants to enter one at a time. And they often make the audience strip before entering which makes the entire experience even more scary for them.
The hired actors will torture you in every way possible by pushing you or hitting you or throwing gross items at you. And by the end of the hour, you would be traumatized beyond words.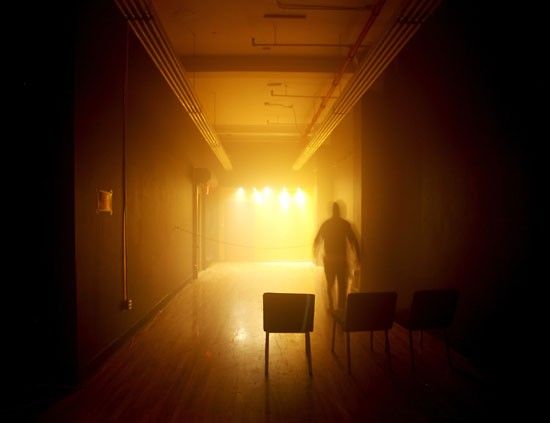 They do have a safe word that you can use if you don't wish to continue the experience. But if you make it through the entire experience, it will be a story worth telling your friends and family.
This scary house is only for the most daredevils out there because I cannot promise you won't suffer from PTSD after this. So, enter this scary house at your own risk!
Pennhurst Haunted Asylum
Location: Spring City Pennsylvania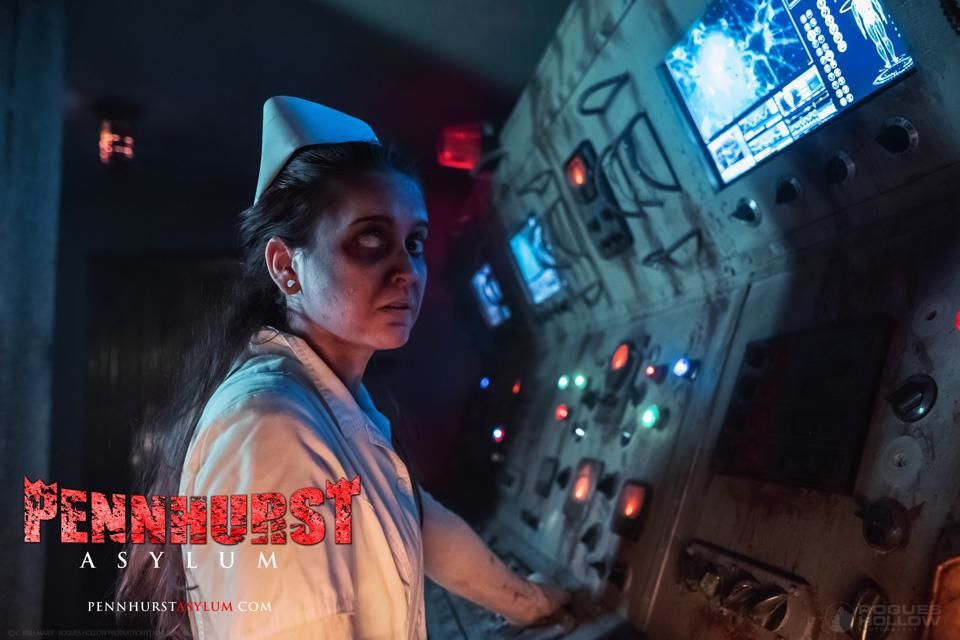 Another top haunted attraction is the Pennhurst Asylum but it is slightly different than other scary houses. How so?
Because this haunted place is real. This asylum was started in 1908 as a State Mental Institution and had dark and dank rooms where the mentally ill and epileptic patients were kept and abused.
These rooms have now been converted into attractions but one of the original rooms, the Mayflower Dormitory is said to experience real paranormal activities.
In fact, it has also been featured on several ghost hunting shows as well. Imagine, being left alone this dormitory with just a torch to guide you out. Do you think you could make it out in one piece?
Saikyo Senritsu Meikyu
Location: Fujiyoshida, Japan
One of the scariest attractions in the world, Japanese Saikyo Senritsu Meikyu in the Fuji-Q Highlands Amusement park is a unique scary house. Unlike most other scary houses where you have to follow a single designated pathway, in this haunted house, you are free to explore wherever you want.
This house is designed as an old, abandoned hospital where the doctors used to harvest and sell the patients' organs. As a result, the victims came back as vengeful spirits and killed all the doctors here, making it a haunted site.
Try to find your way through this haunted, creepy hospital if you can. But if you feel it is too much for you, then you can get out from one of the safe passages.
Terror Behind the Walls
Location: Philadelphia, Pennsylvania
Until 1971, Eastern State Penitentiary was an actual prison where even Al Capone was kept. But now it has been turned into one of the most popular haunted attractions in Pennsylvania known as the Terror Behind the Walls.
They have six haunted attractions with amazing actors, props, and lighting. And the participants have a choice: to just observe and watch it all or interact with the characters and get dragged into spooky corners.
This place might not traumatize you for life but it is definitely going to scare the bejesus out of you.
The 13th Gate
Location: Baton Rouge, Louisiana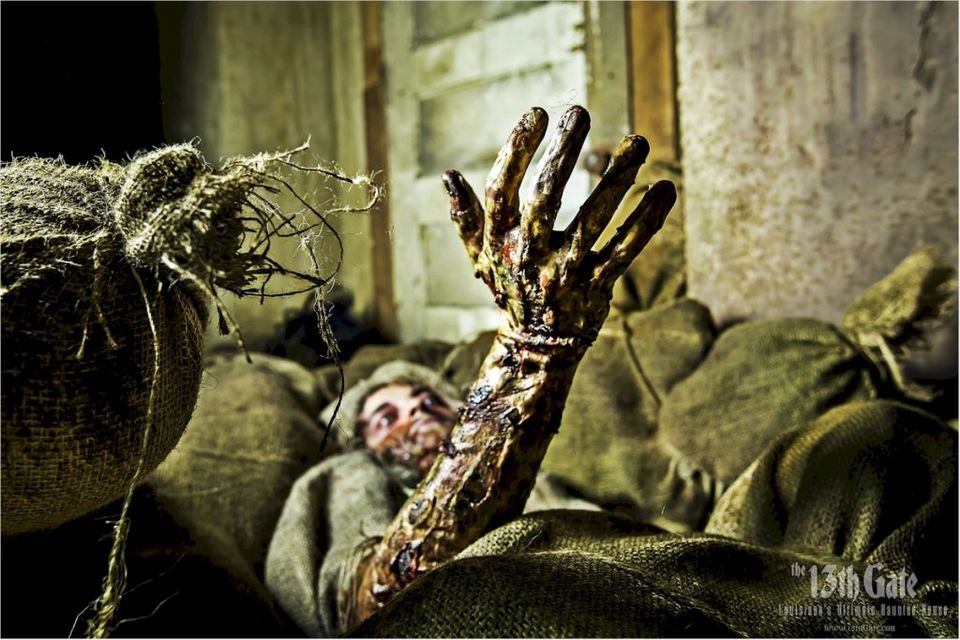 If you thought that all the other scary houses were a piece of cake, then the 13th gate is the ultimate experience for you. In this haunted attraction, there is a thin line between reality and illusion and there is no mercy on the guests.
In this attraction, the guests have to make their way through the crematory oven, crawl through tunnels, cross a pit full of live snakes, and some other horrors to reach the safety.
The true nightmare begins when you are taken into a 40,000 square feet graveyard which is extremely realistic and updated every year. You have to climb inside an open grave here and then escape the zombies who are running behind you to eat your brains out.
And you won't stop screaming in fear until you are miles away from this place. That is the vibe that you get inside this spooky haunted house.
Bates Motel
Location: Glen Mills, PA
Called as the one of the scariest haunts in America by the Travel Channel, the Bates Motel boasts of an amazing animatronic effects and pyrotechnics. And their professional performers are bound to scare you shitless the moment you enter this hotel.
As you explore this spooky hotel, you will realize what true terror is when you don't see the next horror befalling upon you. Apart from the spooky motel, you can also enjoy a taste of their other attractions like the Haunted Hayride, Zombie Laser Tag, and so on.
Trust me, it will be a couple of hours filled with fear and adrenaline at this place and you are going to have a hard time forgetting it all.
Freakling Bros: Victim Experience III
Location: Las Vegas, Nevada
Another top haunted house that will definitely make you wet your pants is the Freakling Bros' Victim Experience III. The false illusion of safety followed by physical violence, gagging, and so on is what gets most people inside this attraction.
In fact, they have professional wrestlers as a part of their crew so the entire experience ends up being really painful and intense. But hey, if that is what you are into then this is definitely a place to check out!
Here, you will be thrown into unknown parts of the house, dragged around, given electric shocks, and a lot more until you start begging them to stop.
McKamey Manor
Location: San Diego, California
If you are looking for the ultimate horror ride then this 8-hour terror is the perfect place for you. In fact, this place is so intense that they actually get you to sign a 10-page waiver and require a medical certificate stating your fitness level before you enter inside.
In this waiver, you agree to all kinds of horrible acts like gagging, head shaving, force-feeding, and so on.
They allow only two people at a time and 99% of the guests end up begging to be let go. However, there is a catch. Unlike other haunted houses, you cannot quite midway in Mckamey Manor so the horror continues.
This is one of those places which is guaranteed to traumatize you for life. So, sign up for it at your own risk!
So, do you think you have it in you? Are you daring enough to try one of these haunting attractions?
If yes, then do visit them this Halloween month and let us know all about your experience!
Think we missed out on something? Tell us about it in the comments below. Or write about it here on Tripoto and earn Tripoto Credits!
Get answers to all your travel related queries on the go with Tripoto Chat!