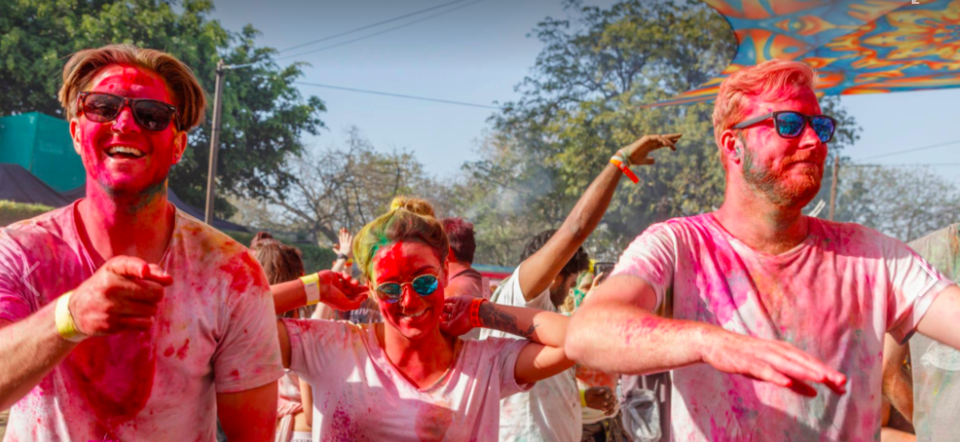 Even though India is a country of festivals, there's nothing quite like Holi. A festival that signifies a lot of things ranging from the victory of good over evil to the onset of spring, Holi holds a special place in every Indian's heart. But above all of that, it is a day that signifies the free spirit of modern India—a day when you just forget about everything, let yourself go and immerse in the colours of this beautiful festival.
And in case you happen to be a late bloomer who's yet to decide on what to do this Holi, it's time to rejoice because Delhi will surely be celebrating Holi in style. Much like every year, the city will see some insane parties this Holi as well and what's better is that it's still not too late! High time you call your friends and make those damn plans because these are the hottest Holi parties happening in the National Capital this year!
Holi Moo! Festival 2018
Ideal for: Veteran festival freaks who're looking to do something this Holi
What's so special: Delhi's longest running Holi festival, Holi Moo! Festival has continued to define Delhiites' Holi plans for eleven years. Headed by a team that believes in always pushing the boundaries, the 12th edition promises what they call 'Moozik+Madness+Colour'. Imagine, 40 artists from around the world spread across four stages for eight hours and of course, the madness of Holi—head here or be prepared for major FOMO.
Where: Asiad Tower Banquets Complex, Asiad Tower, Khelgaon, Siri Fort Institutional Area, Siri Fort
Tickets: Tickets to this mad party are priced at ₹2,500. Click here to book yours now!
Contact: Call on 011-41045740 or head over to their Facebook page.
RangManch w/ Vini Vici
Ideal for: People who have a taste for psychedelic trance music
What's so special: When an iconic music duo flies down all the way from Israel for a Holi bash, you know it's going to be something epic! RangManch will witness Aviram Saharai and Matan Kadosh, better known as Vini Vici taking the stage, showcasing their unique music style that beautifully blends psychedelic trance with progressive music. Accompanying them will be 17 other artists that will keep the spirits high. As for Holi celebrations, they're bound to be insane, with lots of colours, food and drinks to keep you merry.
Where: Unitech Golf and Country Club, Yamuna Expressway, Sector 96, Noida
Tickets: Single tickets for RangManch are priced at ₹2,499. You can also book a table for 6 by paying ₹60,000 which will include spirits, butler service and food platters amongst other facilities. Click here to get your tickets.
Contact: Follow RangManch on their official Facebook page for details and to get answers to your queries.
Mirchi Ki Holi Moly
Ideal for: People looking to add a cultural touch to their Holi scene
What's so special: A property of Radio Mirchi, The Holi Moly Festival has set out to add an interesting twist to Delhi's famous Holi parties. The festival, apart from its usual dose of fun and frolic, will also promote the richness of Indian culture through a range of music and dance performances. And if performances by the likes of Midival Punditz and Kutle Khan Project wasn't enough, there's going to be tons of shopping, art and food as well! Oh, and did we mention that it's all happening in a beautiful, lush green setting? We just can't think of a better, more complete festival experience than this!
Where: PSOI Club, Nehru Park, Vinay Marg, Chanakyapuri
Tickets: Single general tickets are priced at ₹2,500 while VIP tickets are priced at ₹4,500. These prices are also inclusive of a fixed number of drinks and snacks, depending on your choice of package. Additionally, children tickets are priced at ₹1,200. Click here for all the details and to book your tickets.
Contact: Call on 07503181111 or head to their Facebook page.
Unite Holi Festival
Ideal for: People who're looking to go all out partying like there's no tomorrow
What's so special: With an idea of attracting thousands of visitors who will come dressed individually in white but leave together in colours, the folks behind Unite Holi Festival are on a mission to spread the message of love and unity. And boy, they're doing it in style! Delhi's famous Jawaharlal Nehru Stadium will open its gates this Holi for a mega party that has eight hours of non-stop music, celebrity guests, organic colours, rain dance, Holi snacks, thandaai , live dhol, food stalls and tons of fun competitions. With so much in the offering, this one surely promises to be the hottest Holi party in town!
Where: Jawaharlal Nehru Stadium, Gate No. 6, Pragati Vihar
Tickets: General single tickets start at ₹999 while single VIP tickets will cost you ₹1,299. There are also provisions to book couple tickets and tickets for groups of five and seven. Click here to get all the details and book your tickets.
Contact: Head over to the event page on Facebook to contact the management.
Holiyapa 2018
Ideal for: People looking to explore different music styles and party indoors in an upscale bar
What's so special: EDM, Bollywood, punjabi, jazz, hip-hop, percussions and even retro—No, these are not musical genres on offer at some music festival taking place across a span of several days. The team behind Holiyapa 2018 is bringing all of it under one roof on the occasion of Holi which is guaranteed to make every music lover jump up in joy. Accompanying the stellar music, is of course a plush setting, some great selections of cocktails and a lip-smacking fare that includes North India, Continental, Asian and Italian food.
Where: The Junction, CSC Complex, Opposite Aurobindo Market, Hauz Khas
Tickets: Tickets for this musical extravaganza are priced at ₹1,500. Click here to book yours now.
Contact: Head over to the event page on Facebook to contact management.
Holi Madness 2018
Ideal for: People looking to add a Punjabi tadka to their Holi
What's so special: We Delhiites have this strange sort of connection with Punjabi music. No matter what the occasion, a party in Delhi just does not start till a Punjabi song is blared out! The aptly named Holi Madness will see one of the biggest names in Punjabi music, Amy Virk taking the stage and doing what he does best—turning up this crazy bash! And to up the madness quotient even more, there's going to be live dhol as well. Make sure you put on your best pair of dancing shoes because this is one Holi party that promises plenty of that.
Where: Ansal Plaza, Hudco Place, Khel Gaon Marg, Andrews Ganj
Tickets: A solo female ticket will cost you ₹826 while a solo male ticket will cost ₹1,180. Couples however can get a better deal by opting for a couple's pass that costs ₹1,770. Click here to book your tickets.
Contact: Go to the event page on Facebook to get all the details and answers to your queries.
Holi Hai
Ideal for: People looking for a typical Delhi-style farmhouse Holi party
What's so special: Located in an area best known for its lavish farms, Chattarpur's DCH Party Farm is hosting what promises to be an epic bash this Holi. Apart from unlimited organic colours and a special rain dance, this one also promises an extremely chilled out vibe owing to a gorgeous poolside setting. The team behind this kickass event has also arranged for a special kid zone where the little ones can bond and make merry. Meet new people, sway to the music, eat, drink and soak in the winter sun—there's something here for everyone!
Where: DCH Party Farm, Chandan Hola, Chattarpur Road, Near Raj Vidya Kendra, Ansal Villas, Sat Bari
Tickets: Stag entries are priced at ₹2,000 while couple tickets are priced at ₹3,000. Oh, and did we mention that these prices are inclusive of unlimited snack and drinks? Click here and get down to booking right away!
Contact: Call on 8554092644 or 8010738150 for details.
Rang 2018
Ideal for: People looking for a pocket-friendly option
What's so special: If you're someone who's on a very tight budget (it's alright, because we can relate!) this Holi and is almost on the verge of cancelling all your plans, here's a ray of hope. What if we tell you that you can still enjoy the spirit of Holi without burning a hole in your pocket? Being held in Noida, Rang 2018 will host top food brands and the best DJs in town. Not just that, there's also rain dance, games and tons of prizes to win and it's all at a price too good to be true!
Where: Expocentre Noida, Expo Drive, A-11, Sector-62, Noida
Tickets: Priced at just ₹399 per person! Click here and book now!
Contact: Head over to their Facebook page for the deets.
What is the craziest and most unique Holi experience you've ever had? Where was it? Write in here and share it all with the Tripoto Community. And while you're at it, don't forget to check Tripoto's YouTube channel which will fill you up with some major wanderlust!