*Puff*
"Bro you think marijuana should be legalised?" Kartik asked me.
I took a puff and then planted a kiss on his face, "I think homosexuality too."
"Ugh, what if some day your mother catches you rolling a joint?"
"I think she'll be proud that, if nothing else, at least her son makes his own cigarette to smoke." There is always a much expected silence after such responses. Soon I spotted some haze arising from somewhere between the mountains, and said, "hey looks like there's a fire.."
"..starting in my heart." It was his turn now to make ridiculous jokes, apparently.
"Bro I'm serious."
"Pass the joint." So, he knew what was happening here.
The weed had started getting on to my head by now, and giving me a calm, to keep. I rested my head back on the headrest of the car. We all had the windows of the car rolled down. The enchanting mountains looked like doors to a world so magical. It did take a while for the stoned me to realise that the smoke was actually clouds, yay!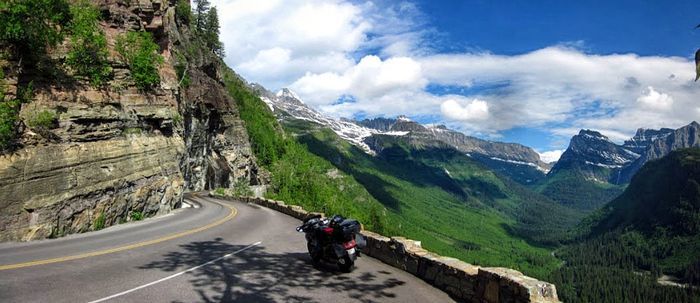 And It's Another Feeling To Feel This Place From A Bike.

The Weather
Everything in such symmetry, mountains so green, sky so blue - isn't my mother nature the best architect in the world?
I never saw clouds from up so close, like they were my halo.
We kept driving up the beautiful tarmac carved on in the mountains. At some distance, I saw the road disappearing into the clouds. No money could buy me that Stairway To Heaven, Led Zepplin would agree.
And soon, we entered the clouds. Visibility became zero, thrill became infinite.
The clouds took charge, and silently came inside our car from the open windows. I just hoped, they didn't start to precipitate, while inside the car, hah!
I stretched my neck, and got my face outside of the car. The wind and the mist together hit my face hard, and hurt me in the sweetest possible way. I kept staring at the sky, the clouds, it almost brought me to tears. It wasn't the sun. It was the sky, the clouds. I realised how beautiful the world I live in was, has been. Daily Motion Pictures, without the camera. And without the 'daily'. Such simple things in life, we miss out on, daily. And the day we realise the beauty in them, they give us this overwhelming feeling which stays, and changes our life, daily.
My face still outside of the car, I realised how close the mountains also were to my face, I nearly smacked my face against them twice. And how close the car was to falling off in the valley from the other end. How difficult it was to spot the turns, and to keep track of the road in the deadly fog. Our daredevil friend on bike, now wanted to come inside the car.
Reality checked in, like my head were a hotel. A car came carelessly dashing towards us. I found trouble turtling my neck back into the car, just when Kartik pulled me back inside. I looked at him with a nearly dead, and grateful expression. With his countenance saying "you're welcome", he stretched the joint towards me. "Nah, I think I'll pass."
The Camp
Waving hello at all the lovely locals on our way, we finally reached our  Camp Kanatal.
The view from our camp was unreal. It was a task to decide which direction should I look at. Beauty surrounded me in a surreal manner. Also, because I had beautiful girls in my group. If 'beauty lies in the eyes of the beholder', my cornea won the Miss Universe pageant that day. Rebecca, meanwhile, wasted no time, in getting her guitar out, and everybody got by her to jam one by one, as all kept getting themselves freshened up.
French toast. That was, what was for breakfast. But I thought I had cloud froth with rainbow cereal that morning. And the tea, it was something else. I'm not a tea person, but it looked like it was a tea place. Nobody can be in that place, and not sit and have a sip of tea. Everything about that place looked perfect. Even the camps, so cosy, and the washrooms so clean. But then, I had to take a dump. Now I started to wonder if the place is too peaceful for me. I felt I was going to disrupt the tranquility of the place. I requested Rebecca to start playing the guitar again.
The Trek
We soon, after some mountain climbing, and rappelling activities, left for the trek to Surkanda Devi temple. It was honestly, one of the most beautiful sights I ever saw. And it is only sometimes that you could catch me being honest. The trek was a tough one, but we chose to make it even tougher by not following the marked path, but by climbing up the mountains from the unpaved path instead. As we stopped halfway to catch up with our breaths, we heard some tingling sounds. It was bells. No, not Pizza Hut. Cute mountain sheep were approaching us, with bells tied around their necks. We just sat there, appreciating the serenity in the nature, and the calmness in the bells. Some more time was spent chasing those 'lambs of god', playfully, and taking some of them soft creatures in our arms. I could have just stayed there for the rest of my life. But I had to go charge my phone, damn!
3 km of trekking took us little less than 2 hours. The trek was of beginner level, but would have been very tiring, if not for the refreshing weather and the mesmerising scenery. As we reached finally, the key word once again was 'breathtaking'. Apart from just the view, it was the sheer feeling of where I was this time, that gave me the shivers. Surkanda Devi temple is one of the 51 Shakti Peeth temples in the world. These 51 temples are believed to be the only original temples. After goddess Sati sacrificed herself, her body was dismembered into 51 pieces, which fell at different places in India. The head fell at this place. So a temple was formed here later, calling this place "sir khanda", which means 'the head piece', to calling it "surkanda" during the course of time.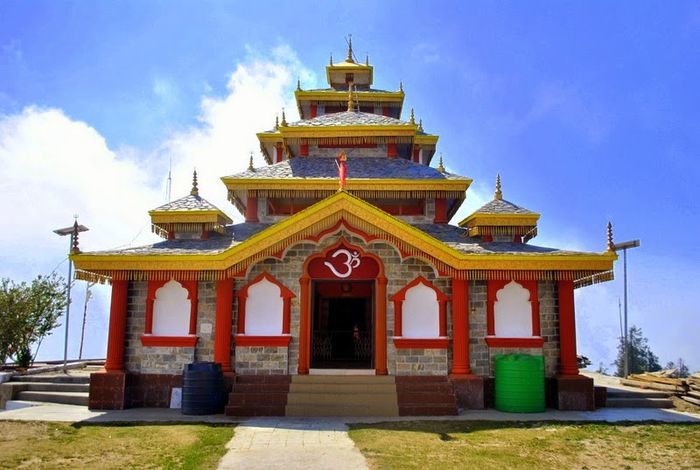 The Legendary - Surkanda Devi Temple.

An Apple A Day At This Place
On our way back, we saw little kids trying to sell plums. The long trek kept us deprived of food for the longest time. So now, patience did bear the sweetest fruit, it seemed. So many of that fruit, just for 10 rupees, was sure a treat. But we hit jackpot, as we neared our camp. I spotted something, which we didn't before. There were apple trees right outside our camp. Green apples!
It looked like my childhood dream was going to get fulfilled. As a child, when I used to live in that army house, with that big garden, we had all sorts of trees in it. I had bananas, mangoes, guavas, jamuns, custard apples, lemons, jack fruits ( does this qualify too?) and what not from my own garden. But my dream was to walk up to a tree in some mountains, loaded with apples. To pluck it off, and to taste the sweet juice of it on my tongue. But here, I got more than I could dream. I never thought I would, such unexpectedly get an opportunity to be plucking green apples from the tree. Isn't this the best place in the whole wide world? How much more could anyone ask of just one place?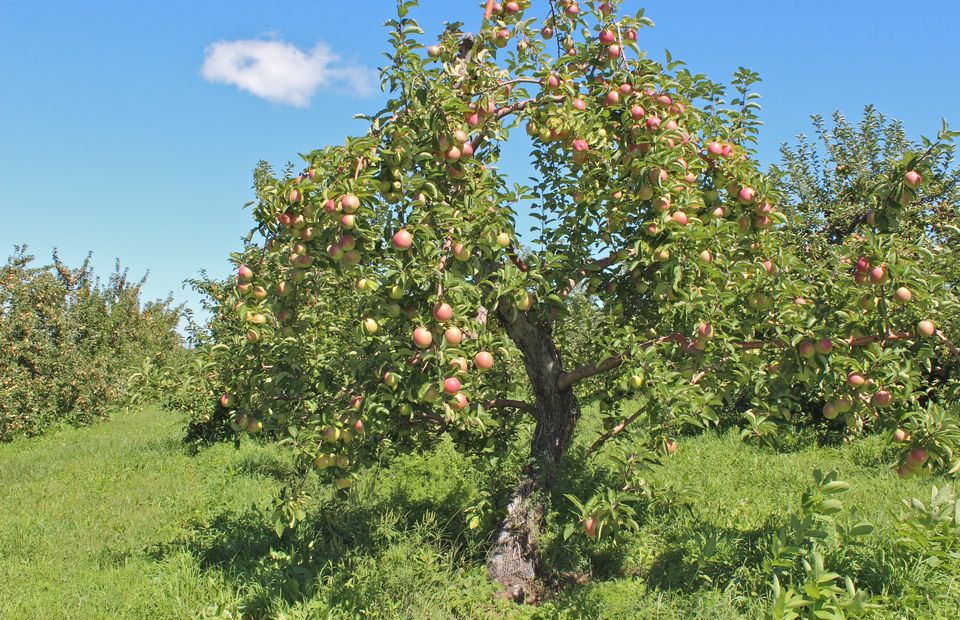 Basking In The Basket Of Apples.

After standing in awe for some good five minutes, I wasted time no more in running up to them and separating it off that branch, and made it mine. I sank my teeth into them, and the dripping juice filled my entire mouth in just one bite. I couldn't even speak anymore. I just contained a content smile, and just lay on the grass. My day was done.
To The Happiness In This Place
A childhood fantasy was checked off the list. Whenever I decide to make my bucket list, one less item would be written on it. Or more. Kanatal was a place straight out of the dreams. Uttarakhand isn't called god's own land for no reason. I think god too wouldn't have given me death, until I saw this place. And the simplicity of the people there, makes the place even more beautiful. Even the boys working at the camp were always smiling, and prompt. Kanatal was the cake, and everything else was the cherry on top.
I was still laying on the grass. I had the 4th apple in my mouth by now, and another load in my hands. My friends picked me up, and put me in the car. The smiling boys from the camp were still smiling, and in tears, while we tried to hide ours. I got up and kissed Bhotu, the local dog there, and told 'I shall return'. We left in our car. Bhotu looked up at the sky, and gave a long howl.
How To Reach
By Road: Kanatal falls on 320 km from Delhi, and takes about 8 hours to inch the distance. The place is well connected with beautiful, motorable roads, between beautiful villages of Dhanaulti and Chamba. There are regular buses from Kashmere Gate ISBT to village Chamba. And Chamba is 18 km from Kanatal.
I like to either hire a tempo traveler (if we're a lot of people), or go by bike. My favourite route is to take the road via Dehradoon, which cuts to a beautiful passage just before Mussourie; and take the route via Rishikesh while returning.
By Train: Kanatal is connected with two railway stations, with Dehradoon at 85 km, and Rishikesh at 75 kms.
By Flight: The nearest airport to Kanatal is Jolly Grant Airport in Dehradoon. From the airport, taxis are easily available, which usually cover the 90 km to Kanatal from there within 3 hours.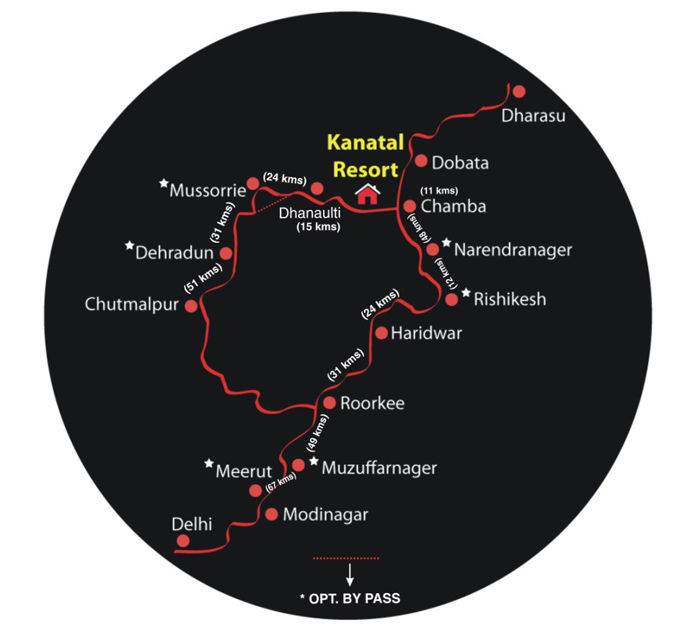 At Chamba, there is a little vegetable market held, and other things of basic necessities could also be bought here. In fact, this place also boasts of a functional ATM. This place has the only petrol pump that you would find in the longest distance from here, so don't forget to make use of the opportunity.
*