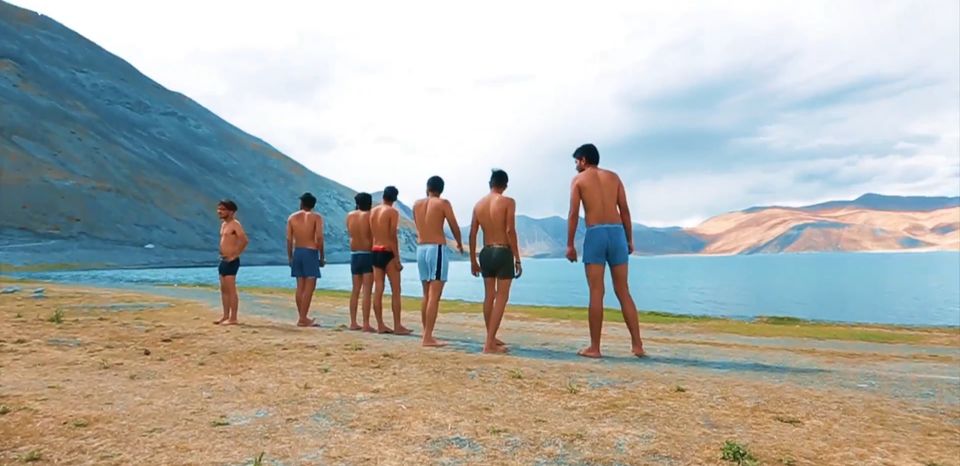 Same as all the travellers and riders of the nation it was our dream also to travel to Ladakh. And it all began on 1st of July 2017. We organised a trip to Ladakh and managed to get a group of 20 people. We spent our first night having fun at this beautiful property in Ambala Cantt i.e. Best Western Country Woods Hotel on Ambala to New Delhi Highway.
We were making our preparations of departing to Manali, our first milestone and suddenly out of nowhere it was raining heavily. Though to our best luck it stopped shortly and we left to conquer our first milestone. But it was already dark when we arrived at our stay and the stay was a jungle stay. Some of the group members were afraid of staying there but after alot of discussion we convinced them. And spent our night around bonfire and music.
We were meant to cross Rohtang on this day. But due to some issues we didn't get the permits to go ahead. This is the day when the trip started getting worse. At this very moment our whole schedule was ruined. But yet it was an amazing experience to stay with a wonderful person Vijay Thakur on his cottage amid forest of Naggar. We enjoyed a jungle walk and explored some fun spots.
We got our permits of 5th July 2019. So we had to spend one more day here, behind our first pass of the journey. So we decided to go more close to the Gulaba Barrier, here you need to provide the permit to ride ahead. On the refrence of Vijay Thakur we got shelter for the day in Kothi. Host of the property, Vaishali made our day by narrating her travel and startup stories.
Being desperate about crossing Rohtang Pass, the deadly pass, we started early this morning and spend some time on the top. Enjoying the moment we were not aware of the coming catastrophic situation. I (Vivek Choudhary) was driving Mahindra Thar down the pass towards Koksar, just after couple of kilometers I was unable to steer the Thar anymore. Our mechanic, Vijay Singh, looked under the Thar, we were about to hear something nobody was expecting, Mechanic told us that, "Bhai ji iski to Chasis tut gayi" (BROTHER, WE JUST BROKE THE CHASIS). "Our buttocks were tattered", in the middle of like nowhere, we just broke the Chasis of our only 4x4 vehicle. We spend about 2 hours just mourning over this problem. But all of us were determined to reach Ladakh, so we decided to move on after contacting a towing service provider in Manali. Adjusting all the travellers and their luggage in our other vehicles and bikes.
We were already late to reach our desired night stay after the Thar incident yesterday. So we spent our night in camps at Sissu. But we started early, fresh minded, with the aim to reach Leh today, a difficult stretch. As we drove and rode through the beautiful valleys of Keylong and entered Jammu & Kashmir (now UT Ladakh), we were enjoying our every moment. But this trip was not meant to be go that smooth. In the middle of night, when we were just about to reach Pang, again I was driving the Tata Safari with a flat tyre. When we got out of the vehicle it was pitch black arround us. And while arranging our luggage after the Thar incident, we shifted our lifting jack in our luggage vehicle, Mahindra Bolero Pickup. We were stranded, as our other fellow travellers were miles ahead of us. After an hour we got help from a cab driving to Manali with some Indian Army personnel. And reunited with our people in a homestay in Pang.
After a beautiful morning tea in Pang, we met some cyclists, one of them gave up and was seeking help in reaching Leh airport. We as good guys helped him and took him with us. After Pang the first place you arrive at is Moore Plains. We on our survey to Ladakh, before this journey, decided that we will surely enjoy to our fullest at this spot. It's a seasonal lake that was dry at that moment, we got our Tata Safari and the three bikes down in that dry lake. And drove as crazy as we can. By afternoon we were at Karu. When others were having lunch, I rode to Leh city to get our Inner Line Permits, as after all these situtations we only had time to visit one place in Ladakh. So the mutual decision was Pangong Tso. Also that one cyclist, and two of our fellow members also left us, as they were not feeling well throughout this journey. So they decided to go back by air.
Leaving early from Karu we were heading to Pangong Tso, for now we were having problems with our four wheelers, now it was the turn of two wheelers. Just when we head to gain height, Mandatha Singh Rana who was riding Royal Enfield Electra 350, lost the control on the clutch. By now we were habitual to such conditions, so we instantly came up with the solution and left Vijay (mechanic) with Maan. So that they can reunite with us after fixing the problem or if it takes time they can get lift from a taxi or any traveller. Because we had no more seat left to adjust. We were awestruck when we got the first sight of majestic Pangong Tso. And to make it more beautiful we had bath in it (it's not recommended nor permitted). Maan and Vijay shortly joined us.
We had to get back to Ambala by 10th of July 2019 and it was already 8th of July today at Pangong Tso. So we had two days to travel some 1000kms, 70% of which was the most treacherous roads of India. So by a long discussion last night we decided that we will reach Manali tonight at any cost. So we started at 0600 hrs and reached Manali after the driving and riding of 21 hrs at 0300 hrs. I just couldn't describe these 21 hrs. I literally can't.
After waking up we had our breakfast. And now we just had to drive the left 30% of good roads to reach our home. We were at Ambala at 2300 hrs. Task completed.
In the conclusion I would just say that it was the dream of one person but was executed by the best 20 people. Their support and spirit helped me to achieve this despite all the unexpected worst case scenarios. And these people made this ride the "Worst yet the best trip to Ladakh".
#travelfails