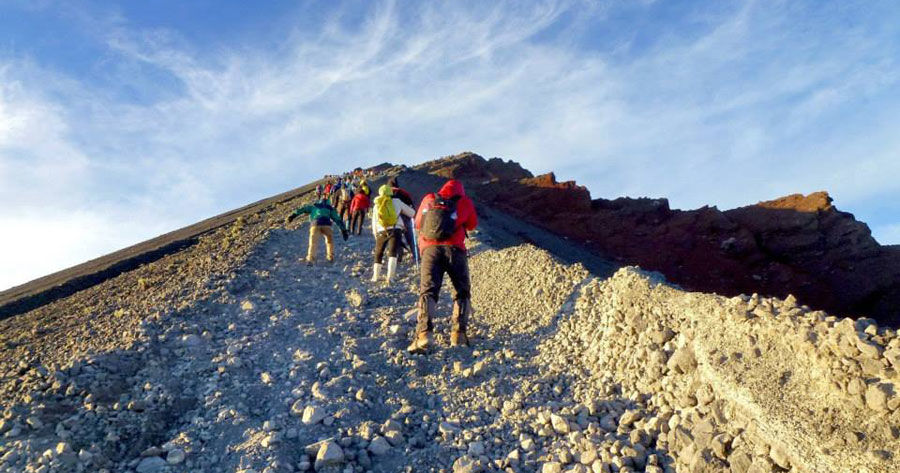 Mount Rinjani, standing at 3,726 metres above sea level is the second highest volcanic mountain in Lombok island of Indonesia. Adventure enthusiasts can go trekking on this active volcano and witness some of the most unthinkable sights on the way.
Where is it:
If you are planning to trek Mount Rinjani, then you have an option to choose your starting point. You can either start from Sembalun or Senaru depending on when you want to reach the top. It is said that if you want to summit earlier in the trip, then choose Sembalun or else choose Senaru.
If you are planning to start the trek from Sembalun, then you can choose to stay at Rinjani Garden which generally costs ₹2,131 per night and if Senaru is your starting point, then you can book a room at Rinjani Lodge which generally costs ₹4,731 per night.
Difficulty level:
The trek at Mount Rinjani is not for amateurs. The terrain is covered with volcanic ash, loose stones and rocks making it slippery and difficult to climb. Being the second highest volcano in Indonesia, Mount Rinjani is notoriously challenging to climb. Not just physically, it is also mentally taxing as it takes two nights and three days to complete the whole trek.
DIY or not:
While it is technically possible to trek Mount Rinjani on your own, it is heavily discouraged by. Unless you have an advanced level hiking experience in the tropics, don't consider doing it without a guide.
For lone trekking, you need to sign in at the park office and pay an entrance fee.
For guided trekking, there are several organisers or tour companies that provide different packages.
Adi Trekker, +62-8199-1028-066
Hajar Trekking, Phone - +62-819-1601-4731
Cost:
The cost involved for trekking depends largely on the number of days you want to stay in the mountains, when do you want to go for it, whether you are travelling in a group or not and which company you choose. The general price quoted by most of the tour operators varies from ₹ 8,125 to ₹ 18,532
When to do it:
Rinjani is opened from April first week to January yearly. The place is closed from January second week to March end due to heavy rainfall in the area. April to June is considered as the best time for hiking here.
The route:
The three-day trek begins from Senaru Village, which is located in the east of Lombok islands and ends at Sembalun Village. The route for the most popular picked up trekking is: Senaru Village - Senaru Crater Rim - Segara Anak Lake - Sembalun Crater Rim - Rinjani Summit - Sembalun Village
Itinerary:
Senaru Village – Senaru Crater Rim
Day one starts slowy with 30 minutes of walking from the basecamp. Encounter with locals on the way to keep yourself busy. Once you reach the gates of the tropical jungle, the actual trekking begins. A three-hour walk will lead you to your next resting spot, POS-2 Montong Satas (1,500 m). Further two hours of trekking is required to reach the next stop, POS-3 Mondokan Lokak. While walking towards POS 3 you will pass by strawberry plantations. After this, you will be taken directly to the camp set up area Senaru Crater Rim which is located at the height of 2,641 m in the midst of mesmerizing landscapes. Don't miss the sunset and sunset from the point.
Senaru Crater Rim - Segara Anak Lake - Hot Springs - Sembalun Crater Rim
After spending a night under a starry sky, you will be taken to Segara Anak lake, which is two hours of walking from Crater Rim. Be careful on this route, it is slippery and steep. Still, it's is worth the risk. You will see some of the best sceneries of your lives. You will be given break at this lake, you can try the hot spring which is just 10 minutes away from the lake. After the break, the trek will continue. Your next destination would be Sembalun Crater Rim which will take approximately three hours to reach and at this Crater Rim spend another night on the mountain.
Sembalun Crater Rim - Rinjani Summit - Sembalun Village
The day three starts early. This is in order to reach the Rinjani Summit (3,726 m) for sunrise. You will trek for around 3 to 4 hours. This is one of the toughest and trickiest climbs. The last hour of this trek is considered to be the most difficult. After witnessing the most beautiful sunrise of your life, you will head back to the Sembalun Crater Rim and later, you will continue trekking to Sembalun village with average walking time in 4-5 hours. At the base, your operator will be ready to drop you to your next destination in Lombok Island.
What to Pack:
Once you have booked a tour operator for your trekking adventure at Lombok Island, then you don't have to worry about most of the things such as foods, drinking water, tent, toilet tent, sleeping bags and mattress. Still, there are few essentials that you mustn't forget while packing. Carry trekking shoes, a jacket and light backpack for toiletries. For your early morning trek to the summit do not forget to carry a head-lamp or hand torch to help you for visibility.
Have you already trekked in the Lombok Island? Let us know about your experience here.