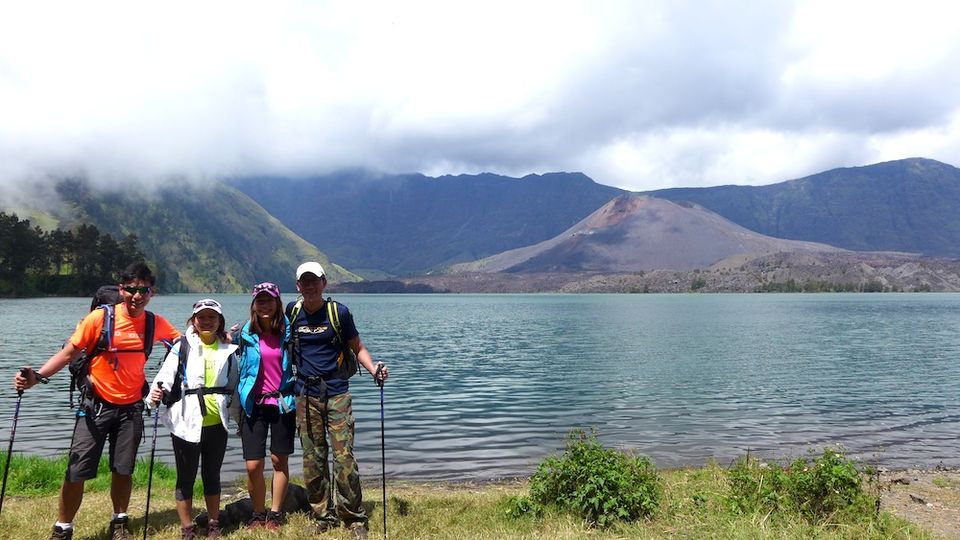 Ready to set off again
After a rejuvenating day by (and in) the gorgeous crater lake, we were on the road again – this time upwards to the other side of the crater rim (Senaru). Funny how we torture ourselves, going up to the summit, and down the crater lake, and back up. At one of our rest points, KT actually overheard the porters wondering out loud in Bahasa why the hell we would pay to do this. This was, after all, their playground in the rawest form; nothing deliberately designed, nothing like our meticulously landscaped botanical gardens, fanciful flashing neon lights or carefully engineered pipes of swimming pools. Yet what a luxury for us this was – just looking at clear skies lit by a million stars and swimming in clear blue waters collected from over centuries of rain.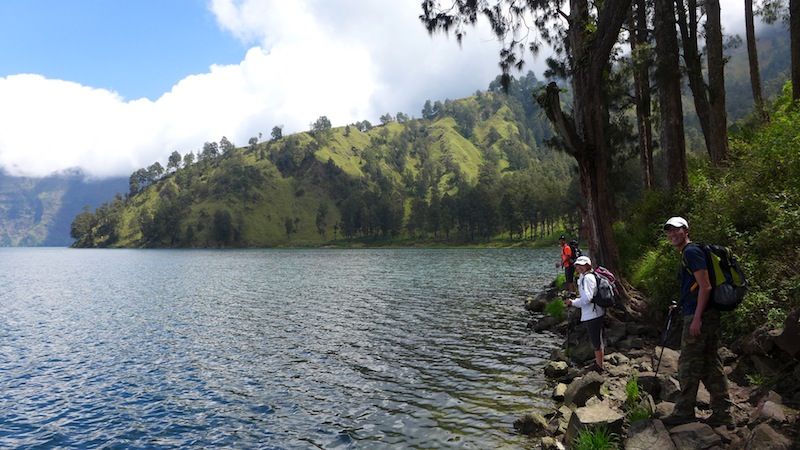 Walking around the lake's perimeter
Thankfully, the hike back up to the crater wasn't too strenuous. This being our third day of trekking, my calves were tensing up with each step, ready to cramp any moment. We took our time to the crater rim – about 3.5hrs in total – walking through a scenic path that offered picturesque views of the lake we came from.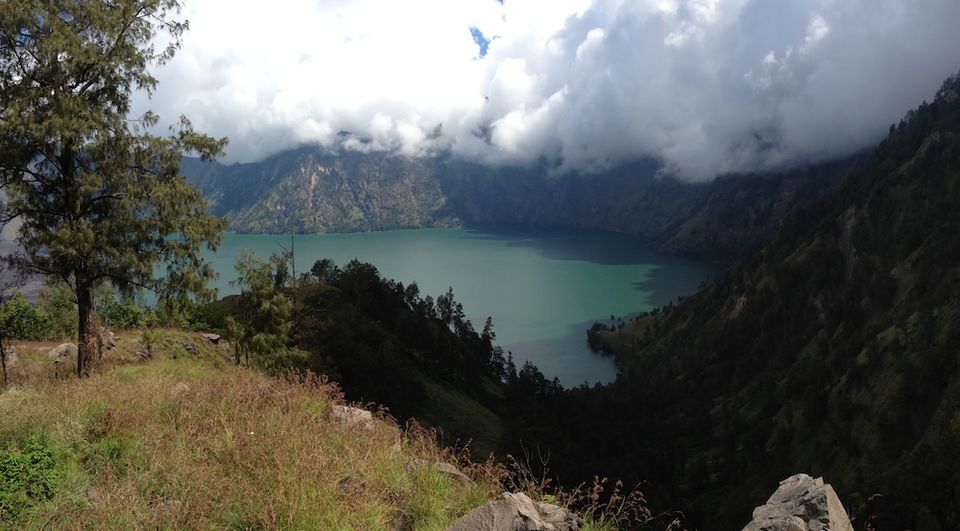 The lake turns into a striking turquoise at midday.


The hike from the lake to the crater was one of the most scenic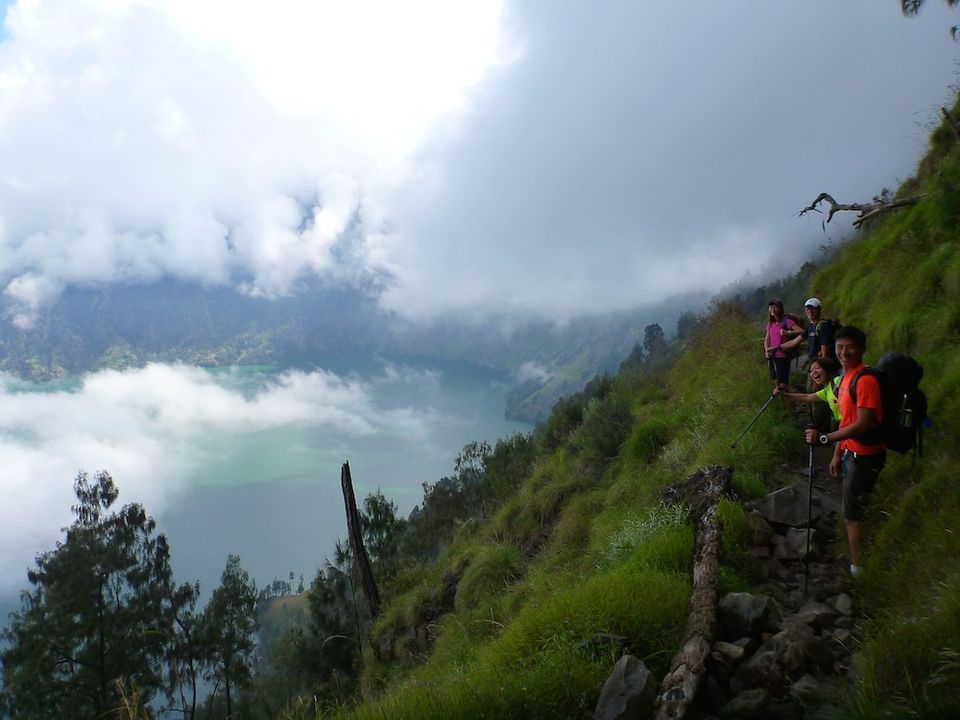 Walking along our path that hugs the perimeter of the crater lake
Once again, our porters didn't disappoint with the choice of campsite when we arrived at the crater rim. For our 3rd and last night, we would be sleeping at the edge of the crater rim overlooking the lake below.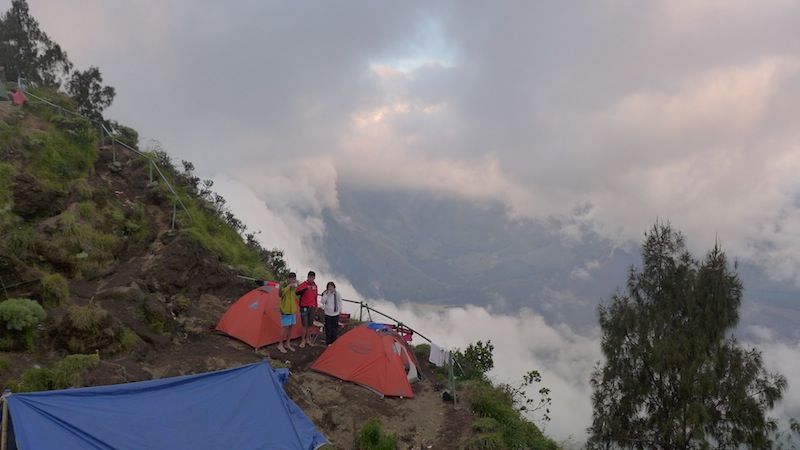 Our orange tents perched at the rim.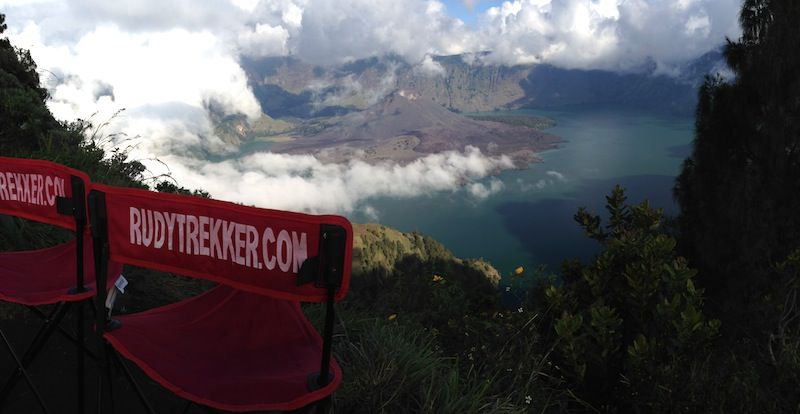 On the hot seat for dinner.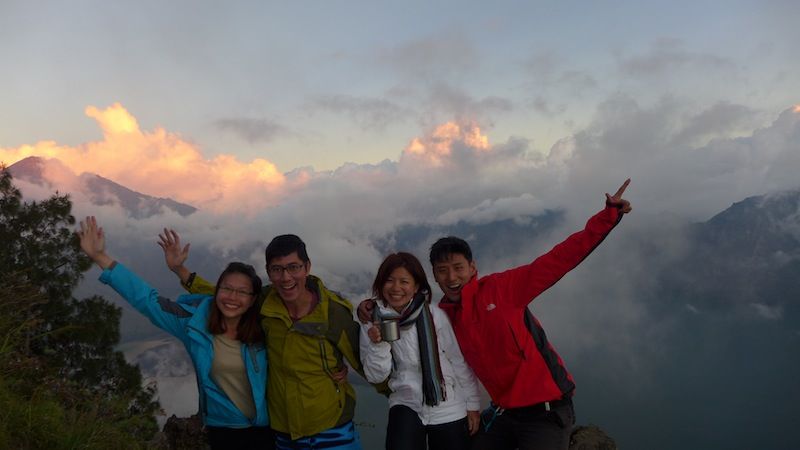 Waiting for sunset with a cuppa of hot tea.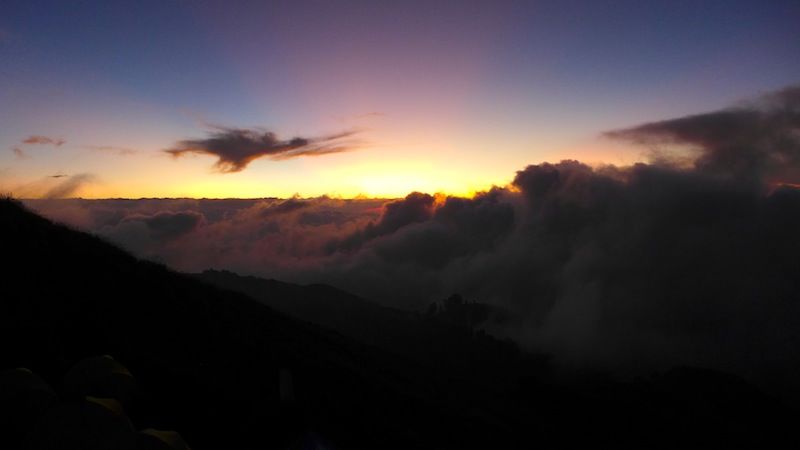 Sunset
Sadly though, we didn't catch the full sunset as the clouds took awhile to settle. But they eventually did – and the sky that night was so clear we could see the milky way, glittered with stars and the occasional shooting star that burned brightly across Mt Rinjani's silhouette.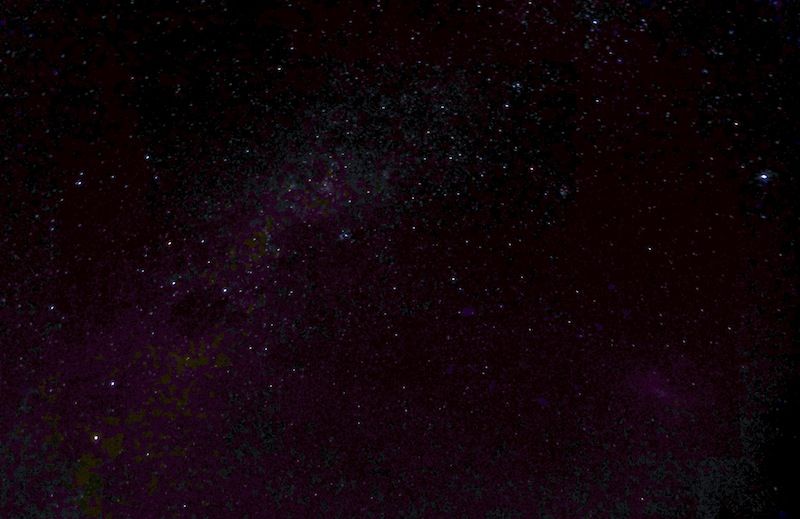 An attempt to capture the starry skies – surprisingly doable with our point-and-shoot cam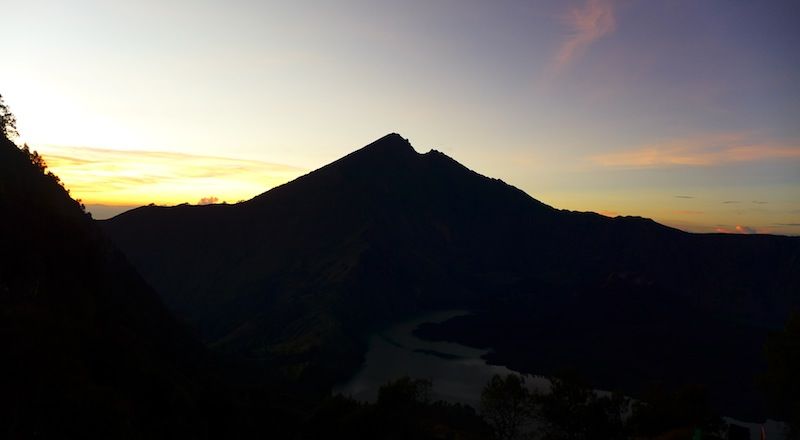 Mt Rinjani at dawn
The next morning, we awoke to the rising sun from behind Mt Rinjani's summit. Can't believe that just two days ago, we were right there at the knife's edge, trudging up towards the peak as the sun rose over the sea of clouds. Finally, it's our last day at Mt Rinjani – time to go down, all the way this time.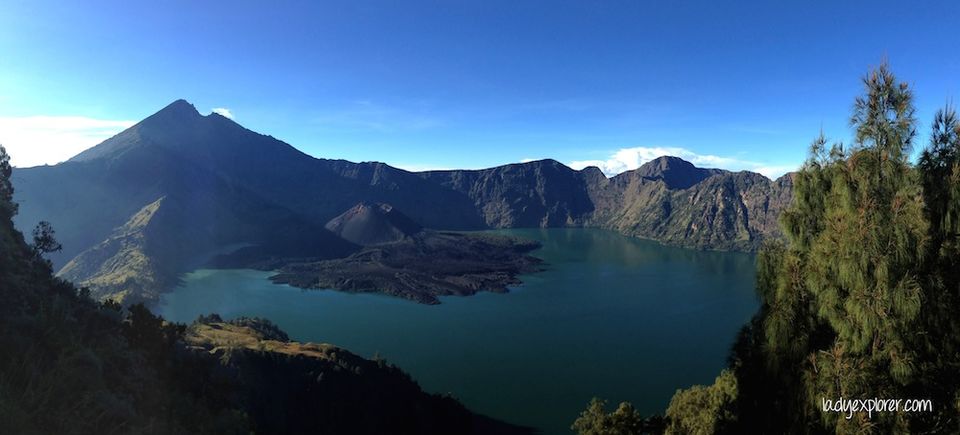 One last look at the lake before our descent


Going down through the rolling hills
Down down down…
And so began our 7hrs hike all the way down to Senaru Village. The descend starts with a rock path through panoramic green hills before going into a looong route in the tropical forests. To spice up our boring trek, it started to pour. Before we knew it (and after some games through the thunderstorm), we arrived at Senaru gate, marking the end of our adventure and start of another (at Gili Islands!).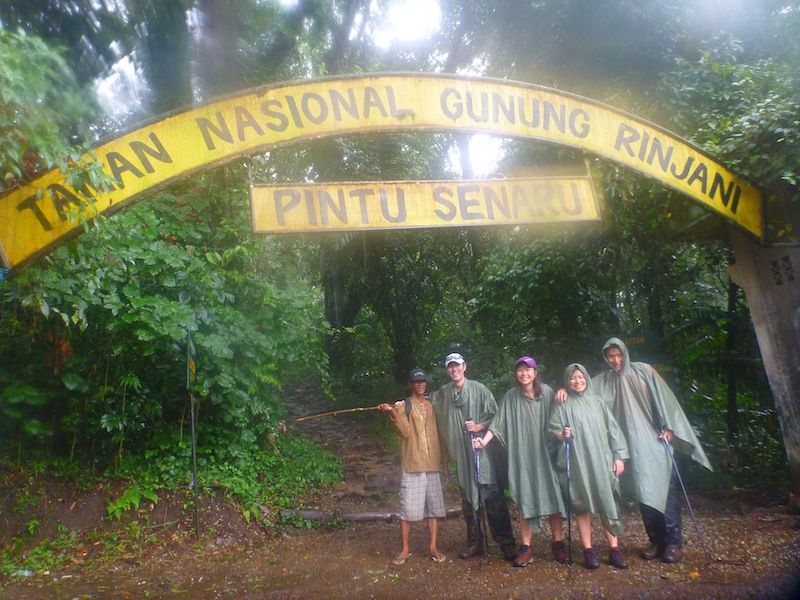 Pintu Senaru in the pouring rain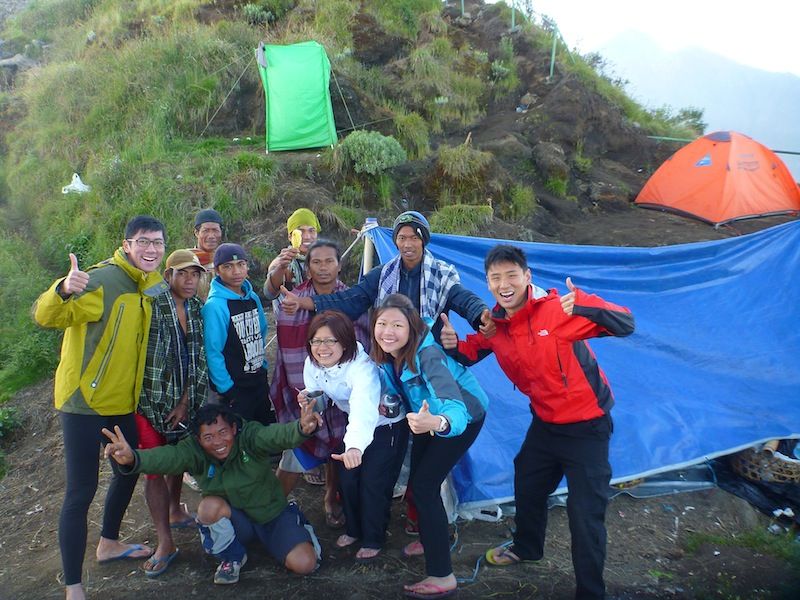 Our last group shot with our trusty guide and porters
Alman, our guide and his team of 6 porters, from RudyTrekker, have been simply amazing throughout our 4D3N hike. They've always gone all out to find the best campsites for us – from our private cove by the lake to the edge of the crater rim – away from the crowd and always with a first-class view. Our meals were a pleasant surprise every time – from spaghetti bolognese to nasi curry to goreng pisang. But most impressive of all, was their constant cheerful disposition despite carrying tons of weight balanced on their shoulders with a pole. They never fail to marvel me each time they overtake us swiftly – and cheekily – with all that bulk on their shoulders and wearing just slippers (even barefoot at times).
"It's expensive" Alman had replied, when we asked why the porters don't wear any shoes to climb.
Apparently, shoes are not cheap in Indonesia. The heavy price tag doesn't come with quality either. Porters can't afford to keep buying lousy shoes, only to spoil them each time they climb Mt Rinjani to earn money. This was when we thought – why not collect secondhand shoes from fellow Singaporeans and ship them over? After all, it's not gonna cost us anything, but a little effort could make a difference to their lives.
So watch this space and let me know if you have any spare shoes. We'll be starting to collect them soon.