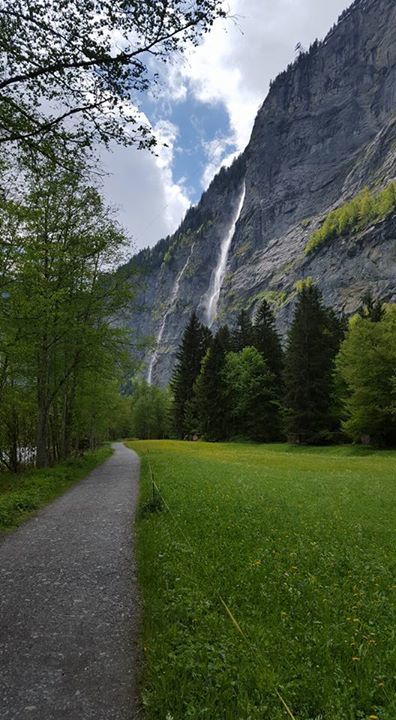 When we decided to pick Lauterbrunnen over Interlaken for our stay, we were not sure if we were making the right choice. My decision to stay here was influenced by an online review posted by someone and not by any travel website. After having read the review, I was tempted to search more about this little village. The more I read the more I became adamant to not stay anywhere else but here. While Interlaken, a hub for adventure sports boasted many activities Lauterbrunnen was devoid of 'attractions'. Hence, I found it difficult to assure my husband that Lauterbrunnen would be a great place to base ourselves for two full days. I was tempted to just go out of the way and choose something less popular. Just like that.
It was only when I was having a chat with an old Swiss lady on the bus in Interlaken, did I begin to doubt my decision. "That's not a wise decision you've made. People mostly opt for Interlaken as it's the center. From here it's easy to go to other nearby places." But then it was too late to make any amends. I looked stupid to my husband, her and myself.
Late evening we arrived in Lauterbrunnen. Surrounded by high rocky cliffs, the laid back village was dotted with chalets, was comfortably silent and less crowded. As we walked down the road, my eyes began to search for Staubbach Falls. I could see only half of it as we neared the hotel. It was our room's balcony that painted a breathtaking view of the falls, of the village and the snow-covered mountains in the backdrop. Standing there, my eyes searched for the seventy-two waterfalls while I could count only a couple of them. Hence, we reserved our next day for hiking. In the evening we didn't do anything but loitered on the streets. We had our dinner at Hotel Oberland and tried our first Swiss dish Raclette.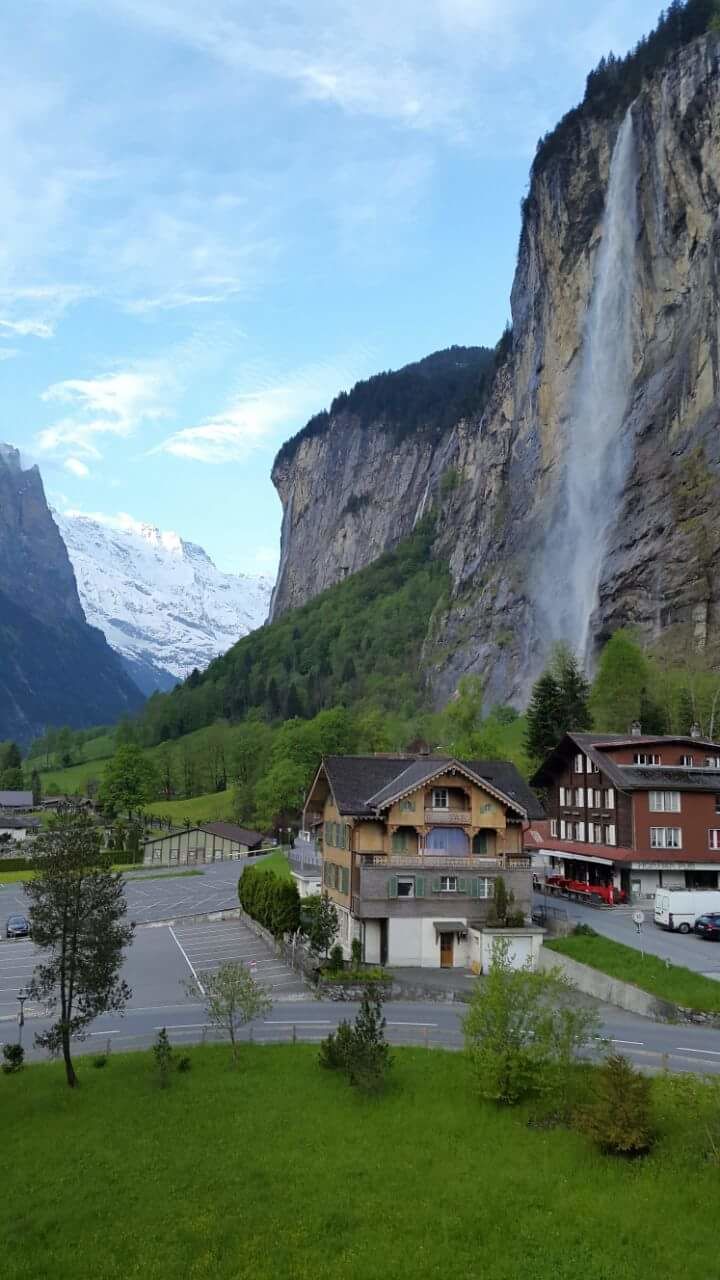 It was a beautiful clear morning. We took a cable car to Grutschalp from where we began our hike. The trail was soaked in sun and I felt happy. We spotted the Jungfraujoch where we had been the other day. We watched trains come and go on the tracks that curved on the mountains and waved passersby who seemed to be cheerful. It took one and a half hours to reach Murren, yet another quintessential car free Swiss village. From Murren, we took a cable car down. We walked alongside the stream and I could count more waterfalls that made my heart sing. It was evening by the time we reached back to Lauterbrunnen, also visiting Trummelbach Falls on the way. I don't know if there exist seventy-two waterfalls but I'm sure to visit this postcard-perfect village again and restart my counting from where I had left.