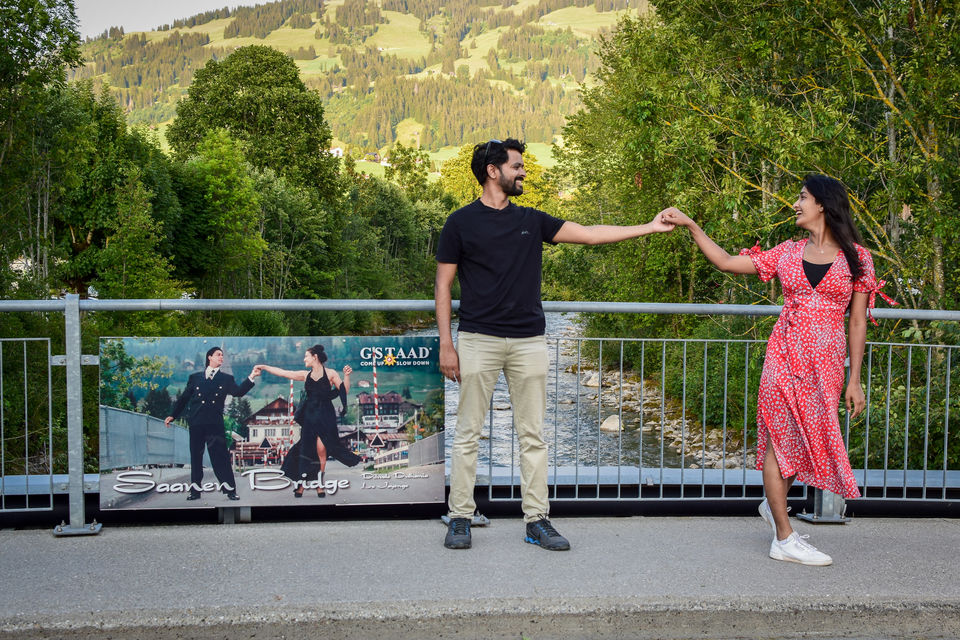 DDLJ and its connection with Switzerland needs no introduction. So, without digressing let us start directly into the details of the shooting locations of DDLJ in Switzerland. There are couple of main locations which are totally worth visiting while making a trip to Switzerland. We have made here a sample itinerary to visit most of the shooting locations in a single day with public transport. If you are going to drive then it will be even more easier to reach. Since Switzerland is extensively connected with public transport, it is not a necessity. Also a ride with the Golden pass train, which covers all the locations mentioned in the article, is a great experience as such.
Assuming you are starting the Interlaken, we have made this plan. It could be adapted if you start from other locations too.
Stop 1 : Zweisimmen
Departure Station & time: Interlaken Ost , 06:27 AM
Arrival Station & Time: Zweisimmen, 07:59 AM
Highlight: The scene where Kajol buys the Swiss bell and misses the train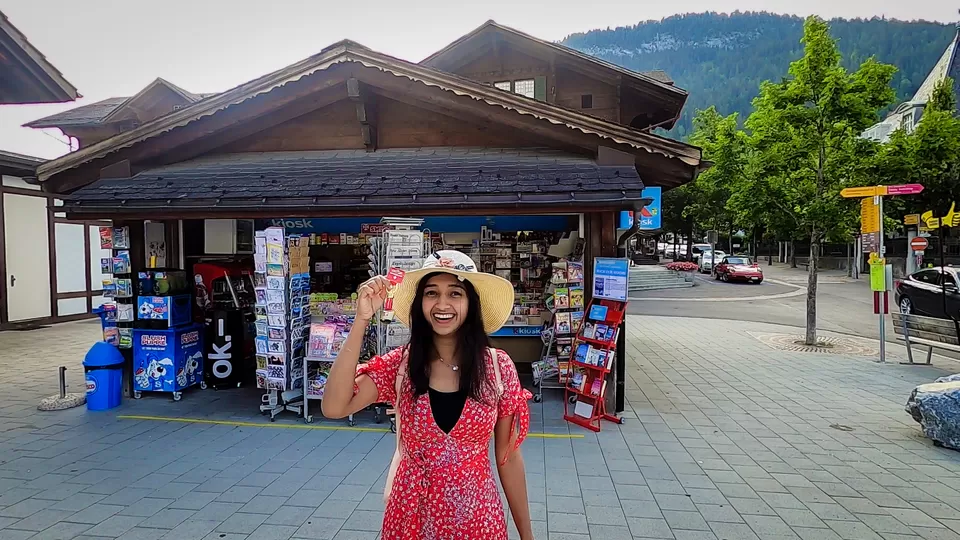 As a souvenir you could buy a Swiss bell for 10 CHF from this shop. The scene where Kajol misses the train by running behind it was shot on the other side of the station. It is a small road next to the platform. When we visited, the station was undergoing renovation and there was some construction due to which we couldn't access that platform. You could check it out as you will have sufficient time for that.
Stop 2: Gstaad
Departure Station & time: Zweisimmen , 08:25 AM
Arrival Station & Time: Gstaad, 08:52 AM
Highlight: Many scenes from the song Zara se Jhoom. Especially the Early beck bakery which Kajol runs into.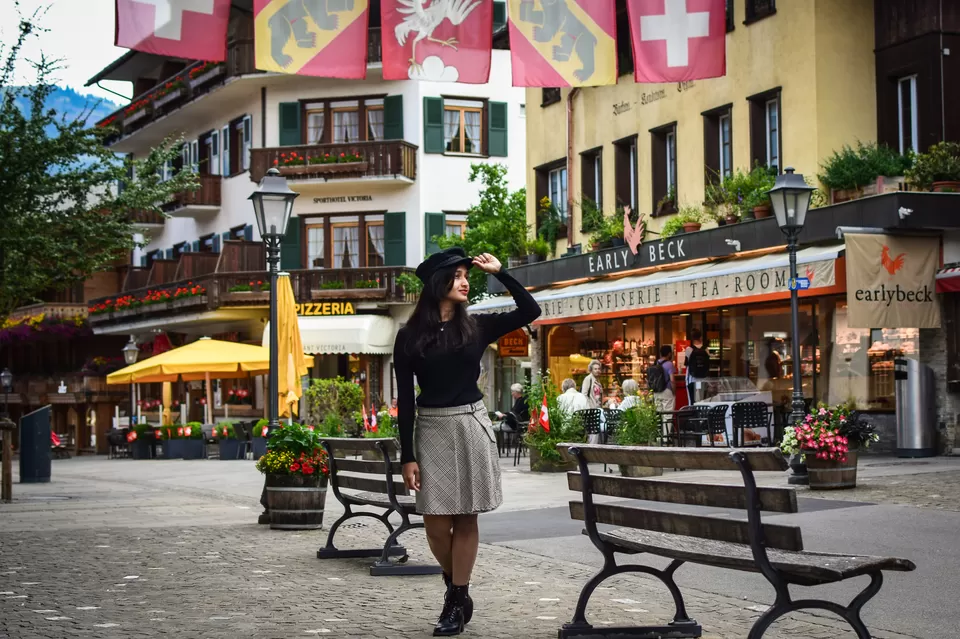 Gstaad is a very beautiful town and deserves at least half a day to fully enjoy. But if you are really tight on time, you can just visit the main locations. The early beck bakery is right in-front of the railway station and you can go there by walking in just 2 minutes.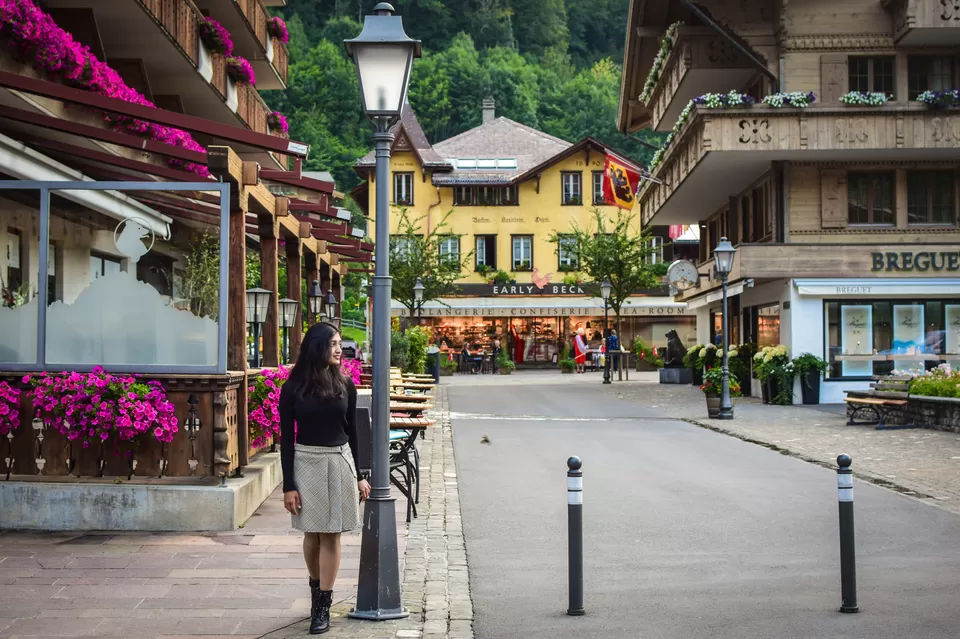 You will have more time again to enjoy Gstaad later on the way back from the next location.
Stop 3: Launen Enge
Departure Station & time: Gstaad, 09:07 AM with Postbus
Arrival Station & Time: Lauenen b. Gstaad, Enge , 09:17 AM
Highlight: Scene from the song 'Ho Gaya Hai Tujhko'
GPS coordinates: 46.439961, 7.310145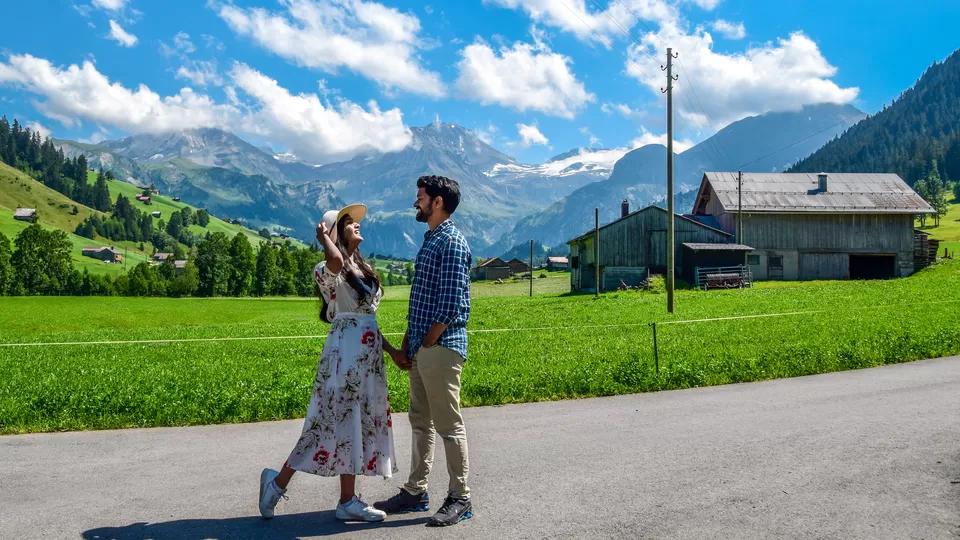 The bus stop named 'Enge' itself is very beautiful. From the stop, walk along the highway for few steps in the direction as you came with the bus. Then turn right to the street named Bodenstrasse. Within 2 minutes you will reach this location in the picture above.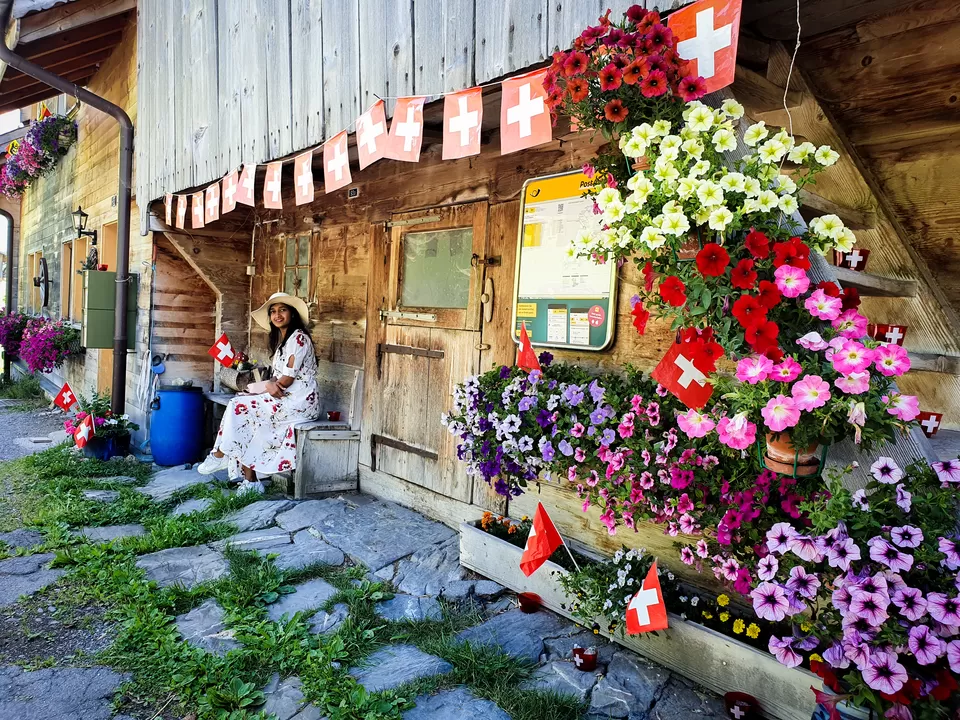 The area around here is very beautiful. So you can stroll around or even walk to the center of Launen. The next bus is only after 1 and half hours.So it would be an ideal time for your breakfast or coffee.
Stop 4: Launen Rohrbrücke
Departure Station & time: Lauenen b. Gstaad, Enge, 10:47 AM with Postbus
Arrival Station & Time: Lauenen b. Gstaad, Rohrbrücke, 10:58 AM
Highlight: The wooden bridge from the song 'Ho Gaya Hai Tujhko'
GPS coordinates: 46.411018, 7.327526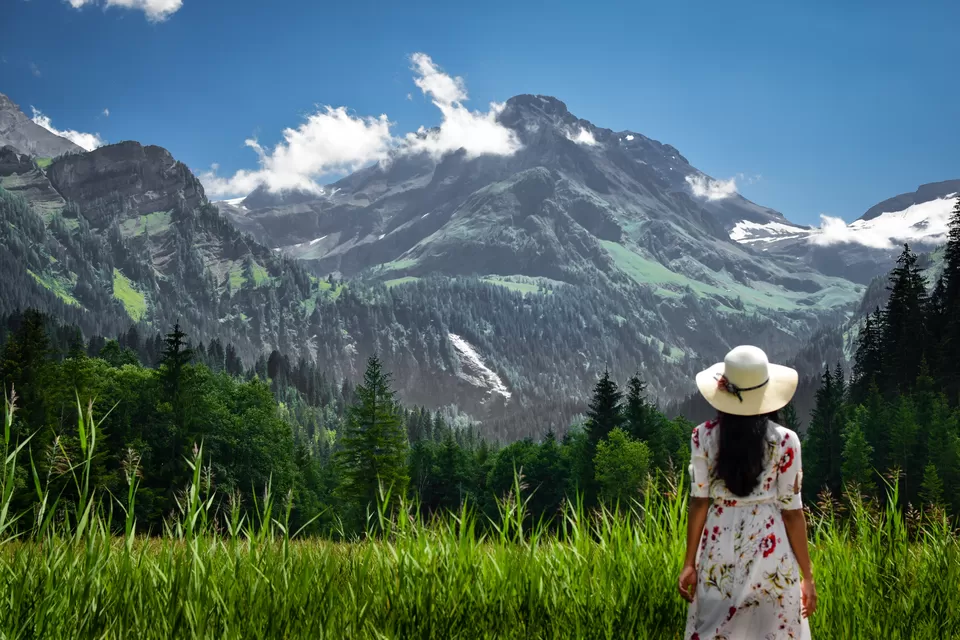 It is a 15 minute walk from the bus stop to the bridge. From the bus stop walk backwards in the direction in which you came and then turn left to a hotel named Alpenland. On the left side of the hotel, there is a small walkway along the river. Walk along this path for around 10 minutes to reach the famous wooden bridge of DDLJ. Even though you dont get the same view as in the movie since the trees have grown around the bridge, the view is still breathtaking.
You will have a total of around 1 hour to spend near this location.
Stop 5: Launensee
Departure Station & time: Lauenen b. Gstaad, Rohrbrücke, 11:58 AM with Postbus
Arrival Station & Time: Launensee, 12:11 PM
Highlight: This place is not in the movie but the waterfall that you see in may of the scenes is located here. Also there is a very beautiful lake. Moreover this lake is popularly known as Chopra lake after Yash Chopra.
It would be a shame to have reached so close to this beautiful lake and have not visited it. Even though it is not a DDLJ location, you wouldn't regret this small detour.
You can relax by the lake and can have your packed lunch or at the restaurant by the lake. A walk around the lake would take around 1 hour.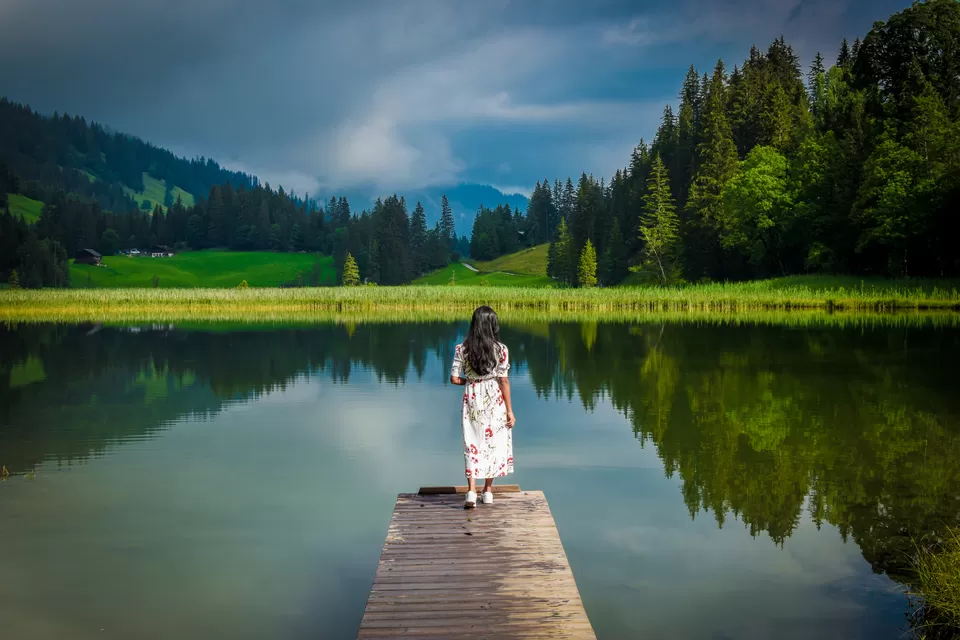 Stop 6: Again Gstaad
Departure Station & time: Launensee, 14:40 with Postbus
Arrival Station & Time: Gstaad, 15:17
Now have time to grab something from Earlybeck as Kajol did.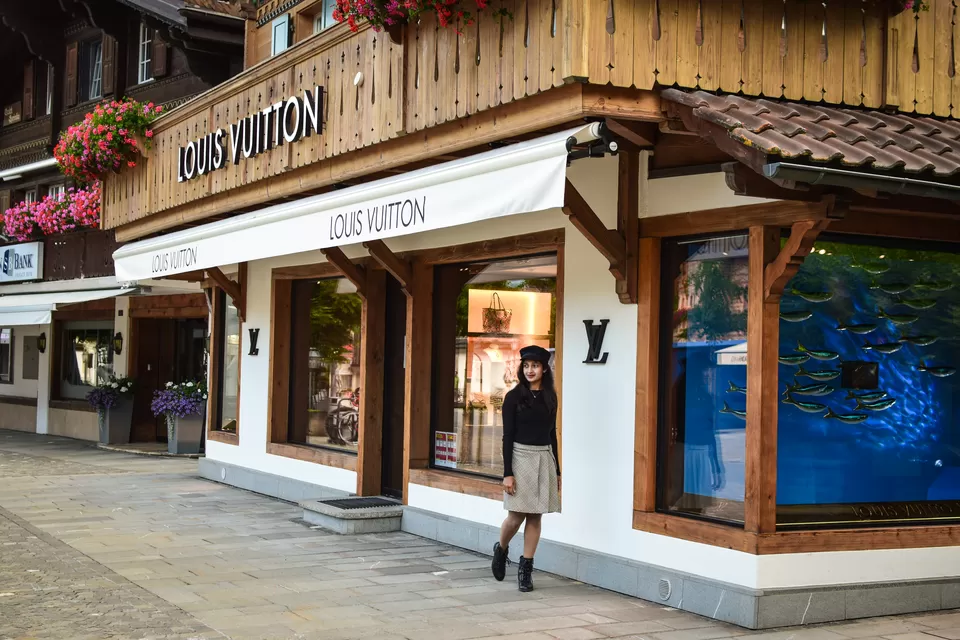 Stroll a bit in the street name Promenade and admire all those luxury stores in typical Swiss wooden chalets.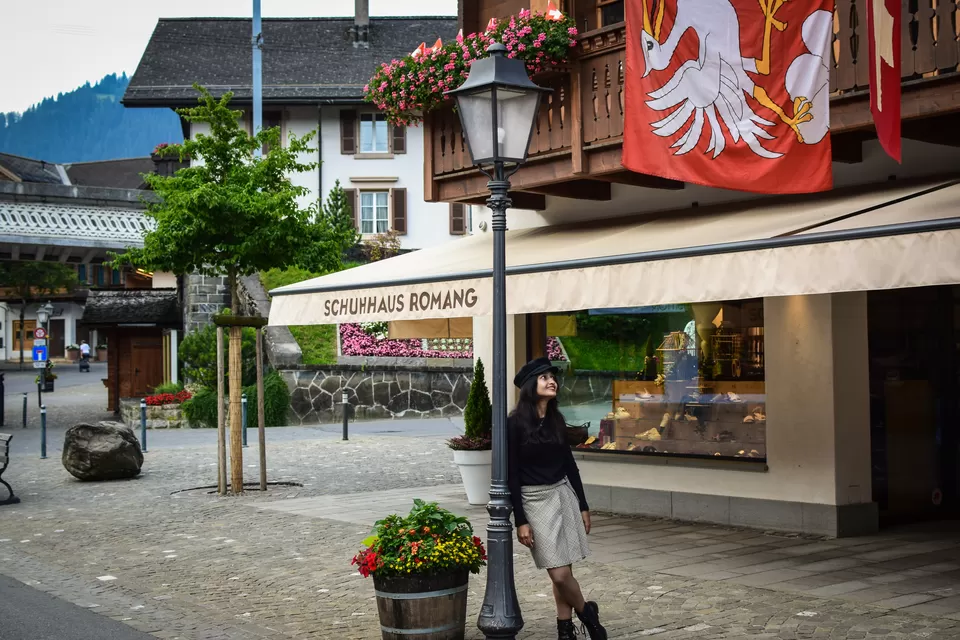 Stop 7: Saanen
Departure Station & time: Gstaad, 15:37 with Train
Arrival Station & Time: Saanen, 15:42
Highlights: Saanen Bridge and Church
Sannen bridge appears multiple times in the movie. The famous palat..palat scene was shot here. Because of the popularity, they even have a picture of Raj and Simran on this bridge. The bridge is located right infront of the railway station.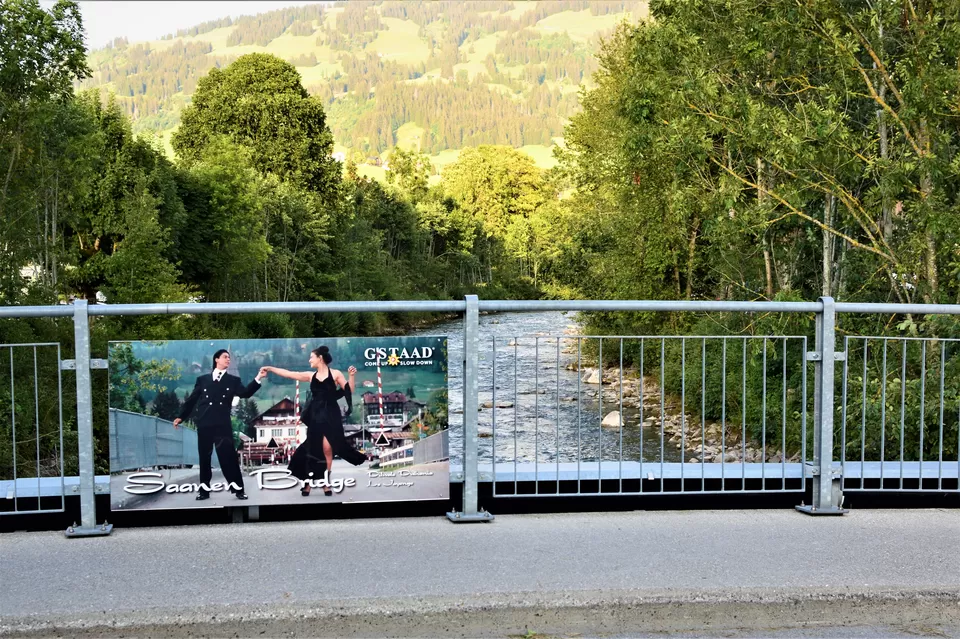 The railway crossing still looks exactly the same as in the movie.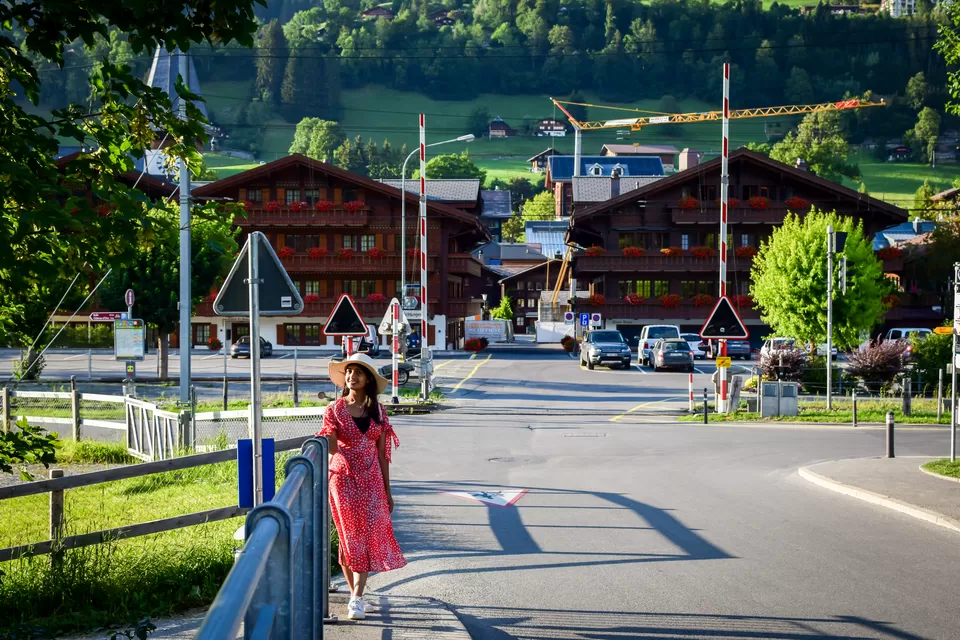 They had couple of scenes in this railway station too. The airstrip where Shah Rukh Khan runs is also located in Saanen adjacent to the bridge.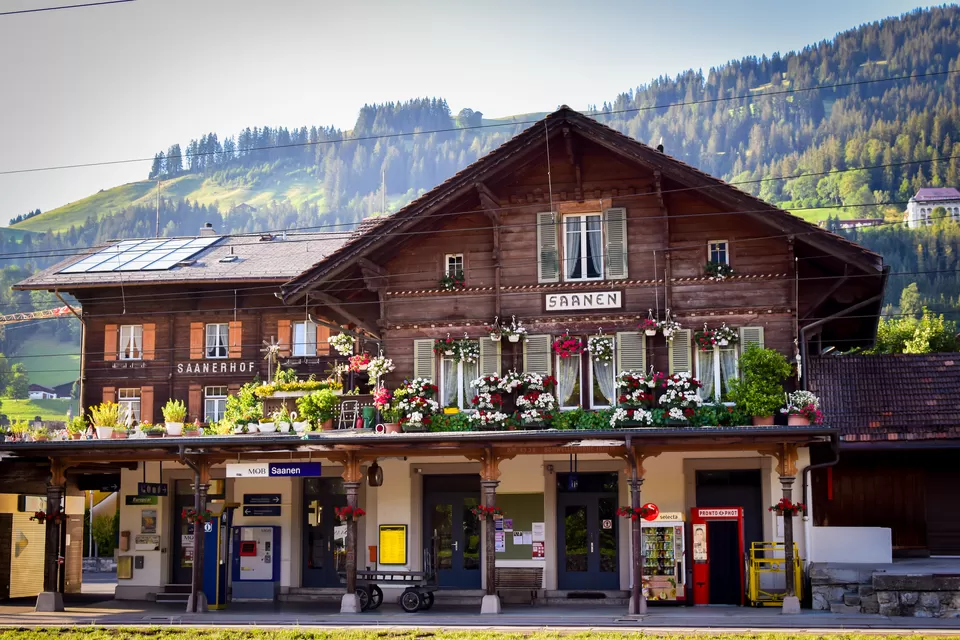 You have to go to the back side of the railway station to go to the church. The church is shown in this movie from outside when Kajol exclaims - 'What a beautiful church!'. The church is indeed beautiful.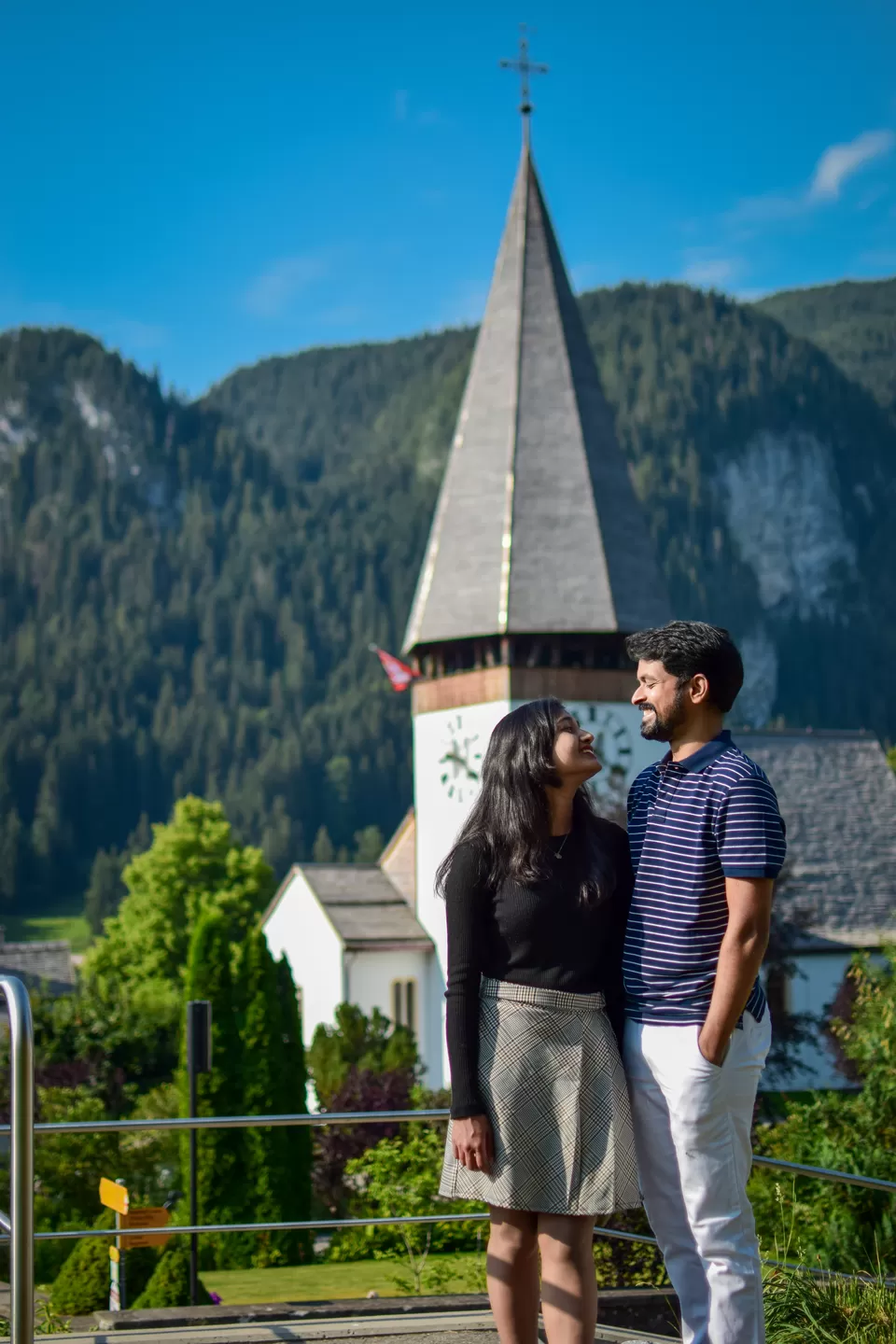 The church had a very pretty garden.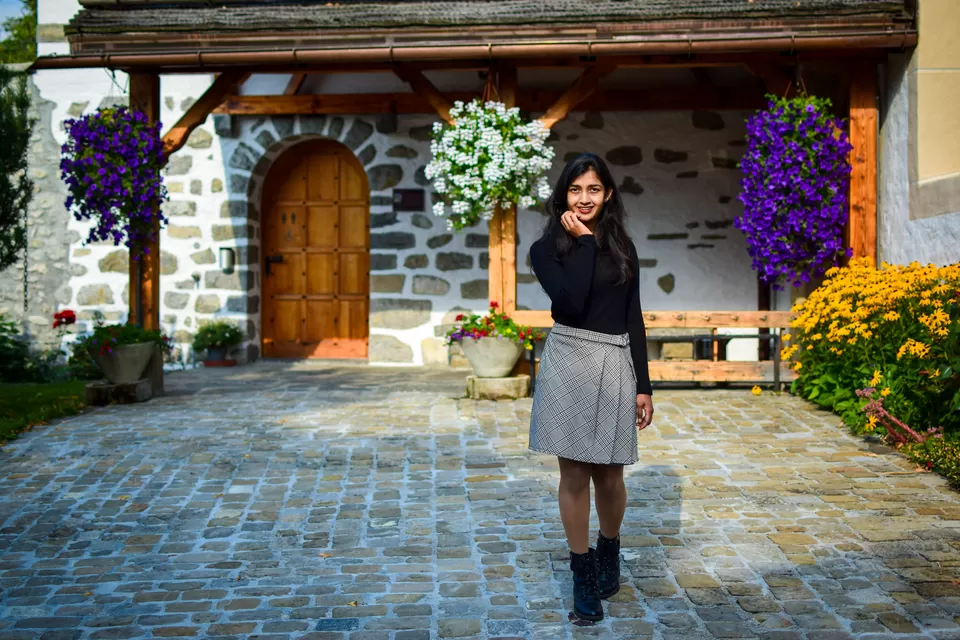 The Saanen station is beautiful in every angle.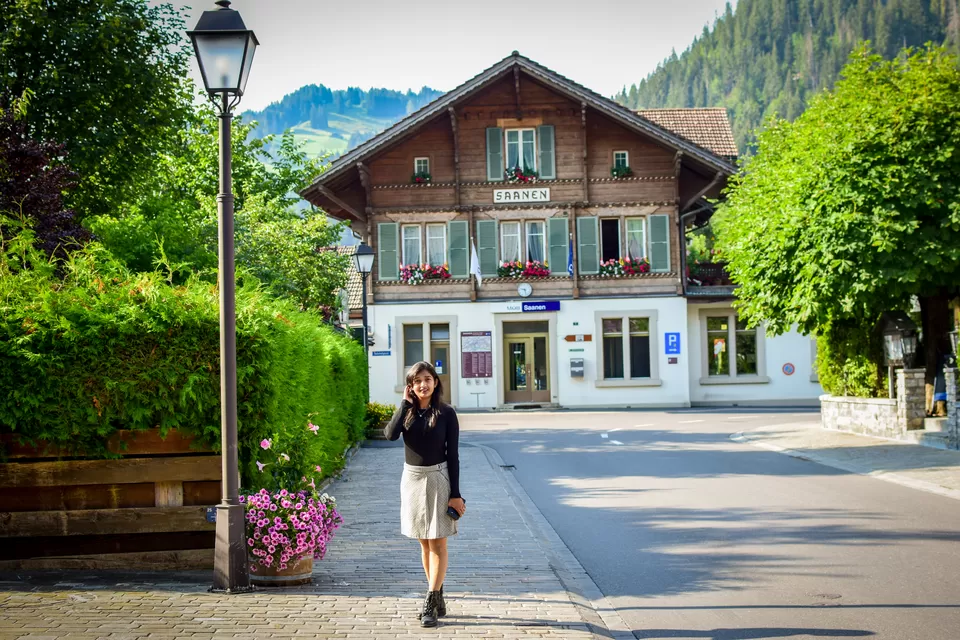 In the movie, the inside shots of the church were made in another church. Now lets go to that one.
Stop 8: Montbovon
Departure Station & time: Saanen, 16:58 with Train
Arrival Station & Time: Montbovon, 17:28
Highlights: Montbovon Church
GPS location: 46.487352, 7.044901
There is a pretty long scene which was shot in this church. When we visited, like in the movie, there was no one in the church but it was open.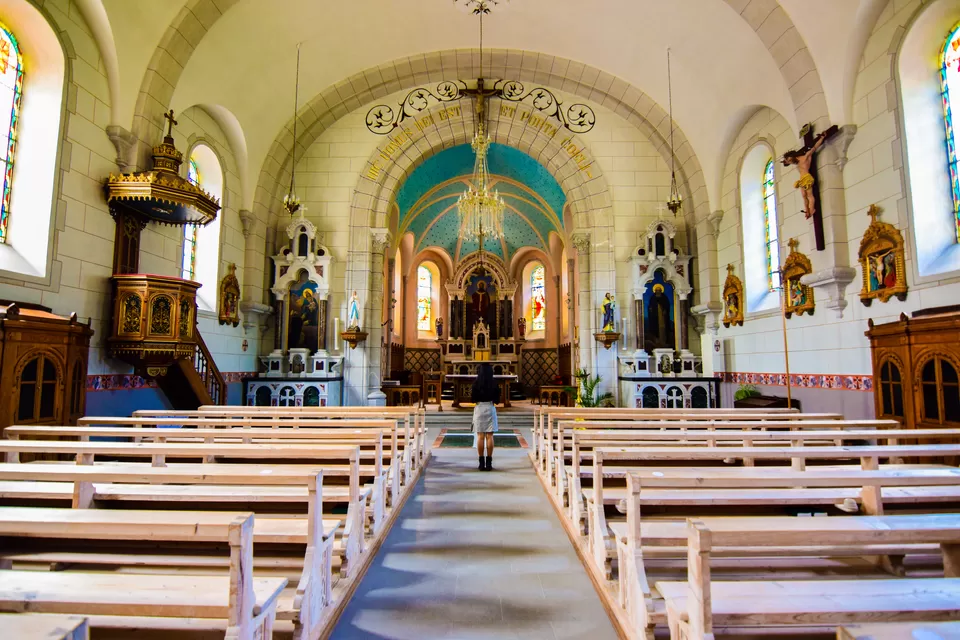 It was very peaceful and indeed beautiful.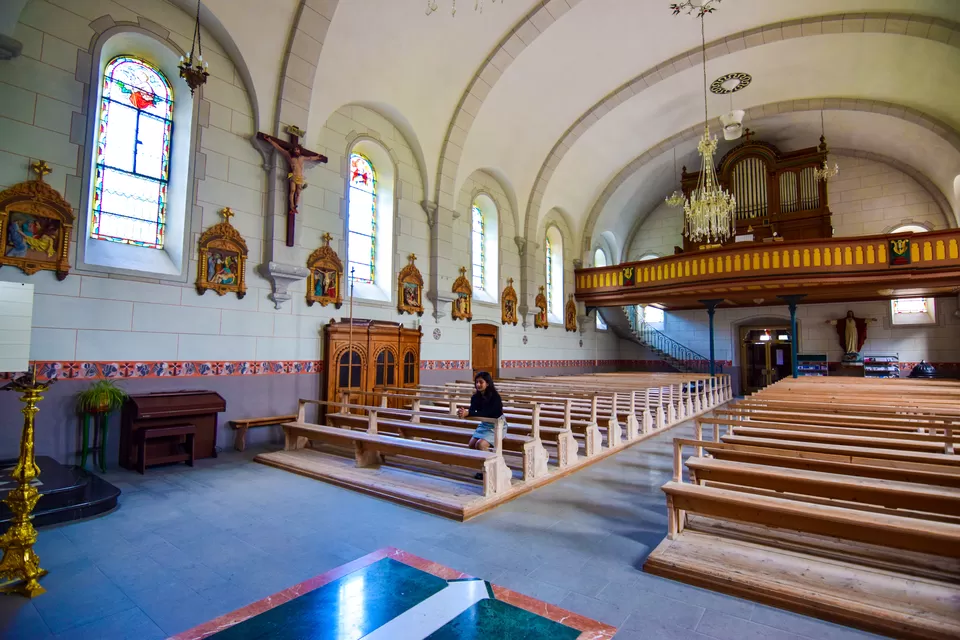 Stop 9: Interlaken
Departure Station & time: Montbovon, 18:28 with Train
Arrival Station & Time: Interlaken Ost, 21:40
If you are visiting in Summer, there would be still daylight when you reach back to Interlaken. In Interlaken check out the Statue of Yash Chopra in the Kursaal garden who rightly holds honorary title of "Ambassador of Interlaken". It is a 10 minute walk from the Interlaken Ost railway station to the statue. Also the scene where Shah Rukh Khan gives the prank red rose to Kajol was shot in a park in Interlaken. This will be a perfect ending to the long day of DDLJ.
The cheapest way to travel to all the locations mentioned would be to take a day pass. Any kind of Swiss day pass will cover all the trains and buses mentioned in this itinerary. Always check in the website of Coop, which is a supermarket if they have the Swiss pass on sale. They have it quite often and they sell it for CHF 45.
There are two more locations which will need another day or two but you can reach them too with the public transport - Jungraujoch and Lake Lungern. Both are easily reachable from Interlaken.
Hope this helps and always feel free to reach us through Instagram if you need more suggestions or if you have any doubts.