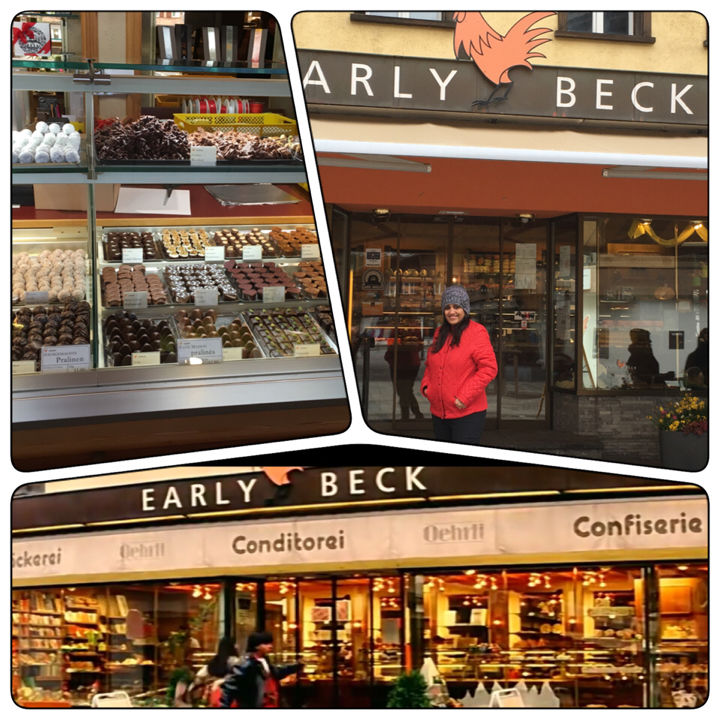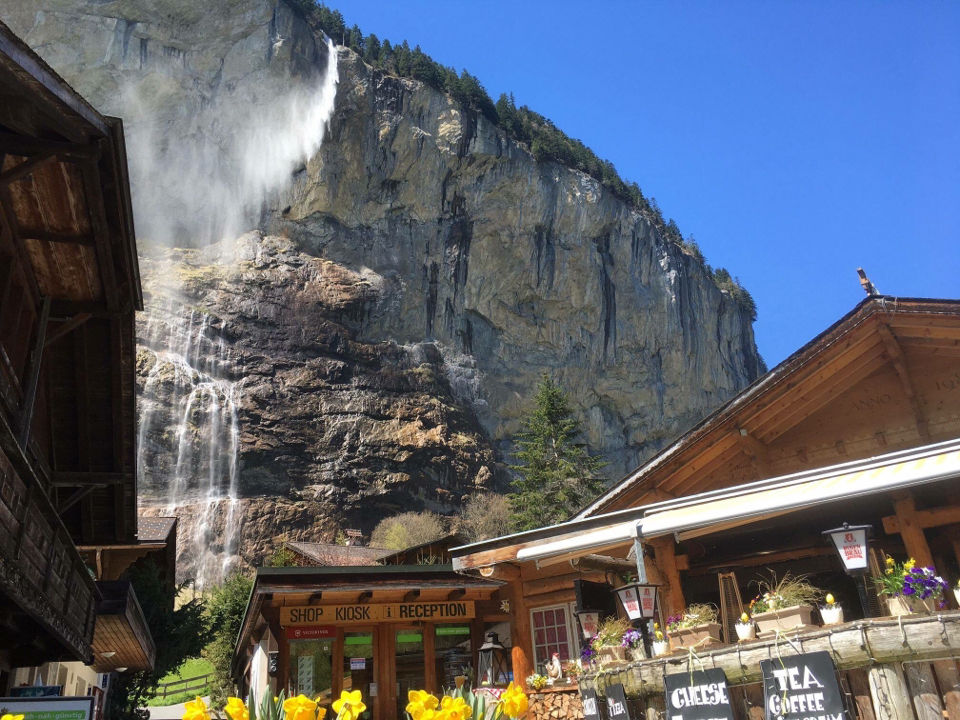 This was my second trip to this beautiful country surrounded by the Alps and the lush green serene surroundings. So why "dream come true?" :)
Srk has stolen hearts of girls across the globe and I'm definitely one them. So as a teenager I would dream to find my Raj somewhere on such a beautiful journey in the Alps! And when I found him (in India and not Alps) i told him that our honeymoon should be nowhere else but Switzerland and he obliged :)
But unfortunately I was not aware of these scenic locations of DDLJ that time and so after 7 years of marriage we re planned our Swiss trip - The DDLJ way!! :)
So we started our road trip from Netherlands to Lauterbrunnen in theBernese Oberland region, where we stayed at a fantastic location
- Camping Jungfrau !! Lauterbrunnen is known for its 72 waterfalls , colorful alpine meadows and secluded valleys.
Camping Jungfrau is located next to Staubbach falls and just a 10 minute walk from Lauterbrunnen station from where the cog wheel to Jungfraujouch departs.
So on Day 2, we were off to explore our DDLJ locations which I was dying to see and would blush each time I saw one.
We first drove down to the quaint, sleepy town of Gstaad , which is also a popular ski destination and was also extremely famous among celebrities like Princess Diana and Prince Charles , Elizabeth Taylor and is now frequented by bollywood couple Saif Kareena.It is full of designer brands like Louis Vuitton, Hermes to name a few.
I was on the look out for the Early Beck shop as soon as we reached this town. And I was so thrilled when I saw it . I even went inside and tried to slyly take a picture.
So the Early Beck shop is the one where Kajol is drunk in the song "zara sa jhoom lo "and she runs past this shop and also enters in and steals chocolates! A part of the song is shot in this lovely town with Kajol running around this town and also at the Gstaad train station.
After spending a good 30 minutes in Gstaad we drove down to another beautiful village of Saanen, 10 minutes away and again I was on the look out for the lovely DDLJ church which I found almost instantly but i was a little disappointed as there was some construction work going on and so getting a perfect pic of the top was not possible.
Most people are not aware that Church exteriors are shot at Saanen the St Mauritius church but interiors are shot at a church in Montbovon.
We then found the Saanen train station and I got busy clicking pics and nostalgia hit me bad as i couldnt believe im seeing the same locations where the movie was shot.
So the Saanen station is from where Kajol finally boards her train to Zurich on Day 2 after missing it the earlier Day. You will get me if you watch the movie once again!
Then comes the much muchh awaited DDLJ "palat "bridge .. Yipeee i saw this too.
So the most romantic scene "Raj agar woh tujhse pyar karti hai to palatke zarur dekhegi..palat palat " was shot here at this bridge in Saanen, 2 minutes walk from the station.
Not only this scene but also the tango that srk and kajol do in this movie (see attached pics)was shot here. You will find slight changes on this bridge if you compare with the movie. 1995 to 2016 there have definitely been some minor construction changes.
When We almost started walking back toward the car from this bridge I saw the Saanen airstrip right behind the bridge
I literally screamed out to my husband that yayy here is the Airstrip.
So this airstrip is where the scene in the song "Mere khwabon mei" was shot where srk chases the airplane and looks ohh soo handsome!!
There's one piece of information i would like to share- the Zweissimen station few minutes awayy from Saanen is where few other movie scenes were shot but I missed getting here.
The next we visited was Interlaken,a beautiful city between the lakes Thun and Brienz.
I started with my Cow bell shopping here and enjoyed the walk through this lovely city. We walked across the Interlaken Promenade and crossed the Grand Victoria Jungfrau Hotel. Just across the hotel is the beautiful garden and fountain where the mischievous Srk splashed water from the rose while apologizing to Kajol.
A few steps ahead is a small Cafe Schuh , with its outdoor seating where srk kAjol are sitting with all friends on the last day of the trip sorting photos and srk slips down one photo on his lap and shows it to kajol later.
I have such fond memories of Interlaken as we visited it during our honeymoon as well. And how exciting it was to come across the same hotel where we stayed in 2009 during our honeymoon.
So with this route I thought i had achieved my DDLJ trail but no, i was in for a pleasant surprise the next day.
We had planned our Engelberg trip for this day.
So enroute Engelberg we crossed the beautiful Lake Brienz and after sometime followed the scenic and gorgeous Lake Lungern . And I couldn't believe my luck that Im at the same Lake Lungerersee where the kajol srk fishing scene in the song "Tujhe dekha" was shot. What a view it was!!
It was our second visit to Engelberg and it was so full of tourist buses with mostly Asians.
We enjoyed the cable car ride up and the Titlis rotair and can't tell you how stunning the views were from the cable car.
After spending an hour in the snow watching my little one enjoying every bit in the snow i was thrilled. We then moved onto the Traditional Swiss photo shop where we got our amazing pictures clicked.
We enjoyed our trip to the Titlis and after coming back to Engelberg we gorged on some yummy Wada pav, samosas, tea and pavbhaji at Gourmindia bus right below. Yummyy!!
I couldn't thank my hubby enough for making my dream come true and for being such a sweetheart and driving me around all these fabulous places.
The moments spent in this beautiful country are unforgettable and keep flashing in my mind every now and then.
The "bada desh jahaan choti choti baatein hoti rehti hai" has made such a warm place in my heart.
My Raj - i.e. My hubby Apar a little introvert that he is will never express his excitement about this ddlj trail with me. But I know for sure that the little filmy that i have made him he sure has enjoyed this trip thoroughly and might be ready to bring me here again!! Hope you are reading this hubby ;)
So friends.. "Come fall in love" once again. All my ddlj fans must do this trail atleast once .