I remember seeing a picture of hundreds of colourful balloons in the sky over an unbelievable landscape ( I was stunned, Dear Readers – surely such a place doesn't exist?) So when we decided to go to Turkey, I knew I had to see Cappadocia for myself. We flew from Istanbul and reached the nearest airport in Kayseri. And as our car moved to Goreme (to Aren Cave Hotel where we were staying), the landscape started to change before our eyes. We were mesmerized with this semi – arid region, which had the dramatic "fairy chimneys," tall, conical rock formations dotting the entire landscape..
Arrested by the scenes unfolding before us, it was as if we had stepped into an alternate universe straight out of a storybook – a magical place (Narnia comes to mind) I had stumbled upon from my tiny wardrobe. Whether it be the underground cities or the various rock formations of the aptly – named Imagination Valley, Cappadocia is a delight to the senses. An unbelievable stroke of luck had led us here, a place so different from my sense of reality (I mean, I stayed at a Cave house!). It was a mad couple of days and we had quite a list to cover too- from the ATV tour, the Turkish night, the Whirling Dervishes to the Turkish Hamam and of course, the Hot air Balloon ride. Sometimes, words fail to describe the most intense and intangible experiences of life and so through a photo story, I give you the crazy, beautiful, bizarre and captivating Cappadocia.
1. Cave house
We reached Goreme and realized that we were staying here! An amazing cave hotel owned by even more amazing, warm and helpful people. If you are ever in Cappadocia, book the Aren Cave Hotel and rest assured that you will have a great stay. (No, Dear Readers, before you ask, I am not getting a cut.)
Travel tip: You absolutely MUST stay at a Cave house in Cappadocia. You can either stay in Goreme or in the nearby town Avanos.
2. The Atv tour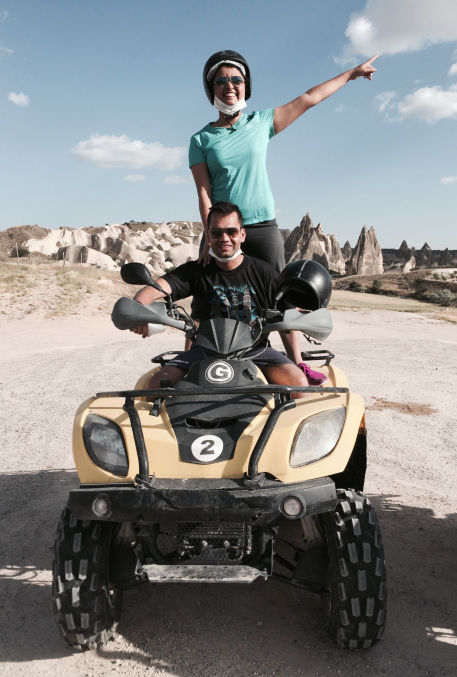 Having decided to do the ATV ride on the day we reached, I must confess I was jittery at first, that with the rocky terrain and no prior experience. But as it turns out, it was the terrain that made for such a thrilling experience. On the tour, you are supposed to follow the Guide who takes you through an incredible route touching on various spots, like the forgotten churches of Cavusin (pic below).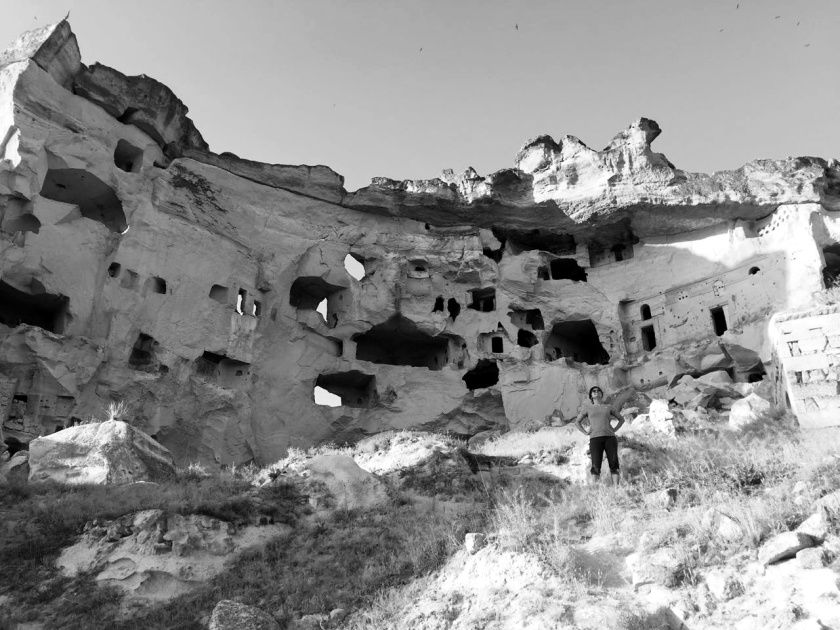 Travel tip: Ensure that you have face masks on (most likely to be provided by the ATV company) seeing as the roads are completely dusty. Also, LOTS and LOTS of sunscreen! (I speak from experience, Dear Readers. After the ATV tour, my face was splotchy red and burnt because of the sun and the dust even though I had my mask on).
3. Turkish Night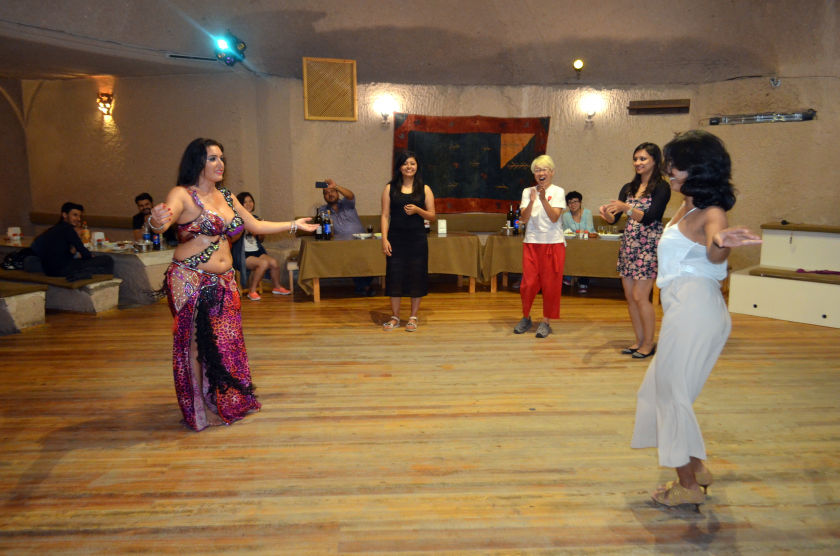 4. The Hot Air Balloon Ride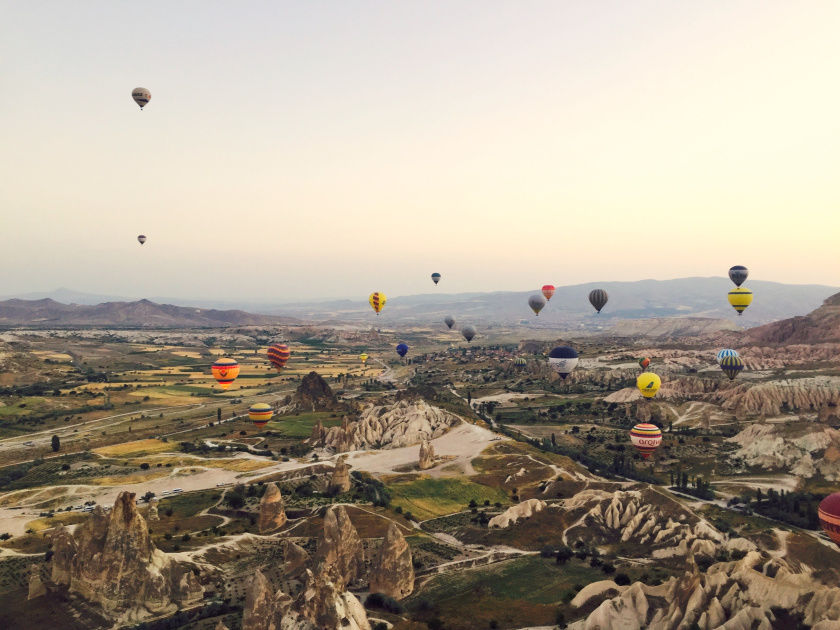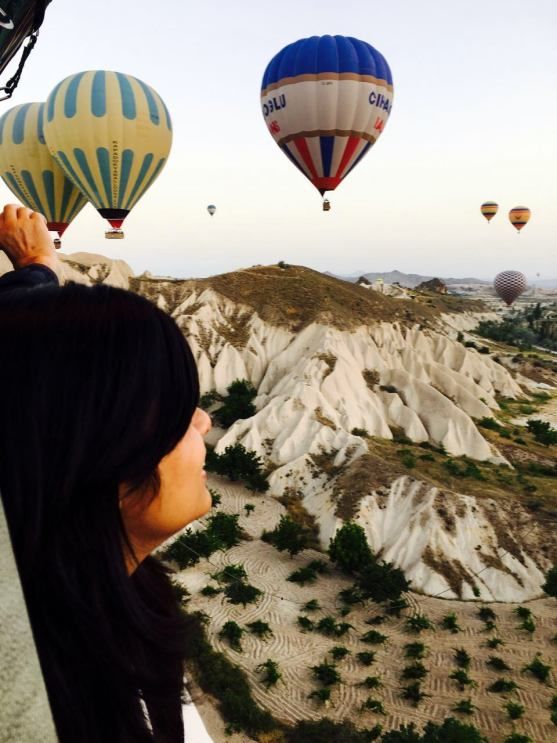 Floating in the air , you see the entire sky strewn with tiny colorful balloons as a brilliant orange sun rises. And in that moment, it is as if anything is possible, the world is within your reach. I knew that I would have to go back to my old life, to my regular job, life would go back to the way it was but I was as close to magic as I ever would be and it was enough.
Travel tip: Plan to stay for at least for 2 mornings in Cappadocia so that you can ensure you have two chances for the Hot air balloon ride which gets cancelled pretty often due to strong winds.
5. Mini Cappadocia Tour
We decided to go around Cappadocia during the day starting with the Underground cities. Minotaur's labyrinth? It certainly seemed like it. Byzantine era Christians apparently used these as hideouts in the 6th century when Persians, Arabs and Turks threatened the region. Here, you have to follow a marked, lighted path through narrow lanes and you will come across various chambers, complete with sleeping chambers to cellars to chapels.
Travel tip: Hire a car and decide on the places you want to see in your mini tour. The drivers of Cappadocia double as tourist guides too, so no problems on that score either.
6. Whirling Dervishes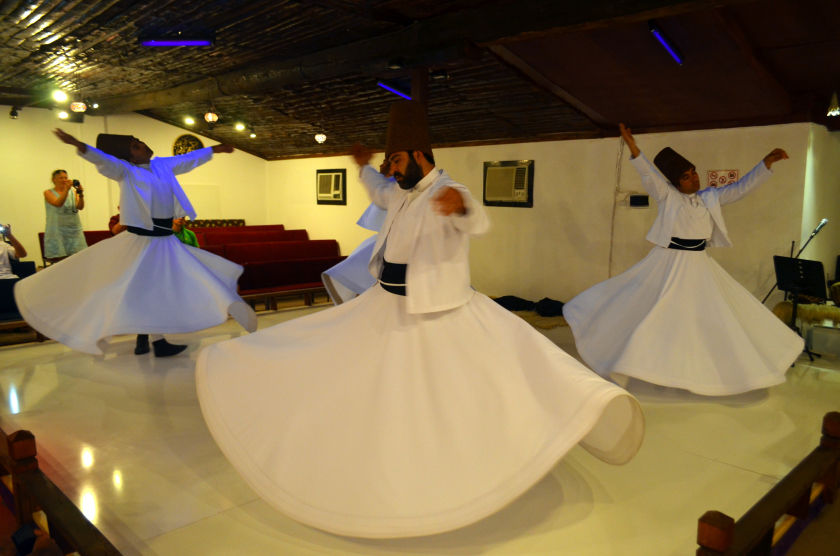 When I made my dream list years ago, witnessing the Whirling Dervishes was right on top of my list. And when I did, it was incredible. Performed as a form of dhikr (remembrance of God), the ritual began with the inspiration of Rumi and was influenced by Turkish rituals and customs. It draws from the scientifically recognized fact that the fundamental condition of our existence is to revolve.
Travel tip: Whirling Dervishes are a part of the Turkish Night too, but only in the beginning for a little bit. When in Turkey, Dear Readers, I recommend going for the entire 45 mins performance in a separate show.
7. Pottery and food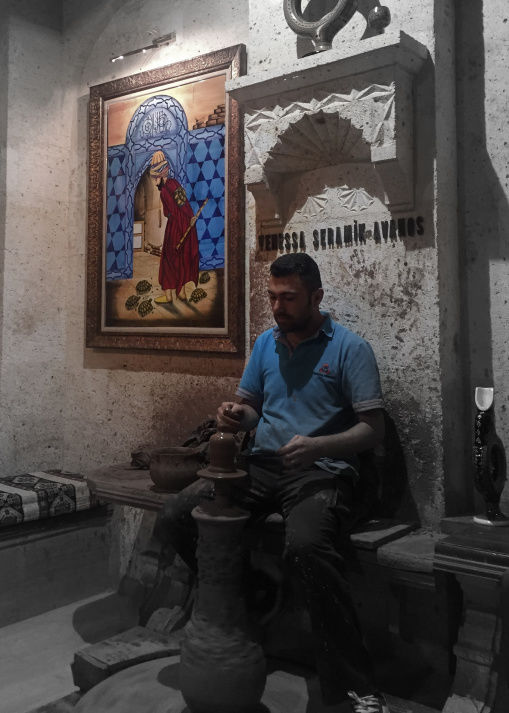 (The 8 of us fought so much over who gets to try making a (erm, lopsided) pot that we had to draw chits. Sadly, Dear Readers, I lost. )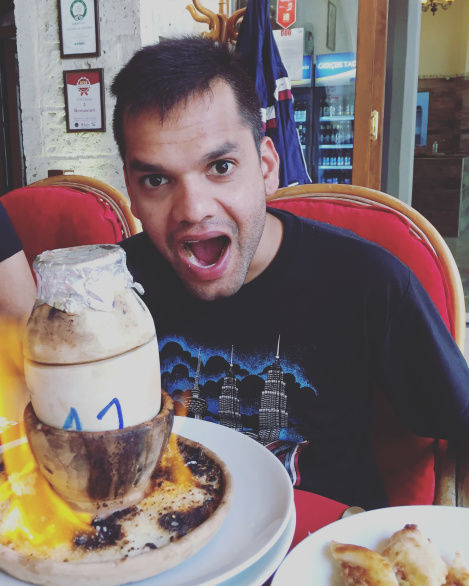 Turkey loves its Grilled meat. Their pide, kind of a pizza (only tastier), is mouth watering. What you see here is a Cappadocian delicacy – the Pottery Kebab with the husband and his pre- demolition face. It brings the two great Turkish loves together – pottery and food. It is literally on fire before the waiter breaks the pot open and you say hello (as you drool) to delicious sizzling meat.
Travel tip: Pide and Pottery Kebab. Try try try! Also, pottery in general. (I hope for your sake you don't lose against your (pesky?) fellow travellers.)
8. The hamam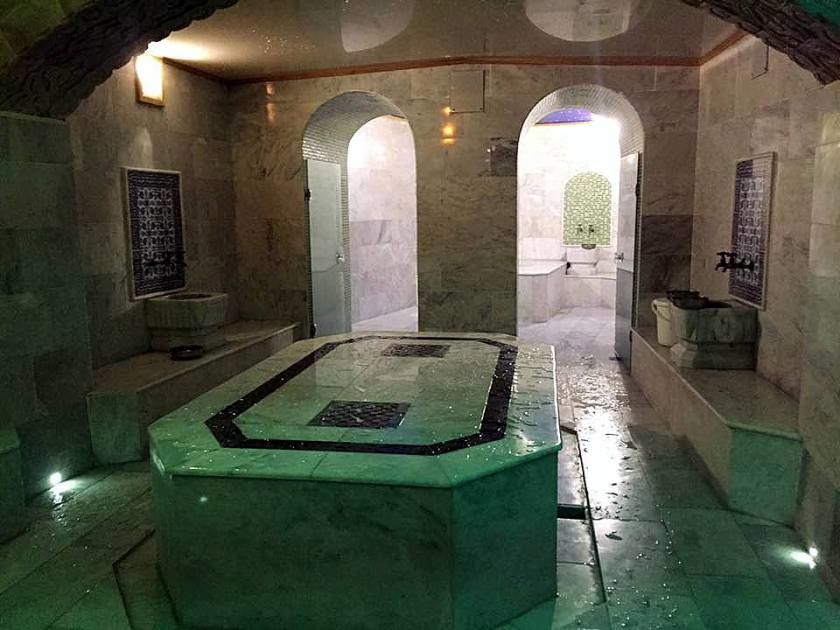 Husband says it was the best experience of his life. I guess marriage doesn't immune one to the ministrations of another woman. ????
Travel tip: While most hamams are for separate for male and females (ours wasn't), it is better to ensure it beforehand to avoid any awkward surprises.
9. And finally, the entire landscape
I didn't imagine that this little town would be the highlight of our trip to Turkey/Greece but oh how it was! You should know, Dear Readers, that we had travelled all the way to Cappadocia with only one thing in mind – the Hot air Balloon ride, but as it turns out, the ride (surreal though it was) was only a part of the sorcery of this place.
Travel tip: If you ever plan to go to Turkey, you MUST MUST MUST go to Cappadocia! You may thank me later.
Photo Credit: Shruti Sharma, Hrishik Agarwal and of course, the significant other who loved the Turkish hamam more than is appropriate. ????