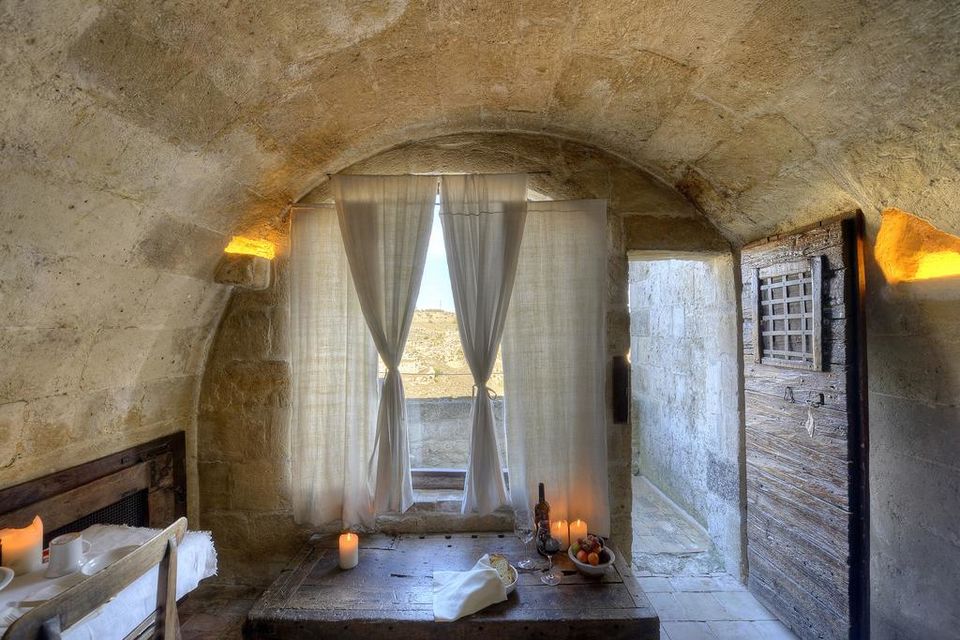 How do you like the idea of spending this holiday season shacked up with your significant other in an ancient cave, set in a romantic little village in southern Italy? If you like the sound of that, it is time to get your butt off the couch and plan on creating some amazing travel memories with the love of your life. Make your partner feel like they're the luckiest person in the world by whisking them away to Italy, a country that has consistently been the staple of romance since time immemorial.
Ideal for
This beautifully unusual hotel is ideal for lovers and newlyweds looking for a quiet relaxing holiday steeped in luxury and old-fashioned Italian-style romance.
About the property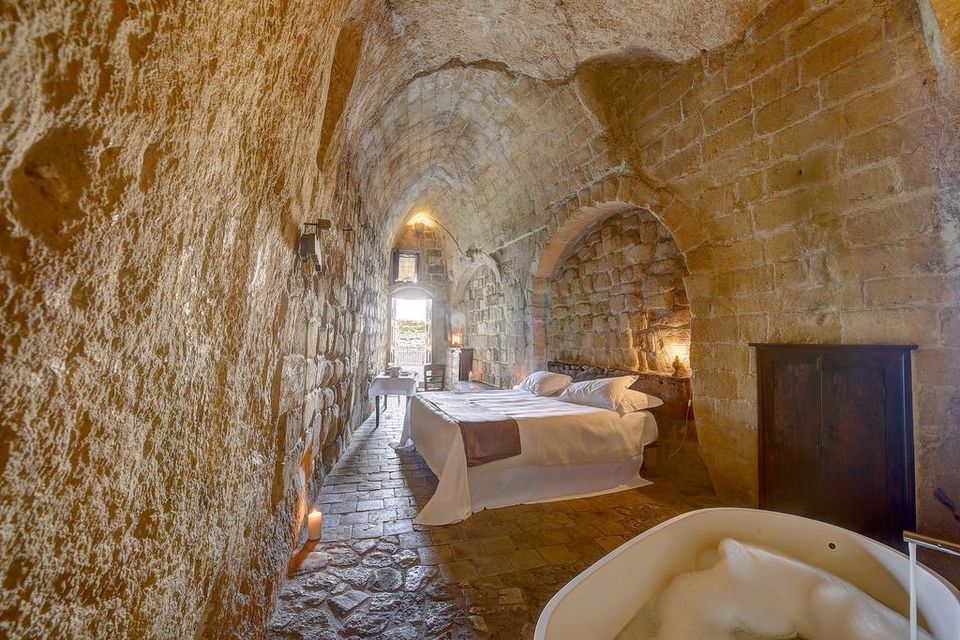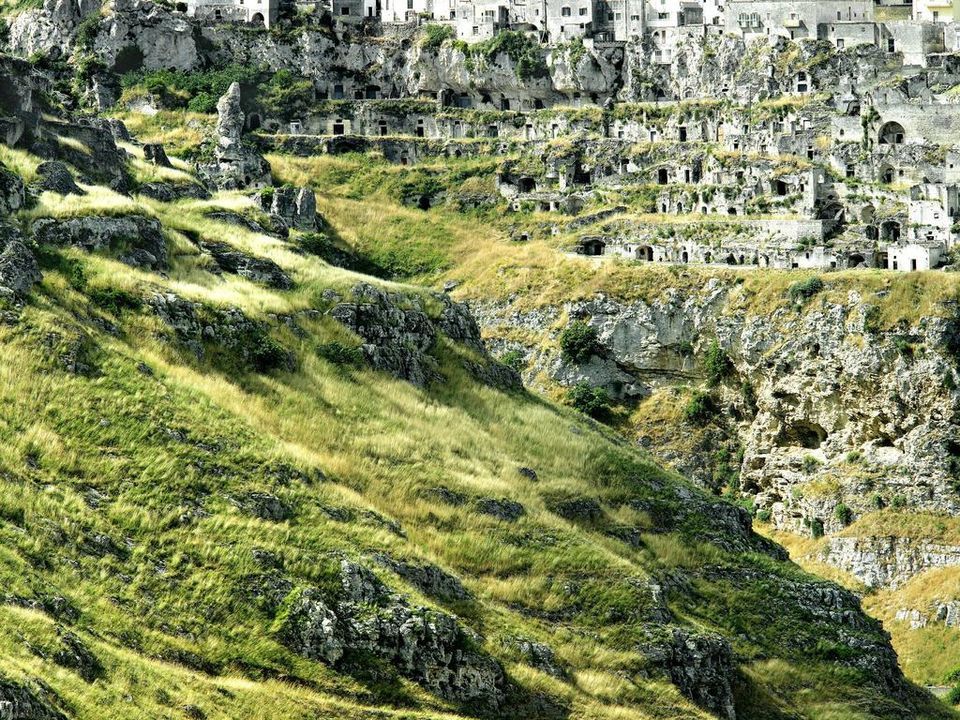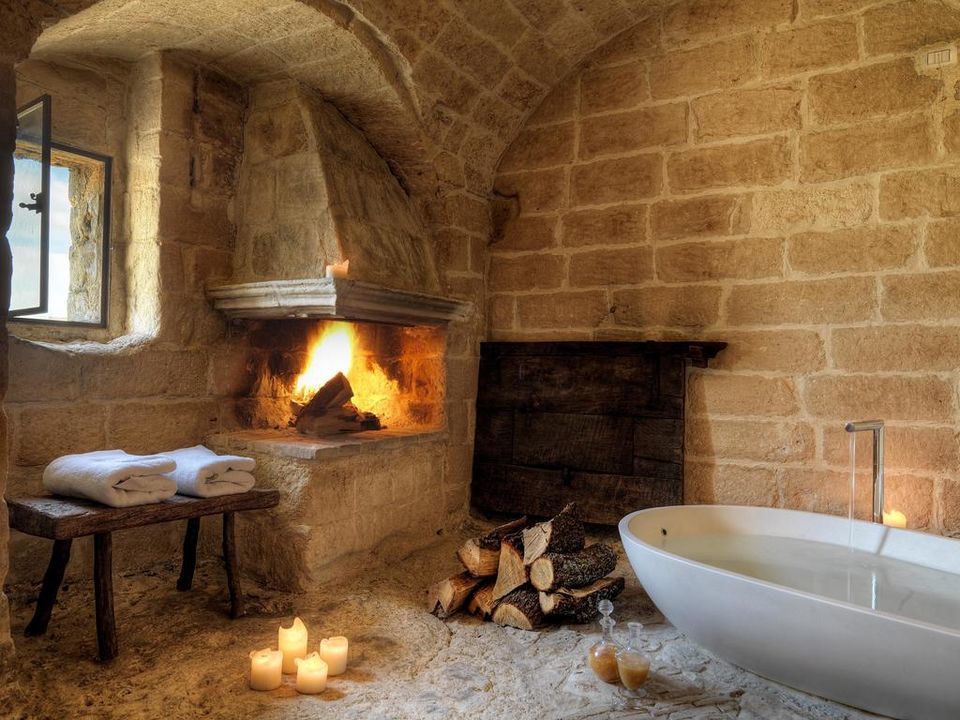 Hidden in the sleepy hamlet of Matera, which is also a lesser known UNESCO World Heritage Site, the Sextantio Le Grotte Della Civita has been designed in the most luxurious yet minimalist way – quite an endearing contradiction. It follows the theme of the well-preserved town of Matera – houses carved into volcanic hills, some that go as far back as the Paleolithic Age! The 18 rooms in this hotel are actual caves that have been subtly redesigned in a way that they don't lose their authenticity. Contemporary facilities have been integrated into these primitive caves to provide optimum comfort, but without compromising on the look of their original spaces. Only raw materials such as honey-coloured stone, terracotta and wood have been used minimally to transform these caves into elegant cave dwellings, while great effort has gone into preserving their legacy.
There are four types of caves to choose from – classic double cave, superior double cave, suite cave and executive suite cave. All four types are air-conditioned rooms with a shower or bathtub, a surprisingly fast WiFi connection, and a balcony with a gorgeous view of the surrounding landscape.
Food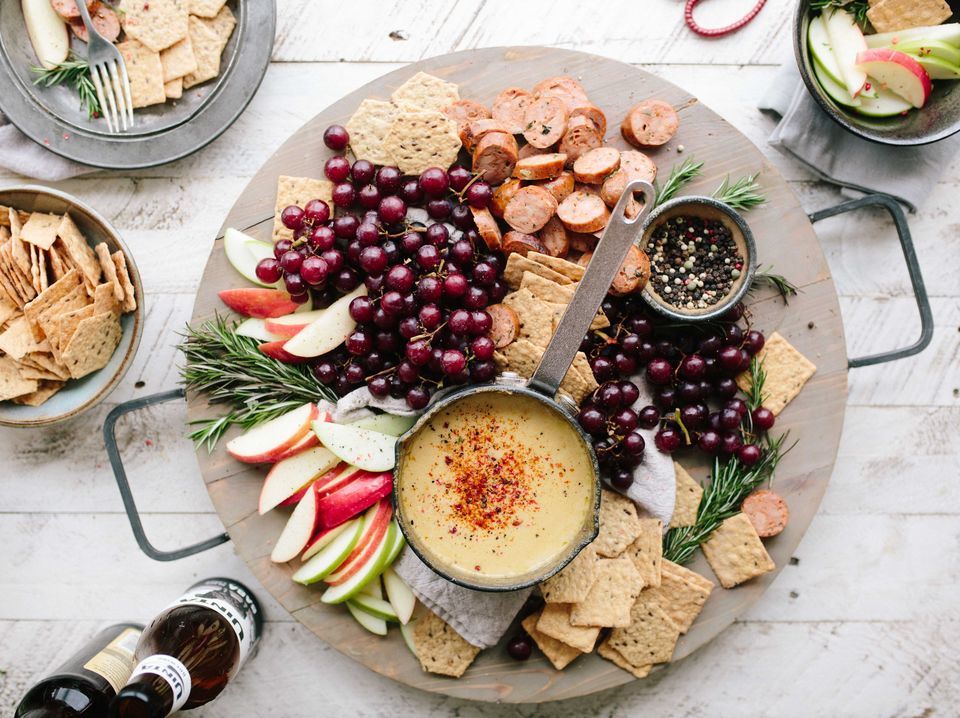 The common area, also known as the XIII Century Cave Church, is transformed into a room where breakfast is served. A typical southern Italian-style breakfast is laid out for all guests, so make sure you work up an appetite! The hotel serves fresh pastries, cookies, biscuits, cakes, jams, marmalade and salami. All of this is organic and produced by a local farm. You can also choose from a wide selection of freshly baked breads, homemade focaccia, fruits and cheeses.
The cool thing is, you can also request the hotel staff to set up a romantic candlelit table for dinner, right by a cozy, crackling fireplace. Enjoy the sublime classical music playing in the background as you choose from a variety of local wines and feast on meats, cheeses and crackers. Wash it down with exotic teas or tisanes.
Cost
Classic double cave: Starting at ₹19,801 (breakfast included)
Superior double cave: Starting at ₹27,312 (breakfast included)
Suite cave: Starting at ₹38,237 (breakfast included)
Executive suite cave: Starting at ₹50,376 (breakfast included)
Best time to go
Although Matera has reasonably pleasant weather all throughout the year, the busiest months are in summer, from July to August. However, since winters are usually mild, one can always plan a trip between September to December. The weather during January and February can be quite cold though, so avoid travelling at this time!
What to do here and around the property
Guests can take cooking lessons with an expert hotel chef and sharpen their pasta-making skills if they choose to. Learn how to throw in some flour and eggs in a bowl and whip up amazingly authentic Italian handmade creations.
There are also a variety of wellness Ayurvedic massage treatments to choose from. You may avail of these in the privacy of your own room. This is accompanied by relaxing music, sensual massage oils, scented candles and stress relieving teas – the perfect way to rejuvenate your mind and body!
You also have the option to rent a bike at the hotel and wander off into the ancient unexplored little village of Matera and discover what the surrounding areas have to offer. You can choose from mountain or city bikes available for men, women and children.
Here are some other cool places to check out at Matera:
This 12th century Saint Peter's church is the largest of Matera's many churches. The entrance to this is decorated with frescoes of saints. Underneath the church is a labyrinth of mysterious tunnels. The town was abandoned from 1960 to 1970 and church was looted back then. It's open from 10am to 7pm from 1st April to 1st November and 10am to 2pm from 2nd November to 31st March. Entry fees is around ₹260 per person.
When in Matera, do not fail to check out this intimidatingly massive cistern, carved out of actual rocks, that supplies water to the locals to this very day. To ensure that the structure is not porous, it is covered using a special kind of plaster. There are three to four 25-minute tours in English everyday. Each tour has guides well-versed in English and you get to learn a whole lot about the history of this impressive structure. The guide leads you underground to see the ancient water cistern carved out by hand. English-language tours are held around 10.30am, 12.30pm, 3.30pm and 5.30pm everyday. Entry fee costs around ₹260 per person.
The Musma Museum in Matera is a fitting tribute to various forms of art. From sculptures, jewellery, earthenware, pottery and medals to drawings, prints and books – it boasts of a vast collecting of artefacts. Owing to its vastness this museum is also known as the 'palace of 100 rooms'. It has two kinds of exhibits: permanent and temporary. The permanent collection consists of artefacts relating to the history of sculpture (which occupies the ground floor) and the other theme is a combination of excavations and sculptures (the collection occupies the room downstairs). Temporary exhibits can be seen in rooms with beautiful frescoes where attention has been given to detail. The walls of these rooms are adorned with hunting and bucolic scenes. This giant museum also spoils you with a massive library with over 5,000 books donated by art lovers. These include art books, catalogs and monographs. So if you're an art connoisseur, you know just where to head! Open from 10am to 2pm (Tuesday to Sunday) from October to March and 10am to 2pm/4pm to 8pm (Tuesday to Sunday) from April to September. Musma Museum is always shut on Monday. Entry fee costs around ₹380 per person.
Getting there
By air: The closest airport to Matera is Bari Karol Wojtyła Airport (BRI), which is 64km away and takes about 55 mins to cover by road. There are several connecting flights from New Delhi's Indira Gandhi International Airport (IGI) and Mumbai's Chhatrapati Shivaji Airport to Bari. Starting price for flight from New Delhi/Mumbai to Bari is around ₹46,400. Once you land at Bari, you can either hop on the airport bus or book a private cab to the resort.
Have you stayed at a wonderfully offbeat place? We would love it if you shared your experience with us at Tripoto!
Frequent searches leading to this page:-
cave hotel near me