What if I told you that you could live in a cave while in Turkey? I'm sure adventure enthusiasts are already packing their bags reading this. But wait, this cave experience is not just for those who love adventure but also for leisure-loving travellers. The Local Cave House Hotel, a gorgeous property located in Goreme, Turkey has to be next on your travel list.
Ideal For:
For all of you who are craving unique and exciting experiences during their travels, Local Cave House Hotel is the perfect choice for you. Whether you're visiting with your friends, family, partner or even solo, you're sure to have a great time here.
About the Property:
For those who don't know, Turkey is famous for strange rock-formations known as 'Hoodoo' or 'Fairy Chimneys'. These formations are tall and mushroom-like that look right out of a fairy tale. If you're someone who is obsessed with everything that is magical and mysterious, you are going to love Local Cave House Hotel. The hotel is made inside these fairy chimneys, giving you the ultimate, fantastical taste of turkey.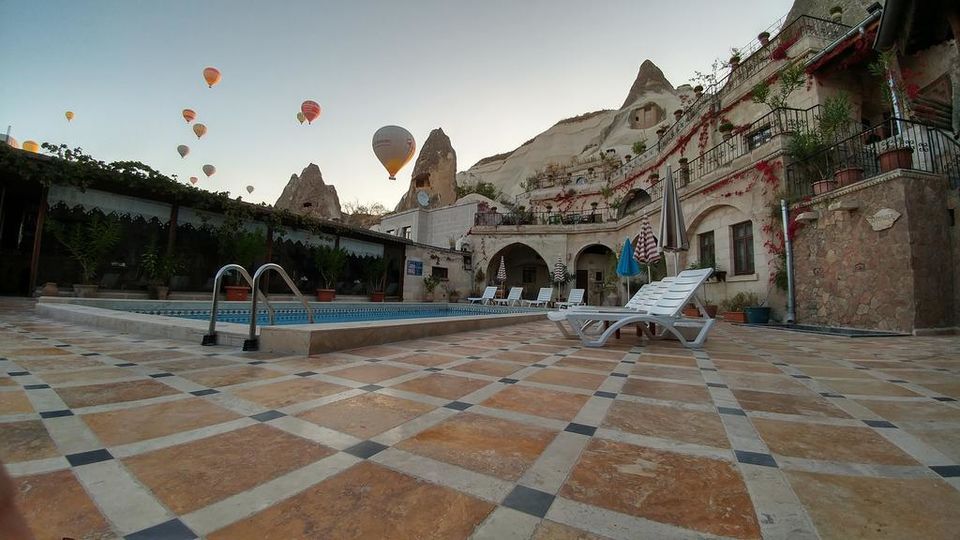 Done up in a rustic theme, you are sure to be left baffled at the architecture of the hotel and the way it effortlessly merges with the chimneys. While the caves with the hotel will take you back in time, the majestic sights of the Goreme countryside that it offers will take you to a wonderland. With a charming patio and lounge area that is finished with a swimming pool and chairs to sunbathe on, you are guaranteed to never want to leave the hotel. What's even more interesting is the fact that this area is the major spot for hot-air balloon rides in Turkey, and therefore, watching the balloons fly as you swim or relax in your bedrooms is another aspect that sounds really exciting.
The Rooms: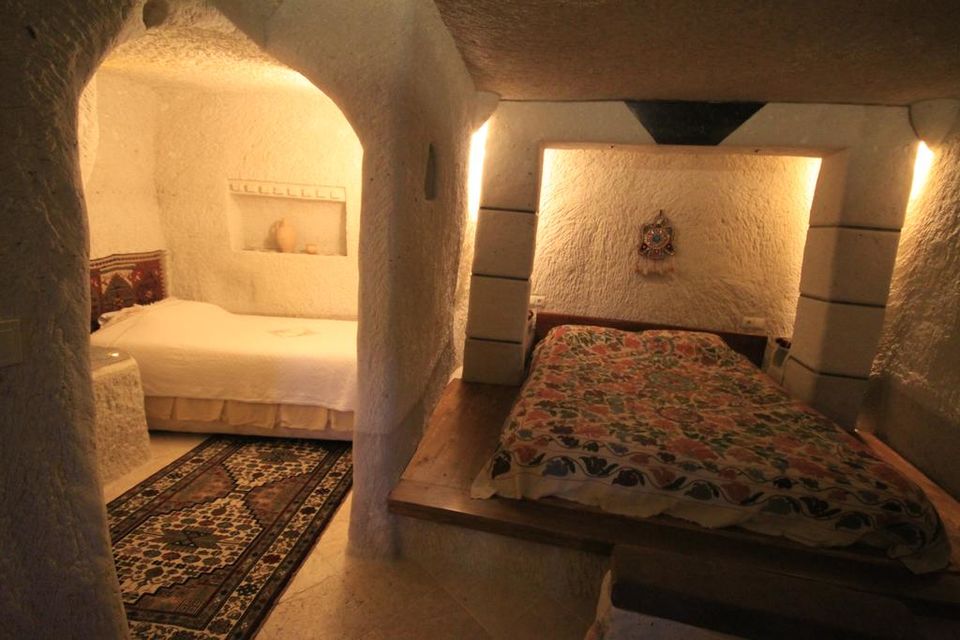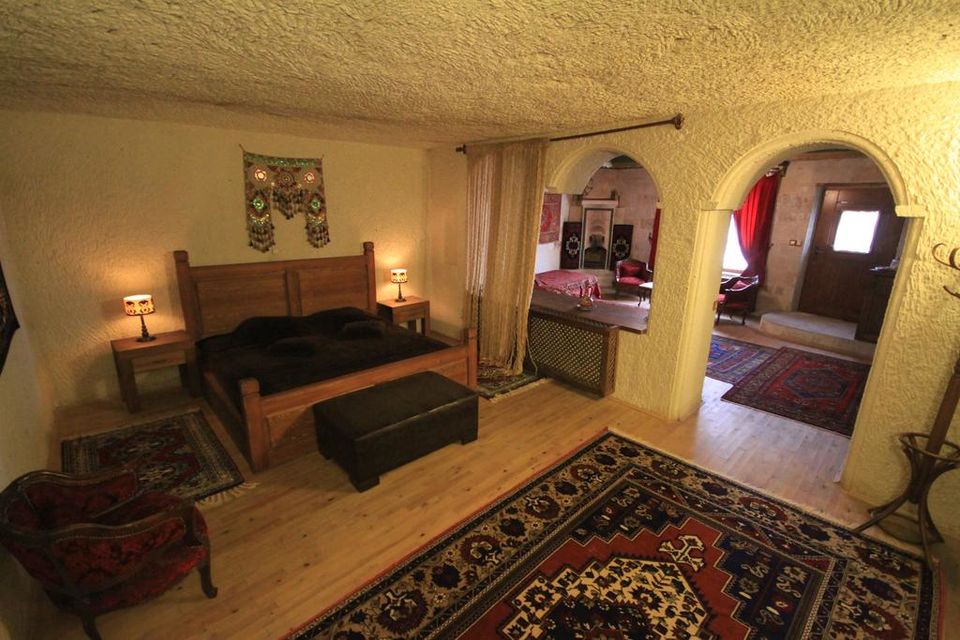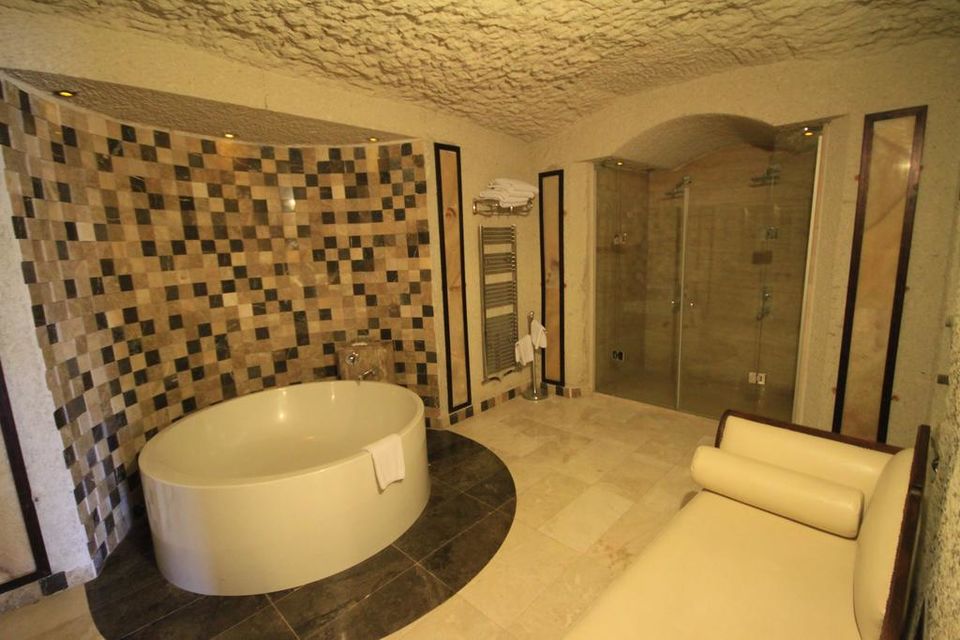 The variants of rooms that you can choose from are: stone and walls double room, double cave room, triple cave room, local cave room are family cave room. These room cost approximately Rs, 4200-Rs. 4700 , Rs. 5200- Rs. 5900 , Rs. 6800 - Rs. 7700 and Rs. 12,7000 respectively. This cost is per night and includes breakfast.
Food: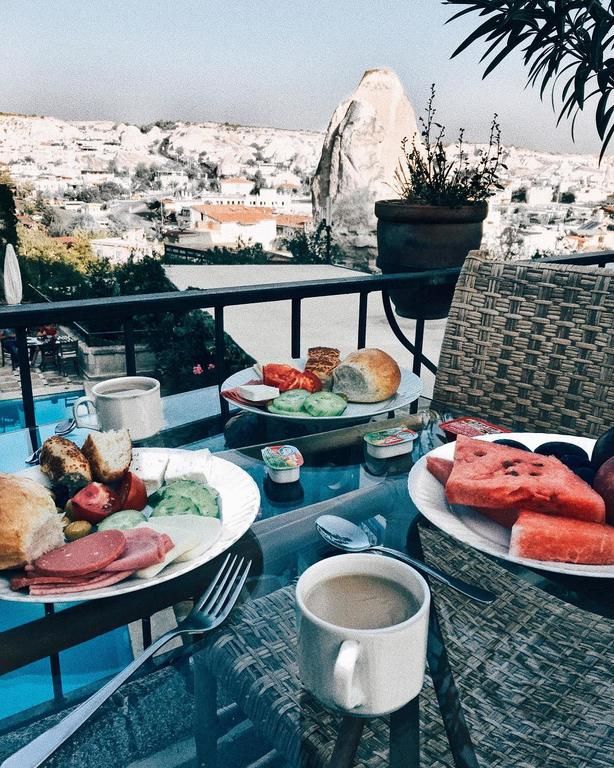 Enjoy a delightful spread of Turkish food that is prepared with local and organic ingredients. Do try Manti, a meat-stuffed miniature ravioli dish and Lahmacun, which is the Turkish version of Tacos. Apart from this, the hotel also offers continental meals that you can enjoy.
Best Time to Visit:
The ideal time to visit are April-May and September-November as during these times, the weather is pleasant, neither hot nor cold. So you can walk around and explore at ease. Moreover, Turkish skies are known for dramatic sunsets, which you can view in all their glory during these months.
How To Get Here:
The most convenient way to reach Goreme, where the property is located is by air. There are frequent flights from Indira Gandhi International Airport, New Delhi to Kayseri Erkilet Airport, Kayseri located in Cappadocia. Alternatively, you can also fly to Istanbul Atatürk Airport, Istanbul and then take a flight or bus to Cappadocia. From the airport, the hotel is located about an hour away and will provide you pick-ups and drops. From Istanbul, you can also hire a bus that will take about 7-8 hours to reach Goreme.
What To Do Here and Around The Property:
If you're living in the heart of where hot-air balloon rides are done most, there's no chance you can miss a ride into the sky. In fact, the hotel can help you arrange a hot-air balloon rides make the entire process easier. From the balloon enjoy the breathtaking view of fairy chimneys
Walk along Rose Valley with the imposing Fairy Chimneys and other rock formations surrounding you. The route through the valley has carvings of an entire civilisation! Once here, watch a beautiful sunset!
At this park, you can take a tour of caves inside the chimneys and learn about the rich history that is depicted all throughout. Here, you will also find craft shops which are ideal to take back gifts and mementoes.