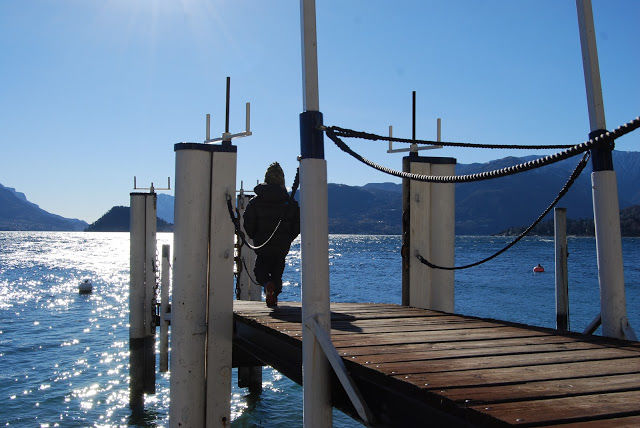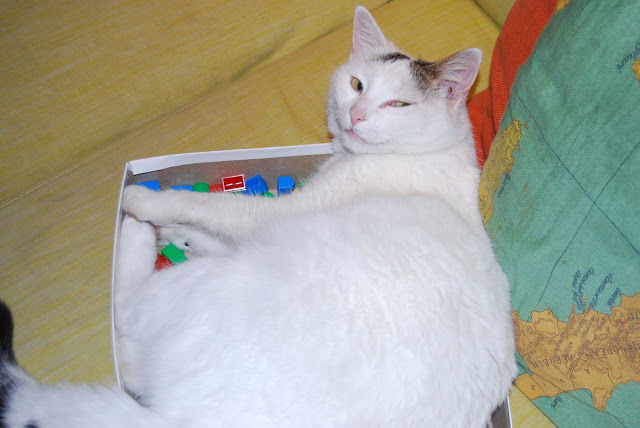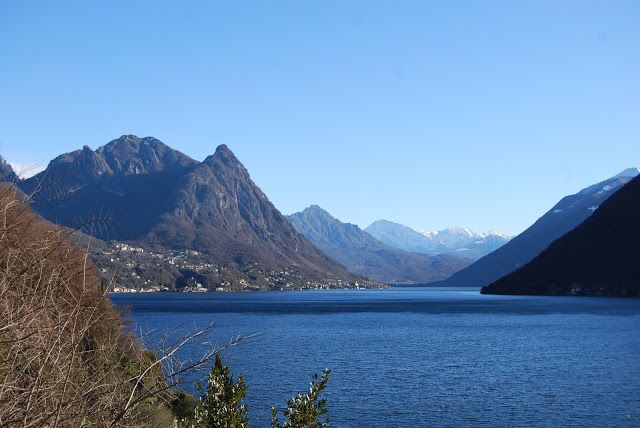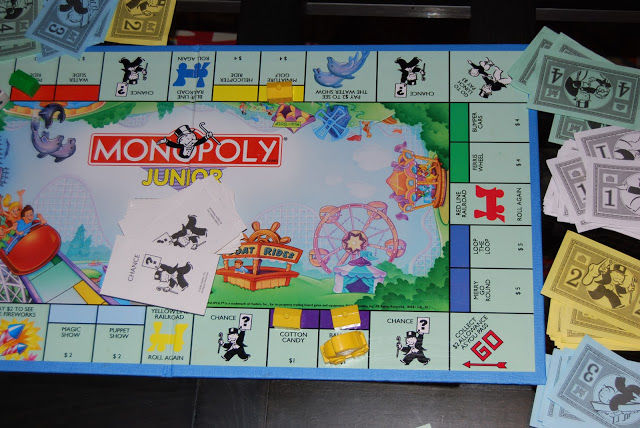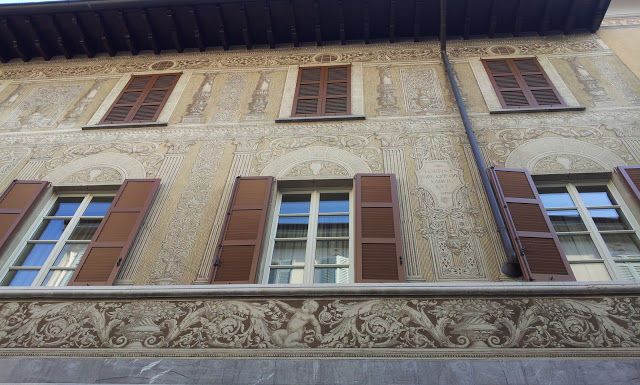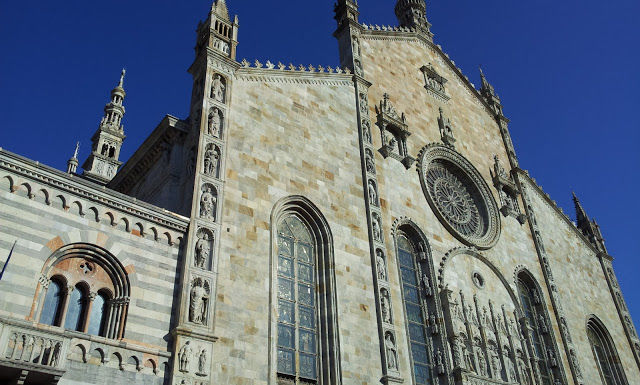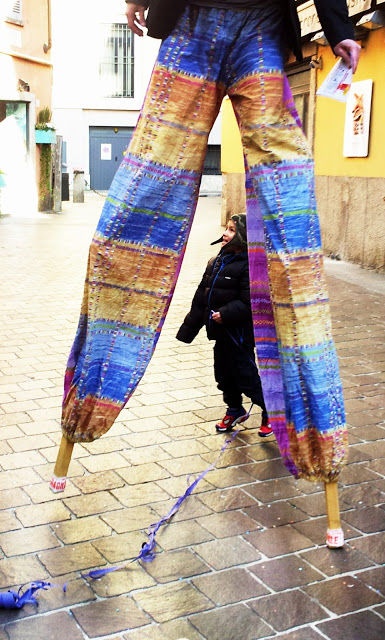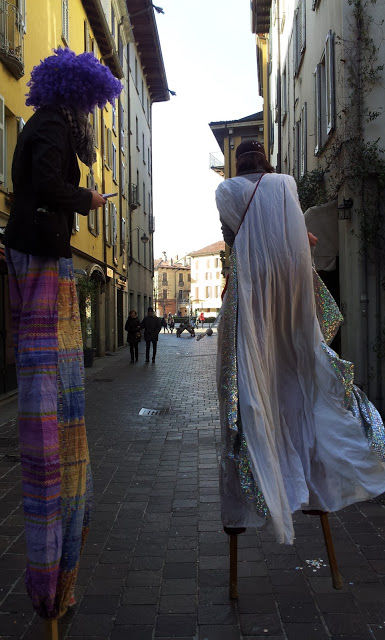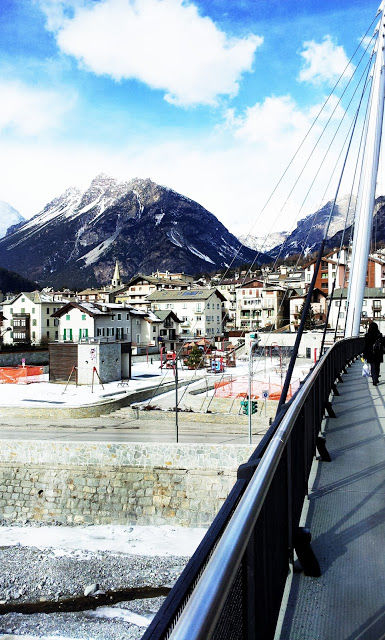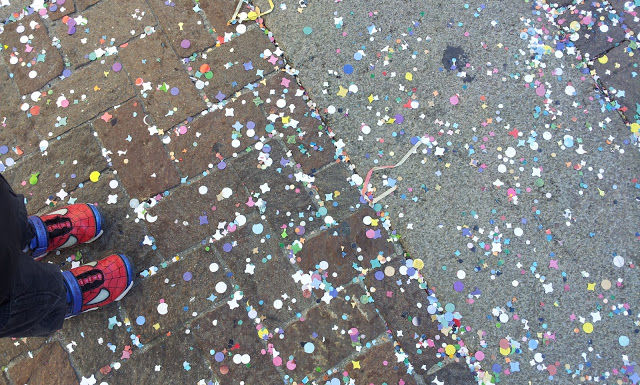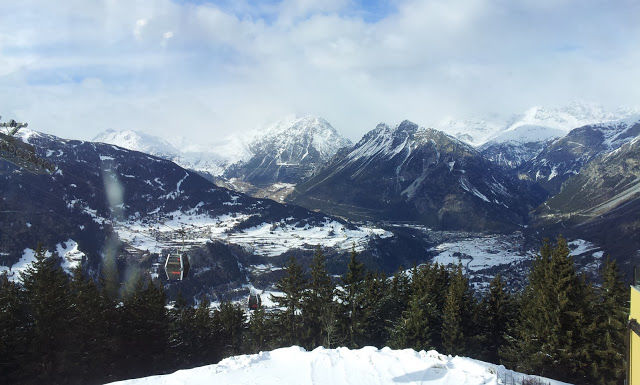 Departure: getting there is half the fun
The night before departing for our settimana bianca ("white week", aka ski trip) we spent some family time bonding over the 5 year Old's favourite board game, while our cat, who also happens to be called Bianca, joined in on the fun as best she could. After playing around with the plastic Monopoly pieces for a while, she decided to curl right up in the centre of what she perceived to be the action for a nap. That's her in our Monopoly box. She has loved squeezing into cozy spaces ever since she was a kitten. Doesn't look very comfortable, does it? But sure is cute.
A few days later we were driving along Lago di Como surrounded by beautiful scenery en route to our final destination, located somewhere in the distance among the snowy peaks. We stopped at the pretty little town of Menaggio to stretch our legs along the narrow pebbly beach thanks to the 5 year Old's prompting.He was doing the best he could on what for him felt like the never ending drive. By the second hour it had started to sound like this: "Can you be quiet I'm lying down now!! I feel car sick!!! This is such a long drive!!! Can you stop saying beautiful mamma!! Yucky mountains, why do you have to be so far away? Can we stop now? I'm hungry!!!"
Along the lake there were lots of ducks and swans to greet us, fighting over cornetto crumbs offered by the 5 year old. It was sunny and clear, but the air was chilly and breezy.  When we reached our snowy destination, the mountains weren't so yucky after all.
Carnevale in Como
It was like the sun had set the Duomo on fire and I just had to look up even though the brilliance of the white stones against blue sky hurt my eyes. Looking up in the tight piazza wasn't easy. My neck craned as I tried to squint into focus the busy maze of sculptural features. I wanted to see the details of the faces nestled in the arched niches.

But then the noise of the piazza drew me away and I had to look around, and down. The ground was a sea of colour covered with tiny pieces of paper. My son was trying to get my attention: "Look at the cornflakes". I smiled and tried not to laugh. "You mean confetti?" (In the background I hear Sicilian hubby repeat the word in Italian, coriandoli). He smiles back with a grin realizing the mistake. "What are cornflakes"? "Cereal you eat for breakfast" I reply. We belly laugh together and start to move through the crowd. "I want some confetti, too".  "Yes, let's find a vendor".
Families with kids dressed in store bought costumes filled up the piazza, huddled together in tight circles trying to keep warm or else running back and forth to avoid being showered by fistfuls of confetti or squirts of foam.It was carnevale and the town of Como was having a party.We headed away from the crowds to wander the pretty side streets full of medieval buildings and sgraffitocovered facades. Out of nowhere some tall lanky figures crept up on us and shouted out an invitation: "Run between my legs!". A nudge or two of encouragement was all that was necessary before the 5 year old was through and out the other side.
Happy Carnevale!!!
 
A week of ''wintery'' fun in Bormio, a ski town in the Alps of Lombardia.
We skied
Wind whipping, deep breathing, heart lifting fun.
Chapped lips, numb noses, red cheeked fun.
Up to the clouds panorama at 3000 meters high (and also -22 C but no matter!).
Little boy learning, medal winning, ski school fun.
We indulged
Valltelina = strong cheeses, bresaola, porcini mushrooms, taranga, and pizzoccheri.
We cozied up at the Genzianella
Homey. Great meals. Comfy rooms. Fireplace in the lounge. Cards and checkers. Family friendly vibe. Short walk to the gondola.
We soaked
Thermal hot springs.
We made friends.
A great experience.
A place to go back to.