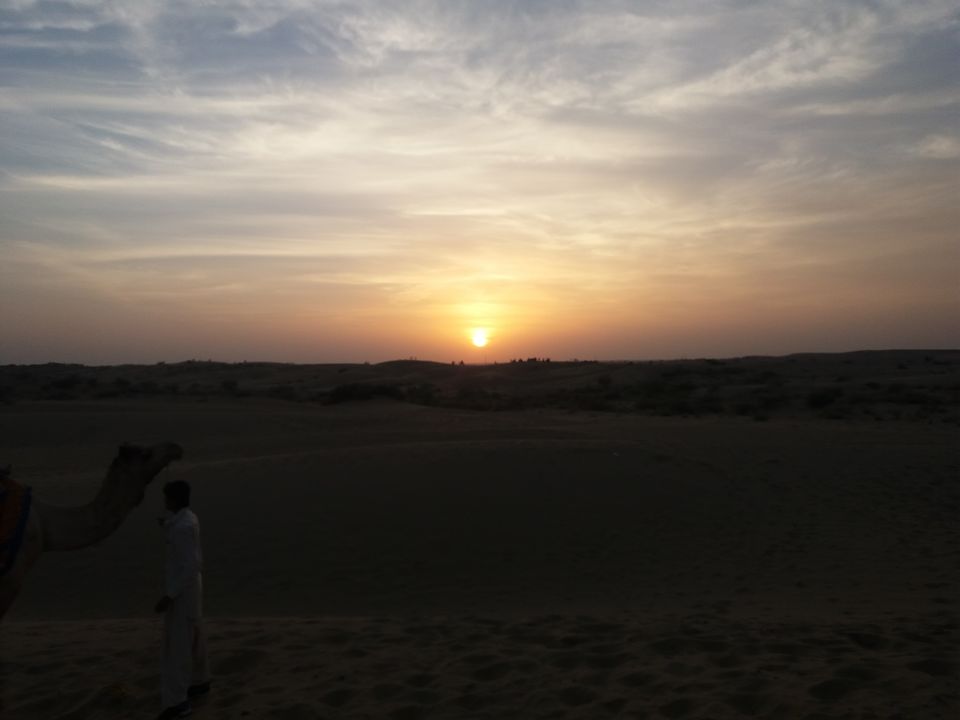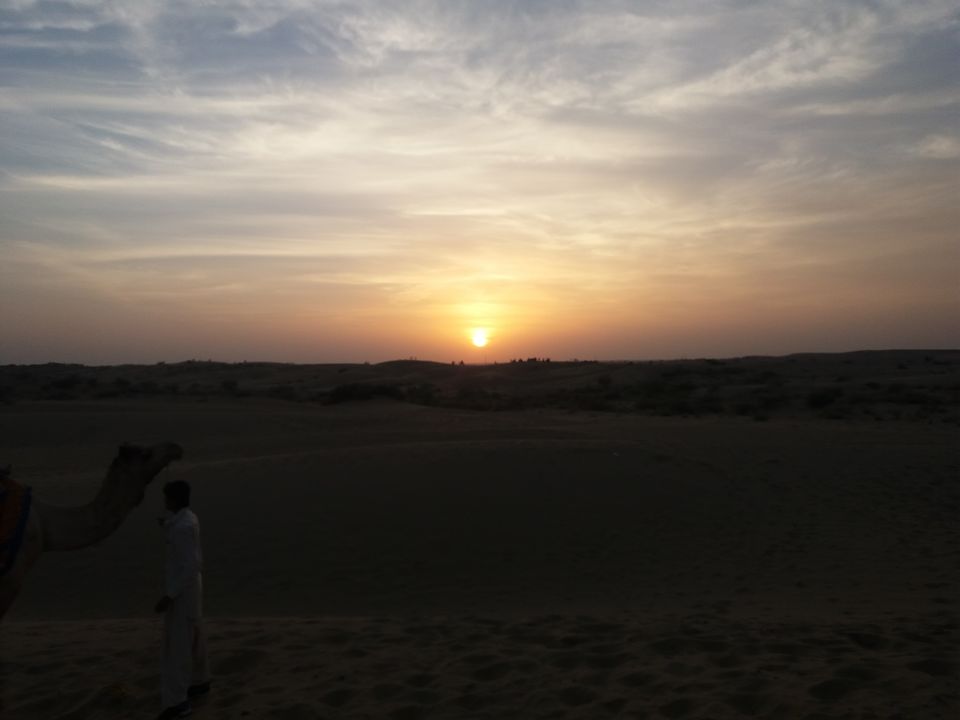 Travelling to Rajasthan was one of the most impulsive decisions I took with the typical 'It's gonna be burn-my-face hot' during the day and 'freeze my ass off' during the night' mindset. Being from the true North, I wasn't sure what I should pack, which cities I should visit, should I go to Himachal instead?
But it was the idea of the desert, the camel ride and looking at the marvellous sunset and the horizon that made me decide, this is it. Rajasthan, here I come. Now I could do the usual itinerary post for how I got there, the places I visited and the whole shebang but..(Yeah, I'll do that later.) This post is all about the magnificent sand dunes of Jaisalmer and what not to do when you do get there.
Getting to the sand dunes is fairly easy, you can go on a bus, hire a jeep, plenty of options. The easiest thing to do is book an online package and you're completely sorted. You won't have to figure things out for yourself, you can look for economical options, compare things and choose what's best for you.
1. Do NOT book the top package in google search
Yeah, I have had this problem with a travel companion of mine who says, hey if it's on top of google search engine, it must be the best option, right??? Nope. Usually, these packages would be highly expensive, wouldn't give you the experience of your money's worth and leave you highly disappointed. Instead, go on websites to compare packages, check the reviews and spend at least half an hour sitting in your hotel room to plan it out. We ended up spending just INR 2000 for both a camel ride into the desert and a jeep safari, along with a campfire fiesta.
2. Oh, look! Good weather. I don't need my sunglasses.
It's Rajasthan, my dear, the weather changes like your moods when you're PMSing. Totally unpredictable, not nearly as dangerous though. But, do not forget your sunglasses because if not the harsh heat, it's going to be the sand blowing at you when it's windy, but you do need them shades to keep your eyes safe. Another plus is, gorgeous photos if you pick the right pair.
3. You can conquer the world with the right pair of shoes
or at least the desert. Don't wear sandals or heels, anything uncomfortable is out of the way, flip flops are a really bad option. Instead choose sneakers or leather shoes, or shoes with Goretex liner for breathability. The sand WILL get in though. It somehow always does if you chose to get off the camel and walk on the sand.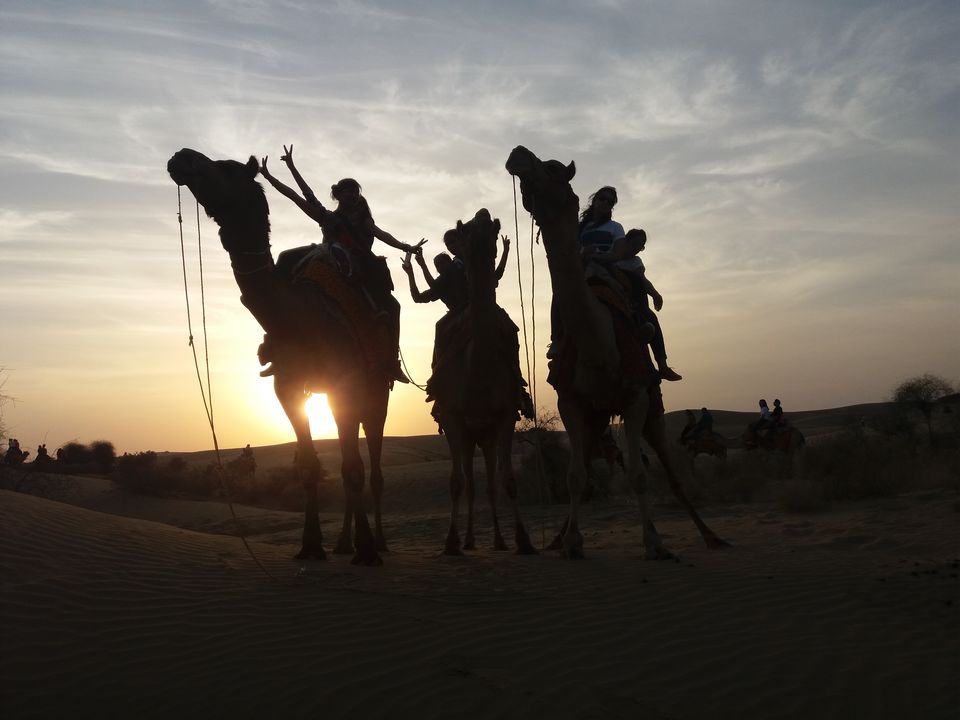 4. Don't let the camel run!
Some people did ask the camel guy to make it run because it's thrilling, but I saw a camel's knee-jerk and the person fell off and it was terrible. So just don't risk it, even if someone suggests.
5. Go for Camel ride and jeep drive both
It's cost-effective to just pick one because it's the same desert right? What can you see differently? But the experiences are truly entirely different and if you've made it that far into the desert already, better not miss out on opportunities. Going on a camel ride is great, you're a little scared, but you have interactions, you move slowly on the sand, you absorb your whole surroundings. But with the jeep safaris, the speed and the cold dark desert (make sure you do this AFTER sunset), is a whole different feeling.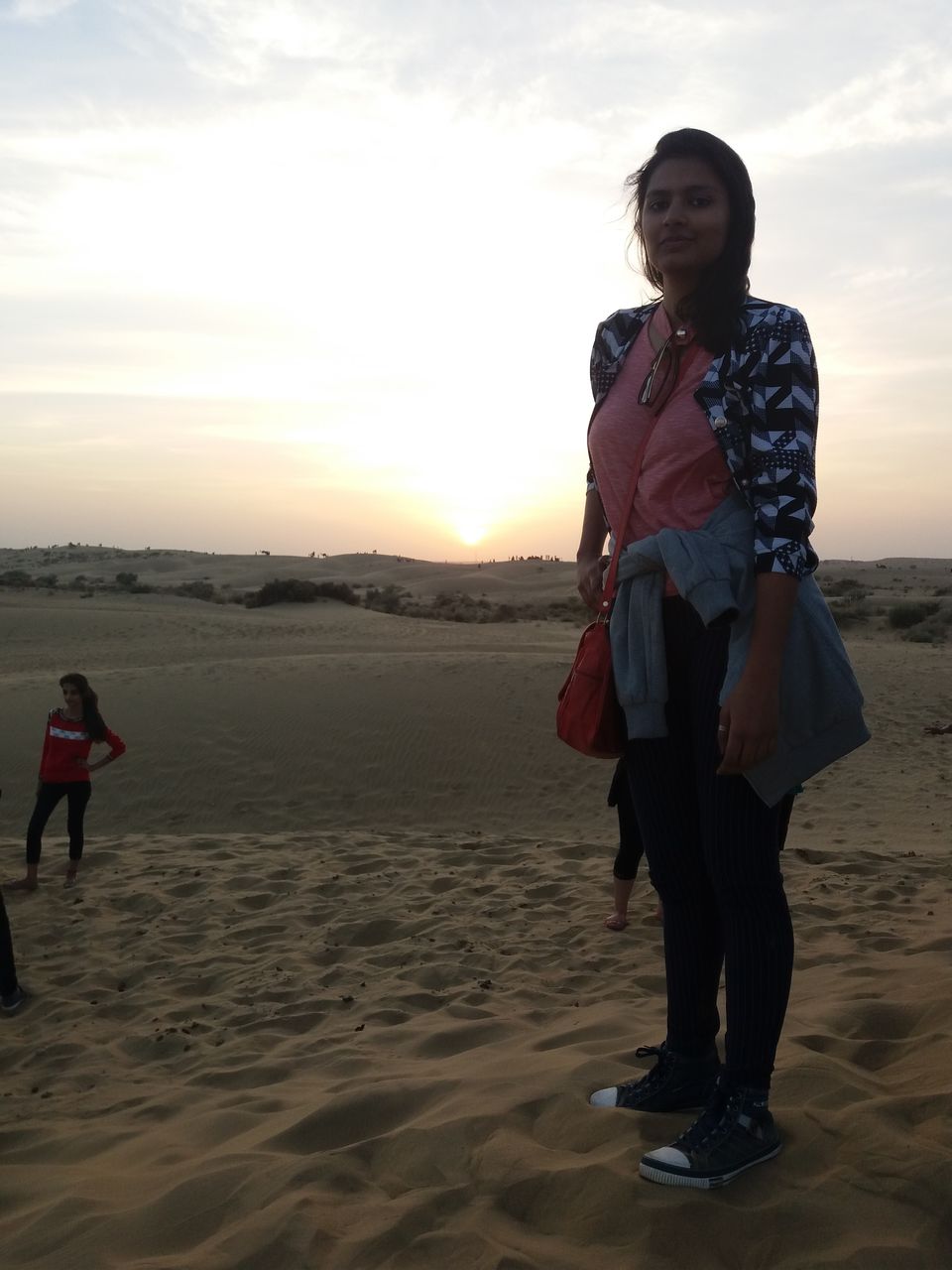 6. Layers!!
That's the best thing to do clothing-wise. If it's too hot, take off the layers, if it gets windy or cold, start covering yourself. Plus, more layers means more pockets for carrying your stuff.
7. Don't forget the sunscreen
Sounds like a dumb suggestion because duh! But sun protection lotion and lip balm are realllly important. Even if you're okay with being tanned (like me), you shouldn't be okay with getting burnt (like toast, even if you actually like burnt toast, there's no reason why you should be).
8. Don't forget your camera.
There is just so much opportunities for artistic photos, natural photos, just capturing the essence of earthiness in the desert, so don't be afraid to stop every once in a while and take your time to get a good shot. And DEFINITELY click the sunset. There is no sight like that.
9. Be extra careful bringing the sand back
This option ain't for the sane ones who just go sightseeing and take back handicrafts as souvenirs. It's for crazy ones like me who pick up a rock, some sand from beaches or deserts and store them as souvenirs. So the thing I did was, of course, gather some sand in a little glass bottle from the sand dunes, to bring it back. But, major failure when the lid just dislodged itself in my luggage. I still find sand in some of the corners sometimes, or maybe it's just a mirage.
So that's all for this trip. I might be doing another post on the Rajasthan travels, so keep an eye out. KhammaGhani!