Jaisalmer, a beautiful name for a place that amazes your conscience thoroughly. Jaisalmer is the land of vagabonds wandering with their mighty camels. Hailed here are, the names of Rajput princes in their escutcheons and the beautiful princesses in their veils in every nook & corner of the city. The remnants of Castles were once the residence of the most courageous people ever born. Sigh! Jaisalmer indeed is a spellbinding city.
Tourists swarm in the city especially, during the dawn and the dusk to get one glimpse of the love story between the Earth and the Sun. To feel how the serene and quiet sky with hues of darkness held shimmering stars and the peaceful moon, in its arms. I imagined Jaisalmer to be a gleaming 'golden' city. And my wish to visit Jaisalmer once in my lifetime, soon came true. Our boss deployed me, and my friend to cover a wedding shoot. The wedding was being held at the Jaisalmer Fort. As soon as the news broke, we excitedly packed our bags to hit the road!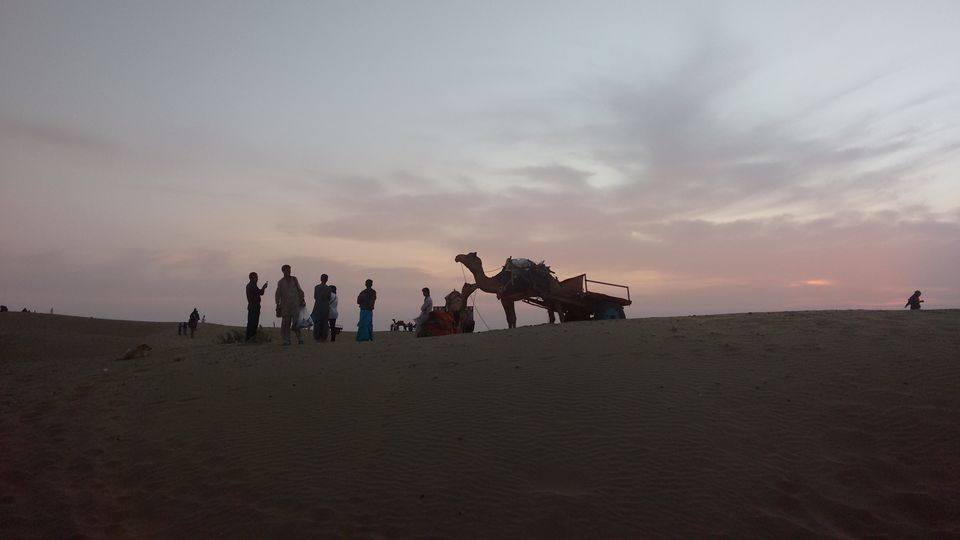 The distance between Delhi and Jaisalmer is of twenty hours, and the route had its essence. Our journey was miraculous, we didn't feel tired at all. The enthusiasm to roll over sand, clearly effaced. Our ecstasy knew no bounds! Traveling for twenty hours straight was tough. I faced a lot of difficulties, but the weight of enjoying nature was much more than those odds.
Finally, we reached our destination and chose to stay at a local hotel. Lethargy took a toll on us and at the next morning awaited us. We reached Jaisalmer Fort early in the morning to cover the rasam of Haldi, followed by Mehendi and engagement. It was a colorful affair! Bride and Groom with their families enjoyed all the functions with great pomp and show. They were about to tie the knot of love, the next day. Covering the wedding gave us a delightful experience. We elegantly depicted the union of groom and bride with our camera. We wrapped up the shoot and booked a cab.
The cab took us to 'Sam Dunes'. As I stepped down from the cab, I saw a golden ocean in front of my eyes. The sand was glittering bright; it was just ubiquitous. The sands were mesmerising, they whirled with freedom without any worldly worries stinging them. Camps are also present opposite Sam, due to the shortage of time & magnitude of work we missed out on this opportunity to camp there. We noticed there were stalls selling wafers and 'beers' around the camp. We couldn't resist asking them and their answers gave us a good laugh. A good number of camel owners approached us to take up a ride to Thar. That is the sole source of income for these men. We started feeling both, claustrophobic and confused at the same time. My friend asked the cabbie to pick one for us. He chose Bablu!
Our rendezvous with Bablu was quite interesting. I hopped on his back as soon as I saw him. I was thrilled to explore the desert on camel's hump. But, my dear friend was petrified of Bablu, he stood still, and didn't move. I joked around with him, which ultimately motivated him to join me for the ride. He kept his eyes closed throughout, he was that scared. Bablu's owner popularly reckoned as 'Bhaiya ji' in their clan, treated us with amazing trivias associated with the place. He told us about numerous films that have been shot here, their life on desert, how they take care of their camels, what kind of imprints a camel leaves behind, the oasis & mirages seen during summers and what not!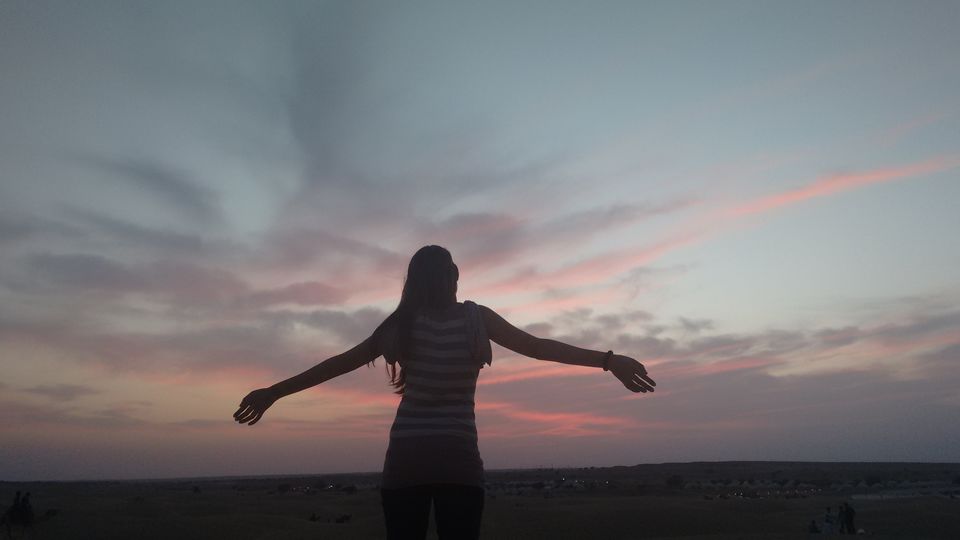 Amidst all our humor and Bhaiya ji's stories, we reached Thar, it took us two hours to reach there. I was awed by the magnificence of Thar. It seemed like an infinite ocean of gold. We thought, we would walk & explore the humongous desert by ourselves now. We felt the aroma of sand, its fragrance convincing us to stay there. The Sun was kissing goodbye to the desert with its rays. The view was serene, unimaginable. No trip is complete without clicking pictures and we did our job efficiently. We got ourselves clicked in every possible pose. How could we miss on taking a panoramic shot of impeccable Thar? We felt our freedom embracing us, the child within us pranced in the desert. We walked, we raced, we laughed and rolled over the dunes. This was our moment, when everything stood serene, it reflected the true hues of tranquillity.
The day ended for us, and we had to head back our way to home. The sand from our hands was gone, but reminiscence of this ineffable experience shall always stay with me.