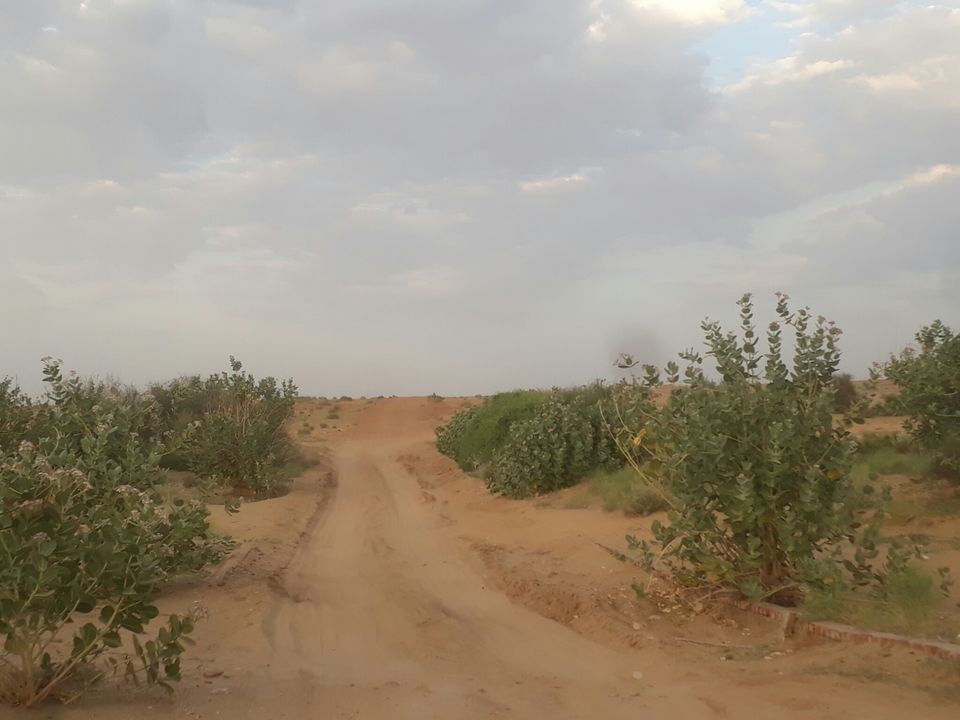 The desert is 40 Kms from Jaisalmer City (known as sand dunes of Thar Desert). The most popular among tourists is the Sam desert. The other part of the desert habitat is called Khuri. There were mixed reviews about Khuri, hence, we chose the more popular Sam.
Sam is characterised by high sand dunes & spectacular sunset points. To have a comfortable stay, we chose the Desert Spring resort looking at the reviews & activities they provided. They also provided us a pick & drop facility from the station. Thus was chargeable. We didn't have an option since there were no other means of public transport available.
The ride was through a smooth highway with very few cars. Camel carts kept us company throughout the ride.
We reached at the peek noon, but the view of the camps & the luxurious Swiss tents bowled us over. The camp resort has excellent food. They served a veg thali for lunch which could feed 3 people. The portions were big & the taste was really good. Such good food in the midst of desert was a real surprise. With the sunset time approaching, the camp executives have us 2 options of camel & jeep safari. Camel ride looked bumpy with fellow travellers screaming as the camels took off, we decided that the jeep would be a better option. So we took a Thar into the Thar. 😋
Little did we know what was in store for us. The jeep took us over high & low sand dunes in rattling speed that shook us through our bones. At a point before the last dune we literally were breathless & contemplating a return. Sensing this our driver assured us that we are on the last dune & the way while returning is not through dunes, it's via road.
After crossing the last dune, when we reached the sunset point, the view was indescribable. Golden sand surrounded us & the crimson sky somewhere far merged into the desert. The sun  looked a ball of fire & plunged into the horizon of sand suddenly with a sudden jump. There was still some fading light.
All through this beautiful spectacle of sunset where the local vendors, camel owners pestering us for a ride. We could refuse them & since our keep driver was local, he would most of the times stop them. However, there was one guy who was played a mouthorgan & would not let us go. He would also not leave with the little tip without performing. So we finally stayed for a bit listened to his performance tipped him some more & left. There is a lot of talent but there is helplessness too.
We returned as promised by the driver through roadways & the ride back was better.
The night was spent at the camp, star gazing.