"Don't worry, the bus won't leave so soon. Let's have the herbal tea first."
"Dude, I can hear the bus honking. I can't see it but I am sure that it is the bus to Diskit. All the locals we asked had told us that the last bus will leave sharp at 6 in the morning!"
This was the conversation that we had before I decided to storm out of our homestay in Turtuk. I could no longer wait for the elaborate herbal tea-making process of health-conscious Sai. I was more concerned about not getting stuck in Turtuk for another day as I had plans to explore other places in the Nubra valley.
It took me 10 minutes to get to the main road with my luggage. Sai and Shyam also joined me in 15 more minutes. And here we were waiting for a vehicle that would take us to Diskit or Hunder.
Between 6.30 to 9, we sat outside a closed shop with all our luggage. Simply nibbling on the apricots and berries that we had plucked from our homestay. Whoever we asked, told us that the last bus had gone, and our best bet was that a local who could be running errands towards the city could drop us. But it was too early in the morning for that to happen. Many army trucks passed by but they just waived at us and didn't stop. Perhaps, they must have not been permitted to give lifts to tourists.
Sai found a restaurant that had begun serving for the day. We planned to have our breakfast there. But Sai couldn't find the specific vegan options there so he began looking for another restaurant. I had understood that these guys are not really bothered about finding a ride.
I asked the boys to get to the road to not miss any vehicle but they lazed around and I decided to step ahead. They said that they will follow me in a while. I kept walking until I reached almost the entry point of Turtuk. Here I found a truck and asked for a lift. They agreed. They asked me about my companions, I said that they might be coming. But since there was no phone network, we decided to leave after a few minutes.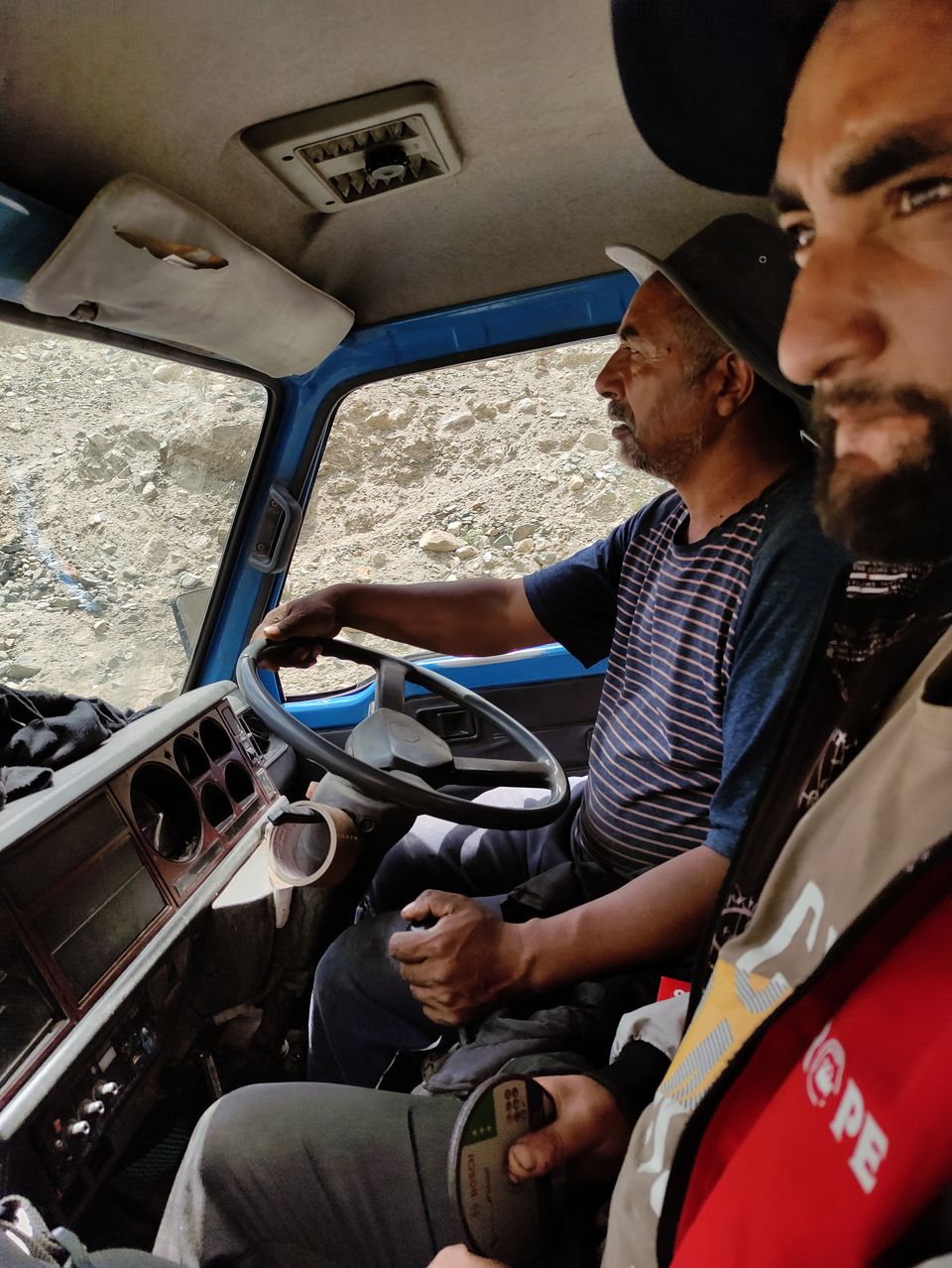 The truck took me through the cold desert beside the Nubra river. Unfortunately, its destination was only 20 km ahead at Bogdang. They dropped me here, and now I had to wait for another vehicle.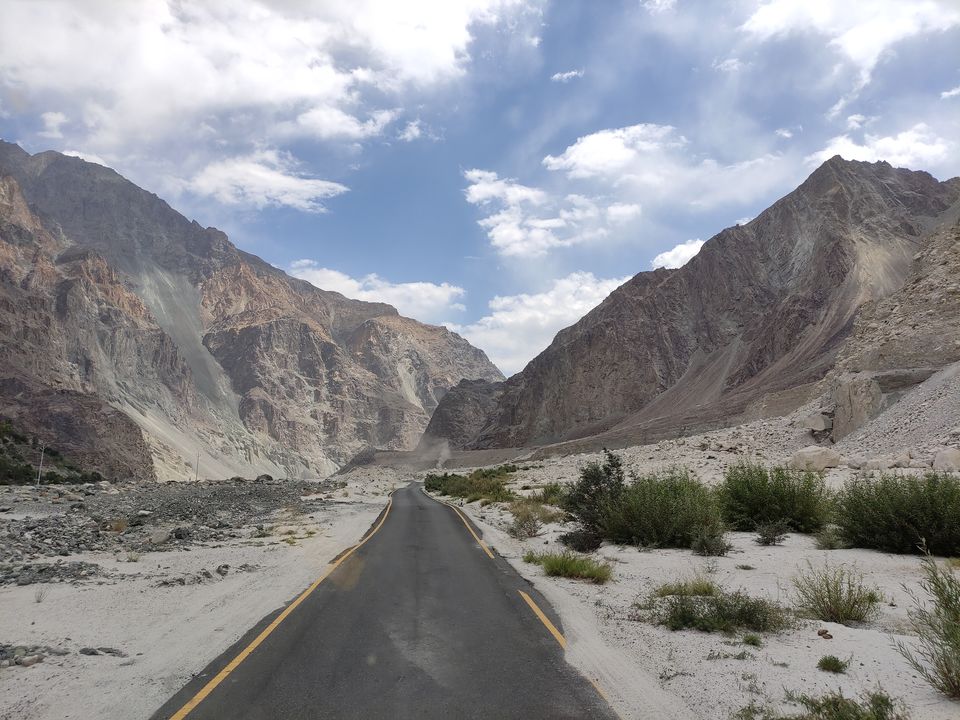 If you have been to Turtuk, Bogdang is a point where you would usually find cute kids who look very different from Ladakhi people. These Balti kids are of different ethnicity and always arouse curiosity amongst travellers because of their foreign faces. Tourists love to click their pictures and usually offer the kids some sweets or snacks.
Here I was waiting for a lift where these so-called cute kids were planning to get snacks from every tourist who passed by. In a span of an hour that I waited there, each of the dozen kids had manipulated the tourists to get snacks and beverages worth Rs. 50. One kid saw a packet of biscuit in my rucksack and demanded it to be given to him. They demanded money for any photos I wanted to take with my cellphone.
I had almost lost hope. But, one of the cars that had ignored my request for a lift returned back. He asked me if I wanted to be dropped. I was not sure if the guy was giving me a lift. So I asked if he wants to be paid, then he agreed to drop me at Hunder for 500 rupees.
The man introduced himself to me as Raza. He told me that he saw me asking for a lift but he had some more passengers whom he dropped and returned back. He told me, further that night he is also going to Hunder to camp with his friends.
Raza figured out that I was a backpacker. While he drove me to Hunder, he proposed a plan. He told me that he used to run a homestay near Leh that hasn't had a tourist in the past year because of covid. So a person like me who is into backpacking experience should stay with him, and it would give him a chance to restart his homestay. We could spend some time in Hunder after which he would take me to Leh, and I could stay at his homestay for Rs 250 per night. I agreed to pay him another 500 Rs for the ride from Hunder to Leh. This seemed like a bargain to me as a cab ride would have cost Rs 3000. Even though I would have chosen the cheapest option - the bus between Hunder and Leh, the travel would have been very slow and a bit painful.
Raza and I spent some time at the sand dunes of Hunder. I took his pictures and he was happy posing. He also told me that he was a teacher at the secondary school in Turtuk and imparts theological education to the kids. He usually spends a week or two in Turtuk with his relatives for his classes, and then drives back home. Sometimes, he gives lifts to travellers like me.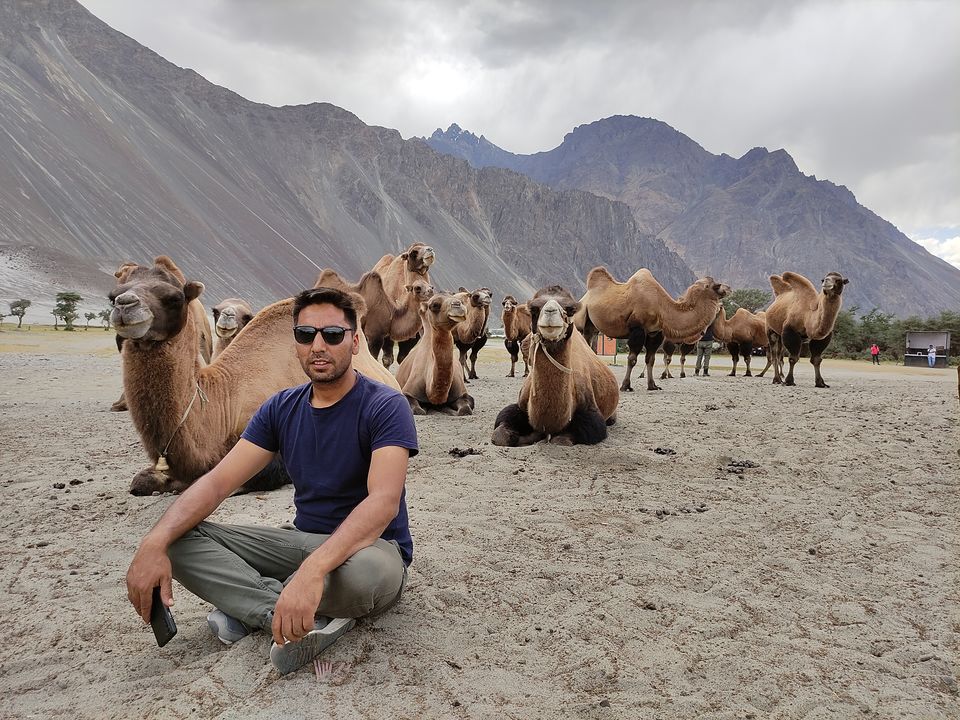 A skilled, veteran driver, Raza drove pretty fast and we made it to Leh by the evening. He had told me that he stays alone in the house and doesn't usually cook. So I proposed the plan to cook dinner for us. We shopped for chicken and spices at the Leh market and then Raza drove us to Phyang.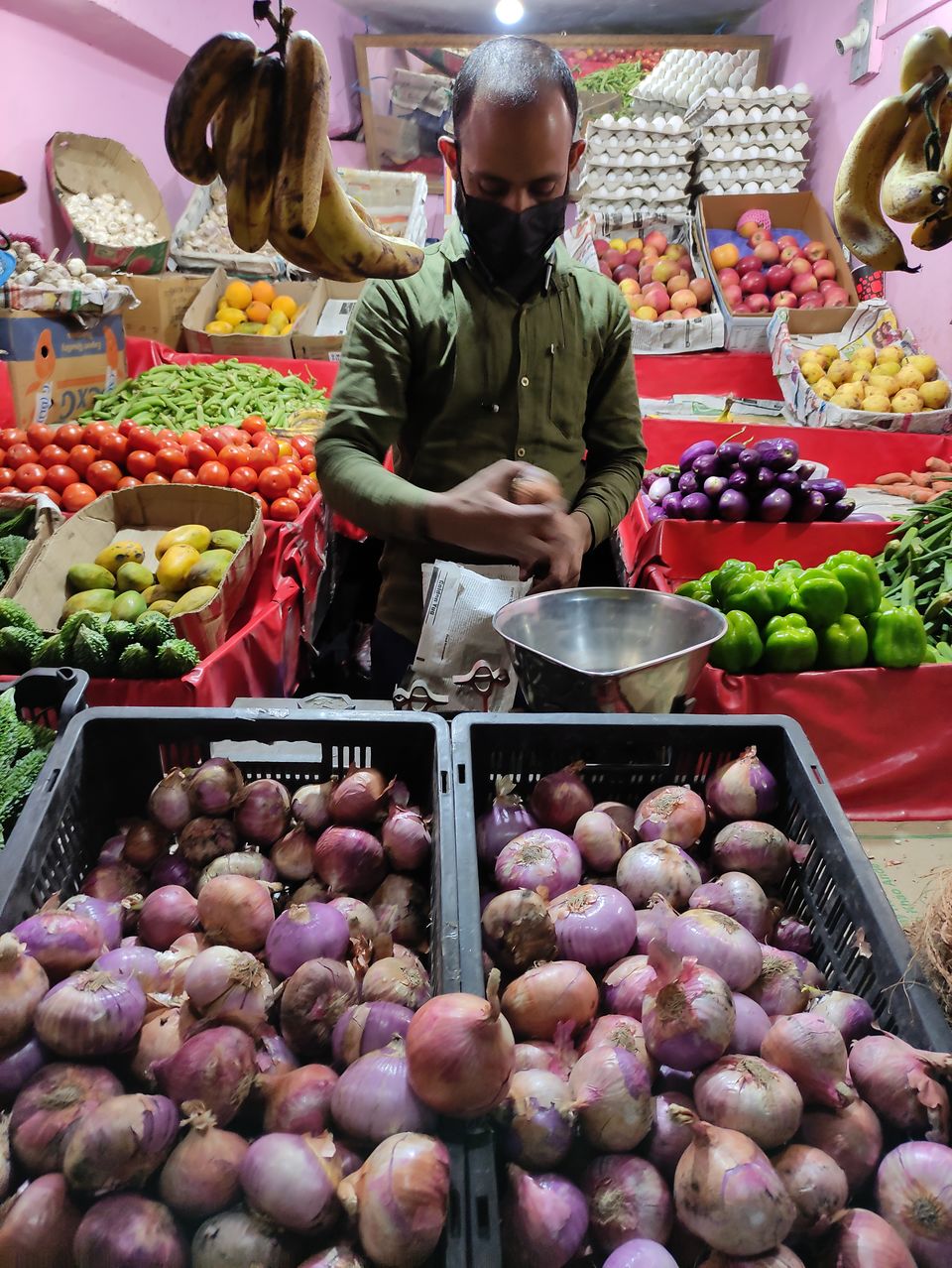 We entered a scantily housed road amidst heavy winds. The car stopped at a large gate beyond which tall trees were swaying violently because of the winds. The entire neighbourhood was quite except for the winds. It looked like a large premise with no one in vicinity.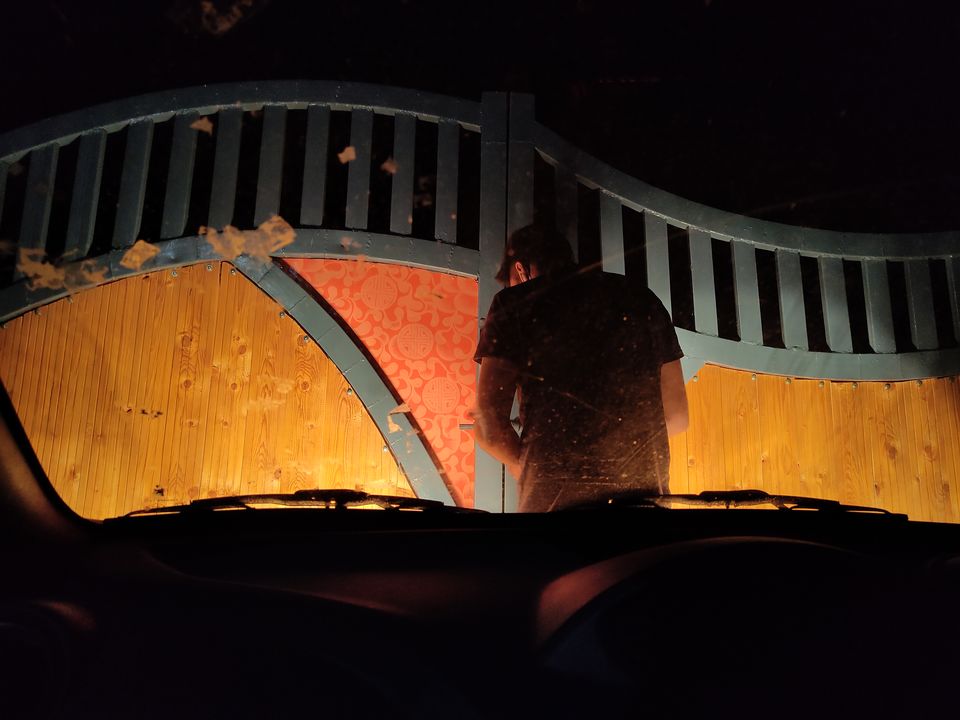 At this point, for the first time during the day, I was a bit scared. Have I landed with a stranger at a fishy, spooky-looking place?
But Raza opened the gate, and guided me to his home. It was way too big for a single man.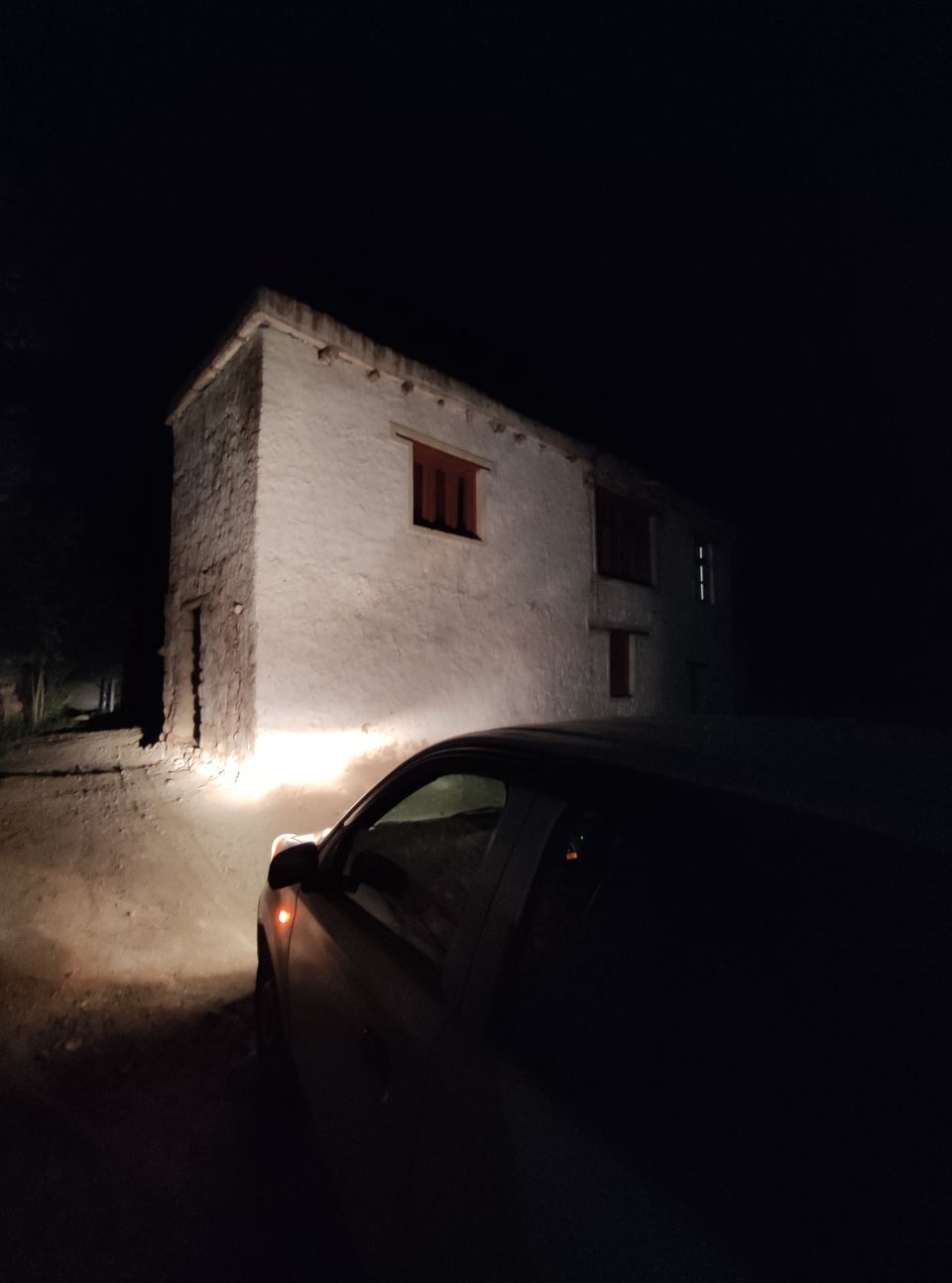 Built in the Ladakhi style, the house had two floors. He took me to the first floor where the gallery opened to five large rooms, one of which served as the kitchen. Raza showed me my room. It looked pretty well furnished and neat. It was a steal deal for 250 Rs..
I wanted to experience cooking at a local's place, and this was happening here. Raza helped me with chopping while I cooked. By 10.30 pm, the food was ready. We had it, and I went to sleep.
The next morning, I woke up to a scenery way different from the spooky place I had seen last night. I was in the middle of a large orchard in this beautiful, traditional Ladakhi mudhouse. Raza was already up, fixing his motor pump to water his garden from the stream running next to the plot.
I helped Raza fix the motor pump and then he took me around. His garden was filled with trees laden with apples and apricots. He was also growing strawberries and consumed most of this large bounty with the neighbours.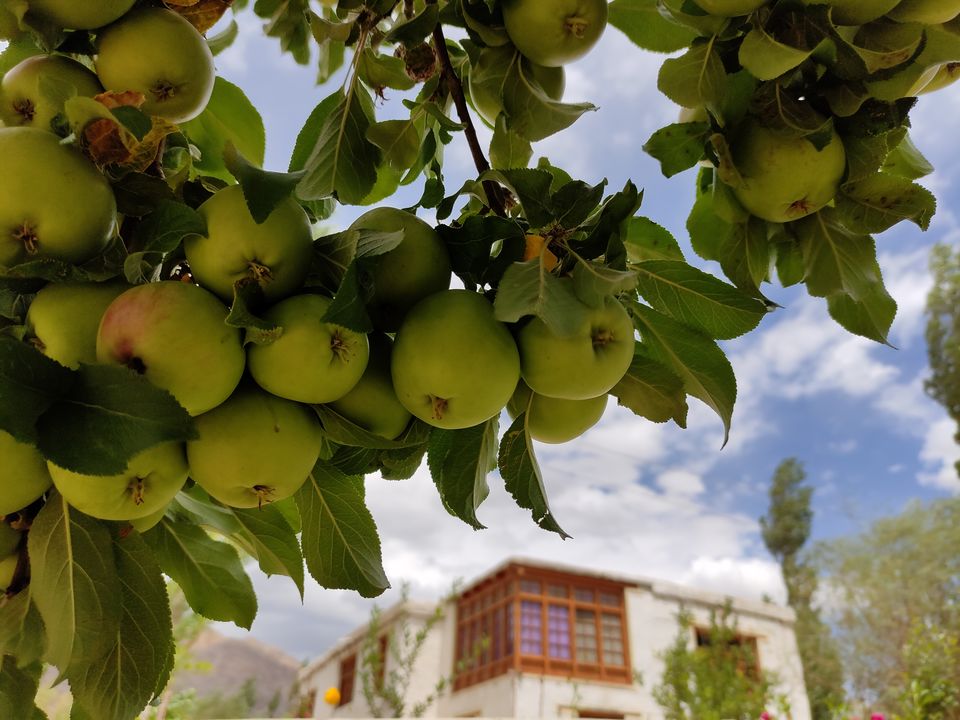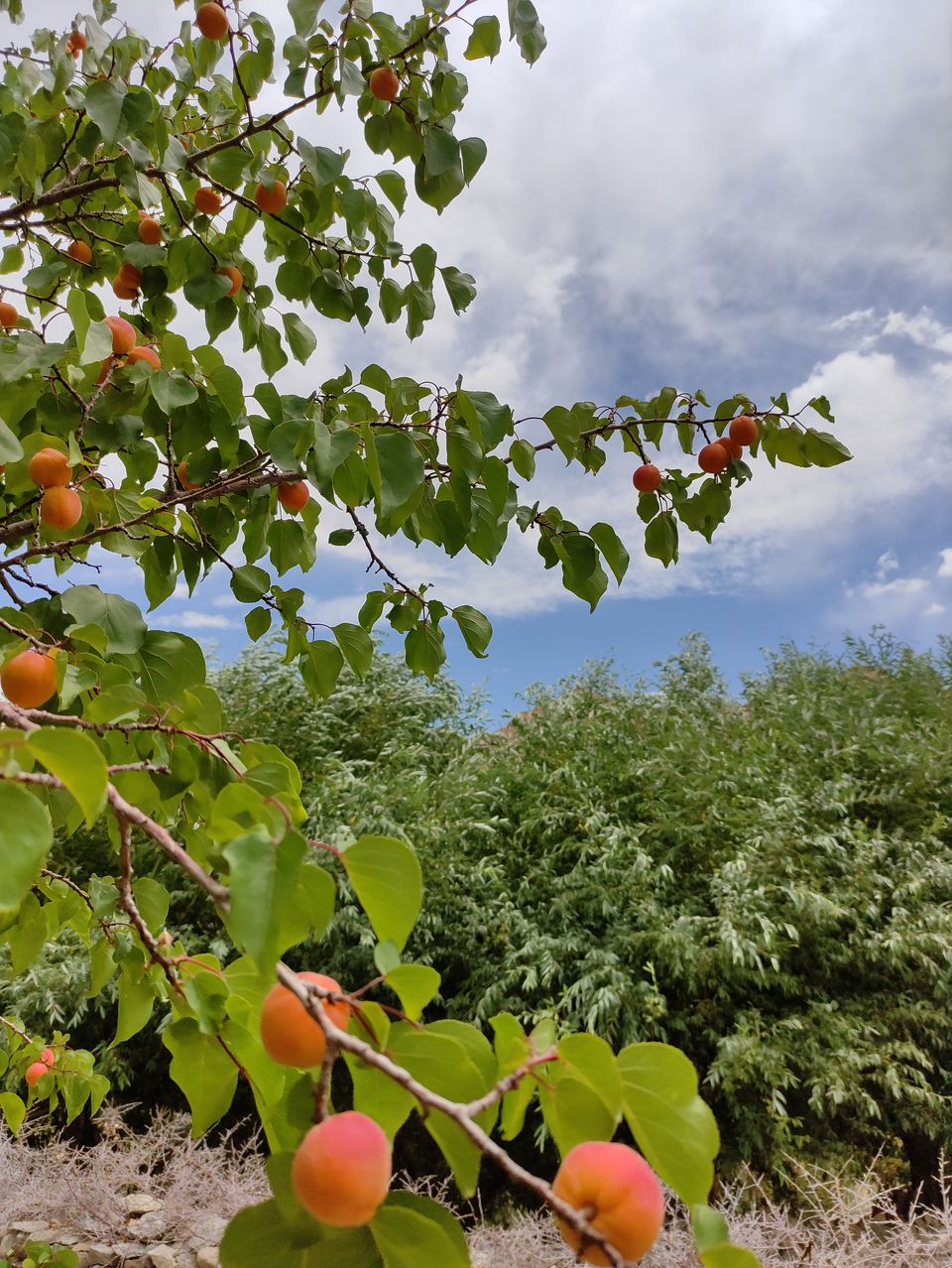 Some of the interesting things about the homestay were that it was solar-powered and had all traditional sustainable settings. The roof of the house was built with logs and mud while the ground floor served as storage for Raza. The other houses in the neighbourhood used it for their cattle.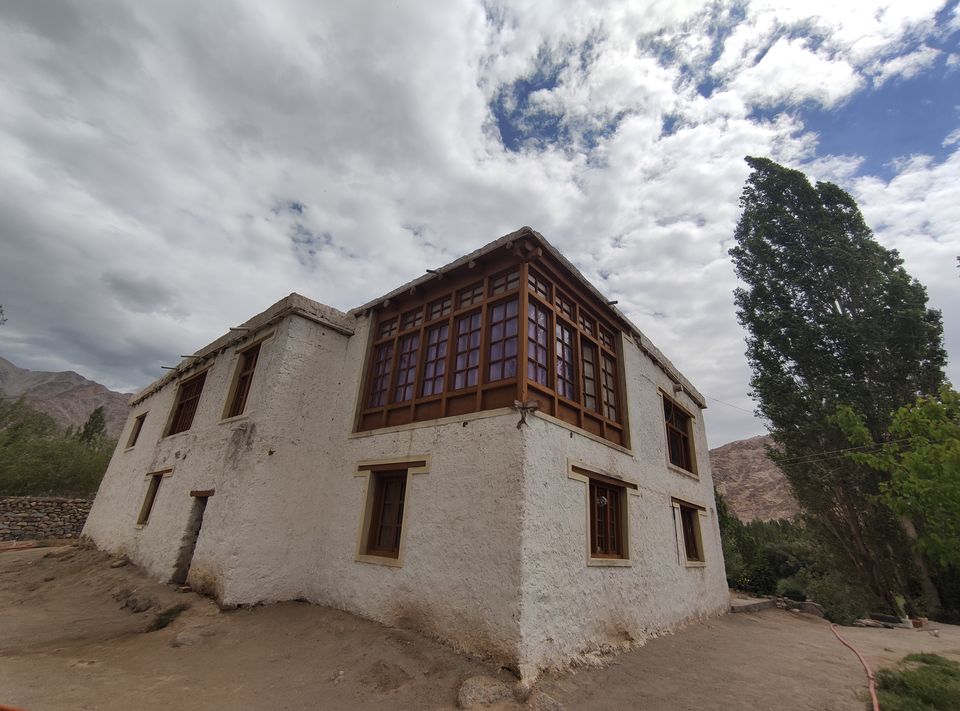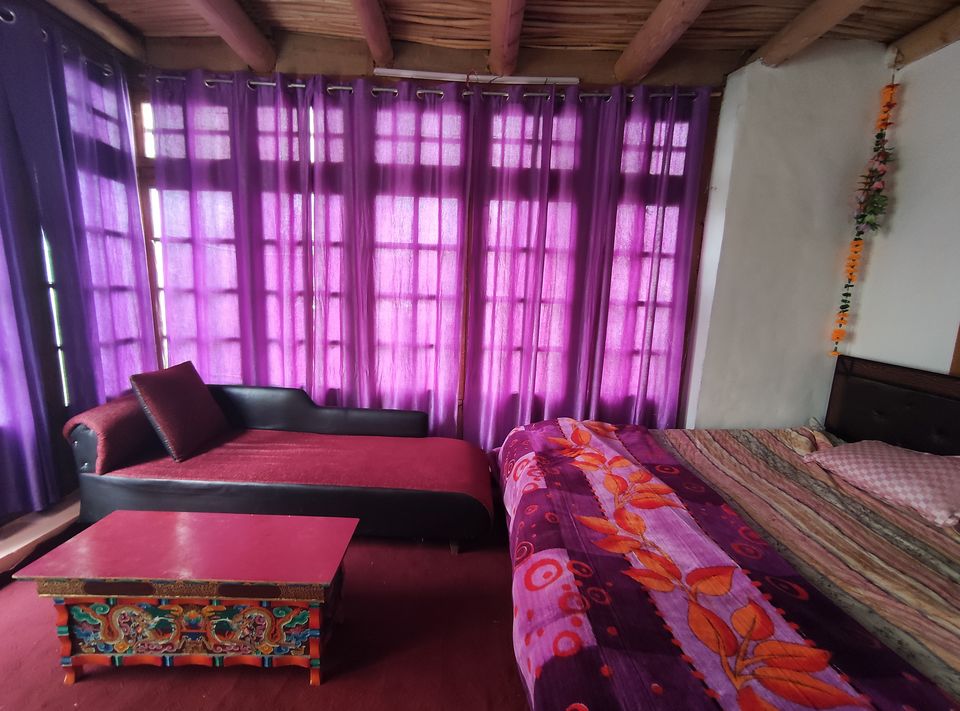 The internet was pretty stable in Phyang and I continued my office work from Raza's homestay. He also took me to Phyang monastery and the site of the ice stupa that is built in the winter months here.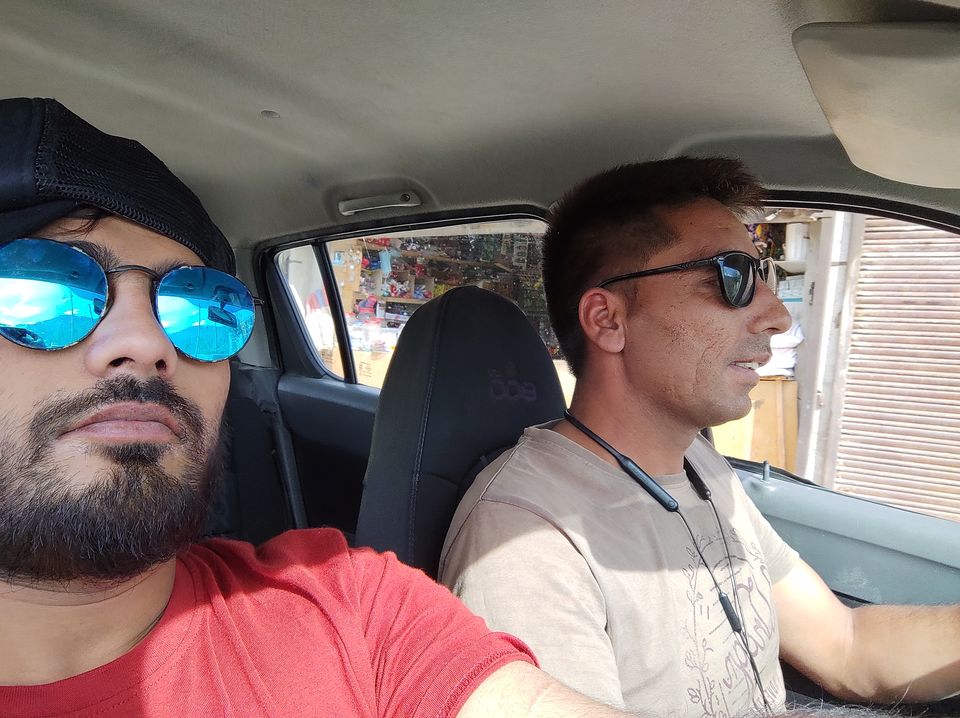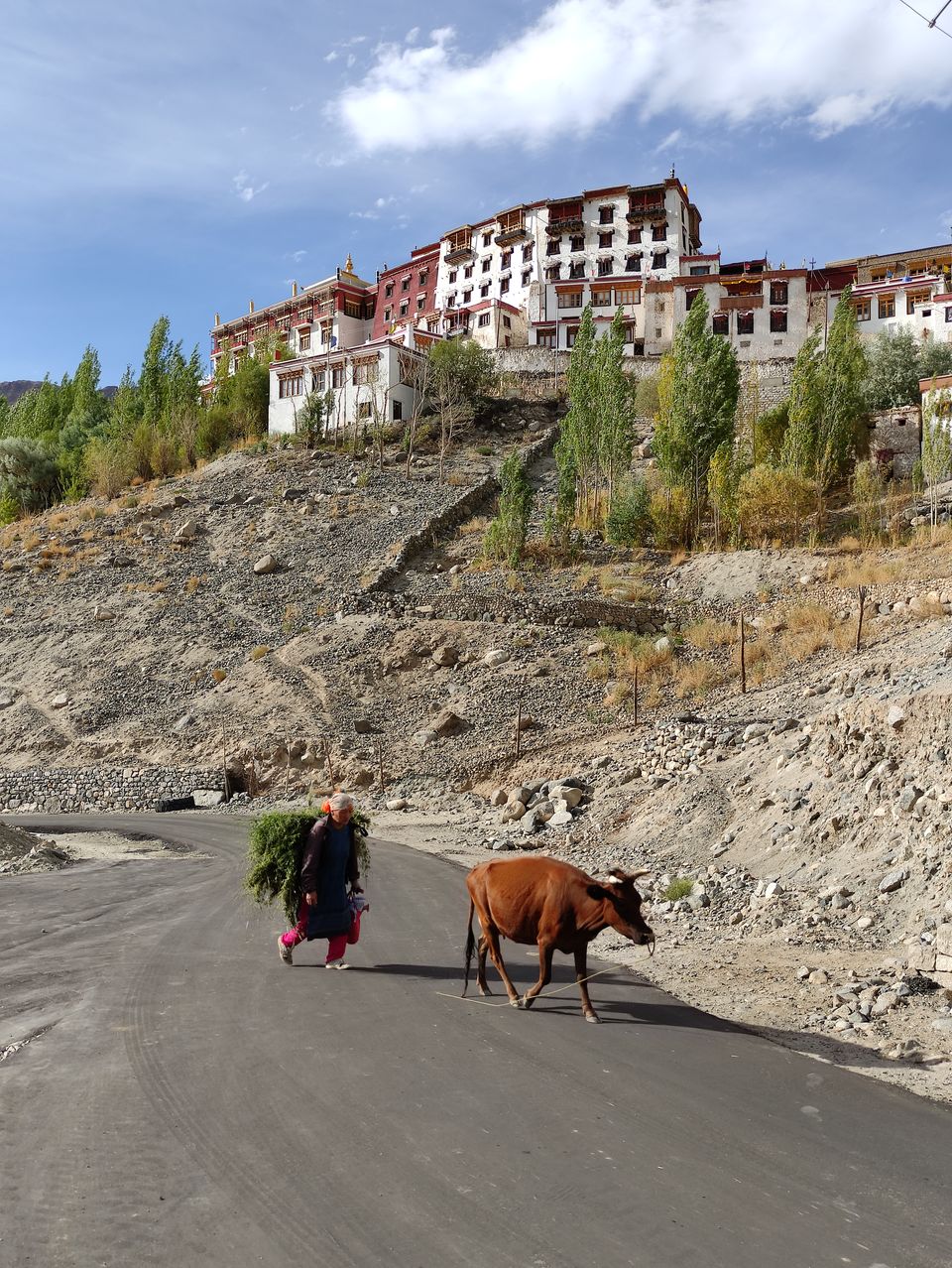 Sometimes the neighbours would cook for him and we had that, at other times I cooked.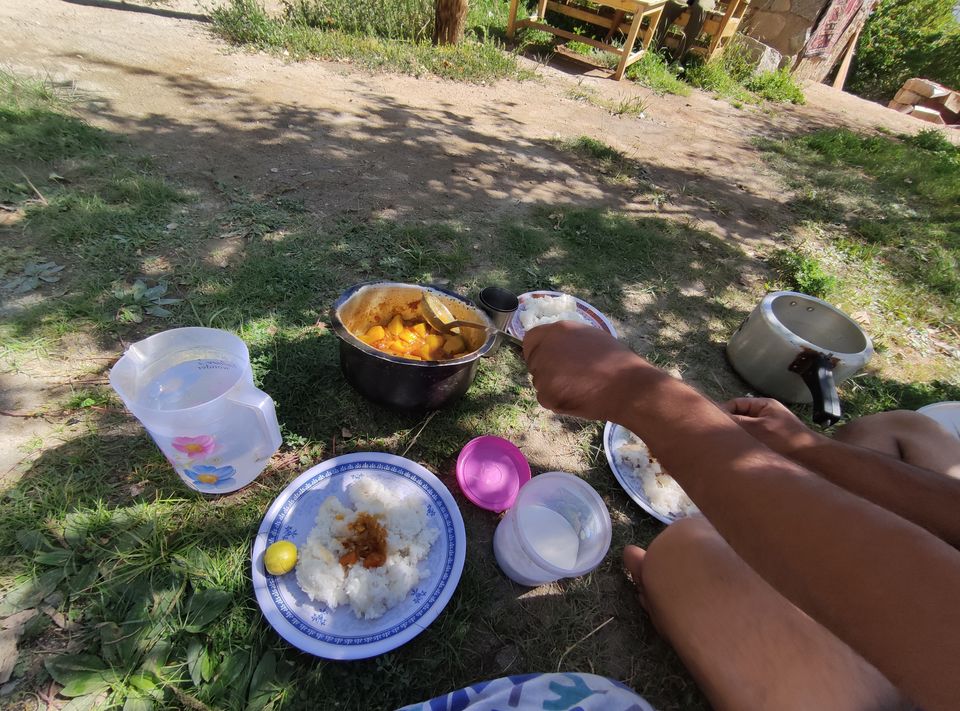 On the weekend, I travelled to Pangong Tso and then returned back to Raza's place. I stayed there for one more day before leaving for Delhi. On my day of return, Raza had some Russian folks over. It was nice to see that his homestay was fully active once again.
It was by a matter of fate that I ended up having an interesting experience after missing my bus. If you too have an amusing tale of travel share your story here.