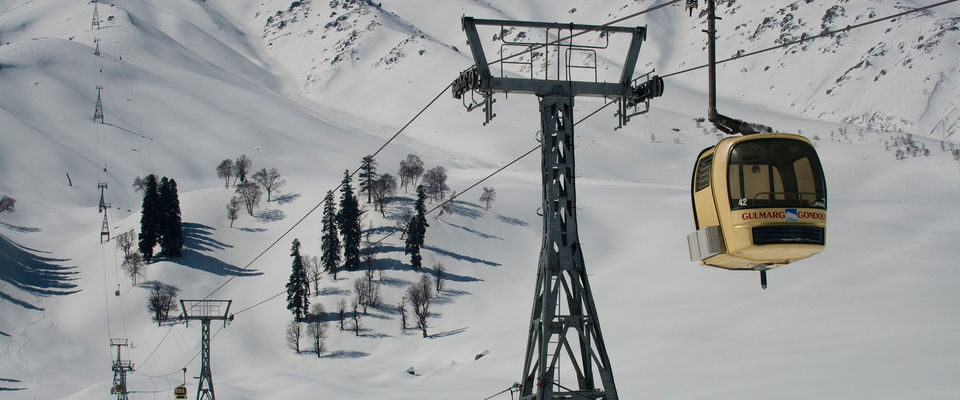 World Second Highest Gondola in Gulmarg
Gulmarg Gondola ride is a ropeway project, it was started jointly by the Jammu and Kashmir government and Pomagalski. Pomagalski is a French organization. The Gulmarg Gondola ride is the World's second-highest operating cable car. It is considered as Asia's one of the longest and highest cable car plans. This cable car project leads to Kongdori Mountain perched at an altitude of 3099.6 meters from the resort situated in Gulmarg. This area is bowl-shaped and it is popular for abundant opportunities for enjoyable sessions of powder skiing and snowboarding. Kongdori is very famous among adventure-seeking tourists and one of the known places to visit in Gulmarg. Giving the tourists a perfect blend of adventure and recreation, Kongdori is a little paradise in its own way.
How to reach Gondola ride
The Gondola's starting point is 20 minutes away from Gulmarg. You can take a taxi or walk your way to it.
The entire ride comprises two stages:-
Gulmarg to Kongdori – The first phase of the ride takes around 9 minutes.
Kongdori to Apharwat Peak-The The second phase of the ride takes about 12 minutes.
The first phase of the Gondola ride takes the tourists to Kondogri station, which is situated at the altitude of 8530 ft. It starts at 2,990 m and has a vertical rise of 400 m. it is estimated that in every ferries gondola takes 1500 tourists to the height of 3100 m from where several easy runs for skiing are accessible. The snow and pine-covered skiing ways give breathe taking views.
The second phase of the gondola ride takes to the altitude of 12293 feet. Phase one of this cable car became operational in May 1998, while the second phase of the Gondola ride became functional after six years in May 2005. The second phase gives the beautiful view of Himalayan ranges as the gondola goes a little bit higher altitude than the first phase. The cable car ascends 1,330 vertical meters to a height of nearly 4,000m and reaches the Apharwat Mountain. It is estimated that this cable car takes 600 tourists in an hour. After arriving at the station, tourists can have 30 minutes trek to reach the mountain top. From the top of the mountain, LOC (Line of Control) is visible.
More information click here - This Winter Enjoy World Second Highest Gondola in Gulmarg